Road Angel New Road Angel1 review
The New Road Angel's database will keep you on the straight and narrow, vetting the roads for safety cameras, blackspots and mobile speed trap sites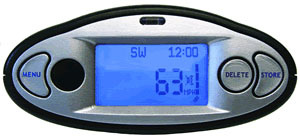 With a diligently updated database of accident blackspots, speed cameras and mobile speed trap sites, the Road Angel rarely misses a trick. Pop it into its windscreen-mounted cradle or the magnetic dash mount, plug the adaptor into your 12v lighter adaptor and you're ready to set off.
A quick blat through south London presented no problems in our tests. Once out onto the four-carriageway lunacy of the A3, the Road Angel really comes into its own.
Not even Death-Metal can subdue the Road Angel
Even with Cannibal Corpse blaring forth at full tilt, we're able to spot upcoming cams by virtue of the Road Angel's handy, flashing visual warnings.
Some kindly soul has also updated and warned of an errant GATSO on the A3, so we sailed home with no problems at all. The Road Angel even alerted us to a mobile speed trap site along the way.
This is a top, safety-conscious and wallet-defending gadget.