Roku Streaming Stick 4K review
Roku's best streaming stick yet is excellent value for money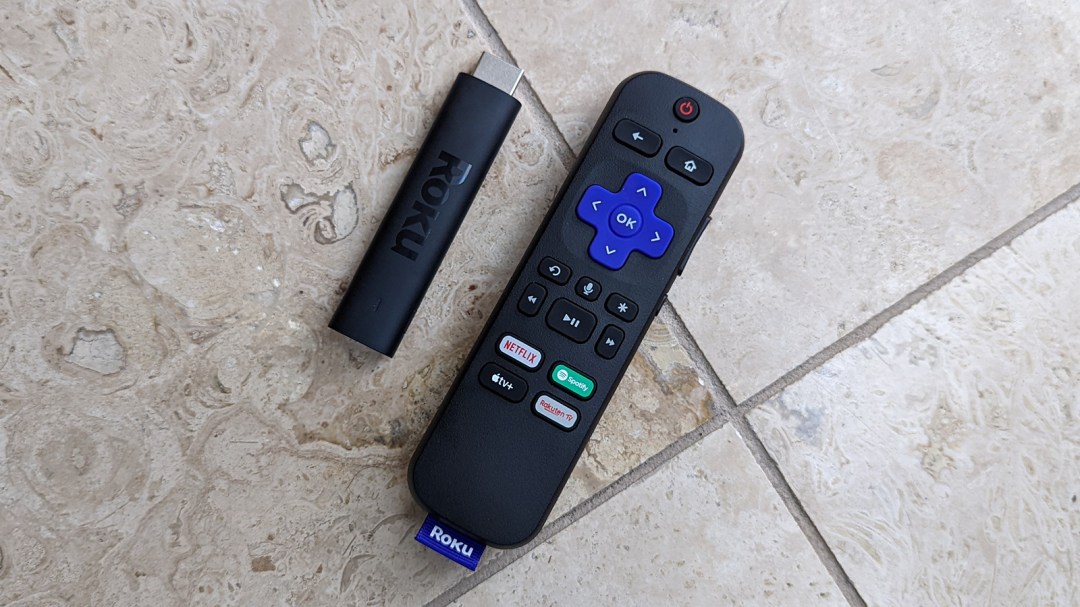 Roku is back with another streaming stick: the Roku Streaming Stick 4K is here to replace the Roku Streaming Stick+ (which also did 4K by the way – keep up at the back). It's the same price, but a bit faster, and with a few other extras thrown in.
Those extras include improved Wi-Fi range and support for Dolby Vision and HDR10 Plus. This isn't a huge upgrade on what came before, but it's the best Roku streaming dongle yet – and it's a little bit cheaper than the Amazon Fire TV Stick 4K Max.
Design: no changes here
The design changes from the Roku Streaming Stick+ are very easy to summarise because there are barely any to speak of: the only real difference is that the Google Play Movies & TV button on the remote has been replaced by an Apple TV Plus one – a sign of the times. There's no Google TV app for Roku devices at the moment, by the way, but you can get at your purchases through the YouTube app.
When it comes to the dongle itself, it's like a stick of chewing gum with an HDMI port stuck to one end. If you want to check the space behind your smart TV, it measures 94.5 mm x 21.1 mm x 11.5 mm (3.7 inches x 0.8 inches x 0.45 inches) and weighs 26 grams (0.9 ounces). It's a stylish bit of black plastic with a Roku logo on one side, although you're probably not all that interested in what your streaming dongle looks like anyway.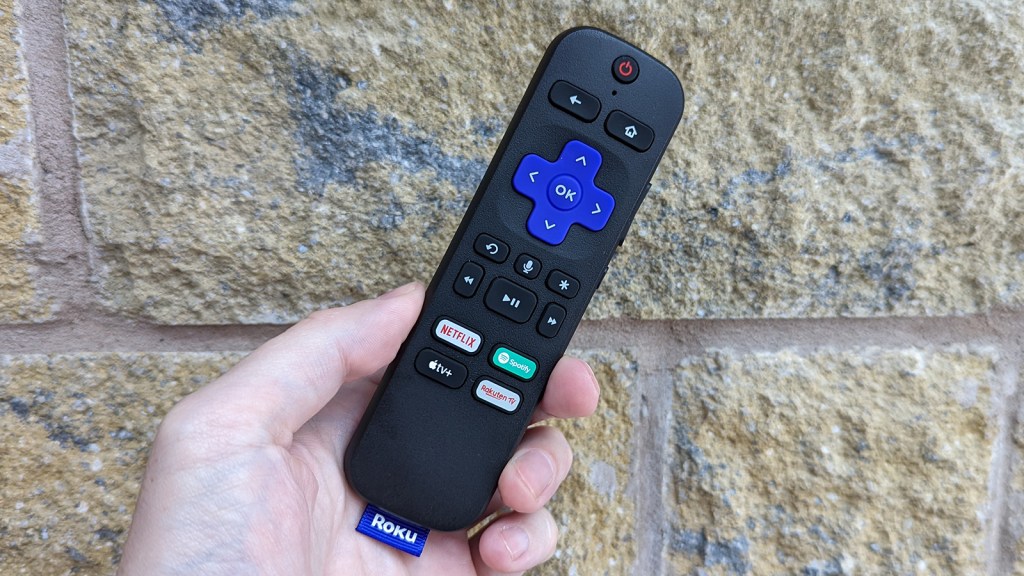 Besides the streaming stick you get the standard Roku remote: it's on the chunky side, but it's definitely very grippable, and it's easy to find the buttons you're after without actually looking at the remote itself (not something we can say about all remote controls, unfortunately). In short, it's the standard Roku design approach as far as the Streaming Stick 4K is concerned, and that's fine with us.
Setup: no problem
Setup isn't going to take you long at all – perhaps the most difficult part is typing out your Wi-Fi password using the remote. After that, the Roku Streaming Stick 4K will download and install the latest updates from the web, and then you're ready to go. If you've got an existing Roku account, the device will even remember the apps (or channels) that you've previously installed.
The dongle needs a mains connection, but you get a cable and a plug in the box, as well as two AAA batteries to power the remote. It's just a question of getting everything connected and powered on – the dongle and the remote will automatically recognise each other, so you don't need to go through any complicated pairing procedure.
Setting up the apps on the Roku Streaming Stick 4K is very straightforward as well. As with other Rokus and most media streamers like this, the majority of apps ask you to log into your account in a web browser on your phone or computer, and then type out the code displayed on your TV – much easier than entering login details on the Roku device.
Features: most boxes ticked
Roku makes some of the cheapest streaming devices around, and traditionally one of the trade-offs for those affordable price points has been rather sluggish hardware. Fortunately, the speed boost that this latest model has been given makes getting around menus and settings screens a breeze.
Assuming you have the right TV attached, and apps that support the features, the Roku Streaming Stick 4K offers 4K resolution playback (hence the name), Dolby Vision, and HDR10+. Roku is also promising significantly faster Wi-Fi connectivity and a wider Wi-Fi range for this stick, and we didn't notice any problems with video loading or app launching during our testing.
The Roku Streaming Stick 4K works with AirPlay, so you can beam just about any video you like to it from any Apple device (or just share your iPhone, iPad or MacBook screen to it). The dongle works with Apple HomeKit, Amazon Alexa and Google Assistant devices too, giving you the option of voice control via other hardware devices.
Voice control is available through the included remote too, so you can quickly search for movies, shows, actors, genres or whatever you like in individual apps or across all of your channels. The menu interface, meanwhile, is straightforward and intuitive – as on other Roku devices, the My Feed screen is useful, enabling you to keep track of movies and shows you want to watch across all the apps you're subscribed to.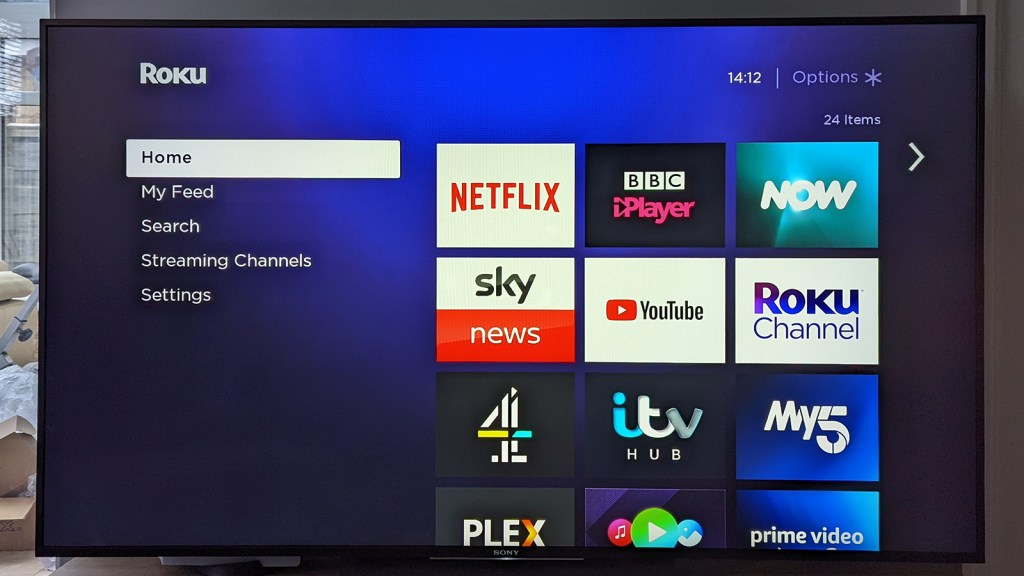 Apps: just about everything you need
Just about all the major video streaming apps are covered here: Prime Video, Disney Plus, Netflix, Apple TV Plus, Plex, BritBox, BT Sport and Now TV are all covered, as well as the catch-up services from the BBC, ITV, Channel 4, Channel 5 and so on. Lesser-known services like Shudder and MUBI are present and correct as well – it's an impressive line-up.
Music services and other applications aren't quite as well covered, though you do get the likes of Spotify, BBC Sounds, TuneIn Radio, Tidal and Peloton. There are some games and apps here, but they're not particularly worth checking out – if you want a more rounded experience in terms of apps you might need to pay more for a device like the Apple TV 4K box or the Nvidia Shield.
It's worth mentioning the Roku app you can get for Android and iOS too: it lets you control the streaming dongle from your phone, and it's often easier for certain tasks (like searching for content or entering passwords) than the actual remote. You can also listen to the sound from the Roku through headphones attached to your phone if you want to watch something while the rest of the family is sleeping.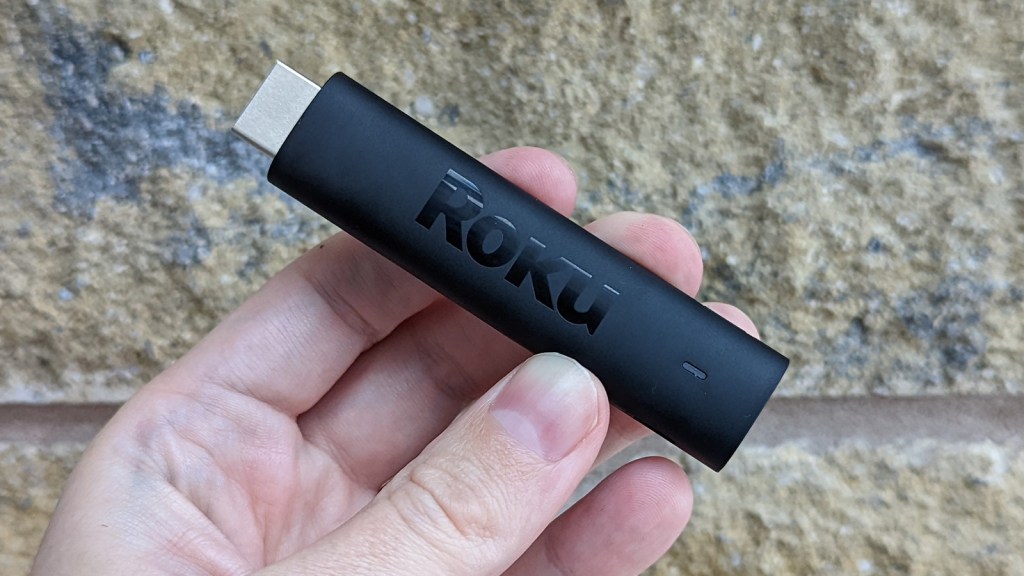 Picture and sound: very impressive
We can't comment too much on the picture and sound quality of the Roku Streaming Stick 4K, because a lot of it will be down to the television set you've got it attached to, and the sort of video and audio quality standards supported by the apps you're using. With the dongle capable of 4K, HDR10+, Dolby Vision and DTS Digital Surround though, you're very well covered.
We watched plenty of Netflix and Disney Plus content on a 4K Sony Bravia TV, and found the Roku dongle produced a crisp, clear and vivid picture – lots of detail in the darkest and lightest parts of each frame, high fidelity audio, and nothing in the way of ghosting or lag. The dongle also seems to do a great job of upscaling older 720p and 1080p content to 4K.
Verdict
There's no doubt the Roku Streaming Stick 4K is the best Roku stick yet, with just about everything you need in terms of app selection and format support. The improved performance and Wi-Fi range are welcome, though it's not a must-have upgrade if you already own a Roku device – and alternative products from the likes of Apple, Amazon, Nvidia and Google will be better choices for some, depending on what you're after.
Stuff Says…
The Roku Streaming Stick 4K does just about everything you want in terms of video streaming, and it doesn't cost much at all.
Good Stuff
Works with 4K and HDR10+
All the key video apps
Simple, straightforward interface
Digital assistant support
Bad Stuff
No Chromecast support
Limited games and audio apps
Not much better than existing Roku kit
No native digital assistant