Ryze Tello review
This DJI-powered charmer is a fine taster drone for beginners...
As gadgets go, drones are one of the easier sells.
A flying camera that can perform all manner of acrobatic aerial manoeuvres in front of slightly nervous relatives? Only a devoted fun-hater wouldn't be up for that.
Problem is, a half-decent drone is a serious investment, one that stings even more when you realise that you probably can't fly it anywhere but the local park.
Our favourite gizmo of 2017 was the magnificent and completely beginner-friendly DJI Spark, but even one of those will set you back over £400. You have to be pretty sure that you want to spend your Saturday afternoons squinting at the sky and picking propellers out of bushes before laying down that sort of cash.
But what if there existed a miniaturised version of the already diddy Spark? A drone that can mimic some of its best party tricks for less than a third of the price, and one that you're happy to hand over to the kids?
Enter the Ryze Tello. Featuring DJI's coveted flight tech, 720p video recording, VR compatibility and one-touch 8D flips (which even the Spark can't do), it almost seems insulting to label it a toy. And at just £100, it effortlessly soars above the pellet-flinging minidrones we've seen in the same bracket.
In fact, I think you'll struggle to find a more entertaining bargain full stop, even though you'll need a virtually breezeless day to fly it outside.
Luckily, I had one of those during a recent weekend break in the Welsh countryside (no, really) and decided it was the perfect opportunity to see what the Tello is made of.
Design: Sparking resemblance
Thought the Spark was a diminutive drone? Wait until you clutch this adorable little thing in your palm. With its appealingly minimalist two-tone body and compact frame, it takes obvious design inspiration from DJI's device (see the comparison above), but measures only 98×92.5×41 mm and weighs in at just 80g.
Designed to be handled by crash-prone nippers and adults alike, the four propellers are protected by plastic bumpers, while the Tello's arms are extended to make landing easy.
The little eye on the front is the 5MP camera, and the light next to it indicates that the drone is turned on.
If I have a design complaint it's that removing the Micro USB cable (sold separately) from the side mounted port is more fiddly than I'd like. I was worried I'd yank it out and snap a component off in the process. Like fellow small things puppies and satsumas, I'd advise handling with care.
Cameras: shooting star
While plenty of toy drones can snap grainy stills from above, the Tello's ability to shoot 720p video is one of its standout features.
Okay, the understandably small sensor (1/5in) and relatively low 4Mbps bitrate means the footage is better suited to social media rather than your 4K telly, but the Tello is surprisingly capable in gloomy indoor situations.
Once you're airborne you can switch between video and photo modes at the tap of an on-screen button, and I was able to record for upward of a minute at a time. There's an Intel 14-Core Processor on hand to handle the footage, as well as Electronic Image Stabilisation (EIS) to ensure your shots don't have the shakes.
Put simply: the quality is impressive for something this inexpensive. Sure, they won't be recording the next series of Planet Earth with a squadron of Ryze Tellos, but for tailing a few sheep and annoying my girlfriend's extended family, I found it to be more than adequate.
Naturally, there are some issues. The Tello records at 30fps, which is generally fine, but can struggle to keep up with quick panning movements, resulting in some pretty nasty jerkiness. This problem is compounded by the lack of physical controls, which makes it trickier to make smooth movements.
As it was such a bright day, the 5MP snapper took some surprisingly nice pictures, and they still came out pretty well when the sun started packing up for the day.
Aerial videography skills not up to much? Ryze has incorporated a number of pro-aping shooting modes to give your clips a cinematic flourish. Anyone familiar with DJI's Quickshots – they're called EZ Shots here – will feel right at home, but they're just as accessible to total noobs.
The three modes are pretty self-explanatory: you've got Up & Away, which sends the Tello flying upwards and backwards while recording, Circle, which records while flying in a circular movement, and 360, which shoots a video while spinning 360 degrees in one spot.
I wouldn't go as far as to say they provide buttery smooth results every time, but you're likely going to get a smoother clip than when you record manually. Bear in mind that Up & Away needs room to climb, as the Tello found out the hard way when headbutting the ceiling during an indoor test.
Bonus features: Little wonder
Also in the self-professed 'most fun drone ever's' repertoire are a handful of stunt modes, the show off. Throw & Go lets you launch the flyer by chucking into the air, and it performs its very best impression of a basketball in Bounce Mode.
Best of all is 8D Flips, which lets you flip the drone in eight different directions just by sliding your finger over the screen. It's very Starfox, and you won't find a similar trickset on the Spark. Just make sure you pick the right time and place to activate this mode – the Red Arrows don't typically have to worry about sofas or sleeping cats.
When you're all funned out, landing is as simple as tapping the screen and catching it in the palm of your hand. You'll get low battery indicators to make sure you bring her down before experiencing a mid-air conkout.
The Tello is programmed to land safely even if you lose connection, so unless it's helplessly swept away into next door's garden by a gust of wind (more on that later) you can afford to get a bit adventurous.
While it wasn't something I was able to test just yet, you can also pop your phone into a compatible VR headset and pretend you're an FPV drone racer. We'll give this a try and update the review accordingly.
Code to victory
The Ryze Tello works with Scratch, the MIT-developed coding tool designed to make programming accessible to young people.
Total newcomers can drag and drop blocks to create a flight path for the drone, while more experiences users are able to create their own applications with the Tello SDK.
Performance and software: The flight stuff
The Ryze Tello is compatible with a number of drone controllers, but I found flying it via the app on my iPhone X to be perfectly fine. For a toy like this, a fully-fledged peripheral is probably a bit excessive.
The interface only takes a few seconds to get to grips with, and I can't imagine it troubling the kids either. Once you've followed a brief process to connect it to your device of choice you'll be taken to the main flight screen. There are two sticks for control: one that controls height and rotation, the other movement.
Thanks to DJI's vision positioning system tech, which uses sensors on the bottom of the craft to ensure precise hovering, it won't be long before you feel a sense of mastery over the Tello. Even I – famously clumsy in the cockpit – had no trouble whizzing it around.
Icons across the top of the screen can initiate takeoff and landing, switch between shooting modes, and activate the camera. Your pictures and videos, meanwhile, are accessible by tapping the play icon.
While the claimed 100m range and 13-minute flight time rang true in my testing, I was prohibited from using EZ Shots towards the end of the Tello's runtime. Recharge times are a pain, but this drone can go for longer bursts than its rivals.
Which brings me to the indoor/outdoor conundrum. You'll want to use a drone this talented outdoors, something I was able to do quite happily until the slightest breeze decided to show up. Wind velocity locks off a lot of the features and watching the poor little Tello try to battle Mother Nature's mood swings is a bit embarrassing.
More often than not, particularly in the UK, the Tello is for darting around the living room, save for a perfectly still day. That's absolutely fine for kids – the target audience, I constantly had to remind myself – but stops it from being a true budget alternative to the heftier outdoor drones.
I also encountered the occasional random sensor issue and connection dropout – more irritating than deal-breaking.
Ryze Tello verdict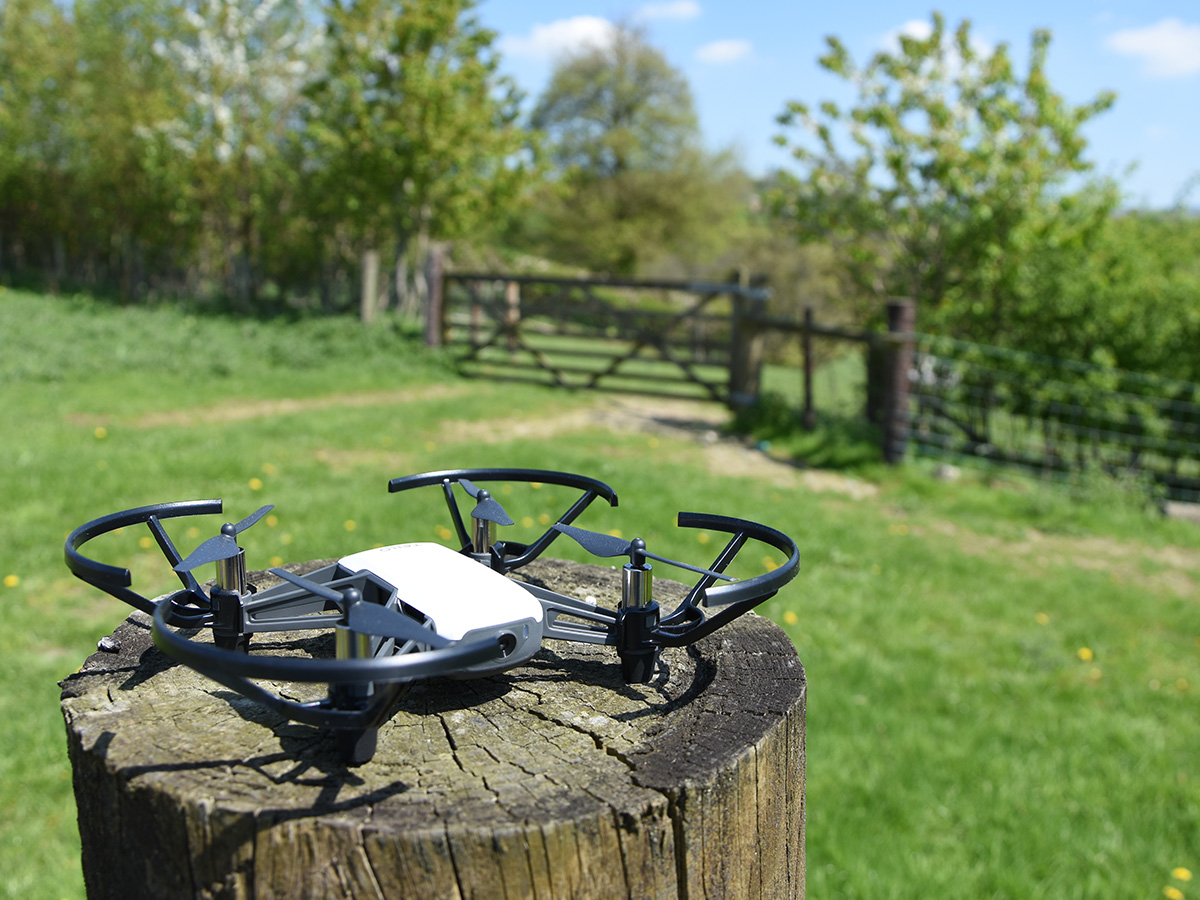 If you're in the market for a toy drone, you should stop reading now and buy the Ryze Tello. For £100, you're simply not going to find a better option.
I can imagine gadget-lovers of all ages having tonnes of fun with the various flight modes, somersaults and 720p video recording. That something this small can zip around for 13 minutes at a time is also great.
If there's a problem, it's that the DJI-powered Tello is so proud of its feature set that it almost transcends toydom, and that's when its limitations are exposed. You start wishing for smoother video and a bit more resilience when flying outside. A cut-price Spark, then, this is not.
But I'm not knocking it down for that. The Ryze Tello is for anyone who likes the idea of flying a drone, but isn't willing to lump up the big bucks just yet. The most fun drone ever? That might be a bit of a stretch, but I had a hell of a time with it.
Stuff Says…
Not without its technical shortcomings, but there's no better £100 toy drone on the market right now
Good Stuff
HD video recording
EZ Shots are a fun introduction to drone-tography
It does somersaults!
Packed with advanced flight tech
Very easy to control
Bad Stuff
Infrequent but annoying technical hiccups
Framerate issues with quick movements
Only usable outside when it's windless
Feels a bit delicate