Sage Barista Express Impress review: drink it in
Bean to cup convenience appeals to even the most basic of baristas
Surely brewing the perfect cup of coffee can't be rocket science? Actually, it's more complicated than you might realise. There's water temperature and pressure to think about, how many coffee grounds you need per cup, how fine you should grind them… The Sage Barista Express Impress wants to take care of all that for you, then let you fly solo once you've mastered the basics.
It's an "assisted manual" version of the firm's ever-popular Barista Express, a semi-automatic espresso machine with integrated grinder. There's a whole lot more going on behind the scenes than a bean-to-cup machine, with a smart dosing system that tweaks how much coffee gets used every time you fancy a brew. A button press here, lever pull there and twist of the sump should be all that's needed for a tasty espresso. The built-in steam wand lets you froth milk for at-home latte art too.
Those are still more hoops to jump through than with a pod coffee machine though, or (sorry, caffeine fiends) a jar of instant coffee. Does that mean this is a machine reserved for people who take their morning cup of joe seriously?
Design & build: can you handle it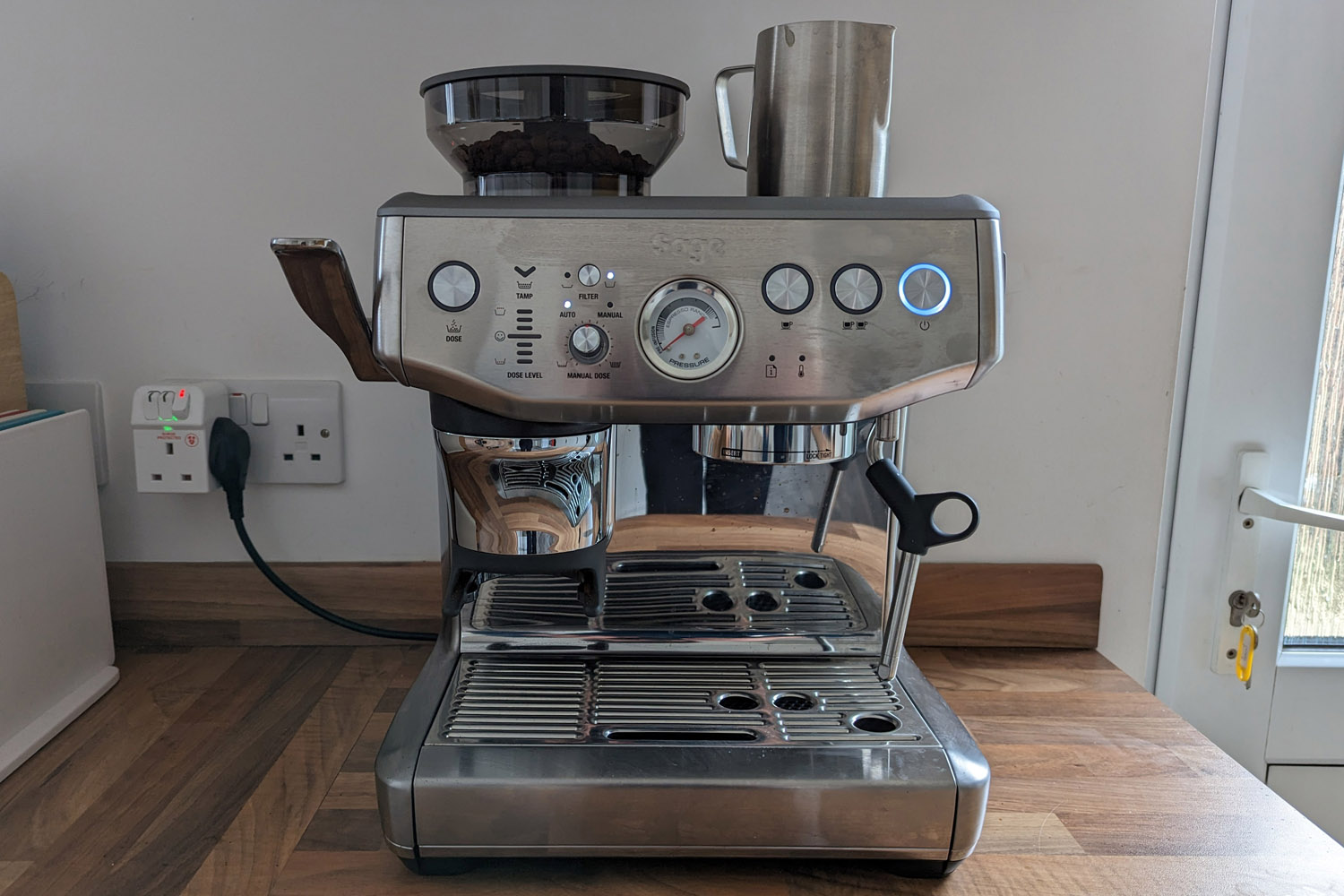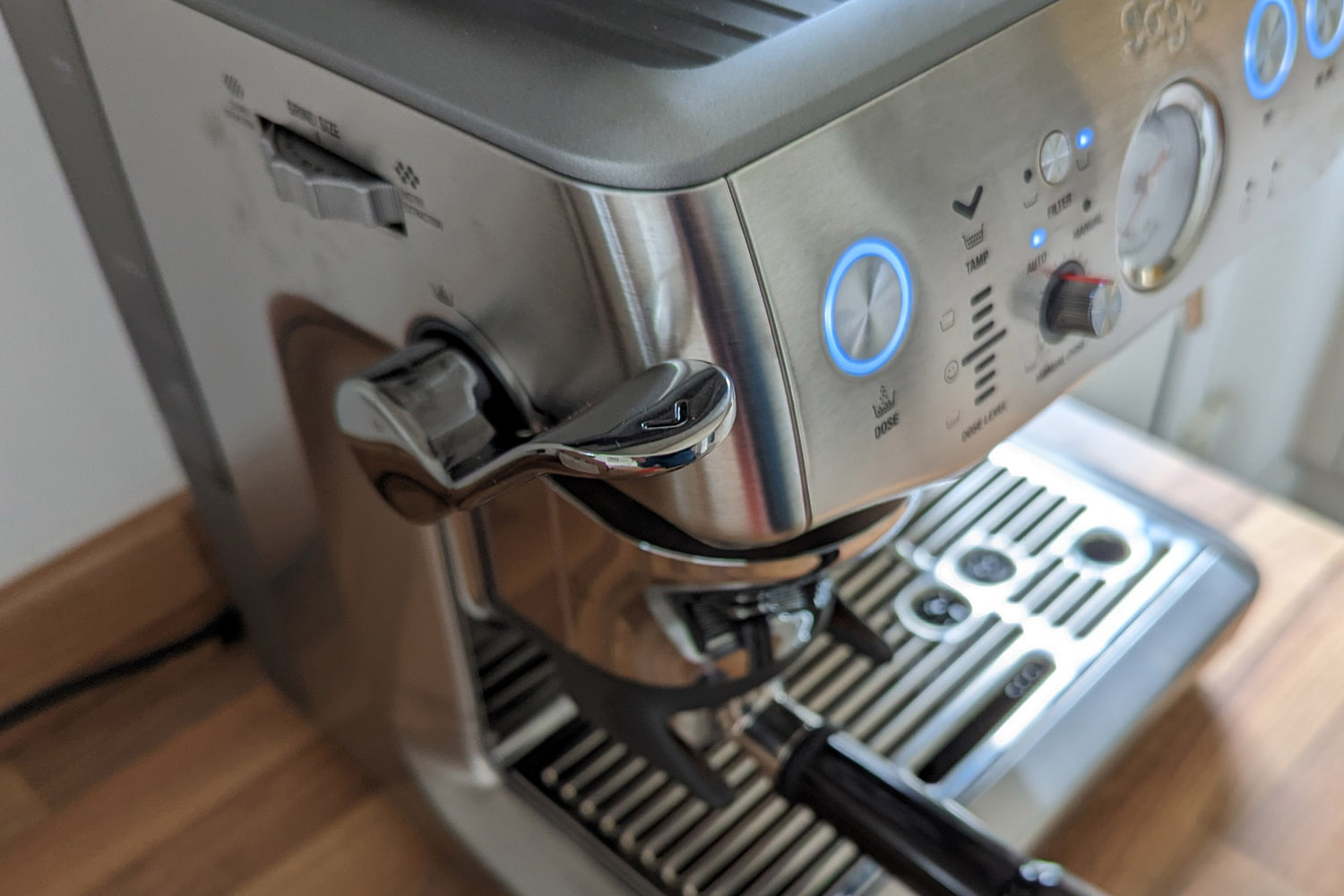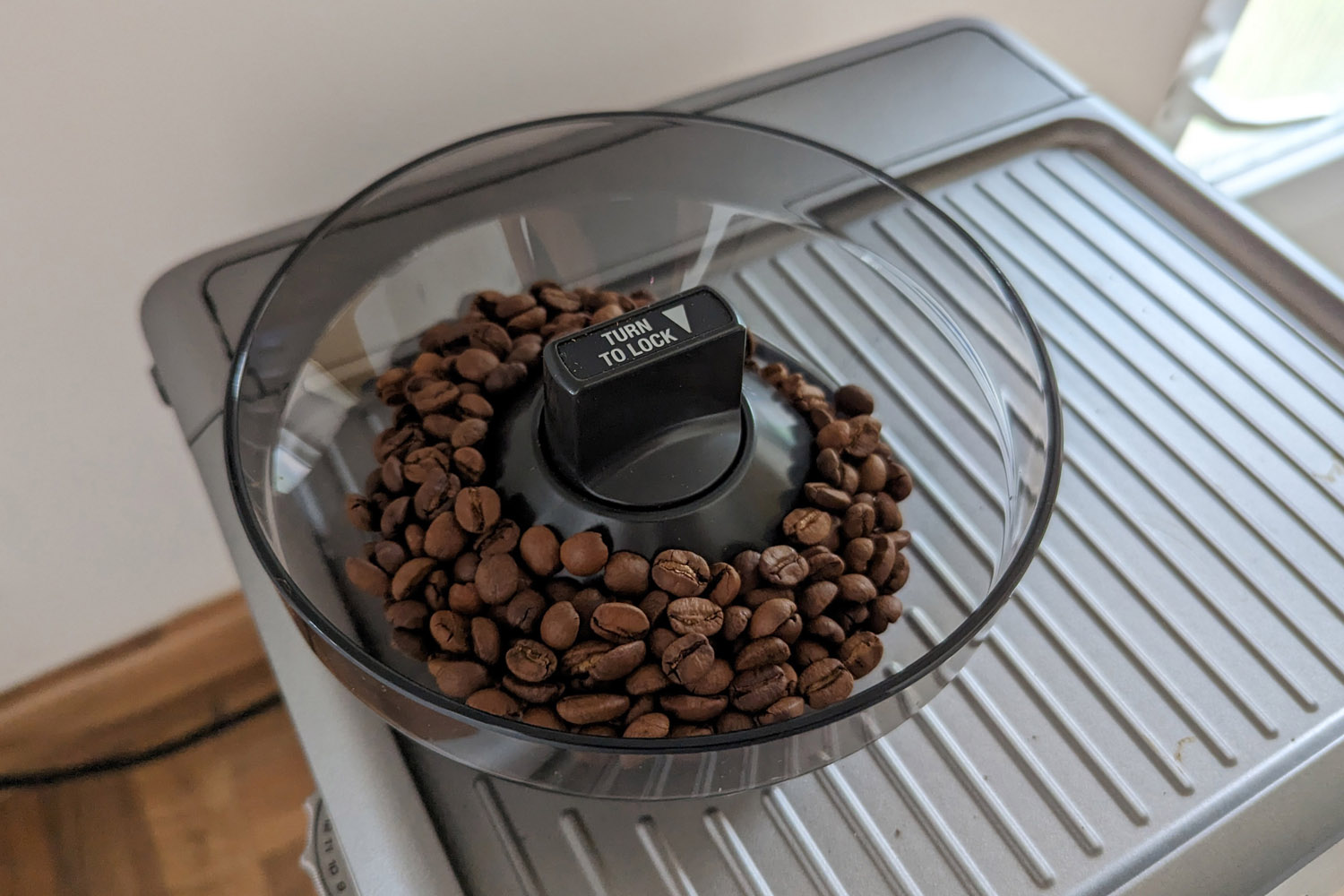 With an array of buttons, levers and dials sat either side of a central pressure gauge, the Sage Barista Express Impress looks like a shrunken-down version of the machines you'd spot in any coffee shop. The brushed stainless steel finish gives a whole thing a premium appearance, and means it's a breeze to keep clean.
The tamping handle is found on the left side, and there's a dial for the steam wand on the right, so you'll want plenty of free counter space before you start brewing – as well as access to the rear, which is where the two litre water tank is loaded. The bean hopper up top means it's a tall unit, too: you might struggle to fit it under some kitchen cabinets.
It'll happily swallow 250g of beans, which is more than the typical 225g bags you'll find in most shops, but unless you have a serious drinking habit you might want to avoid filling it to the brim. Beans can go stale if you don't get through them fast enough, and are best stored somewhere airtight.
There's a useful storage shelf next to the bean hopper, where you can keep the bundled stainless steel milk jug, your espresso cups, or the handful of filter baskets Sage includes in the box. Singletons will want to stick to the one-cup baskets, while couples and families will get more use out of the two-cup ones.
Making espresso: grind me down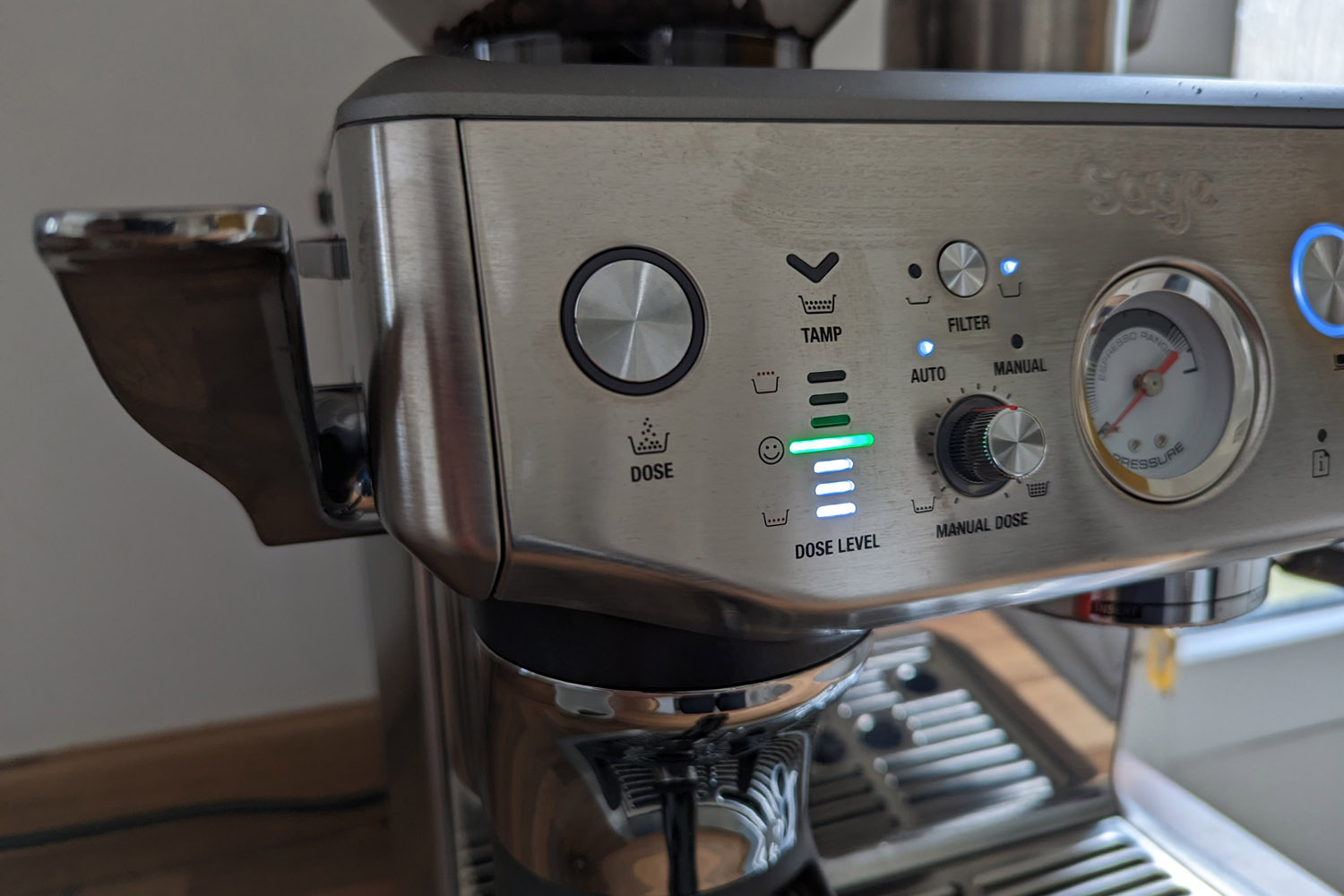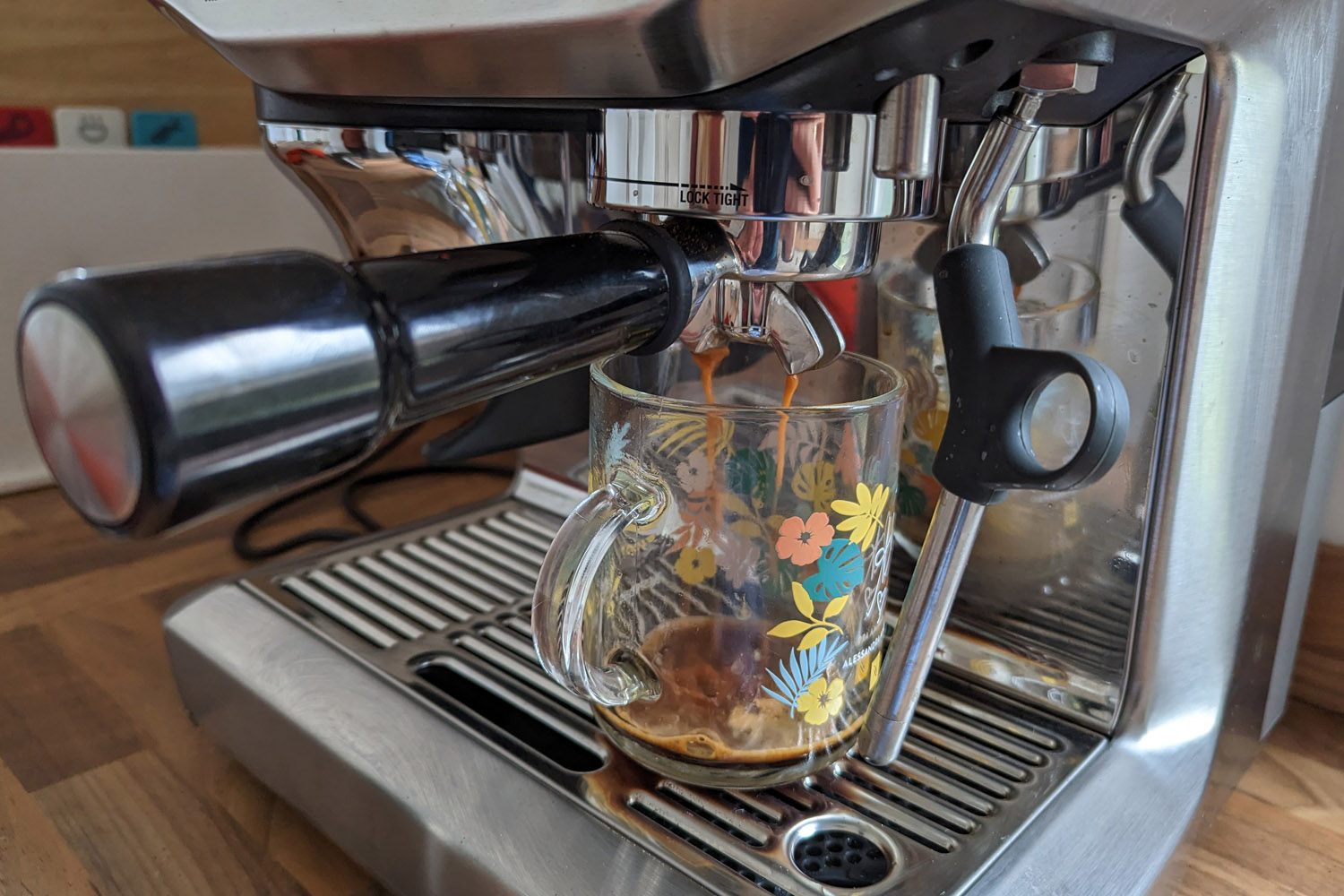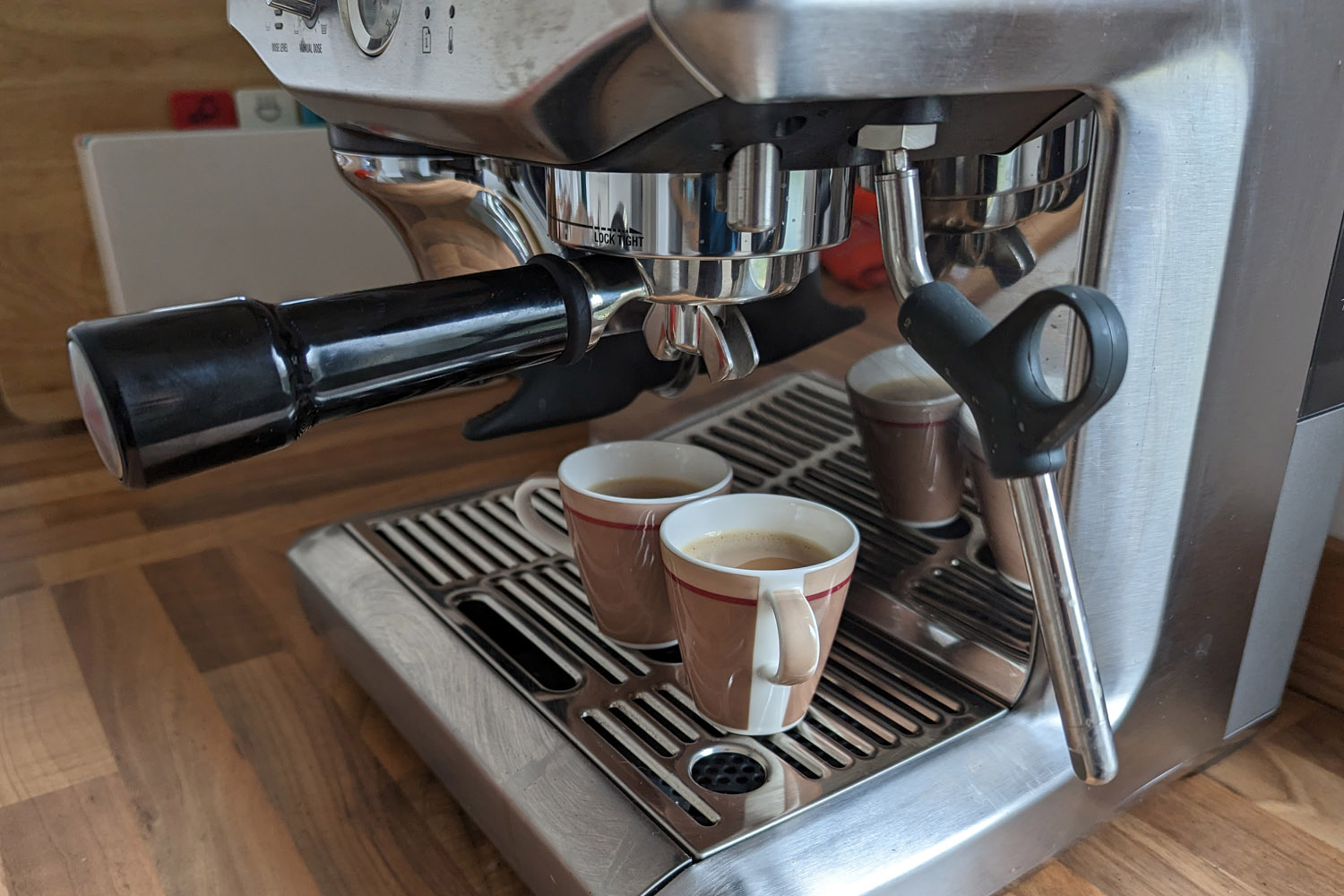 Brewing newbies will want to stick to the Auto setting, where the machine calculates how much coffee to grind. You just pop the portafilter into the cradle, press the dose button, then pull the tamping lever down. It applies 10kg of pressure (not that you'd guess, given how easy the handle is to pull) and adds a 7-degree twist just like pro baristas do. Lights on the front then light up green if the dose is spot on, or white to indicate an over- or under-dose.
If it's under, pressing the dose button again adds just enough to fill the puck, and it'll remember the total amount for next time. If it's over, there's a handy scraper tool in the box for cleaning out excess grinds, and it'll know to dispense less coffee in the future. There's a little trial and error with every new bag of beans, but that's part of the charm. Once dialled in it'll stay consistent until you swap to differrent beans, and in the long run will produce less grind mess than other machines. The only thing it can't do is free grind beans without the portafilter in place, which might be useful if you're into cold brew.
Extraction is as easy as twisting in the portafilter and pressing either the one or two cup button. Because the Barista Express Impress uses an energy efficient water heater rather than a boiler, it needs just a few seconds before you're good to start pulling shots.
If you've got the right grind strength, coffee should flow smoothly into your cup after about eight seconds, producing a nice thick crema. Too quick and the consistency will be pale and watery, calling for a finer grind. Too slow and the taste will be bitter, which can be remedied with a coarser grind. Water pressure is a consistent 9 bar, and temperature defaults to the ideal 65-70° C, leaving grind strength as the only variable – meaning even people who know nothing about coffee can get a perfect cup within a few tries.
Think your coffee knowledge doesn't even stretch that far? The instruction booklet is very easy to follow, and Sage has a comprehensive set of tutorials on its YouTube channel – which are worth watching for the relaxing voiceover and smooth jazz background tracks alone.
Frothing milk: the heat is on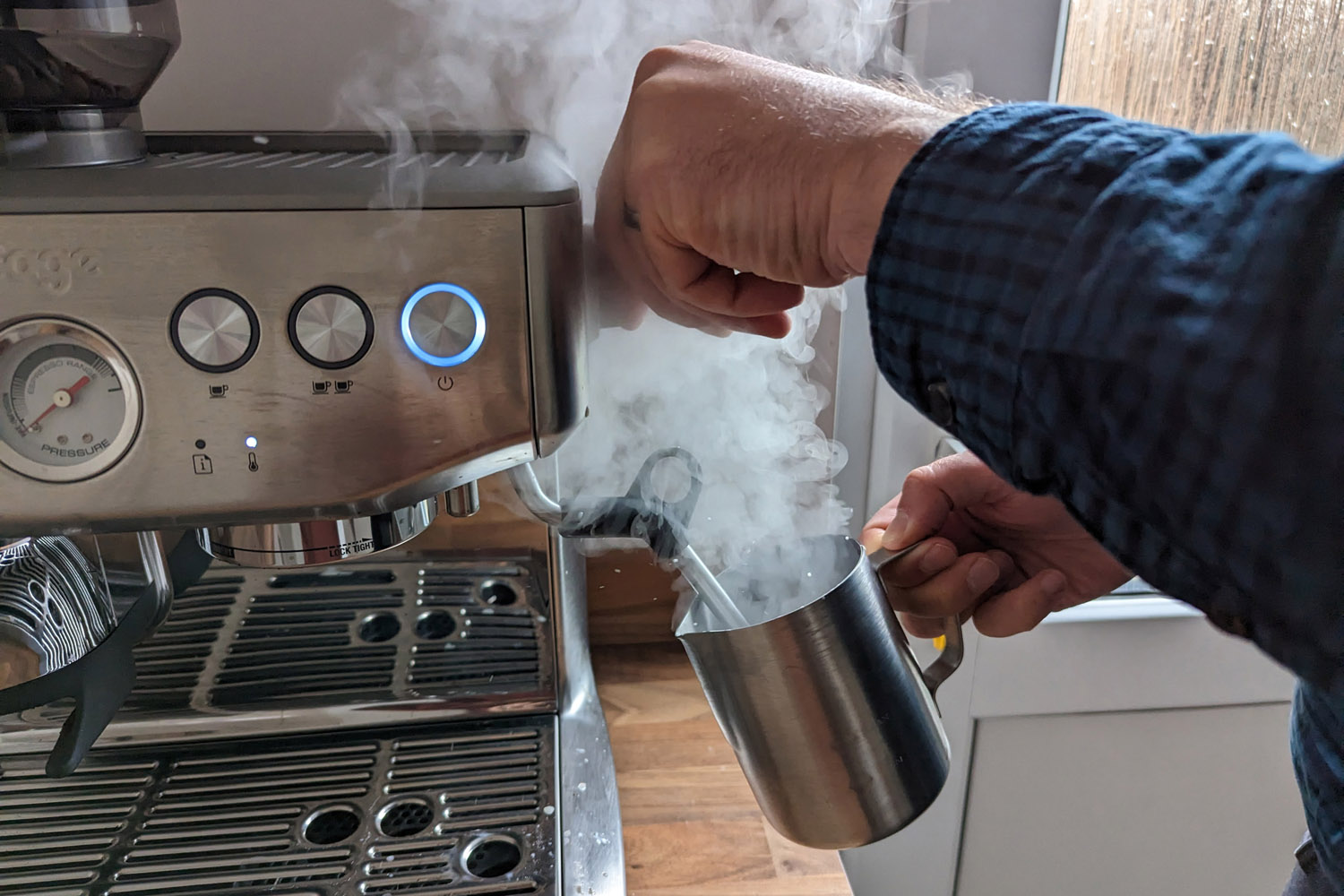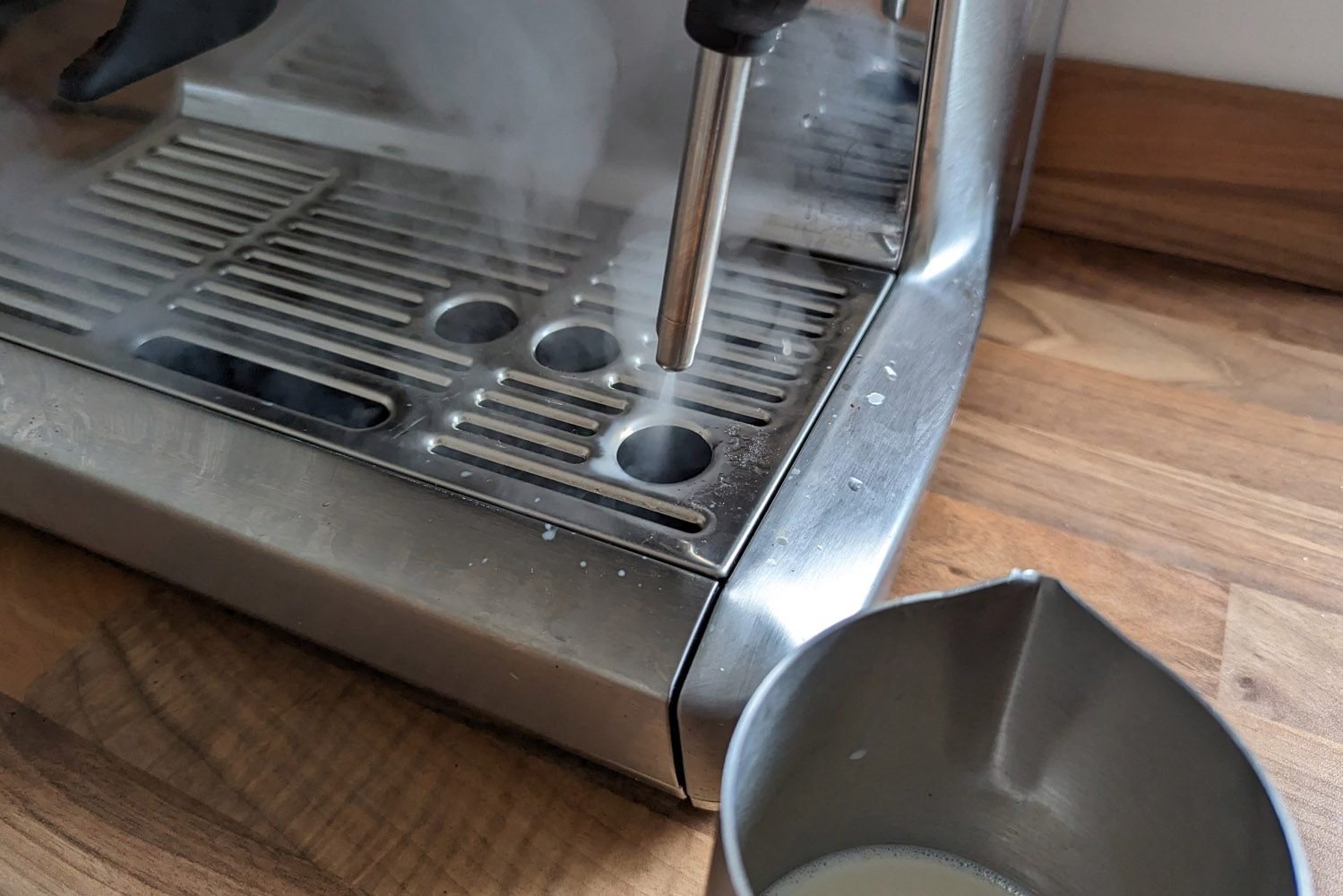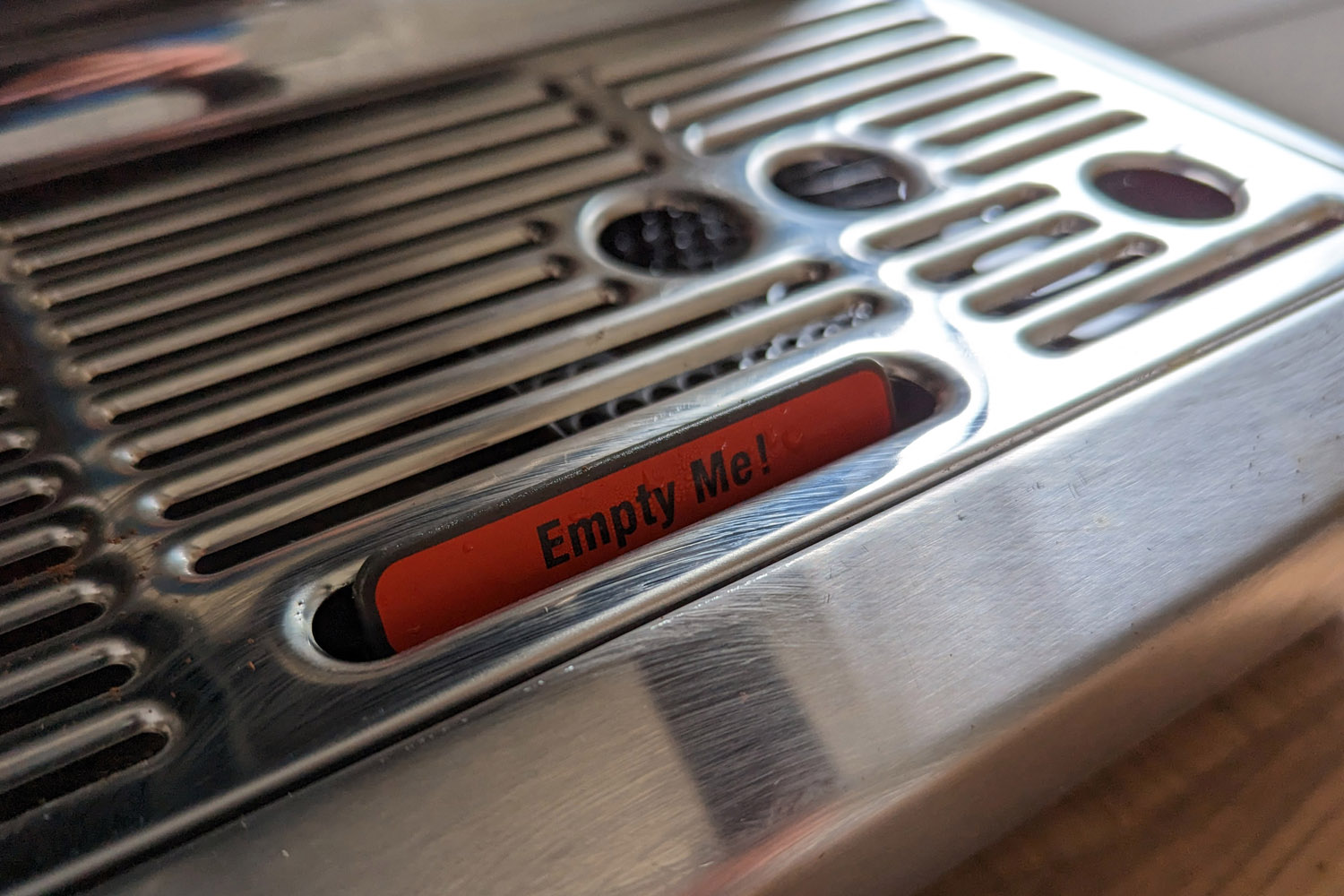 Cappuccino fans and those that prefer taller drinks will need to break out the steam wand. It's very quick to heat up, needing about ten seconds before the steam starts flowing. The wand angles out for easy access, and is especially useful for left-handers. The dial at the side also lets you pour hot water, which is handy for making taller drinks.
It takes a little skill to properly texture milk, holding the included jug at an angle to create a whirlpool and keeping the wand tip just below the surface to get enough air in – but not so much that beginners will be put off. The tip has a single hole, rather than the multiple ones you'll find on pricier machines, so it can take a little bit longer to bring milk up to temperature, but means the flow of steam is better controlled. The process is pretty loud, but not uncomfortably so.
Are you suddenly going to be creating expert-level latte art overnight? Afraid not. But it's a fun thing to learn once you've mastered the Barista Express Impress's other functions.
The water tank is plenty big enough if you take your coffee black, and the water filter conveniently only needs changing every three months, but liberal use of the steam wand drains it at a rapid rate rate. There's no warning once you're out of water, but the tank is transparent, so it's easy enough to keep an eye on how much you have left. The drip tray, on the other hand, has a neat floating "empty me!" sign that appears once it's full. The whole thing just pulls out for easy draining and cleaning.
Sage Barista Express Impress verdict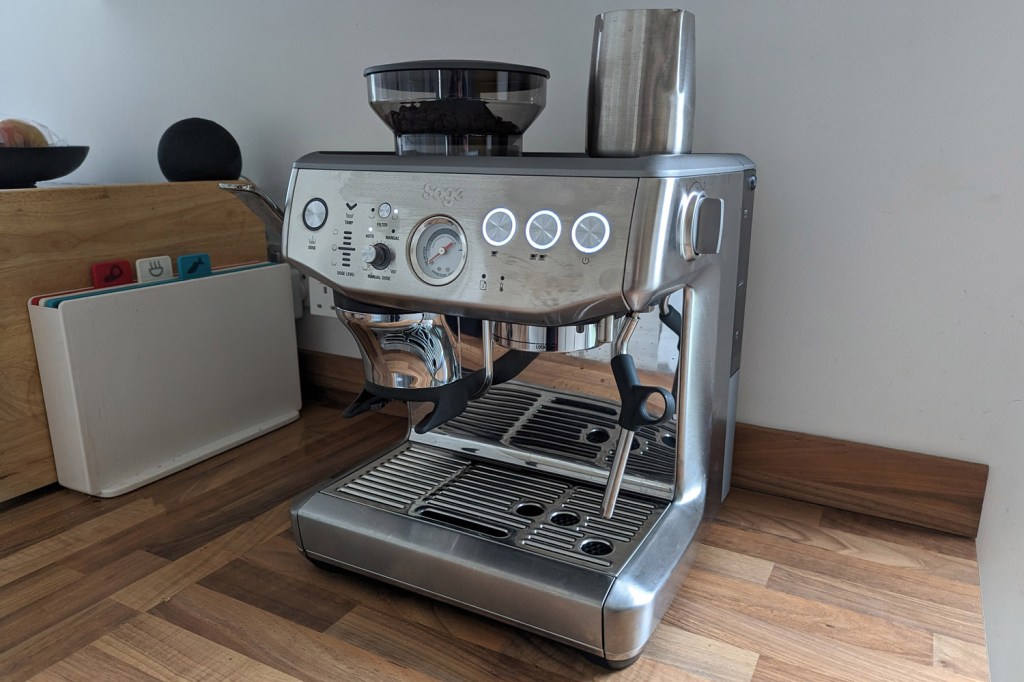 If you think a proper coffee can't possibly come from a jar or a pod, but aren't au fait with authentic barista brewing, the Sage Barista Express Impress deserves a spot on your kitchen counter. It simplifies some of the more complex parts of espresso making, letting you swap instant for freshly roasted beans without having to master that art of tamping or dosage first.
At £730, it's a pricey investment – one that'd take the best part of a year to cover the cost of daily flat whites bought from a high street coffee shop. It's also more involved than a pod coffee machine, which might put off those who care more about a rapid caffeine hit than savouring the taste of their morning cuppa. Coffee connoisseurs, on the other hand, will love getting stuck in with the brewing process, and would need to spend a whole lot more for even finer-grain control.
It looks the part, is as easy to use as an entry-level machine, but has the extra features that experienced drinkers will appreciate. If you weren't fussed about froth before, you soon will be.
Stuff Says…
An evolution of a brilliant espresso machine that's somehow even easier to use. Caffeine addicts will love learning how best to grind their beans, while the rest of us can just enjoy a tasty brew with minimal effort.
Good Stuff
As simple as 'proper' espresso machines get
Manual options for coffee pros
Creates less coffee waste than rival machines
Bad Stuff
Water tank empties rapidly with steam wand
Needs a lot of counter top space