Sage Smart Oven Pizzaiolo review
Phwoarentina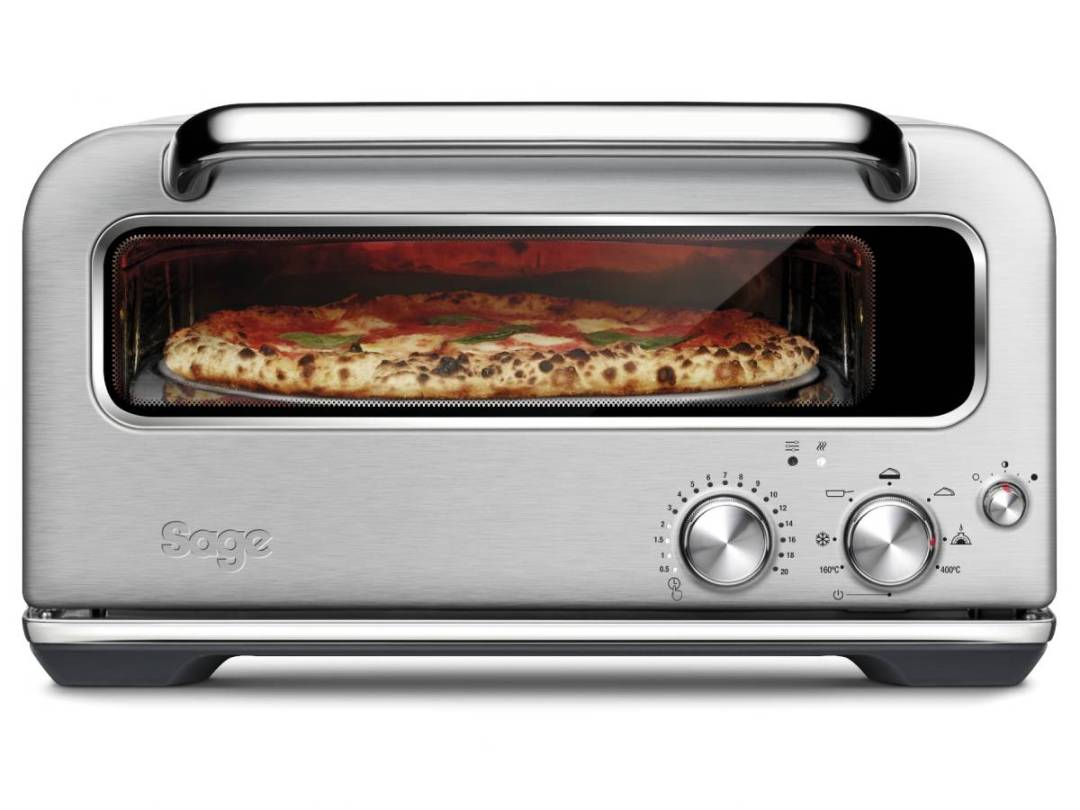 Everyone loves pizza, and anyone who tells you otherwise should not be trusted. You can argue over crust thickness, fruit-based toppings and the merits of semolina flour, but the fact remains – they're all pretty great. Even a visit from the good Dr. Oetker can fix a craving (in an emergency).
But with Pizzerias currently only doing takeaways (delivered lukewarm if you're lucky) making your own – and having loads of time on your hands – makes perfect sense. It's little wonder Google searches for 'pizza ovens' increased by 300 per cent last year.
That's all well and good, but it's freezing outside and we've no intention of firing up the likes of the Ooni or Gozney Roccbox, and while you can make a passable pizza indoors using a hot pan and grill, it's not quite the same.
Sage Appliances plans to change this with the Smart Oven Pizzaiolo (Italian for a pizza making pro), a powerful indoor pizza oven that promises restaurant quality thin and crispy, wood fired style and even deep pan deliciousness without burning the house down.
Stuff spent a week with the Pizzaiolo thoroughly testing the oven's capabilities – and our constitution – to see if you really can knock out a professional pizza at home.
Design: Pizza de resistance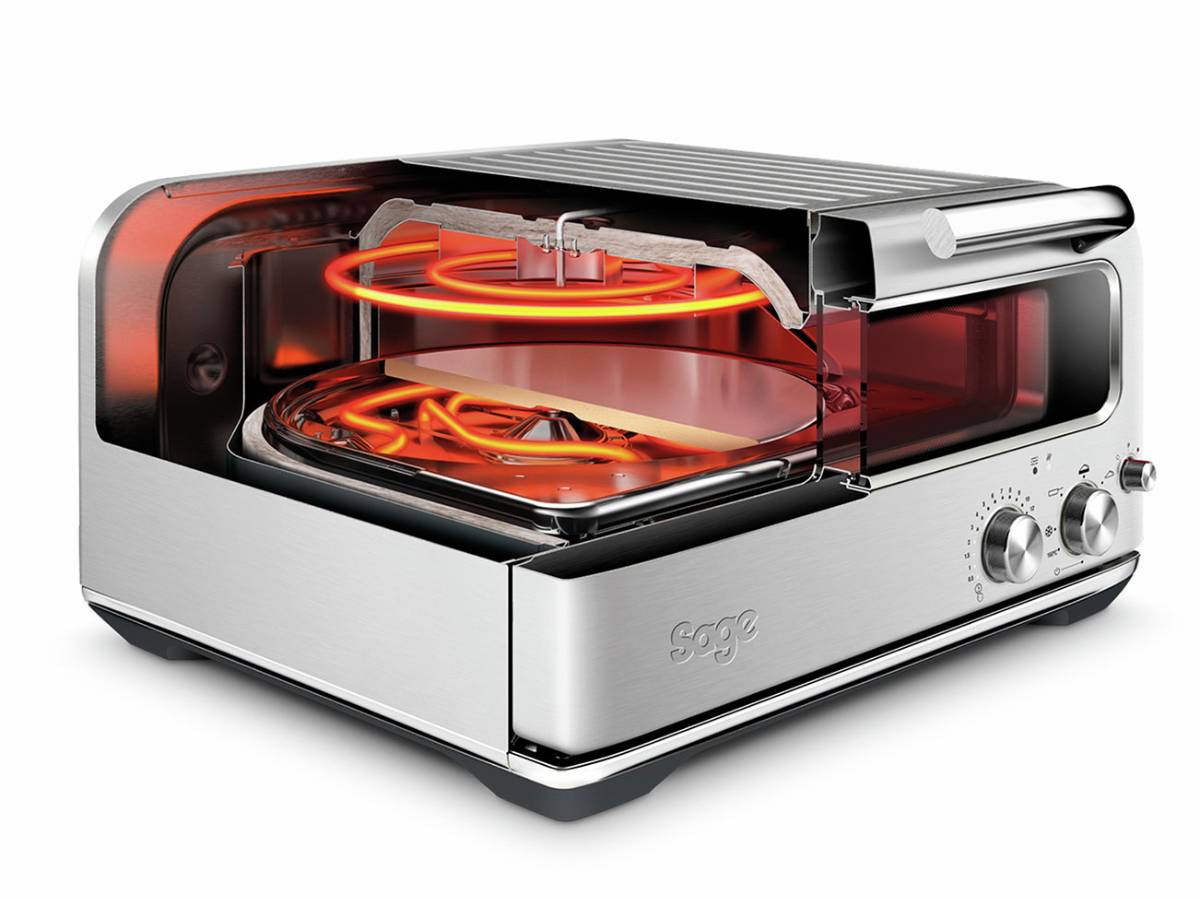 The Smart Oven Pizzaiolo is a sleek, stainless steel slab of style, that despite coming in a box the size of a Mini Metro, is actually pretty compact – like a squashed microwave – measuring W47 x D46.1 x H27 cm.
Like every Sage appliance we've tested, the Pizzaiolo is reassuringly solid, and bridges the gap between professional and domestic appliances. Robust buttons and dials combine with a solid drop-down double-glazed door and hefty mechanism that brings the pizza down and out for easier access. The cavity is only small, but there's a very thick layer of insulation.
Designed to make 30cm pizzas (11.8″ if you must), it comes with a traditional pizza stone or a clever non-stick deep pan dish with a removable handle. There's also a nicely designed all-metal pizza peel.
It's a great looking appliance, with a cool retro-modern vibe, and if we had a spare section of worktop, would gladly keep it within arm's reach at all times. If you're serious about your pizza, you might want to think about ditching the microwave to make room.
Features: Thrill to pizzas
With the Pizzaiolo, Sage has created the first domestic tabletop oven capable of reaching a scorching 400°C. It's a much prettier, and more user-friendly version of a professional grill you'd find from a catering supplier. It's a damn sight hotter than your standard fan oven, and on a par with a brick fired wood (or gas) pizza oven.
All that heat means authentic wood fired (minus the wood) results in under two minutes. It's terrifyingly hot, especially when it's sat on the worktop next to the fruit bowl, but incredibly the walls remain only warm to the touch and never dangerous.
But heat on its own does not an authentic pizza make; you need a combination of conductive, radiant and convective heat to crisp the base and bubble the mozzarella. Sage needed to invent the Element iQ system which does just this, using cleverly positioned heating elements, including a top halo ring designed to produce a classic leopard spotted crust without nuking the toppings.
Not all pizzas need searing temperatures, so the Sage can be adjusted to cook deep pan, New York style, thin and crispy, wood-fired and it'll even lower its standards enough to cook a frozen pizza. There are seven preset modes (175-400°C) and you can also switch to manual with the help of a clever magnetic temperature chart that fits over the existing controls to display temperatures not pizza style.
Once the oven has pre-heated your chosen style the timer – and you've decided on how dark you like your base using the dial on the far right – the timer dial indicates how long it should take to cook your pizza. Press the button and the countdown begins.
Sage Smart Oven Pizzaiolo verdict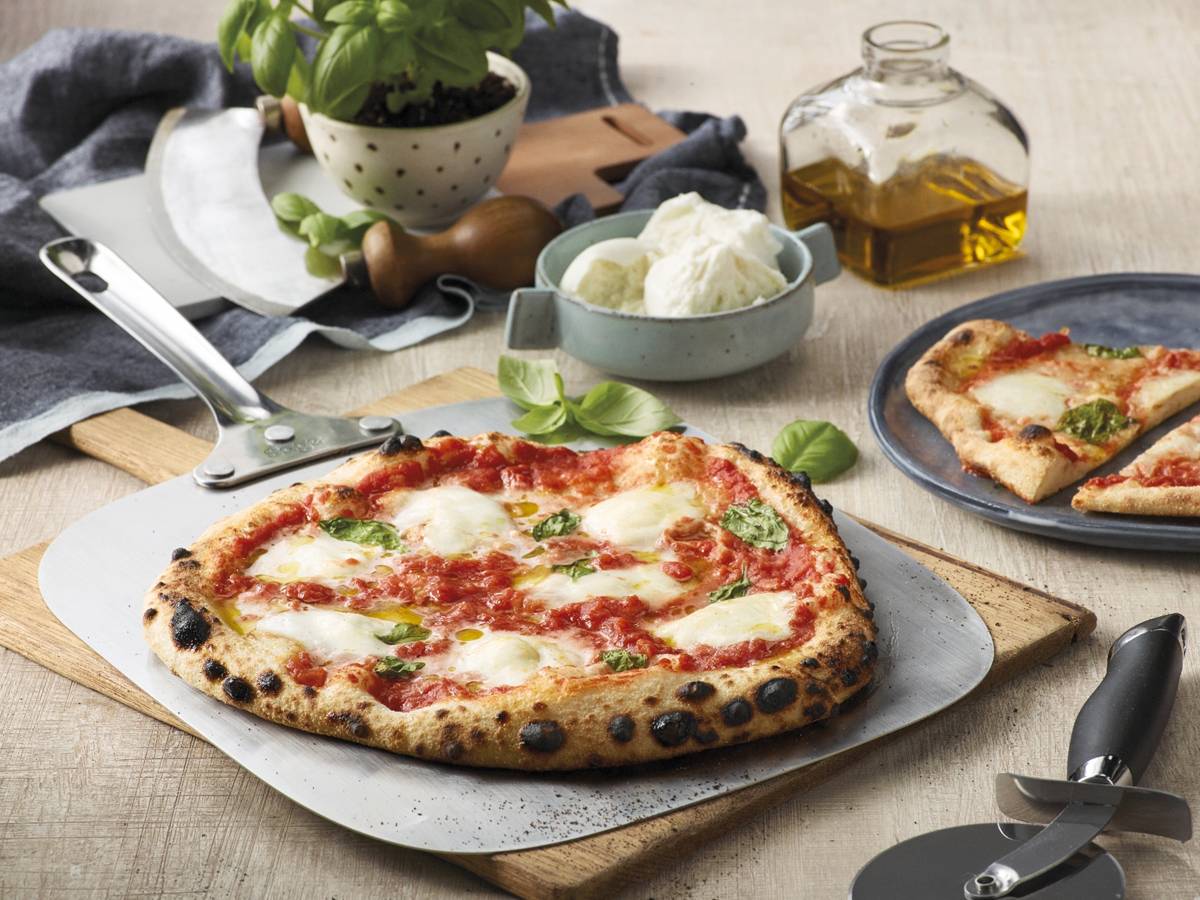 The Smart Oven Pizzaiolo probably costs more than your main oven, but if you're serious about pizza and don't want the faff of an outside oven, it's close to perfect.
It's stylish, easy to use and impressively consistent. The various pizza settings really do work, and the wood-free wood-fired setting is an absolute triumph.
Any less than perfect pizzas we made were solely down to human error. Skill plays a huge part in the finished product, and trust us, spinning pizza dough is harder than it looks.
Being able to tweak every setting also means you'll not grow out of using it – a problem with so many kitchen gadgets – although with Deep Pan Mondays, Wood Fired Wednesdays and Thin and Crispy Thursdays, nobody's growing out of anything around here except our trousers.
Stuff Says…
You knead to find the dough for this pizza oven
Good Stuff
Gorgeous design
Idiot proof controls
400°C indoors
Authentic pizza in 90seconds
Bad Stuff
Costs more than your oven
You still need some skill