Samsung Galaxy A90 5G review
Can 5G connectivity make up for disappointing camera performance?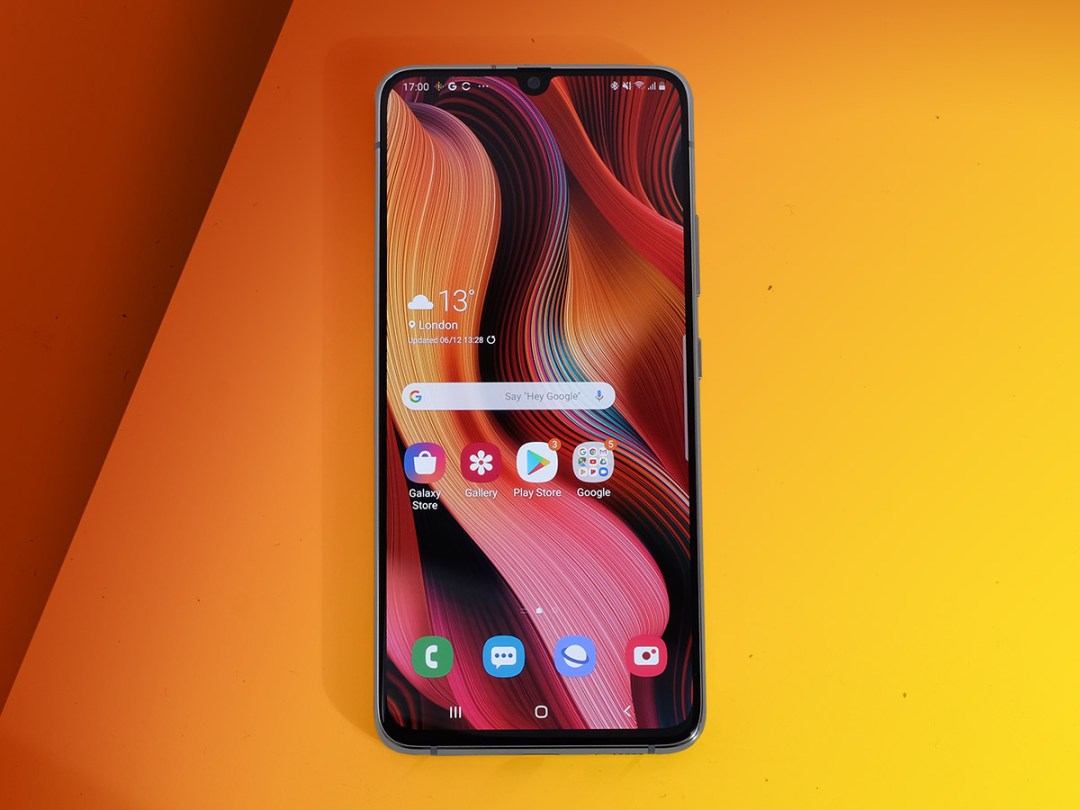 The Samsung Galaxy A90 5G is among the cheapest 5G phones you can buy right now.
Cheap and 5G: two words that don't go together and won't do for a while, right? At £669 this isn't exactly a bargain by any sane metric, but 5G for less than £700 is, apparently, a milestone.
You have to care about the 5G bit too, because right now the Galaxy A90 5G is not much cheaper than the Galaxy S10+, which has better cameras a more eye-catching design.
It has power to spare, but with stiff competition for less cash from Xiaomi, Oppo and Motorola, does the A90 make a strong enough case for going 5G?
Design: A phone of four quarters
The A series is normally where you find Samsung's phones that cost a bit less than billboard-botherers like the Galaxy Note 10. Slower processors and plastic shells are comfort food to this family.
The Samsung Galaxy A90 5G is a bit different. As it sits right at the top of the range, you get the same kind of metal and glass design used in flagships. Compare it to the Galaxy S10+ and you'll notice the front glass isn't curvy and it has a classic teardrop notch rather than a 'punch hole' front camera. But only Samsung nerds would necessarily know this isn't a top-tier mobile.
There's also something funky going on in the back. It's split into off-centre quadrants, each with a slightly different finish. Some parts are just a wee bit darker or less glossy than some, and the top half looks pearlescent when it catches the light. We're fans, mostly because it's something different that doesn't look like it was focus-grouped by a bunch of six-year-olds on a sugar high.
Don't hate it? The main part to take on-board is the Samsung Galaxy A90 5G is a BAP, a big-ass phone. That's great for Netflix, and it is skinny, but the size can get in the way when you're browsing through a brain-rotter like Facebook in bed.
It also has some of the same little design issues as its less fancy A-series relatives. There's no official water resistance and no headphone port. You don't even get a microSD slot, although the 128GB storage should be enough for most.
The fingerprint scanner is the most irritating bit. This is an in-screen pad, the fashionable kind, but it's just not that good. Too often you have to make several attempts and it checks out at the first sign of a bit of thumb moisture.
Screen: 90% of the effect for 65% of the cost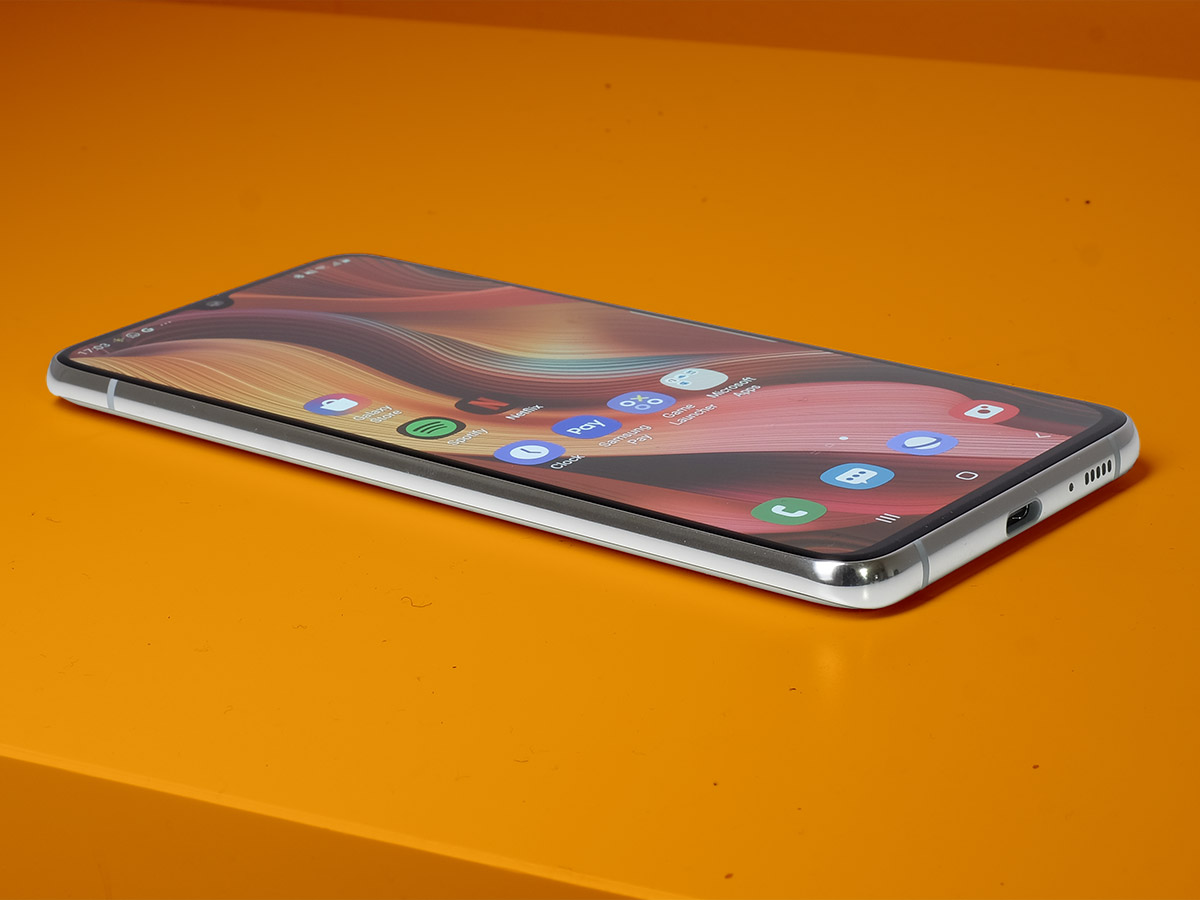 The Samsung Galaxy A90 has a big screen, like most early 5G phones. It's 6.7 inches across and has resolution of 2400×1080 pixels. Top Samsungs may be sharper, but none are significantly bigger, and the difference in pixel density is not that noticeable anyway.
You get two choices of colour style, just like the Galaxy Note 10. "Vivid" scoops out all the potential of the OLED panel, Natural tones everything down for a more relaxed look.
This is very much a '90% of the effect for 65% of the cost screen'. It supports HDR, but doesn't have the 90Hz refresh rate of a few recent phones.
For video and gaming it's perfect, and image quality purists may even prefer this flat screen to the Note 10's curved one. They may look flash, but those rounded-off edges do affect the picture.
Software: Wide open space
The Samsung Galaxy A90 5G's software is the mirror image of that of other large phones like the Note 10. It has Android 9 and the Samsung One UI.
We've skipped between phones from Xiaomi, Oppo, Motorola, LG and Sony in the last couple of months, and Samsung's One UI is possibly still the most successfully stylised, cleanest-moving of the lot. Well, after you've fiddled with it in one important way.
Fresh out of the box its icons are so huge and widely-spaced the Samsung Galaxy A90 5G looks like a phone designed for people with bad eyesight – but you're only ever a couple of screen prods away from changing that. Samsung also takes a retro approach to how it displays apps. Android has used a vertical scroll as its app drawer since 2014's version 5.0.
Samsung still uses pages you flick through horizontally. This gives you more control, lets you make little thematic folders to organise apps into categories. But a vertical scroll is like a bed that makes itself each morning: zero faff or upkeep. We love the laziness of that, but can't complain too much when all the top Samsungs have this one.
The Samsung Galaxy A90 5G has a Snapdragon 855 CPU. This also matches Samsung's best for power. A-series phones aren't known for being power monsters, but this phone more-or-less had to use this CPU as lesser ones can't offer 5G. You can't just bung a 5G modem in any phone yet.
Top-end Snapdragon power makes the Samsung Galaxy A90 5G perfect for high-end games. Everything runs well. And if you find something that doesn't, the blame should probably go to the developers, not the phone.
There are zero deep performance complaints here – the patchy fingerprint scanner is the one part that slows the Samsung Galaxy A90 5G down day-to-day.
Camera: Not worth the cash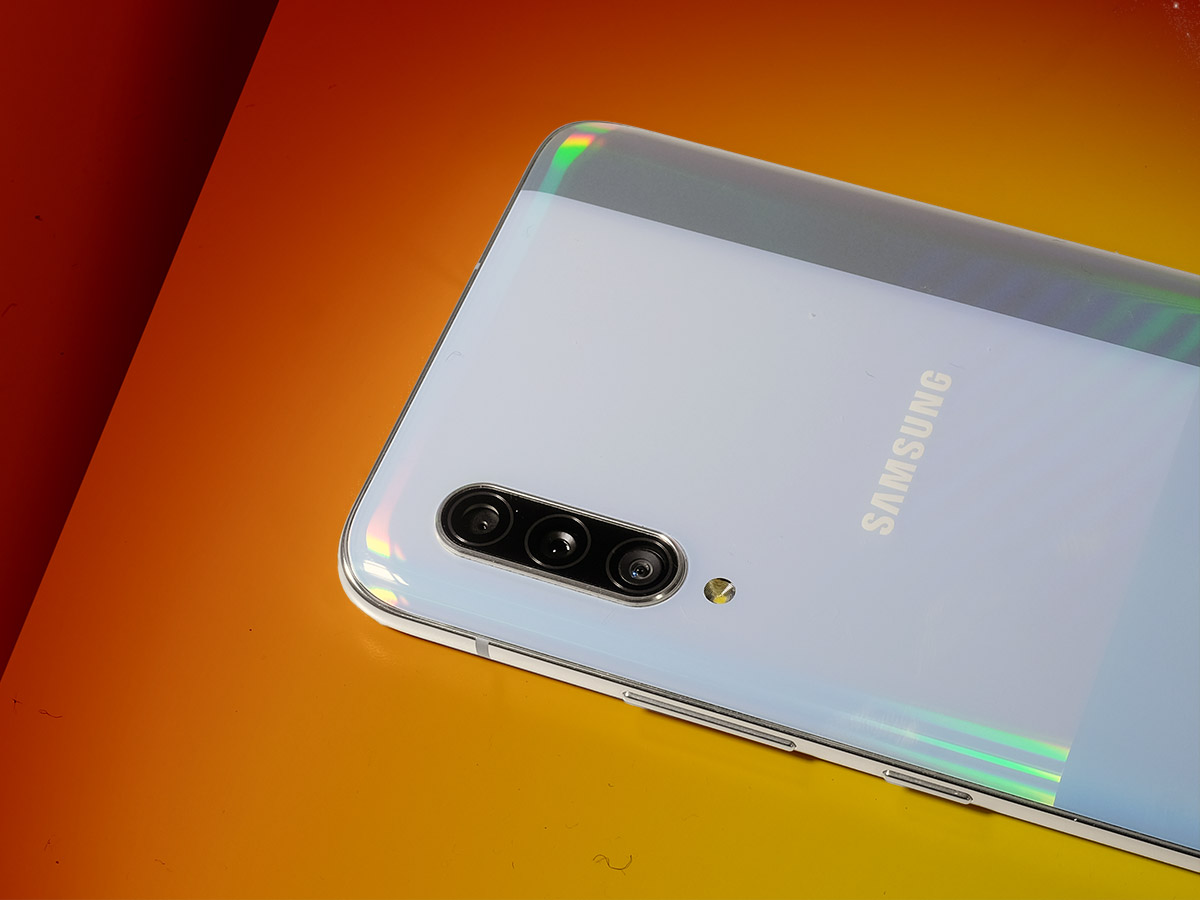 The idea that you get a top-tier phone with 5G for less starts to crumble when you look at the Samsung Galaxy A90 5G's cameras. There are three on the back and they're the stuff of £300-400 phones, not a £669 one.
The main camera uses the 48MP Sony IMX 586 sensor, which is solid hardware, if not at the same level as the 12MP sensors of the Galaxy S10 family. The other two are basic: an 8-megapixel ultra-wide and a 5-megapixel depth sensor.
There's no zoom, image quality dips significantly when you switch to the wide view and low-light images simply aren't that great. The Samsung Galaxy A90 5G does have a Night mode, but the results aren't close to those of cheaper options like the Google Pixel 3a XL, the Xiaomi Mi Note 10 and Oppo Reno 2. Photos have more noise, less detail.
This is where Samsung saved some money. If camera quality is right at the top of your priority list, the Samsung Galaxy A90 5G isn't a good choice.
However, it's not all bad. The Sony IMX 586 is a solid sensor, used in the OnePlus 7T, and it can take some great images. Samsung helps out here too, with its usual solid handling of colour and dynamic range optimisation.
This phone can take some very pretty images. But when you look closer you may notice detail lifted out of the shadows by processing doesn't look entirely sharp, or that its texture is a little mushy. This is what you end up with when using a mid-tier camera sensor rather than a high-end one.
Video is mixed too, but you'd only notice this when digging deeper. The Samsung Galaxy A90 5G has extra features like live background blur when taking a video of a person's face, ultra-slo-mo and hyperlapse. It also has Samsung's superb Super Steady mode, which uses the ultra-wide camera to get rid of all the biggest of judders. It's like using a motorised gimbal, although as the wide camera isn't the best around to start with, there is a hit to image quality.
The ceiling of quality modes is oddly low for a phone as pricey as this too. You can only shoot 4K at 30fps, and this mode wipes out all forms of stabilisation. That's enough to make it more-or-less unusable in lots of situations.
Plenty of people will buy a Samsung Galaxy A90 5G and find themselves happy with the camera. But you can find phones hundreds of pounds cheaper with more versatile ones.
Here's where we run into the crux of this phone. We're not sure most people should prioritise 5G over a great camera at this point. 5G coverage is swiss cheese even in the limited metropolitan areas that have it in the UK. And in those 5G zones the speeds you get vary a lot from metre to metre.
Battery: Just about enough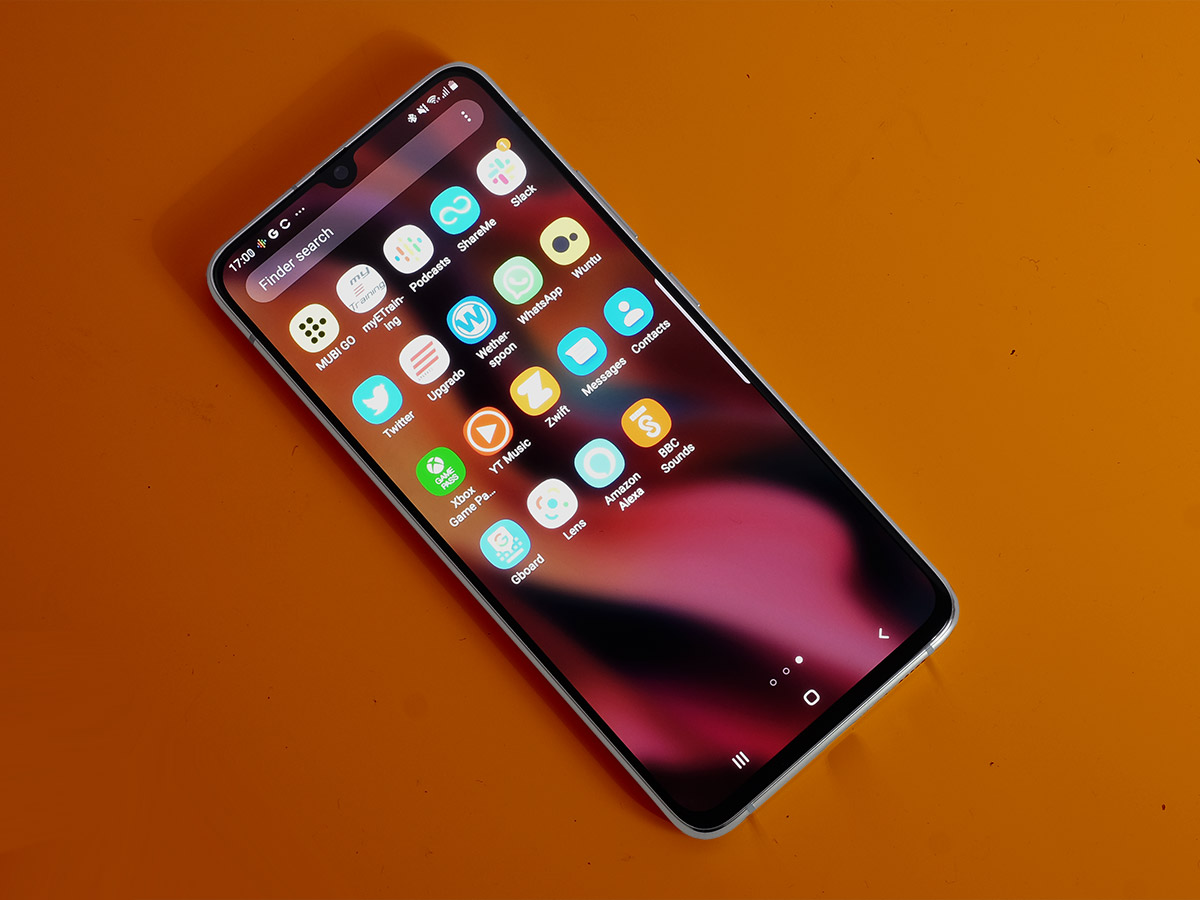 The Samsung Galaxy A90 5G has a 4500mAh battery, larger than the Galaxy Note 10+'s. It's no chart topper when the Xiaomi Mi Note 10 and Oppo A9 2020 break the 5000mAh barrier, but it's just about enough for satisfying real-world use.
Most of the time we end up with around 15-20% charge when it is time to plug in and tune out. You probably won't get two days of use out of the Samsung Galaxy A90 5G unless you use the phone little enough to make us wonder why you're buying such a pricey phone. And on a few heavy days we've had to give it a mid-afternoon top-up to make sure it lasts through the night.
This battery is nothing to get excited or complain about. And, strangely, its stamina seemed to get a little worse after using the phone for a week. There's no wireless charging either, but you do get speedy 25W fast charging, which is probably more important.
Samsung Galaxy A90 5G Verdict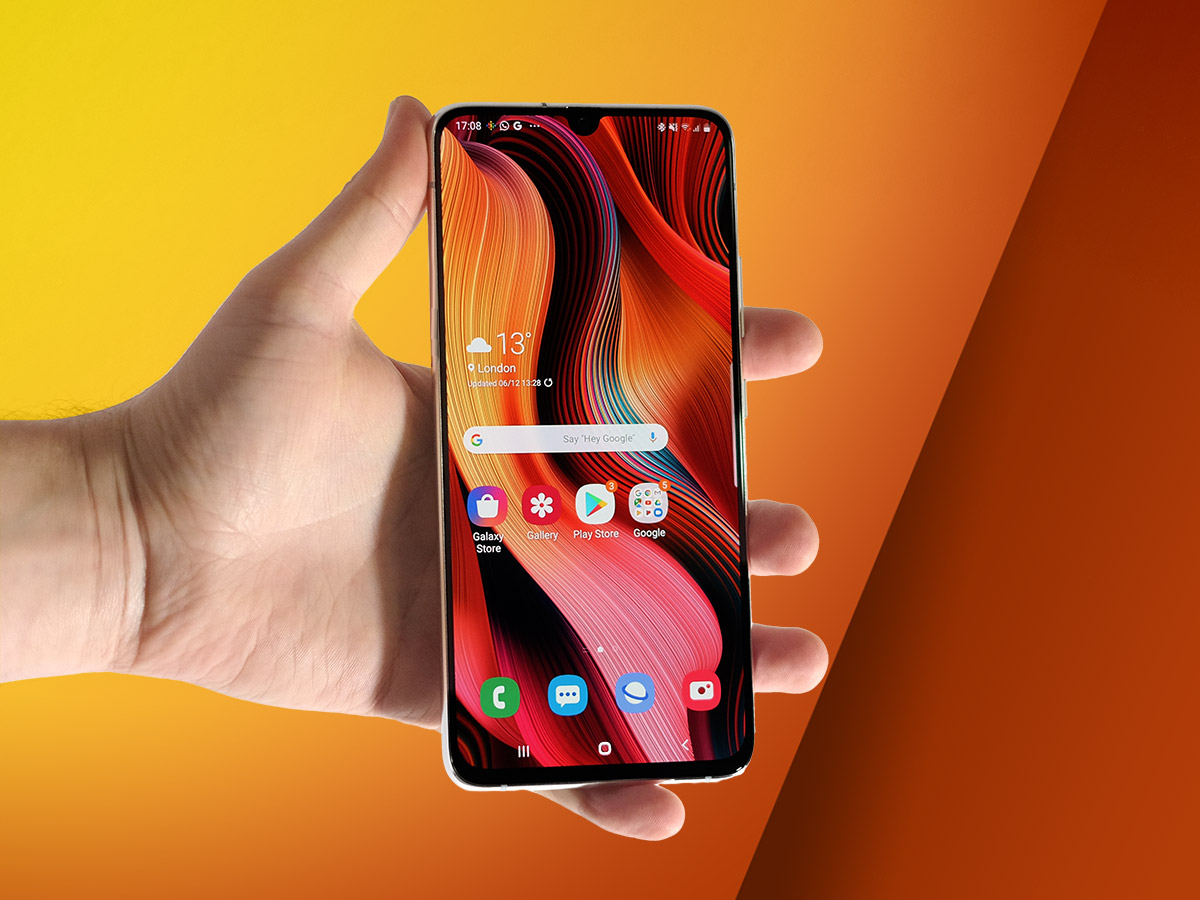 The Samsung Galaxy A90 5G is a real test for the appeal of 5G versus a world-class camera. And having tried 5G across London, we think there's currently more fun to be had with a killer multi-lens snapper than (occasionally) faster mobile internet.
This phone looks and feels like an A-list phone, and runs like one too thanks to its ultra-high-end processor. But bits like the temperamental fingerprint scanner and B-grade cameras make us cringe when we're spending nearly £700, 5G or not.
Still, if 5G has become an obsession, this is one of the less bank balance-destroying ways to get started with it.
Stuff Says…
This is one of the most affordable ways to get hooked up with 5G, but you pay for it in a few important areas
Good Stuff
It has 5G
Big, bold screen
Plenty of power
Bad Stuff
Fingerprint scanner kinda sucks
Cameras are a way off the £650-plus standard
You may be disappointed by 5G right now
No headphone port