Samsung Galaxy Fold review
Solid fold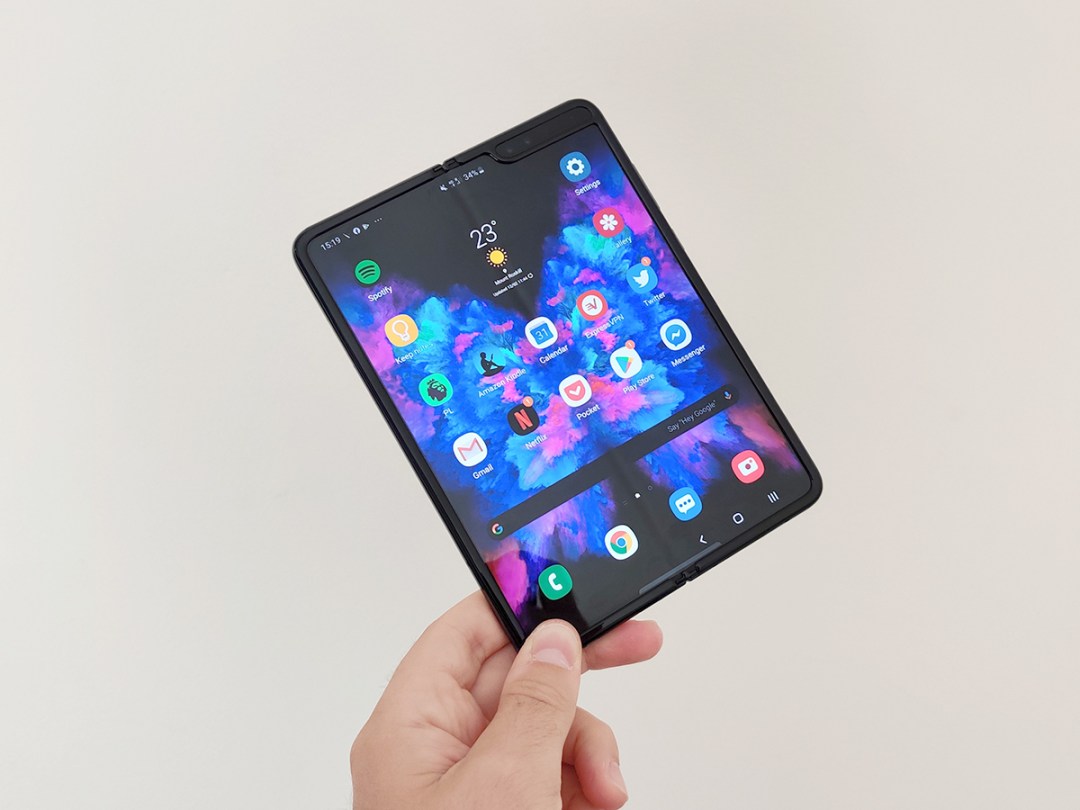 When there are no smartphone worlds left to conquer, innovation must look to the absurd. Manufacturers can't noticeably improve the cameras, displays or battery life of modern phones so instead they have decided that to stand out, some phones must now fold in half.
The first folding phone widely available is the aptly named Samsung Galaxy Fold. It is a device of contradiction: incredible yet fragile, capable yet hobbled. Unless you have tons of disposable income you definitely shouldn't buy one.
It was also delayed after it was first revealed back in April 2019 due to manufacturing defects.
Yet despite its history and sky-high £1,900 price we kind of like it. It's hard not to be impressed by such a feat of engineering. Plus, it is simply very cool.
But can we really call it a phone? For the most part, it's best to think of it as a folding tablet that can also make calls.
Design: I'm creasing up
The design of the Galaxy Fold is like nothing that came before it. We've all become used to having a slab of glass as a phone for the best part of a decade, so to see a tall foldable book-like phone is a shock to the system.
The foldable display is a flexible OLED panel that is fused to several layers of polymer to create something that can (hopefully) withstand thousands upon thousands of opens and closes. Samsung says it has tested this 200,000 times, which mean you could open and close it 100 times a day for over five years and it should be fine. The company's newer foldable phone the Galaxy Z Flip has a hardier, glass infused display whereas the Fold's is all plastic.
The Fold is a chunky 15.5mm at its thickest point when folded, which is very noticeable in the hand and pocket compared to regular phones. It doesn't shut completely flat but into a sort of wedge, with a gap at the hinge but the outer edges touching. At 263g it's also pretty hefty, and the hinge only stays locked when fully open or closed. Anywhere in between and the halves flop around worryingly loosely.
All the Fold's buttons are on its right edge (there's mercifully no Bixby button) along with a fingerprint sensor needed for unlocking and authenticating secure apps. We preferred to use face unlock though, as opening the Fold and have it instantly unlocked after scanning your face is a baller move.
Display(s): It's hip to be square
The Fold's showpiece is its internal square display. It is necessarily plastic in order to bend so this means even fingernails can leave permanent indentation – hardly ideal for something you've just shelled out two grand on.
All 2152 x 1536 7.3in still look great though, with decent brightness and colours as vivid as we've come to expect from Samsung's flagship phones (once you've toggled on the 'vivid' mode in the display settings). But there is a physical crease right where the phone folds that you can feel when the Fold is open. You can even see it, apart from when you're looking at the display dead on.
It means that while the spectacle and novelty of the large folding screen remains, it is a screen with a visible crease and high reflectivity thanks to its plastic coating. No matter what you're doing there's a line running from top to bottom that is often hard to ignore. It's also there when watching video in full screen landscape mode, scoring a stern line through the Netflix show you're binging on the bus.
There's also a comically large notch in the top right corner which houses two cameras and two sensors. The notch seems far too big considering that's all that's in there, and it feels like a design decision that resulted in wasted space. It makes the phone look unfinished and adds to the feeling that the Fold is very much a first generation product, along with the relatively thick black plastic bezel that rounds off the display's edges.
All of the above about the display, only to remember this phone has two. When shut, the Fold has a 1680 x 720 4.6in 21:9 glass screen that looks very squashed and small with enormous bezels at the top and bottom, with another camera and the earpiece for taking calls up top.
Samsung's decision to put a screen on the outside is understandable, as you can operate the entire Android OS from it. It's just so poky that we couldn't help but open the phone every time to finish tasks on the larger square screen.
It means that both displays of this phenomenally expensive device are actually both quite awkward to use – neither are as comfortable or well sized as a regular modern smartphone. The Fold is a constantly impressive device when you're using it, but you'll find everything you do is much slower and more laboured than when you do it on your current phone.
There are tricks Samsung employs to help like splitting the default keyboard down the middle to move the letters closer to each thumb for typing but ultimately, it's a tough adjustment and highlights just how uncomfortable the dimensions of the Fold are whether it's open or closed.
Performance: Doesn't do things by halves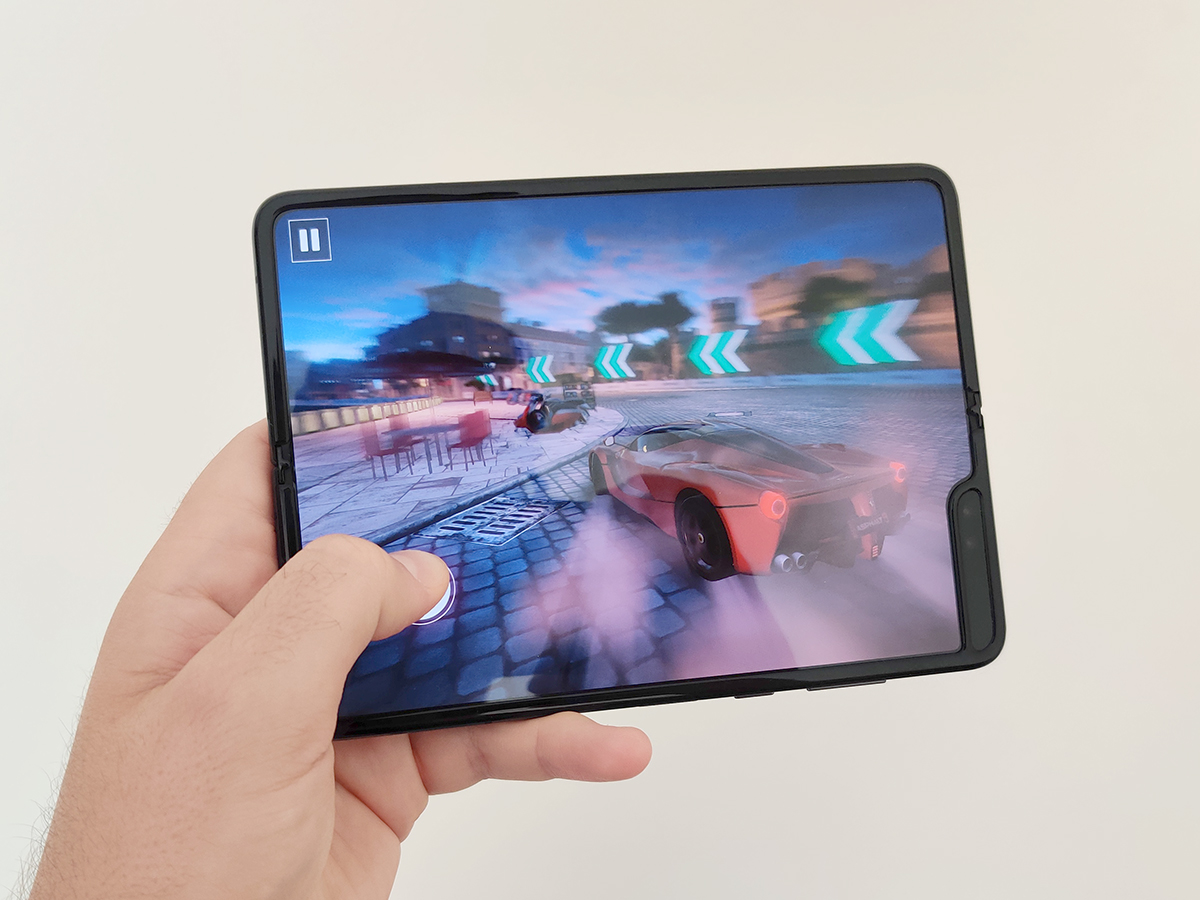 Aside from the fact this phone folds in half, it is also a top-spec device with outstanding performance. Thanks to its delayed release it has the Snapdragon 855 rather than the newer top of the line 865, but for most people that's plenty of power for the next few years of use.
Whether you're idly browsing Instagram or multitasking between then different apps, the Galaxy Fold can take it. It has the same internal specs as the Galaxy S10 range except with a beefed up 12GB RAM.
If you are a mobile multitasker then the Fold might be up your street thanks to its split screen options. Android phones can all split two apps across their screens, but this is fairly useless given the dimensions.
Not so with the Fold, whose square screen can comfortably fit two apps side by side and can even make room for a third before things start to get silly. It means you could watch your team's big match with Twitter open next to it and still have room for the keyboard when you want to publicly harangue the opposition.
Gaming is a doddle too, with mobile RAM hoggers like Asphalt 9 and Fortnite running without a hitch. They also format pleasingly well into the square screen, making the Fold a top gaming pick outside of specific gaming phones like the Razer Phone 2. That said, the Fold is stuck at a 60Hz refresh rate, unlike the smoother 120Hz seen on the Razer or even Samsung's latest S20 phones.
And while gaming takes a hit on the battery life like it does on any phone, the Fold has exceptional staying power the rest of the time. It has 4,380mAh spread over two cells, one in each half of the device. Using the Fold as our main phone, we never once hit less than 20% after a day of heavy use, including taking international flights and roaming. Add to that Samsung's fast wired 15W charging and wireless charging capability, you shouldn't be caught short.
Camera: Thrice as nice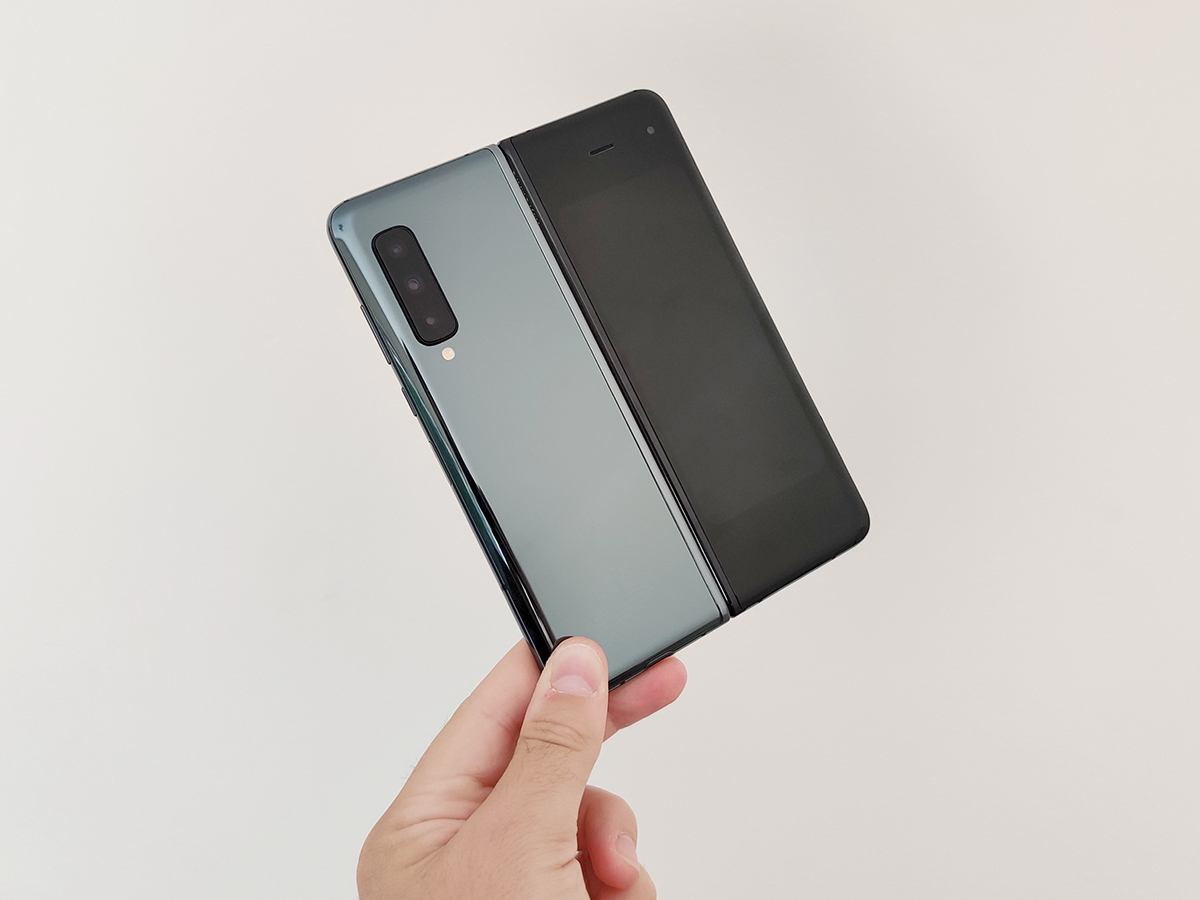 Mobile photographers won't be let down by the Fold's triple 12MP cameras and dual 10MP and 8MP front facing cameras, the exact same you'll find on the Galaxy S10 Plus.
Using the huge display as a viewfinder is great if you don't mind people thinking you're an iPad photo tourist, and the results are punchy and well detailed, though do have that familiar Samsung saturation. If photography is your number one priority, the iPhone 11 Pro has the Fold sussed.
With main, telephoto and ultra-wide sensors the Fold is pretty versatile with 2x optical zoom and 10x digital zoom. The dual aperture main and the telephoto have optical image stabilisation that is missing from the ultra-wide, so while the latter means you can fit your whole bottomless brunch party into the frame, the results are less impressive and have a fish eye effect at the edges.
Samsung Galaxy Fold verdict
The Galaxy Fold is a curious, revolutionary device that few people should consider buying. Its hardware is a paradox – a stunning technical achievement that is frustrating to use as your main phone.
If we can even call it a phone. The Fold is a tablet that collapses into a stunted phone. It's not better than a regular smartphone at being a phone, and it's not better than an iPad at being a tablet. Both faults are largely down to the awkward size of both displays.
Add to that the potential fragility of the hinge and the internal screen being permanently damaged by even a fingernail and we end up with exactly what the Fold is: a first generation device. It'll be remembered as a breakthrough in personal technology but is also as close to a prototype phone you can buy today.
It's incredible that the Fold even exists and one day we might all be walking around with foldables in our pockets. But you should only be buying the Fold if you have enough cash to warrant the purchase and another phone to fall back on when day to day use annoys you so much you have to put it down.
Stuff Says…
The future arrived too early for the Galaxy Fold – astonishing, but also too expensive and too fragile to recommend
Good Stuff
It folds in half!
Great performance
Top battery life
Bad Stuff
It's £1,900
Internal display easily permanently marked
Both screens are awkward sizes