Samsung Galaxy Tab S6 review
Android's answer to an iPad Pro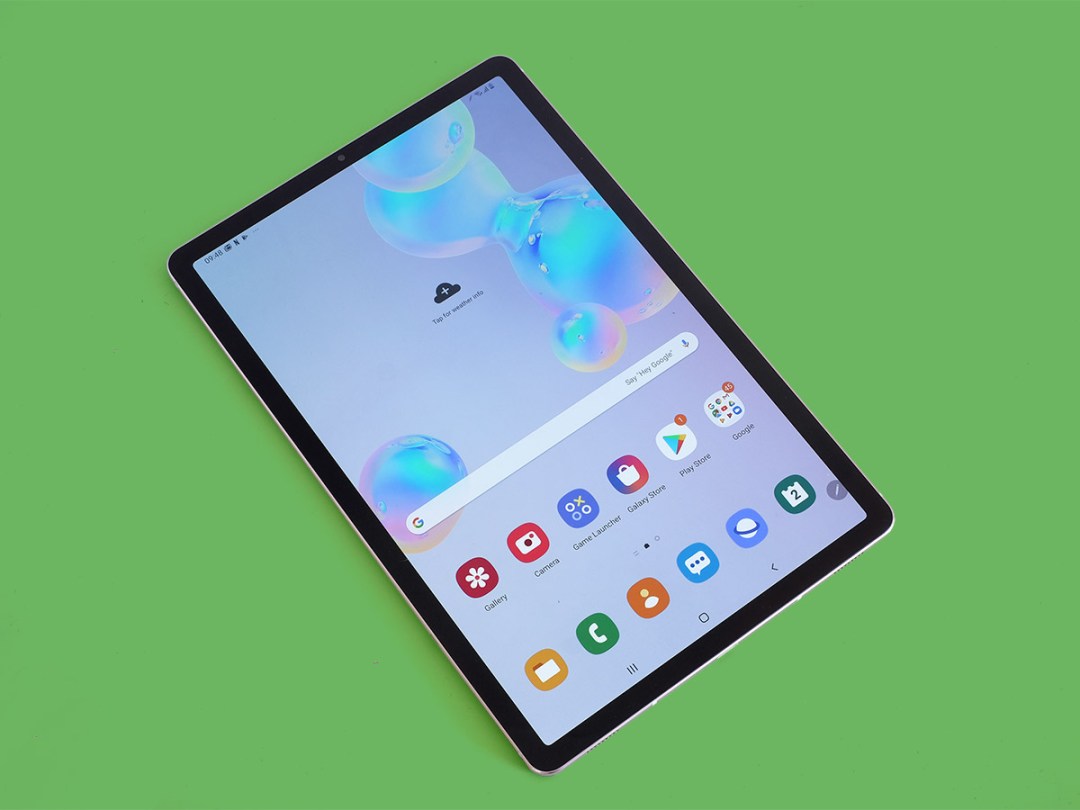 Most companies have left the tablet game to Apple. Amazon makes plenty of things, but they're cheap and cheerful, little more than shop fronts for Amazon's gear. Huawei makes tablets, but almost no-one notices when they are released. Sorry Huawei, it's true.
Only Samsung really offers a proper iPad competitor, and the Samsung Galaxy Tab S6 is its latest. This is a no-compromise tablet with an excellent pressure-sensing stylus and a very powerful Snapdragon 855 CPU. It is, almost without question, the best Android tablet in the world right now.
Prepare for the big "but". If you're not going to draw on it and don't play a lot of high-end games, the Samsung Galaxy Tab S5e is probably a better buy. Love drawing and hate Apple? This one is for you.
Design: Alu, is it me you're looking for?
Aluminium is back. Last year Samsung flirted with glass backs in tablets like the Galaxy Tab S4, but the Galaxy Tab S6's back is all-aluminium.
We're glad. Aluminium may, bizarrely, be seen as a way to cheap out in phones, but it really does seem the best material for a tablet. The Tab S6 feels fantastic, and looks good to boot. Big panes of glass can seem a bit too fragile, even clinical.
The effect of the aluminium here is very iPad-like, but this tablet is a different shape. iPads are kinda squat, thanks to their 4:3 aspect screens. The Samsung Galaxy Tab S6 has a 16:10 screen, so either seems taller or more widescreen, depending on how you hold the thing.
There's an unusual part on the back too. A little shallow groove is where the stylus lives. A magnet keeps it in place and a wireless charging panel recharges the stylus's battery.
Just like the Note 10+, the Samsung Galaxy Tab S6's S-Pen stylus is wireless. The button can fire off all sorts of commands when far away (well, a few metres away) from the actual screen. We've hardly been begging for a wireless tablet stylus, but it might come in handy as a camera or music controller.
This thing is pretty feature-packed. But there are a couple of missing bits. The Samsung Galaxy Tab S6 does not have a headphone jack: pretty annoying. There's no official water resistance. No surprise there, as very few tablets are rugged.
It doesn't have a side fingerprint scanner like the Galaxy Tab 5e either. But that's because there's one built into the screen. This is the first tablet we've used with one.
The Samsung Galaxy Tab S6 also has a microSD slot, and optional 4G. It has just about everything, bar a headphone jack.
There's even a cracking set of speakers. Much like the Galaxy Tab S5e, there are four drivers tuned by headphone maestro AKG. These are louder, bassier and beefier than the average tablet speaker. Side-by-side with the S5e there's not a huge difference in sound quality but the Samsung Galaxy Tab S6 does have slightly better mids and bass.
It's a big bonus for apps like Netflix and YouTube. The speakers are great for gaming too, although you'll probably find you block them accidentally a lot. Partially block them and it feels a bit like an angry insect is buzzing away under your fingers.
Stylus and drawing: S-Pen is mightier
You can stack up the Samsung Galaxy Tab S6's features as high as you like, but the S-Pen is what really stands out.
This is a pretty serious piece of drawing tech, comparable with the Apple Pencil. It can sense 4096 levels of pressure, the screen knows it's there when the nib is hovering an inch above the screen, and the tip's design makes drawing feel smooth and natural.
Samsung has made tablets with styluses for years, but this one is a cracker. You get Samsung's own drawing app, Pen Up, preinstalled, but to get the most from the Samsung Galaxy Tab S6's S-Pen you'll want to download a more advanced app like Sketchbook Pro, Adobe Illustrator Draw or Paperdraw. These let you use multiple layers and advanced brushes for a painterly look.
It's loads of fun, and the Samsung Galaxy Tab S6 stylus makes a pretty good alternative to the virtual keyboard, as handwriting recognition is surprisingly great.
Ready for the bad bits? The S-Pen lacks the clever angle-sensing tech of the Apple Pencil, there's a little more lag than the iPad Pro experience and the button positioning gets annoying. Unless you're careful it ends up under your thumb, and you'll end up pressing it accidentally. This brings up the S-Pen shortcut menu, which you definitely don't want to see when drawing.
Screen: spot the difference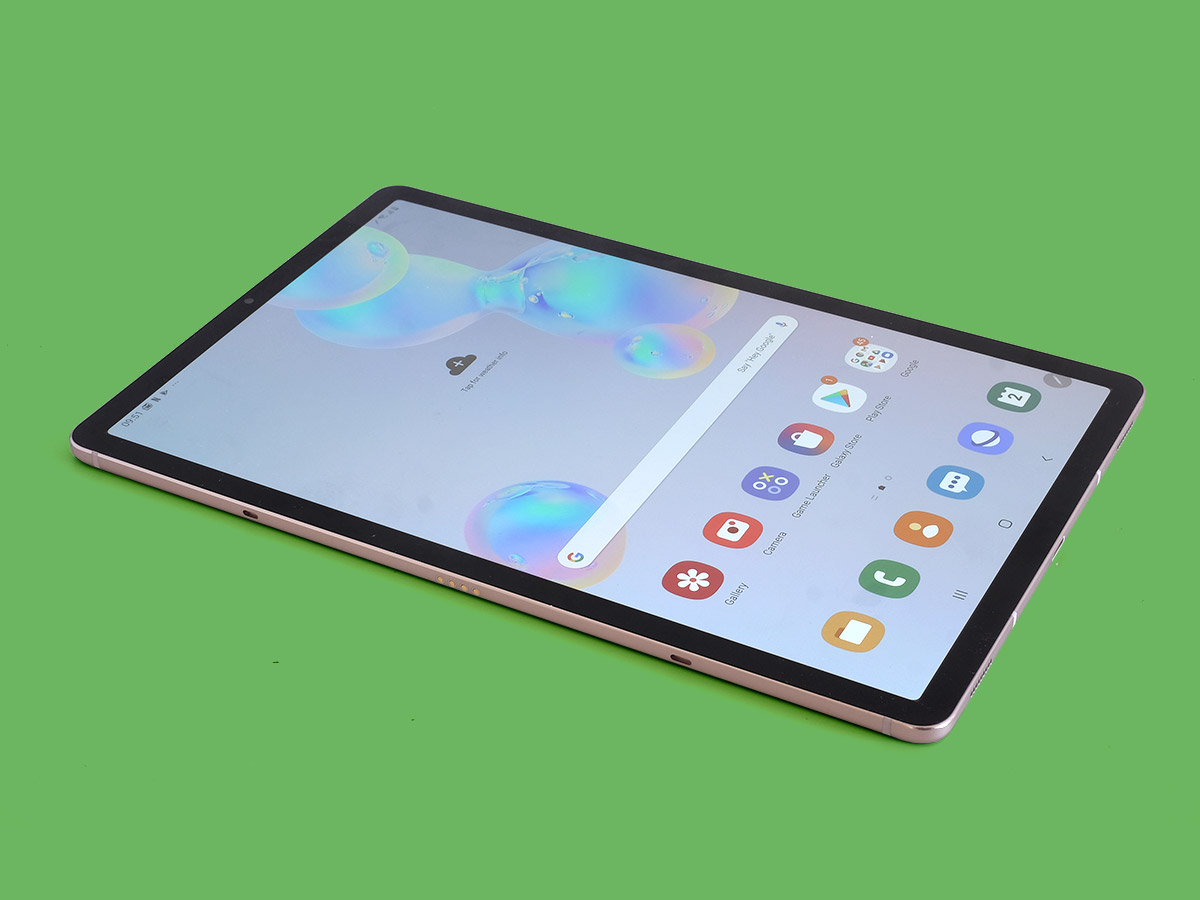 The Samsung Galaxy Tab S6's 10.5in screen is a good size for sketching too. This is a Super AMOLED screen of 2560×1600 pixels, just like the Galaxy Tab S5e's.
Side by side there's very little difference between the two. Either gets you a sharp image, rich colour and excellent contrast.
They are similarly bright too, with an extra nitrous injection that kicks in when you take the Samsung Galaxy Tab S6 out on a bright day.
One part has changed, though. The older Galaxy Tab S5e has more colour modes. There are just two in the Tab S6: "vivid" and "natural". We get the sense Samsung kept the colour styles people actually use, although it does mean losing the one many would consider the most accurate.
This tablet also supports HDR10+, the Samsung-backed high dynamic range standard.
Software and Performance: power on tap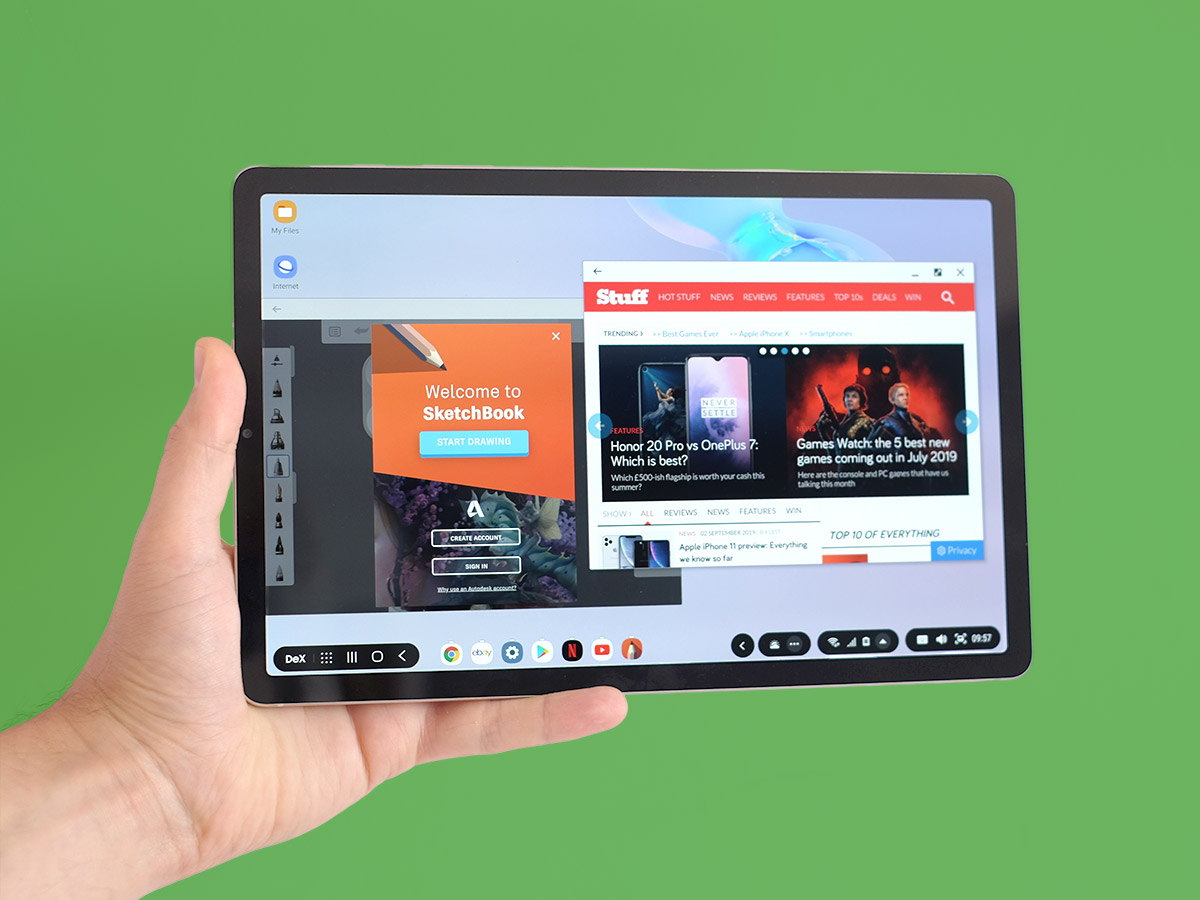 The Samsung Galaxy Tab S6 is a dual personality tablet. Turn it on, start playing around and it initially seems to use a blown-up version of the software you'll find on phones like the Galaxy S10. That's because it does, more or less.
You get Android 9 and the custom Samsung interface. It is simple and clean enough, even if it doesn't make all that much use of the screen space.
Switch to DeX and that all changes. DeX is another Samsung Android interface, one inspired by the style of Windows 10. It has a different scale, to fit more info on-screen, and a Start menu, windowed multitasking and loads more shortcuts at your fingertips.
DeX is wasted without the Samsung Galaxy Tab S6's keyboard accessory. But buy one and the Samsung Galaxy Tab S6 makes just about the best possible Android-based laptop-replacer.
The power on tap helps. This tablet has a Snapdragon 855 CPU with 6GB RAM. It glides through every game we tried, with all the optional visual extras switched on, and scores a mammoth 10767 points in Geekbench 4. We've seen loads of phones with this processor, but tablets actually tend to use much lower-end hardware these days. This is the real deal.
It's also one of the main reasons to choose this tablet over the Galaxy Tab S5e. That cheaper option doesn't handle games like PUBG and Ark: Survival Evolved quite as well. Sure, it can play them just fine, but the Galaxy Tab S6 lets you improve the visuals more without sacrificing performance. This is a brilliant gaming tablet, no question.
Camera and Battery Life: Good… for a tablet
The Samsung Galaxy Tab S6 is also one of the only tablets with dual rear cameras. There's a 13-megapixel normal camera and a 5-megapixel ultra-wide.
Much like its cheaper brother, the S5e, the camera experience is very good for a tablet. But will it beat your phone, if it's decent and recent? No.
The sensors are not high-end, and the ultra-wide one is downright basic. You do get some of the Samsung magic, though. The Auto HDR processing works wonders, making your photos look detailed and well-exposed.
There's even decent lightening of photos taken in dim conditions, which you don't get with all tablets. You can't shoot 4K video, but the 1080p footage is stabilised and you can capture movies with the wide camera too.
And the 8-megapixel selfie camera? It's fine. Nothing special, but fine.
Battery life is much more notable. The Samsung Galaxy Tab S6 has a 7040mAh battery just like the Tab S5e's. And it lasts for around 12 hours of video between charges. Samsung says it lasts for up to 14 hours, which you might be able to achieve by turning the brightness down and using a video file instead of Netflix streaming. But who wants to watch a dim movie?
Samsung Galaxy Tab S6 Verdict
The Samsung Galaxy Tab S6 is a brilliant Android tablet. But should you buy it over an iPad Pro, iPad Air or Galaxy Tab S5e?
That's a tricky one. The iPad Pro is more expensive, but the iPad Air isn't even when you factor in the cost of the Apple Pencil. And the cheaper Tab S5e has several of this model's highlights, including a great screen, high-end design and support for DeX.
Still, if you don't like Apple or its iPads, it's hard to conclude anything other than this is the best tablet choice for those with a good chunk of cash to spend.
Stuff Says…
The best Android tablet around, particularly if you like to de-stress by doodling
Good Stuff
Powerful
Looks and feels great
Excellent drawing experience
Bad Stuff
Tough competition from the iPad Air and Tab S5e
No headphone jack
Questionable stylus button ergonomics