Samsung Galaxy Tab S8 and Tab S8 Plus hands-on review: big and bigger
Incremental updates across the board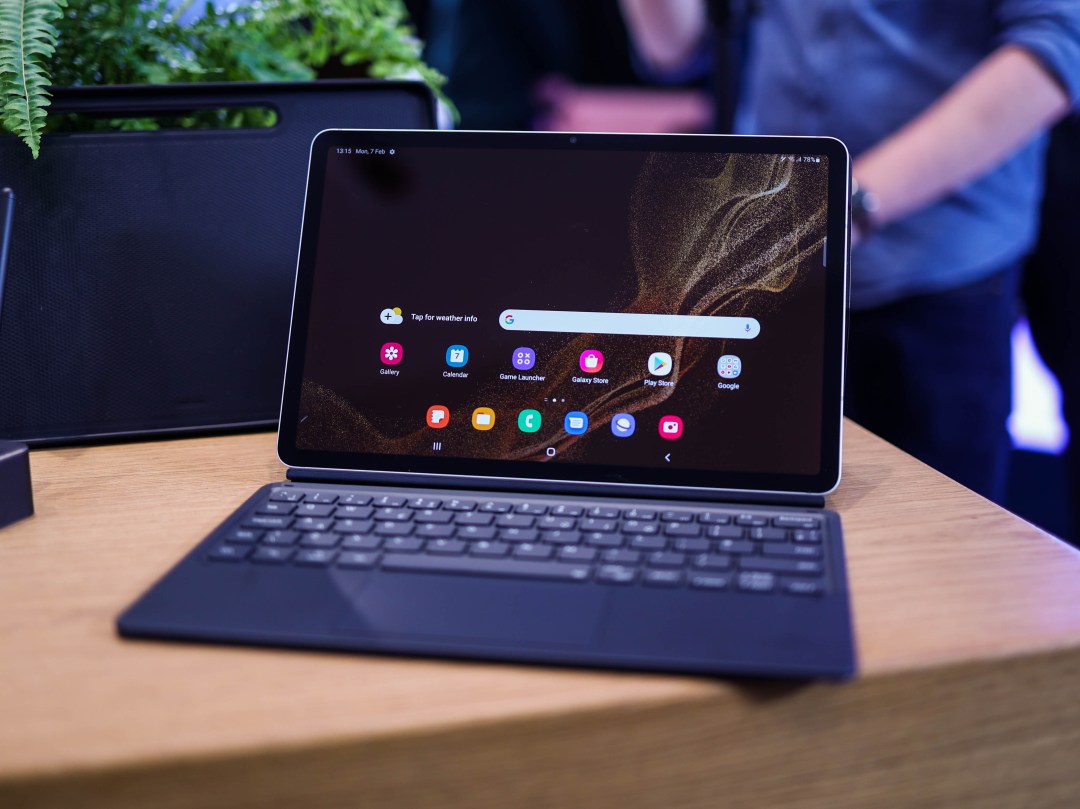 Samsung has refreshed its tablet line for 2022 with the Tab S8 and S8 Plus, directly replacing the 2021 Tab S7 and S7 Plus. It's also added another tablet to the mix – the larger-than-laptop Tab S8 Ultra, with a huge 14.6-inch display and maxed-out specs.
While the Ultra has a wow factor, the smaller slates – the S8 and S8 Plus – will likely be the obvious choices for most, given their more accessible size and pricing. Starting at £649 for the Tab S8 and £849 for the Tab S8 Plus, these are high-end tablets, so Samsung's clearly got its sights set on winning over potential iPad Pro customers, and anyone after a premium Android tablet.
Unlike Apple, Samsung ships a stylus (S Pen) with the Tab S8 and S8 Plus, loads them up with expandable storage, and the S8 Plus also gets an AMOLED screen. But are these highlights enough to shake up the tablet establishment and put Samsung at the top spot above Apple?
Design and display: Big and bigger (but not biggest)
The Tab S8 series' frames are made from Samsung's Armour Aluminium, which Samsung claims is up to 40 per cent more resistant to bending than last year's Tab S7. That's helpful given just how thin the Tabs are – the S8 is 6.3mm thin, while the S8 Plus is 5.7mm thin. They really do feel incredibly sleek with their matte blasted metal finishes and all-glass fronts packing a reassuring weight in the hand.
While the Tab S8 and S8 Plus are available in Graphite, Pink Gold and Silver, the Ultra is only available in Graphite. Quad speakers are dotted around the tabs and they sounded loud in our quick tests at the launch event. Gold pogo pin connectors hook the tabs up to the keyboard dock which can also be used to type on your Galaxy smartphone when the Tab is connected to it and there's also a USB port for charging and data. The power button on the Tab S8 doubles up as a fingerprint scanner, while the S8 Plus features an under-display scanner like the Tab S8 Ultra (and Samsung's flagship smartphone line).
Just like Apple's iPad Pro, the Tab S8 line starts at 11 inches, while the Tab S8 Plus is 12.4 inches. Sure, that makes it slightly smaller than the largest iPad Pro – 12.9 inches, but Samsung's now got an even bigger tablet in its portfolio, the Ultra at over 14 inches.
Comparing the sizes of the Tab S8s and iPads is a bit like comparing apples and oranges. After all, Samsung makes widescreen Tabs – better for movies, while Apple makes more square iPads – better for document or photo editing.
The Tab S8 is the only tab in the line to feature an LTPS display – in other words, not AMOLED. That's the same tech as found in iPads, so while it's not a bad thing per se, it does mean that it misses out on the super-inky blacks of the Plus and Ultra.
All three tablets sport WQXGA+ resolution, with greater than 250 pixel-per-inch sharpness. For a tablet, the specs are all super competitive, and with Wacom digitizers under the screens, they also support up to 4096 levels of pressure sensitivity for smart note-taking and doodling.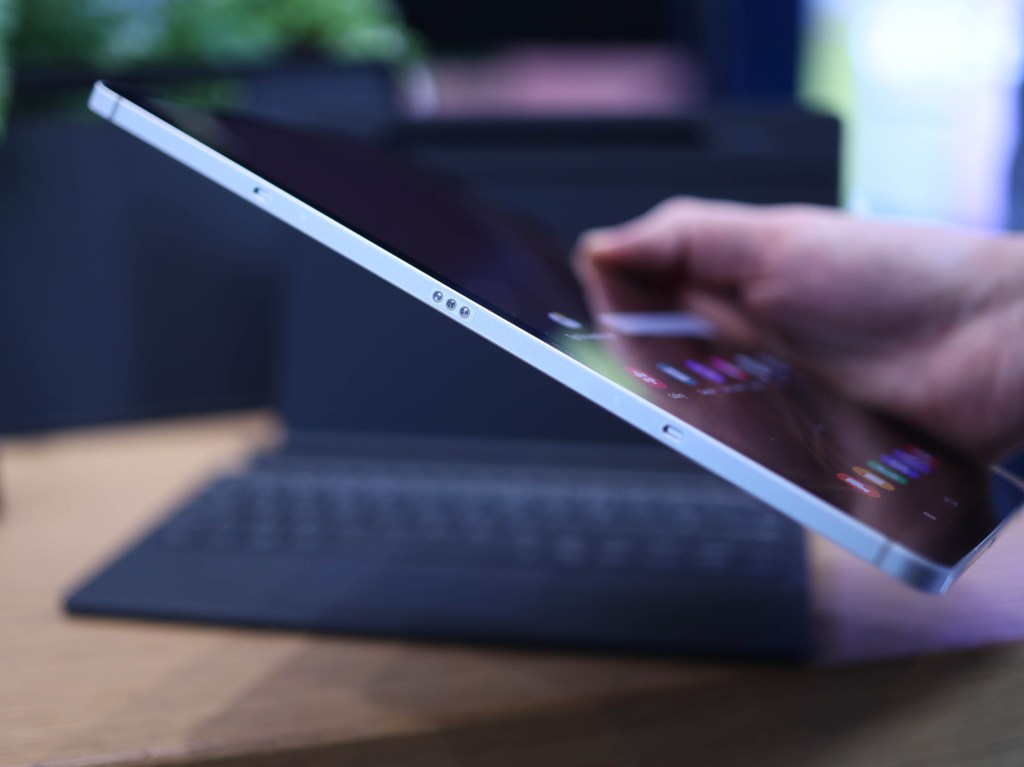 Performance: Anything iPad can do
Powered by a Qualcomm Snapdragon 8 Gen 1, the entire Galaxy Tab S8 series delivers top-tier 2022 performance, so should be perfect for gaming and even quick 4K video editing. The S8 and S8 Plus are available with either 8GB or 12GB RAM, and 128GB or 256GB storage. The whole Tab S8 line supports microSD card expansion so there's stacks of space for files, photos, videos and apps.
Multi-tasking will be helped along by that power and RAM, and Samsung's One UI also crams in some new features. You can natively use any of the tablets as an external monitor for your Windows PC, for example – just like SideCar on an iPad and MacBook. The UI also supports up to three apps split across the screen, with support for a fourth floating window.
Some nifty integration between the S22 phones and Samsung's new Tab S8 line has also been introduced. For example, the phone screen can double up as a palette in creative apps like Clip Studio Paint. Samsung's also bringing LumaFusion, the best video editing tool for iPad to the Tab S8 series, which is a huge deal for creatives and content creators who aren't beholden to Apple's ecosystem.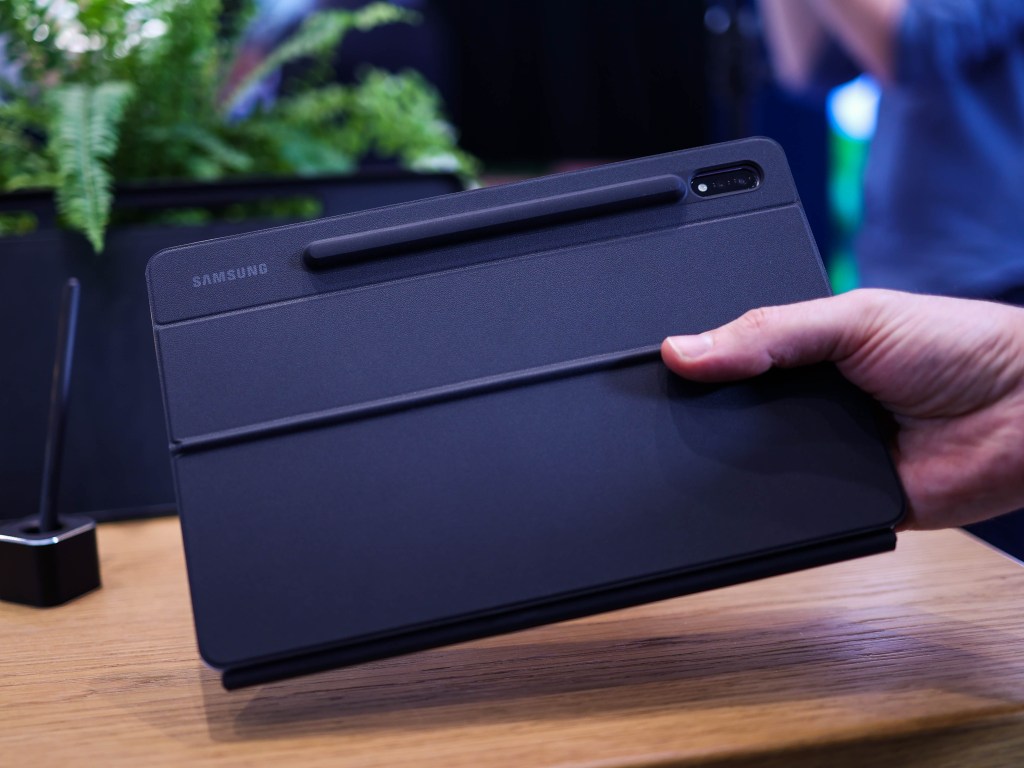 Battery and specs: Kitchen sink
With the Tab S8's 8000mAh battery and support for 45W charging, it can charge up fully in 80 minutes. The S8 Plus ups the capacity to 10090mAh, so will take a bit longer to power up, but should also last that longer too. Also cool – the Tabs support reverse charging, so can act as power banks for your smartphones when you're in a pinch.
As for the cameras, tablets don't need to be superstar snappers like smartphones, so the Tab S8 and S8 Plus play things conservatively when compared to the S22 line, featuring 13MP primary cameras and 6MP ultra-wides alongside them. More important for video callers is the front camera, and both Tabs enjoy ultra-wide 12MP selfie-takers.
Available with Wi-Fi as standard, and 5G at a premium, the Tab S8 series is also the first to feature Wi-Fi 6E. This should make it that bit better for demanding local-networking – PlayStation Remote Play for example when matched with a Wi-Fi 6E router.
There's also an updated version of Samsung's DeX onboard too, a desktop interface that either converts the One UI into a Windows-style UI on the tab, or projects it to a big screen for easy keyboard and mouse interaction.
Early verdict
Samsung's out for iPad blood, with the Tab S8 and S8 Plus taking on the iPad Pro 11 and 12.9. The pluckiest move from Samsung is probably announcing one of iPad OS's most loved apps, LumaFusion for its Tabs.
It's been no secret that Android tablets just haven't been able to compete with iPads when it comes to apps and interface, so this could mark the beginning of a two-horse race – finally.