Samsung Galaxy Watch 3 review
A beautiful, powerful bit of kit you'll be proud to wear on your wrist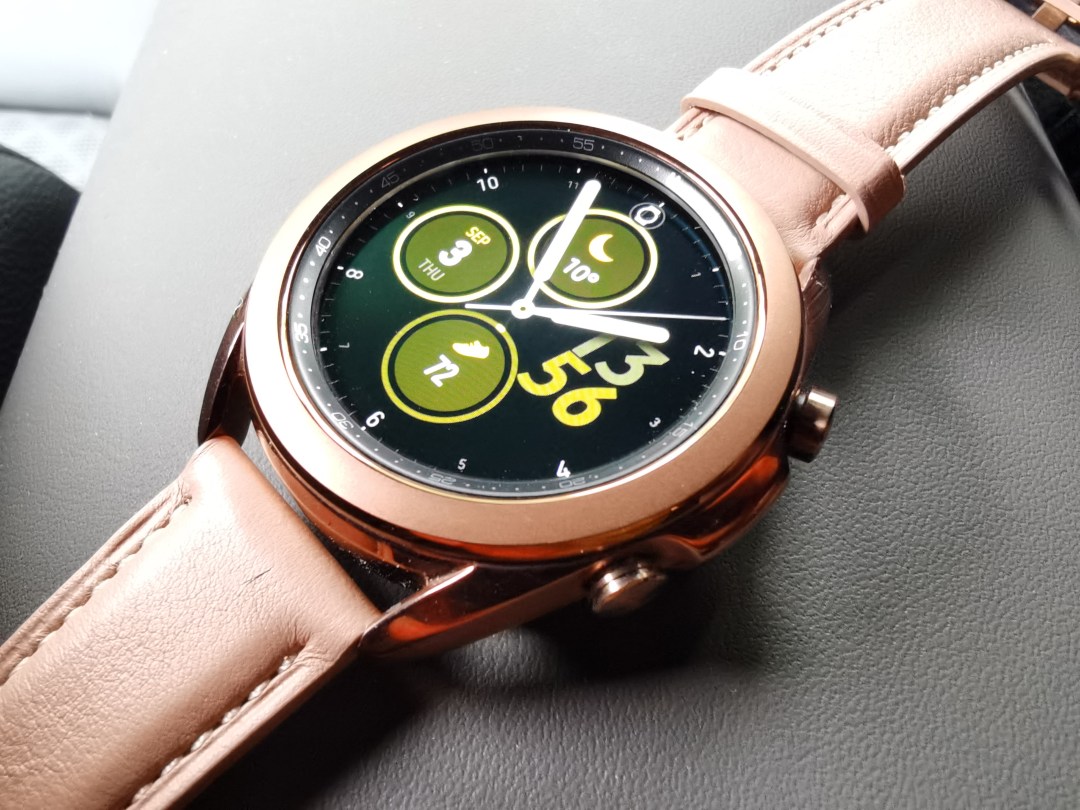 Smartwatches can be tricky beasts. You could have the most feature-packed one in the world, but if it looks like a bland medical device with no personality then what's the point?
Life's too short to slather your wrists in ugly. On the flipside, if you're forking out for a swanky designer number with poor performance, your cash would be better spent on an old fashioned timepiece that tells the time, date, and if you're feeling particularly adventurous, has a chronograph feature.
Some smartwatches nail both ends of the spectrum. The Apple Watch is one that's universally championed for blending form and function remarkably well, which brings us round to today's contender – the Samsung Galaxy Watch 3.
Despite giving Google's Wear OS the cold shoulder in favour of its own Tizen OS, Samsung's previous Galaxy Watches ave impressed us with their blend of design and performance. Starting from £399 for the 41mm model, the new Galaxy Watch 3 isn't cheap, matching the base price of the Apple Watch 5. Does it do enough to justify the hefty price?
Design: classic, sophisticated, and spinalicious
While previous Galaxy Watches were handsome enough, the refined looks of the Watch 3 are a big improvement, and it's one of the nicest, watch-like smartwatches we've had the pleasure of donning.
Its leather straps and machined metal body contribute to this, but for us the biggest improvement is actually in the two side buttons, which resemble the crown of a traditional watch – as opposed to the previous generation's flush buttons that gave the devices away as a smartwatch.
The best part though, is the return of the glorious rotating bezel, which is an utterly delightful way to scroll through different on-screen options and navigate through the Watch 3's features in general.
It's incredibly satisfying to spin, especially when the built-in vibrations provide an even greater sense of tactility. The only real negative we can say about the design is the fact that the smaller 41mm version was a little too petite for our tastes. With the larger version starting from £419, we think the extra cash is money well spent.
Screen: crisp, sharp, and rammed with colour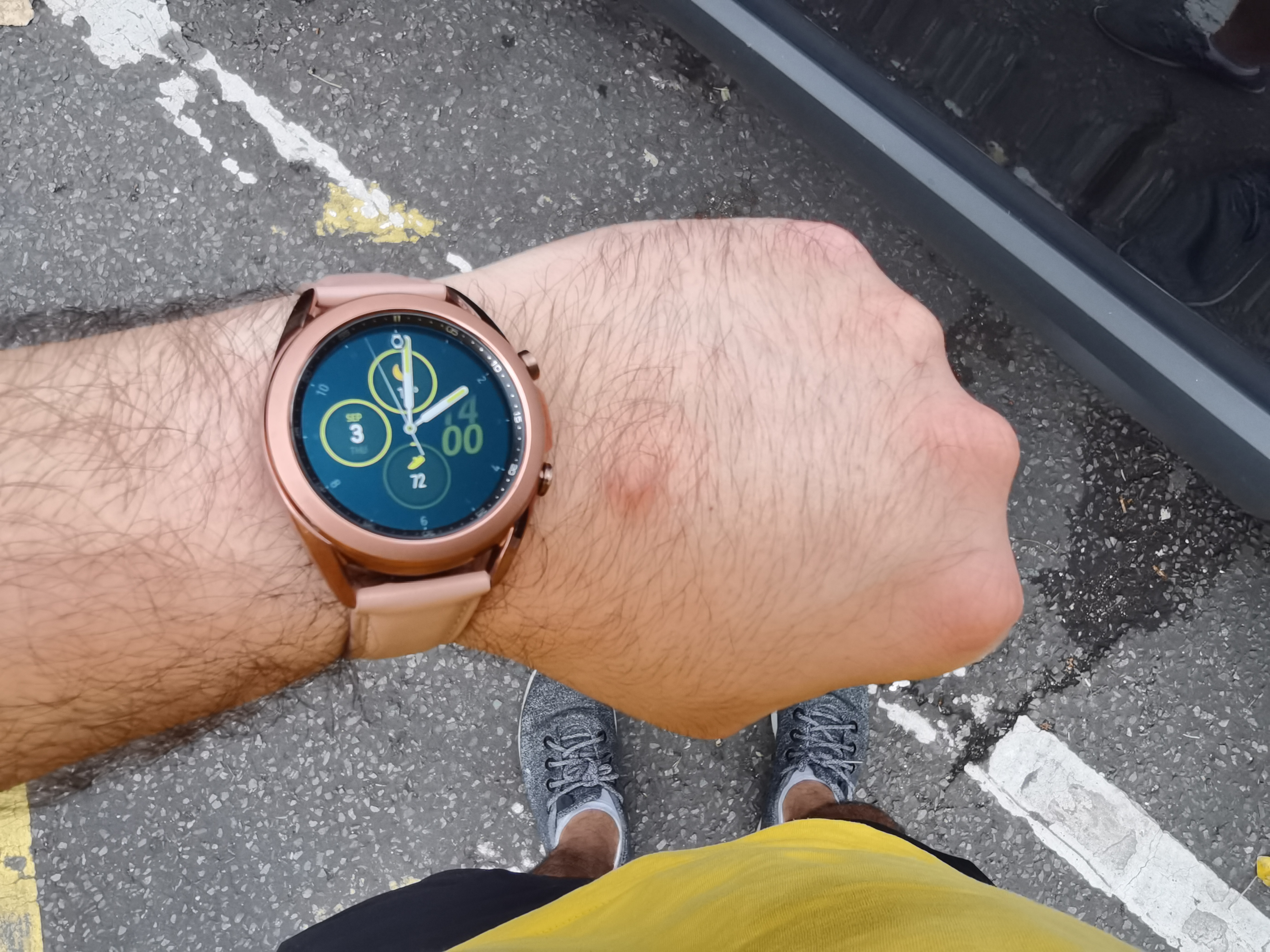 The Galaxy Watch 3's 360 x 360 resolution Super AMOLED display is utterly gorgeous. It's pin-sharp, allowing even the smallest of text to be easily read, and the deep blacks, combined with rich, punchy colours, draw you in each and every time you look at it.
It's bright too, fending off the rays on even the sunniest of days, so you'll never have any problems even on well-lit runs. The 41mm version packs in a 1.2in screen, while that larger 45mm model bumps that up slightly to a 1.3in display – one more reason, perhaps, to spend a little extra.
Performance and OS: slick, smooth, and easy to use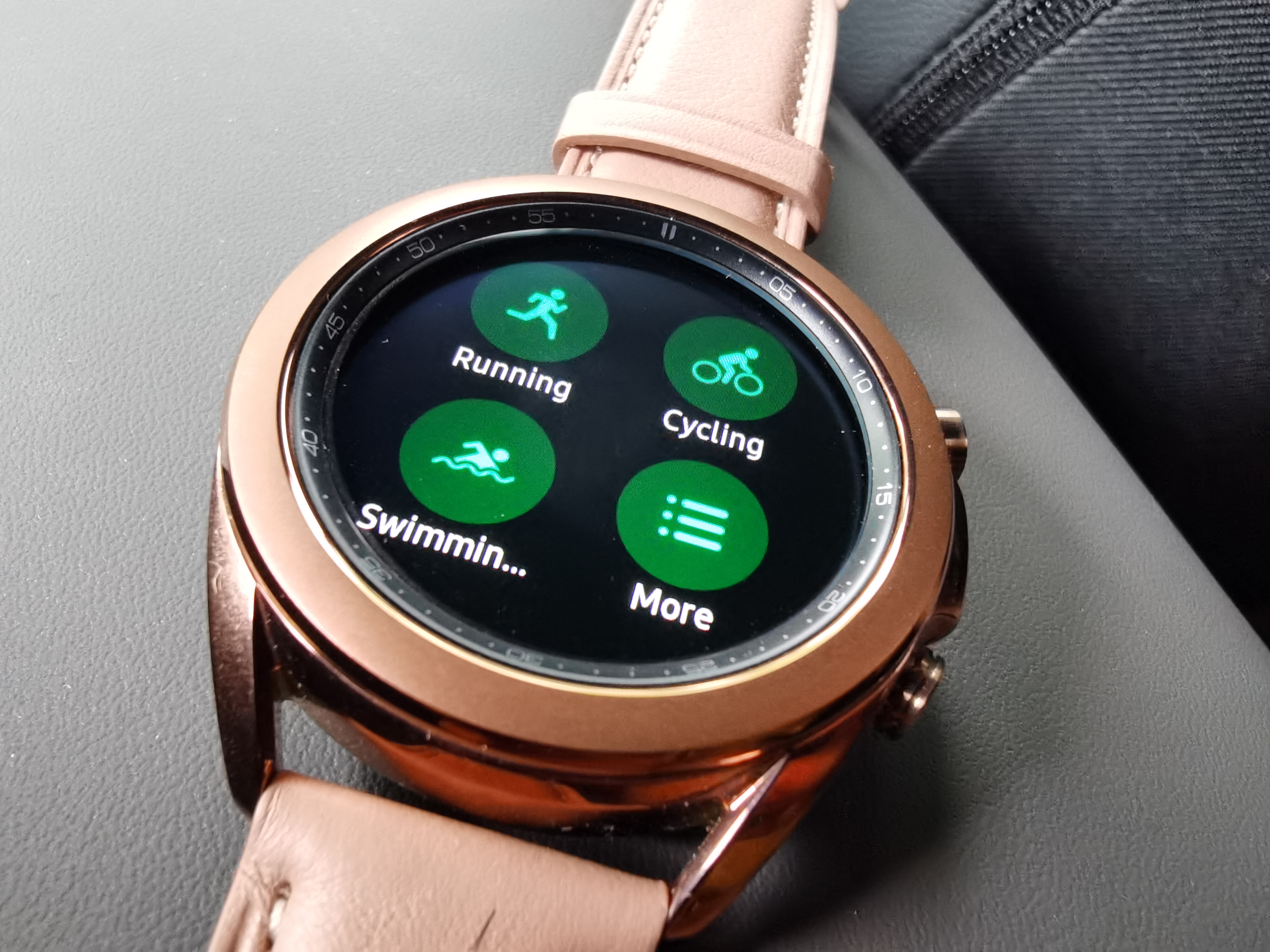 Spec fiends may be disappointed to hear that the Galaxy Watch 3 is running the same processor found in the original Galaxy Watch, but they can rest easy – we found no issue with performance.
Combined with 1GB of RAM, Samsung's Tizen OS runs slippery smooth, with no noticeable lag or slow down. One thing to note is that while all models come with 8GB of storage, around half of that is used up by the OS and pre-installed apps, so you've got around 4GB to play with for additional apps and music.
Navigating through the menus is an absolute joy, thanks to that glorious rotating bezel, while a combination of the touchscreen and side buttons is used to select, go back, or bring up shortcuts like Samsung Pay.
Both iPhone and Android users can make use of the Galaxy Watch 3, although Apple fans will find themselves short on a few features, such as replying to iMessages, or locating their phone if they've lost it.
Fitness smarts: everything you need, on auto-pilot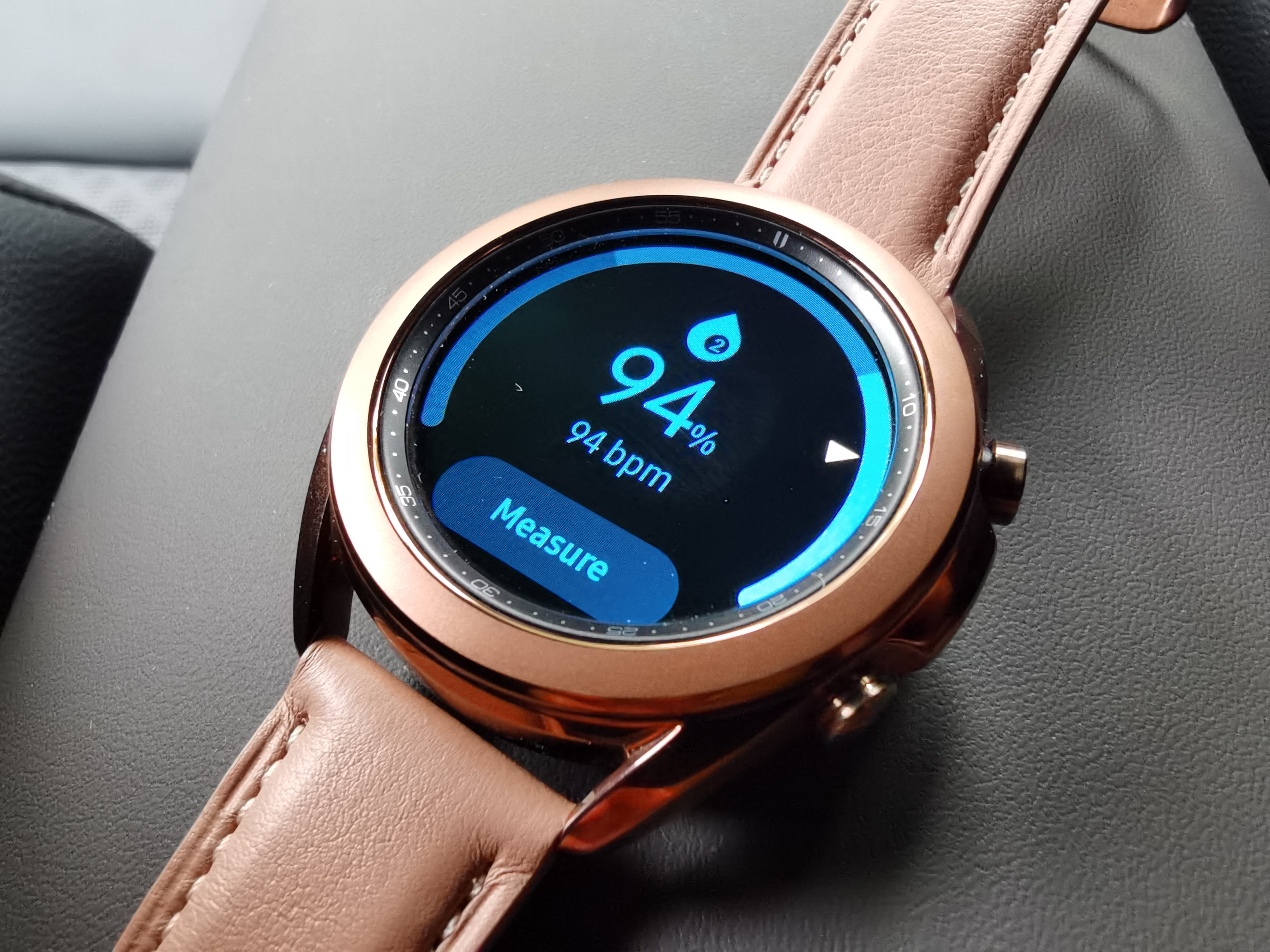 The Galaxy Watch 3's fitness tracking features are robust, providing all of the activity and sports tracking gubbins required for almost everyone.
The usual calories burned, steps walked, heart rate and blood oxygen level tracking are all present and accounted for, but it's a shame that ECG and blood pressure monitoring is yet to be unlocked outside of South Korea.
Sleep tracking also works well, offering insights into the length and type of shuteye you've managed to achieve, made more useful by how comfortable the Watch 3 is to wear, even in bed.
Stress tracking is probably more important than ever in these crazy, unpredictable times, and you can set the Watch 3 to automatically monitor your stress levels every 10 minutes, after which you'll be warned when you're stressed (which, in all honesty is stressful in itself), and recommended breathing exercises to help make you more zen.
One of our favourite features of the Galaxy Watch 3 though, is its ability to automatically start and pause workouts. If you're as forgetful as we are, you'll know all too well the frustrations of going for a run or cycle, before realising at the end that you forgot to start tracking.
The Watch 3, however, automatically detects when you've started an exercise, and begins tracking after a short while if you're brain has failed you. If you stop to snap a photo or pet a friendly dog on your run, it'll also automatically pause tracking, and resume it when you're back on your way. Clever stuff.
Battery life: serviceable, but not outstanding
If you're used to the seven+ day battery life found on some fitness trackers from the likes of Garmin and Fitibit, then the Galaxy Watch 3's battery life will be disappointing.
Somewhat annoyingly, Samsung has shaved down the battery size to 340mAh, compared to the original Galaxy Watch's 472mAh offering. In the real world, this means you can expect to squeeze two to three days of use from the Watch 3, but that can drop down to one and a half days with heavy use.
It's fairly in line with what Apple Watch users can expect, and at least you won't be finding yourself charging it every day. If you're particularly keen on the sleep tracking aspect of smartwatches though, then this might be an issue, as you won't be able to always charge it overnight.
Samsung Galaxy Watch 3 verdict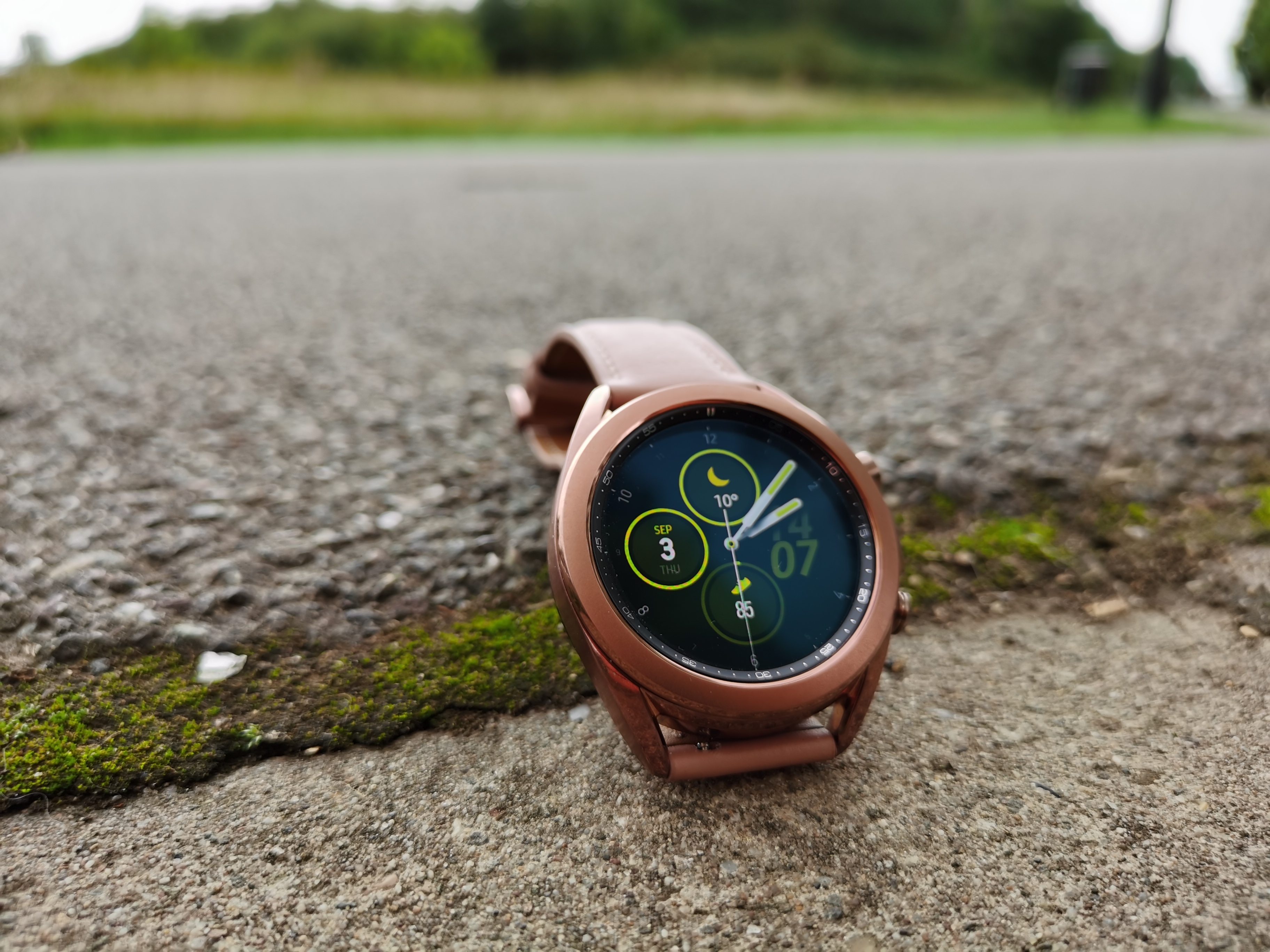 There's a lot to love about the Galaxy Watch 3. It's superbly made, very attractive, and its spinning bezel makes it a joy to use. Samsung's Tizen OS is slick too, with lots of customisation and shortcut options to keep things feeling fresh – made all the better by its class-leading screen.
Throw in all the fitness bells and whistles you're ever likely to need (with handy auto-tracking features to boot), and we have no qualms in saying it's one of the best smartwatches you can get right now.
The only thing that lets it down is its battery life and fairly hefty price tag, but given the combination of form and function on offer here, we'd happily recommend it to all but ther most hardcore of exercise fiends.
Stuff Says…
A gorgeous blend of form and function, this is one of the top smartwatches to beat
Good Stuff
Gorgeous design
Crisp, vibrant display
Fun, innovative bezel controls
Clever fitness-tracking features
Bad Stuff
Battery life could be better
Expensive