Samsung Galaxy Z Flip review
Flipping heck, an almost durable foldable!
A bunch of foldable phones have hit the scene, from the fancy Huawei Mate Xs which is a true smartphone/tablet two-in-one, through to the Motorola RAZR reprise; the ultimate reincarnation of old skool style with new-age tech.
Beyond the folding screens, something all these phones have in common is their fragility. We've borked our Mate Xs already after the screen was dented while it was in our pocket. Meanwhile, reports have surfaced around the web of the RAZR's folding mechanism notwithstanding real-world use. Available on major networks, including Vodafone in the UK, however, Samsung is gunning for mainstream glory with its latest foldable, the Z Flip.
This clamshell seems robust, shiny and capable on the first impression, with fewer compromises than the RAZR thanks to more power, more cameras and ultimately better specs. After living with Samsung's latest foldable for a week, however, are we convinced?
Design: Flip it good
The Samsung Galaxy Z Flip is the first foldable phone we're really comfortable using without mollycoddling it. Don't get us wrong; the Z Flip still packs a fragile screen which is plastic (despite what Samsung says), and can't handle anything more abrasive than a finger prodding it.
That said, unlike the Huawei Mate Xs, the screen is on the inside of the phone, and is therefore protected. Additionally, unlike the Motorola RAZR, the screen itself doesn't actually move.
On the outside is a shiny Gorilla Glass 6 shell, available in Mirror Black, Mirror Purple, Mirror Gold or a fancy Thom Browne Edition. Closed, it's a squat 87.4 cm tall, and a chunky 1.7 cm thick. Unfolded, the Z Flip's dimensions match up with other phones like the Samsung Galaxy S20 Plus, with a 6.7in screen and a slender 7.2mm thickness.
All the phone's buttons are on the right, and this includes a power button which doubles up as a fingerprint scanner, and there's a volume rocker too. At the base, there's a USB-C port, and a mono speaker, while the SIM slot's on the left.
Display: the long glass
On the fingerprint loving shell of the Flip is a dinky screen clocking in at 1.1 inches, with a resolution of 112 x 300. This is full-colour and can double up as a second viewfinder when taking snaps with the main camera.
Day-in-day-out, however, it serves as a clock and a notification ticker. As for the folding centrepiece, the Z Flip's main display measures 6.7 inches, delivering an even bezel and a screen to bezel ratio of 82.5% – about the same as that of the iPhone 11 Pro. Like the iPhone, all foldable screens are OLED technology, so blacks are deep and inky, while colours pop.
The Z Flip's resolution of 1080 x 2636, put it on-par with the iPhone-series when it comes to clarity, and HDR credentials stack up comparably too, so on paper, from a quality point-of-view, this foldable hits the mark. In real-world use, it isn't quite as rich looking, but it still does a decent job when compared to the bendable competition. The Z Flip's hinge is similar to that found on the Galaxy Fold. This mechanism results in the most pronounced crease of all the foldables, as you can make out from the pictures in this review.
It definitely isn't a deal-breaker, and isn't something Samsung pretends doesn't exist. That said, image purists who want a phone for watching on will consider it too much of a compromise. From a functionality point of view, however, the screen ticks all our boxes. It's responsive to the touch, gets as bright as it needs to and packs ample punch. Even when gaming, it works well – just don't go stabbing it with sharp objects (or an overly assertive finger).
Camera: Old faithful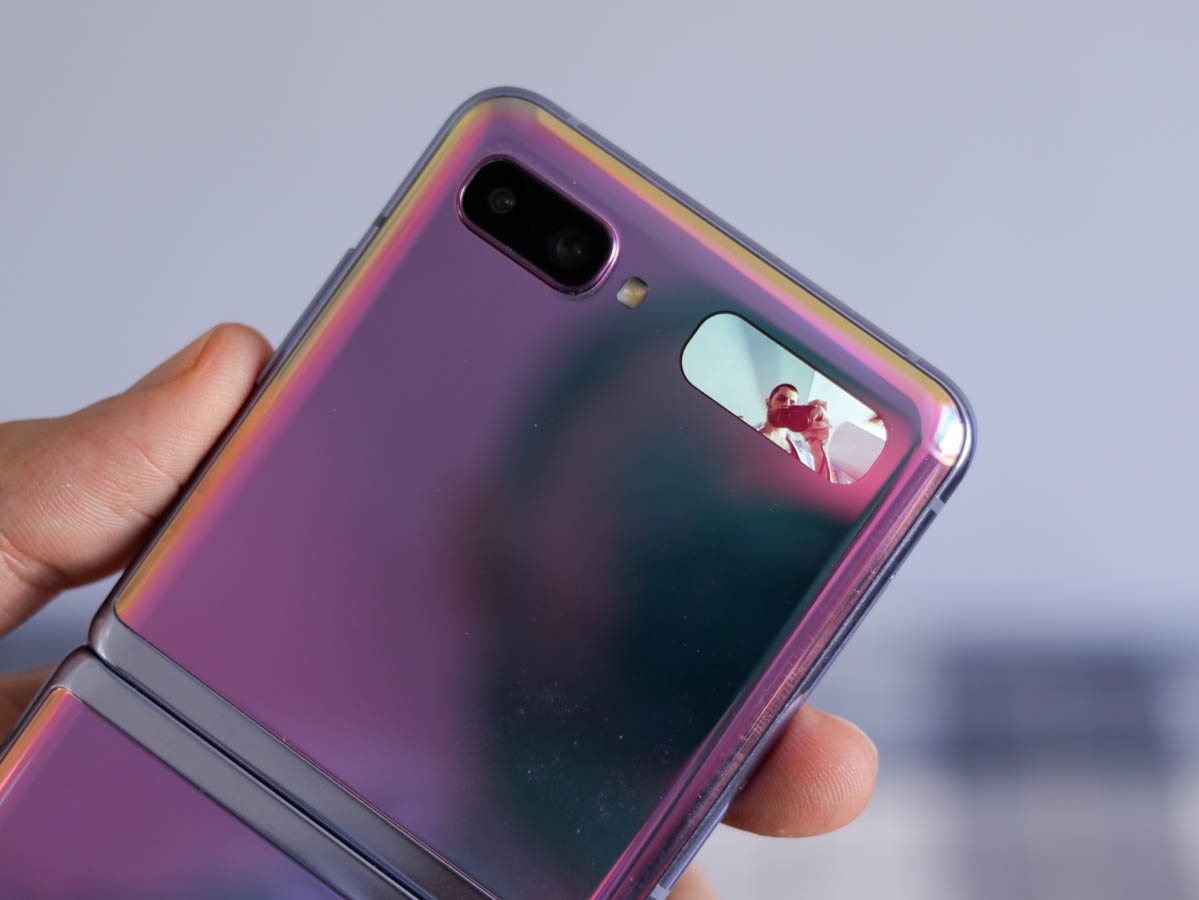 The Galaxy Z Flip's camera is a solid 8/10; nothing sensational, but a reliable setup nonetheless. It starts with a 12MP main camera that sports the exact same sensor as that found on the Galaxy S10; only this time around there's none of that dual aperture witchcraft. Instead, Samsung keeps things simple with a fixed f/1.8 aperture, Dual-Pixel Autofocus and optical image stabilisation (OIS).
There's no telephoto camera here, just a 12MP ultra-wide alongside the main snapper, and on the front is a 10MP selfie camera, which is the same as found on the entire S10 and S20 line. The phone's foldable design makes for a handy self-standing camera when taking a long exposure photo, and Samsung has customised the interface to take advantage of this.
If you can find a surface, therefore, there's a good chance you won't need a tripod if you've got a Z Flip. Despite the fact we've seen this sensor before, the Z Flip's pictures look mighty, with crisp clarity and ample dynamic range.
The trademark Samsung processing zing makes a return, but it doesn't feel as full-on as that of the S20 Ultra, and the OIS means it doesn't bomb out at night in automatic mode. The phone's night mode can't stack up to champs like the P40 Pixel 4, but it definitely helps brighten things up well.
The Galaxy Z Flip's ultra-wide camera also does a decent job, grabbing plenty in-frame for sweeping landscape photos. While it's a smidgen softer than we'd like it to be, with phones like the OnePlus 8 and Oppo Find X2 Pro packing 48MP ultra-wide cameras – sharper by comparison, photos taken on the Flip are still rich and printable – just don't pixel peep too much.
The Galaxy Z Flip shoots 4K video at up to 60fps, and it's held together beautifully thanks to the combined powers of OIS and electronic image stabilisation (EIS). In turn, while Samsung's latest foldable isn't the best at anything, it's at least middling to very good at everything.
Interface and performance: Unflappable
Running OneUI, Samsung's custom spin on Android, the Galaxy Z Flip delivers a stable experience with excellent app support, albeit with a few too many apps pre-loaded for our tastes. The core Android experience is very familiar; virtually identical to that found on the Galaxy S10 and S20.
Apps can be installed using the Google Play Store or Samsung's own Galaxy Store, and the phone comes pre-loaded with support for Samsung's proprietary solutions, from white goods and connected living through to quick file sharing across Samsung devices.
If you're sold into Samsung's ecosystem, it'll be a dream. If not, you may have to ignore a few of the UI elements. As far as UI elements that take advantage of the flexible screen go, they are limited to Flex Mode, which segments the interface into the top and bottom portions of the Flip's half-folded screen. Handy for things like video calls, but nothing too mind-blowing and it only works with a handful of apps at the moment, with limited real-world use.
Powered by a Qualcomm Snapdragon 855+ processor, combined with 8GB RAM, the Z Flip isn't rocking the latest and greatest specs (Realme's X3 packs similar internals and costs £469). That said, it significantly outperforms its main competition – the Motorola RAZR, and does a fine job day-to-day. What Samsung's clamshell lacks in a memory card slot, it makes up for in internal storage, with an ample 256GB inside.
We were concerned that the 3,300 mAh battery inside wouldn't cope with a day of regular use, given the screen size, but it held up, likely down to the fact the phone's mini display saved us having to open it up when we needed basic information like the time.
With 15W charging and wireless charging too, you have options when it comes to ways of powering it up. There's no headphone jack on the Z Flip; nor is there a stereo speaker. Instead, a sole mono speaker sits at the base. It's plenty loud and doesn't sound too shabby – we made it through a couple of episodes of Drag Race with the phone partly folded and propping itself up.
Overall, the sound quality was decent, and we were living for the novelty-factor of a phone that could be its own kickstand.
Samsung Galaxy Z Flip verdict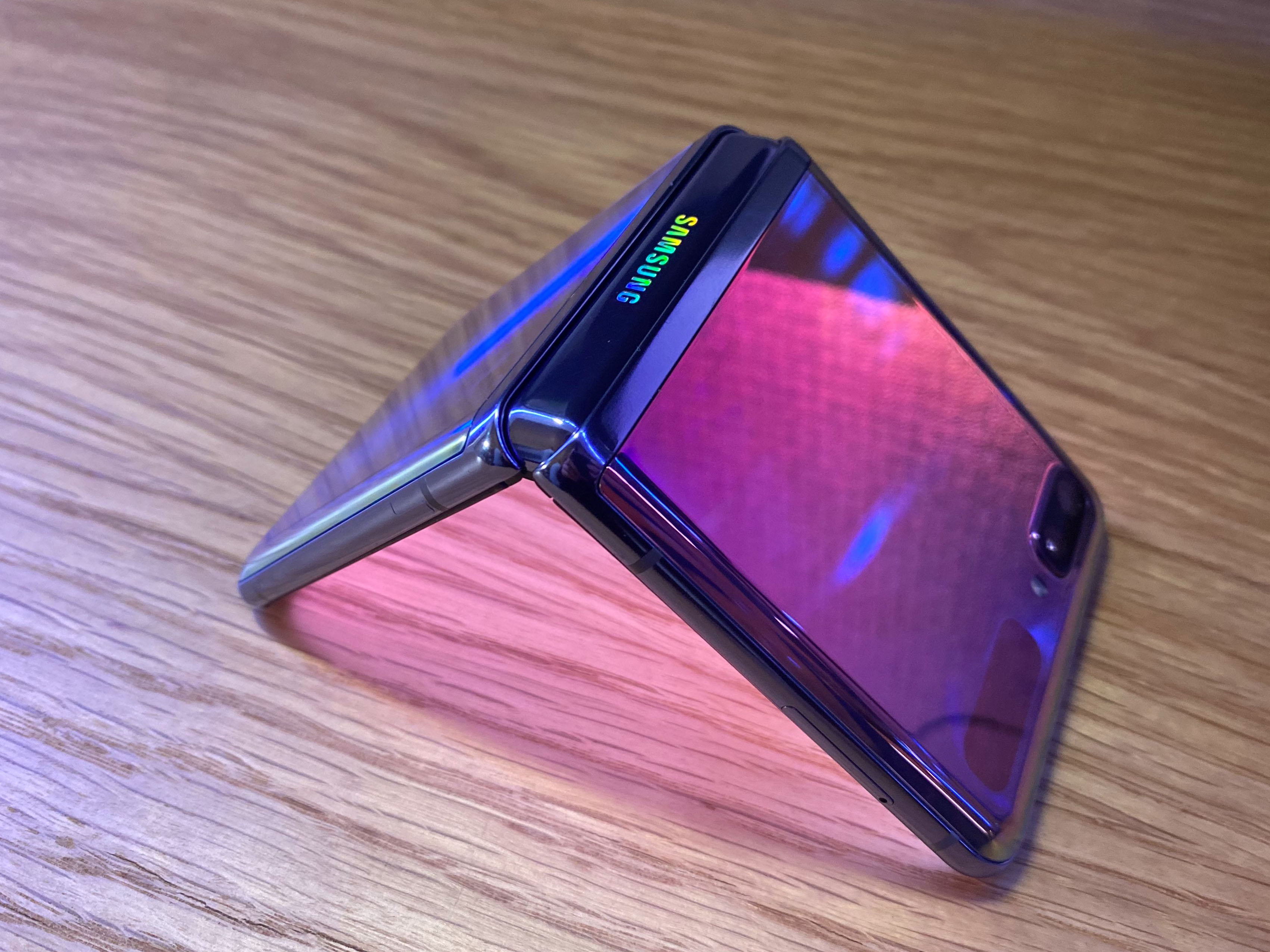 When it comes to real-world recommendations, the Galaxy Z Flip is our top foldable pick. Unlike the Huawei Mate Xs or Motorola RAZR, its screen isn't exposed or sliding, so is less prone to damage. Meanwhile, the durable Gorilla Glass clamshell protection on the outside is as hardy as we need it to be.
While the Flip doesn't pack the utility of a phone that turns into a tablet, like the Galaxy Fold, when it comes to wow-factor, the Z Flip still has it in spades. Is it worth the hefty asking price? Definitely not if you want maximum bang for buck; but if you can afford it and crave a compact clamshell that unfurls into a full-screen smartphone, it's the only phone worth considering right now.
Tech specs
| | |
| --- | --- |
| Screen | 6.7in 1080 x 2636 Dynamic AMOLED |
| RAM | 8GB |
| Storage | 256GB |
| Processor | Snapdragon 855+ |
| Camera | 12MP + 12MP (Ultra-wide) rear camera + 10MP front camera |
| Dimensions | Unfolded: 167.3 x 73.6 x 7.2 mm Folded: 87.4 x 73.6 x 17.3 mm |
| Weight | 183g |
Stuff Says…
The easiest foldable to recommend thanks to excellent design, despite its sky-high price and 2019 internals.
Good Stuff
Great design
Nippy performance
Novelty factor
Bad Stuff
Front screen too small
Main screen is fragile
Mono speaker