Samsung Gear 360 review
Huge potential, but tech troubles means it's a few degrees short of the full circle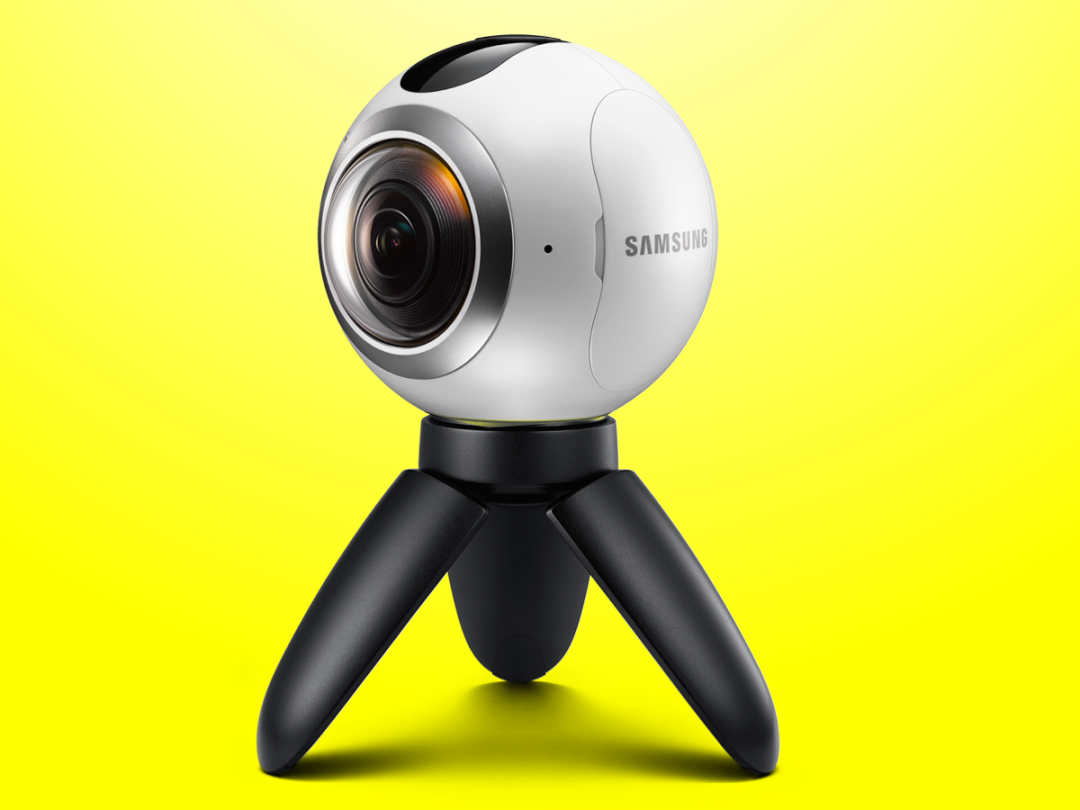 We'll all be spending a lot more time with VR headsets bolted to our faces if Oculus, HTC and Google Cardboard get their way – but only once there's anything to actually watch on them.
A few fancy demo videos are fine, but it's the clips and 360° photos you shoot yourself that'll really wow your friends and family once you get them goggled-up.
Sure, a couple of GoPros bolted together will get the job done, but what if you're after something more elegant – and more affordable? Nikon's got an all-in-one 360° action cam, as has LG (we've reviewed it here) and now Samsung has stepped up to the plate a dual-lens snapper.
At £350, the Gear 360 is definitely pricier than its LG rival, but but does it deliver a better experience – and better footage?
ONE SCOOP OR TWO?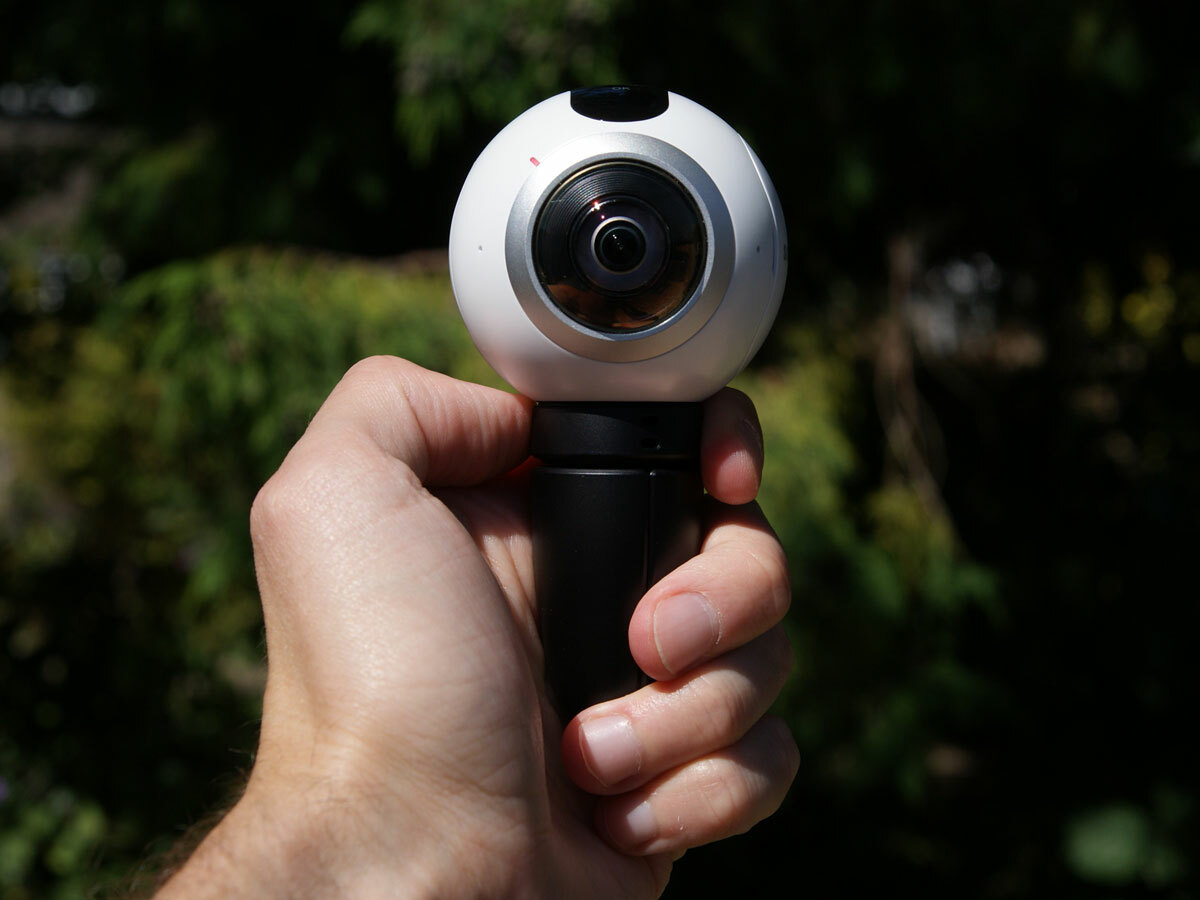 The Gear 360 is a certainly striking: with the combination mini tripod/handle attached, it's almost a cross between a robot's ice cream cone and one of those machine gun turrets from Portal.
Build quality is excellent, with a reassuring solid feel backed up by IP53 dust-proofing. It's water resistant too, but only against spray "from less than 60 degrees from vertical". So make sure you've got a protractor handy, I guess.
It feels like it could take a battering, but Samsung doesn't make any claims about how well it withstands drops and impacts. A full-blooded action cam this ain't, so don't take it kayaking or rock climbing and be surprised if a fall leaves it in a million soggy pieces.
The mini grip screws into the bottom of the camera for something to hold comfortably without getting your mitts in the way of the lenses. Flip out the feet and it turns into a tiny tripod – perfect for time-lapse clips and videos where you actually want to be the centre of attention, instead of just the cameraman.
Size is the biggest problem here, at least compared to LG's 360 Cam. The latter is nicely pocket-sized, but the Gear 360's bulbous shape makes it tricky to slip in a jacket pocket. Skinny jeans? Forget about it. The protective carrying pouch bundled in the box tells me Samsung expects us to toss it into a bag instead.
ALL EYES ON ME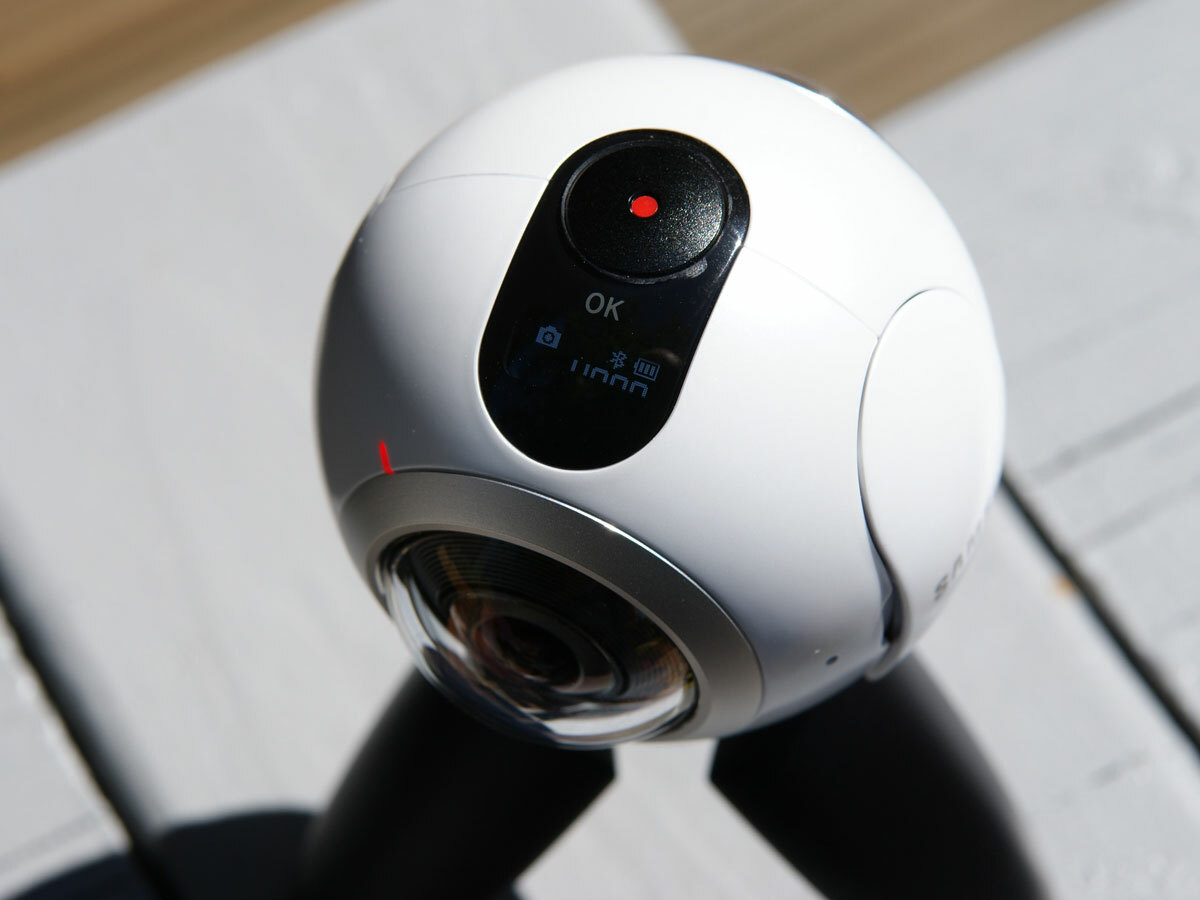 The Gear 360 has a tiny display and a couple of hardware controls, but save yourself the hassle and don't use them – they're far too fiddly, and framing your footage takes too much guesswork.
Without a phone to hand, there's also the problem of what to do with your files once you've recorded them. They're not VR-ready if you pull them straight off the microSD card onto a PC – you've got to upload to a site that supports playing back 360° clips, or watched on a compatible device. Samsung's desktop editing and playback apps are only built for Windows, so Mac users are out of luck.
The companion app makes things a lot easier. Once you've paired them together, your phone becomes a remote viewfinder and controller – plus you can play back your clips or check your photos without having to head to a computer.
Tapping an icon switches shooting mode between single shot, video, time-lapse and looping video. That last one only saves a set amount of footage before writing over it, like a car dash cam.
It's easy enough to change photo and video resolution, frame rate, white balance, timer delay and other handy settings, without having to dig down into the menus.
You'll need a fairly recent Samsung smartphone in the first place, though. The Galaxy S7 and S7 Edge, S6, S6 Edge and S6 Edge+, and Note 5 all work nicely out of the box, and you can bet the Note 7 will play ball when it arrives too. An iOS app is apparently on the way, but there's no word on whether other Android phones will be joining the party any time soon.
CONNECTION CHAOS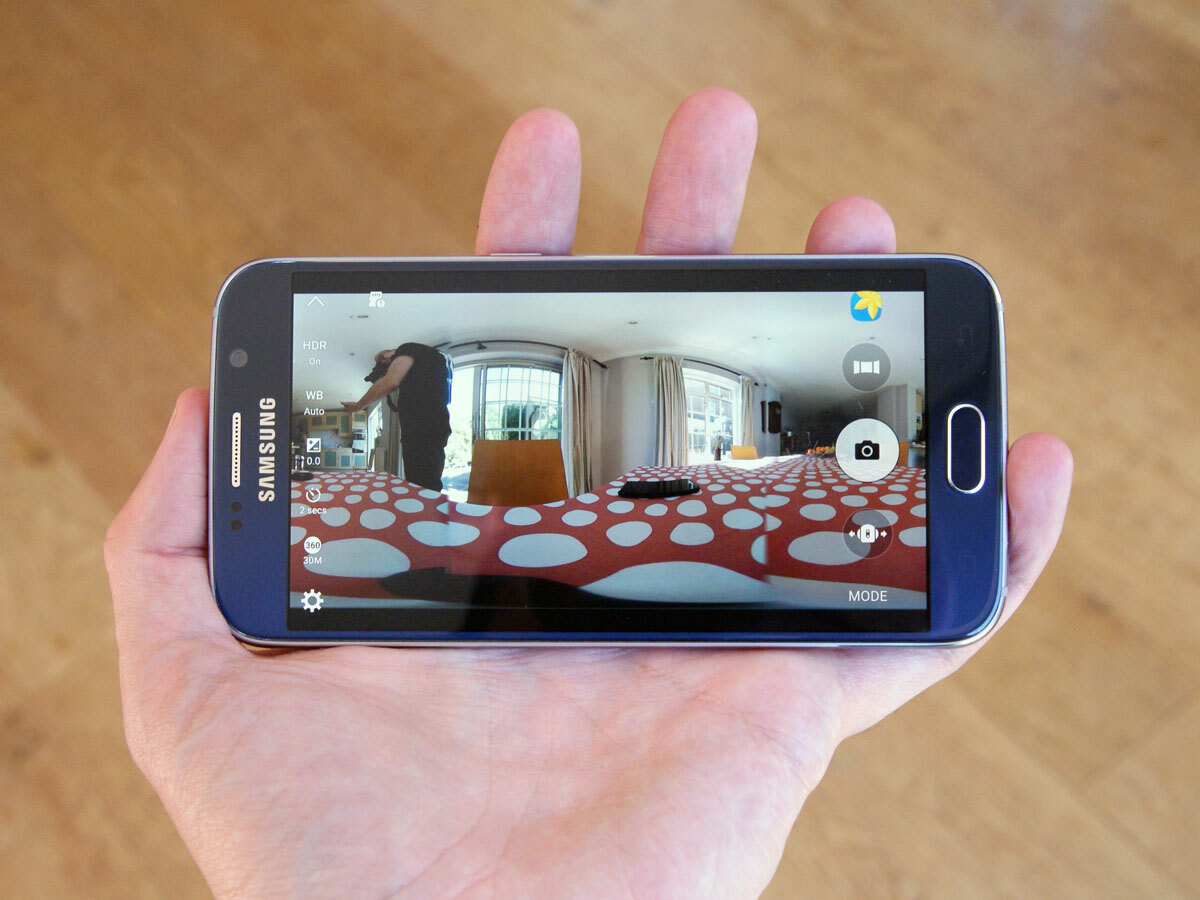 It's not all smooth sailing, mind. The camera would regularly drop its connection to my Galaxy S6, or the app would get stuck on the loading screen, forcing me to reboot the camera to re-establish a link.
It also really hated the 64GB microSD card I was testing with, throwing up compatibility errors and demanding a reformat moments after it had been working perfectly. None of my other gadgets threw a wobbly when I used that particular card.
I had much better results using an 8GB SanDisk card – but that's not what you want from a £350 bit of tech. When these issues pop up – and it was frequently for me – they make what looks like a well-designed user experience on paper feel decidedly shabby in practice.
Maybe I had a duff camera (it happens), but seeing as it came from a retailer, and not an early beta sample rushed to reviewers by Samsung, it doesn't bode well. Had I bought one myself, I'd definitely be looking for a refund or a replacement.
A STITCH IN TIME
It's a shame I hit so many pitfalls, because image quality is actually pretty decent. Especially compared to the LG 360 Cam's uninspiring snaps and clips.
Still photos and videos both look crisp and details, even in fairly low-light conditions, thanks in part to the bright f/2.0 lens apertures. It copes pretty well with shifts in brightness too, like when you walk inside from a bright sunny day.
Software stitching is the weak link here, sometimes showing the join between the two lenses' images a little too clearly. That can look messy in still photos, and plain distracting in video clips. The curved lenses are also prone to flare from bright lights, but that's true of most 360° cameras out there right now. So far, it's the easiest way to make decent-looking 360° videos that I've tried.
Videos play back inside the Gear 360 app, either using your finger to scroll around the scene or physically swinging the phone around in "Motion View" mode. They'll play back natively on a Gear VR headset if you've got one too.
You can't watch clips at their full 4K resolution on a phone – you'll need Samsung's desktop software and a UHD monitor or TV. Which again, is Windows-only right now. Hopefully Samsung will release an Apple-friendly version soon, but right now it's tough to do much away from your phone if you're a Mac user.
SAMSUNG GEAR 360 VERDICT
There's no real contest here: the Gear 360 beats the LG 360 Cam in features, performance and build quality. Just remember you're paying a £150 premium for that bump in quality.
It's also a premium that's difficult to justify, given the tech troubles I had throughout testing and the lack of decent Mac support. I'd like to see a bit more from Samsung here: proper Mac desktop compatibility is a must, as are guidelines as to which microSD cards do or do not work properly.
These are easy fixes, though, and once they're made, will make the Gear 360 a much more tempting prospect a few months down the line.
Tech specs
| | |
| --- | --- |
| SENSORS | Dual 15MP CMOS |
| LENSES | Dual 180-degree f/2.0 fisheye |
| DISPLAY | 0.5in PMLOED |
| STORAGE | microSD card (up to 200GB) |
| DIMENSIONS | 67x56x60mm,152g |
Stuff Says…
Too many problems to recommend it to everyone, but there's a capable 360° camera in here somewhere
Good Stuff
Tough build, but still looks slick
Decent battery life
Easy pairing and reconnection
Bad Stuff
Fussy compatibility
A bit too large for a pocket
Desktop software is Windows only