Samsung Gear Fit2 Pro review
Swim-centric upgrades make this a winning wearable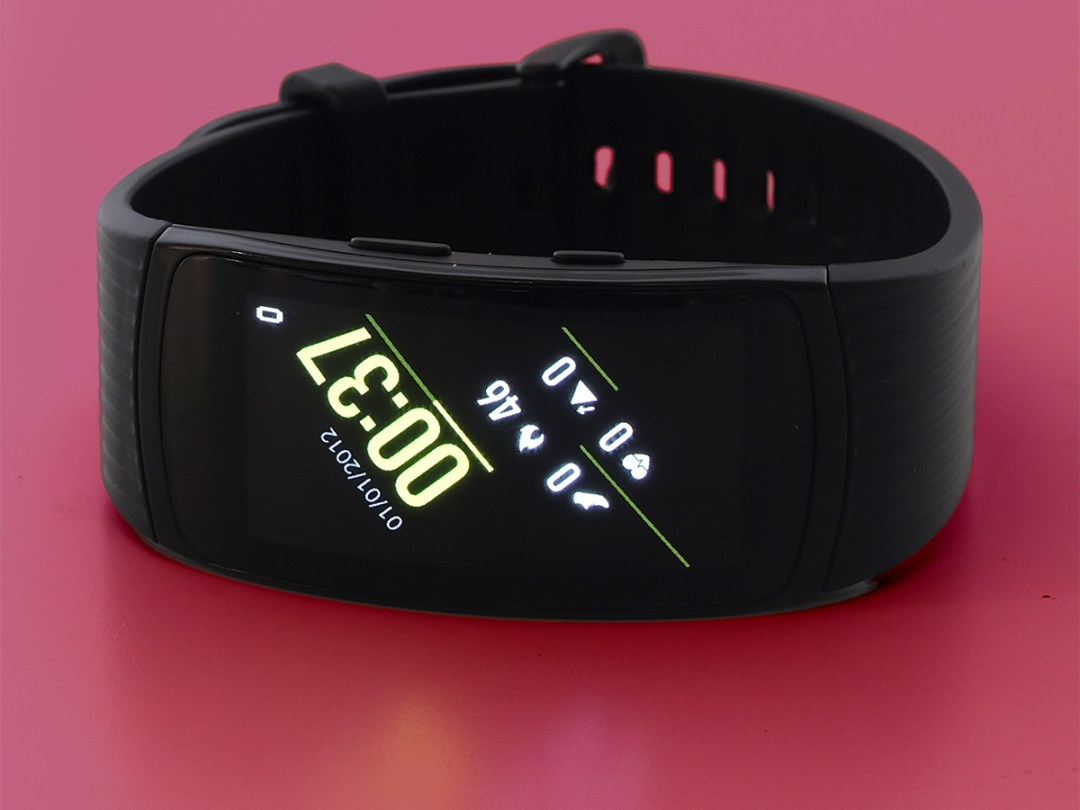 In the space between big Android Wear watches and little fitness band trackers, there's a curious grey area where the Samsung Gear Fit2 Pro lives. It's part smartwatch. It's part GPS run tracker. It's part fitness band.
But, true to Samsung style, it's about as techy-looking as wearables come. This is just as likely to turn people off as to appeal, and at £209 is a lot more expensive than a sporty rival like the Garmin Vivosport.
It's a head-scratcher. And it all boils down to one question: does a curvy, dramatic-looking OLED screen on your wrist make you go "ooh", or make your friends think you've reached a new level or nerd-dom?
Design: more Star Trek than G-star
The Samsung Gear Fit2 Pro is one of the most impressive-looking smart fitness bands around. A bright, shiny and colourful curved OLED screen is worth showing off. But it's not going to appeal to everyone.
To some, it'll make Garmin rivals look prehistoric. To others, the Fit2 Pro is the wearable Geordi LaForge ordered to go with his Star Trek visor.
This isn't just about that big, bright screen. The band is also slightly too large to avoid seeming like a "gadget". And to some, that's a turn-off. There's a reason so many new trackers try to look like watches.
Screen and comfort: bright and beautiful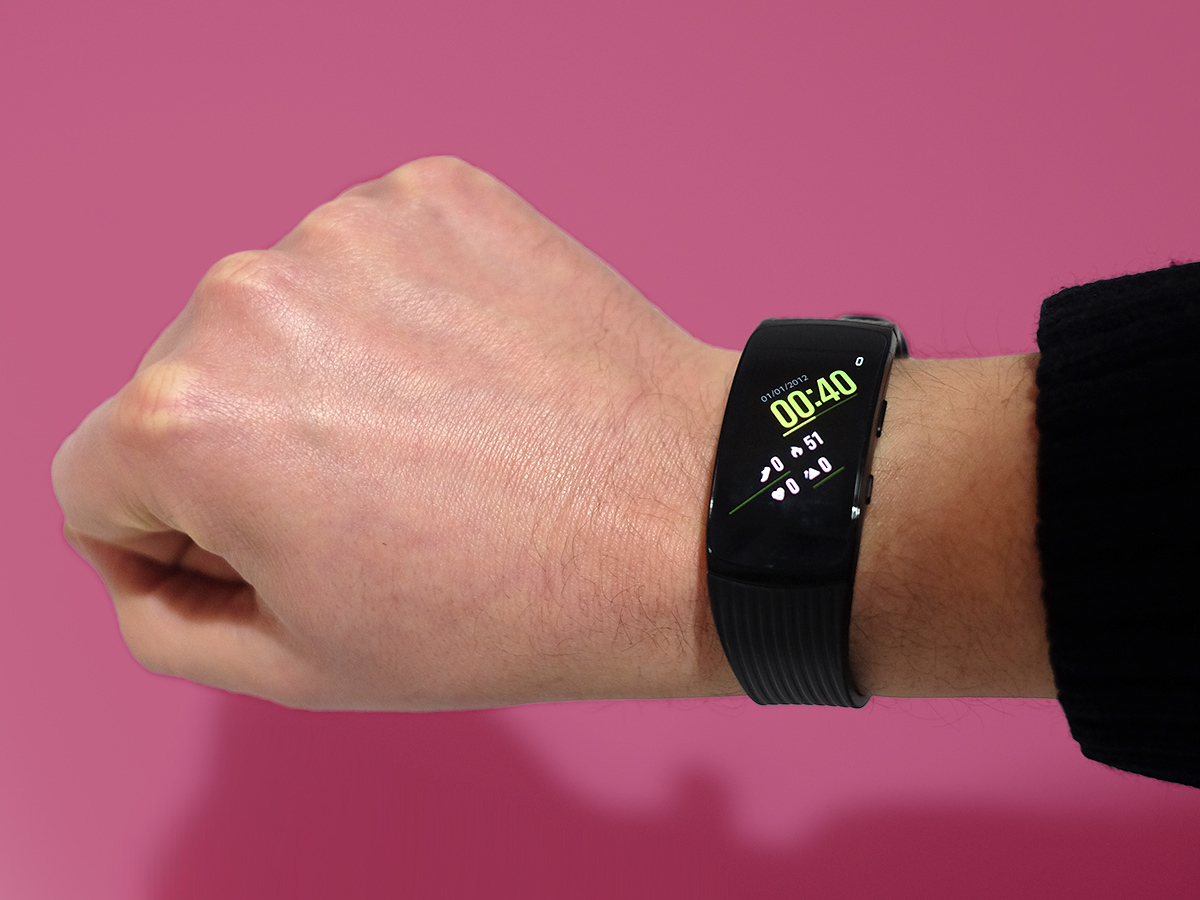 Still on board? The Samsung Gear Fit 2 Pro is perfectly pleasant to wear.
It's not heavy, the band is moulded to fit your wrist's curvature and the strap is the silicone kind used by lots of normal watches. Then there's that screen.
This is a 1.5in 216×432 pixel Super AMOLED that looks more advanced than the display of virtually every other smart band. Colours pop, contrast is perfect, it's bright and a lot sharper than average.
Watch faces look fantastic, and all those pixels make reading notifications, WhatsApp messages and email headers more comfortable than just about any other device in this class.
We could spend an inconclusive hour arguing about whether this is really a smartwatch or not, but in use it feels more like one than any band-shaped thing from Fitbit or Garmin.
Software and apps: not quite a full smartwatch
Like other Gear gadgets, the Fit2 Pro runs Tizen OS, Samsung's alternative to Android Wear. It's fast and responsive, with none of the clunkiness you sometimes get with more lo-fi wearable software.
For the most part you navigate through the Fit2 Pro using the curvy touchscreen, but there are also two buttons on the side. One takes you 'back' to the watch face, the other switches to the apps menu.
So there is an apps menu – that means this is a smartwatch, right? It's not that simple. While the Fit2 Pro uses the same basic Tizen OS software and lets you download third-party apps, the vast majority of these are just watch faces.
There are loads, and loads, of these on offer. But actual apps? Dig deep and you'll find a Google Maps-style navigator and a Tetris clone. Even these apps are technically watch faces too, but sneak app functionality into them.
There are a few proper apps to be found if you dig even deeper — Endomondo, Lifesum, Map My Run and Spotify among them. Spotify is handy for listening to playlists offline, but the rest only really add to the tracker's sport features. We also couldn't get Lifesum to work. It complained the required phone version wasn't installed even as it was running.
Round Samsung Gear watches like the Gear S3 seem to have access to a few more apps, but every Tizen OS watch lags behind Android Wear or an Apple Watch on the apps front. Don't buy a Gear Fit2 Pro expecting to control your smart home gear or transcribe your dreams after you wake up at 3am.
Samsung has baked a bunch of features into the Gear Fit2 Pro as standard, though. For example, you can send music over to the band using Bluetooth, then listen to them with wireless headphones.
There's also a calendar, a "find my phone" app, weather report, stopwatch and mini apps that let you track your water and caffeine consumption.
Fitness tracking: a swimmer's delight
The Samsung Gear Fit2 Pro is, above all, a lifestyle and exercise tracker. It's not called "Fit" for nothing.
Its fitness cred is great too. As well as an accelerometer to count your steps, a heart rate monitor and a barometric altimeter to count the number of stairs you climb, there's GPS. This will map-track your walks, hikes and runs, to the metre.
Its accuracy is fairly good and it's very quick to lock-on. Run and walk tracking is more reactive than most too, auto-pausing whenever you stop. This can be switched off if the pauses are all part of the plan. There are also different modes for gym machines like the treadmill and elliptical, yoga and separate exercise such as crunches and squats. The latter are fully guided, count your reps and monitor your heart rate.
A swimming mode is what separates the Gear Fit2 Pro from the original Fit2. The casing is water resistant to 5ATM, fine for the pool, and there's a Speedo On app for swim tracking. This counts your lengths and pace, and automatically disables the touchscreen so the band doesn't misfire as soon as the capacitive screen touches water.
This is a versatile tracker, although the heart-rate sensor on the back doesn't quite offer quite as solid a read as the very best wrist-worn models. As usual, getting a wrist sensor to work under pressure isn't easy, and at times it seems to overshoot readings.
Battery life: more smartwatch than fitness band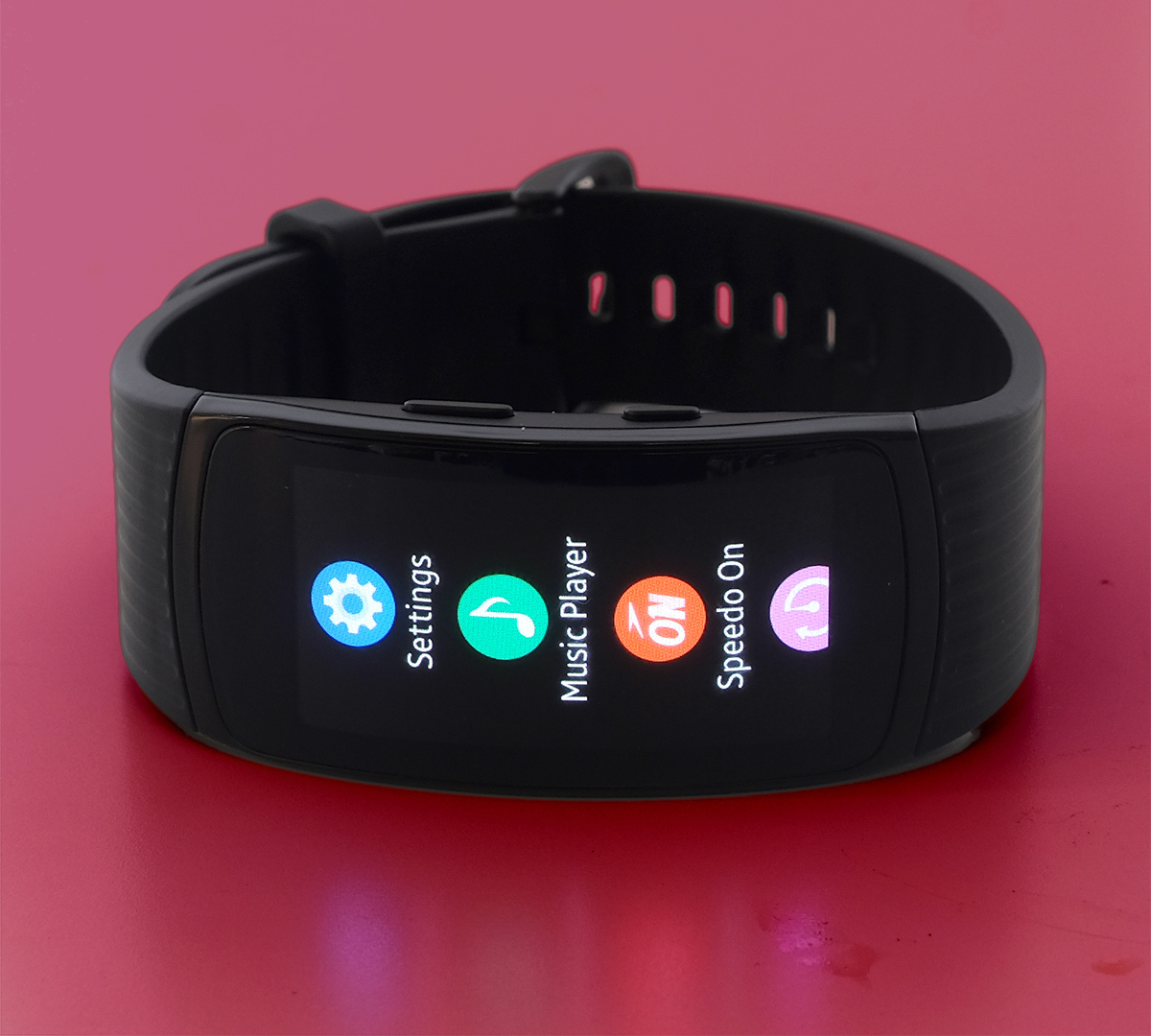 The last black smudge is battery life, no great surprise when the Fit2 Pro has a (relatively) big, pixel-packed screen.
Samsung says the 200mAh battery should last up to four days. After turning on the always-on display (which shows a clock 24/7 so you don't have to jangle your wrist just to see the time), and enabling notifications the reality is much closer to two days. Or less if you also track a chunky daily run.
Up to nine hours of solid GPS use is decent, but you pay for the fancy screen with stamina. The rival Garmin Vivosport lasts four days even with some GPS tracking. This may not be a wearable you have to charge every day, but it's not that far off.
Samsung Gear Fit2 Pro verdict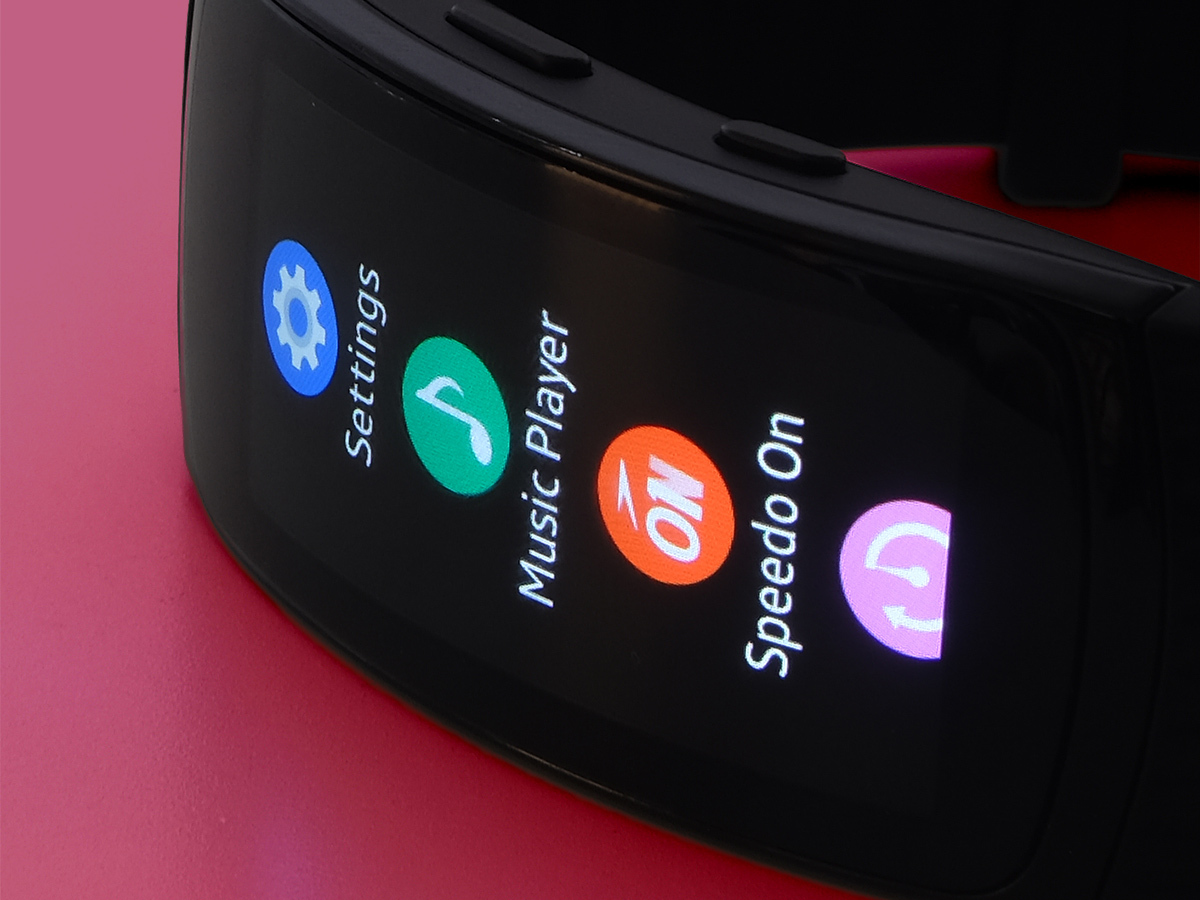 The Samsung Gear Fit2 Pro is a fitness tracker with a smartwatch-grade screen. It tracks walks and runs, and is also a pretty good way to check incoming emails without taking phone from pocket.
It's ready for the pool too, and costs a lot less than an Apple Watch Series 3. Considering it can run third-party apps, though, you may be disappointed with the scope of its smarts.
And make sure you're ready for its size. It's bigger than most band-style wearables, so may look worse than it does in photos if you have smaller wrists.
Tech specs
| | |
| --- | --- |
| SCREEN | 1.5in curved 216×432 AMOLED |
| CPU | Dual-core 1GHz |
| MEMORY | 512MB RAM |
| STORAGE | 4GB on-board |
| CONNECTIVITY | Bluetooth 4.2, 802.11n Wi-Fi, GPS/GLONASS/Beidou |
| SENSORS | Accelerometer, Gyro, Barometer, HRM |
| BATTERY | 200mAh non-removable |
| DIMENSIONS | 25×51.3mm, 34g (Large), 33g (Small) |
Stuff Says…
The best smartwatch-style fitness tracker around, as long as you don't mind the slightly dorky looks
Good Stuff
Sharp and colourful screen
Versatile fitness tracking
Great water resistance
Bad Stuff
Smartwatch-style battery life
A bit chunky
Limited extra apps