Samsung M8 Smart Monitor review: one screen to rule them all
A do-it-all display that's easy on the eyes, with brains to match
It's a tricky business, buying something that's a Jack of all trades. That's why we approached the Samsung M8 Smart Monitor with a healthy dose of caution.
Pitched as a beautifully designed 4K monitor with the same brains, apps, and smart features that you'll find in Samsung's latest TVs, the M8 appears to have more credibility than a late-night shopping channel gizmo that promises to slice, dice, sauté and take the bins out. Still, as with most things that try to do too much at once, there's always a risk that you'll find yourself standing in a pile of mediocrity, with a healthy dose of buyer's remorse.
Having used the M8 Smart Monitor as our main PC and gaming screen over the past week though, we're happy to report that Samsung's hassle-free vision of a single screen for work and play is a resounding success.
At £699 the M8 isn't the absolute best standalone monitor or TV that money can buy, but it nails what it sets out to do by serving up a unique, innovative proposition that's different to anything else currently out there.
Could this be the ultimate space-saving solution for your working from home and entertainment needs?
Samsung M8 Smart Monitor design and build: Pastel la vista, baby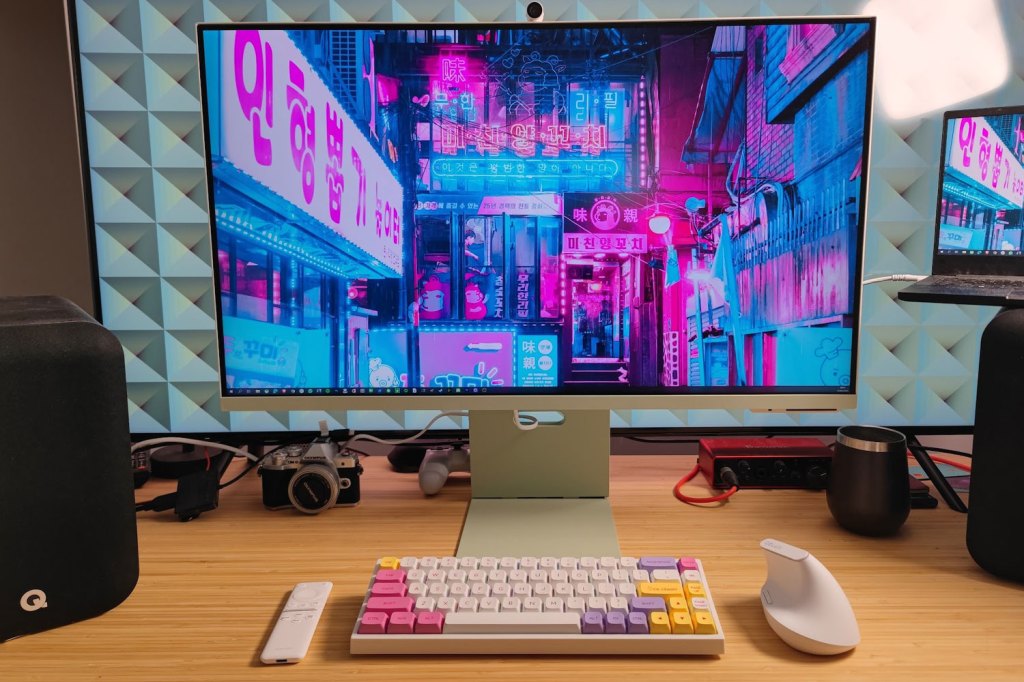 Right, let's kick off with the obvious. With its L-shaped stand and selection of colour options, the M8 Smart Monitor bears more than a little resemblance to the Apple iMac. And you know what? That's okay. Similar to the smartphone world, there's only so much you can do to really separate a rectangular slab of glass from the competition. As long as it's functional and looks good, you're alright in our books, and both Apple and Samsung have created monitors that break the bland mould.
Available in a variety of gorgeous Wes Anderson-esque pastel hues (namely, white, green, blue and pink), the M8 acts like a functional piece of decor. So much so you'll want it to stand out proudly and complement its surroundings, unlike most other monitors that are best hidden and blended into the background. This is particularly important if you're in a small space like a studio flat, and want to feel like you haven't just plodded down a boring bit of utilitarian office equipment into your carefully-designed Pinterest-worthy sanctuary.
Flip it round, and you'll find a pleasantly textured, white plastic back that's identical across all colour options. In contrast to the delightfully solid and sturdy metal stand though, the plastic has a noticeable degree of flex to it, which is a little disappointing. You'll only notice this when adjusting the height or angle of the screen, mind, and the plastic material helps keep the overall weight manageable. Still, we'd like to see a bit more rigidity for a more premium feel, especially at this price.
Also on the back you'll find a four-way control toggle for navigating the menus (though the included TV remote is far more convenient), along with selection of ports: a micro HDMI port (thankfully a HDMI to micro-HDMI cable is thrown in), and two USB-C ports. One is for connecting devices, while the other is capable of simultaneously charging your laptop and acting as the display port. We opted for the sheer convenience and minimalist solution of the latter.
Putting the screen and stand together takes mere minutes thanks to an easy slot-in and screw mechanism (you'll need a basic screwdriver and nothing more), but it's worth pointing out the lack of a standard VESA mount if you had a more specific stand in mind. This is a rather glaring omission if you're used to creating more bespoke PC monitor setups, but given that Samsung is targeting people who just want a streamlined experience, it's not surprising to see.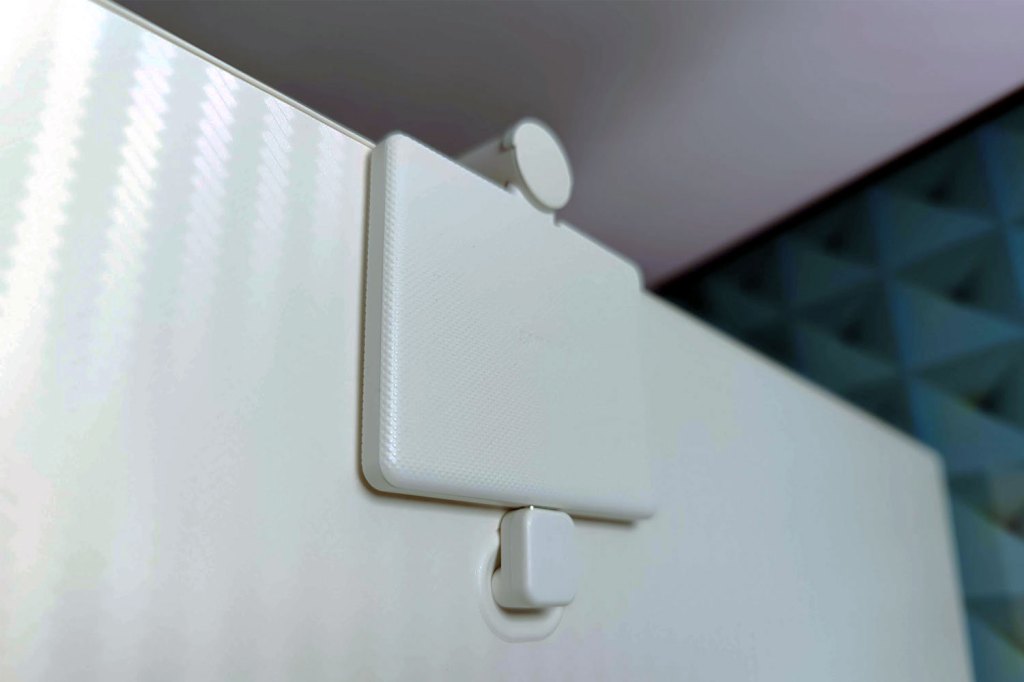 Lastly, the M8 has an innovative design feature that we absolutely love, and we hope it becomes the standard for all premium monitors — a magnetic webcam that conveniently snaps onto the rear panel, connected via a streamlined pogo pin connector. With a magnetic lens cover for privacy when not in use, it's a delightful, minuscule alternative to standard black bulky webcams that would otherwise totally destroy the clean lines and aesthetics of the M8.
Samsung M8 Smart Monitor screen: Pixel-packed with buckets of brightness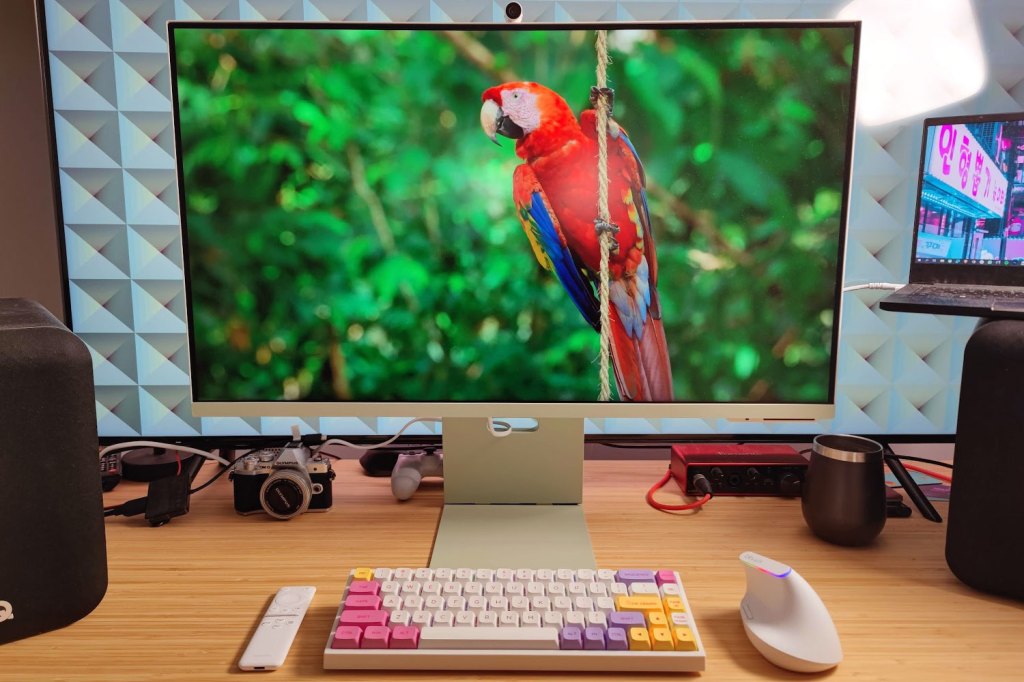 Before we get to the screen experience, we'd like to talk about panel tech briefly. Don't panic, it won't take too long.
The M8 Smart Monitor has a 32in, 4K LCD screen, and it's a VA panel rather than an IPS or TN one. Without diving too deep into the world of panel comparisons (and trust us, it goes deep), VA panels tend to serve up deeper black levels, contrast, and colour depth than IPS or TN offerings. The trade-off is that IPS panels offer a wider colour gamut and better viewing angles, while TN panels make up for their poor contrast with blisteringly fast refresh rates.
In short, VA panels are widely regarded to be a solid middle ground, best suited to non-specialist tasks, which is why it makes sense for the M8's use-case. It's not aimed at graphics professionals who need incredibly accurate colour reproduction. Nor is it aimed at hardcore gamers looking to reach insane refresh rates with liquid-cooled RGB-infused gaming rigs.
That said, in real-world use, it's a pleasure to behold. The 4K resolution crammed into a 32in screen makes for a super-sharp viewing experience. Text is crystal clear with zero eye strain required, and it's plenty bright enough, even in a room with sunlight streaming in through the window. Its 400 nits of peak brightness is so substantial, in fact, that we've been using it at just over half brightness, which is more than enough for our needs.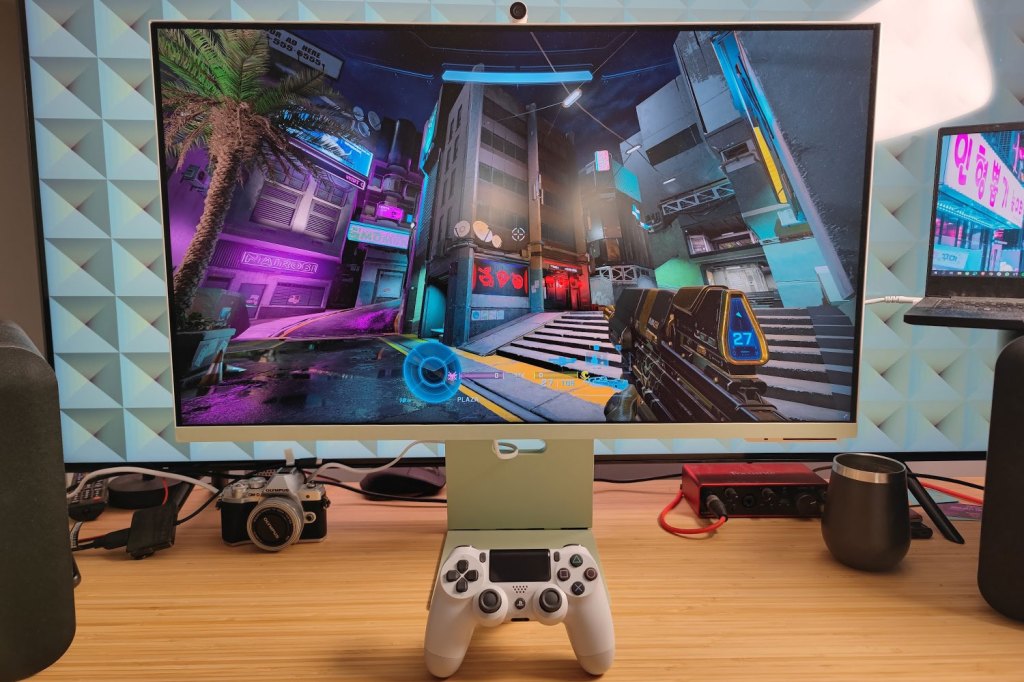 While it obviously won't offer up the deep blacks and vivid colours of something like an OLED TV, the M8 still serves up impressive contrast and bright colours, and we binged watched the latest series of Love Death + Robots with zero complaints. It also has HDR10+ which works well at balancing light and dark areas in a scene, though we could do with a tad more brightness in the lighter areas. With a matte finish that most TVs lack, the M8 also fared very well opposite a window letting in lots of light, and with ambient lighting too. It comfortably out-performed our older Samsung Q70 TV when it came to reducing pesky reflections.
Our only real complaint is the previously mentioned 60Hz refresh rate. A game like Halo Infinite looks beautiful enough on a gorgeously sharp 4K screen, and there's a dedicated Game Mode to cut down on input times, but it's still a shame we're not getting a 120Hz refresh rate here. While 60Hz is perfectly fine for casual gaming on something like a laptop, 120Hz is becoming more standard in premium devices, and the M8's price is far from budget.
On the sound front, the M8's built-in speakers have enough oomph to get the job done, but as with all monitors, you're better off hooking up a soundbar or some speakers for a more robust, richer audio experience.
Samsung M8 Smart Monitor features and controls: bursting with tricks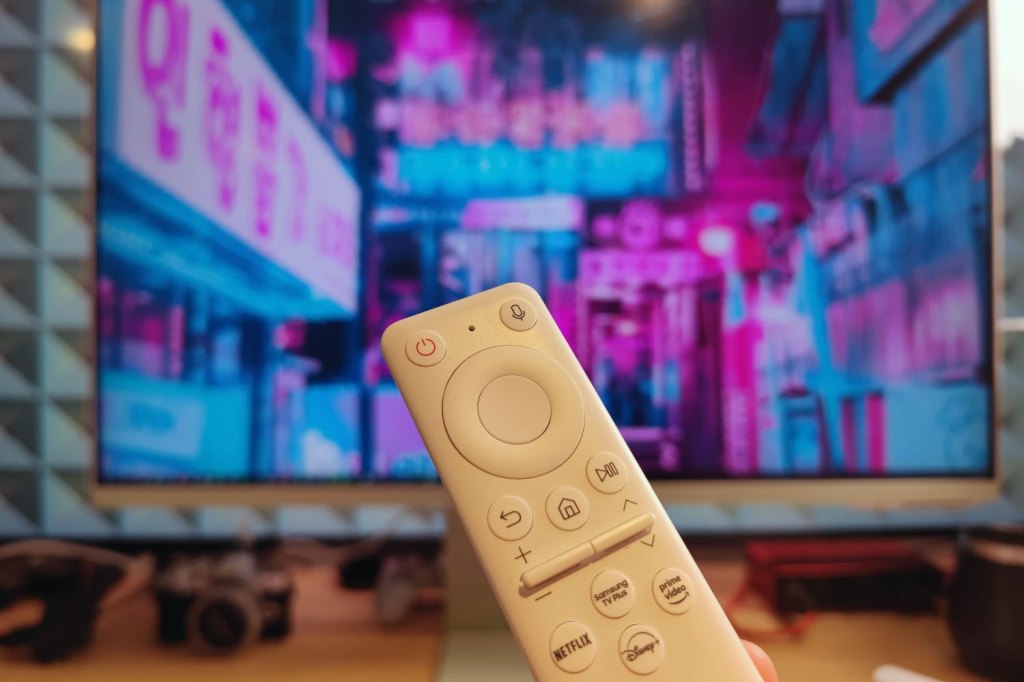 In essence, the M8 is a monitor with the brains of a Samsung TV. Powered by Tizen OS, its menu and interface will be instantly familiar if you've used one of Samsung's newer tellies. As a result, you've got access to the same glorious selection of services and apps that no other monitor could achieve — at least, not without requiring a separate purchase of something like a Chromecast, Roku, or Amazon streaming stick.
While it doesn't have an aerial connection, you've got a bunch of channels automatically unlocked when you connect the M8 to Wi-Fi, courtesy of Samsung TV Plus. Most of us, though, will spend our time gorging on content courtesy of apps like Netflix, Amazon Prime Video, Disney+ and more.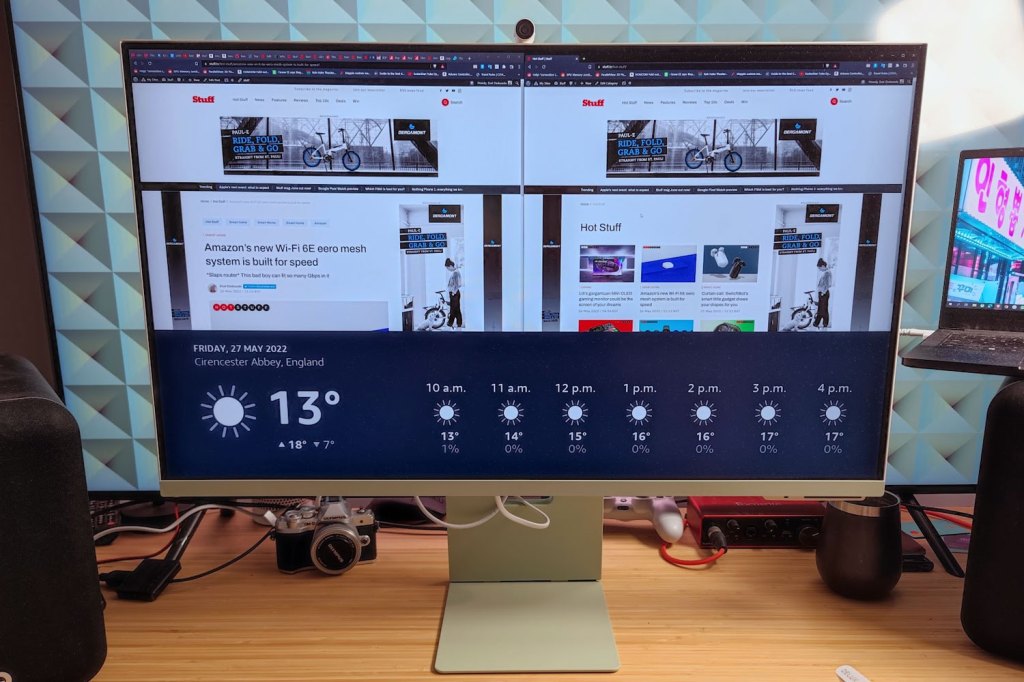 If that wasn't enough, you've also got a choice between Alexa and Bixby voice assistants thrown in for good measure. We opted for the former, and turned on voice wake-up so that we could summon Amazon's assistant without needing the remote. Not only does this turn the M8 into a handy smart hub for controlling things like connected lights and speakers, but we found the Alexa overlays to be incredibly useful while working too. Often, for example, we found ourselves asking Alexa to convert currency amounts while writing news stories. Having the results displayed on the screen next to our open Word document is a beautiful convenience we'll miss when the M8 is shipped back to Samsung HQ.
There are plenty of other functions buried in the menus — almost too much, in fact. From Samsung DeX, which lets you connect compatible Samsung smartphones for a desktop PC-like experience, to the ability to directly connect a keyboard and mouse to the M8 and use cloud-based Office apps like Word without even needing to plug in a PC, there's no end to this monitor's cleverness.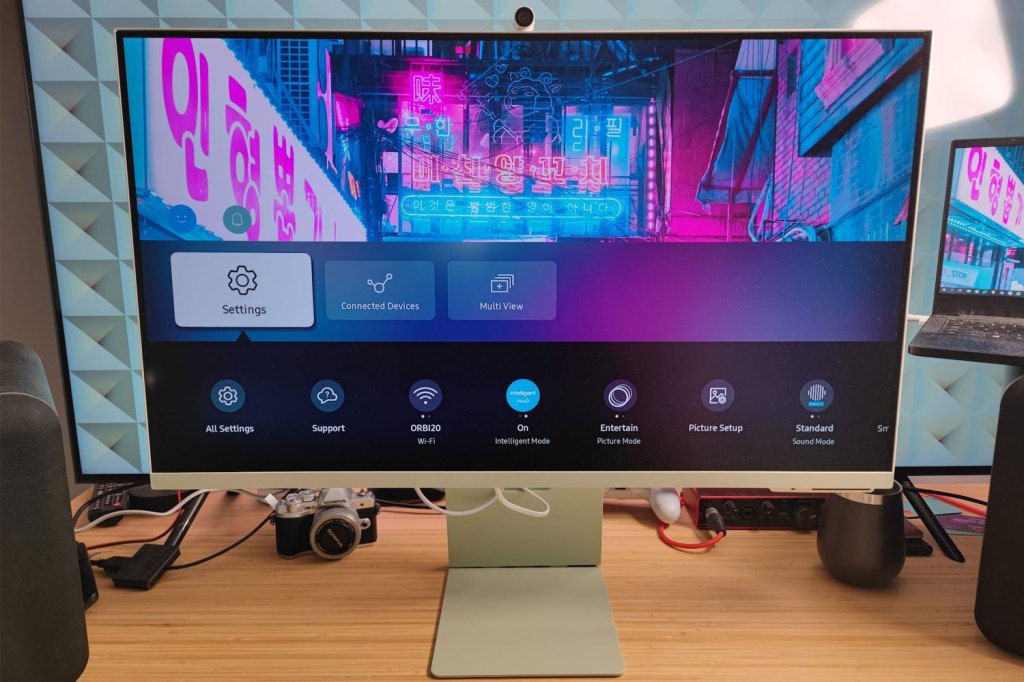 There's one mind-boggling niggle we're hoping to see fixed in a software update, though. Unless we've missed something, it takes a total of ten button presses on the remote to swap from an app like Netflix back to our PC input. Yes, ten. We won't list out every step, but it involves pressing the Home button and navigating through various screens before finally being able to select the PC source. The lack of a source input button on the remote is rather baffling, but a software update that brings up a source menu with a double-tap of the select button or something along those lines would be an absolute godsend compared to the current convoluted method.
Samsung M8 Smart Monitor webcam: clearly innovative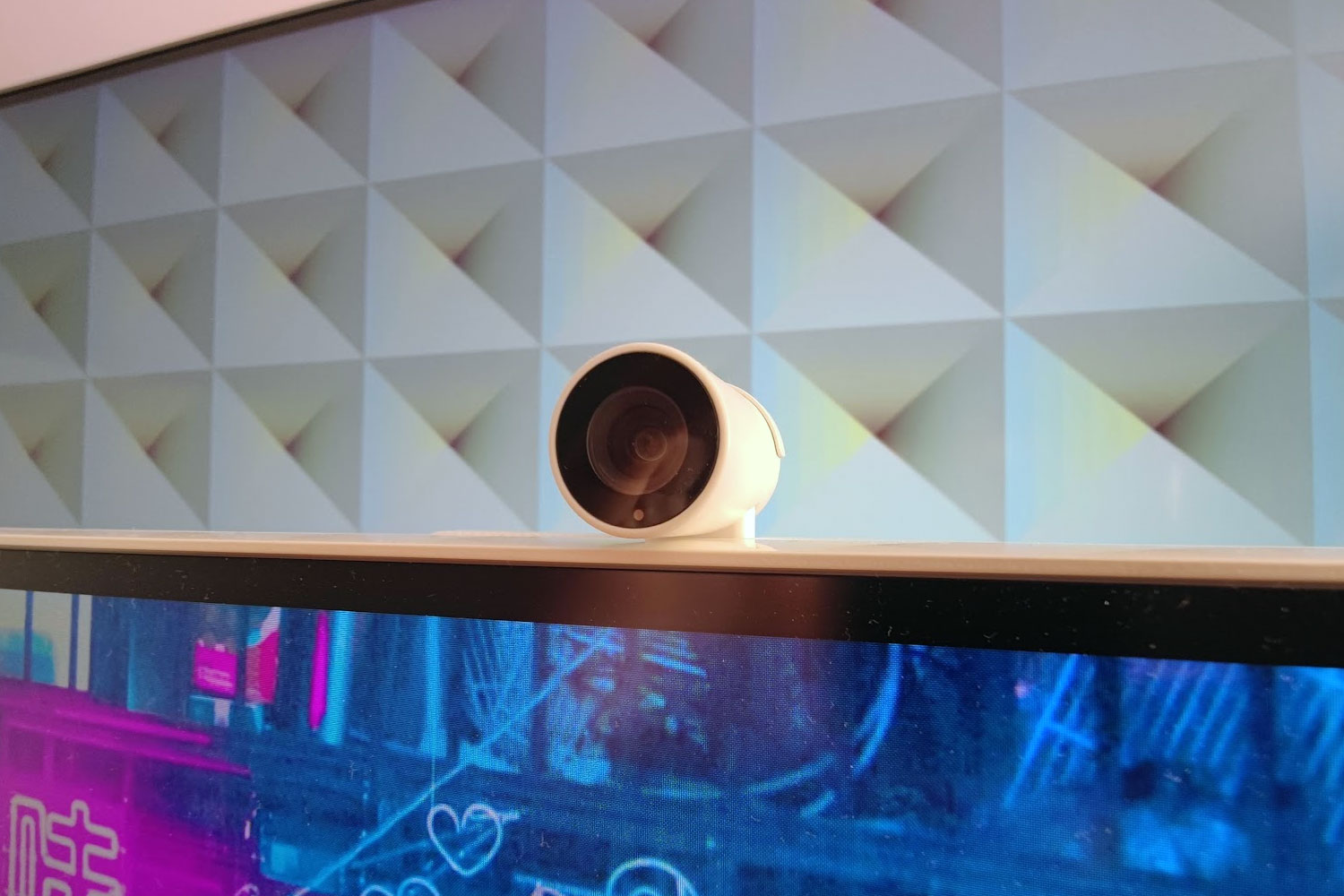 One of the M8's most impressive party tricks is its magnetically attachable webcam. A 1080p/60fps affair, it's beautifully sharp and a hundred times better than the godawful built-in webcams that seem to be crammed into most laptops these days. Quality is comparable to our same-specced Logitech C922 which has an RRP of £95, so it really is quite an impressive bit of kit — especially as it's so minuscule and streamlined.
Our only real gripe is that even when tilted forward to its lowest point, it's still a bit too high. At our preferred monitor height (when the screen is at its tallest, almost in line with our eyes), there's a noticeable gap above our heads in video calls. The solution we've found is to lower the screen to counter this, then raising the screen again after. It's not a deal-breaker by any means, and overall we applaud Samsung for designing a very clever bit of kit.
Samsung M8 Smart Monitor verdict
The M8 Smart Monitor is a niche product with a heck of a lot going for it. Yes, at £699 it's definitely on the expensive side, but there are a few things to consider. Firstly, the Apple Studio Display (the product that most people will directly compare this to), starts at a whopping £1499 for the 27in model. The 24in iMac which is the closest product to matching the beautifully coloured aesthetics of the M8, starts at £1249. Suddenly, that £699 price tag isn't looking too bad in comparison.
There are some things to consider though. If gaming with at least 120Hz is important to you, then you could save a few hundred quid and get something like the electriq 32M4K144FS. At the time of writing it can be yours for a palatable £350 and delivers a 32in 4K IPS panel with up to 144Hz for smoother frame rates. But goodness, it's insanely boring-looking in comparison.
You could, of course, also spend the M8's sticker price on a much larger 4K TV, of which there are countless options from all sorts of manufacturers. The crux of it though, is that there's nothing quite like the M8 out there.
No screen offers the same combination of specs, swanky detachable camera, TV brains and, of course, its stunning looks. Is it for everyone? No. But if you're finding yourself living and working in the same room — whether it's in a small flat, home office or anywhere else — and want a single screen to meet all of your needs while adding some design pizzazz to your setup, the M8 Smart Monitor was made for you.
Stuff Says…
An ideal solution if you want a single screen for work and play. The M8 is a beautiful monitor infused with TV smarts
Good Stuff
Stunning design with eye-catching colour options
Innovative, high-performing detachable webcam
Plenty of streaming apps/services
Built-in voice assistant smarts
Bad Stuff
60Hz refresh rate could be higher
On the pricey side
Samsung M8 smart monitor specifications
| | |
| --- | --- |
| Screen size | 32in |
| Type | 4K 16:9 VA Panel |
| HDR | HDR10+ |
| Inputs | Micro HDMI USB-C Hub, USB-C , Wi-Fi, Bluetooth, Webcam |
| Refresh Rate | 60Hz |