Samsung Odyssey Neo G8 review: class-leading performance
It's the world's most ambitious gaming monitor – but is the Samsung Odyssey Neo G8 worth £1299?
The Samsung Odyssey Neo G8 has the kind of spec list that'll make PC gamers salivate. It's the world's first 4K gaming monitor with a 240Hz refresh rate, for starters, and the high-end tech just doesn't stop.
Beneath the 32in curved screen you'll find Quantum Mini LEDs – Samsung's version of the mini-LED tech that's made waves in the TV world. They deliver deeper black points, brighter points, and more nuanced contrast compared to regular gaming screens, and should make games brighter, bolder and more vibrant.
Elsewhere, the Samsung Odyssey Neo G8 serves up RGB LEDs, AMD FreeSync for buttery-smooth gameplay, and sensational physical design, but it does cost £1299 – and you're going to need a monster graphics card to power this panel.
Is it worth breaking the bank to get the Samsung Odyssey Neo G8 in your gaming den, or is this just too much to pay, no matter what it brings to the table?
Design & built: illuminating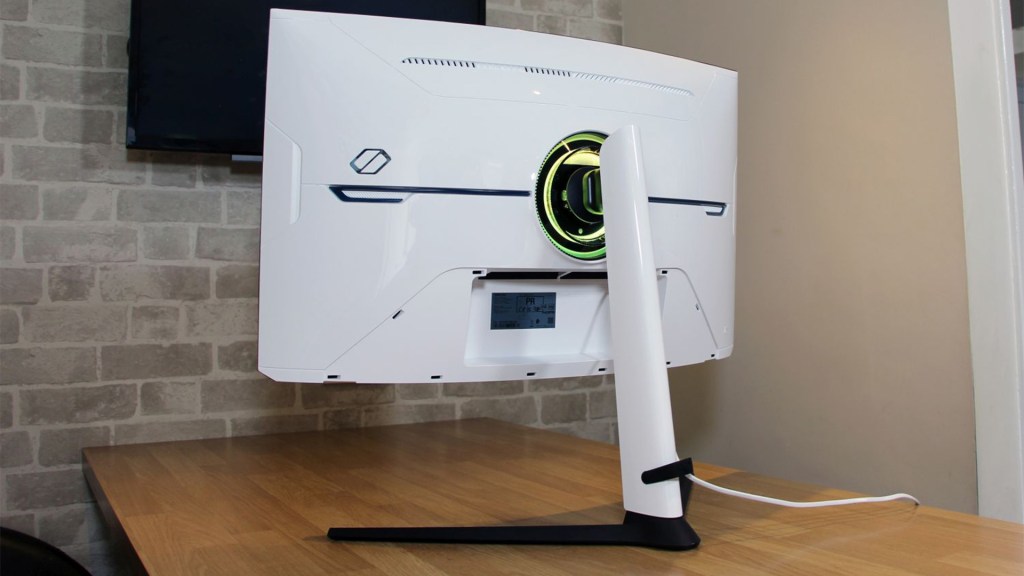 The Samsung Odyssey Neo G8 has loads of adjustment options, which is handy if you need to get the position perfect before you can enjoy your gaming. It can move 120mm vertically, with 22mm of tilt and 30 degrees of swivel. The Neo also attaches to 100mm VESA mounts, so will work with monitor arms.
Impressively, the Neo G8 can also swing around into portrait mode. Most people won't need to use portrait movement, but it's often omitted on larger curved displays, and it's useful if you want a second screen to display extra game information or secondary apps. And, let's face it, having a big, curved vertical screen looks pretty cool, too.
The older Neo G9 has a ring of RGB LEDs around the rear, and the Neo G8 adds two strips of front-mounted lighting. Samsung also deploys a feature that synchronises the LEDs with on-screen images to provide ambient lighting during games.
That sounds great, but the lights aren't much cop. The rear LEDs aren't bright enough to have an impact unless you're gaming in the dark, and if you want to manually adjust you can only pick from 52 shades – not the 16.7 million options in the RGB colour space. Considering the quality elsewhere on the Neo G8, the illuminations disappoint.
Performance: hertz to look away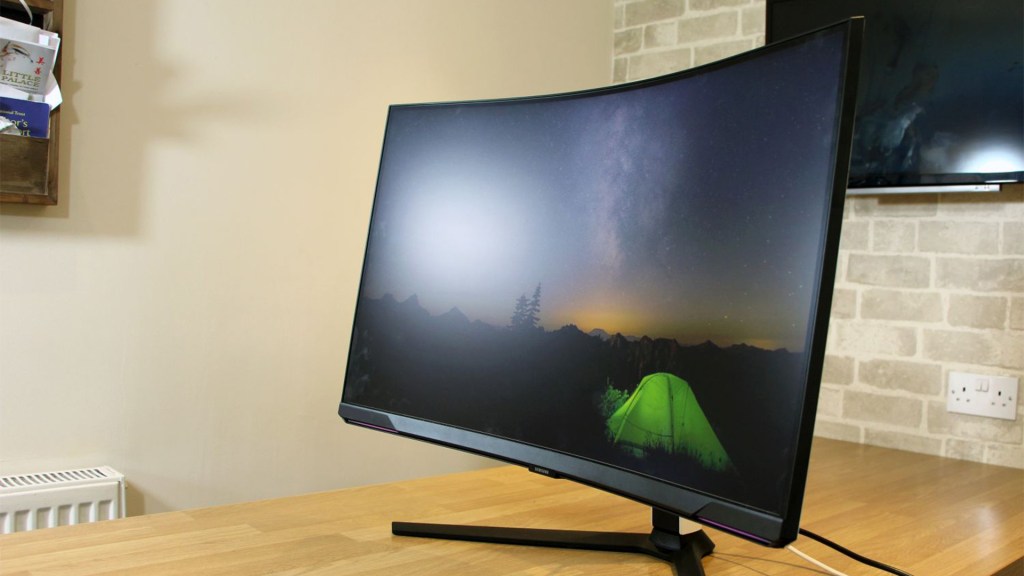 The Samsung Odyssey Neo G8 lives up to its enormous potential. Those Quantum Mini LEDs deliver incredible black points and a contrast ratio of 9,600:1 – far beyond anything a normal IPS or VA screen can manage. Switch over to HDR mode and the panel's brightness ramps up to beyond 1400 nits and its contrast soared beyond 70,550:1. That is simply sensational.
The panel's delta E of 2.41 is good and means accurate colours, and the Samsung did a great job with rendering every part of the sRGB colour gamut and almost all of the DCI-P3 colour space, which is used for HDR content.
Those are lots of numbers, but they have some straightforward ramifications. If you want to play games in SDR mode, you'll get accurate colours, incredible depths and lashings of punch and vibrancy. Switch over to HDR, and you'll get more in every respect alongside the sort of backlight nuance that you just don't usually see from gaming monitors.
The 240Hz refresh rate is ample for anyone except the most demanding esports gamers, and on this panel the animation is sharp and smooth. Combine that with the top-notch image quality and high resolution and you've got a world-class gaming experience.
On-screen display: fiddle me this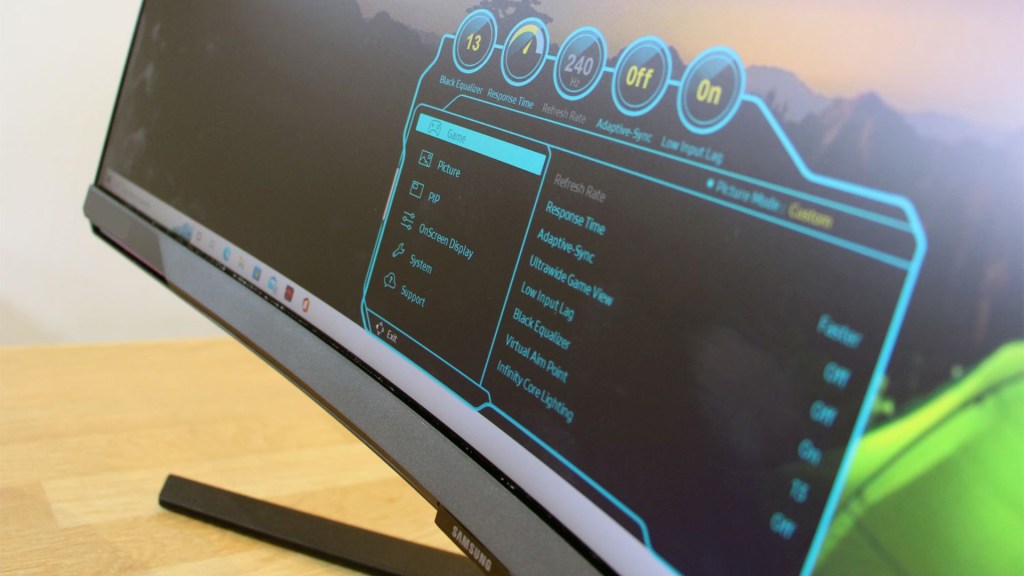 It's a shame that the Samsung Odyssey Neo G8's joystick is annoying and fiddly, because Samsung's on-screen menu is excellent. Boot it up and you'll see a row of vital information for gamers, like the refresh rate and response time settings, and loads of the key gaming toggles are immediately visible.
Beyond that, you'll find in-depth options to tweak colour and contrast settings, adjust the RGB LEDs and update the firmware. The menu is well-organised, colourful and responsive, so it's easy to adjust different options – even if the navigation D-Pad is consistently irritating.
Samsung Odyssey Neo G8 rivals
That £1299 price certainly seems high, but you are getting loads of tech for your money – and, remarkably, if you spend this much on alternative 4K displays you'll get panels with poorer refresh rates. Widescreens like the Alienware AW3821DW are broader but offer poorer quality, while vast 43in beasts like the Asus ROG Strix XG43UQ provide a living room-style experience at the expense of refresh rate.
Until other companies catch up, the only panel to come close is Samsung's own Odyssey Neo G9, which is a Quantum Mini LED widescreen at 240Hz and with a huge price of £1749.
There's another cost to consider, though: unless you've already got a beast of a PC, you'll probably have to buy a monster graphics card to run top games at 4K and 240Hz.
You'll need an RTX 3080 Ti to have a chance in less-demanding titles, like the latest esports games, and an RTX 3090-series GPU would be better for top single-player games. Even then, no current card will run every game smoothly at 4K and 240Hz, so you'll need to upgrade in the future too.
Of course, you can also make huge savings if you don't need the Neo G8's high-end hardware. If you want 4K but don't need 240Hz or Quantum Mini LEDs, you can spend £800 and get a great screen. If you'd prefer 240Hz operation at 32in, Samsung's own G7 runs at 1440p and costs £599.
Samsung Odyssey Neo G8 Verdict
The Neo G8's Quantum Mini LEDs supply sensational contrast, incredible brightness and brilliant black levels, along with great colours and depth in SDR and HDR games. Combine that with the high resolution, the 1000R curve and the smooth 240Hz performance and you've got a display that will make any game look incredible – as long as you've got a powerful graphics card.
Samsung's display looks good and it's got plenty of adjustment options. It's not physically perfect, but none of its issues are dealbreakers – and the world-leading gaming performance more than makes up for it.
And while the £1,299 price is high, especially if you need to add a graphics card, the Neo G8 actually offers surprisingly good value when you compare it to the rest of the market and consider that it'll be at the top of its game for years. The Neo G8 is the best 16:9 gaming display in the world, and it's not even close.
Stuff Says…
The Samsung Odyssey Neo G8 delivers class-leading performance in a versatile form factor – it's one of the best gaming monitors in the world.
Good Stuff
Bold, vibrant and accurate
A huge resolution and rapid refresh rate
Immersive curved design
Good-looking exterior with lots of adjustment
Bad Stuff
Pricey, and overkill for lots of gamers
Requires an enormously powerful graphics card
Some mediocre external design
Underwhelming RGB LEDs
Samsung Odyssey Neo G8 Tech specs
| | |
| --- | --- |
| Resolution | 3840 x 2160 |
| Refresh rate | 240Hz AMD FreeSync Premium Pro |
| Size | 32in |
| Curve | 1000R |
| Ports | 2 x HDMI 2.1, 1 x DisplayPort 1.4, 2 x USB 3.2 Gen 1 |
| Dimensions | 739mm x 607mm x 310mm, 8.9kg |