Samsung QE65Q90R QLED TV review
"At last everything QLED promised is a reality"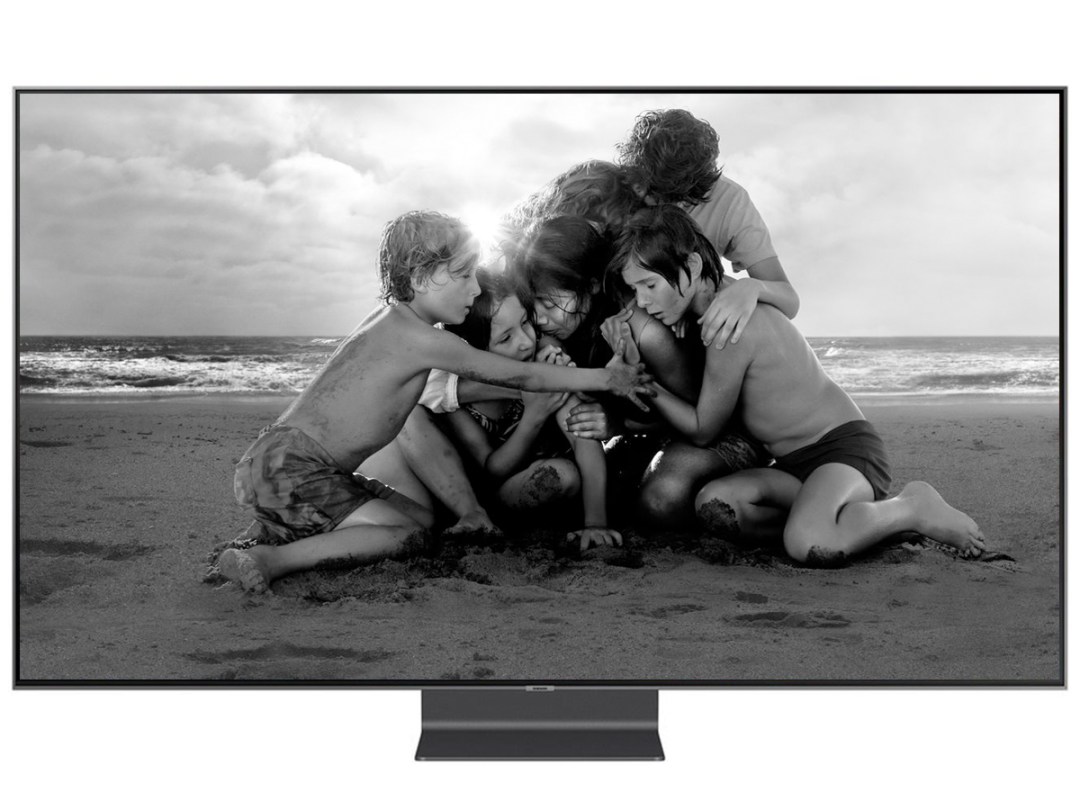 Up until now I had assumed Samsung had persevered with QLED not because of any evangelical belief in the technology but because it couldn't bring itself to source OLED panels from LG, its fellow South Korean rival.
I wasn't the only one, and all of us nay-sayers found it almost too easy to point out OLED's superior viewing angles, its superior black depth and its superior screen slimness when giving QLED the old 'close but no cigar'.
Perseverance (and, let's not pretend otherwise, an almighty research and development budget) has paid off, though.
Yes, £3799 is an awful lot of money to pay for a 65in TV. But despite the eye-watering price I have to concede I was wrong about QLED. The QE65Q90R might just be the best TV Samsung has ever built – which, by extension, means it's one of the very best TVs you can buy.
Design and build: Slim flicking
As we all know, it's not the way your TV looks when it's not working that will sell it to you (unless it's a Bang & Olufsen, in which case you have more money than sense).
But at the same time it's important an expensive new TV gives some indication of how much it cost even when it's not plugged in. The QE65Q90R manages to do so. Because it uses backlit LCD technology it's entirely lacking OLED's show-stopping slimness – we now live in a world where a TV that's a touch over 4cm deep (as this one is) looks a bit of a biffer. But it's crisply built and smoothly finished, without much in the way of bezel surrounding all that screen.
Wall-mounting is possible (though the Samsung weighs in at a most un-OLED-like 28kg, so don't attach it to a plasterboard partition), and the central pedestal stand not only allows the Q90 to stand on a normally sized piece of furniture but gives enough height for a soundbar to be positioned beneath.
Features: The thick of it
It's difficult to understand why Samsung hasn't had its One Connect box copied by any other TV brands. Taking all the connections offboard (and in the case of the QE65Q90R that means four HDMI inputs, three USBs, a digital optical socket, LAN input, two satellite tuner connections, an off-air/cable TV aerial and mains power) and leaving just a very thin cable running from the screen is an elegant solution to a vexatious problem.
Enjoy it while it lasts, Samsung – surely One Connect will serve as 'inspiration' for every other premium TV brand sooner rather than later. Officially, none of the HDMI inputs are 2.1 – but some 2.1 features like Variable Refresh Rate are already enabled and there's an outside chance of a software update in due course.
In terms of apps, Samsung is still laying them on with a trowel: Netflix and Amazon (in their full-fat 4K HDR versions, and Amazon topping out with HDR10+) are bolstered by BBC iPlayer, ITV Hub, All4, Demand 5, Now TV, Ratuken, and Google Play TV and Movies. The iTunes app is due next month. And as well as HDR10+ the Q90 also supports HDR10 and HLG, but not Dolby Vision – which will make things mildly difficult for the salesperson trying to justify your parting with the thick end of four grand.
Dolby Vision may not yet be the runaway success Dolby is no doubt hoping for, but a TV at this sort of money really should tick all the boxes.
Interface: Easy on the eye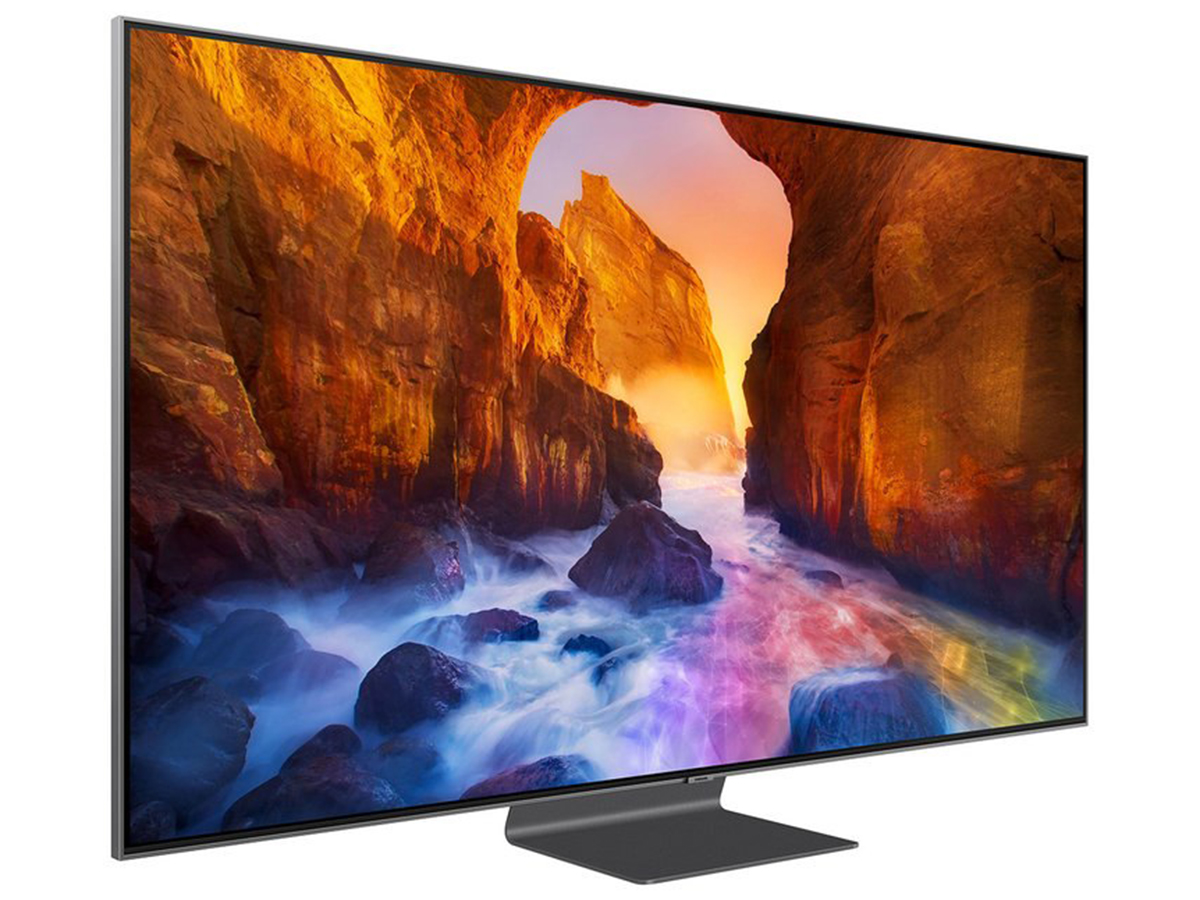 'Plethora' is the word when describing your options to control the Q90. There are two remote controls in the box – one a fully specified and button-heavy handset, the other altogether slimmer and more minimal. There's Samsung's logical, simple-to-operate SmartThings control app, and there's Alexa and Google Assistant voice control too.
No matter the control route you choose to go down, you'll be operating one of TV-land's cleanest, clearest and easiest user interfaces. It's swift, logical and sensibly laid out. That's an advantage no matter if you're just changing input, selecting a streaming service or getting deep into the set-up menus to try and get motion-handling just so.
Performance: power balance
There are a couple of really eye-opening aspects to the Samsung's picture performance, both of which go a long way to narrowing the gap between QLED and its OLED nemesis. They're black-tone level and detail, and off-axis viewing.
No LCD TV has previously enjoyed the sort of off-axis fidelity the Q90 is capable of. Samsung's fitted an additional layer to the panel to prevent backlight leakage and concentrate light where it ought to be. It's a feature called Ultra Viewing Angle and it works as well as the name suggests: even viewers sitting radically off-axis can see the same vibrancy of colour, depth of black tone and extended contrasts those sitting in the sweet spot are enjoying.
At a stroke, Samsung has taken away one of OLED's unique selling points. It's gone a long way towards catching OLED where black levels and detail are concerned, too. Last year's 4K QLED crushed black tones in the quest for OLED-style depth, and gave away detail as a result. Samsung's 8K monsters from earlier this year went too far the other way – they delivered prodigious levels of detail from dark tones but stopped short of serving up true blacks. But the Q90 strikes a brilliant balance between handing over OLED-like inkiness and dishing all the details.
A look at the excellent 4K Blu-ray transfer of Christopher Nolan's The Prestige confirms it: even when Christian Bale's character is brooding in the deep darkness of his prison cell, the details of the texture of his uniform and his bedding are gratifyingly clear. The two significant advances bring this QLED far closer to OLED's all-around game. And in every other respect bar one, the Q90 has the talent to make a pretty compelling case for a spot on your shortlist.
Its colour palette is naturalistic and extensive – it's vivid without being overblown. Contrasts are extremely wide – even something as prosaic as the FBI warning before the start of the movie, with white text on a black background, pops impressively. Watching Guardians of the Galaxy vol. 2 on Netflix illustrates just how well the Samsung manages contrasts without giving away any detail. Samsung's claim of 2000 nits peak brightness seems entirely plausible. The same stream demonstrates what good work the Q90 does when upscaling to fit its 4K panel. The picture is sharp and clean, with very little indication of just how hard the Samsung is working to fill its screen.
About the only area where the Samsung is obviously playing catch-up is motion-handling. Its default 'Auto' motion processing setting is unnatural in the extreme – it's possible to finesse the Q90 in the 'Custom' section of its set-up menu, but the TV stubbornly retains a little blur and noise when motion gets properly testing. The narrow stripes at the bottom of a Manchester United home kit during Match of the Day on iPlayer are beautifully defined when the wearer is stationary, but the instant he breaks into a sprint they become less distinct and carry some artefacts.
Sound-wise, the Q90 is fairly impressive by prevailing LCD TV standards – there's reasonable depth, impressive definition and a fairly wide spread of sound. Of course, it goes without saying that even a small and affordable soundbar will wipe the floor with the Samsung's performance – and as the company has designed the Q90's stand so thoughtfully, it would be churlish not to position a soundbar there. After all, if you've spent the thick end of £4k on a TV you really should budget to bring the sound up to the standard of the pictures.
Samsung QE65Q90R verdict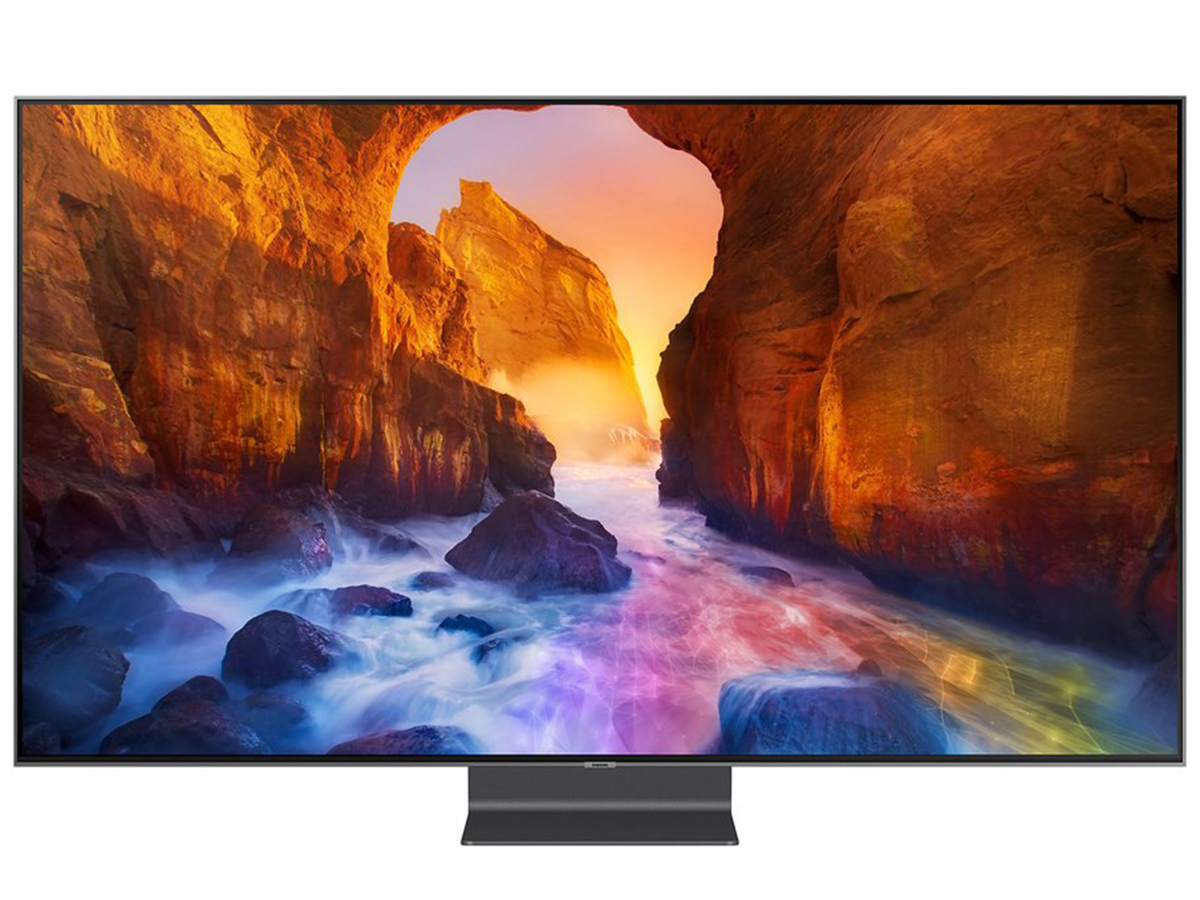 Samsung has finally demonstrated it was right all along: QLED can rival OLED in every meaningful respect.
The QE65Q90R may not have the crowd-pleasing OLED slimness, but its picture-making prowess is now on a par with the more glamorous technology. Colour balance, brightness, contrast and upscaling are as good as they ever were, and they're now underpinned by excellent off-axis fidelity, and tremendous black depth and detail.
Realistically, the only room for improvement Samsung has is with motion processing – if the company can achieve this, then one of the best TVs around has a great chance of being the best, full stop.
Stuff Says…
Whether it's driven by determination or stubbornness, Samsung's QLED technology gets more and more impressive
Good Stuff
Convincing colours and contrasts
great black levels and details
looks good off-axis
excellent OS
Bad Stuff
Could be better with motion
no Dolby Vision