Samsung QN85B NeoQLED TV review: bright doesn't mean best
Strange things are afoot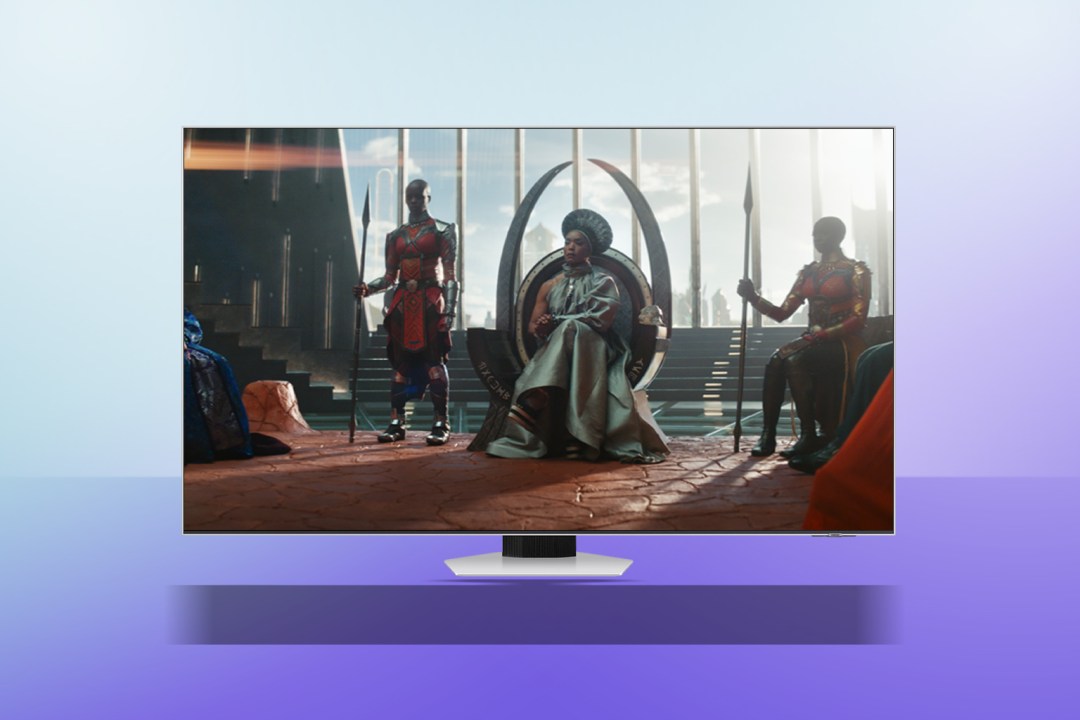 Samsung likes to call the panel tech found inside the QN85B 'NeoQLED' but the rest of us know it as 'mini-LED'.
You probably won't be amazed to hear a mini-LED TV uses very tiny LEDs to backlight its LCD panel. The theoretical benefits in brightness, contrast levels, backlighting accuracy and black levels are all very worthwhile. The question is if they happen in practice.
Samsung's confident. It's launched a couple of mini-LED – sorry, NeoQLED – ranges this year, and the QN85B is the more affordable. It's got a big spec, headline technology, a super-slim profile and a credible brand logo attached. On paper, it looks ready to compete.
'On paper' is one thing, though. What's it like when it's in your home and powered up?
Design and build: a wall-hugger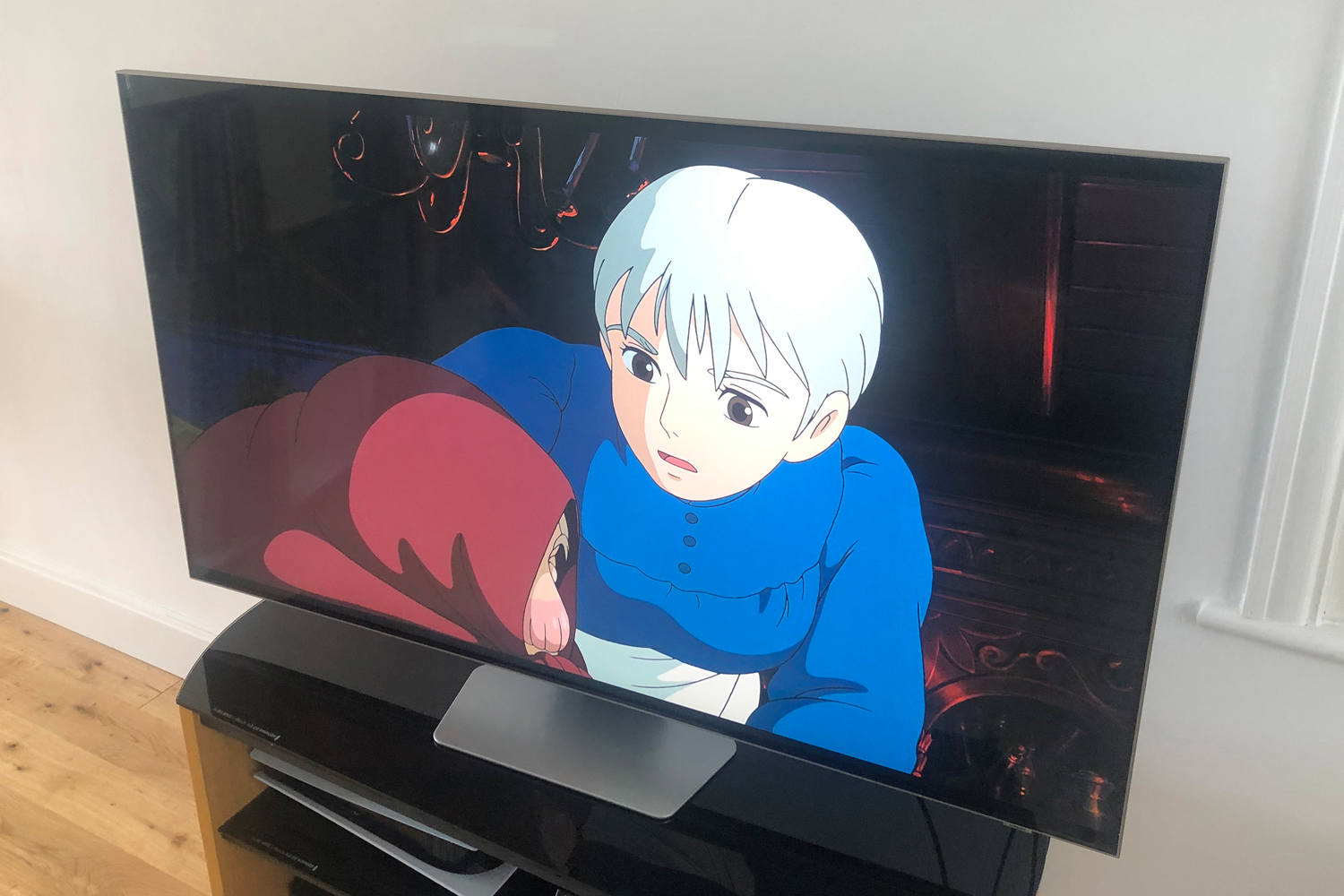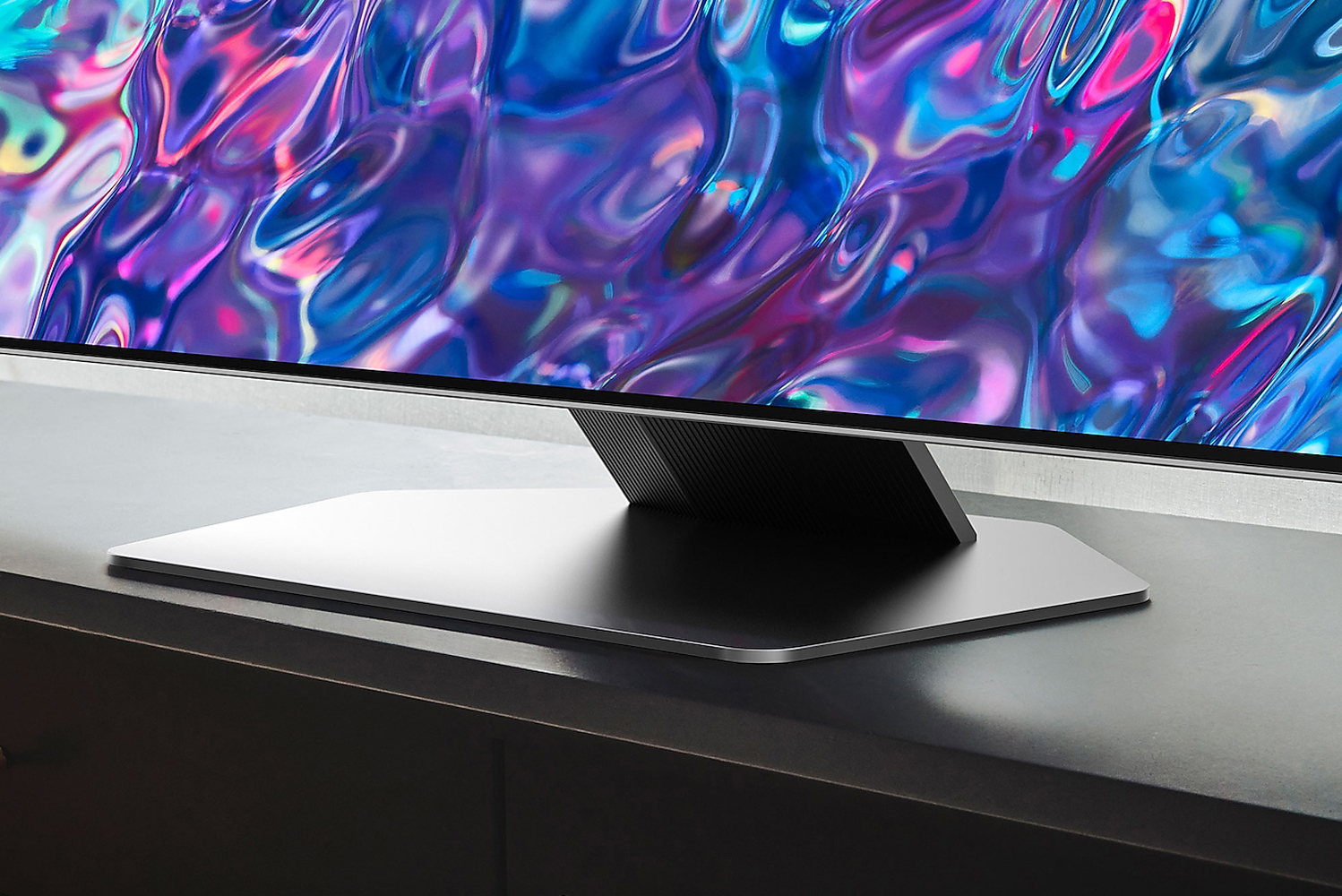 It's apparent from the moment you take the QN85B out of its packaging what the physical benefits of NeoQLED technology are. This is a brilliantly slim television.
Oh sure, at 27mm deep it means there are any number of OLED TV alternatives that are skinnier – but only partially. The Samsung's a consistent 27mm deep, and as flat on the back as it is on the front. Any price-comparable OLED will have its little area of thinness, and then it all bulges out where it keeps its electronics and what-have-you.
The bezels surrounding the screen when you're looking at it are brief to the point of non-existence. In profile, the TV's 'bright silver' frame surround looks the part. And if you decide against wall-hanging (the QE55QN85B is a manageable 17.2kg without stand, though, so it's definitely an option), the TV sits on a sturdy central foot – so it doesn't need a big surface to perch on. It also puts plenty of space between the surface and the bottom of the screen, so any soundbar you like should fit in without aggravation.
Build quality, as we've all come to expect from Samsung, is basically flawless. None of the materials that go to make up the QN85B feel especially premium or luxurious, but there's no hint that it's not built to last for the long haul.
Features: a lack of Vision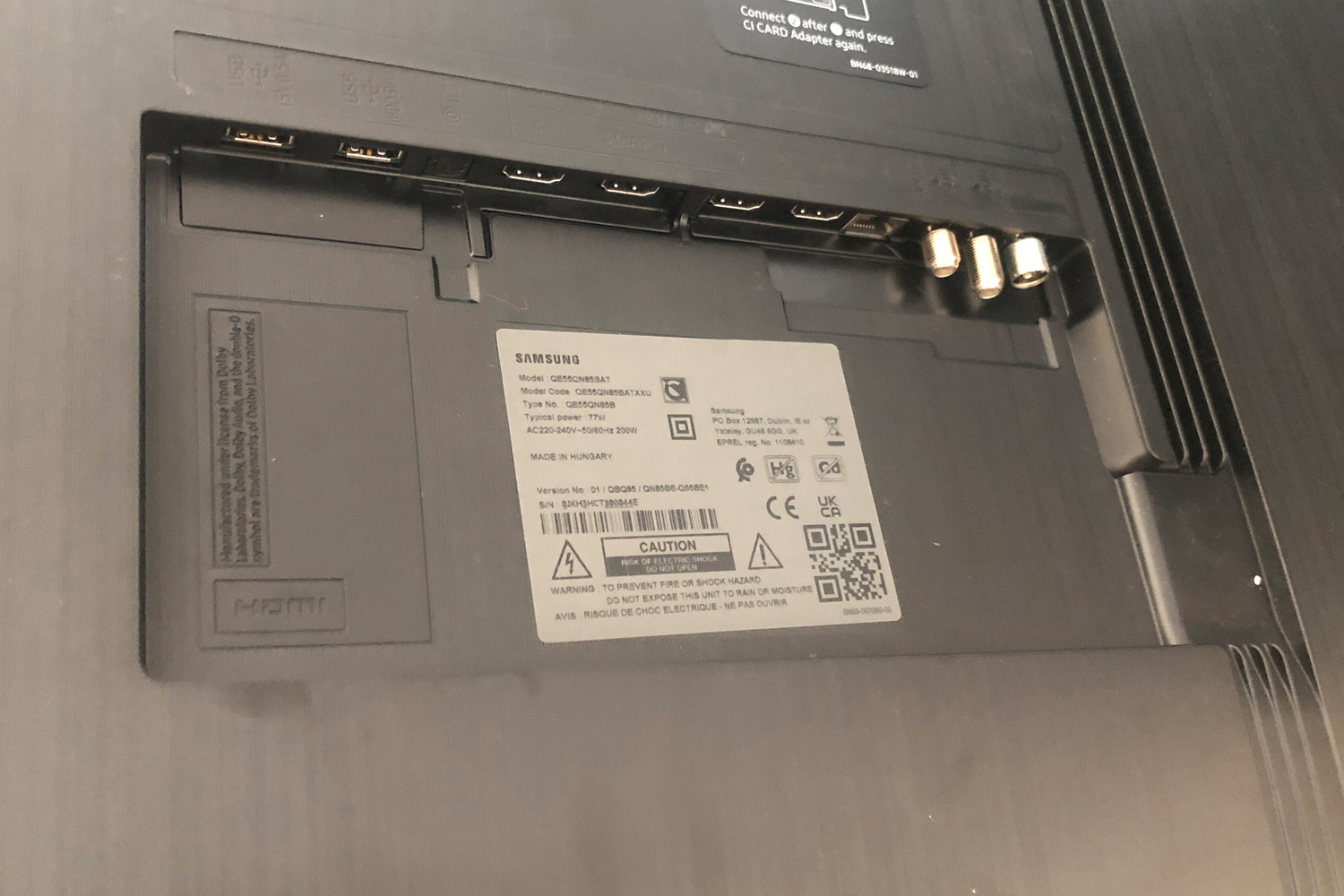 To deal with the actual business, Samsung has fitted the QN85B with its Neo Quantum Processor 4K. The AI element of its specification means its upscaling skills should improve the more they're used – so (in theory) sub-4K content should look as close to native 4K stuff as possible. And the processing engine is also in charge of 4K picture quality too, of course, with particular emphasis on maximising the HDR aspect of the content it's dealing with.
Well, HDR as long as it's not Dolby Vision HDR, anyway. Samsung continues to ignore the world's most prevalent metadata HDR standard. We're bored of complaining about it, Samsung's bored of hearing us complain about it. And yet here we are – again.
The QN85B has four HDMI inputs, and they're all 2.1 and eARC-enabled – so the television can exploit all the headline aspects of your next gen games console's specification (4K@120Hz, ALLM, VRR and so on) through any of its inputs. In addition there are a couple of USB sockets, a digital optical output, an Ethernet input and aerial posts for the twin integrated TV tuners. For wireless connectivity, dual-band wi-fi and Bluetooth 5.2 should be more than enough for most users.
The Samsung is fitted with a six-speaker array, arranged to give a hint of spatial audio from Dolby Atmos soundtracks – two face forwards, two fire upwards from the rear of the cabinet, and two are angled out to provide a suggestion of width to the sound. Samsung has also included its 'Object Tracking Sound' technology here – it wants to make sound follow the on-screen action, which obviously makes for a more unified presentation of sound and vision. And there's also Samsung's 'Q Symphony' technology – if you buy a Samsung 'Q Symphony' soundbar (there are plenty), the QN85B's audio system can join in with the soundbar's efforts rather than being overridden.
Interface: point or shout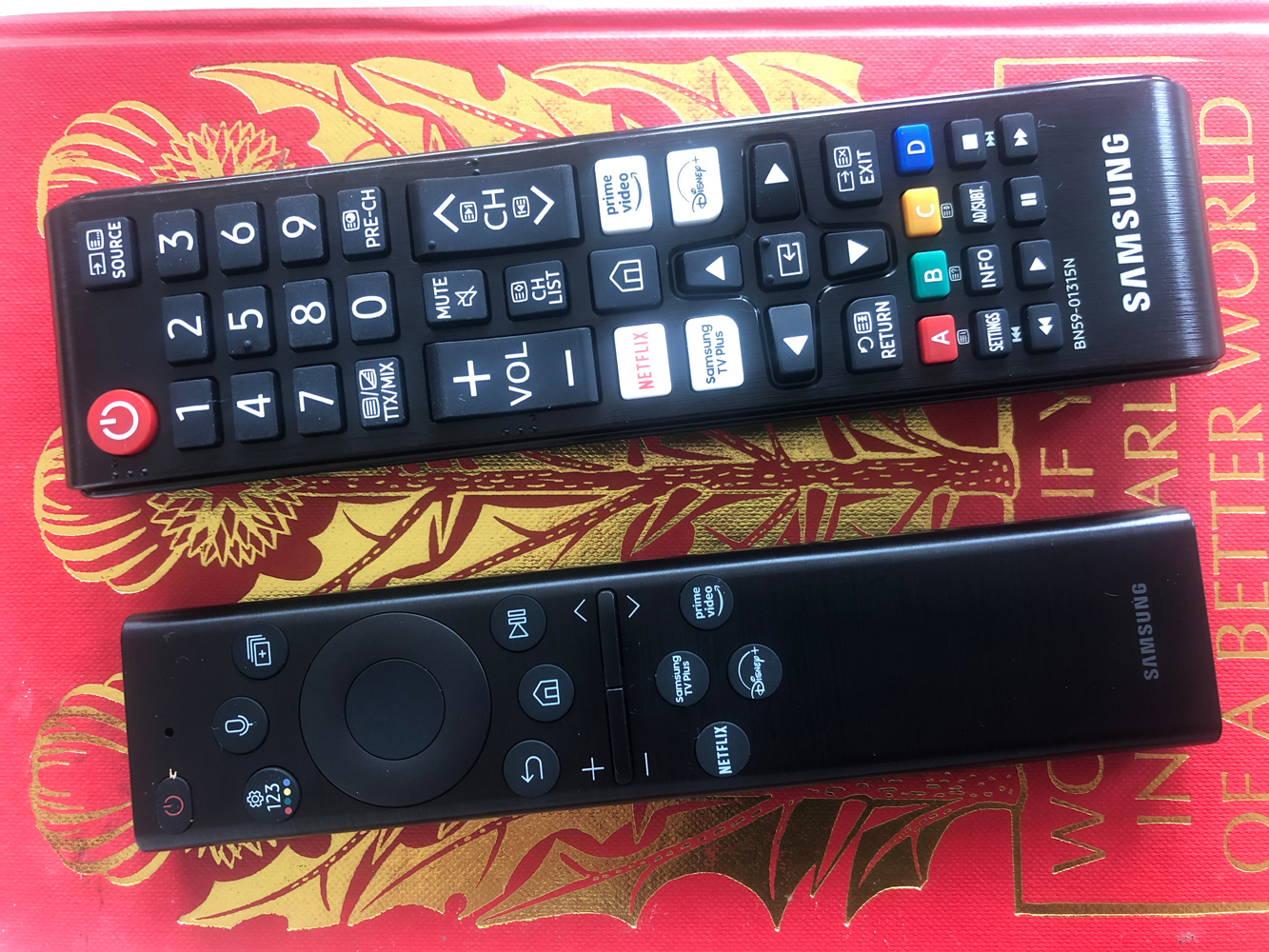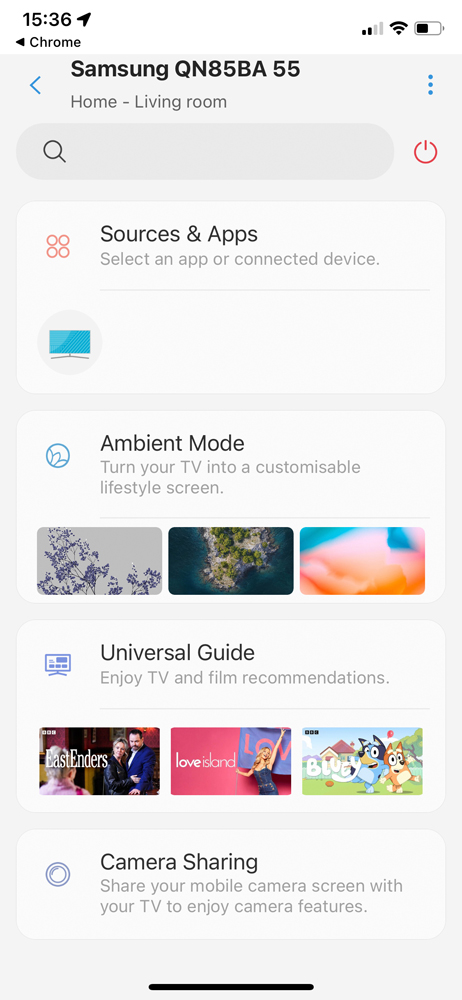 Are you a remote control handset sort of person? The QE55QN85B comes with a couple. One is small and feels nice in the hand, has just a few buttons (that are very positive in their action) to cover the major controls, and is USB-C or solar-powered. The other is small and feels nasty in the hand, has an absolute stack of buttons (that are mostly too small and all badly labelled), and is powered by a couple of AAA batteries.
Don't fancy pointing a wand at the screen? How about talking to it? The QN85B is compatible with Amazon Alexa, Bixby (natch) and Google Assistant. No matter which of these assistants you prefer, they're all well implemented and responsive.
You might prefer to use the 'SmartThings' control app. This is a stable, logical and useful app (and quite nosy, too, which some will find off-putting). As well as giving you control of the broader aspects of the QN85B's functionality, it lets you integrate the TV into your wider Smart Home. Want your screen to be a part of your locally networked ecosystem? No problem.
No matter the method you decide on, navigating the Samsung's set-up menus is straightforward enough. They're nicely judged, too – you can get perfectly acceptable picture quality in virtually no time, but if you want to fiddle around the edges of performance that facility exists too. Samsung's even included a 'smart calibration' feature that lets you perform a sort-of 'pro' calibration using your smartphone (if your particular smartphone is up to it). But to be honest you get better results by examining the menus manually.
In a move of inexplicable foot-shooting, though, Samsung has taken its Tizen-based smart TV interface (acknowledged by pretty much everyone as being one of the best around) and spoiled it. Now it hogs the whole screen, making daft recommendations and trying to sell you content, and it can't be adjusted or customised. It's far from responsive when you try to navigate it, too – and the inclusion of 'Samsung TV Plus' (a very worthwhile, and free, showcase for a lot of hard-to-come-by content) doesn't go far enough to make up for it. Come back, previous Tizen interface – we miss you.
Performance: bright like a diamond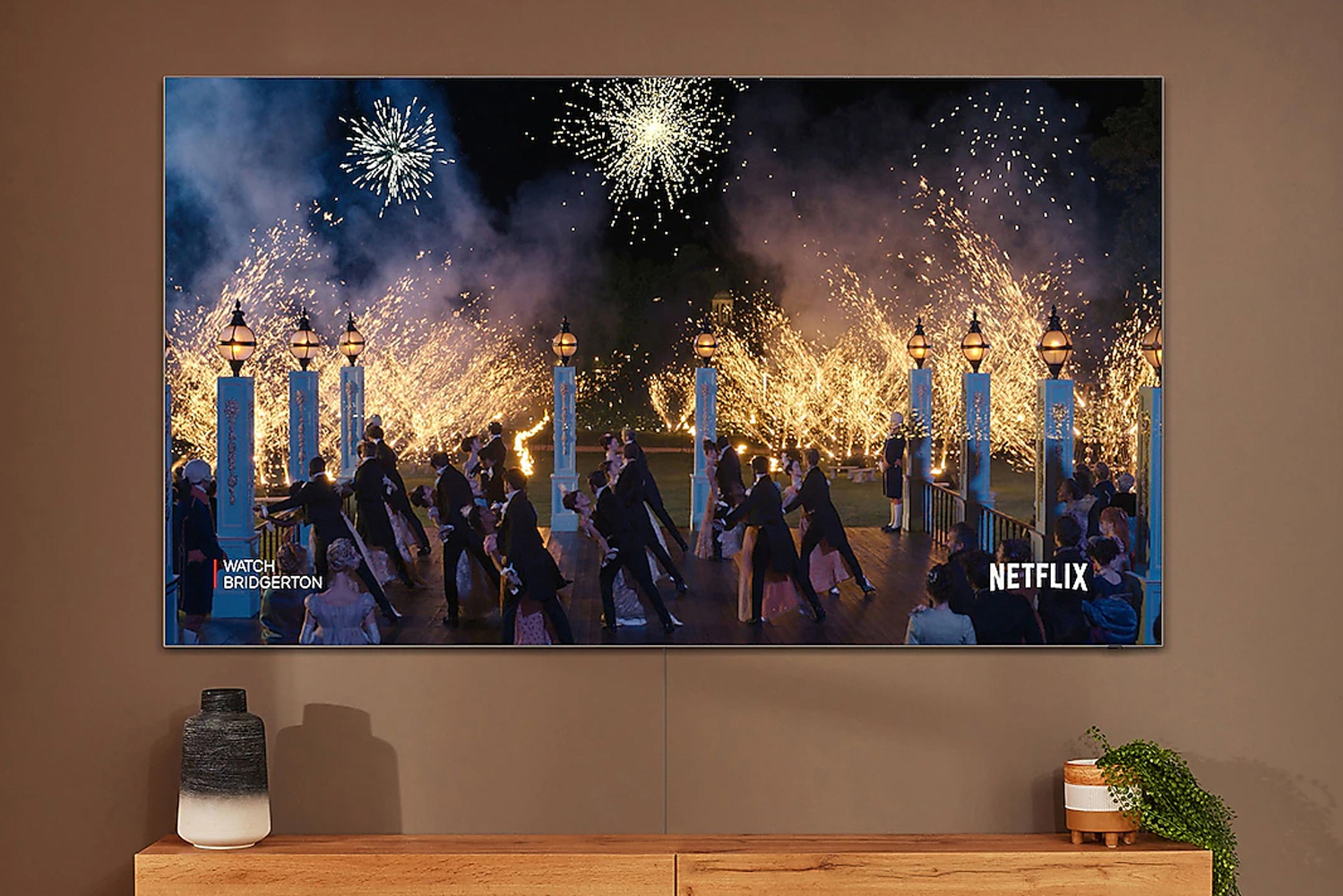 First things first: 'bright' is what mini-LED promises, and 'bright' is what it delivers. The QN85B serves up clean, detailed and extremely bright whites – they're streets ahead of what a similarly priced OLED TV can give you, and they make the Samsung easy to watch even in quite brightly lit rooms.
Backlighting is nice and even, too, and because there are so many dimming zones under individual control the QN85B's black levels are very decent too. The screen can't prevent white text on a black background from haloing, mind you, and some small white details in a dark scene can disappear altogether. And unlike its white tones, the Samsung's blacks are uniform, short of detail and consequently not at all revealing. What do you do in the dark? No idea.
The colour palette is great, though, with properly judged volume and saturation meaning there's a huge number of naturalistic and convincing colours the Samsung can display. The colour nuance demonstrated during a Netflix stream of Don't Look Up is really impressive – imagine what it would be like if the QN85B could exploit the Dolby Vision element of the stream…
The Samsung deals with motion confidently (once you've finessed its settings), draws a smooth edge, offers decent depth of field and keeps a firm lid on picture noise. Really, it's only the complete lack of insight into black tones that prevents this being a true all-rounder where picture quality is concerned.
The 4K gaming experience is similarly accomplished. The lighting effects in particular during Gran Turismo 7 are getting on for exquisite – and with that 'black tone' caveat uppermost in your mind, everything else that's good about live-action images is carried over intact. Samsung's 'Game Bar' is a mildly useful addition, and its input lag and response times (while not class-leading) are perfectly respectable.
The QN85B does good work when asked to upscale 1080p content, too. It keeps skin-tones believable, it keeps picture noise to a minimum, and it retains all its colour volume (and completely unvarying black shades) at the same time. Only a slight coarsening of edge definition and some minor (but visible) difficulties with motion-handling give the game away.
The screen itself is quite reflective, though. Samsung's deployed a semi-matte coating, which makes reflections more diffuse but can't get rid of them.
As far as sound goes, well, we've heard worse – and that's about as positive as we can be. The midrange projects well, is nicely detailed, and lets dialogue through unhindered – but there's little bass presence, no dynamism to speak of, an aversion to big volumes and no real suggestion of height to a Dolby Atmos soundtrack. The OTS technology works quite well, though – sounds do give the impression of moving around the screen to accompany image-movement.
Samsung QE55QN85B Verdict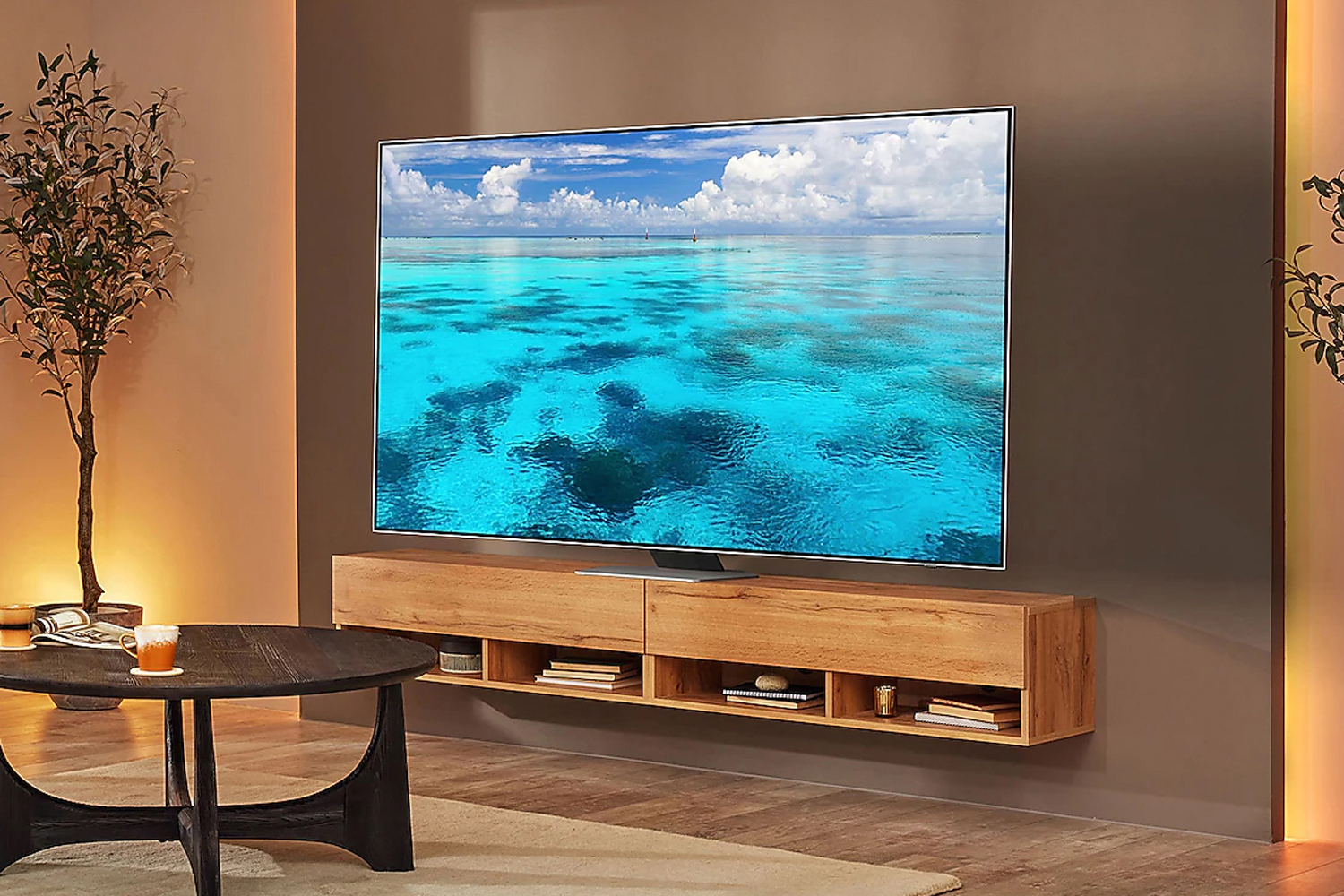 'Strange' is hardly the most positive way to describe a new TV, but that's the first word that springs to mind here. In some ways the QE55QN85B is an excellent television – its peak brightness, its colour volume, its empathy with next-gen consoles and its attractiveness as an object are all alluring.
But it basically can't do anything with black tones, its screen is reflective, it's had its Smart TV experience chopped off at the knees… it's strange, all right.
Stuff Says…
For every 'plus' there's a 'minus' here – you do the maths
Good Stuff
Remarkable brightness levels
Fully equipped for your next-gen console
Big spec for the money
Bad Stuff
Can't extract meaning from dark scenes
No Dolby Vision HDR
Screen is quite reflective
Samsung QE55QN85B technical specifications
| | |
| --- | --- |
| Screen size | 55/65/75/85in |
| Resolution | 3840×2160 |
| HDR | HDR10+, HLG |
| Inputs | 4x HDMI 2.1, 2x USB, digital optical, Ethernet, Wi-Fi, Bluetooth 5.2 |
| Smart TV OS | Tizen |
| Weight | 20.2kg (55in, with stand) |
| Dimensions | 1448x836x172mm (55in) |