Samsung S90C review: Samsung comes out swinging
The jump to OLED brings extra brightness and colour to Samsung's latest TV, but still no Dolby Vision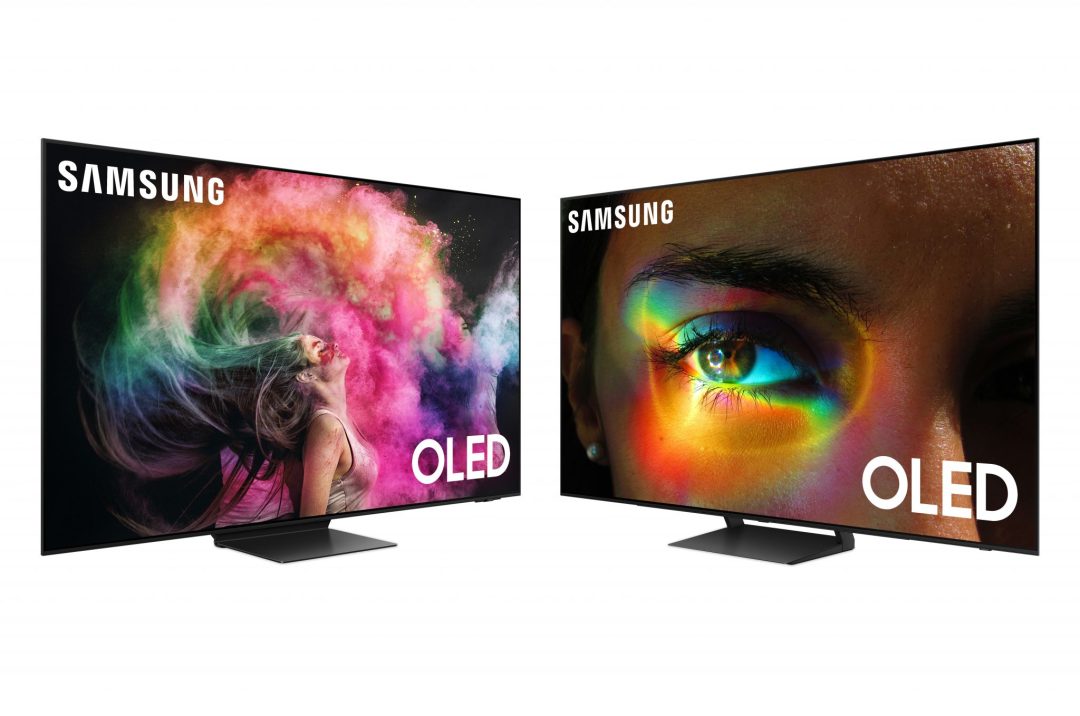 There's no shame in a volte-face, of course. Just because Samsung spent the longest time suggesting quite strongly that OLED was inferior television technology, that's no reason to imagine the OLED TVs Samsung now builds are anything other than very competitive indeed. Here's our full Samsung S90C review.
After all, this new S90C range (available in 55in or 65in versions – here we've reviewed the QE55S90C) is, on a fundamental level, very similar indeed to last year's S95B range – and while it wasn't our favourite television of 2022, it was no slouch. So having made a few judicious amendments and left the asking price more-or-less alone, has Samsung got its OLED mojo fully working?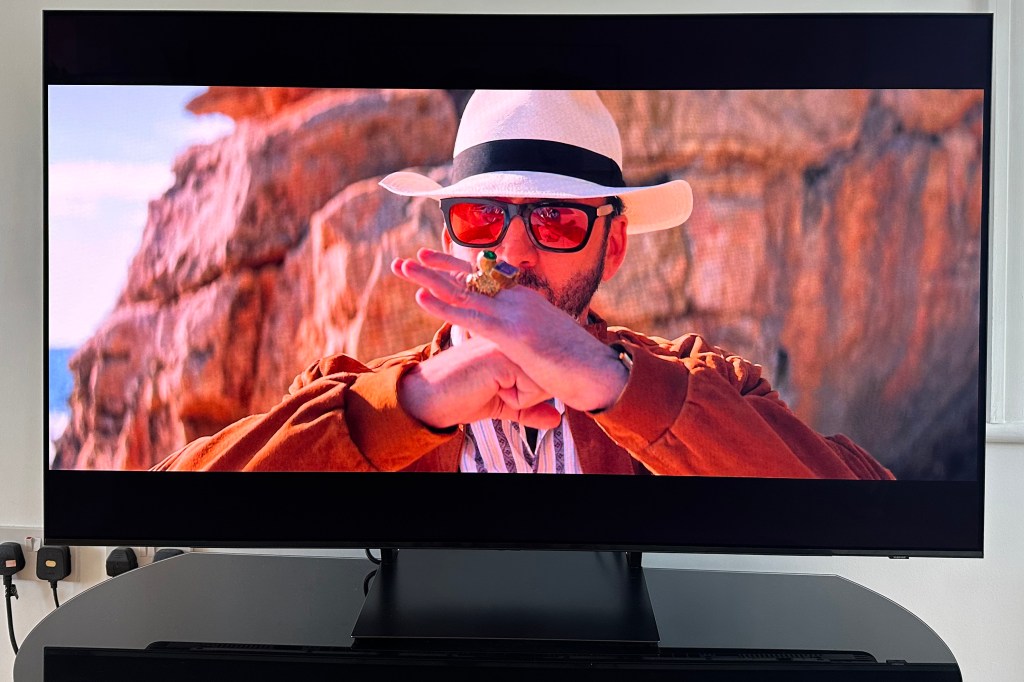 Design and build: less is more
There's a lot to be said for Samsung's 'LaserSlim' TV design, and it's pretty much all positive. Seen in profile, the S90C is very slim indeed for quite a large area – and where it swells to accommodate its electronics, it's less than 4mm deep. Seen from dead ahead, its lack of visible bezels make it look clean and quite elegant. Even the stand, which is a simple three-piece click-to-fit job, looks the part – and it's a small footprint, so the Samsung can be positioned on quite small surfaces.
Build quality, as we've all come to expect from Samsung, is beyond reproach. The plastics that make up the majority of the S90C look and feel the part, everything is screwed, glued and fixed together properly… so you won't feel sold short when your new TV is assembled and put in position.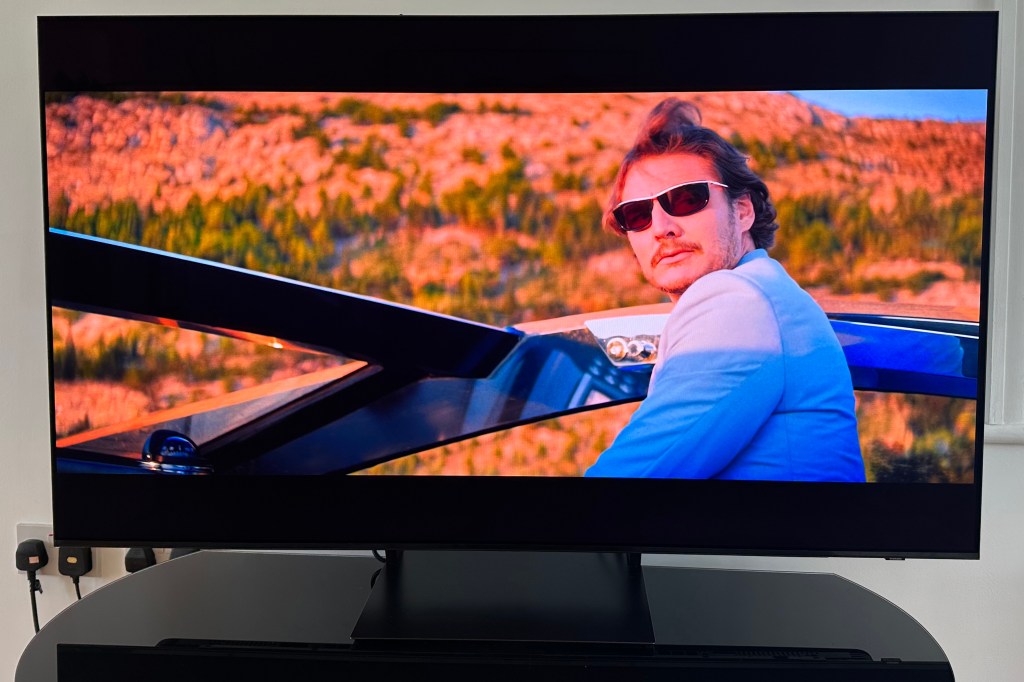 Features: a distinct lack of Vision
Samsung has brought its 'Quantum Dot' technology to bear on the established OLED thinking – so while it's marketing screens like the S90C as 'OLED', in actual fact they're configured in much the same way as the TVs Sony is calling 'QD-OLED'.
That means a panel of blue OLED to light the 4K panel's pixels and quantum dot layers creating red and green sub-pixels. As well as offering higher peak brightness and greater colour fidelity, this arrangement should negate the problem of blue OLED decaying faster than the red or green equivalents.
Samsung is also continuing its long-established and always-frustrating policy of ignoring Dolby Vision HDR. There's no sign of the world's most prevalent dynamic metadata HDR standard here – instead, the QE55S90C makes do with HLG, HDR10 and HDR10+ compatibility.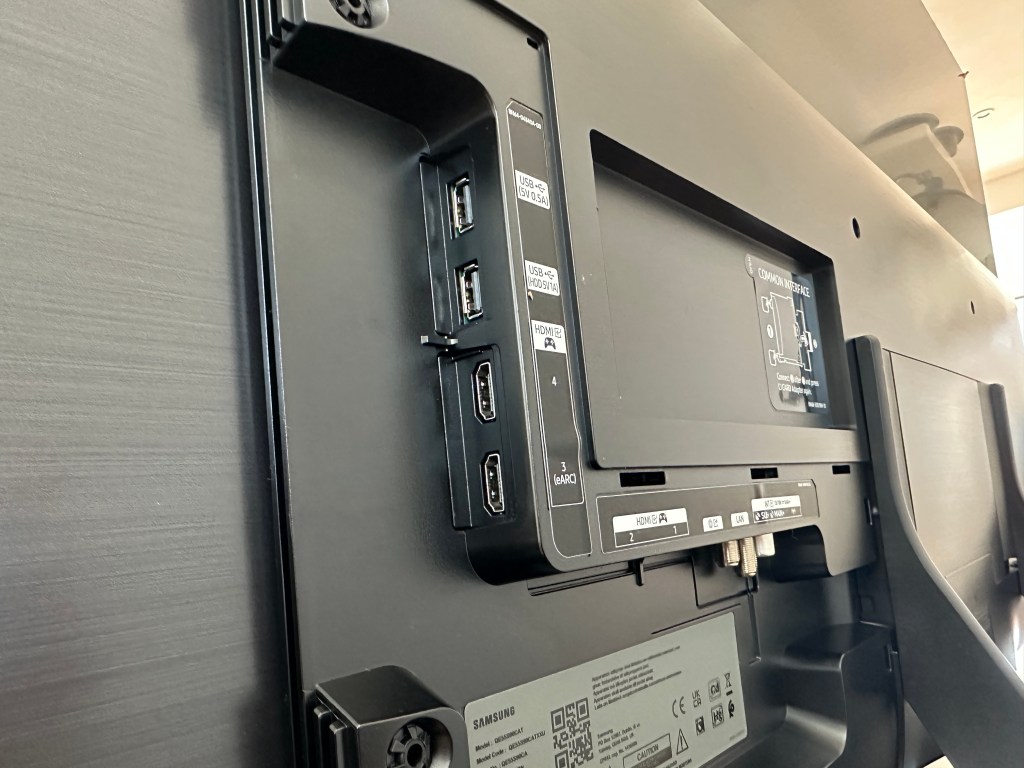 There are plenty of ways to get your non-Dolby Vision content on board the S90C, at least. As well as Bluetooth 5.2 and dual-band wi-fi connectivity, the rear panel features an Ethernet socket, aerial posts for the screen's twin TV tuners, a pair of USB slots and four HDMI sockets. ALl four are at HDMI 2.1-standard – which means 4K@120kHz (actually, they're good for 4K@144kHz), ALLM, VRR and everything else that goes into making a properly satisfying gaming experience. One of the HDMI inputs is eARC-compliant, and there's a digital optical out in case your soundbar is a more 'vintage' model. Once it's aboard, content is dealt with by the latest version of Samsung's 4K Neural Quantum Processor picture engine.
All of this is broadly in line with last year's S95B OLED models. The biggest difference, at least as far as features are concerned, is the revised screen filter. This is designed to make the screen less reflective and less susceptible to ambient light – and as a knock-on, it should help the S90C deliver greater brightness too.
Sound is taken care of by a downward-facing 2.1-channel set-up, driven by 40 watts of power. The S90C can handle Dolby Atmos soundtracks, and as well as using its processing smarts to try and create just a little bit of sonic space to its presentation, it also features Samsung's Object Tracking Sound Lite system. This wants to move sound around in response to the on-screen action. The screen is compatible with the company's 'Q Symphony' feature, too – this allows an appropriate Samsung soundbar to incorporate the S90C's audio system into its sound, rather than overriding it.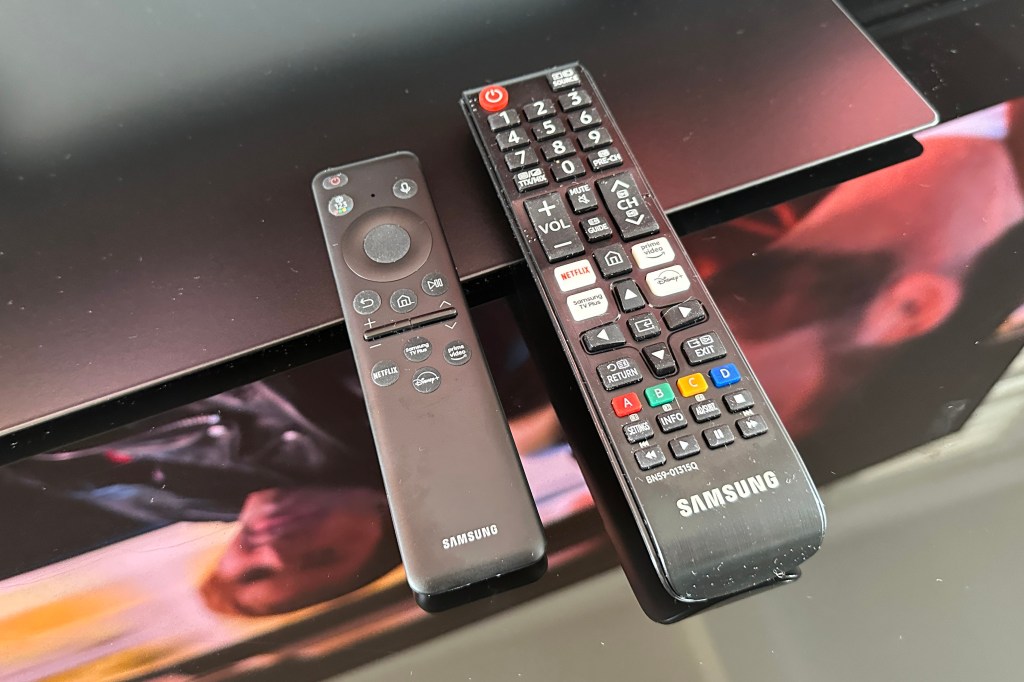 Interface: a remote control in each hand
Samsung includes two remote control handsets in the QE55S90C's packaging. One covers every function – which means a fairly small, plasticky handset with an absolute stack of buttons, many of which are very small indeed. The other is an even smaller, solar-powered alternative that has a more judicious selection of buttons – include fast-access to Netflix, Prime Video, Disney+ and, um, Samsung TV Plus.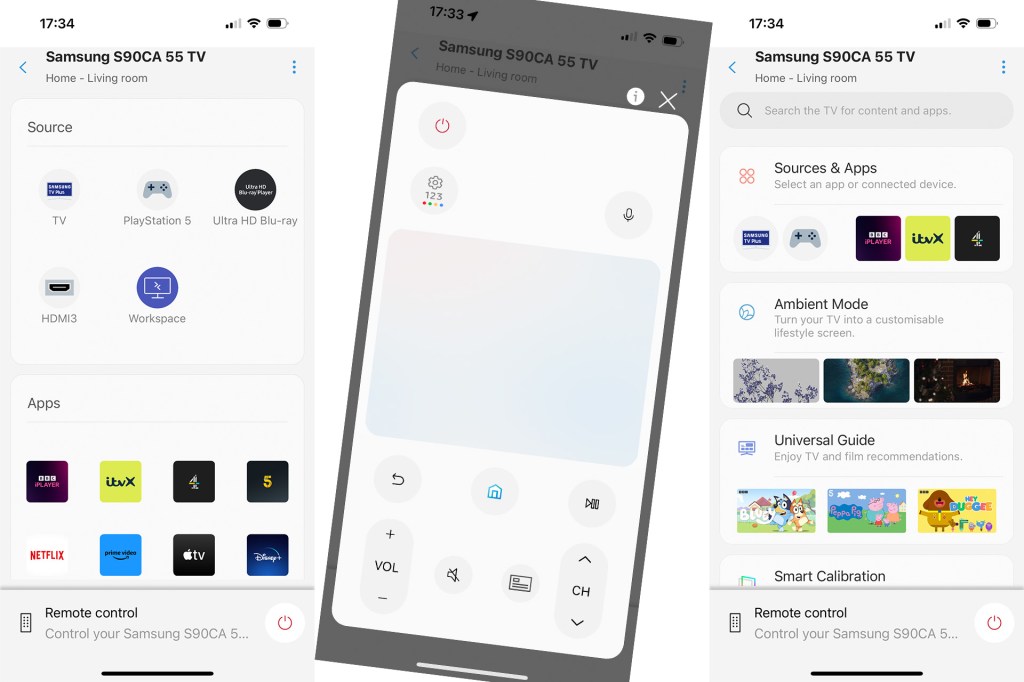 Whichever of the controls you use, it'll put you in control of some usefully thorough (but somehow quite brief) set-up menus. It's also how you navigate the latest version of Samsung's Tizen-based Smart TV interface – it's quite clean and easy to navigate, and there's a degree of customisation available too. All the streaming service and catch-up TV apps you desire are here, and the Game Hub puts your connected console and all gaming streaming services in one place. There's no denying the interface is quite leisurely in its responses, though, even if you've made a hard connection to your router via the Ethernet input.
Samsung's SmartThings app is available for use with the S90C too, and it features a very handy calibration routine. 'Smart Calibration Pro' works with iOS and Android, and it doesn't take long (or much input from the user) to calibrate the screen to its specific environment. As far as voice control goes, the S90C works with Amazon Alexa and Google Assistant (and Siri is available via AirPlay 2). Bixby is built in, too, which will interest at least one or two people.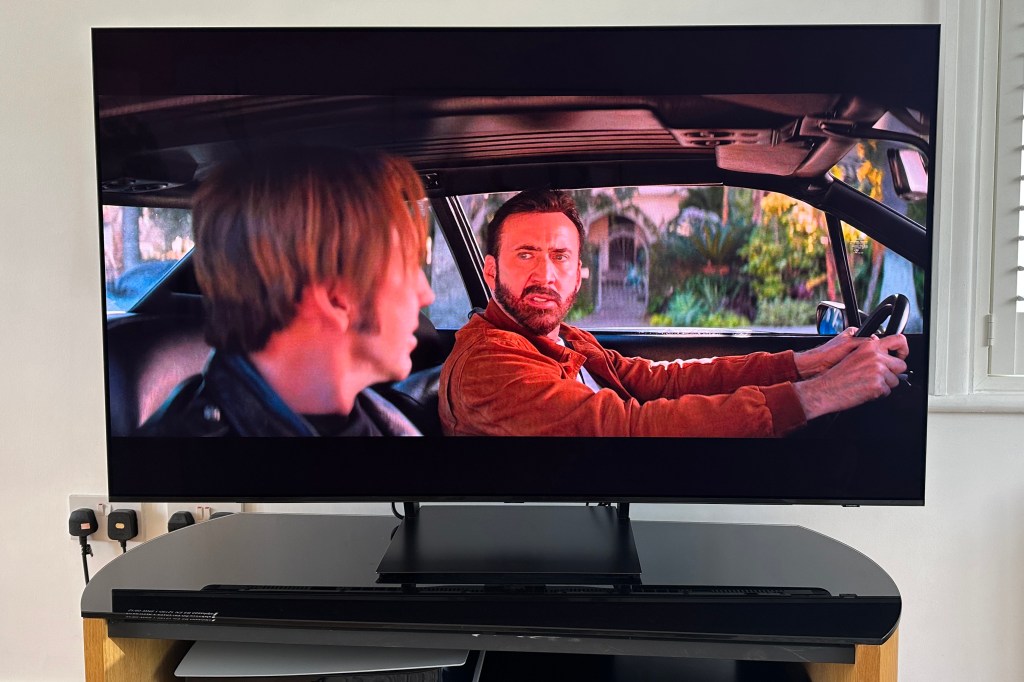 Performance: follow the light
If Samsung won't come to us with Dolby Vision HDR, we'll have to go to Samsung with some HDR10+ stuff – in this case, a 4K UHD Blu-ray of Stanley Kubrick's The Shining. This is state-of-the-art content where the S90C is concerned – and it's safe to say it makes the most of it.
Deep, glossy blacks are no more than we all expect from OLED displays – and sure enough, the S90C has got 'em. But there's plenty of detail and variation in the Samsung's black tones, so even very dark scenes are easy to follow. White tones, meanwhile, fairly pop from the screen – the improved peak brightness promised by the screen filter and the quantum dot arrangement is here. White shades are just as detailed and just as varied as the black equivalent, though, so information levels are sky-high and contrasts are impressively wide.
Skin-tones and skin-textures are equally convincing, with plenty of nuance of shade and tone – and broadly speaking, that's true of all the other colours on the Samsung's palette too. It's a naturalistic and confident watch, vibrant but never oversaturated or coarse. It controls even tight, complicated patterns well, draws edges with complete assurance, generates considerable depth of field during the long shots, and handles even those achingly slow pans and tracking shot Kubrick was so fond of with no stress whatsoever.
Switch to some broadcast sport and it's a similarly enjoyable story. The Samsung's a fine upscaler of 1080p content, and even in the moments of high on-screen drama and action it controls motion completely. Detail levels stay decently high, contrasts remain wide, and overall insight and fidelity is always impressive. In fact, you have to step all the way down to some elderly daytime-TV programming to make the S90C betray how hard it's having to work in order to fill its 4K resolution.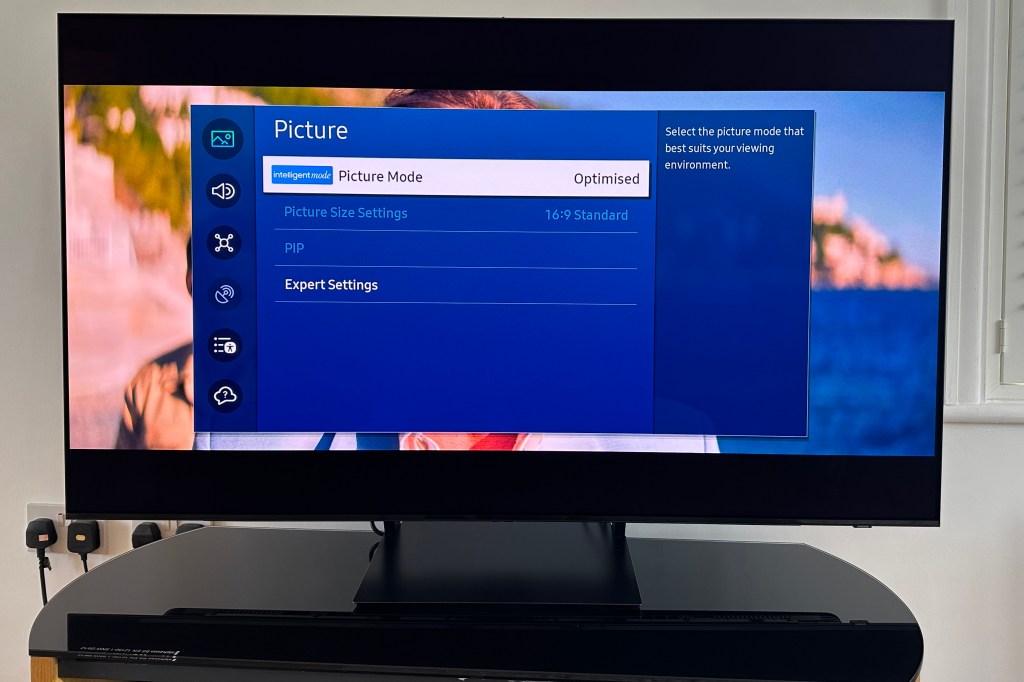 Fire up a games console, switch to 'Game Mode' and the Samsung turns out to be a very accomplished games monitor. All those picture-making positives carry across, and the screen's talent with brightness and contrasts makes in-game lighting effects look a treat. And if input lag of comfortably less than 10m/s isn't quick enough for you, you must be a hummingbird or something.
To a lesser or greater extent, all of this is to be expected from a Samsung TV at this sort of money. What is a fair bit more of a surprise is just how decent the S90C sounds. The idea that it can move sound around to follow on-screen action, or create a sound larger than the screen itself, is fanciful – but the Samsung sounds quite full, quite sturdy, quite dynamic and actually quite punchy. It can go loud without sounding hard or stressed, and it projects voices well. For once, he's a TV with an internal audio system that doesn't immediately have you pricing up soundbars.
Samsung S90C verdict
Ultimately, it's hard to lay a glove on the Samsung S90C (or QE55S90C as it is here). At the money it's not short of competition, of course – but apart from the glaring omission of Dolby Vision HDR, this is a fully competitive TV. If you're lucky enough to have £2K or more to spend on a new telly, add this one to your shortlist.
Stuff Says…
Samsung has seen the OLED light – and it is good
Good Stuff
Confident, convincing and absorbing picture quality
Surprisingly accomplished sound
Good-looking and well made
Bad Stuff
No Dolby Vision HDR
Smart TV interface takes its time
Plenty of competition