Samsung The Freestyle review: mini movie magic
The big picture
Portable projectors are not new, but Samsung's The Freestyle piqued our interest from the moment it was first unveiled at CES at the beginning of 2022.
Though small, we quickly learned that this swivelling, barrel-shaped gadget is rammed with tech. Not only capable of projecting a 1080p image up to 100 inches in size, it also packs handy features like autofocus and auto-keystone correction to ensure your flicks stay sharp and straight on the wall.
The Freestyle has its own built-in speaker for 360 sound and the same software as Samsung's smart TVs, so all the streaming apps you need are right there on the device when your turn it on. Best of all? If you aren't near a wall socket The Freestyle can also be powered by a USB PD-supporting battery back, making it a genuinely go-anywhere projector. And because it tilts up to 180 degrees it's extremely easy to find the right spot for your big display, even if that happens to be on the ceiling.
With so much going for it, we were excited to finally get our hands on one – but there's a considerable catch. The Freestyle may be a small projector, but that's not reflected in its £999 price, which definitely isn't what you'd call a bargain. Sure, it's less than what you'd hand over for a full-sized, all singing and dancing 4K HDR projector, but it's also a lot more than you can pay for a very decent TV these days, one with a far superior picture and no reliance on a specific set of viewing conditions. And more importantly, The Freestyle is also far pricier than something like the Anker Nebula Apollo, which is after the same crowd.
The question is, does Samsung's justify that difference?
Design: Barrel of fun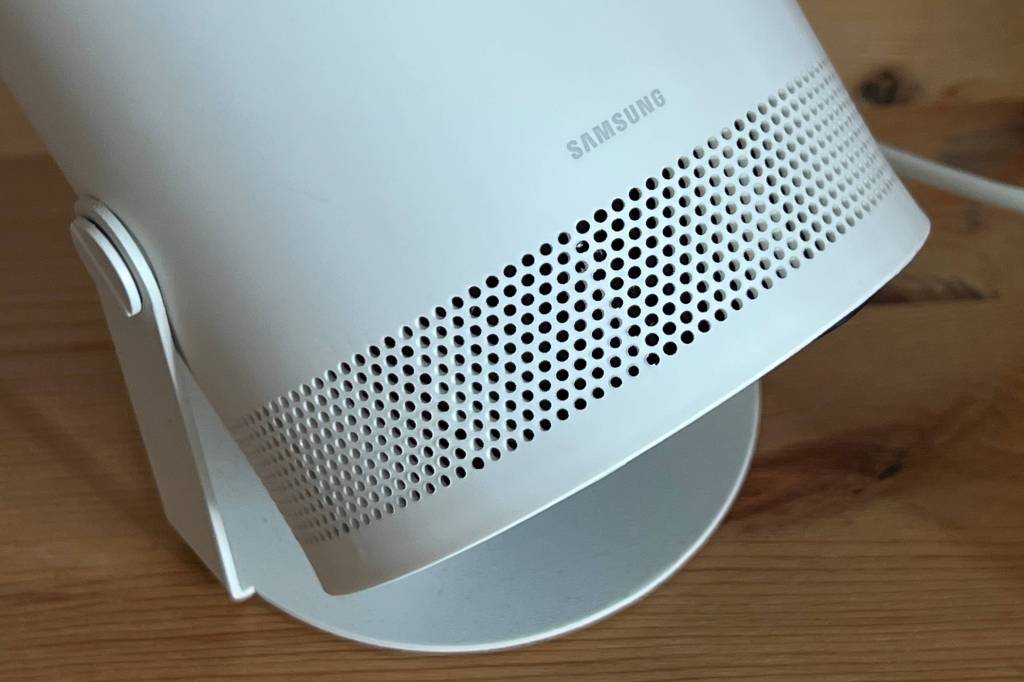 The vast majority of projectors are rectangular boxes that aren't at all interesting to look at, which is fine – your eyes won't thank you for spending a lot of time staring directly at a projector. Still, the Freestyle isn't your run-of-the-mill projector, and that's reflected by its unique design. Shaped like the largest can of Coke you've ever seen, the partly perforated cylindrical device sits above a circular plate over which it can easily rotate 180 degrees on a hinged metal stand. The mechanism is sturdy and just on the right side of stiff to adjust, meaning you really can point a screen pretty much anywhere, regardless of where the projector is positioned.
On the side you'll find a USB-C power port, along with a mini HDMI input for hooking up external devices like games consoles. Paired with the extensive Smart TV app support, you've got a lot of options for projecting your entertainment. 
The 360-degree speaker is one the Freestyle's best features, wrapping right around the main bodywork like an Amazon Echo. Built-in mics make the Freestyle a pretty credible smart speaker alternative (Alexa and Bixby are supported), although you're not going to have this thing turned on all the time like a dedicated smart speaker.
Above the lens you'll find touch-capacitive buttons for power and volume control, but they're very difficult to find without looking straight at them. Don't do that when the projector is turned on. We're not sure why anyone wouldn't just use the remote. The bundled lens cover protects the most important components of the device, and also lets you use the Freestyle as a snazzy smart light.
Features: Auto appeal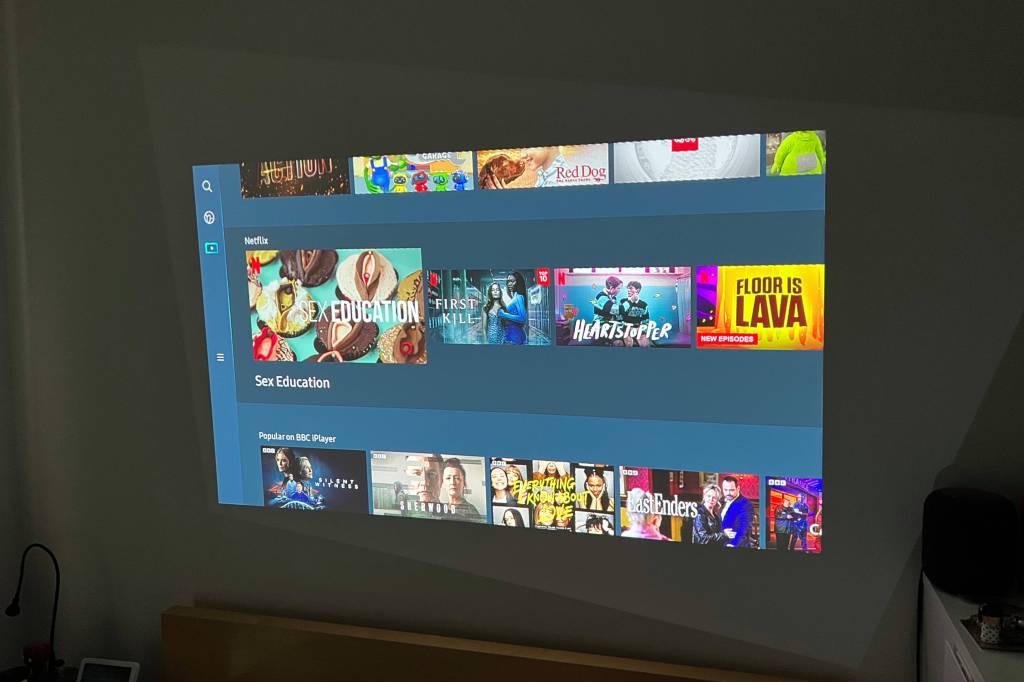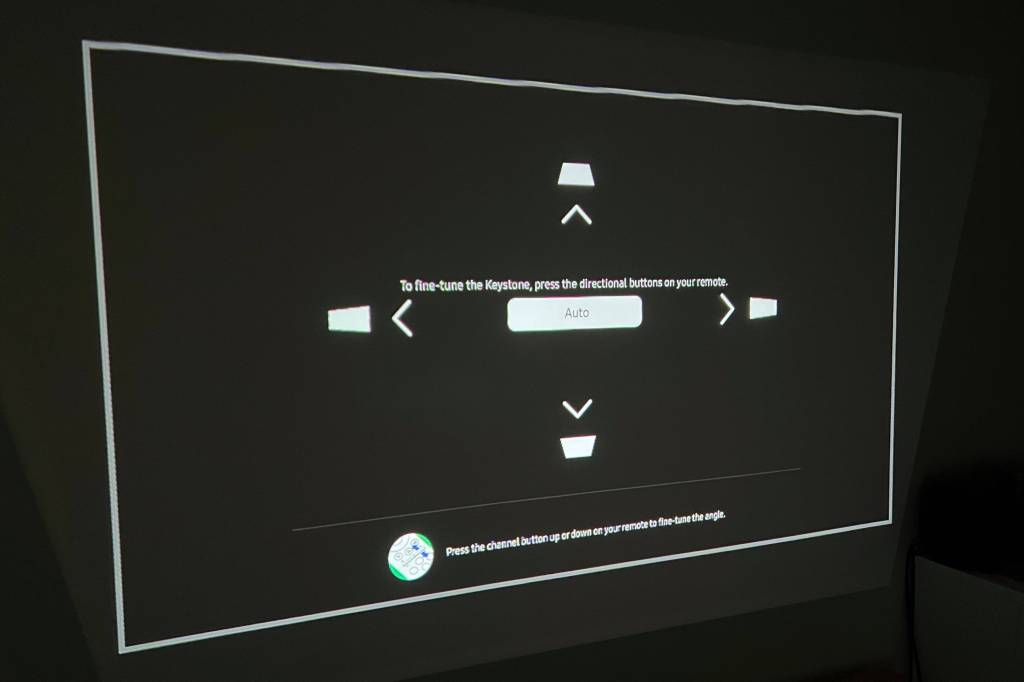 Let's start with the most important bits. The Freestyle can project a Full HD image between 17 and 100 inches on a flat surface, with 550 lumens of brightness and (perhaps surprisingly) support for HDR10 content.
There's no optical zoom on board, so the screen size depends on how far you place the projector from your chosen surface. To give you an idea, it'll produce a 30in screen from about 80cm, and needs 2.7m for the largest 100in image. If you're happy with where the projector is sat but the image is too large for the surface, you can manually shrink it.
Thanks to the flexible stand, it's incredibly easy to move the image from, say, the wall to the ceiling just by shifting the angle of the projector. Autofocus automatically fixes skewed images to keep them levelled and perfectly 16:9 rectangular – or that's the promise (more on that in a bit). There's also an auto-levelling feature intended to maintain a straight image even when the projector is placed on a slope. Even total AV novices will find it easy to use, while experts can manually tweak focus and keystone in the settings menus,
Samsung has effectively squeezed a version of its Tizen-powered Smart TV OS into the Freestyle, so if you've used one of the brand's TVs before everything will feel familiar. There's no built-in tuner, so you'll be relying on streamed content or an external source, but Samsung supports Netflix, Prime Video, Disney+, Apple TV+, BBC iPlayer and YouTube. The remote has shortcuts for the first three, which is very convenient.
The Freestyle also lets you connect your phone for big-screen viewing, through Samsung's SmartThings app or straight from an iPhone with AirPlay 2. Modern Samsung Galaxy phones are supposed to just tap the Freestyle to project the screen, although we weren't able to test this functionality, and had issues with it when testing previous Samsung TVs.
The Freestyle's 5W speaker has a max volume that belies the projector's diminutive body, and the way sound is dispersed means it doesn't matter too much where you have it set up in the room. For fuller cinema sound, it's easy enough to pair an external speaker or soundbar.
This is a powerful little projector, but it's also a smart speaker and obedient voice assistant. Built-in mics are pretty good at picking up your commands, whether you're using Alexa or Samsung's own Bixby. Handy when you want a bit more volume and can't see the remote nearby.
And finally, the Freestyle also features an Ambient Mode that basically lets you turn the projector into a light installation. There are a number of backgrounds to choose from (including a sure-to-be popular "Happy Birthday" banner), and if you pop the cap on you've effectively added an extra bulb to your smart lighting setup.
Picture and performance: Close the curtains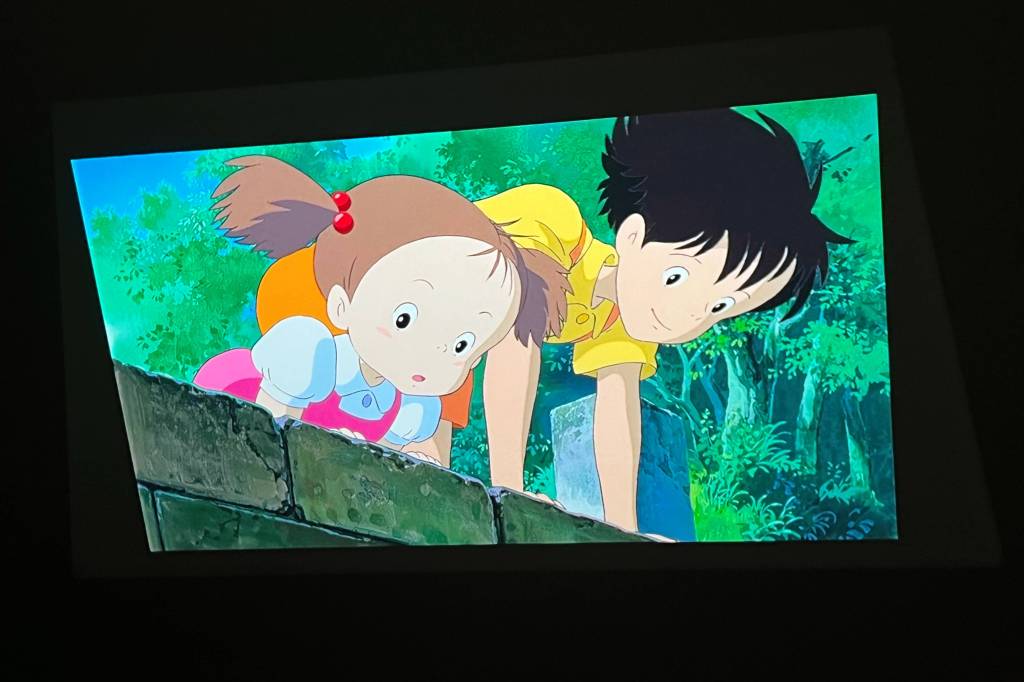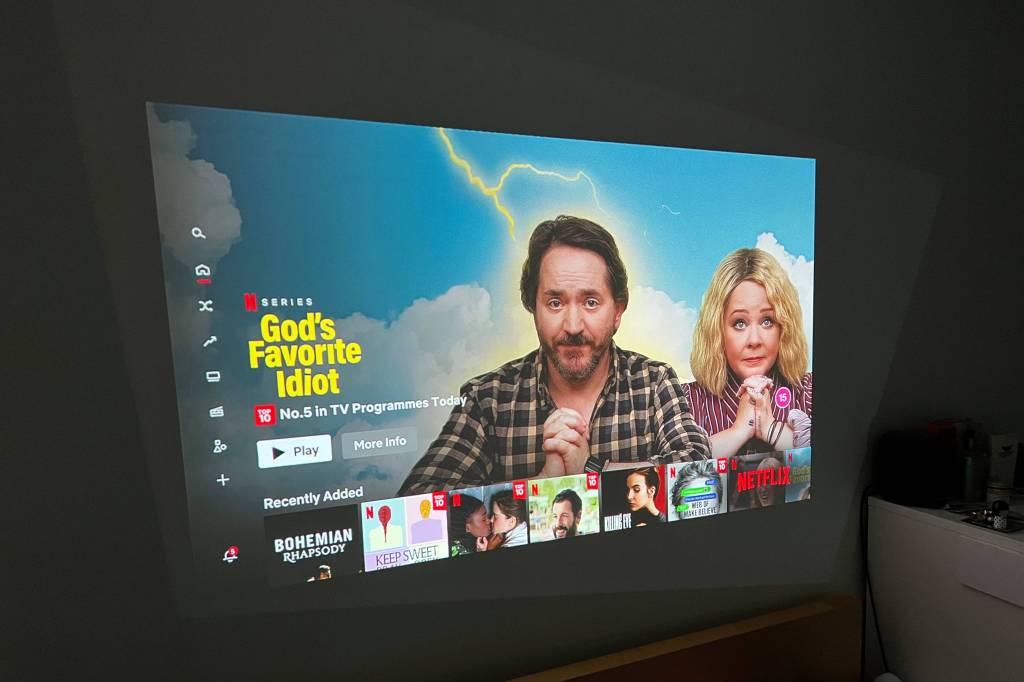 It's crucial to manage expectations before you fire the Freestyle at the nearest available wall. You won't be watching 4K content on it, and if you had your heart set on revisiting the MCU back catalogue on the biggest possible 100in screen, you're going to need a seriously dark room for it to stand any chance of projecting an image bright enough.
That said, once we settled on the Freestyle's output staying in massive telly (rather than mini cinema screen) territory we had fun watching everything from the latest seasons of Better Call Saul and Love Death + Robots to Jim Carrey's 90s classic, Liar Liar. On a particularly pleasant Sunday morning (before opening the blinds), we also enjoyed Studio Ghibli's legendary My Neighbour Totoro – on the ceiling, no less.
The latter was a good pick for showcasing the Freestyle's quite impressive vivid colours and HDR capabilities, and because the image wasn't enormous the picture really popped. The 1080p limit didn't particularly bother us on anything we watched, but 500 lumens of brightness just isn't enough to cope with darker live action scenes in daytime hours. For the sharpest, brightest image you'll want to go smaller, and while that may sound like it defeats the point of a projector, we reckon the Freestyle will be great running off a battery pack in a tent or cabin on holiday, where size isn't the biggest factor. This is a portable projector that can beam a picture onto pretty much anything, pretty much anywhere.
The speakers are good enough that we weren't reaching for the nearest Bluetooth speaker every time we fired up Netflix. If you're watching a movie on holiday, you'll probably be just fine with the all-in-one solution.
The auto-keystone and auto-focus features are smartly implemented and a huge selling point, removing much of the hassle of getting a traditional projector up and running. But while we were mostly impressed with the Freestyle's fine-tuning, it's not perfect. You'll need to get used to diving into the menus to make manual tweaks, and rarely did we have the as-advertised perfectly straight and level screen without doing so. Are you pointing the projector directly at a big wall from the middle of the room on a flat surface? You'll probably be happy with its automatic wizardy – but be prepared to fiddle before you hop onto the bed/sofa/beanbag to get comfortable.
Far more irritating was simply trying to navigate the menus. The Freestyle's processor frankly just isn't up to the job. Hopping between apps feels really sluggish and even just loading settings takes far too long. We had multiple freezes and crashes too. For nearly a grand it's not really good enough, and while Tizen gets out of the way once you've found something to watch, it may well have put you in a grump by the time you get there.
Samsung The Freestyle verdict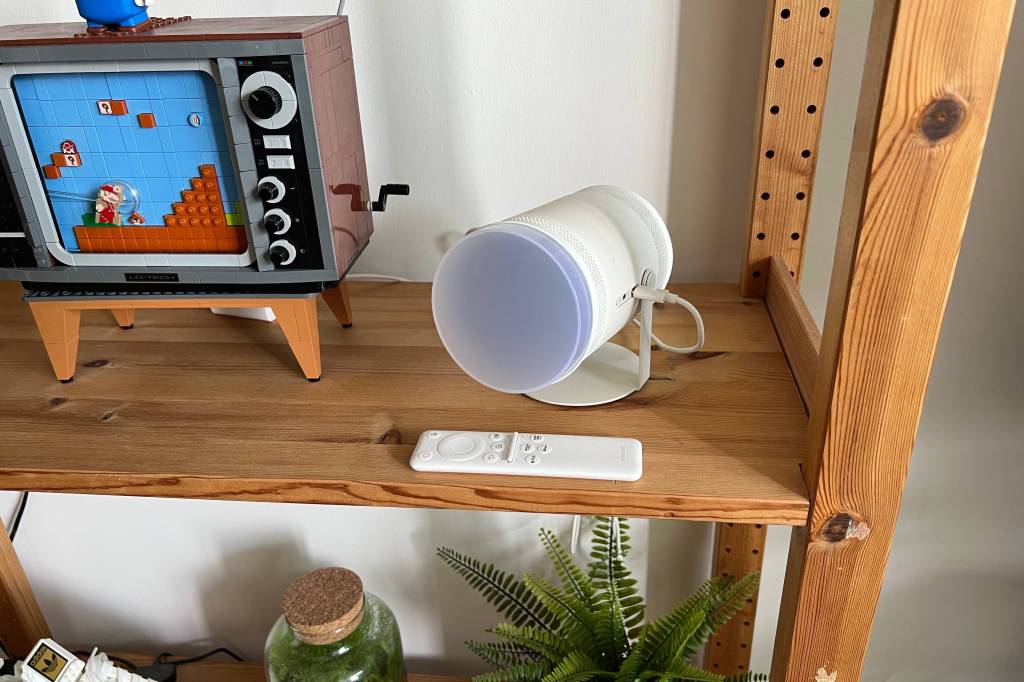 The Freestyle is brilliantly designed and packed with functionality, while its ease-of-use is to be commended. But it is hard to justify the cost. You'll need a very dark room to get the best results, and even then this isn't the brightest projector. The sluggish UI can make operating it a bit arduous, too.
We wish it cost half as much (and one day it might), but Samsung's undoubtedly delightful new gadget is an exciting first attempt all the same. It's so fun to use that we can't help but forgive some of the flaws. Whether the price ultimately dooms the Freestyle remains to be seen, but we hope it gets the attention it needs for Samsung to take the idea even further in the future.
Stuff Says…
Samsung is definitely onto something with The Freestyle, but for £999 we'd have expected near perfect performance from the first-gen projector
Good Stuff
Great design
Very easy to use
Decent picture in the right light
Most of the apps you'll want are built in
Bad Stuff
Very expensive for what it is
Sluggish UI
Not the brightest projector
1080p only
Tech specs
| | |
| --- | --- |
| Dimensions | 104.2 x 172.8 x 95.2mm, 1.7kg |
| Resolution | 1920×1080 |
| Brightness | 550 LED Lumen |
| HDR | HDR10 |
| OS | Tizen |
| Max display size | 100in |