Samsung UE55MU8000 review
How good are mid-range tellies in 2017? This stunner has the answer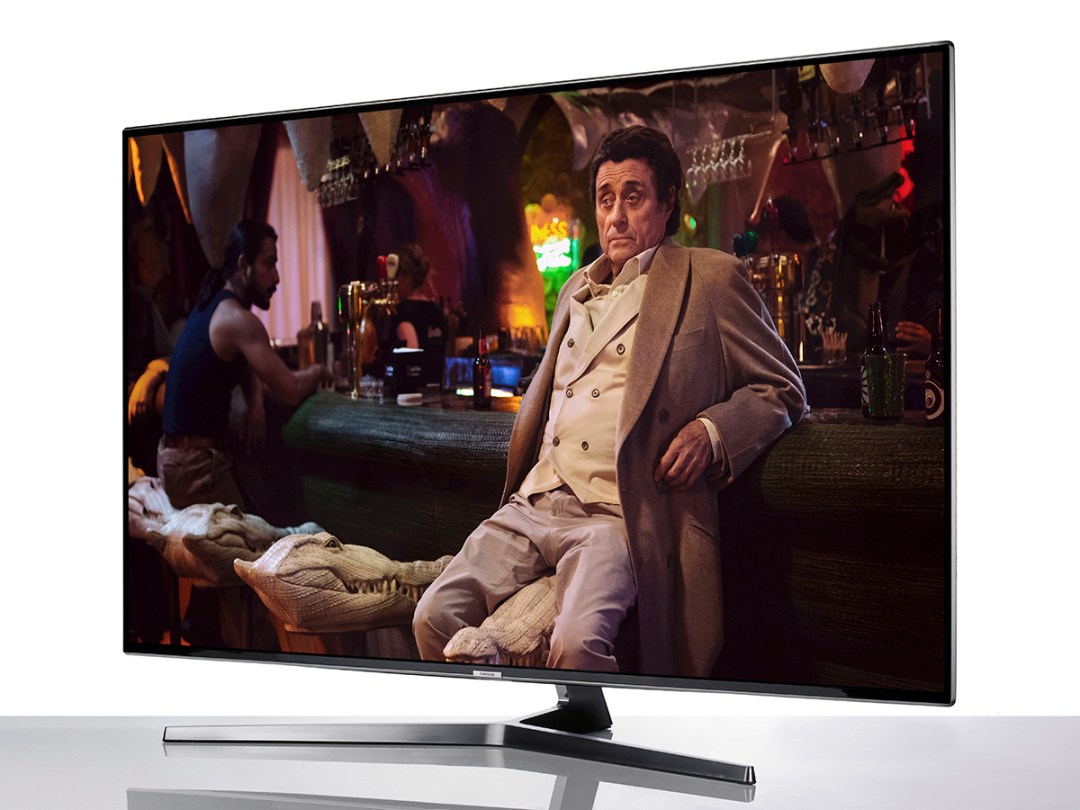 The phrase 'mid-range' can stir up feelings of being forced to compromise, which our lizard brains usually aren't too happy about.
But you can tell your inner reptilian that it doesn't need the status symbol of a flagship QLED or OLED TV, because the Samsung UE55MU8000 exists.
Sitting one range down from Samsung's premium QLED TV range, this 4K HDR set delivers a lot of the same benefits as its flagship running mate, but at a much more reasonable cost.
It's time to find out how good mid-range TVs have become in 2017…
Samsung UE55MU8000 design & features: spot the difference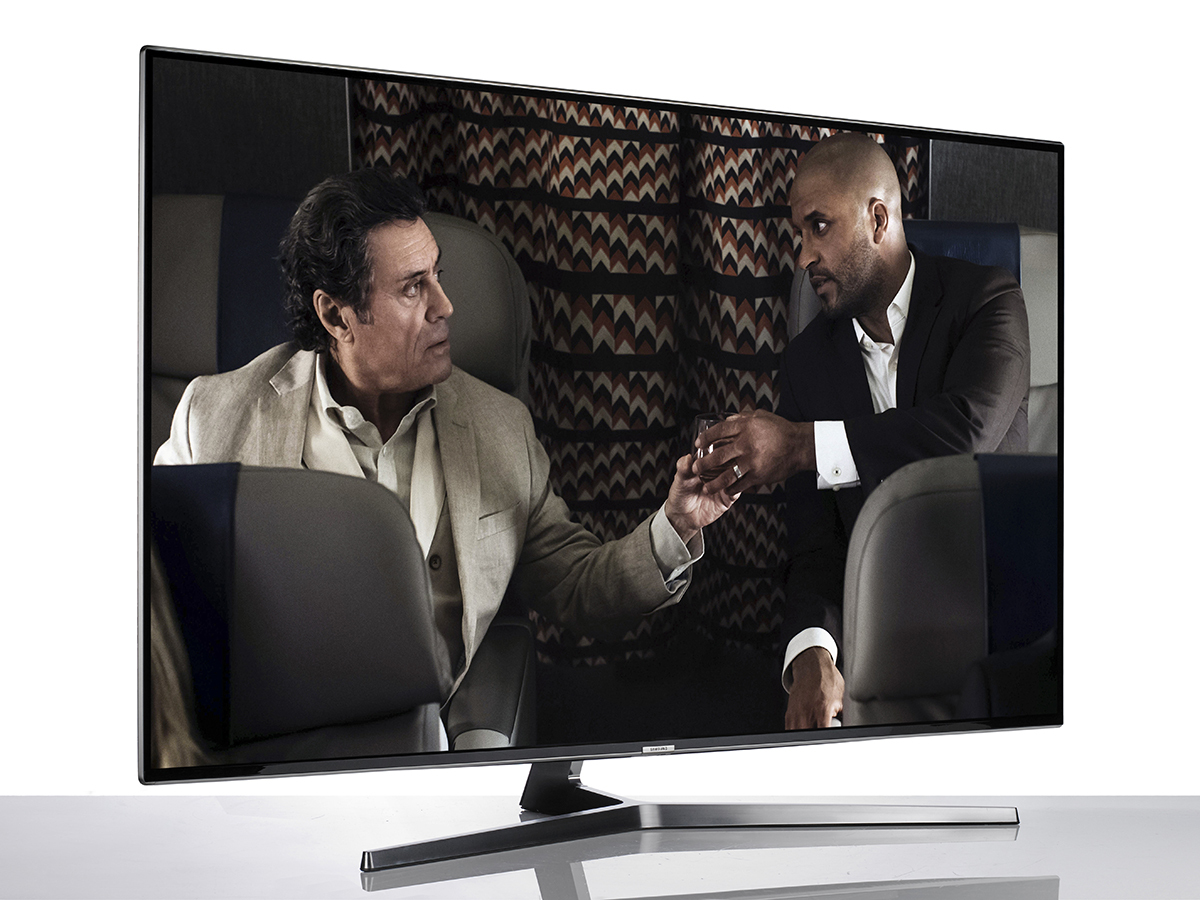 Just because the MU8000 is a mid-range telly, doesn't mean Samsung is about to slack on its design.
The bezel might not be quite as razor thin as it is on Samsung's QE55Q7 and the stand not quite as elegant, but it remains a lovely looking TV that'll fit right into most homes. It's slim too, so easy to accommodate, with the majority of its connections housed in Samsung's external OneConnect box (namely four HDMIs, three USBs and an optical output for a soundbar).
As a UHD Premium certified set, it comes with a number of important spec boxes pre-ticked, such as 4K HDR (with support for HDR10 and Hybrid Log Gamma) and 1000-nit brightness.
It's missing Dolby Vision though, with Samsung working on its own HDR10+ format with Amazon Video instead. As if we needed any more.
Samsung's smart offering has always been a feather in its cap and that continues here. It's a slick, unassuming take on previous smart TV outings, appearing as a simple line of tiles along the bottom without interrupting what's on screen.
It's easy to navigate, with a secondary menu that'll often offer you the option to jump straight into the content you love without having to load the app first.
As for those apps, you'll find a full roster of streaming services on the MU8000, including Netflix, Amazon Prime Video, Now TV and all of the UK's TV catch up services.
MORE: Amazon vs Netflix vs Now TV – the battle of the streaming service
Samsung UE55MU8000 picture: a lot to love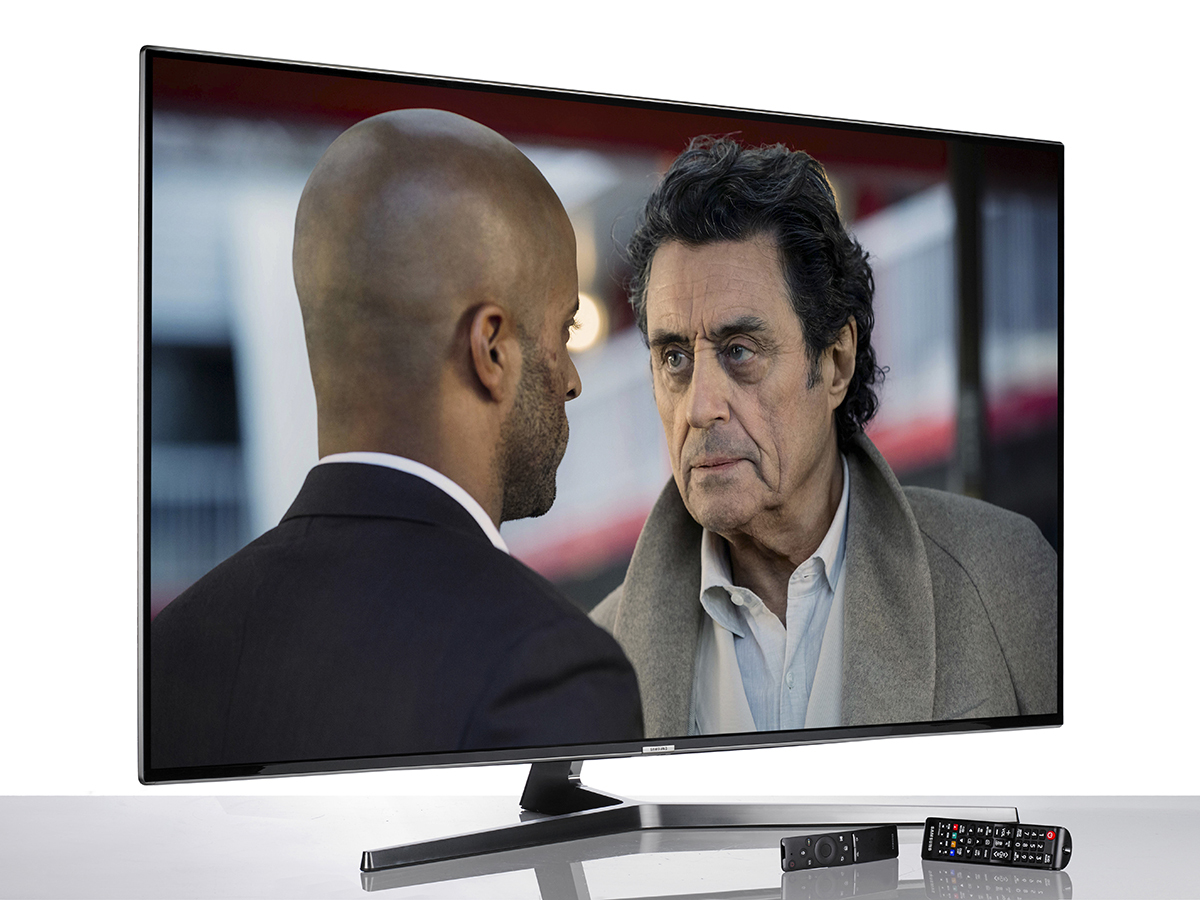 If you were to take everything about the Samsung QE55Q7 QLED set and scale it back a notch or two, you'd have the MU8000. Of course there are some expectations to be managed when comparing it with QLED (you can read our QLED explainer for more details), but there are undoubtedly similar characteristics between the two.
For a few years now, Samsung has really been spot on with its colour balance, managing to deliver punch and vibrancy without affecting an overall natural handling of colour. A balance that just seems right.
The MU8000 follows in those footsteps, with a superbly managed colour palette that's rich but believable at every turn.
It might not have as much colour subtlety as QLED, in terms of absolute tonal variety and insight, but at this level it's hugely accomplished, assuming you've taken the time to set up the TV correctly (see the box out below for some tips).
With around 500-1000 nits of brightness separating them, the MU8000 isn't capable of going quite as bright as the QLED range, but you never feel wanting – this is still a bright and enjoyable picture with plenty of power to push behind whites.
At the other end of the scale, its black performance is impressive too, particularly for an edge-lit set. You might spot some very minor clouding in the black bars at the top and bottom during films but it's unnoticeable for the most part, and certainly doesn't take away from an otherwise solid picture.
Such good contrast means the MU8000 works brilliantly with HDR material. Detail is strong at both ends of the spectrum too, offering plenty of information in both the darkest and brightest elements of a picture.
In fact, it's an insightful picture across the board, with plenty of detail and crisp, sharp edges that have a field day with 4K material.
It's equally adept with HD content too, offering clean upscaling of HD channels and Blu-rays, but we do find standard-def content a little hazy in comparison. If you can avoid it, we would, but it's still watchable if you must.
You'll also want to be careful where you sit in order to get the best from this set. Viewing angles are a little on the tight side, and if you're much more than a seat off centre, you'll notice a drop in colour vibrancy and contrast performance.
Some setup tips
It's always worth playing around with the various picture settings to get a performance that works for your tastes and environment. No two TVs will be the same, so use a setup app like THX Tune Up for a helping hand or go by what looks good to you if you prefer.
We'd usually opt for the Cinema or Movie picture setting with most TVs for best accuracy, but we actually prefer Standard here, with the colour temperature set to Warm1 to take the edge off the cooler balance. It allows the TV to go brighter and look more vibrant, rather than the more muted colours in the Movie mode.
Not matter the mode you choose, HDR content will be automatically detected and pre-programmed settings will be turned on to handle it. They're pretty good, but you might want to consider turning down Motion Smoothing for a more natural performance.
We'd also recommend setting a custom level in the standard motion handling in the main menu – the default auto mode is a little too aggressive for our tastes.
As for the Local Dimming setting and Samsung's Contrast Enhancer, we opt for Standard and Low respectively.
Samsung UE55MU8000 sound: good for dialogue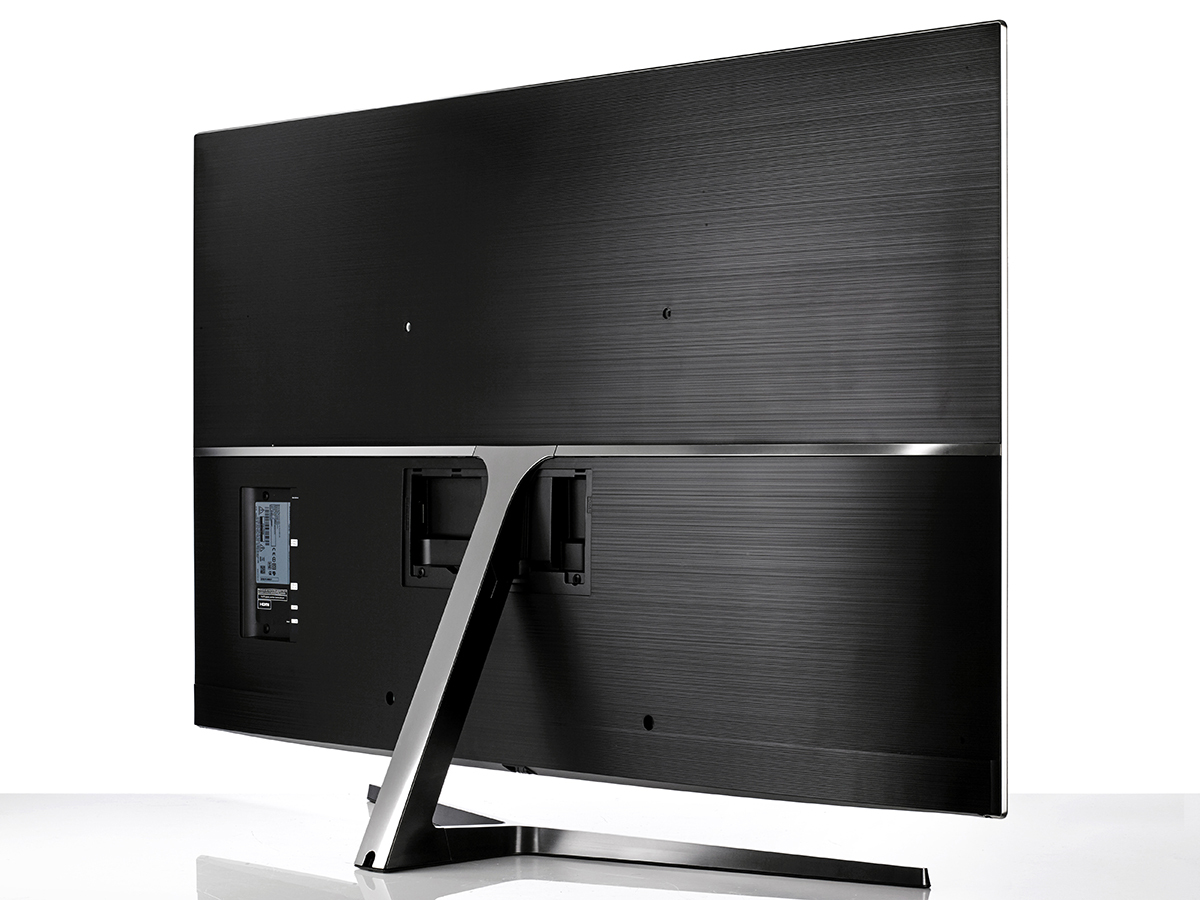 The MU8000 puts most of its emphasis on sound through the mid-range, which is clear and detailed, making it great for dialogue.
It's not quite as convincing elsewhere. There's enough weight to give voices body, but not enough to give any real authority to big action scenes, nor the dynamic wherewithal to build tension or create impact. Overall, it just feels a little restrained.
If you want to get a sound that'll equal the abilities of the MU8000's picture performance, we'd certainly recommend investing in a soundbar.
Samsung UE55MU8000 verdict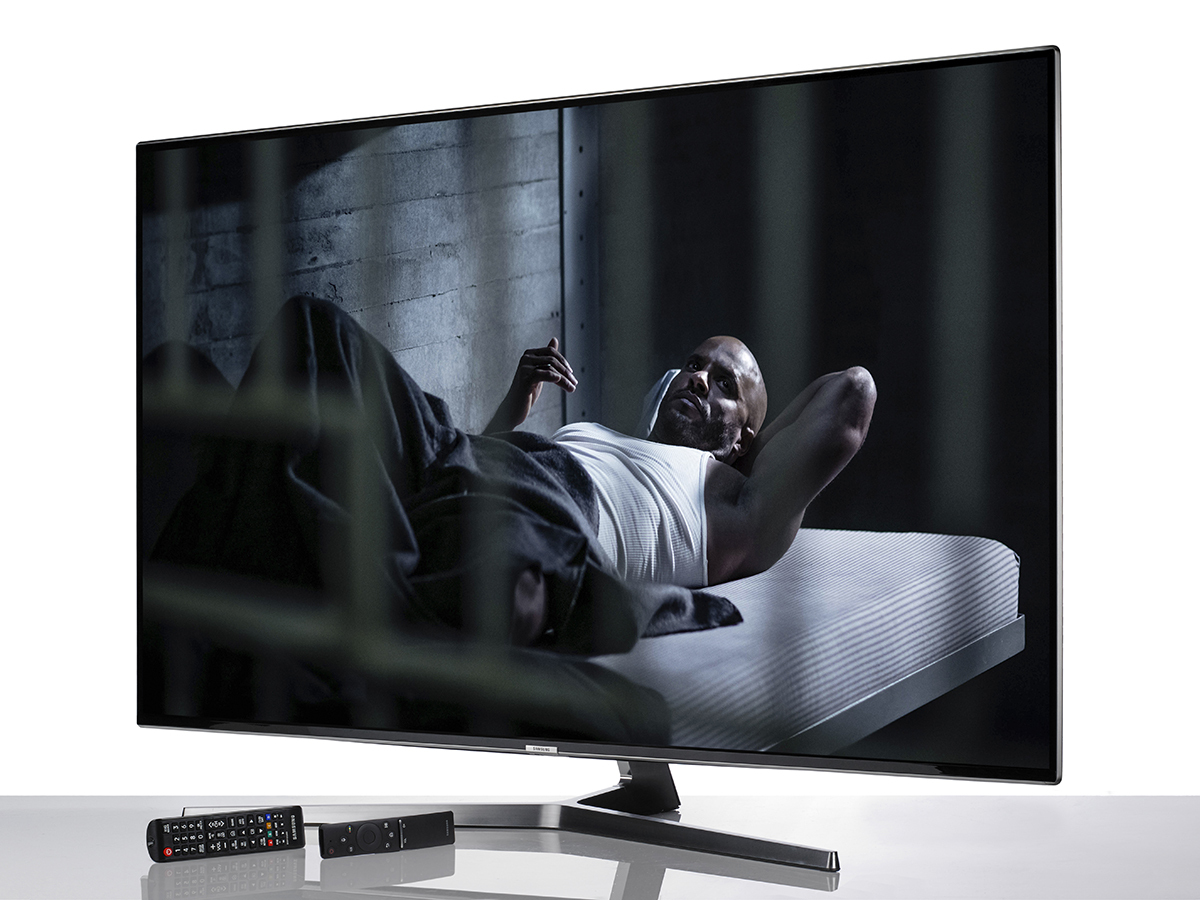 If you don't have the cash to splash on a flagship TV, the Samsung UE55MU8000 is a superb option that won't leave you wanting.
Yes, you'll get more by spending more, but lot of the benefits are only really obvious in direct comparisons. Even then, the downfalls are minor and the niggles few.
Judge it on its merits and the MU8000 is a hugely capable 4K HDR TV, with a punchy, detailed picture, great contrast handling and an excellent smart TV system. All in a slim and stylish 55in design.
If that's compromise, then it's one we're happy to make.
Stuff Says…
Thought mid-range meant middle-of-the-road? This excellent TV will make you think again
Good Stuff
Sharp, detailed picture
Vibrant, but believable colour palette
Excellent smart TV offering
Easy to navigate and set up
Bad Stuff
Viewing angles are tight
Sound lacks dynamics