Samsung YP-T8Q review
The 2GB Samsung YP-T8Q boasts 2GB flash memory, a plethora of settings and a generous 1.8inch widescreen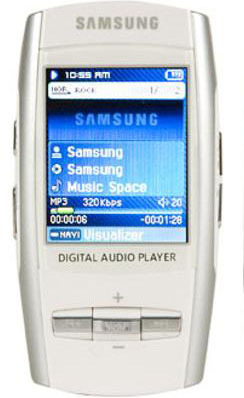 Samsung's latest digital music player looks like a mobile and offers many similar features, including an FM radio, a photo viewer and bundled games, but without the phone-call bit.
The line-in socket, on top of the player, means you can convert music from CDs, cassettes (remember those?) and radio straight into MP3 without asking your PC.
Sacrifice performance for appearence
In addition to MP3 files, the dinky 55g player also supports MP4 video files which'll grant you video on the go, to be watched on the generously proportioned 1.8in widescreen.
There is a snag though: despite a mountain of settings, the YP-T8Q lacks picture adjustment options to account for brighter or darker environments – not the best feature to lack when you're out and about.
Sound settings ahoy!
This player offers endless functions, decent vision and lively – though slightly bright with the bundled buds – sound. Dig around, using the rocker nav control, and you also find a plethora of sound settings, including an option to slow down or speed up your tunes.
The YP-T8Q might boast 2GB flash memory, but it comes at a pretty hefty price. We'd recommend tossing a coin on this one.