Sea of Thieves review
A pirate's life is a mixed bag in this Xbox exclusive multiplayer romp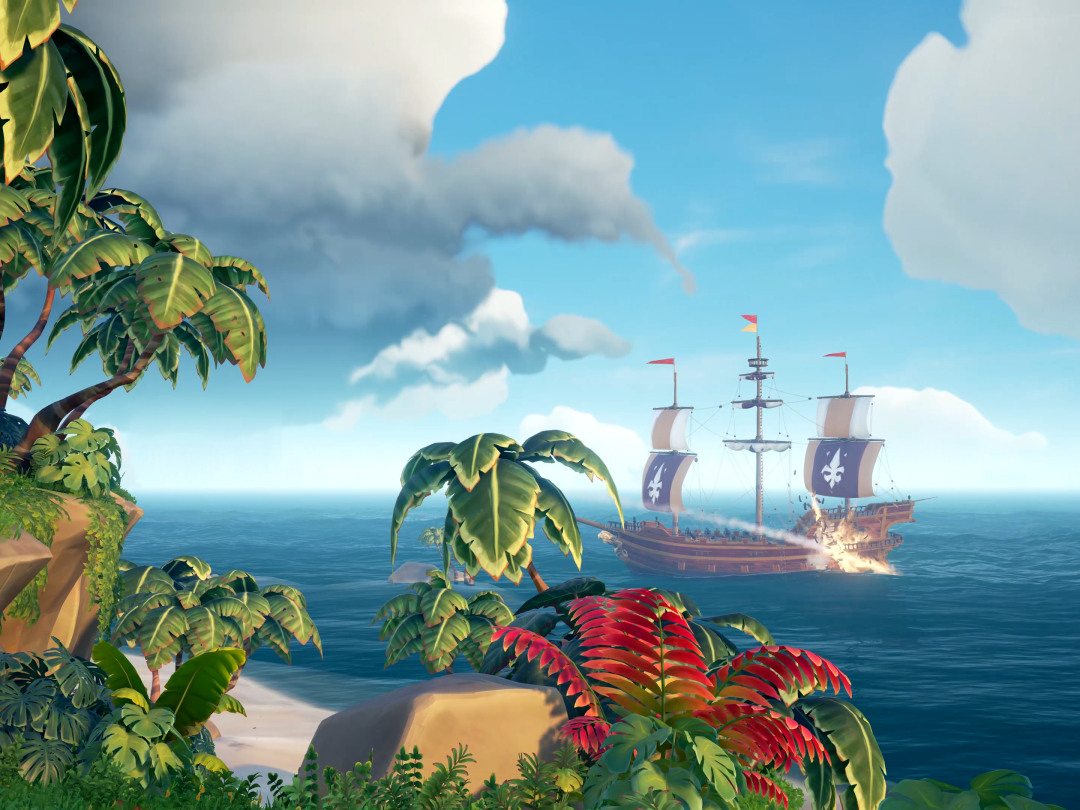 The idea behind Sea of Thieves is so brilliant that you can scarcely believe no one had thought of it before.
You and up to three of your mates play as pirates in a giant shared online world, sailing the high seas, plundering treasure and bolstering your reputations to legendary status. The more loot and gold you accumulate the greater your status grows. Who wouldn't want to play that game?
As it turns out, making our swashbuckling fantasies a reality isn't quite as easy as coming up with a vague but exciting concept. That initial plan needs fleshing out with the kind of detail that'll keep seafarers sailing, hoisting the rigging, donning their peg legs and embracing every other such cliche dozens of hours on end. For now, this Xbox One exclusive doesn't quite have the chops to deliver here.
It's a ludicrously fun concept until you realise you've seen everything it has to offer. Right now, that isn't all that much.
Seas the day
While there's plenty that needs improving with Sea of Thieves, it's also a game that does a hell of a lot right. Crucially, it does this stuff differently to pretty much every online multiplayer game going right now.
Unlike Fortnite or PlayerUnknown's Battlegrounds, the focus here is on larking about with your mates rather than blasting your way to Number One in a leaderboard. So the best moments I've spent with this game involve an impromptu diving contest off the crow's nest, seeing which of our crew can fire another furthest in a cannon and who can chuck the most grog-induced vomit at each other.
What do all these tales have in common? They've got nothing to do with the pursuit of levelling up your pirate status. Sea of Thieves is really at its best when you're making your own stories by exploring its glorious world and limited mechanics.
Better still, a new adventure is always around the corner in your first few hours with the game. Even if it's as simple as voting your mates into the ship's brig for no reason whatsoever.
As impressive as these stories are, they'd lose a little of their lustre were they set on a shabby expanse of ocean. Luckily, one glance at this game's lilting waves and glistening sky is enough to convince you otherwise.
Developer Rare has poured a hell of a lot polish into its latest creation and the charming, cartoonish results really are a delight. Especially if you're playing in 4K and with HDR enabled on the new Xbox One X.
From the sharks that'll pounce on you in the deep blue to the skeleton captains who'll rise from the stand to defend their honour, the whole of Sea of Thieves oozes with personality. That's kind of what makes it such a frustrating game to play. I just want more of it.
Captain Billy… no mates
Right now, Sea of Thieves has two major issues. One of these is fixable with time and the other you're stuck with for the foreseeable future depending on your friend group. That is to say, most of your mates probably don't own an Xbox right now and, even if they do, a pirate-themed shared world romp simply might not be their bag.
Given how much more fun Sea of Thieves is when you're voyaging in a four-man galleon instead of a two-man sloop, this is a substantial problem. With three of your besties on deck you've got more leniency to doss around and still end up with a decent treasure haul. With just one buddy backing you up, quests take longer to complete and are just far more of a chore.
In fairness, Microsoft has done its best to alleviate this drudgery by making Sea of Thieves available as part of its monthly Game Pass subscription service. Still, that's not gonna alleviate the annoyance of having your treasure-filled sloop sunk by a seemingly unstoppable galleon. It just feels unfair, even if you technically can outrun the thing with enough sailing nous.
A pirate's strife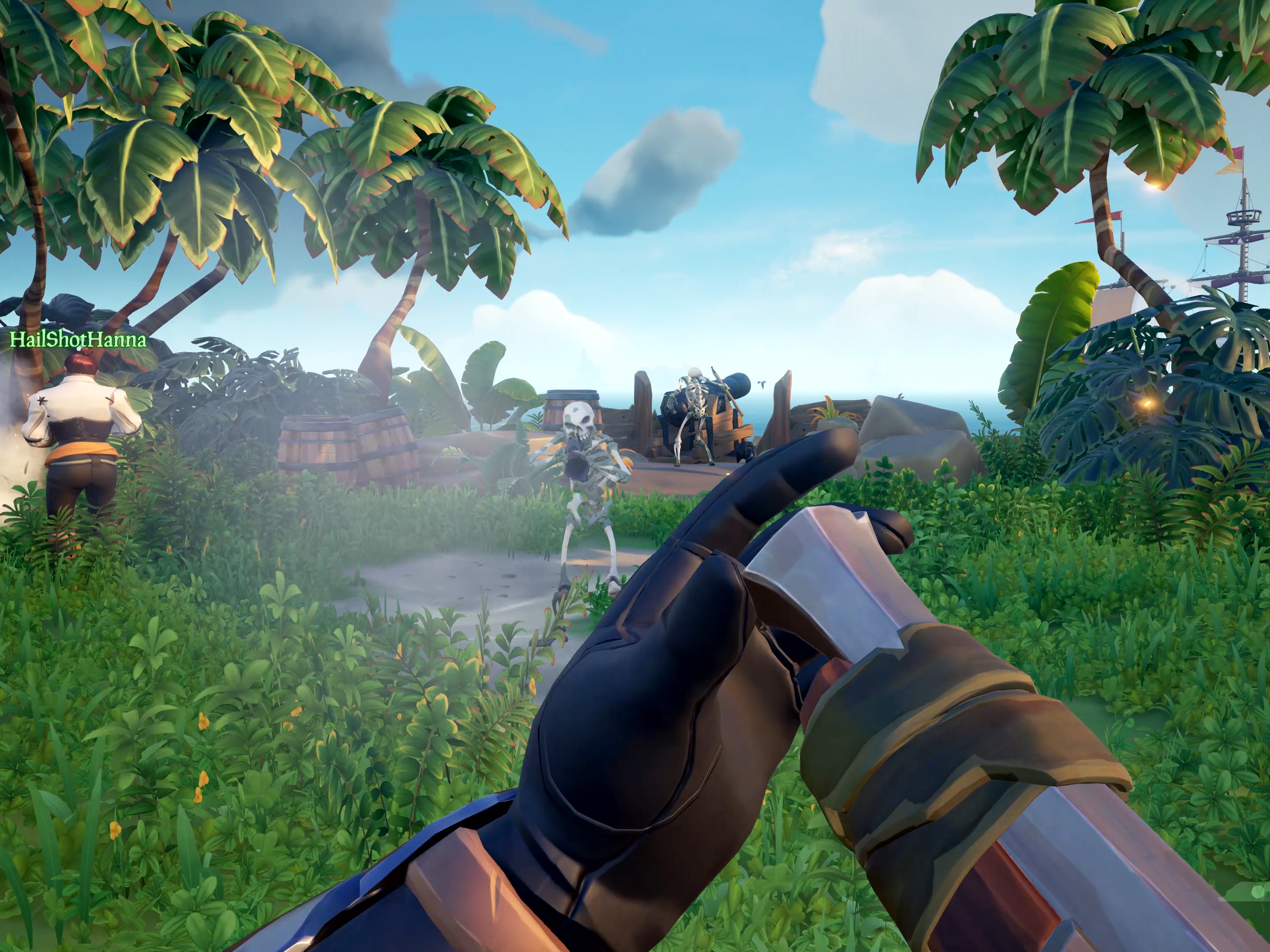 If the Xbox One's sales figures have nothing to do with Rare, the repetitiveness of your questing in Sea of Thieves is very much its responsibility. Anyone who played the game's beta and hoped for something substantially different is gonna end up disappointed.
Almost all of your time here is gonna be spent getting a map or riddle, travelling to find what it's describing and then trading that in for gold. It's an extremely one dimensional grind that you'll eventually tire of sooner or later. Mainly because you feel as though nothing will ever top your first few hours with the game.
Yes, you can spend your gold on purely cosmetic upgrades to improve your pirate status and Skeleton Forts do prove a decent challenge, but none of this is enough to make you want to stick with Sea of Thieves in the long run. Or at least it wasn't for me. Especially when you compare the lack of content here to more traditional online multiplayer affairs, which people still end up complaining bitterly about. Cough. Destiny 2. Splutter.
While it's fair to say all of these games are something of a work in progress at launch, the lack of stuff you'd expect to be thought through here is a downer. Why doesn't the Kraken have a head? How come boats you've sunk will respawn so close to you? Where the hell is my pet parrot, dammit?
There's every chance that Sea of Thieves eventually turns out to be the game you'd want it to be. Right now, it's a fair way off delivering on its tantalising promise.
Sea of Thieves Verdict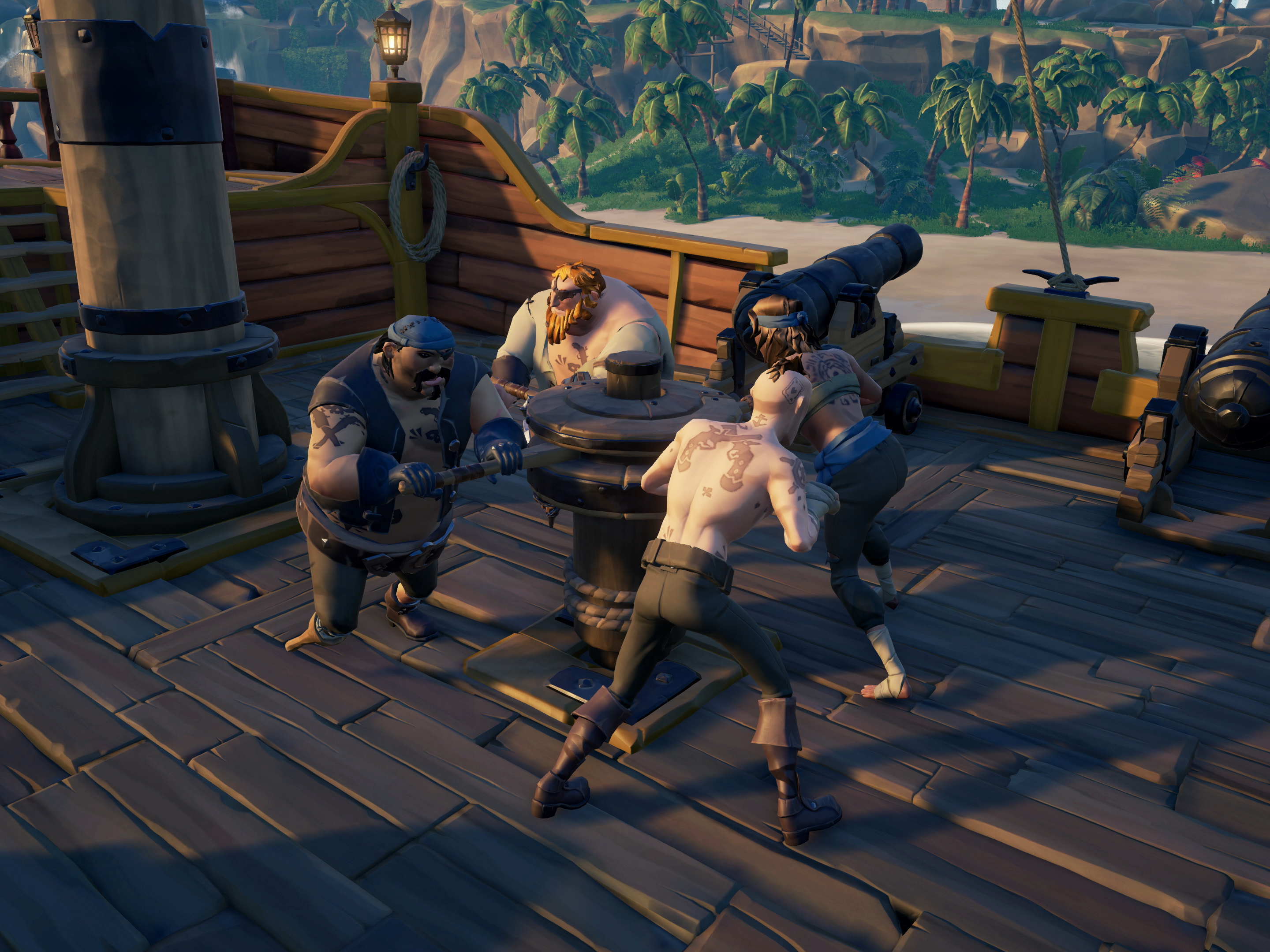 Sea of Thieves is one of the most frustrating games in absolutely ages. When it's good, it's uproariously fun. When it's tedious, it can suck all of the joy out of a room. Usually your playtime falls somewhere in between those two extremes. Still, if you told me tomorrow that it had been updated with new quest types, enemies and my mates were all down to don our upgraded eye patches again, I'd be back in a heartbeat.
'Cos there's nothing else like Sea of Thieves right now. And if pirate lore has taught us anything, it's that it's better to be infamous than forgotten about.
Stuff Says…
Worth a play with three mates, but sails too close to tedium to be a multiplayer classic
Good Stuff
Can be brilliant fun
Stunning cartoon visuals
Loads of potential
Bad Stuff
Quests are repetitious
Some ideas aren't fully fleshed out
Needs more content