Sennheiser Ambeo Plus review: high and mighty
Stellar 7.1.4 sound from a single unit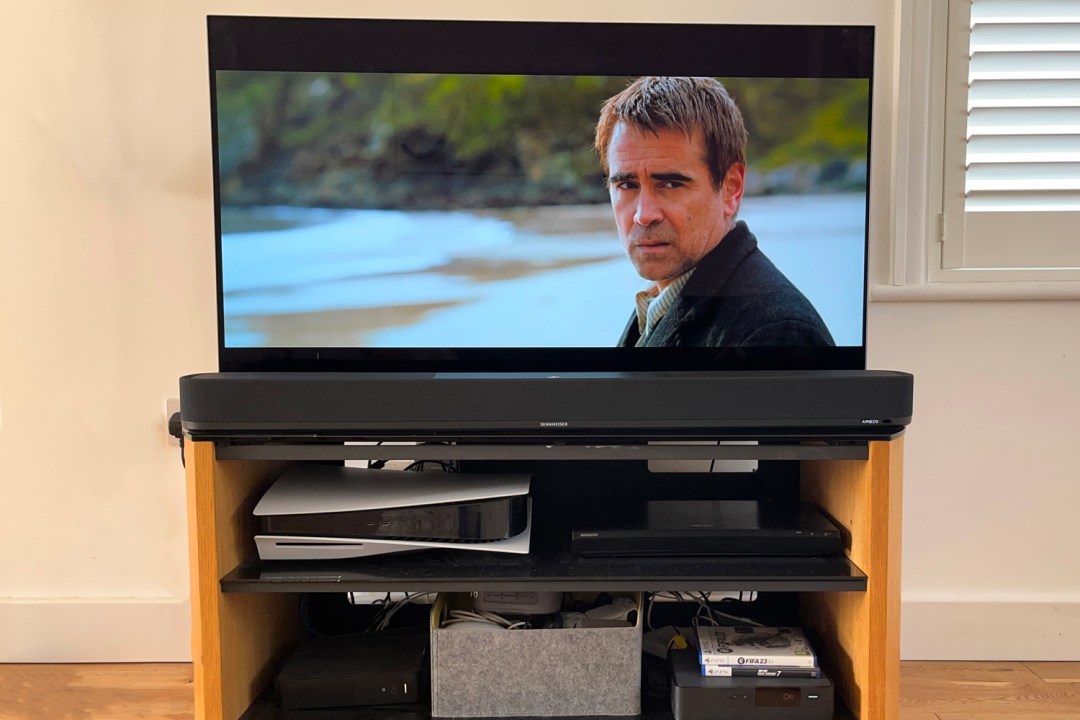 In 2019, Sennheiser launched its Ambeo soundbar – it was bigger and more expensive than the biggest, most expensive soundbars around, and it was the only soundbar capable of serving up convincing Dolby Atmos spatial audio. So in an effort to democratise its technology (and sell soundbars to those of us who don't have a fortune to spend) it's come up with this: the Sennheiser Ambeo Plus.
Yes, it's smaller and yes, it's less expensive. But is it, in fact, any good?
Design and build: small(er) is beautiful(er)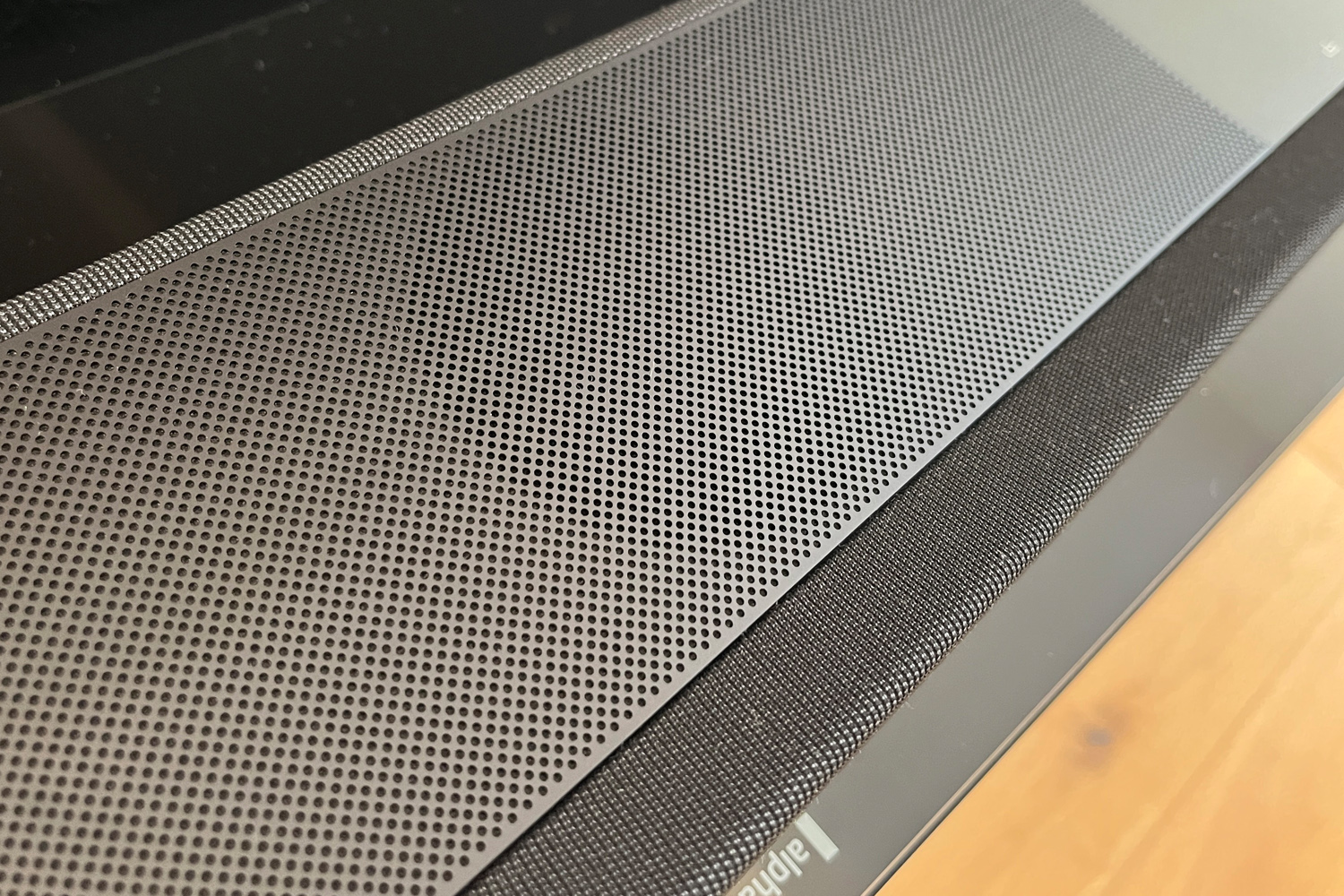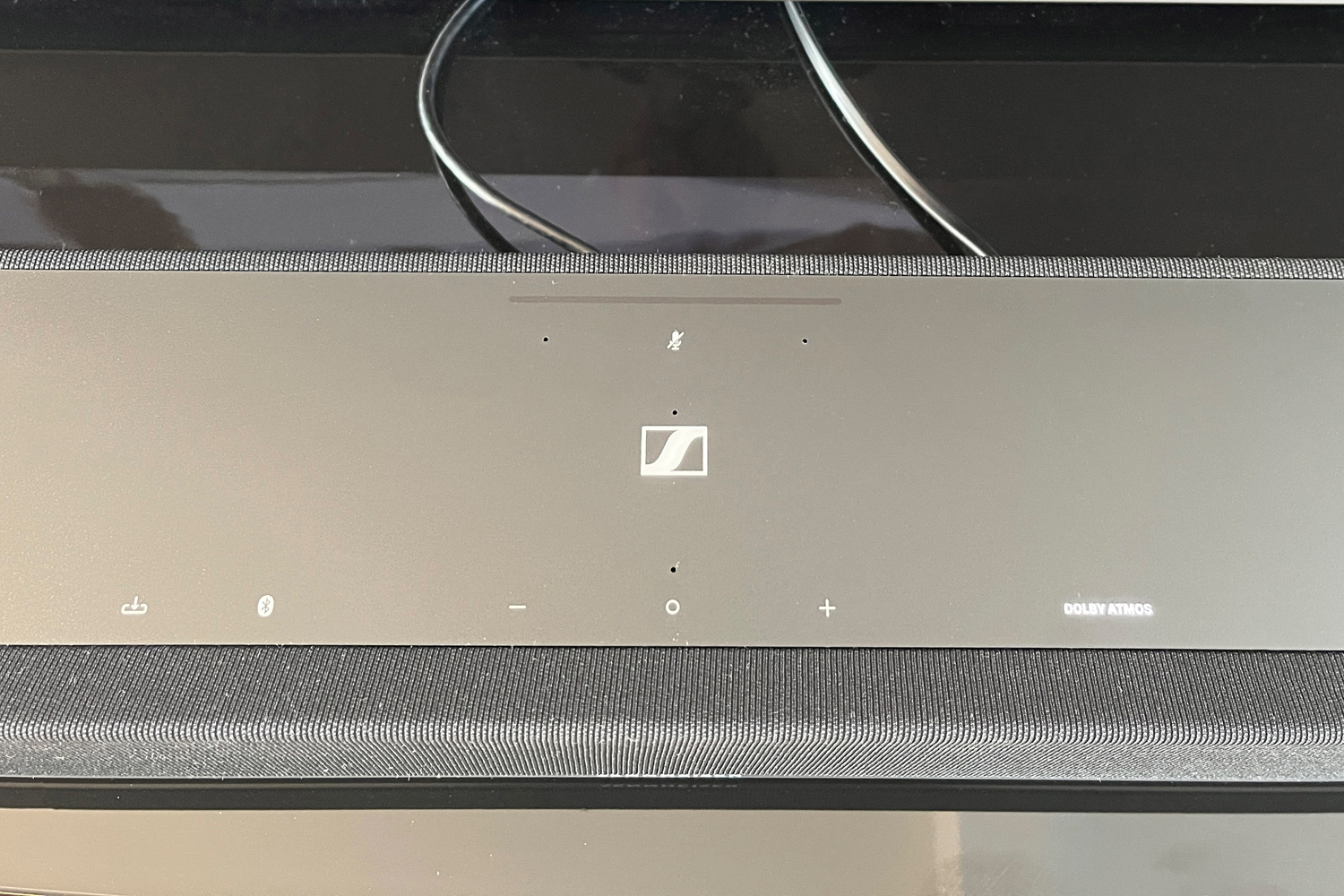 No two ways about it, the original Ambeo (which is now officially known as 'Ambeo Max') is an absolute unit. At just over 1m long, though, the Ambeo Plus is altogether more manageable.
It's no wider than your average 48in TV, and it won't impact on the bottom of the screen unless your television is one of those stylish items that sits very low on its stand. At 6.3kg (about a third of the weight of the Max) it's no threat to your shelves, either.
Because this is Sennheiser we're dealing with, the Ambeo Plus is built to last from tactile, relatively upmarket materials. The chassis is smoothly wrapped in acoustic cloth, while the top and bottom surfaces are high-quality plastic. It's perforated on a big portion of the top, in order to let the upward-firing speaker drivers do their thing.
Everything fits together perfectly, and the entire thing is finished to a high standard. It's not cheap, the Ambeo Plus, but then again it doesn't look or feel it.
Features: up and out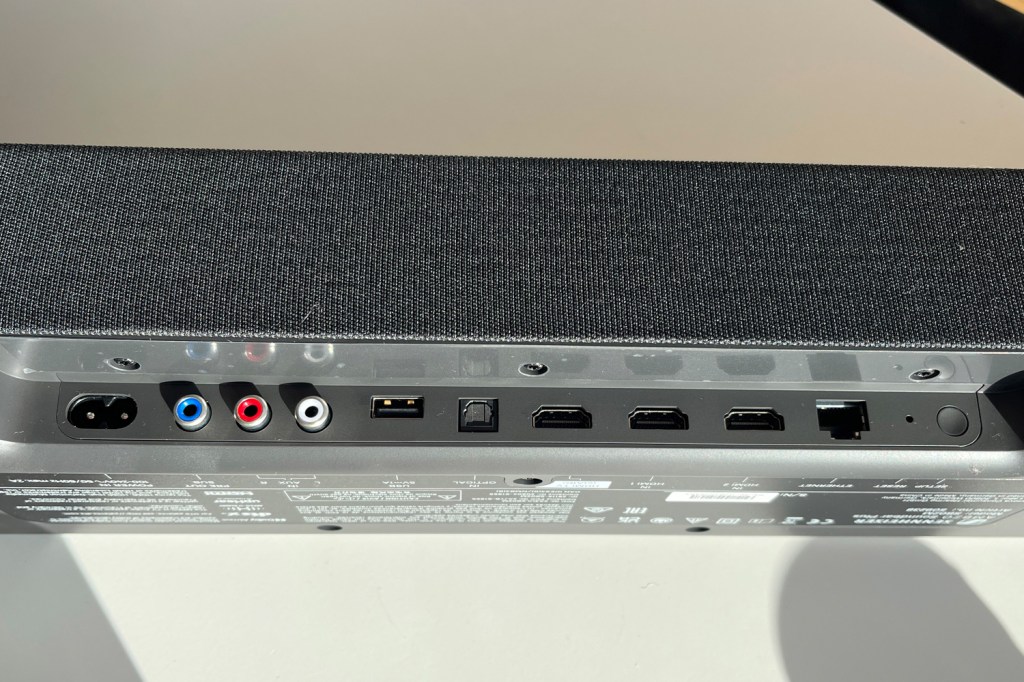 Sennheiser reckons the Ambeo Plus can deliver a full-on 7.1.4-channel spatial audio effect – and so it's specified accordingly. That means nine blocks of amplification powering nine speaker drivers – and an all-in total of 400 watts of Class D power, which should be enough to fill any room smaller than an aircraft hangar.
Two 100mm bass drivers and seven 50mm full-range aluminium drivers see to the sonic business. Both bass drivers face upward from behind the grilles on the top surface. Closer to the centre are a couple of the 50mm drivers, angled to create the all-important sensation of audio height. There's another at each end of the 'bar, facing out sideways to generate some width to the sound, and the other three face forwards from behind the cloth at the front , constituting the left, right and centre channels. A subwoofer, snappily called Ambeo Sub, is available for another £599 – as many as four can be wirelessly connected to the soundbar. Bear in mind Sennehsier is claiming low-frequency extension of 38Hz from the soundbar alone, though – so maybe hear what it's capable of before you spend any more money.
There's a stack of connectivity here, both wired and wireless, so getting audio information on board shouldn't be a problem. An eARC-enabled HDMI 2.1 socket is complemented by a couple of HDMI 2.0 inputs, a digital optical socket, Ethernet, a USB-A, a pair of stereo RCAs and a pre-out for a wired subwoofer. Wireless stuff is handled by Bluetooth 5.0 and Wi-Fi, and there's Apple AirPlay 2, Chromecast, Spotify Connect and TIDAL Connect built in.
The only drawback, really, is for gamers who want the full 4K@120Hz experience. Because there's only one HDMI eARC socket here, your console will have to go into one of your TV's HDMI 2.1 inputs – so you'd better hope it has another in order to connect to the Ambeo Plus.
Interface: apps the way uh huh uh huh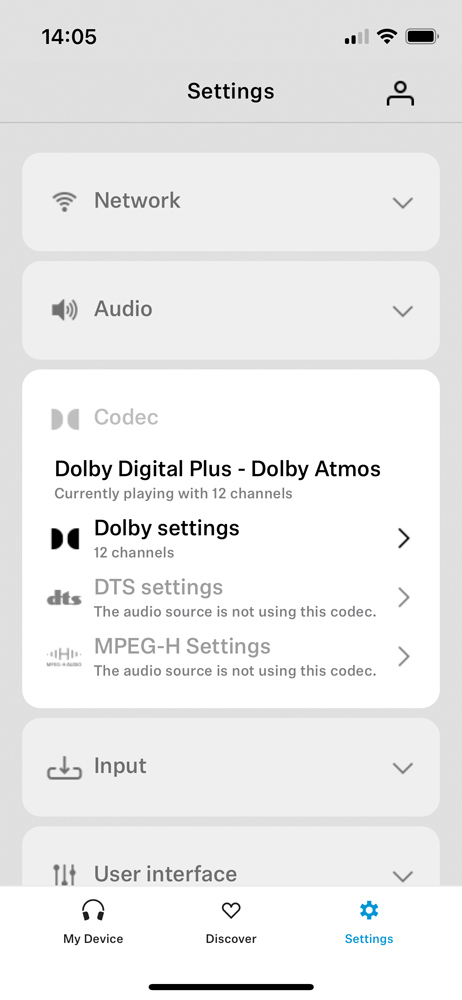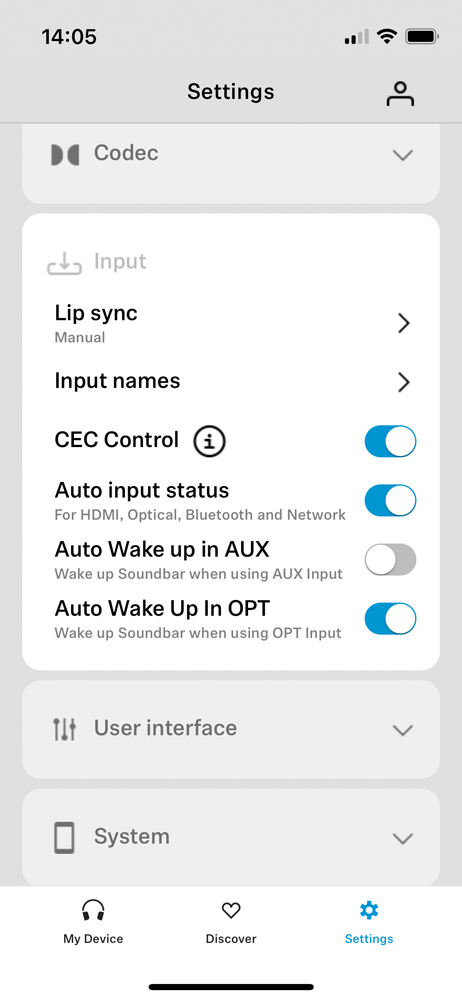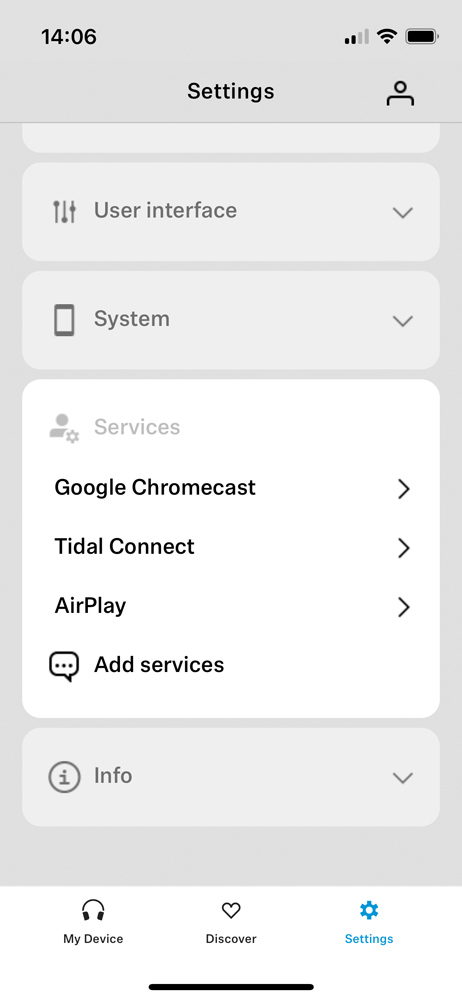 If you find yourself in the vicinity, Sennheiser has fitted the Ambeo Plus with a selection of capacitive touch-controls in the centre of its top surface – they take care of the major volume control and input selection-style stuff.
The company also provides a remote control, which is a cut or two above the sort of poverty-stick that products like this tend to ship with. It handles plenty of the soundbar's functions, and couldn't really be any more useful unless it had backlighting.
Your best bet, though, is Sennheiser's Smart Control app. Here's where you get your firmware upgrades. Here's where you can (rapidly, accurately) calibrate your Ambeo Plus to the exact room in which you put it, and tweak the different audio EQs. You can also set up Amazon Alexa voice-control (the soundbar has four far-field mics built in), and even fiddle with the intensity of the soundbar's various LED tell-tale lights. It's logical, responsive and stable – which is about all anyone can ask from their free control app.
Performance: lower those ceilings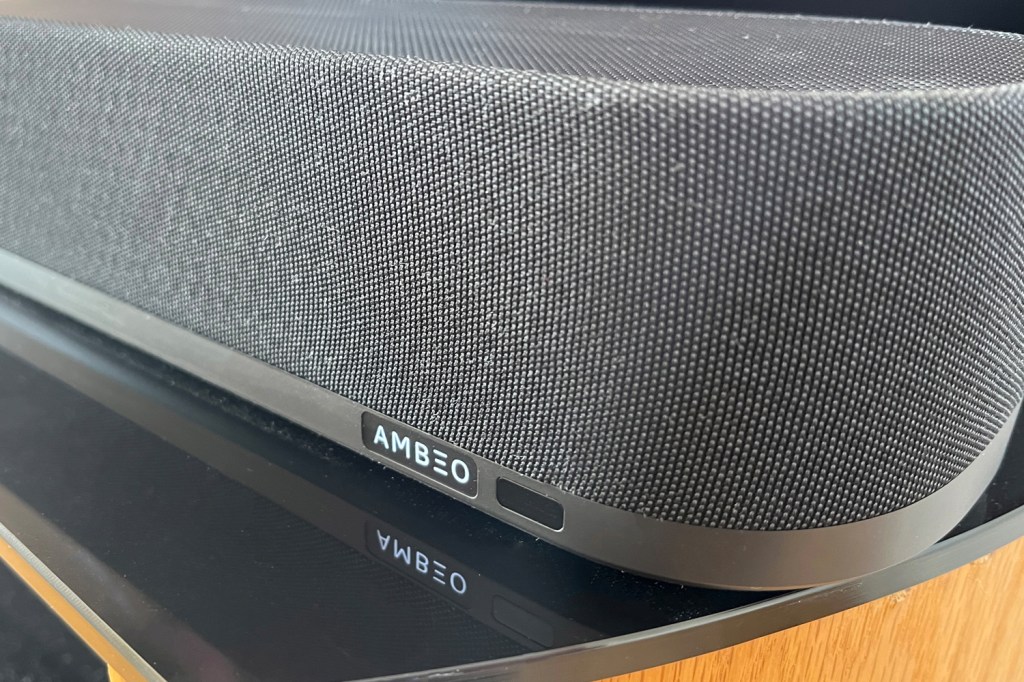 Given the right stuff to deal with – by which we mean a Dolby Atmos soundtrack either from an appropriate streaming service or, even better, a UHD 4K Blu-ray player – the Sennheiser Ambeo Plus is endlessly listenable. It just sounds correct, in the way that every properly sorted loudspeaker tends to.
And yes, about that subwoofer: don't feel like you have to. The Ambeo Plus does great work with the bass all by itself, thanks very much. It creates deep, hard-hitting and brilliantly controlled low frequencies, and can punch its way through the most explosion-tastic Marvel soundtrack. Have a listen to Black Widow as a Disney+ stream – if you find yourself short of rumble or wallop, well, we pity your neighbours.
Up in the midrange, meanwhile, the Ambeo Plus is about as distinct, detailed and forward as they come. No matter how fundamentally it's kicking off all around, dialogue remains intelligible at the centre of the stage, and the Sennheiser's ability with low-level dynamics means it's filled with variation and nuance. The top end, too, is well-realised – especially for a soundbar with no dedicated tweeters. Treble sounds are crisp and bright, but never get hard or edgy even if you like to listen at properly antisocial volumes. And the integration of the frequency range, from top to bottom, is smooth and believable – and it's the same story for overall tonality, which is remarkably consistent and not affected by volume.
The soundstage the Sennheiser creates is deeply impressive, too. There's proper width and depth to its presentation, and the all-important impression of height is undeniable. If you've very high ceiling the upward-facing drivers may struggle a little to create meaningful reflections, but for those of us who don't live in a barn or something then the sound of the Ambeo Plus is gratifyingly tall. Focus is good, separation is convincing, and there's a unity to the way the soundtrack is presented that's by no means a given. Big dynamic shifts (just before and just after something blows up or falls down, for example) are given plenty of headroom, but the control the Sennheiser demonstrates never wavers.
Switching to a non-Atmos soundtrack results in the disappearance of the spatial audio effect, of course, but all the other positives of the presentation remain. And besides, you can engage 'Ambeo' mode in the control app and let the soundbar force an impression of spatial audio from these soundtracks. It works well inasmuch as the sound becomes wider and taller, but at the same time there's a definite sensation of 'processing' introduced into what was previously a nicely naturalistic presentation. Focus drops away a little, straight edges become a little jagged, and the overall sound loses some of its positivity. It's a fun feature, but definitely not a "set it and forget it" one.
What's less open to debate is whether or not the Ambeo Plus is any good for listening to music. The short answer: it is. The slightly longer answer: whether you're watching a music-heavy movie or wirelessly streaming some sounds, the Sennheiser is a more robust, more unified and more convincing listen than the majority of soundbars at any price. In the final analysis it could be more rigorously focussed, but by prevailing standards it's about as musical as they come.
Sennheiser Ambeo Plus verdict
'Smaller and more affordable' is not the same as 'small and cheap', sure – but the Sennheiser Ambeo Plus nevertheless makes plenty of sense.
It's not the only soundbar at this sort of money that can do the Dolby Atmos business for you, but it's one of the very best.
Stuff Says…
Plus' may mean 'less' in this instance but it still makes a lot of sense
Good Stuff
Expansive, immersive spatial audio presentation
Excellent set-up and control options
Great connectivity
Bad Stuff
Processing can make audio seem, well, processed
'Cheaper' is not the same as 'cheap'
Plenty of very good rivals
Sennheiser Ambeo Plus technical specifications
Speakers
2x 4in full-range drivers
7x 2in full-range drivers
Amplifiers
9x Class D, 400W (total output)
Inputs
1x HDMI 2.1 eARC, 2x HDMI 2.0a, digital optical, stereo RCA, USB, subwoofer out, Ethernet
Connectivity
Bluetooth 5.0, Wi-Fi, Spotify Connect, Apple AirPlay 2, Chromecast, TIDAL Connect
Dimensions
1051x77x121mm (with feet), 1051x75x121mm (without feet)
6.3kg