Sennheiser Momentum True Wireless 3 review: third time, still charming
Don't make a song and dance about it...
Simplicity can be difficult sometimes. For the 'almost but not quite' Momentum True Wireless 3 earbuds, Sennheiser has gone with the simple fixes: smaller form-factor, more competitive price, upgraded active noise-cancellation.
But because your choice of true wireless in-ear headphones has grown in all directions, even in the two years since the Momentum True Wireless 2 were launched, there's a chance simple fixes may not be enough.
So is the third time a charm for Sennheiser?
Momentum True Wireless 3 design: a soft touch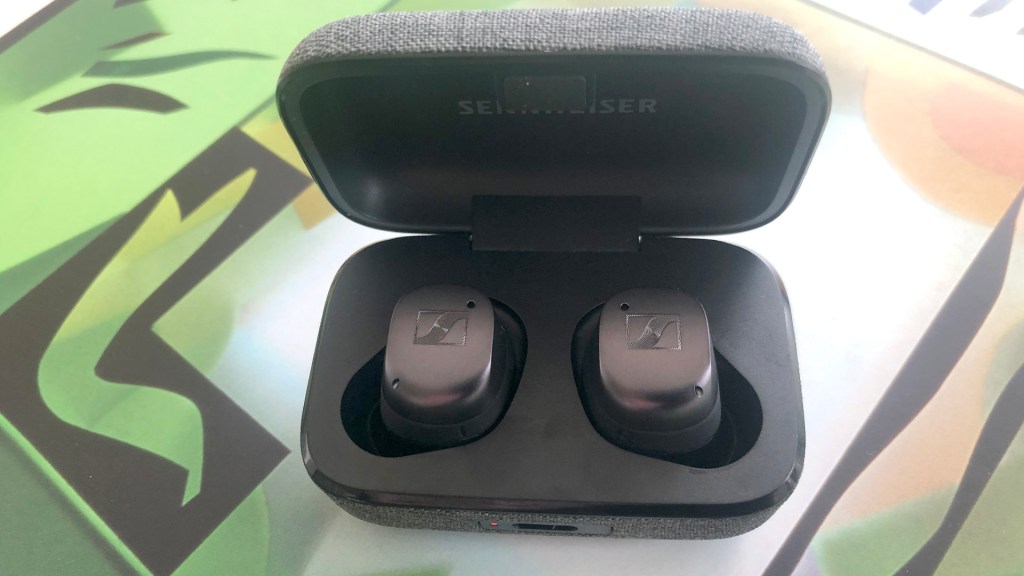 Let's deal with the 'build' part of this question first, shall we? Because if there's one thing you can always rely on where Sennheiser equipment is concerned, it's the quality of its construction. And sure enough, the Momentum TW3 are so solidly made they feel as if they're made from a single piece of material. The IPX4 rating is welcome, obviously, but it doesn't really tell the entire story: the Sennheiser Momentum True Wireless 3 feel bomb-proof.
'Design' is a more vexatious discipline for Sennheiser. 'Functional' is a word that gets bandied about a lot. But the Momentum T3 are far smaller than the model they replace (16% smaller, apparently), and look nothing like as chunky when in situ. The TW3 are smooth and discreet where previous Momentums have been big and gawky – so that's a big improvement.
At 6g each their weight is unremarkable, but thanks to the reduced size and the minimal stabiliser wings (there's a couple of sizes provided) they're comfortable even over the long haul.
Features: full charge ahead
Battery life here is an 'OK we suppose' seven hours from the earbuds themselves and a further three full charges held in the (equally nicely made and finished) charging case. An all-in total of 28 hours will be fine for the majority, but certainly no one at Sony (for instance) will be losing sleep over a figure like that.
Charging, when it happens, is via USB-C or Qi-certified charging pad, and a 10-minute pit stop should hold you for an hour of playback.
Wireless connectivity is via Bluetooth 5.2 and the TW3 are compatible with SBC, AAC and aptX Adaptive codecs. This is all good news, especially for those who tend to listen on the move, watch a lot of video content, or both. Once the digital audio information is on board, it's delivered by a couple of 7mm full-range drivers.
The sound the drivers deliver is augmented by Sennheiser's active noise-cancellation technology. There's no facility to adjust the intensity of ANC, but 'on/off/transparency/anti-wind' is plenty to be getting on with.
Interface: feature-rich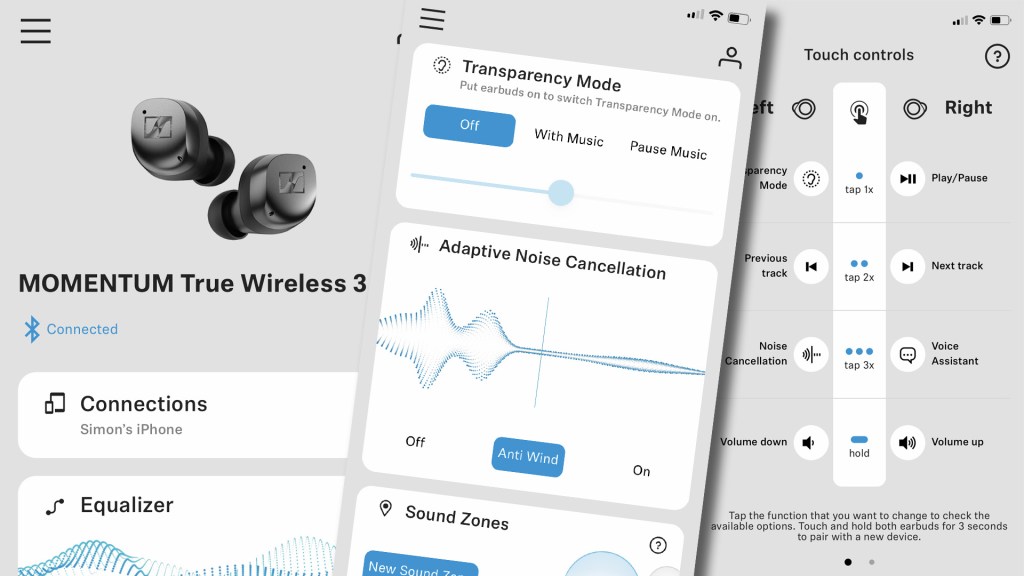 Each earbud has a capacitive touch-surface, and they're responsive and reliable. Here's where the fundamentals of 'play/pause', 'skip forwards/backwards', 'volume up/down' and 'answer/end/reject call' can be dealt with, and here's where you can scroll through your ANC options too.
Further control possibilities are available in the Sennheiser 'Smart Control' app. It's a stable, quite good-looking and commendably thorough app. Choose from a number of EQ settings, or create a bespoke alternative using the three-band equaliser. Decide if you want 'transparency' to pause music or leave it playing. Rearrange all the touch controls. Check for firmware upgrades. Create as many as 20 'sound zones' to allow your headphones to automatically apply your chosen sound settings.
Apart from allowing the TW3 to connect to two devices simultaneously, it's difficult to think of a facility that's missing here, and puts the Sennheiser app right up with the best around.
Performance: delicate balance
At first acquaintance, the Sennheiser Momentum True Wireless might sound a little matter-of-fact, or slightly dispassionate. Listen just a little longer, though, and the TW3 reveal themselves as a poised, insightful and engrossing listen. They just don't make a song and dance about it.
Once through an MQA-powered TIDAL Masters file of Camera Obscura's Suspended From Class is enough to allow the TW3 to reveal an awful lot about their strengths. Separation and focus, for instance, is excellent. The soundstage is big, organised and controlled enough to allow each element of the song enough room to express itself. Low frequencies may not have the out-and-out punch of some competing earbuds, but the bass the Sennheiser generate is properly shaped, loaded with detail and allows the midrange to do its thing without swamping it. The judicious low-end presence means rhythmic expression and straightforward tempo management is impressive too.
The midrange is equally detailed, equally organised and spacious – so a singer gets to express themselves without hindrance. There's an immediacy to the way the TW3 handle a vocalist that makes them one of the more communicate true wireless earbuds out there.
It's a similar story at the top of the frequency range. Detail levels are high, information regarding tone and texture is plentiful, and there's just about enough attack to stop treble sounds becoming a little dull. And from the top end to the bottom, the journey is smooth and even. There's a unity of tonality and integration here that's the mark of a well-sorted earbud.
Switch to Windowlicker by Aphex Twin and the Sennheiser leave their comfort zone behind, but only a little. They have no problem describing the filthy analogue grind, and punch just about hard enough to satisfy the dancefloor-obsessed – but if anything there's too much control on display here. A recording like this is about abandonment and relentlessness, but the Sennheiser are just a little too grown-up in their attitude to give the head-rush full expression.
Still, true wireless earbuds that want to punish you with low-frequency wallop aren't that hard to come by (and the Momentum TW3 can do this if you're reckless with the EQ settings). What's in far shorter supply is the sort of balance and fidelity these Sennheiser deal in.
As far as noise-cancelling goes, the TW3 are – as Sennheiser noise-cancellers of all types tend to be – among the better around. Their sonic attitude changes just slightly when ANC is switched 'on', that's for sure – but they cancel external sounds almost entirely and retain their likeable and informative audio balance as they do so. And their 'anti-wind' setting is about as effective as we've ever heard.
Sennheiser Momentum True Wireless 3 Verdict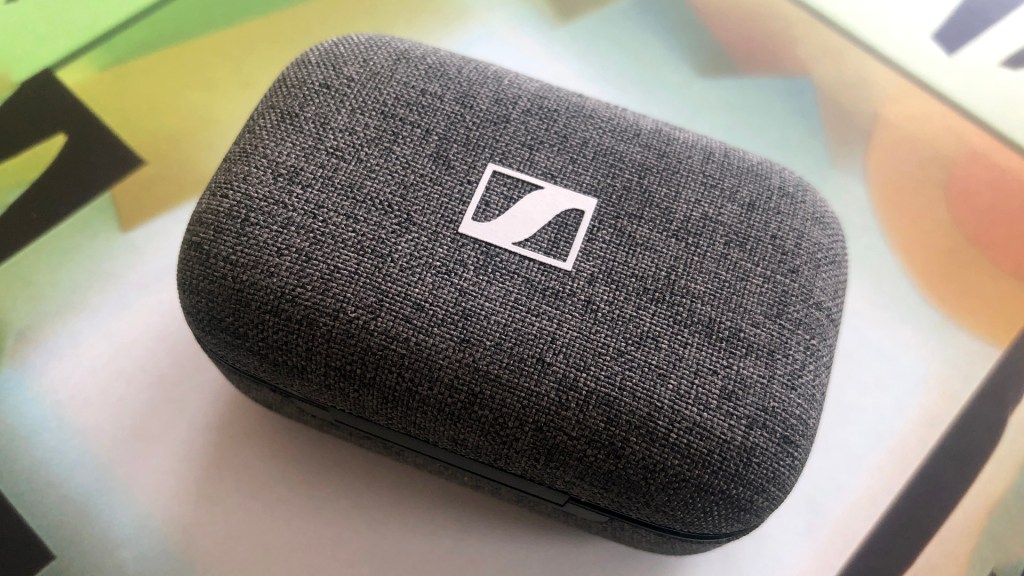 More affordable than before, more elegant than before, smaller than before… these are all good things, and consequently they make the Sennheiser Momentum True Wireless 3 altogether more competitive than the model they replace.
Unless you consider 'pummel' an entirely positive word where sound is concerned, you need to check these Sennheiser out.
Stuff Says…
The Momentum TW3 are the real deal – your shortlist of premium in-ear headphones just got a bit longer.
Good Stuff
Poise, detail and fidelity to spare
Great noise-cancellation, especially where wind noise is concerned
Good touch-controls and great control app
Smaller and more comfortable than previously
Bad Stuff
No multi-point connectivity
'More affordable' isn't quite the same as 'affordable'
Bass attack could be considered slightly tentative
Sennheiser Momentum True Wireless 3 technical specifications
| | |
| --- | --- |
| Battery life (earbuds) | 7hrs |
| Battery life (case) | 28hrs |
| Charging time | Approx. 1.5 hrs for full charge. 10 min charge for 1 hr playtime |
| Bluetooth version | 5.2 |
| Codecs | SBC, AAC, aptX, aptX Adaptive |
| Water resistance | IPX 4 (splash resistant, buds only) |
| Weight | 5.8g (buds) 66.4g (case) |