Shiftcam SnapGrip review: clip-on camera cleverness
A neat smartphone accessory pack mobile creatives will love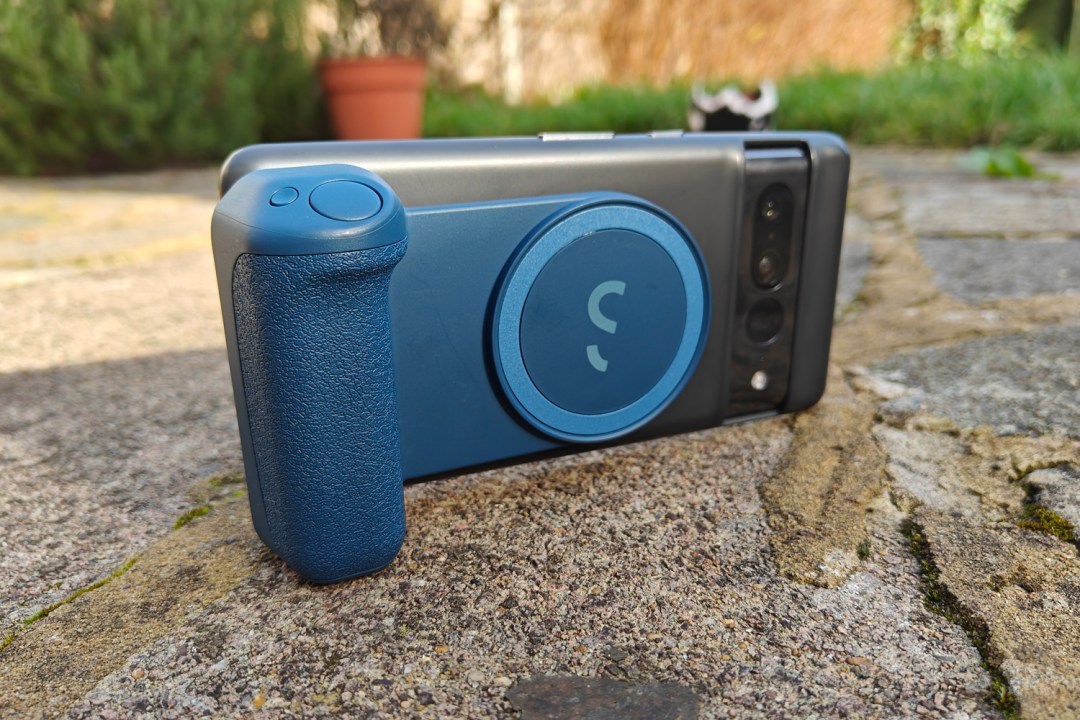 Snapping photos with a smartphone just doesn't feel as natural as it does with a proper camera, does it? There are plenty of shutterbugs out there mourning the lack of physical buttons and chunky grips to get their mitts around – and accessory maker Shiftcam has been listening to 'em. The Shiftcam SnapGrip mobile battery grip aims to give your phone some more camera-like qualities – and keep it topped up in the process.
This MagSafe attachment isn't quite as hardcore as Shiftcam's ProGrip series of grips and bolt-on lenses, but its Bluetooth shutter button and wireless charging battery bank could be a boon for creatives. We tested the vlogger-friendly SnapGrip bundle, which also includes the SnapPod handheld tripod/selfie stick and SnapLight LED key light.
Design & build: get a grip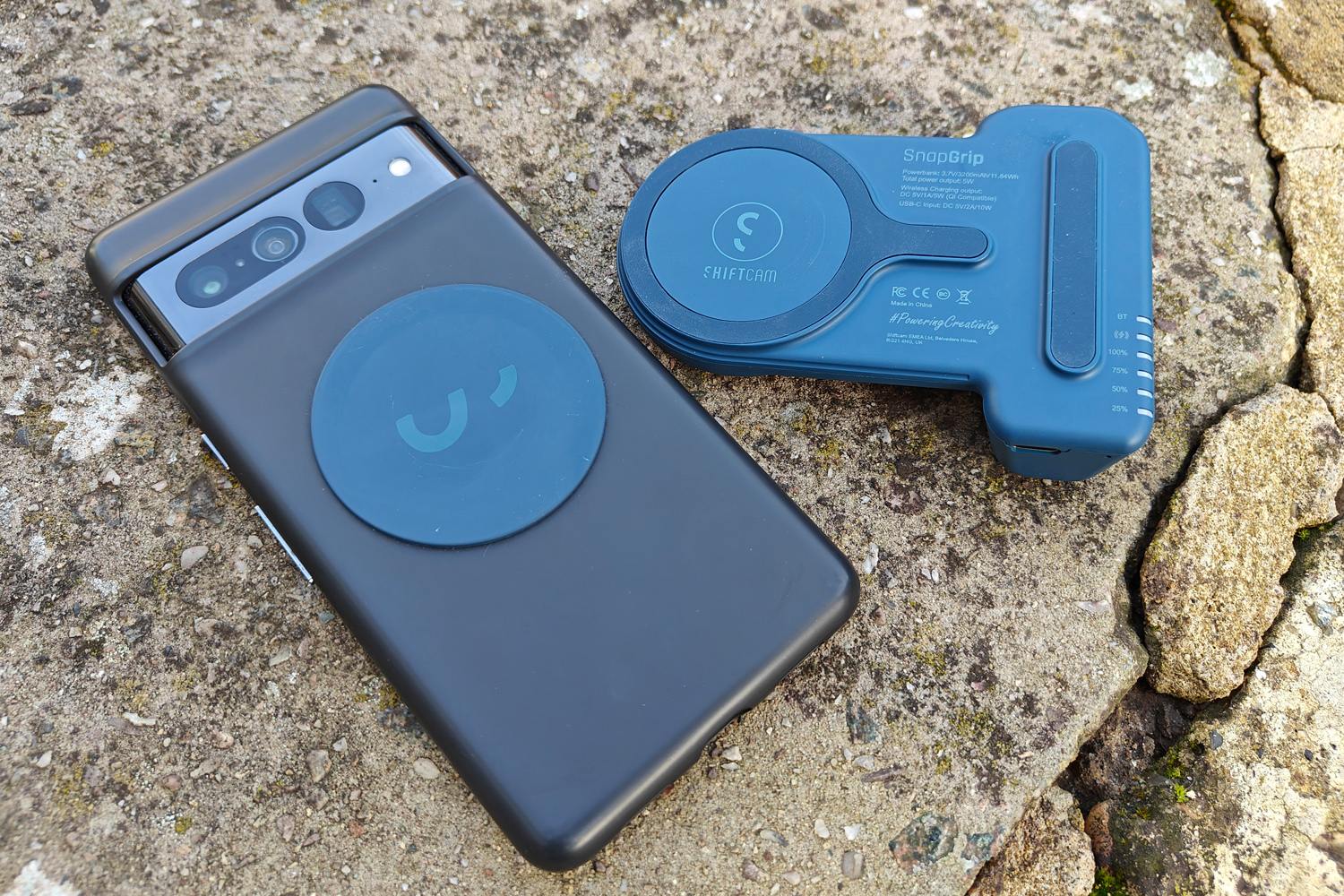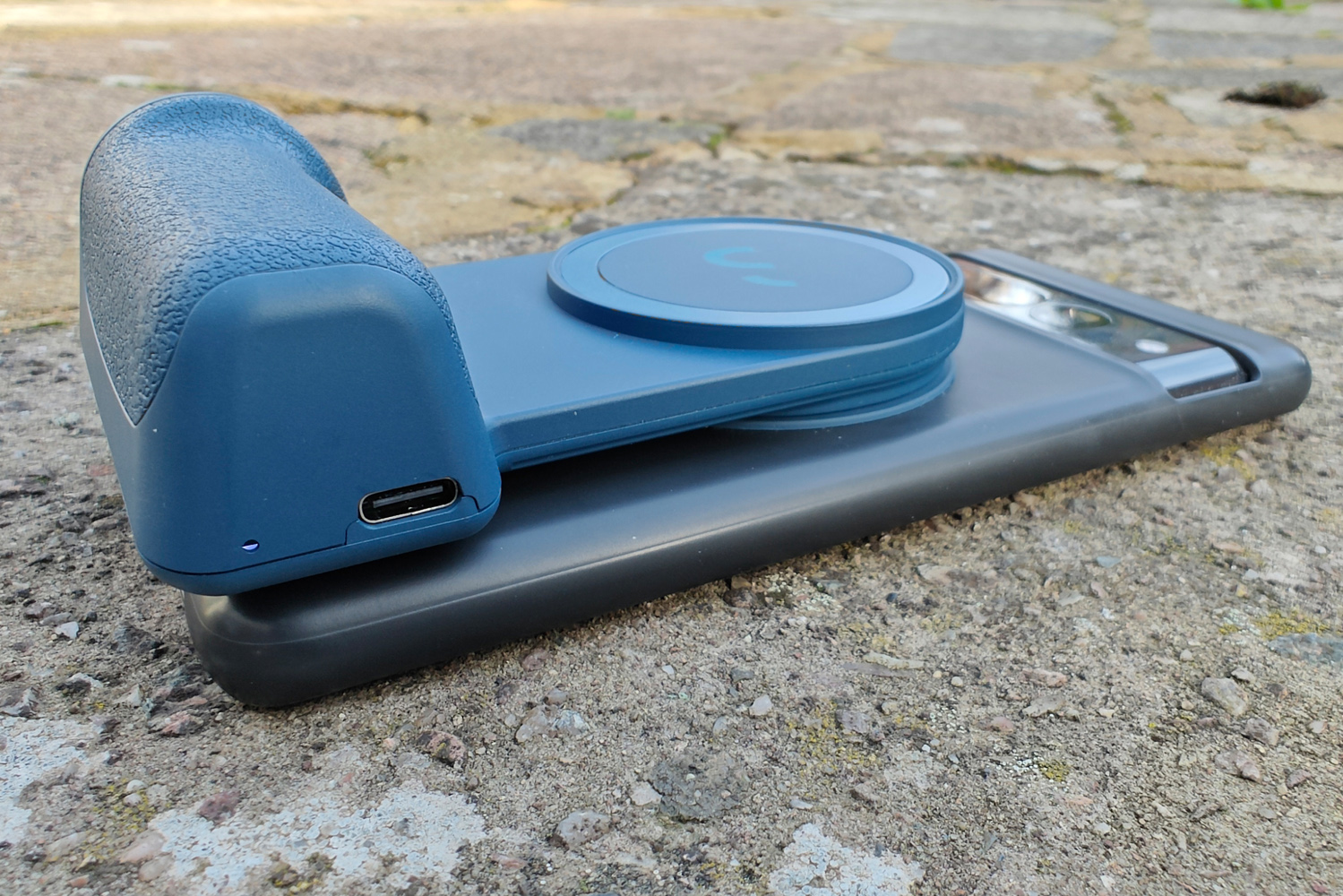 The SnapGrip itself is a lightweight slab of soft-touch plastic, with a circular magnet system at one end that plays nicely with the other accessories, and a large hand grip on the other. The grip has a rougher texture that gives plenty of purchase. Two buttons up top control power and the camera shutter, and there's a USB-C port on the underside for charging.
A series of LEDs at the base show how much juice is left in the battery bank, and whether the SnapGrip is paired to your phone. They're neatly placed so only the beefiest of handsets will obscure them.
While mainly aimed at newer iPhone owners, the SnapGrip will also play nicely with Android phones and older Apple handsets. Or rather it will if you don't mind sticking the bundled magnetic puck onto the back of your phone. The strong adhesive means your phone ain't letting go any time soon, but it'll also be a pain to remove if you decide to sell your handset later down the line. We reckon it's better to stick it to your phone's case, if you're using one.
Unlike the more serious ProGrip, which only comes in black, the SnapGrip can be had in four other, more colourful hues. We're big fans of the Abyss Blue option, which compliments the blue iPhone 13 nicely. There's no word if we can expect a purple option to match the newer iPhone 14 though.
Features: kitted out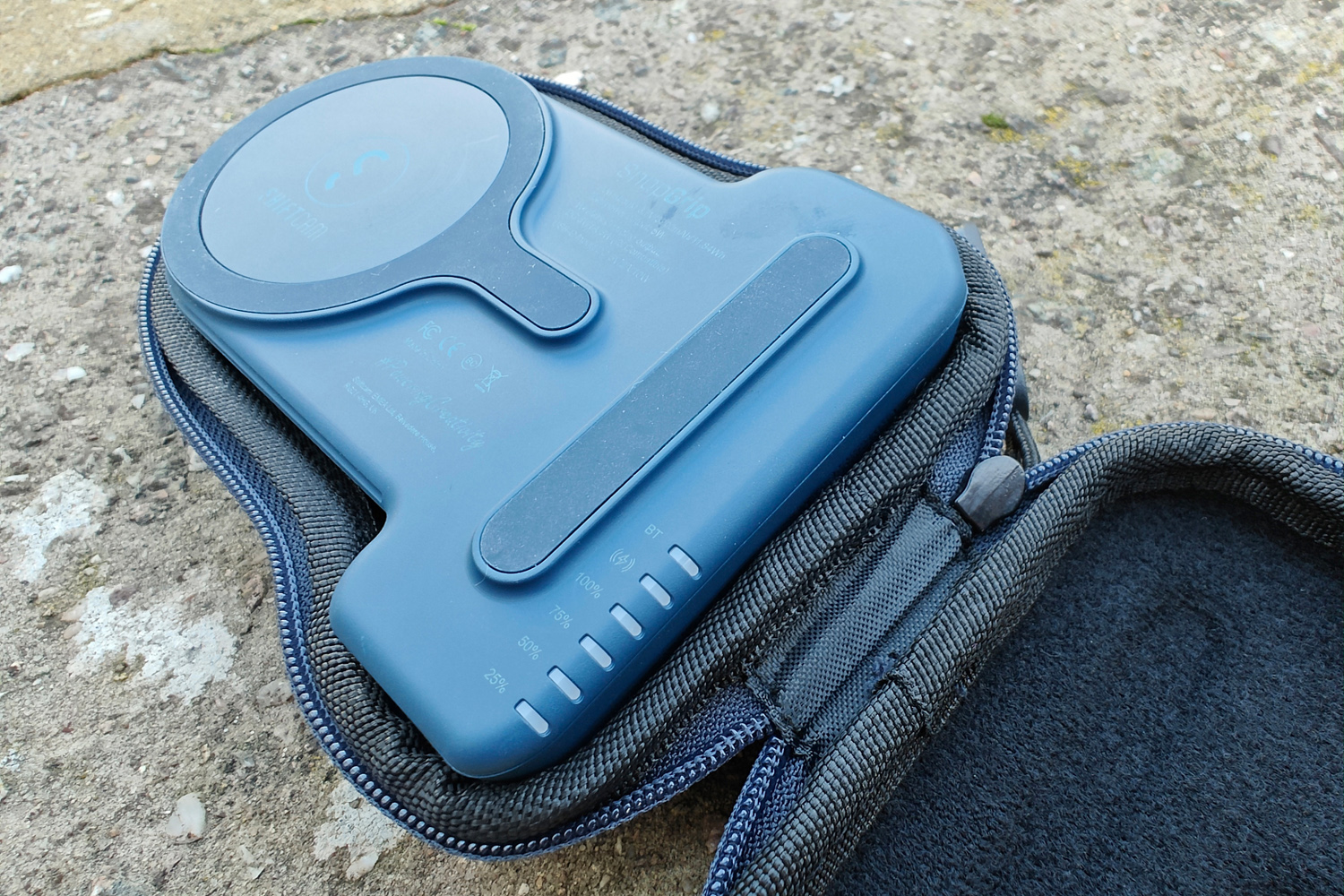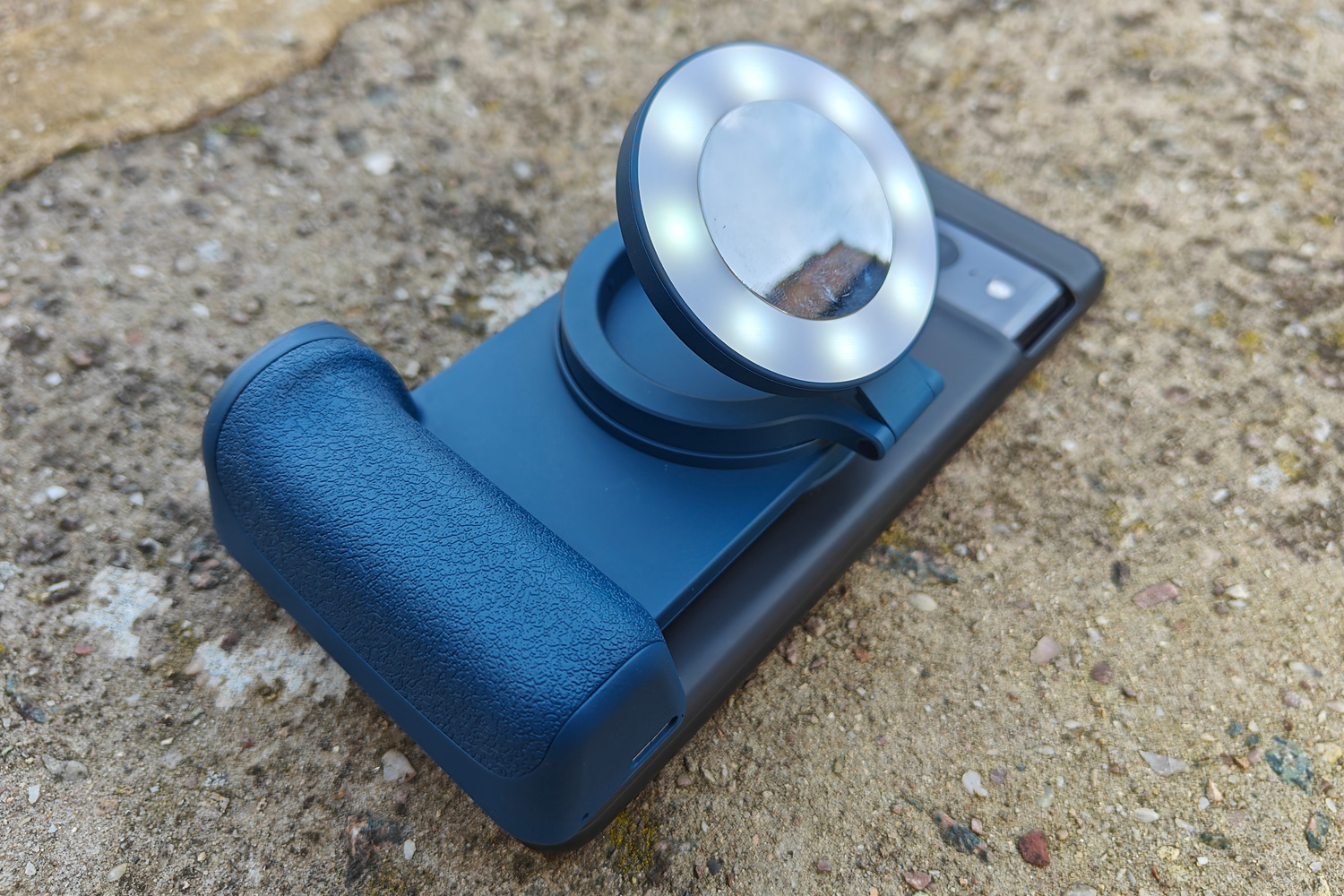 Stick the SnapGrip onto your phone and it stays firmly locked in place, while also being easy enough to pull off again without too much force. You can use it to prop your phone up vertically on a desk when you're not out snapping, which is handy for hands-free video calls.
The 3200mAh battery should boost the lifespan of a standard iPhone by a considerable amount. But because your handset is powered on while wirelessly charging, and therefore still using juice during the refuelling process, you're not quite doubling battery life. The 5W maximum output also means it's also not the speediest way to recharge. Think of it as a useful backup if you're caught short while out shooting, than an alternative to plugging into the mains when you're really running low.
Once you're done the SnapGrip can be stashed in a zip-up hard shell carry case, which will keep it cosy when chucked in a backpack. It's worth using, as even after a few weeks of careful camming we noticed our sample had picked up a few scuffs.
The other accessories don't feel quite as sturdy, but the tripod is tough enough to support the combined weight of the grip and your phone. The key light has an articulating hinge so you can angle it to better illuminate your subjects, and four brightness settings to toggle between. It's USB-C rechargeable, just like the grip, so you don't need to mess around with multiple cables. It's only strong enough for portraits, though – further away subjects aren't lit up to nearly the same extend.
All three are MagSafe compatible, so you can stack the lot if you're so inclined.
In use: point and shoot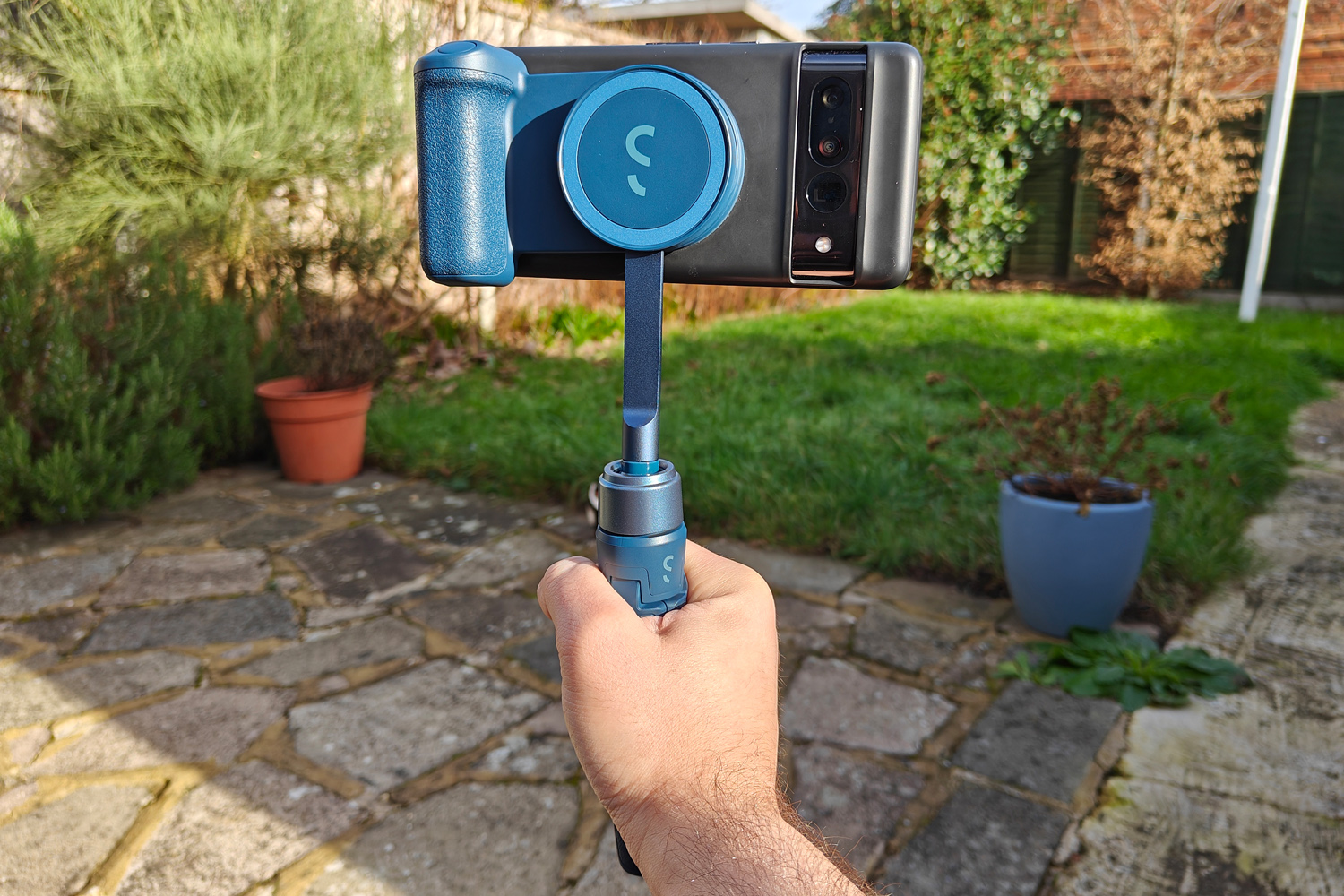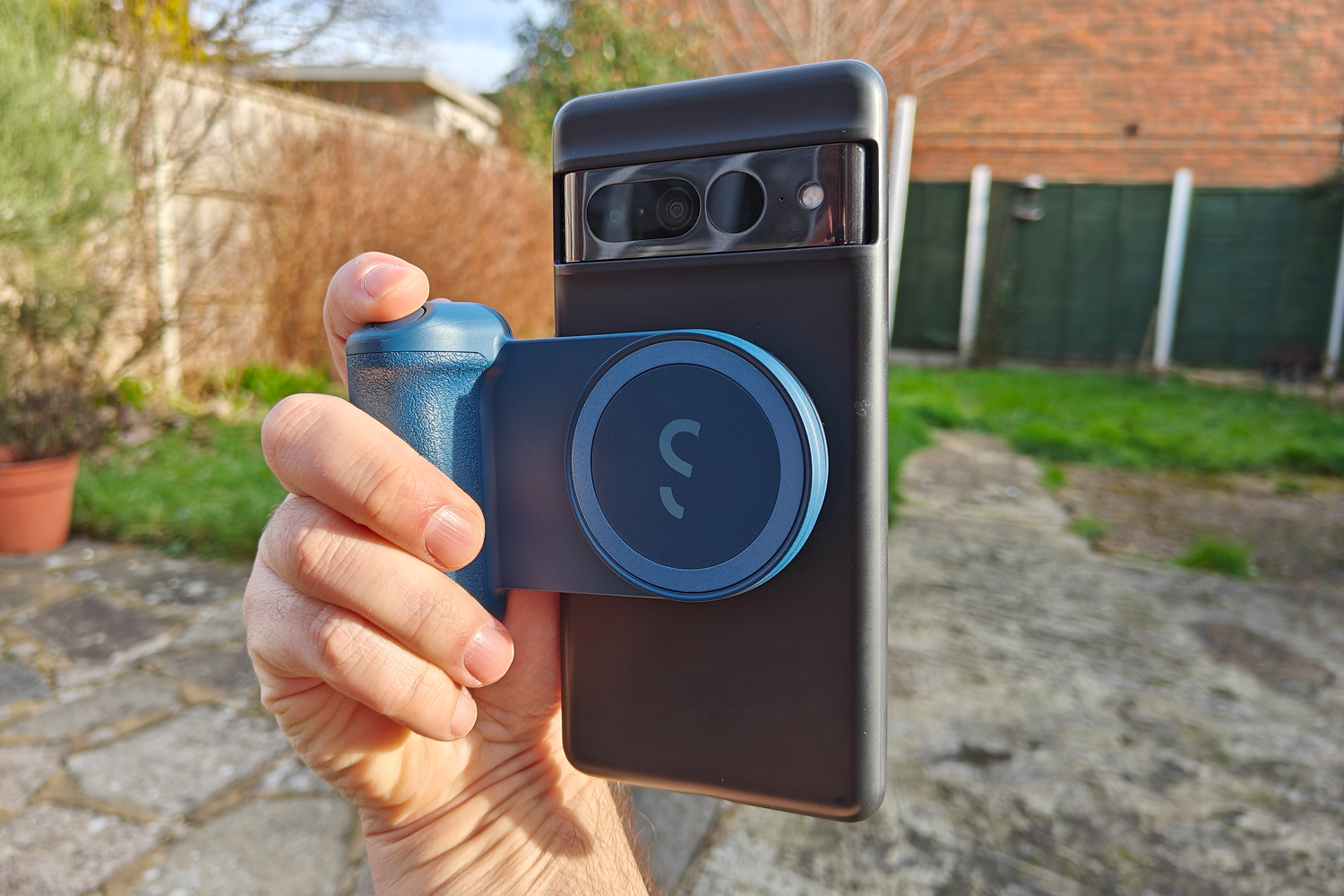 You're not getting the full DSLR experience, as the Shiftcam SnapGrip doesn't half-click to focus, but it's still a welcome step up from simply using your phone to take photos. You don't have to keep one eye on your shutter finger to make sure it's hovering over the right part of the screen to fire off a shot, so you can concentrate on framing your subject and thinking about composition.
You're able to tilt the phone at more extreme angles, and shoot one-handed without worrying your expensive gadget is going to slip from your grasp and smash on the floor.
The grip can be rotated so the phone is held vertically, while still giving you plenty of purchase; it's perfect for shooting TikTok clips and Instagram Stories, although there's no clever stabilisation tech here. if you want smooth video, a gimbal remains the top choice. It's also worth keeping in mind some ultrawide camera lenses will be able to spot your hand when holding it this way.
Shiftcam SnapGrip verdict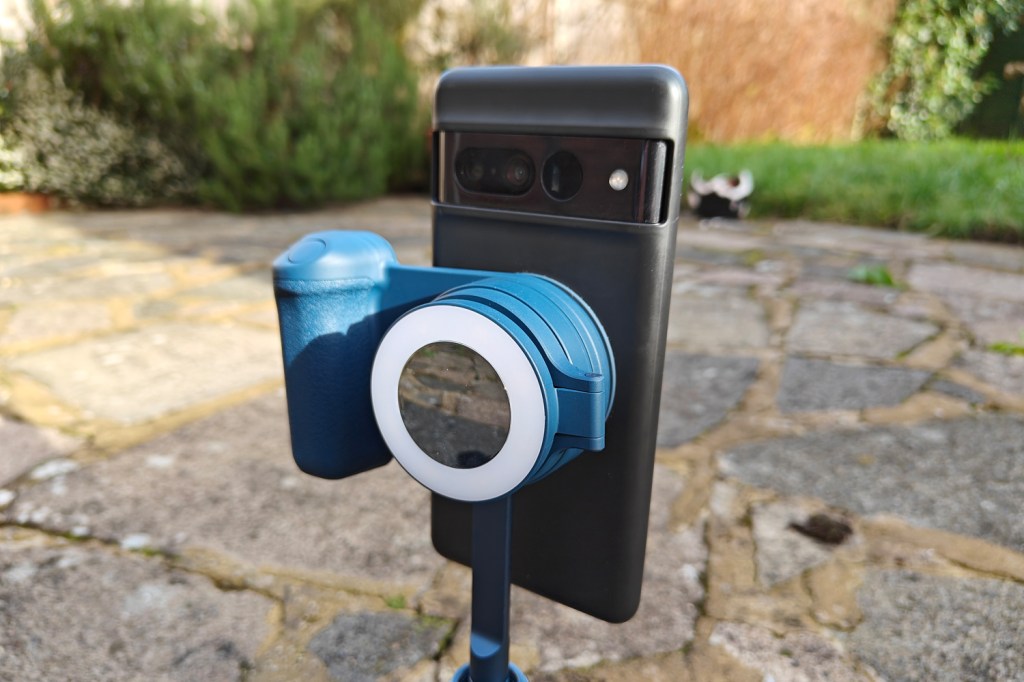 Phone photographers wanting a more traditional experience will feel right at home with the Shiftcam SnapGrip. The modular accessory kit brings convenient and comfortable shooting, without morphing your handset into a hulking slab of plastic that no longer slides into your pocket. When you're all snapped out, it simply pops off until next time.
We think the £130 Creator Kit is a relatively pricey add-on if you don't have much use for the tripod/selfie grip and key light, and vloggers will need to decide if they'd gain more from a gimbal's image stabilisation than the SnapGrip's stills-focused convenience.
It's not nearly as slick for non-MagSafe handsets, although it works well enough. But seeing how Apple's official MagSafe Battery Pack will set you back £99, the £70 SnapGrip on its lonesome is more of a slam-dunk for iPhone owners.
Stuff Says…
A pricey but convenient way to add physical camera controls to your phone. It works best for Apple owners, but if you're serious about phone photography, it's a useful addition for your kit bag.
Good Stuff
Comfortable and convenient for iPhone owners
Accessory kit adds more flexibility
Portable power bank has a decent capacity
Bad Stuff
Stick-on magnet for Android phones not very attractive
Vloggers may be better served by a gimbal
Creator kit is pricey