Skagen Falster review
This pretty Wear OS watch takes 'fashion over features' a bit too far...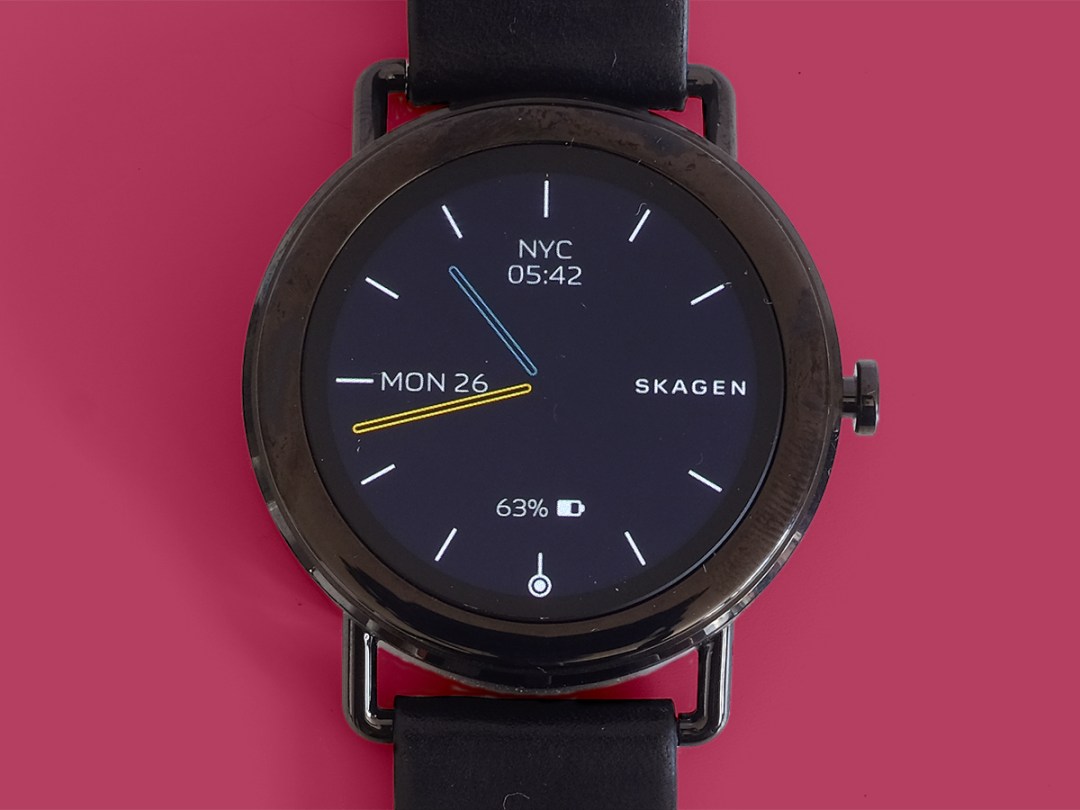 Smartphones certainly live up to their 'smart' billing these days, but smartwatches? Most of them are still at secondary school swotting for their GCSEs.
The Skagen Falster Connected is a Wear OS watch that cops to this reality. It's more watch than anything else, lacking just about all the advanced features you'll find elsewhere.
On the other hand it is just about the prettiest, most comfortable smartwatch you can buy.
Will this be enough to help its wearers overlook its poor battery life too? I wore one for a week to find out…
Design: fetching Falster
The priority of the Skagen Falster is clear: it wants to look good. And it really does.
There's a chunky, smoky black metallic bezel, and similarly chunky bars that sprout off the face to hold the real leather strap. In another watch a bezel this thick might be something to criticise. Here, it just looks stylish.
The sticky-out crown and ever-so-slightly oversized elements in what is a fairly petite watch give the Skagen Falster what's missing from most smartwatches: character.
This watch is also exceptionally comfortable for a Wear OS watch. The strap is super-supple, the main watch part lighter, less thick than most. You can get the Falster with a steel mesh band too.
Screen: mystery OLED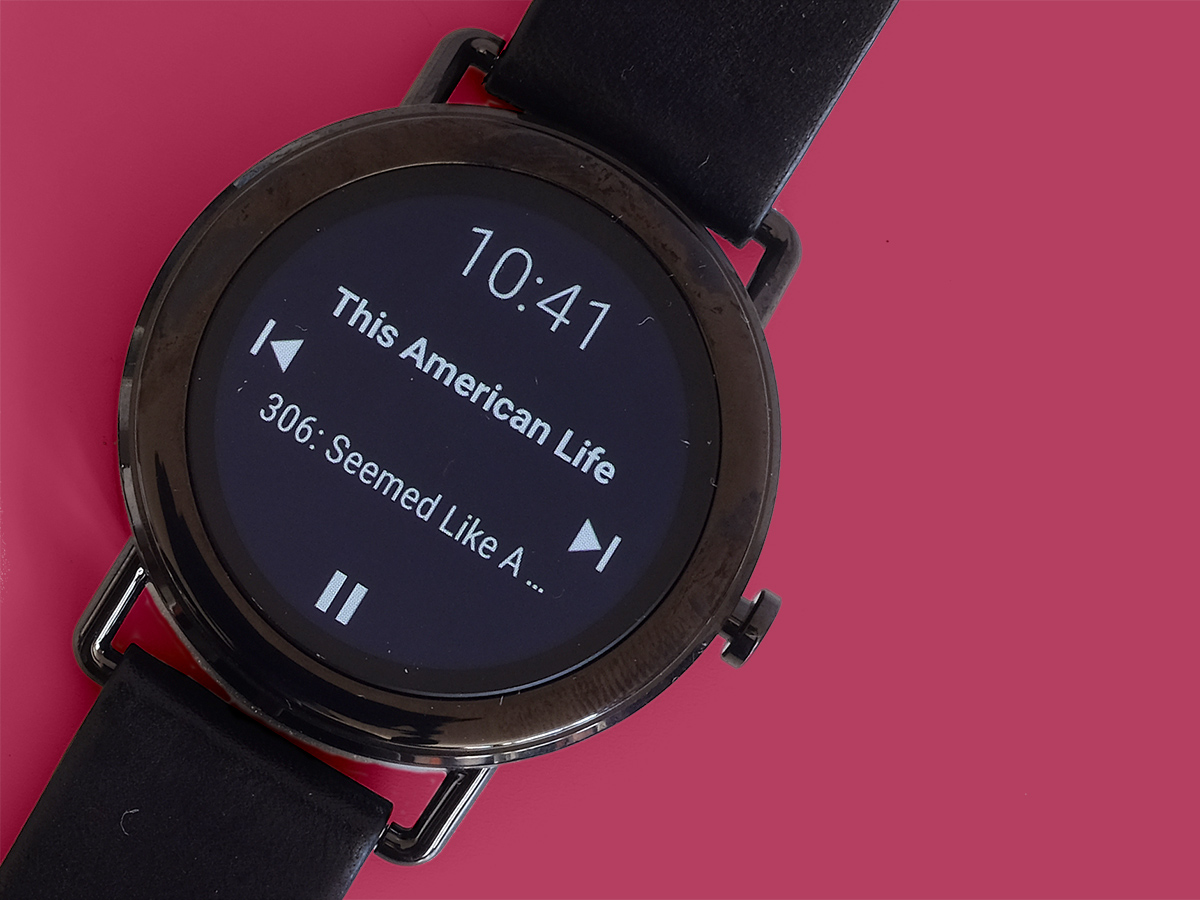 The day-to-day experience of the Skagen Falster is not like an old analogue watch, though. It has a OLED screen like the Apple Watch, which here is a 1.19in round number.
Skagen is so fashion-led it hasn't released resolution details for this screen. And it seems it really doesn't want us to know either, as the usual procedure for taking a screenshot in the Wear app does not work.
Relying on eyes alone, it's clear the Falster isn't the most pixel-rich smartwatch around. There's some of the fizziness you get when a PenTile OLED screen doesn't have ultra-high pixel density.
Still, it's otherwise a perfectly good watch display as long as you don't want to do too much on it. This is a fairly small screen with the perfect blacks of OLED, and decent visibility when you're outdoors.
Features: the cupboards are empty
The feeling that the Skagen Falster is a smartwatch for people who don't want to do too much on their wrist keeps popping up, though.
There are none of the extra features you get with rivals from the big tech brands, like the Samsung Gear S3, Apple Watch 3 or Huawei Watch 2.
There's no GPS, no heart-rate monitor, no clever rotating bezel and no built-in option for local music playback. You can use the Skagen Falster as a basic fitness tracker but it's miles behind the more sporty Wear watches for athletic types.
If you want to track run routes properly you'll need your phone nearby to let the Falster piggyback on its GPS signal. And when using it to track a 5km run on a treadmill, its accelerometer-based tracking reported 10 per cent less distance travelled. All that sweating for 'nowt.
Want more proof the Skagen Falster isn't made for sport? It's only water resistant to IP67. This means you can wear it in the shower, but don't even think of taking it in the pool. The chlorine would probably do a number on the lovely leather strap anyway.
There's no NFC either, which rules-out being able to get your smug on and use the Falster for wireless payments.
Software and battery life: back to basics
So what does the Falster have? Well, there's Wi-Fi, which every Wear OS watch has these days, and a mic.
Using this you can talk to the Google Assistant, and make it remind you to call your mum at 6pm. Still, as usual this feels slower than doing so on your phone. Android Wear may have recently rebranded to "Wear OS", but it's really standard Wear OS 2.0 at heart.
The other part Skagen adds is a selection of ultra-minimalist watch faces. There are just three main ones: digital, analogue and "anidigi", which is a digital face dressed up like an analogue one. They are positively skeletal, just some lines and skinny text. But, hey, it fits the Skagen brand well.
There are some secondary watch faces too, based around world clock times, fitness stats and the weather. They're not that appealing unless you're really obsessed with the forecast, mind. Even a minimalist style can't make some lines of text look that good.
The Skagen Falster is the kind of watch you'll use to look pretty and deliver notifications. That's about it. If you want a more in-depth smartwatch experience, there are better options.
This approach could work if the Falster lasted longer than some rivals. It doesn't, though. It lasts a day off a charge, no more in my experience. And while the wireless magnetised charging pad is smart (if not at all matching in colour or style), the battery doesn't charge quickly either.
The battery life isn't great and the Skagen Falster has fewer in-depth features than the Beano. So why would you buy one? It all comes down to the look and feel.
Despite the thick bezel, the Falster is much prettier than, for example, the Huawei Watch 2. And that matters when it's something you wear on your wrist all day long.
Skagen Falster verdict
If you want the full-fat smartwatch experience, don't buy the Skagen Falster Connected. It has the features list of a first-wave Wear watch, one released in 2015 rather than 2018. It'll handle basics like notifications, but isn't that great for fitness tracking or anything particularly advanced.
Combined with short battery life, this doesn't make the Falster one for the tech-heads. It's a good job it looks and feels good, then. Still, if you don't like the idea of charging your watch as often as your phone, consider one of the many stylish hybrid watches like the Nokia Steel instead.
Stuff Says…
It's the airhead of the smartwatch world, but the Falster certainly looks and feels good
Good Stuff
Looks great
Very comfortable
Bad Stuff
Poor battery life
Very stripped-back features
Not that useful for fitness tracking