Sonos Beam review
Sonos' new soundbar is smaller, cheaper and packed full of smarts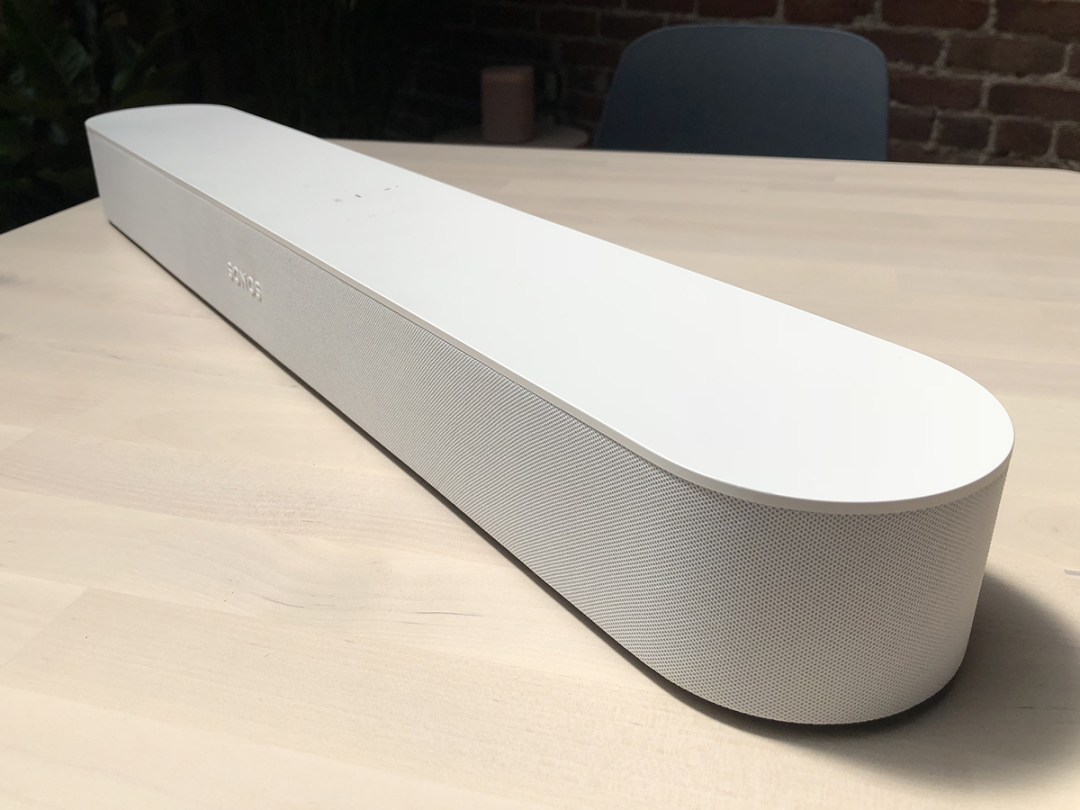 When I first got a Sonos Playbar two and a half years ago, I was so enamoured with the simplicity of the wireless streaming soundbar, I immediately got rid of my existing home cinema system.
Out went the AV receiver and the separate speakers, connected to each other with a spider's web of cables; in came a SUB and Play:3 speaker for surrounds, all talking to each other wirelessly.
But living room audio has gone through another major evolution in the intervening years. Voice assistants allow you to ditch the remote controls and speak to your devices, while Apple AirPlay means you can beam music to your speakers without even using an app.
As good as the Sonos Playbar sounds, it's started to feel as though it's overdue an upgrade.
Enter Sonos' new soundbar, Beam. Beam isn't so much a replacement for Playbar, but more of a new entry level product for people who want to upgrade their living room sound with a product that's simple to use and supports the latest features we've come to expect from smart home devices.
But given its much more compact size, does it have the sound quality we've come to expect from Sonos?
MORE: 21 tips and tricks to awesomise your Sonos setup
Design: Curvy couture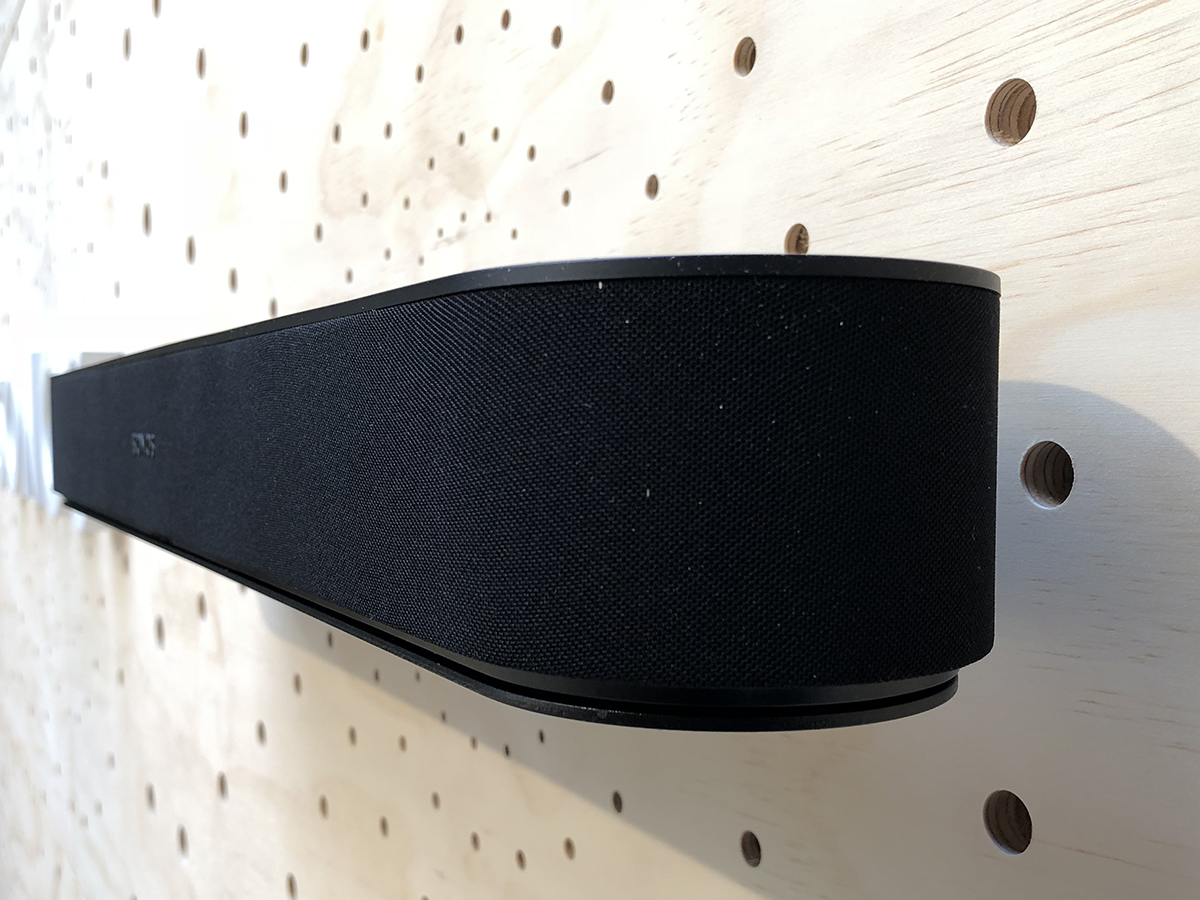 The original Sonos Playbar is a monolithic rectangle of a speaker – so big that it really needs its own shelf on your TV rack.
Conversely, the Sonos Beam has been designed to sit underneath your TV on the same shelf – in many cases, it may even be able to slip in between the legs of the stand.
Take our test TV, for example – Philips' gorgeous 55-inch Ambilight OLED, the 55POS9002. At 8.5cm tall, Playbar cuts off the bottom of the picture when placed directly under the TV.
At 6.9cm, Beam doesn't block any of the image, meaning it basically disappears when watching TV. As long as your TV is over 30-inches, which most living room TVs are, then Sonos claims it will sit comfortably underneath without blocking the image.
Because Beam is designed to be used this way, Sonos has placed the buttons on the top of the device, meaning it's much easier to control than Playbar, which had them on the side. They're touch-sensitive rather than physical buttons, allowing you to play/pause, control the volume, and turn the mic on and off.
Beam is also much more modern-looking than Playbar, following in the design footsteps of the newer Play:5 and Playbase. It has rounded edges, brushed plastic along the top, and a soft-to-the-touch "sock" that goes all the way around the device.
It's also available in both black and white so you can decide what works best with your living room.
Performance: Punching above its weight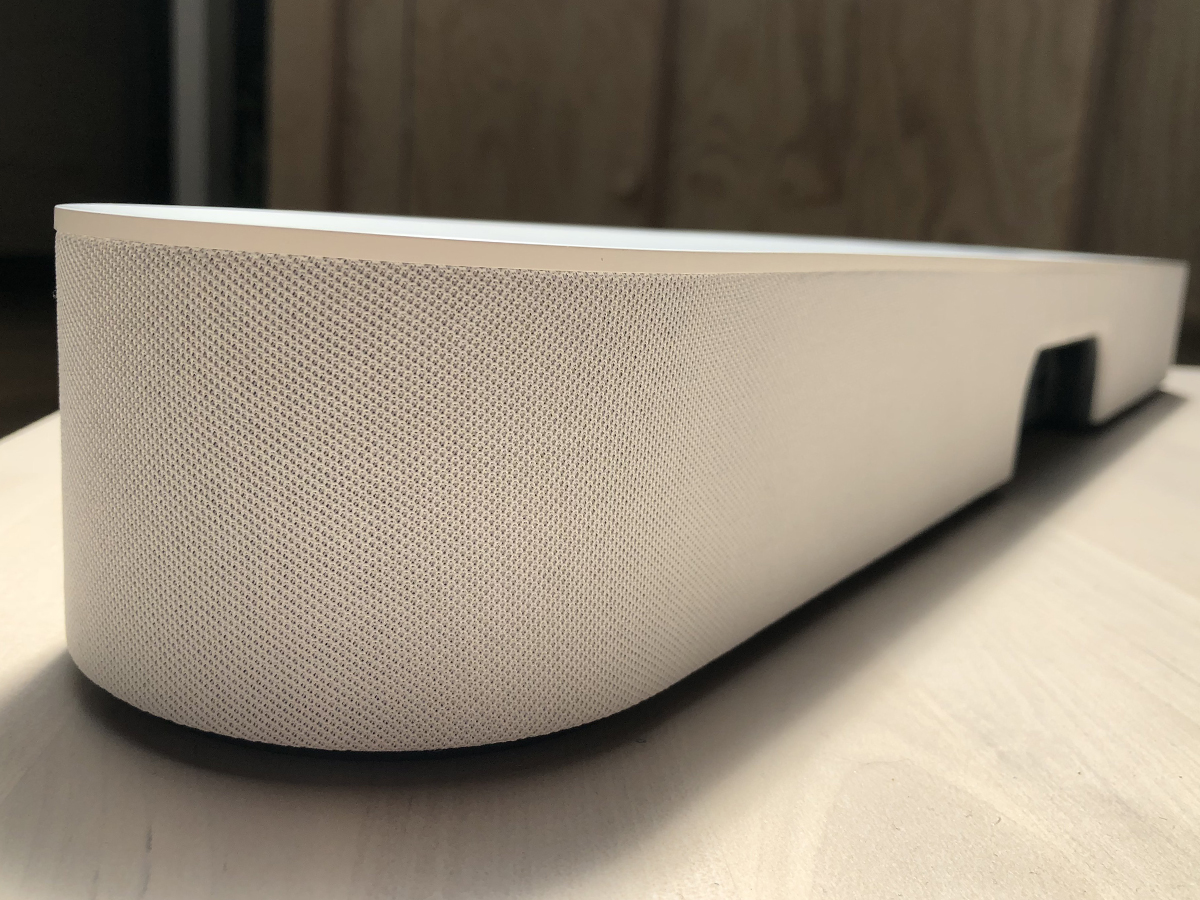 When it comes to sound quality, bigger is often better, as a larger housing usually means more sound-generating components with more space to breathe.
On paper, that doesn't sound promising for Beam. It's 60 per cent smaller than Playbar, has four woofers rather than six, one tweeter rather than three, and five digital amplifiers rather than nine.
It's understandable, then, that there is undoubtedly a performance difference between the two products. But, given one costs £399 and the other costs £699, it's not as marked as you might expect.
In fact, it's actually quite difficult to tell the difference between the two products side-by-side at normal volume levels.
It's only when you're cranking the music up past 80 per cent on Beam that you notice the bass lacks the punch and the vocals lack the clarity of Playbar.
Given that price difference, it's Beam that's easier to recommend for most people. Playbar costs nearly twice as much as Beam, but doesn't sound twice as good.
Once you add a Sonos SUB (£699) into the mix, which goes a long way to rectifying Beam's low-end oomph, it's even harder to tell the difference between the two products.
For most people looking at a Sonos soundbar, you'd be much better starting with Beam and then adding a SUB later as you expand your home cinema setup.
Connectivity: Noah's ARC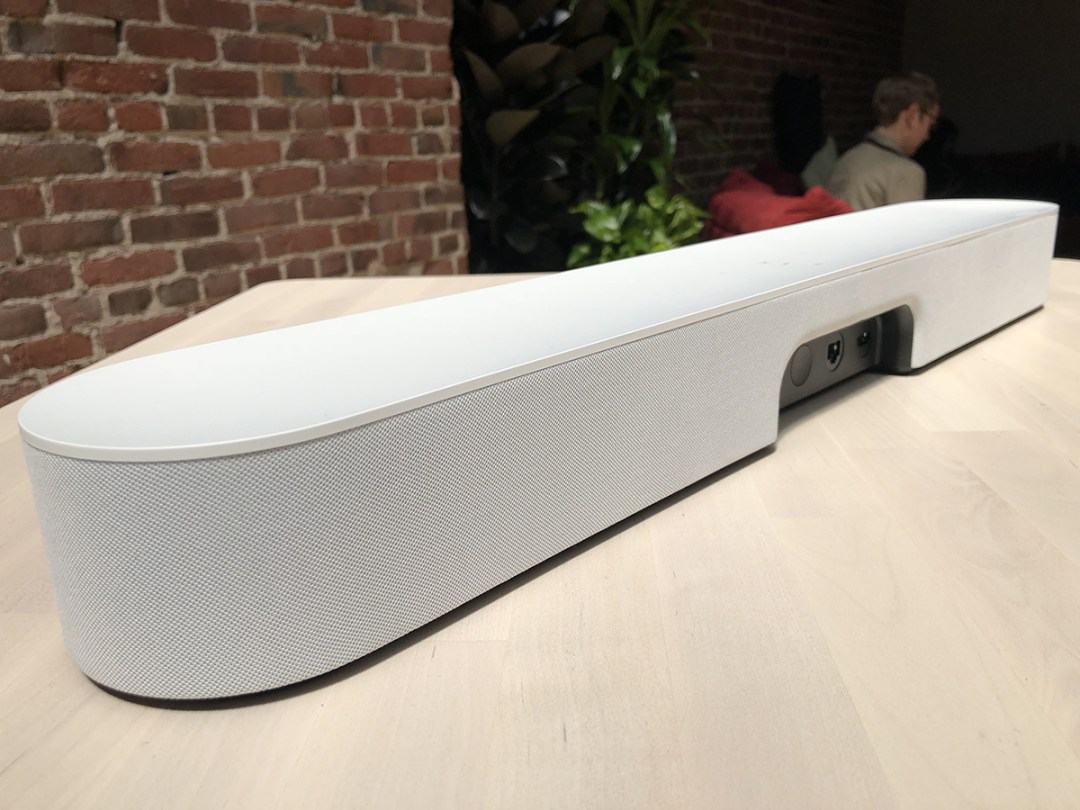 Given Sonos' sells itself as the "wireless home sound system", it's no surprise to find that there aren't many connections on Beam. Around the back of the device, there's just a figure-of-8 power input, wired ethernet connector and HDMI socket.
This is HDMI's first appearance on a Sonos product, and it reflects how AV connectivity has changed in the last few years.
Whereas Playbar had an optical input which was simply a one-way audio connection, Beam supports ARC, which means Beam can talk to your television and vice versa. This means you can use your TV remote to control volume on Beam, while Beam can turn your TV on and off.
This means that you're going to need a TV that supports ARC – most big brands have done so since 2010 or so – and have a spare HDMI socket on the back of it.
This was a small problem for us, as we had a satellite box, a media player and a couple of games consoles taking up the four ports on our test TV. Thankfully you can pick up an HDMI switch for a couple of quid if you're struggling.
Once plugged in, it's very easy to set up – the Sonos app immediately recognised we were using a Philips TV, and gave instructions on how to activate ARC in the settings. And if you're using an old TV that doesn't support ARC, then you can still use the included optical adaptor.
Another small change on Beam is that it doesn't have a second ethernet port like Playbar – something that is only going to be a pain for hardwiring SUB owners who also want to hardwire the Beam to their router.
For absolute stability, or for households with patchy wi-fi, using wired over wireless is recommended, but we've never had any trouble with Sonos' wireless connectivity. It's also less than £20 for a wired switch if need be.
Features: Beam me up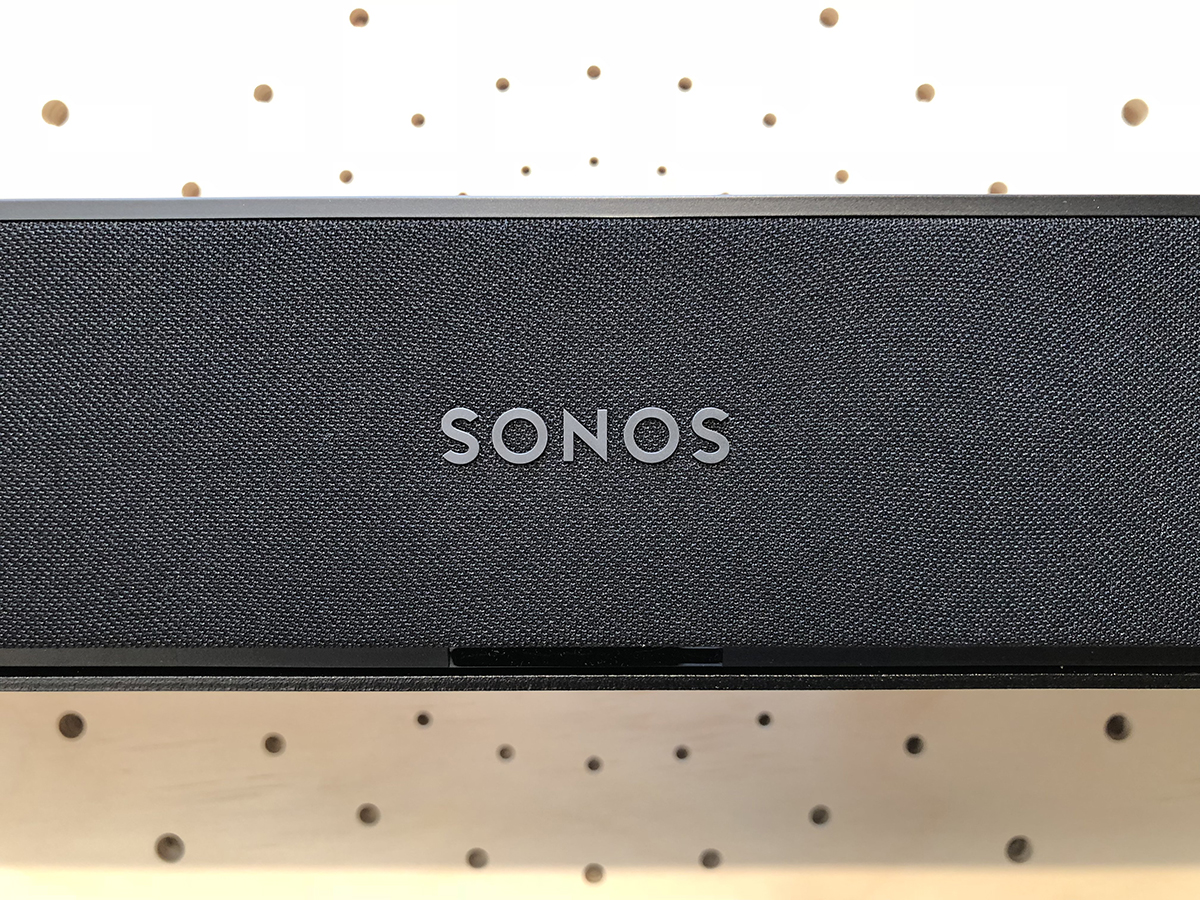 While Beam can't quite match Playbar when it comes to sound quality, it blows its older brother out of the water when it comes to features. Beam is packed with modern tech from a built-in voice assistant to new streaming standards and the ability to talk to your TV.
Let's start with the headline feature: voice assistance. Beam launches with Amazon Alexa built-in, and will support Google Assistant at some point in future (although don't hold your breath – it's been a long time coming and still doesn't have a launch date at time of review).
Once you've updated the Sonos app on your mobile device and linked Beam to your Alexa app, you're good to go.
Almost anything you can do with other Alexa devices you can do with Beam – ask her for the weather, the news headlines or her favourite member of The Beatles, and she'll obligingly give you an answer.
Not every Skill works just yet – such as voice calling – but we expect newer features will filter through with time.
The best thing about having Alexa baked in, of course, is playing music using your voice. Simply ask Alexa to play music by Leon Bridges, or BBC Radio 4, or a playlist on Amazon Music and she'll happily serve it right up to your Beam.
The aforementioned ARC support also means Alexa can control your TV, so you can say things like "turn off the TV" or "turn it up" to control the volume.
If you're fully bought into Amazon's ecosystem and have a Fire TV device, you can also request TV programmes and movies too, saying "show me movies starring Tom Cruise" or "play Stranger Things".
Using this setup, you can pretty much eradicate the need for a traditional TV remote. It's pretty cool.
Thankfully, the five far-field microphones on Beam do a really good job of picking up the control word "Alexa" over the noise of music or TV shows. Sure, you need to shout it a bit once you get past 80 per cent volume levels, but we didn't encounter any intelligibility errors in testing.
It's better than even Amazon's own Echo devices. However, it's worth noting that existing Sonos home cinema users need not buy a Beam just to get Alexa – you can add a £50 Echo Dot to your living room to achieve all of the same features aside from TV control. But it is nice having it all in one device.
If you're an Apple device user, then you're going to love AirPlay 2 support. It means that you can sidestep Sonos' app and play whatever's coming out of your phone on Beam, whether it's music, audiobooks or something on YouTube.
It's always been a little finicky playing music in Sonos' app, so this is a welcome new feature for Apple users.
The only issue we found was getting Apple's Home app to find the Sonos Beam so we could use Siri to control what was playing on it, but we expect this to be ironed out for launch.
Again, it's worth mentioning that existing Sonos home cinema owners will get Airplay if they have a Playbase, or add Sonos One or Play:5 (gen 2) speakers as rears.
Sonos Beam verdict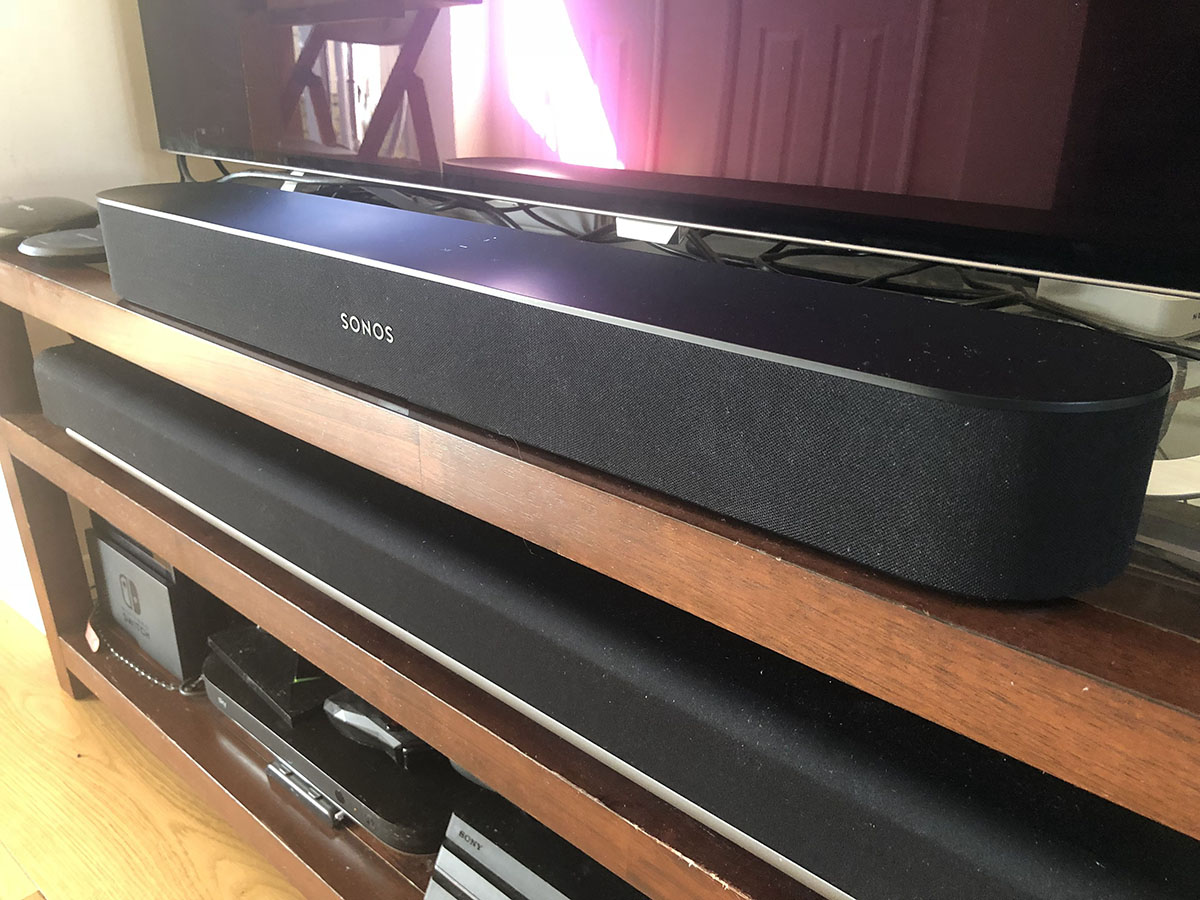 Sonos' home cinema gear has always been a little expensive, but with Beam, it's created a great value soundbar.
It sounds ace, comes with loads of features, and is compact enough to fit into the average living room AV setup without taking over.
If you want the best sounding system then Playbar or Playbase are still the products to go for, but they're a lot more money, they don't have Alexa, and they don't control your TV in the same slick way as Beam does.
As it stands, Sonos Beam is easy to recommend for anyone who loves watching TV, and a high-value intro to the brilliant world of Sonos home audio.
READ MORE: Which Sonos should you buy?
Stuff Says…
With great sound and amazing features, Beam is Sonos' smartest and best value speaker yet
Good Stuff
Looks good and sounds great
Alexa and AirPlay 2 integration
HDMI ARC support
Cheaper than Playbar and Playbase
Bad Stuff
Not as punchy as Playbar
Only one ethernet port
Not all Alexa skills work