Sonos Sub Mini review: super punchy bass for the rest of us
It's a smaller sub but, as you'll hear, small doesn't mean the Sonos Sub Mini is underpowered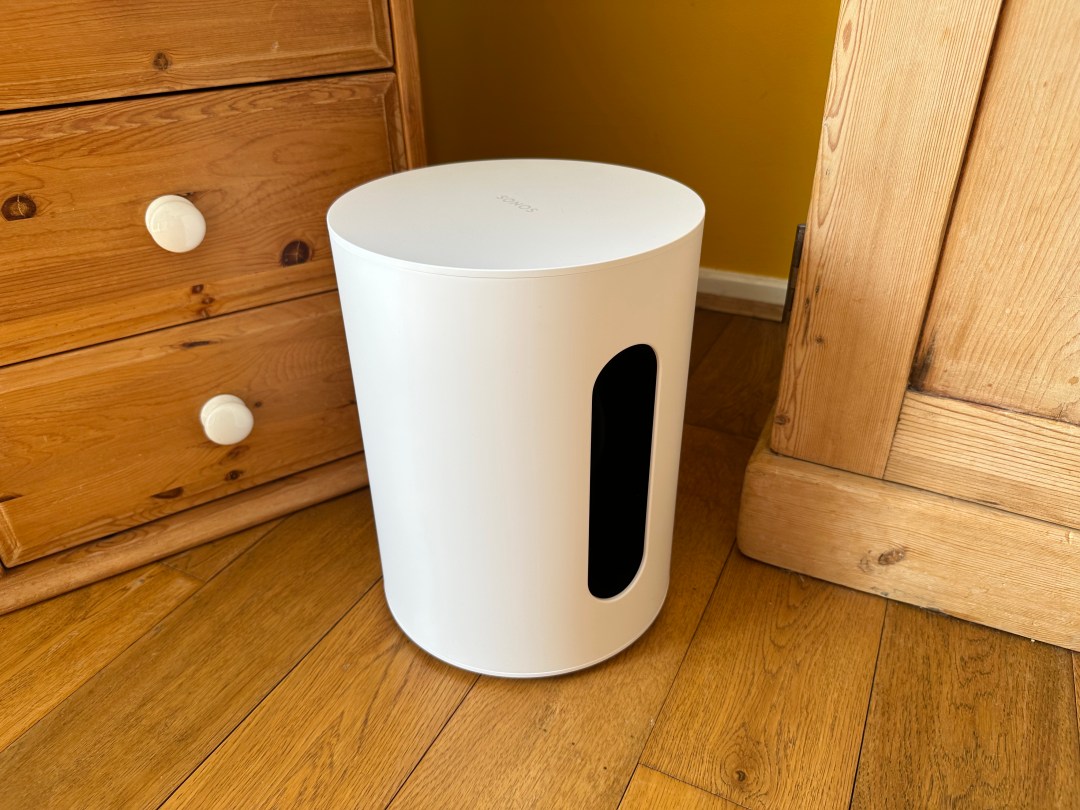 Sonos has had a busy few months – it dropped the optical-only Sonos Ray soundbar in our laps as well as some new colours for the Roam. It introduced its own voice assistant, too. Now it's back with this brand new product. It's a small subwoofer called the Sonos Sub Mini. Well when we say small, what we actually mean is 'smaller'.
Sonos already has the $699/£749 Sonos Sub available, but this takes the same concept and, er, makes it Mini at a price point of £429/£429 – still not an inconsiderable outlay for what is an add-on device.
There is a simple practical side of it, of course, and that is the Sonos Sub is simply too big for most homes, especially somewhere like the UK.
Indeed, Sonos is quite explicit that the Sub Mini is designed for small-to-medium size spaces and to work with lower-priced Sonos gear, particularly Sonos Ray and Beam on the soundbar front. But the recommended product pairing list also includes the One series of speakers and Ikea Symfonosk gear, too. That's not to say it won't work with other products like the Sonos Arc, but that's not what it's designed for. Note that the more expensive Sub (now on its third generation) is also fine to be used with products like the Playbase and Playbar as well as the Beam.
Design and setup
Instead of the large square that is the Sub, the Sub Mini is a cylinder. But it shares some of the same design language with a huge cut-out on either side. Subtle Sonos branding on top is a nice touch.
It's not really a subtle device – your eyes and ears will certainly notice it's there – but it won't cause your in-laws to balk at its bulk, either; Sub Mini measures 23x31x23cm compared to the Sub's 39x40x16cm bulk.
The Mini also clocks in at 6.35 kg compared to the 16kg Sub and so it's a lot more palatable for small to medium-sized living rooms – it doesn't seem horrendously big next to our TV unit carrying the Sonos Beam (Gen 2) which we used for this test plus our 55-inch 4K TV. As with other Sonos products, it's available in black and white. As you can see, ours is very much white. It's a matte finish rather than being shiny at all.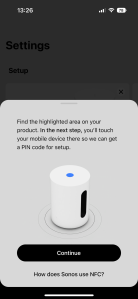 Setup is, as we have come to expect from Sonos, really rather seamless. You hold your phone to the top of your device to pair it via NFC and your Wi-Fi network password should be transferred over from when you set up your other Sonos device, such as a soundbar. There's a physical 'join button' on the rear but you shouldn't need to use this, your product will generally be detected automatically.
If you're using the Sub Mini with the iOS app you'll be able to tune it to the room with Trueplay which is a feature that's now been copied by many competitors. As you'd expect, the volume stays in sync with your paired soundbar or speaker, adjusted by your TV remote or the Sonos app. You're also able to adjust the EQ in the app, which is a nice-to-have if you should need. We experimented with this, but reset it for most of the listening we did for this test.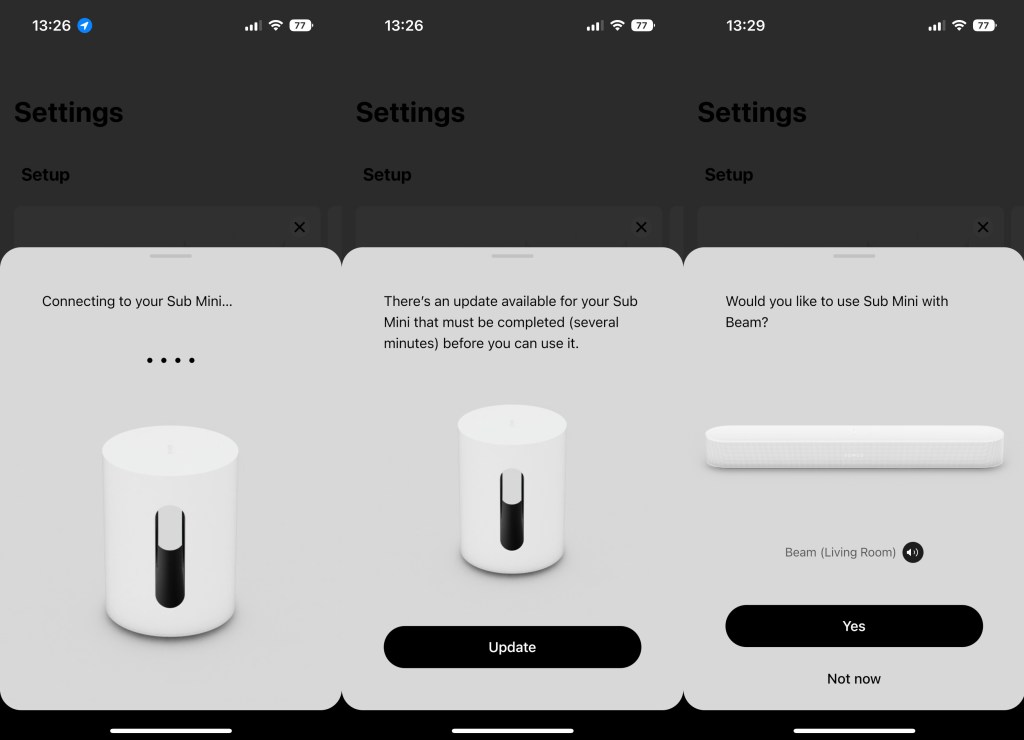 Features and connectivity
The Sub Mini boasts dual 6-inch force-cancelling woofers plus dual Class-D amplifiers. If you connect it up to one of the aforementioned Sonos models it'll handle the low frequencies primarily leaving the other Sonos gear to focus on the mid-range and high frequencies.
As with the main Sonos Sub, Sub Mini is wireless (using 5GHz for a robust connection) aside from power. You can choose to connect the Sub Mini up via Ethernet if you choose but most will opt for wireless which worked excellently for us. There's no ongoing maintenance with the setup – it just works. Of course, if you are buying it with the Beam (Gen 2) for example, you are talking about the thick end of a grand, but it'll be worth it.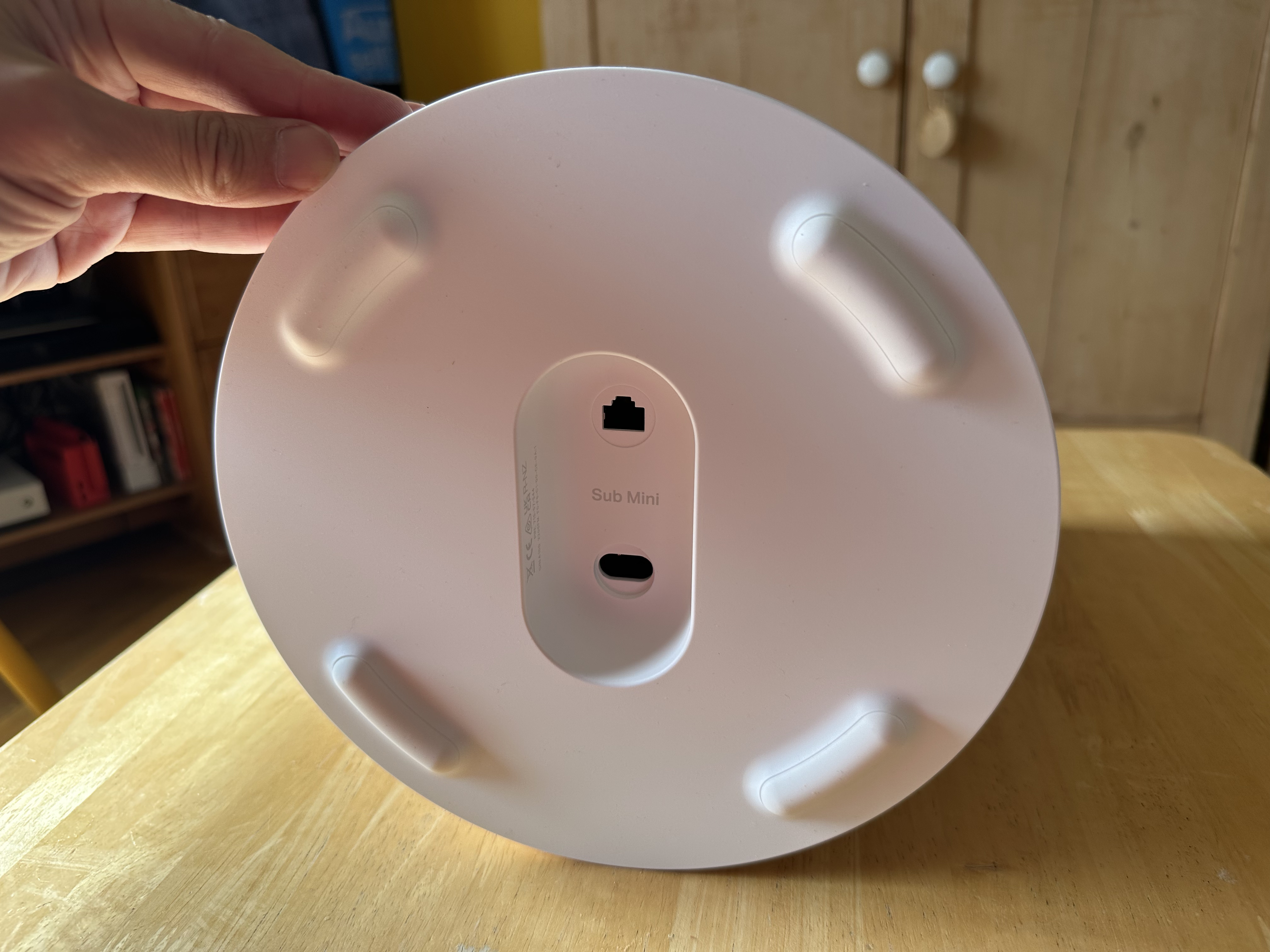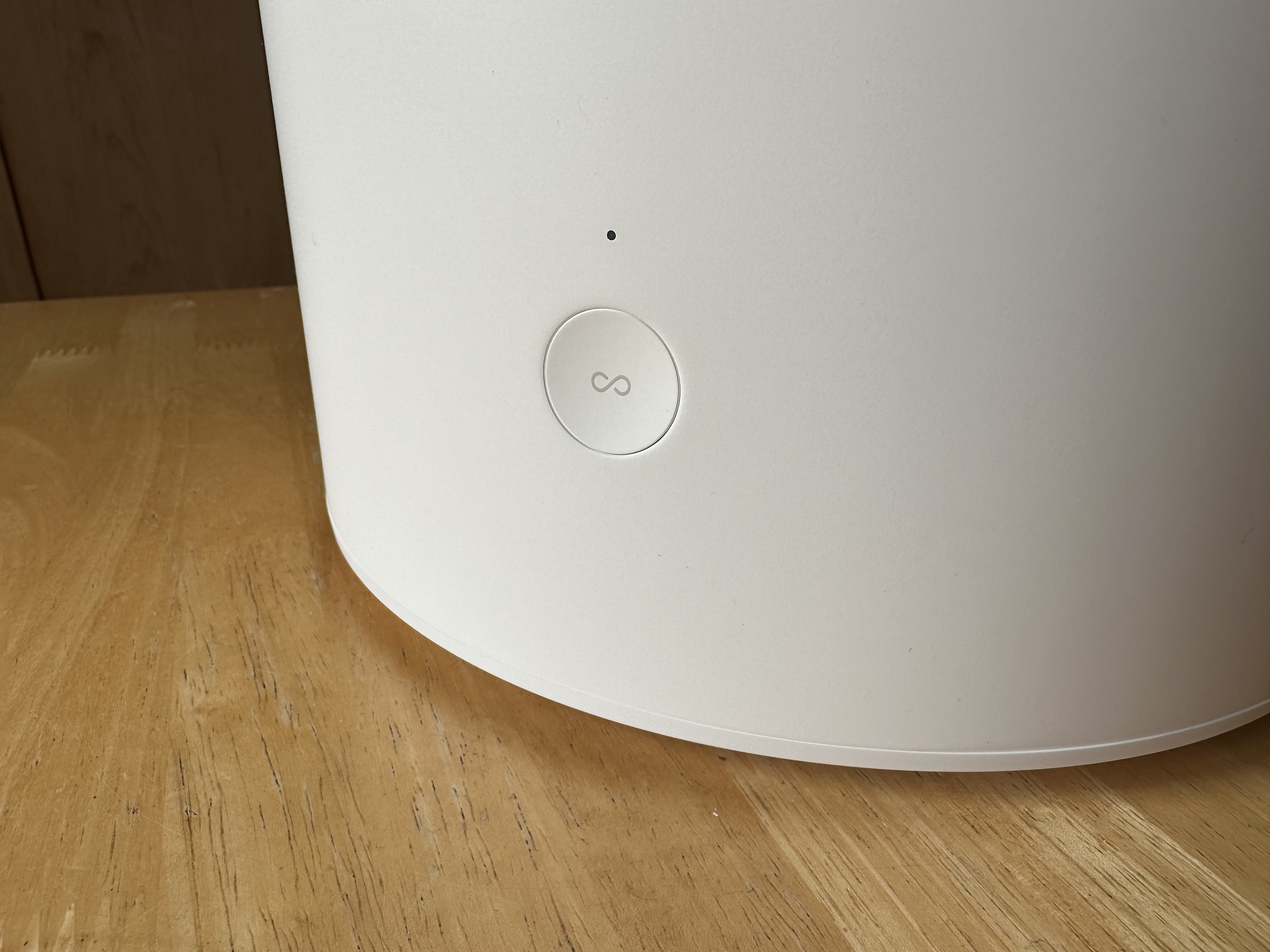 Audio quality
The Sonos Beam (Gen 2) has impressive sound on its own as you'll probably know, including support for Dolby Atmos, but its bass capabilities were certainly shown up by the addition of the Sub Mini. It really pushes things to a new level in terms of quality and low-end grunt.
It was brilliant with music. Our samples included Dua Lipa's Don't Start Now and some of our favourite testing tracks such as Roni Size's Brown Paper Bag and The Chemical Brothers' The Sunshine Underground.
In terms of TV shows and movies – which is really where you'll find the experience most enhanced we suspect – the difference was remarkable for incidental music and effects in particular (hi Jurassic Park). Crucially it isn't ever to the detriment of dialogue. We didn't have a single moment where we thought that the sound needed to be more effective in some way.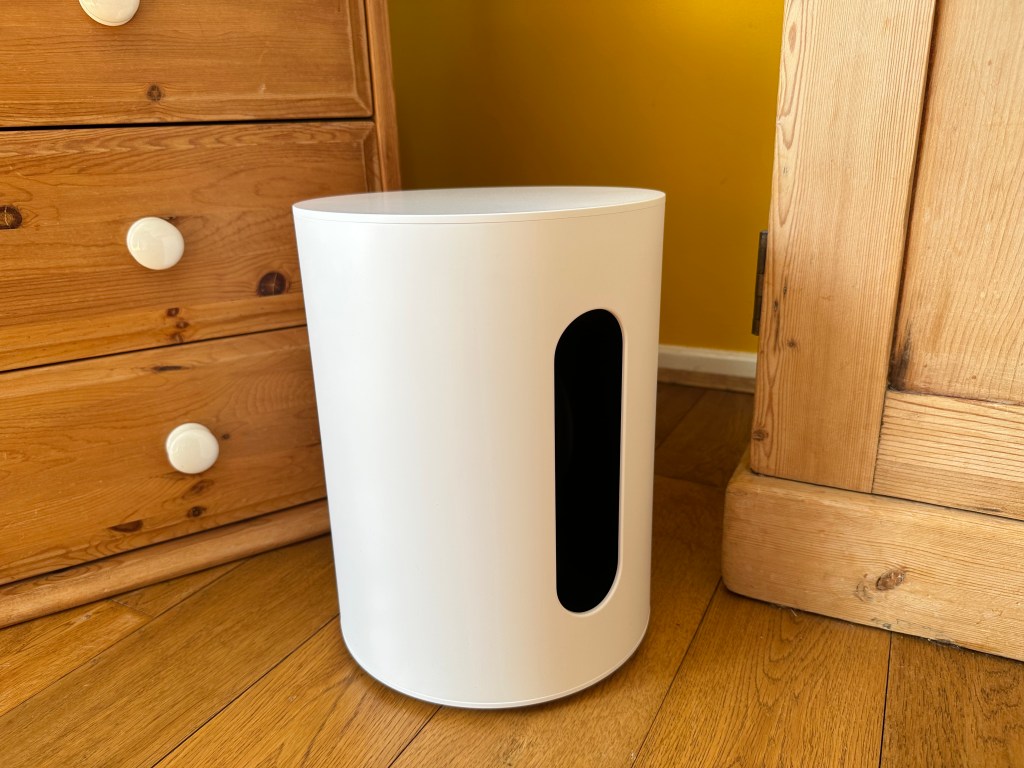 If you turn up the volume you can certainly tell the bass is alive in other parts of the house.
What is perhaps most impressive is the complete lack of distortion as the bass powers up – if you put your hand on top of the Sub Mini you can only feel a small amount of vibration while some big beats are being dropped. We must confess, we weren't quite sure it was working properly at first because of this. But ur ears were certainly telling us otherwise. There's no rattling of the other random stuff that surrounds your TV, for example. Sonos says this is because both woofers face inward and so create a force-cancelling effect.
Sonos Sub Mini verdict
We knew the Sonos Sub Mini would enhance our setup, but we weren't sure by how much – so we were very pleased that it brings a huge amount to the party (especially if you are having a party).
But the best thing about it is that it isn't too in-your-face; it's liveable-with bass, not bass so heavy that you can't hear yourself think. It's adjustable too, but not by a huge amount. Sonos could provide more options there. Though that would inevitably lead to some using the products with sub-optimal settings.
Downsides? There aren't many, but the price is pretty hefty for what is ostensibly an add-on product for an existing system.
Stuff Says…
Give yourself the gift of powerful yet dynamic low-end frequencies – remarkably without distortion or rattling. It's expensive, but it's the perfect partner for your Ray or Beam.
Good Stuff
Powerful yet refined
Seamless setup and pairing
Remarkable lack of distortion
Bad Stuff
It's pretty expensive
Bigger homes need the main Sub
Can be paired with Sonos gear only
Sonos Sub Mini tech specs
| | |
| --- | --- |
| Audio | Dual Class-D amplifiers, dual 6in force-cancelling woofers |
| Connectivity | 802.11g abgn Wi-Fi (plus proprietary 5GHz connection), 10/100 Ethernet |
| Other | Adjustable EQ, Join Button |
| Size | 31x23x23cm |
| Weight | 6.35kg |
| Colours | White and black |