Sony A7 IV review: a full-frame hybrid camera that can do it all
Sony's mirrorless all-rounder is back and better than ever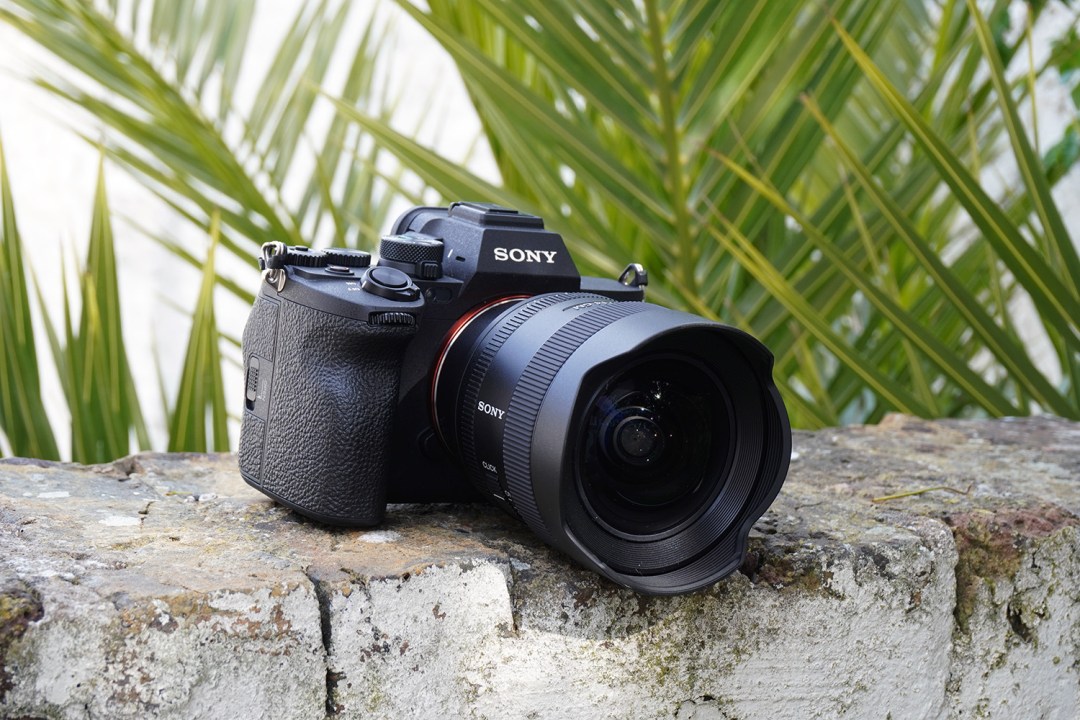 As the name suggests, the Sony A7 IV is the fourth model in the Japanese maker's long-running A7 series of mirrorless full-frame E-mount cameras.
While the A7S and A7R series feature specialist models tuned for specific tasks, the A7 is Sony's vanilla mirrorless camera. It doesn't have the highest specs, the best performance or the most eye-catching features. But it's also more affordable than every other full-frame option in Sony's stable – and it's pretty handy for both stills and video.
Yet to call the A7 IV 'standard' feels like a disservice. After a few days spent shooting with the thing, it's clear that the Sony A7 IV is powerful, feature-packed and built to premium standards. Plus it can comfortably turn its hand to almost any imaging task. Just like a good scoop of familiar vanilla ice cream, it gives the people exactly what they want.
Sony A7 IV design & handling: better built
The Sony A7 IV benefits from a few notable design improvements over its predecessor. The body itself is more rugged and resistant to dust and water (according to Sony, that is; I didn't dare bury it on the beach or dunk it in the English Channel to check). The flaps that hide its connections are also less plasticky, while the OLED viewfinder has been upgraded to 3.69 million dots (versus the 2.36 million of the A7 III), which adds some welcome extra clarity.
Better still, the 3in screen now flips out to the side and rotates to face fully forward. This design decision means filming or photographing yourself is much easier than on previous A7 models, where the screen merely tilted and couldn't be flipped through 180 degrees. It's a touchscreen too, of course. As well as being handy for setting AF points, the touch functions can be used to adjust menu options and swipe through the contents of your SD cards.
The UI and control layout of Sony's cameras have long divided opinion, but I found the A7 IV quite painless to use. There are lots of ways to customise controls, but the default layout puts everything within reach and the on-screen menu system is a lot easier to navigate than previous incarnations. The main difference from previous Sony A7 models here is the new dial to quickly switch between photo, video and S&Q (slow and quick) recording modes. This sits directly underneath the PASM mode dial, making it much simpler to change than if all the options were on a single dial, or there were entirely separate dials.
Sony A7 IV features & performance: focus locked
Speed-wise, a 10fps continuous shooting speed won't win the Sony A7 IV any awards (it's the same as the A7 III's, for one thing). But it works so well with the autofocus system that it rarely delivers an out-of-focus shot – at least where a human or animal subject is concerned.
Sony's AI-assisted autofocus tracking has been given an upgrade since the A7 III arrived. That translates into excellent performance here: human faces and the eyes of humans, animals and birds are all recognisable to the system, and it does a dependable job of keeping them in focus – even as they move around the frame. The AF system is also extremely fast in general use. It'll recognise a face and focus near-instantly, or lock onto whatever is behind your user-set focus point.
One new AF-related feature is "breathing compensation", which removes the distracting expansion/contracting effect that can happen when a lens shifts focus from a nearby subject one far from it (or vice versa). This works well in practice, but does apply a small crop to the image.
The A7 IV has in-body image stabilisation, so any lens attached will gain some defence against camera shake, while lenses with built-in optical image stabilisation get extra. This works best in its Active form, which combines sensor-shift and digital stabilisation, but that does involve a slight crop to the camera's field of view. The other setting, Standard, uses just the sensor-shift technology. While it's OK for everyday shooting, it doesn't fare quite so well with demanding stuff – walking and vlogging simultaneously, for instance.
A new heat dissipation system has been built into the Sony A7 IV to reduce instances of overheating, but it can't fend it off indefinitely: it shut down to cool off after 38 minutes of recording 4K/60fps video. This is more than enough time for most people, but it's worth noting if you want a camera that can record long, continuous sequences such as interviews.
Sony A7 IV connectivity & battery life: all hooked up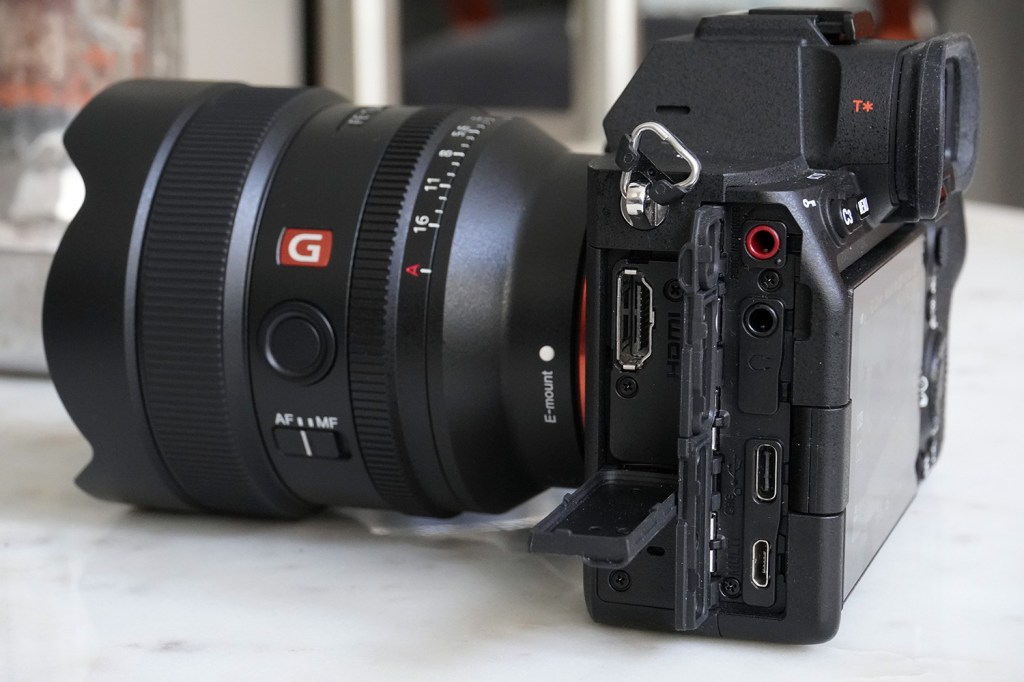 Battery life is decent: my testing suggests you can record about two hours of 4K video on a single charge, provided you don't stop/start videos too often or review footage constantly on the camera itself. Usefully, the battery can be recharged in-camera with the USB-C cable – which can also be used to provide a constant power supply.
Connectivity is solid elsewhere as well. The USB-C cable can be hooked up to a computer to transform the Sony A7 IV into an extremely fancy webcam, for example. The HDMI output is full-size rather than a flimsy mini HDMI and, as you'd expect, there are sockets for headphones and a mic.
There are two card slots, too: one for SD cards and one that accepts either an SD or a CFexpress card. Sony has restricted the 4:2:2 10-bit video recording modes to faster cards, so you may need to upgrade to new storage to get the most out of the camera.
Sony A7 IV image quality: sorted for stills and vids
The Sony A7 IV is built around a newly developed 33MP full-frame sensor, paired with the same Bionz XR processing chip used by the A1 – Sony's astonishing powerful, astonishingly expensive E-mount flagship. This combo translates into some truly great results, both for stills and video.
As far as photography goes, the Sony A7 IV hits a nice sweet spot between the incredible detail of the 61MP A7R IV and the strong low-light performance of the 12.1MP A7S III. Photo quality will depend a lot on your lens, as always, but I found detail and dynamic range to be compelling in JPEGs straight out of the camera.
Recording skills are similarly strong: you can record 1080p footage at up to 120fps and 4K footage at up to 60fps. One quirk – read: drawback – of the Sony A7 IV is that, while it can record 4K content at 24 or 30fps using the entire surface of the full-frame sensor, 60fps 4K content requires a major crop down to a Super35 or APS-C field-of-view. I was a bit disappointed about this at first, but working around it isn't too difficult. Those that really need full-frame and 60fps can always opt for the more expensive Sony A7S III – or models from the likes of Canon and Panasonic that tick that box.
Video quality is superb – sharp and clean by default – and Sony has given would-be filmmakers a wide range of tools to play with. The various picture profiles available include S-Log2 and S-Log3 (providing a wide dynamic range, ideal for grading in post-production), Hybrid Log Gamma HDR and S-Cinetone (which offers punchy but natural-looking footage right out of the camera).
Sony A7 IV verdict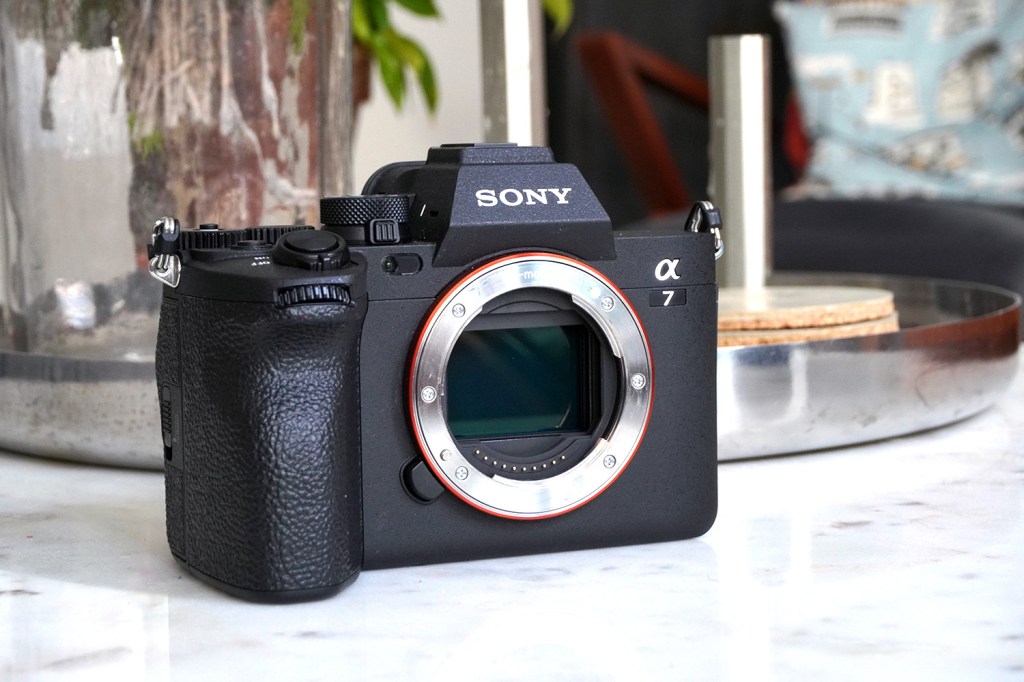 The A7 series might be marketed as Sony's meat-and-potatoes full-frame E-mount camera, but it's now become a premium model in its own right. The A7 III proved extremely popular with content creators, delivering both strong 4K video and stills. The Sony A7 IV takes this one-size-fits-all approach even further, with even better image quality, improved performance and a host of thoughtful design touches.
So is it the perfect camera for pro-sumers looking to make some extra cash from YouTube or portrait photography? Not necessarily: it's still fairly pricey compared to some APS-C and Micro Four Thirds alternatives (including Sony's own APS-C E-mount range), while its tendency to crop videos for various reasons can be irritating – particularly if you want to make the most of the wide angle provided by a full-frame sensor.
That said, there's a lot here for the money. Provided you can work around the crops, you'll find this to be one of Sony's most versatile and flexible full-frame cameras.
Stuff Says…
Pitched as a standard camera, Sony's mirrorless all-rounder has the prowess and the performance to deliver premium stills and video
Good Stuff
Great all-round image quality
More user-friendly design
Superb autofocus tracking
Bad Stuff
Some video modes require a heavy frame crop
Can overheat despite new design
Tech specs
| | |
| --- | --- |
| Sensor | 33MP Exmor CMOS full-frame |
| Lens mount | Sony E-Mount |
| ISO range | 50 to 204,800 |
| Continuous shooting speed | 10fps |
| Video recording | Up to 4K/60fps |
| Screen | 3in articulating touchscreen, 1.04m dots |
| Viewfinder | EVF, 3.68m dots |
| Connectivity | USB-C, HDMI, 3.5mm mic, 3.5mm headphone, Wi-Fi, Bluetooth |
| Dimensions | 131.3×96.4×79.8mm |
| Weight | 658g |