Sony Cyber-shot DSC-RX1R II review
The king of compact cameras gets even more resolution, with fantastic results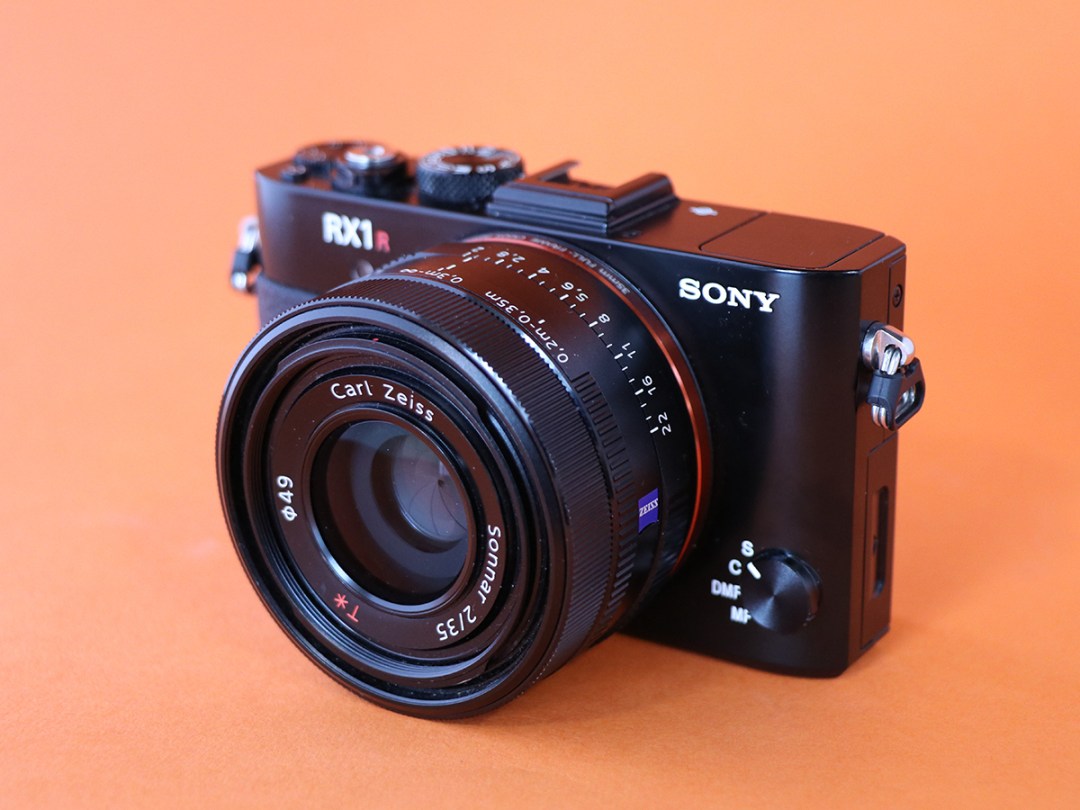 Full-frame sensors – they're pretty much the ultimate as far as digital cameras go.
They're normally found in top-end DSLRs, but Sony did the impossible back in 2012 and squeezed one into a compact. The RX1 was unique, and we loved it. That fixed 35mm lens was a beauty, and nothing came close for detail in such a small shooter.
A successor was going to need something special to impress us, but Sony might have pulled it off with the RX1R II. A major resolution bump and handy little extras like a pop-up viewfinder sound great on paper, but what about in practice?
TEST YOUR METAL
On the face of it, the RX1R II is deceptively simple. It's a fixed lens compact, after all – how complex could it be? Very, as it turns out.
It's tiny, sure, but has some serious heft thanks to an all-metal build that feels like it could survive almost any bump or scrape. The 35mm, f/2.0 Zeiss lens sticks out enough that you're not squeezing this into the pocket of your skinny jeans, but it's still small enough to pop into a jacket.
Sony has still managed to pack in plenty of physical dials and controls, despite the compact size. There are mode and exposure compensation dials up top, along with a thumbwheel and rotating selection dial on the back.
Aperture and focus controls are shunted onto the lens barrel, but it's the perfect place for them: they're right where you want them while you're steadying the camera with both hands.
The only new addition is the focus select switch on the lower front of the camera, for toggling between auto, manual and continuous autofocus.
Basically, the RX1R II has all the buttons you could want for fully manual shooting. Not bad for something that fits in the palm of your hand.
UP PERISCOPE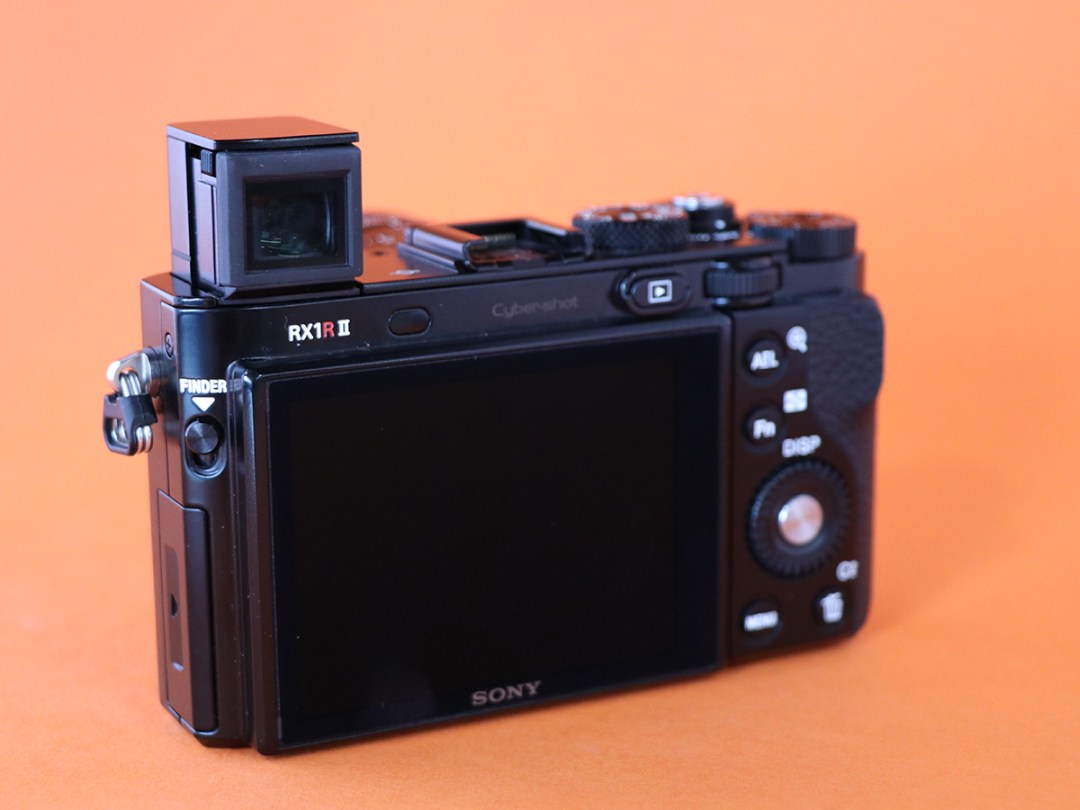 On first look, it seems like you're stuck composing shots with the RX1R II's rear viewfinder. It's not like that's a bad thing, though.
The 3in panel tilts up and down for wait-level snaps or high angles, has a fairly high resolution showing plenty of detail, and is bright enough to use outdoors without shielding it from the sun with your hands.
It's not a touchscreen, though – something Sony seems reluctant to add to its top-spec cameras. That can make picking focus points a bit more fiddly than on a competing CSC or SLR.
Most pro photographers would argue you can't beat a viewfinder, and happily Sony has delivered here. Flip a switch on the side of the camera and a 0.39in electronic viewfinder pops out of the top. Pretty impressive in a camera so small.
It's got a crazy high 2.65m dot resolution, so everything looks pin-sharp, and of course it doesn't matter how bright it is outside – your peepers will still be able to see whatever you've got the lens pointed at.
BARREL OF FUN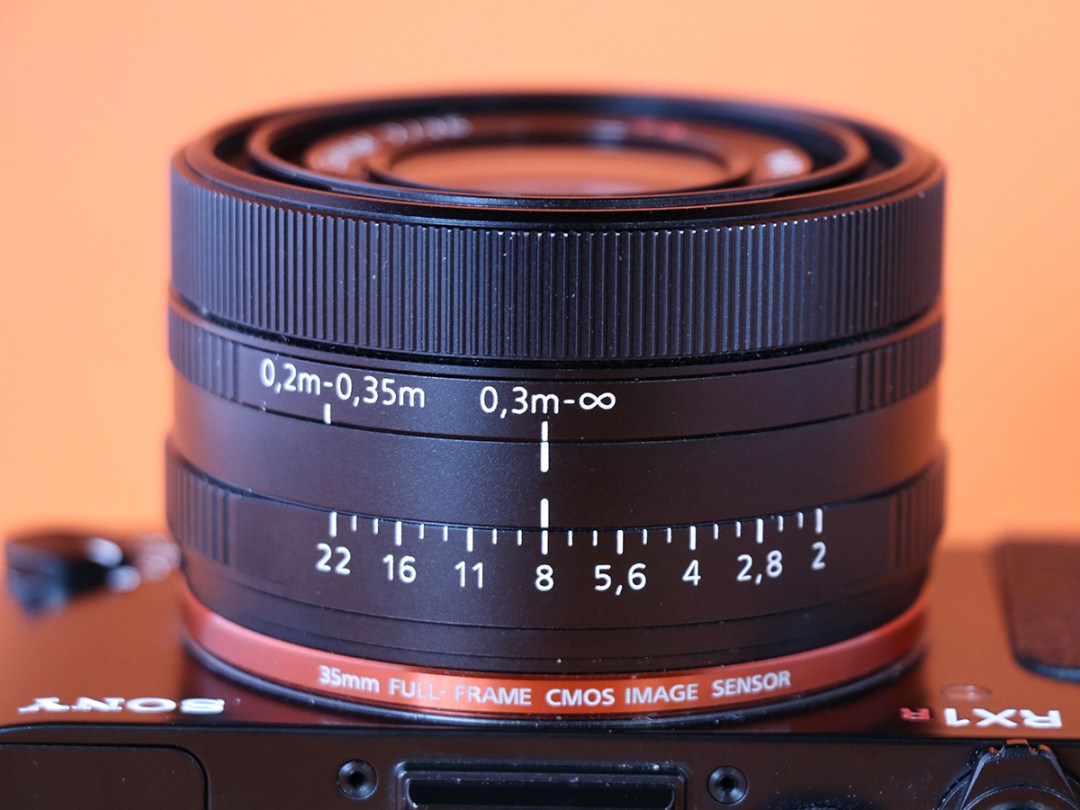 The blue Zeiss logo on the side of the barrel is a massive clue to the quality of the RX1R II's lens. I'm still going to spell it out, though: it's flippin' brilliant.
The 35mm fixed focal length is mid-wide – perfect for street photography. You might have to get closer to your subject, seeing as there's no zoom, but you won't mind when you see the crisp and clear results.
That aperture ring clicks from f/2.0 down to f/22, so you can choose between delicious depth of field and blurry bokeh, or bring everything into focus when you want every visible detail. It's a perfect pairing with the full-frame sensor.
I'm a big fan of the macro ring, which switches focus for more close-up shots. It lets you get about 10cm closer to your subject, down to 14cm from 24cm using the standard focus range.
The manual focus ring combines perfectly with the onscreen MF assist, which magnifies the focus area to 100% and digitally paints the in-focus areas once you've flicked on focus peaking. The results can be stunning, and the responsive ring makes the whole process a lot less hit-and-miss than on other cameras.
You don't get a built-in neutral density (ND) filter though. That certainly would have made midday shooting on Brighton beach a whole lot easier, but you can at least bolt a third-party one onto the 49mm lens thread.
NEED FOR SPEED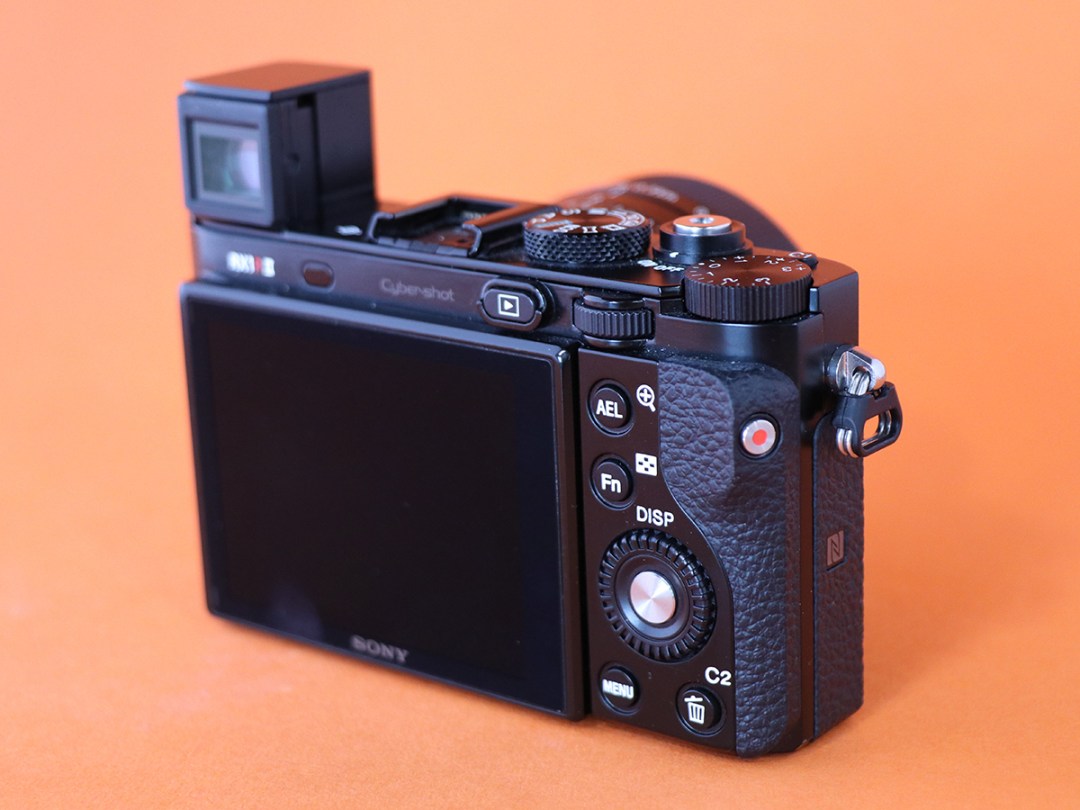 Sony has added phase-detect autofocus to the RX1R II – it was missing from the original camera, and really speeds up focusing here.
It works reliably, too, accurately focusing in regular shooting and macro modes. Light reflections, dim conditions – the RX1R II didn't struggle. Continuous AF is a nice addition, but let's be honest: 35mm isn't going to help you land any wildlife or sports photographer of the year awards.
Even with that in mind, the RX1R II isn't as snappy and responsive as other top-end cameras. Fuji's excellent X-T2 CSC might not have a full-frame sensor, but it's much faster at focusing and continuous shooting.
Battery life is a real killer, too. A few hundred shots and I was in the red – you'll struggle to get a full day of shooting from a single charge. Annoyingly you don't get a dedicated charger, either. The RX1R II plugs in over microUSB, and is slow to refuel. Irritating if you've got multiple batteries to charge.
PIXEL POWER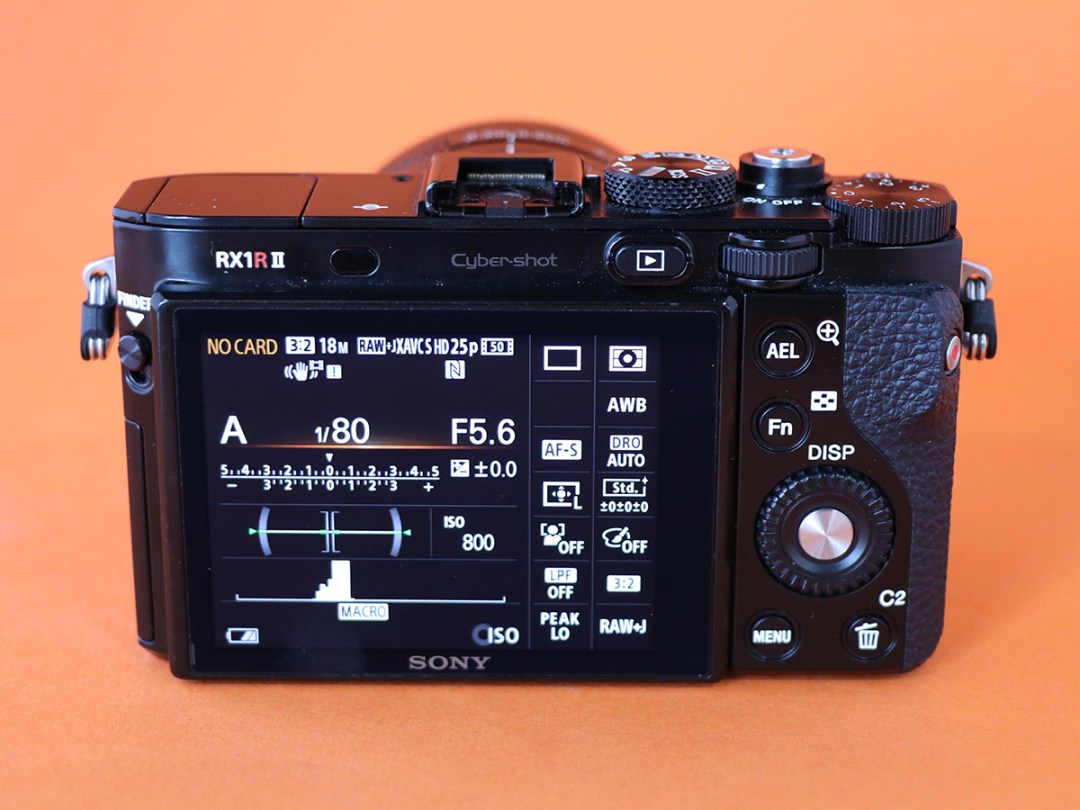 I'm prepared to forgive a lot of those shortcomings, though: image quality is that damn good.
The 42MP sensor really comes into its own here, capturing an incredible amount of detail every time you press the shutter button. With so much resolution, you never have to worry about cropping into your shots to get closer to the action.
Slam open the aperture and it captures amazing bokeh blur, adding real depth to portrait and close-up shots.
There's only a tiny bit of sharpness falloff towards the edges of the frame, too – even when toggling the low-pass filter on and off.
That's a shame, as it's pretty clever tech: turn it on and electricity flows through the filter's liquid crystal layer. Turn it off and light shines straight through. Expect to see this filter down to less expensive cameras soon.
Sony's auto white balance copes well outdoors, but was easily fooled whenever I stepped inside. Anything shot against artificial light looked a little on the cool side – but this went away once I switched to a different white balance setting manually.
I was hoping the massive sensor would make the RX1R II a winner in low-light, but anything above ISO 1600 and the results start to lose their shine.
This is also when the massive sensor becomes more of a burden. Shaky hands and slow shutter speeds add noticeable softness to your shots. You only notice it when zooming in on landscape shots, but its more visible for portraits.
Realistically though, you'll get usable results in just about any situation with the RX1R II. It takes fantastic photos – the results really speak for themselves. It's a small step up from the original camera in terms of overall quality, but a welcome one.
Sony RX1R II Verdict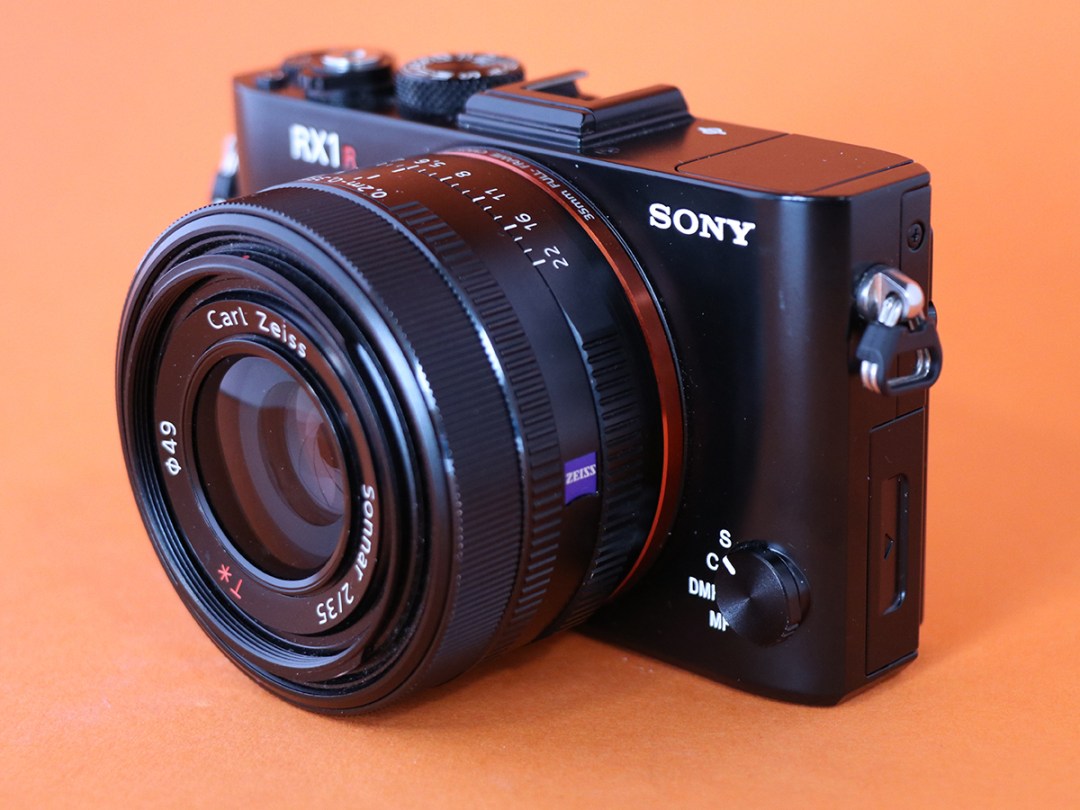 Did the RX1 really need more resolution? Maybe not, but we're not going to sniff at any camera that's rocking a 42MP full-frame sensor, let alone one you can squeeze into a pocket. Just about.
Sony's other tweaks are excellent, though. The pop-up viewfinder is an excellent alternative to the rear screen when composing shots, although it also comes into its own when shooting at extreme angles, thanks to the new tilt-angle hinge.
Build quality is still superb, the fixed lens is excellent and it takes fantastic images.
It's a welcome upgrade over the original, then, but still not quite perfect. Autofocus could still use a speed upgrade, losing out to cheaper CSCs, battery life ain't great, and Sony really needs to step up its game when it comes to putting touchscreens on its top-end cameras.
Oh, and it's still eye-waveringly expensive, but then that's no surprise when you look at the tech Sony has squeezed inside. £2500 for a fixed lens compact is a lot of cash, sure, but there's very little else out there that can match it for image quality.
Stuff Says…
Overkill for most, with a few flaws, but that doesn't stop us wanting one – the RX1R II is a phenomenal luxury compact camera
Good Stuff
Simply sublime image quality
Genuinely useful upgrades over the original RX1
Outstanding build quality
Bad Stuff
Seriously expensive
Battery life could be better
Autofocus feels slow against cheaper competition