Sony Xperia 10 Plus review
Why the long face?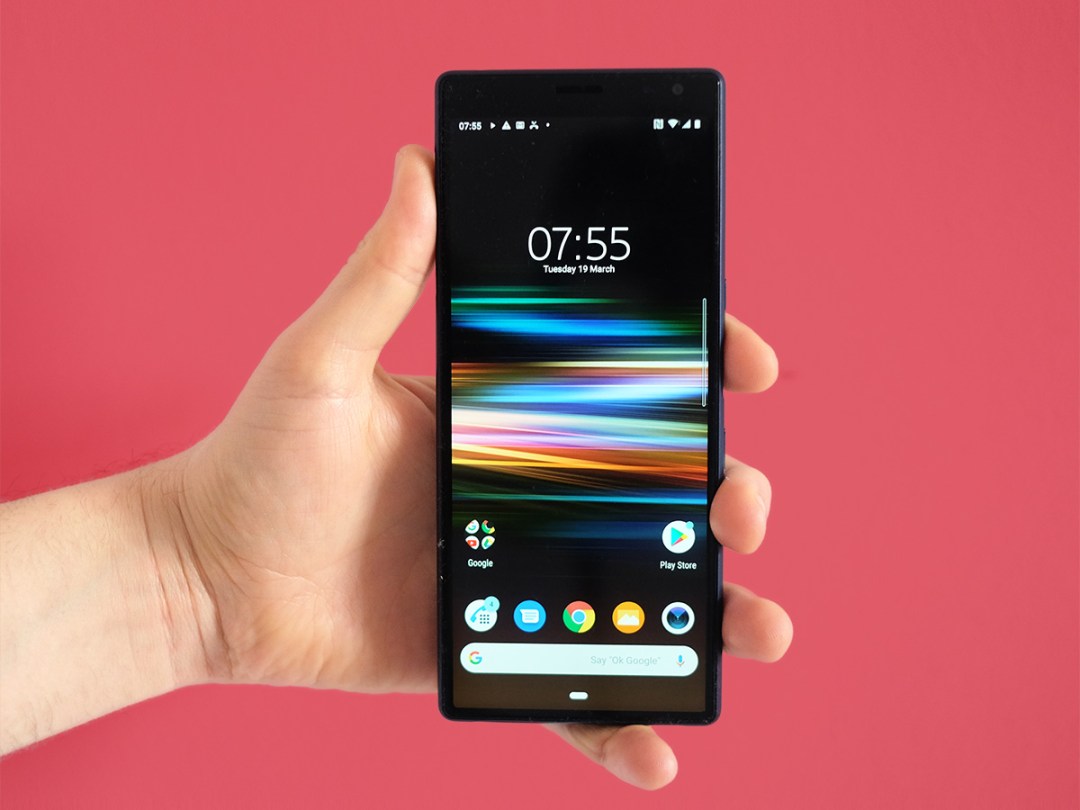 Ever thought, "I wish my phone had more consideration for the anamorphic cinema format. It's like no-one even considers James Cameron when they design these things"?
Us neither, but Sony seems to think it's the way forwards. The Sony Xperia 10 Plus has a very, very (very) tall screen that almost matches the aspect ratios favoured by the flashiest of blockbuster movies, designed to be seen on the biggest of screens.
A phone is never going to have the biggest of screens. At a certain point, it stops being a phone. But, yes, the Xperia 10 Plus is better primed to show off CGI-fests than just about anything else out there.
We're well up for celebrating something different, and the Sony Xperia 10 Plus is just that. That the Honor 10 gets you more for similar money, and the Moto G7 Plus higher quality for less, is hard to ignore when you hit the checkout, though.
Design: Deep pockets required
Sony has made some of the longest phones for a while now. But the experience of using the Xperia 10 Plus is not what you might expect.
The Sony Xperia 10 Plus is less wide than a Moto G7. It's no hulk, until you try to fit it in a pocket and realise it sticks out of every pair of trousers you own.
This is, in part, because the phone does not use a notch or a trendier-in-2019 punch hole. But there's also a good chunk of blank space above the display. Borders are only trim on the other sides.
Reaching the top of the screen to drag down the notifications bar is a real stretch. You probably won't instantly fall in love with using a phone of this shape. But most of you will, at worst, grow to tolerate it in a day or two.
The Sony Xperia 10 Plus's build is also surprisingly low-key. Its back is plastic. The only metal part is a panel of aluminium on the bottom, where the charge socket lives.
Plastic phones are fine. But put the Sony Xperia 10 Plus next to the glass and metal Moto G7 Plus or Honor 10 and it seems a bit, well, basic. It's not water resistant either, but most phones at the price aren't. And with 64GB storage it only has half the space of the Honor 10. Honor is the outlier here. 128GB £300-odd phones don't turn up every day.
Most other bits are different, rather than worse or better, than the competition. The Sony Xperia 10 Plus has a side-loaded fingerprint scanner. It's not the fastest and doesn't like wet fingers much, but is otherwise pretty reliable and works from standby.
Screen: just for flicks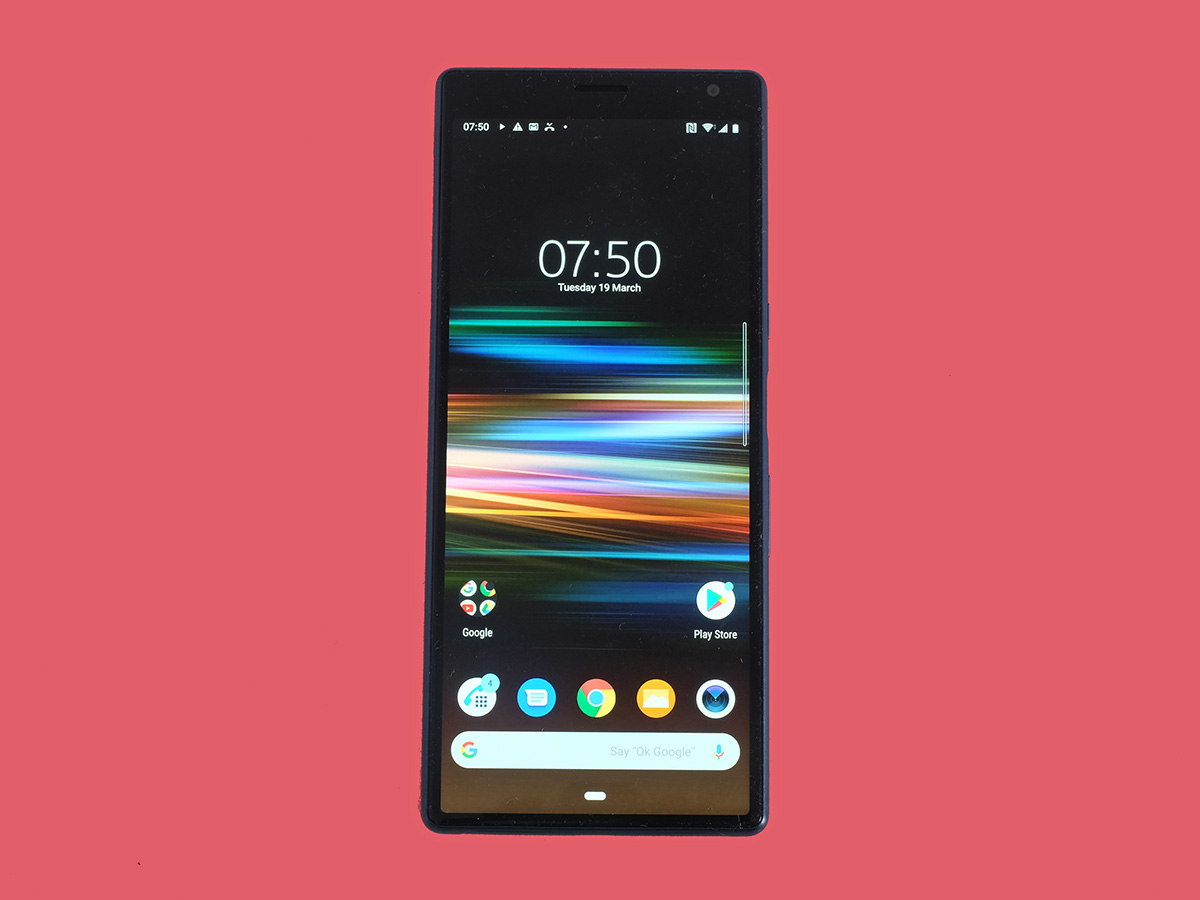 The big Sony Xperia 10 Plus question: what is a 21:9 aspect screen actually useful for? Movies is the obvious answer.
Blockbusters like Captain Marvel will fill the screen end to end. No holes for notches, no black bars. Sony even keeps the curvature of the screen's corners to a minimum.
Not every film is presented in anamorphic 2.39:1, which is pretty close to the Sony Xperia 10 Plus's 21:9. Some are 16:9, some are even 4:3. And the display's drawbacks become clearer when you start watching YouTube, or TV episodes.
Slap on an episode of Masterchef and you have to put up with great big black bars on the sides. And BBC iPlayer doesn't even give you the option of chopping off some of Greg Wallace's shiny pate instead to fill the display.
You'll also find some movies that were 2.39:1 aspect in the cinema fiddled to a more TV-friendly aspect on some streaming services. Perhaps the Sony Xperia 10 Plus is too pure for this world.
And games? Most apps and games are so specced-out to deal with different screen sizes they breeze through the transition like one of those annoying people who clothes just seem to fit, every time. The benefit of the extra-long, or wide, screen is that console-like games have more room for their virtual gamepad controls.
Your thumbs can get out of the way of the action. But visually it's not super-impressive, because the height of the image is similar to that of a phone with a much smaller inch count than the Sony Xperia 10 Plus's 6.5 inches. 21:9 is, sometimes, a practical benefit. It's not an immersive one, though.
The Sony Xperia 10 Plus is only as "good at gaming" as the Moto G7 Plus too, because they have the same Snapdragon 636 CPU. This is not a super-powerful processor. You can get better for the price, and there are trade-offs.
You can only play PUBG at the lowest graphics setting. Ark: Survival Evolve runs dismally until you take a fair bit of sheen off the visuals. In a cheaper phone these don't feel like significant sacrifices. The Sony Xperia 10 Plus is still miles off a "flagship" price, but £350 isn't cheap if you ask us.
Software: tall order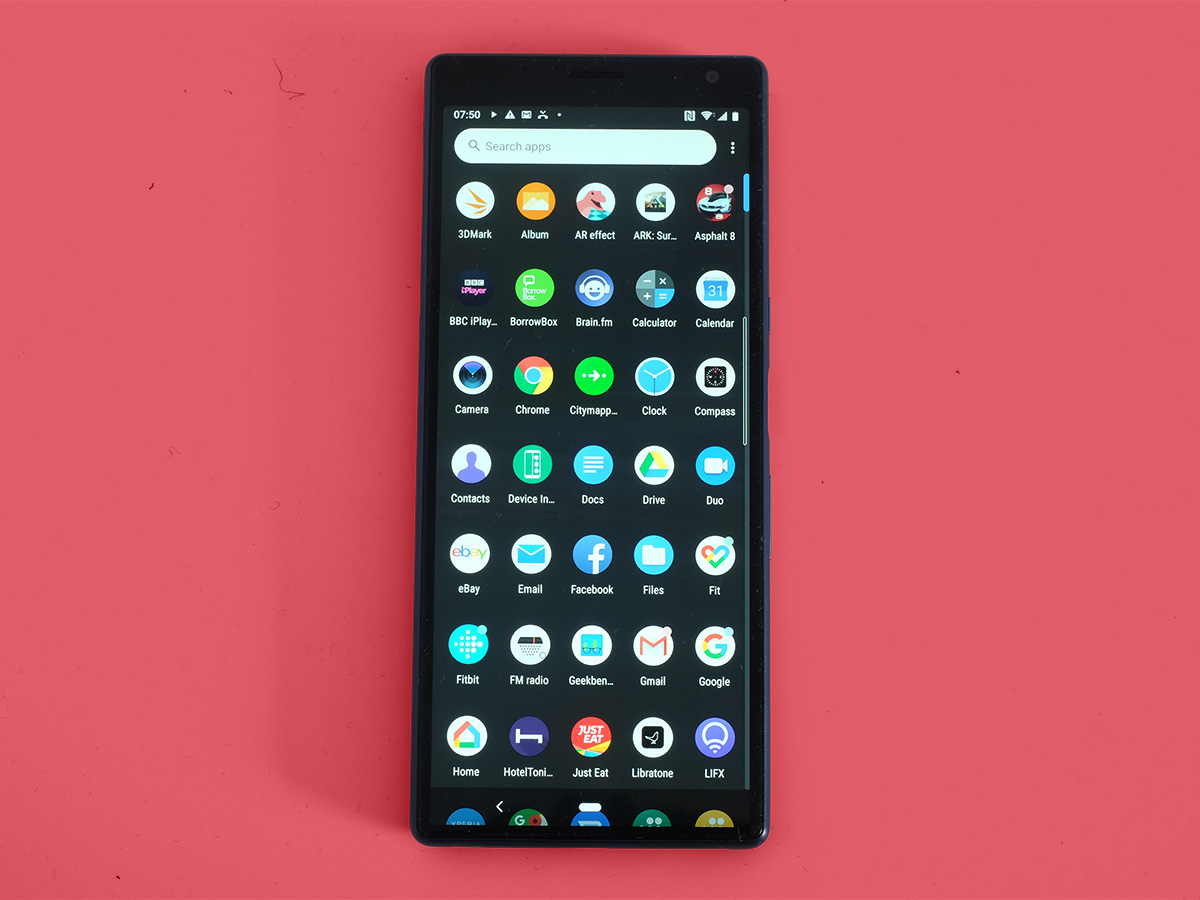 The software is better than the cheaper Xperia L3's, though. You get Android 9 and a newer version of Sony's custom interface. It is much closer to Android as Google intended.
There's an app drawer arranged in one single vertical feed, just like a Google Pixel 3 XL. And it has a gesture-based soft key system rather than three separate soft keys. Flick up from the soft key bar and the recent apps screen pops up. Flick right and the Sony Xperia 10 Plus heads to your last-used app. Give it a tap and the phone zaps to the homescreen.
This interface does have the odd moment of micro lag. Certain elements might not pop up on screen for a half-second. Occasionally the keyboard takes a moment to appear. It's not enough to get on your nerves, but does make Sony Xperia 10 Plus seem at best mid-range.
Camera and battery: mid-range mixed bag
There is some extra stuff going on in the phone's camera, thankfully. The Sony Xperia 10 Plus has a standard 12-megapixel camera and a rear 8-megapixel one with a 2x zoom. As it's a lower-quality, lower-res sensor, the extra detail on offer from the zoom isn't mindblowing, but it does add an extra side to this camera.
And the main one? 12-megapixel phone sensors are some of the best in the world, but this is a rung below those. It's still Sony hardware, the maker of the top models, but isn't as high-spec as the Pixel 3 XL's 12-megapixel sensor. No surprise there.
The Sony Xperia 10 Plus is a pretty good camera, with some clear hits and misses. It's great at brightening up night shots, but those photos don't have the detail of a phone of the next league up.
Detail during the day is strong, but it tends to overexpose some scenes and can leave other bits darker-looking than the rest. It's because the Sony Xperia 10 Plus doesn't have the smartest dynamic range processing around. This camera is solid, but it'd be even better with smarter software.
If the Sony Xperia 10 Plus camera performs just slightly worse than it looks on paper, given it has some of the same core specs as a top-tier phone, the battery is the opposite. It has a 3000mAh unit. That seems pretty piddly for a phone with a screen out to take on your local multiplex.
However, with real-world use its longevity is perfectly good, outstripping even the UK version of the Samsung Galaxy S10 Plus we looked at recently. On normal days we might end up with about 35% charge by bed time. Even on heavier days we haven't seen the 15% low battery alert pop up before about 11pm.
This isn't a phone to buy if you want something that'll last a full two days away from the plug. But it's one of the better examples of quite how great some Qualcomm Snapdragon processors are at conserving energy these days. And, sure, Sony probably deserves some of the credit too.
Sony Xperia 10 Plus verdict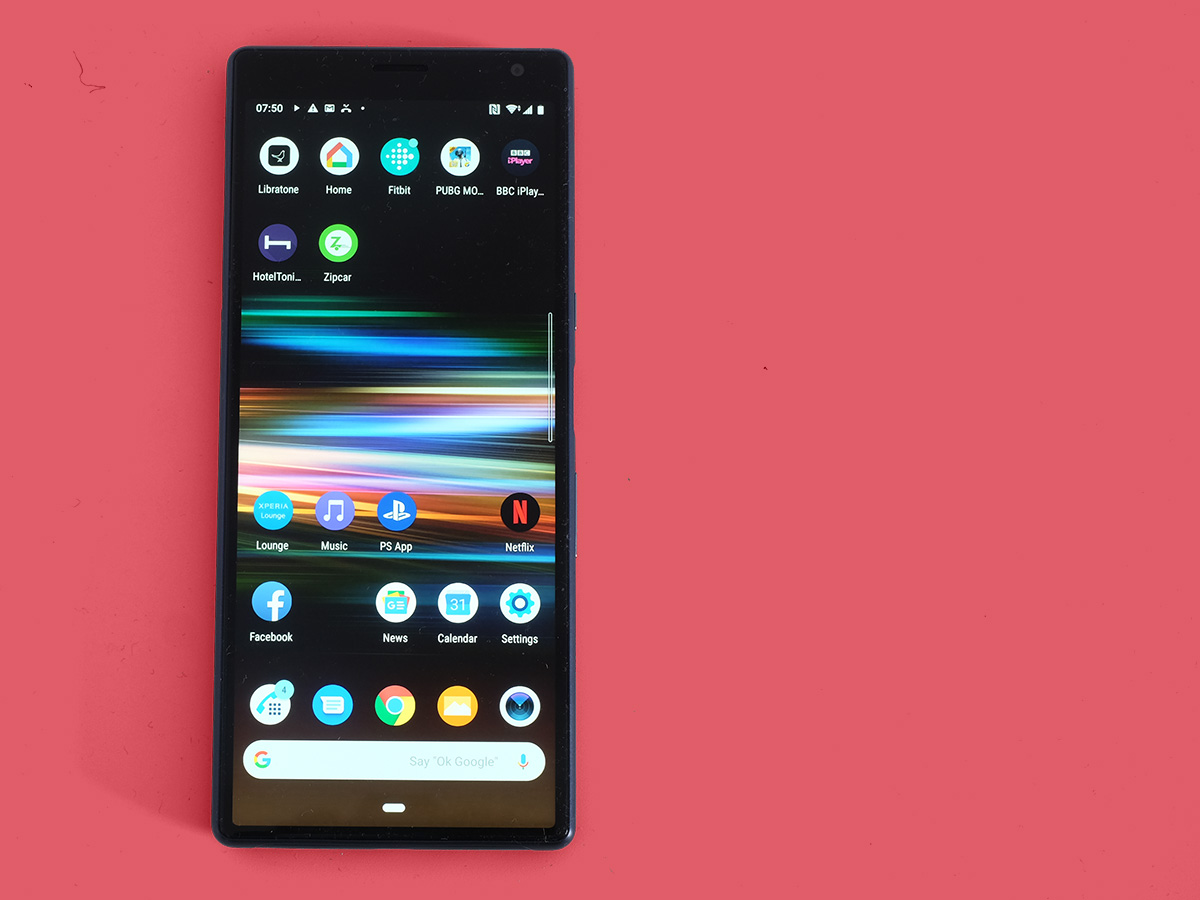 How does it go again? "Now the world doesn't move to the beat of just one drum. What might be right for you may not be right for some." And then something about jeans.
Whether you should buy the Sony Xperia 10 Plus depends almost solely on whether you'll spend a lot of time watching cinema releases on your phone. Look ma, no black bars.
Most of us don't do that daily, though, and life with a 21:9 screen is more mixed. You see, today's normal phone screens strike a balance somewhere between the 16:9 of Friends re-runs and the 2.39:1 of the Marvel universe. We already had a sweet spot.
A so-so processor for the price and plastic build narrows the crowd who will find the Sony Xperia 10 Plus the phone they love the most at £350. It's for the gang of cinephiles who don't think the magic of film is lost on the small screen.
Stuff Says…
The Sony Xperia 10 Plus is a mini cinema for your pocket, but the appeal of that may be narrower than you might guess
Good Stuff
Unusual 21:9 screen is a micro cinema
Surprisingly solid battery life
Bad Stuff
21:9: good for movies, not so good for TV
…Or real life
Just-OK CPU for the money
Limited camera dynamic range