Sony Xperia 5 review
Premium, powerful and pocket-friendly – but not quite perfect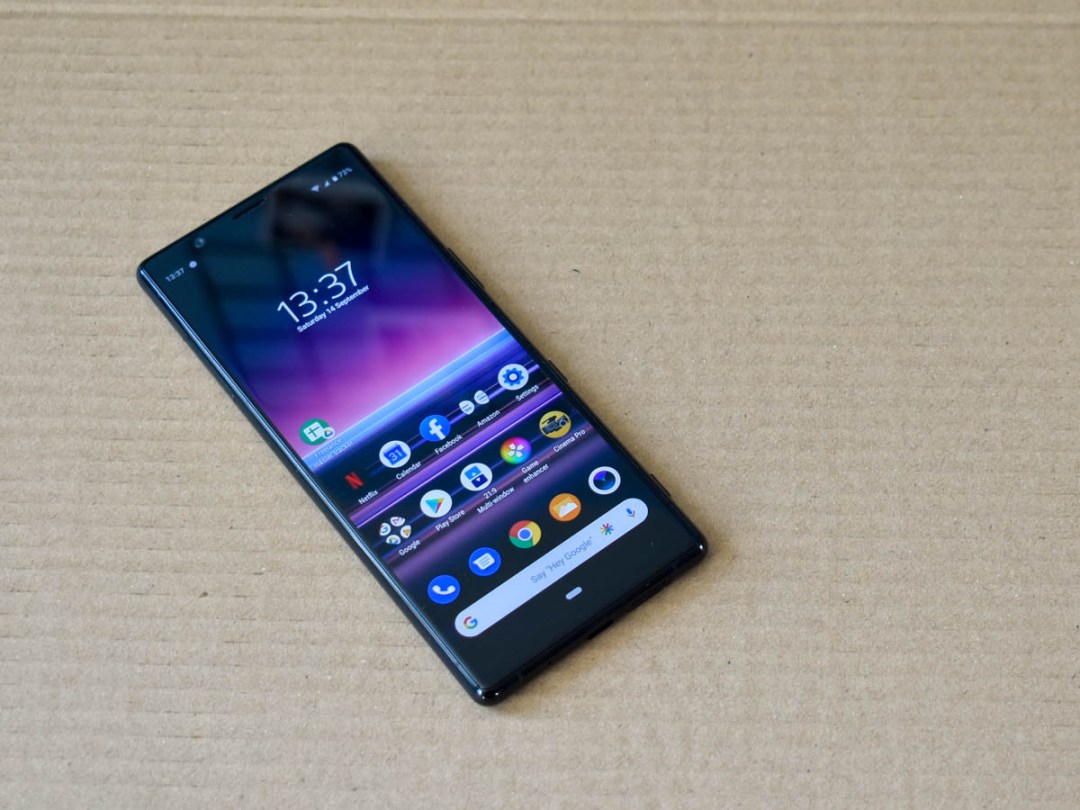 Sony's Xperia 5 costs £699 in the UK. For £29 more, you could get an iPhone 11, £30 less will get you a Galaxy S10e, or for exactly the same cash its main rival is the OnePlus 7 Pro.
With that kind of competition, the latest Xperia is going to need more than its sensational colour options to make it pop (even if we only got the black one).
But living with the Xperia 5 for a week has impressed us, and running side-by-side comparisons with the Xperia 1, OnePlus 7 Pro and Xiaomi Mi 9T Pro have all hit home one fact: Sony does premium very well.
But does it do it well enough to convince you to deposit the best part of 700 notes in the company coffers?
Design: A bit of bezel never hurt anyone
The Xperia 5's 6.1in screen is big, but not too big. While the front doesn't look bad at all, the bezel framing it means the phone has an 81% screen-to-body ratio, so it doesn't look very cutting edge either. Still, that's better than comparatively priced Pixels or iPhones and there's not a notch in sight.
Weighing in at 164g it's nice and light, and at just 8.2mm thin it's slimmer than an iPhone 11 or OnePlus 7 Pro. The 21:9 aspect ratio means it's also narrower than Samsung's Galaxy S10, which makes the Xperia 5 one of the most manageable flagship phones you can buy. If you do manage to drop it there's Gorilla Glass 6 on the front and back, which is unheard of for a phone at this price, and there's also IP68 water and dust resistance, which you won't find on its main rivals.
The metal frame is painted rather than anodised, which means it's not coloured throughout, but it's buffed to perfection, with only the triple-camera bump to interrupt its smooth, flat back. A fingerprint scanner is sandwiched in between the power, volume and camera buttons on the right, which is disappointing considering much cheaper phones now have them built into the display, while a lone USB-C connector lurks at the base. That means no headphone port, although you do get an adaptor dongle in the box.
Screen: OH-LED YES SONY!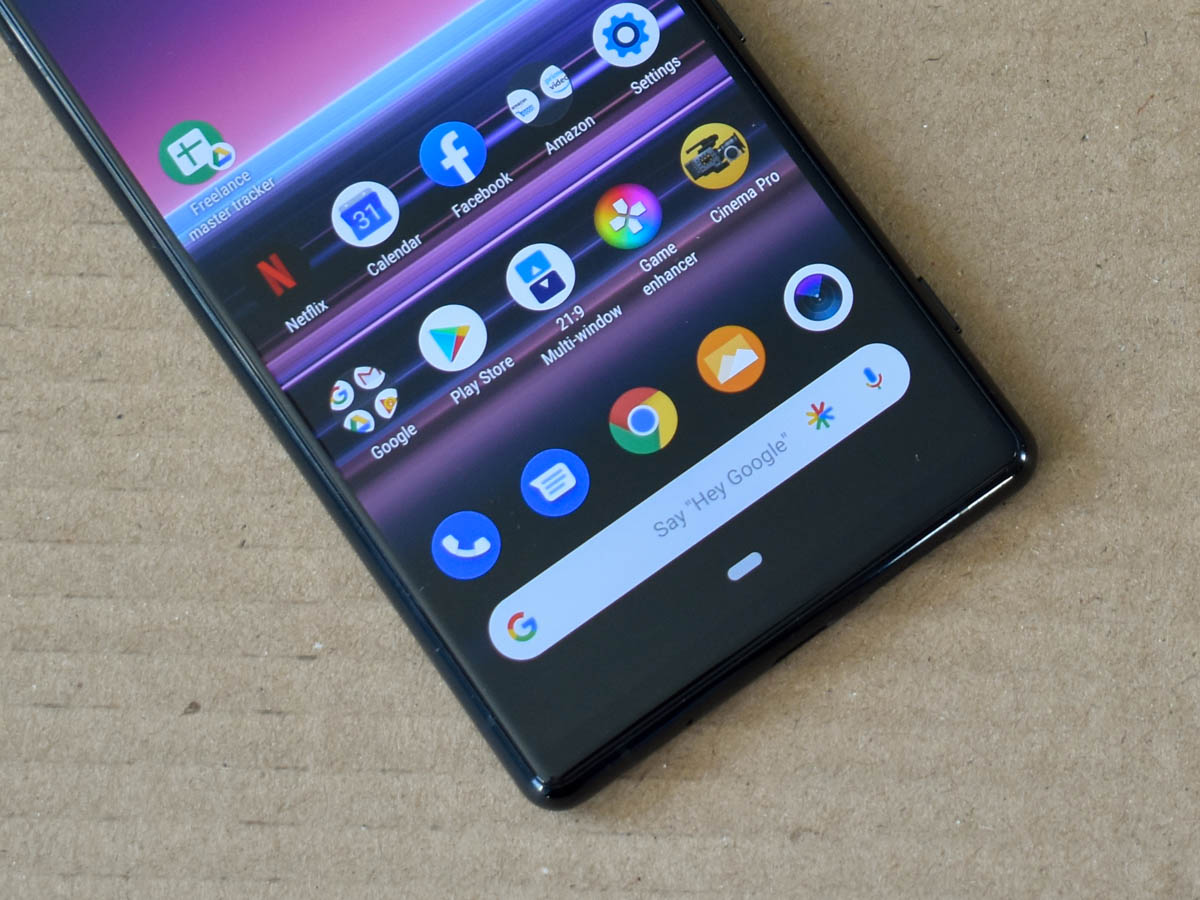 The Xperia 5's HDR OLED screen is its undoubted high point – it's brighter than that of the OnePlus 7 Pro and sharper than the iPhone 11's LCD.
It's easy to see in bright conditions and viewing angles are exceptional, with less colour-shifting at extreme angles. Dive into the settings and you can customise the Xperia 5's white balance, activate smart backlight control, which stops the screen going to sleep when you're holding it, and switch to a dark theme, although it doesn't extend to the settings menu.
The 21:9 aspect ratio isn't as much of a novelty as it was when the Xperia 1 launched, but you'll still have to put up with hefty borders when you watch stuff that's in 16:9. Sony's video image enhancements sharpen things up nicely though, with none of the soupy dark spots you get on some other OLED screens, putting the Xperia 5 up there with the best for watching movies and TV shows on-the-go.
Despite having a lower-resolution than the OnePlus 7 Pro, 4K video actually looks sharper on the Sony's screen, although there's more colour banding and artifacting here, so it's a case of swings and roundabouts.
Interface: Are you splitting comfortably?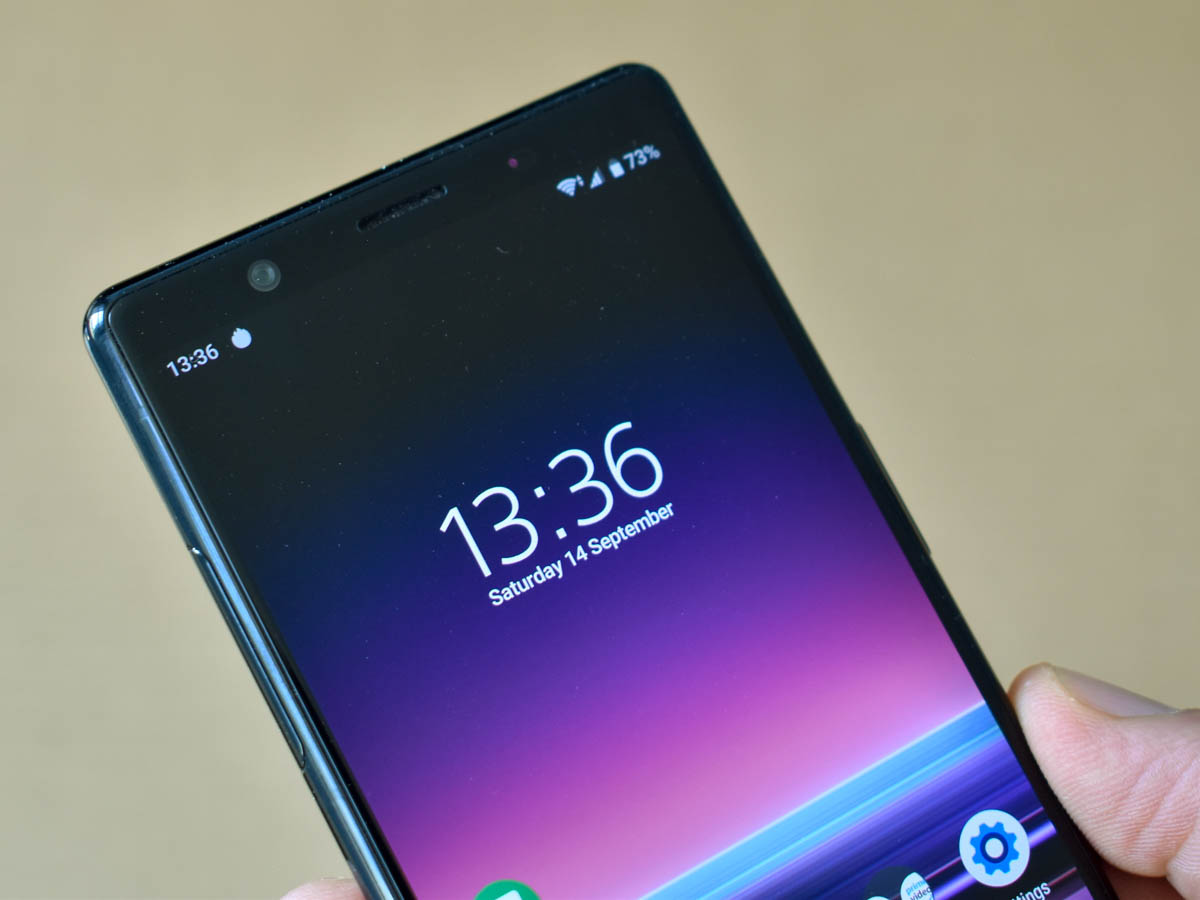 Sony's Xperia 5 runs Android 9, with a mercifully optional range of bloatware on offer out of the box. Just tick the additional apps you want and ditch the rest, with Sony only installing a handful of obligatory ones.
The core interface is very traditional Android: there's a Google screen, a variable number of home screens that can be loaded up with app shortcuts and widgets, an apps tray and a notifications bar.
It keeps things ticking over nicely for the most part, with the tall display making multitasking a breeze. You can scroll through Twitter at the bottom while a YouTube video plays up top, while a 21:9 Multi-Window shortcut on your homescreen by default makes it easy to pair split-screen app combos.
A feature called Side Sense, which also allows you to double-tap the side of the screen to summon a thumb-friendly menu of your most-used apps, is excellent when it works, but it's far too easy to tap too much or too little, so it only works about 70% of the time. That's just not reliable enough. Hopefully next time Sony will load the double-tap input into its phone's frame like HTC did with Edge Sense.
Camera: Sony's finest
Considering Sony supplies the sensors for many of the best phone cameras, it's strange that its own handsets never manage to compete at the very top – but the Xperia 5 has Sony's best onboard snapper yet.
Its trio is made up of a 12MP (f/1.6, 26mm) main camera, one 2x zoom 12 MP (f/2.4, 52mm) camera – both with OIS – and an ultrawide angle, 12 MP (f/2.4, 16mm) camera.
Images captured on the main camera have a healthy amount of detail, colours are rich and even when you pinch into them, they hold up. The auto mode features smart scene detection and you can easily ramp up or down white balance and exposure as you take your shot. Low light performance is pleasantly realistic. While Google, Huawei and Samsung are all making night look like day, the Xperia is definitely the truest to life. That said, if you do ramp up the exposure, it struggles more than the others.
The Xperia 5's eye-tracking feature works well, particularly when combined with the continuous 10fps burst mode for shooting moving subjects, but it is a bit superfluous for a camera with such a broad depth of field. The background defocus mode is also markedly worse than the competition and way too light on detail to use for shots you care about.
You can record video across all three cameras, something most triple-snapper phones don't do at the moment, and while touch-to-focus still hasn't arrived on Sony's video UI the autofocus is usually reliable. 4K HDR footage tops out at 30fps but it looks sharp and stable with great tonal range. Sony's Cinema Pro app offers videographer levels of control out of the box, from manual focus and shutter speed to a range of colour profiles that can be corrected in post, making the Xperia 5 a good pick for smartphone filmmakers.
Performance: Fast and finicky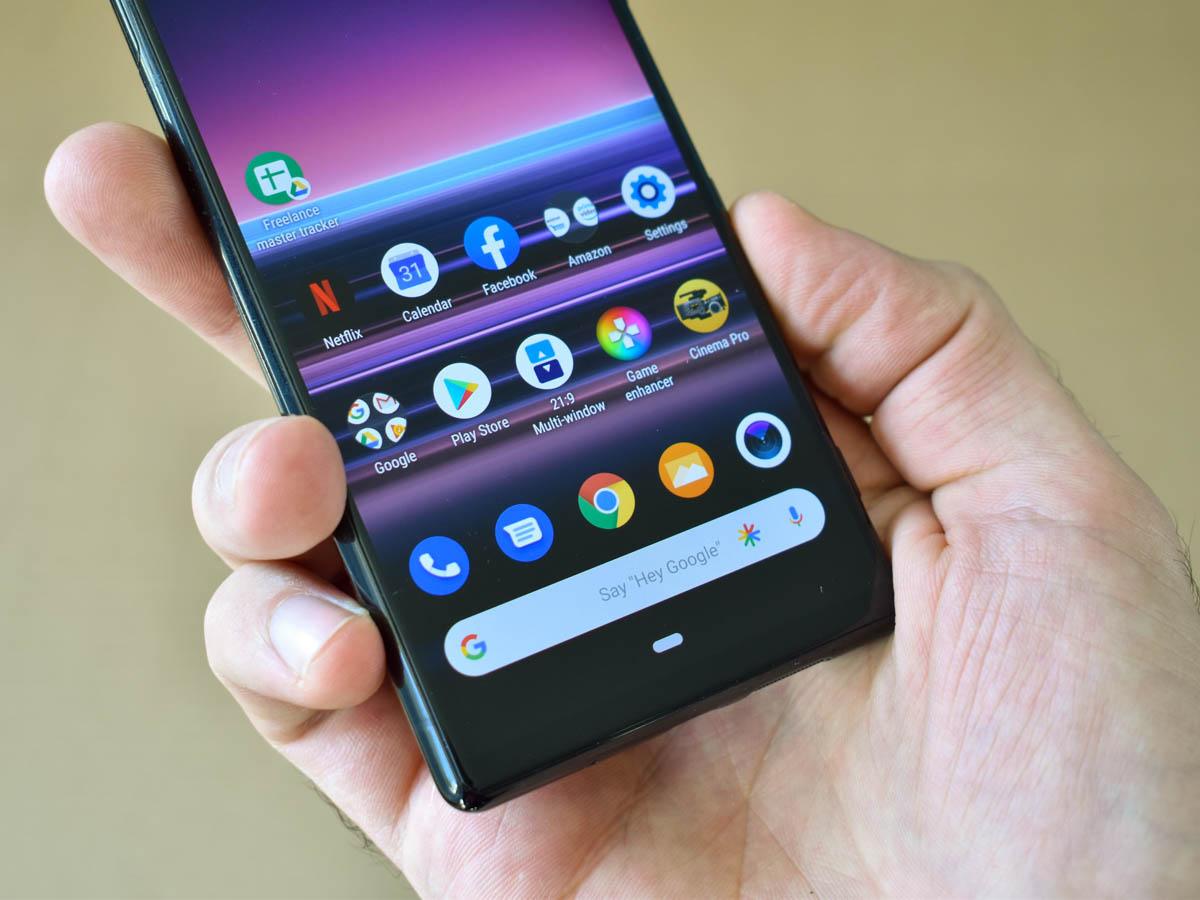 With a Qualcomm Snapdragon 855 and 6GB of RAM powering it along, the Xperia 5 makes short work of everything you throw at it.
Well-optimised games look sensational on it, although you'll get black bars on anything that isn't. There's full DualShock 4 support and PS4 Remote Play means you can stream console games to your phone, although there's no video output support so you can't play FIFA on your hotel room TV.
The 3140mAh battery inside will easily last from morning to night, plus it comes with an 18W fast charger in the box, which is nice, although there's no wireless charging onboard. Its 128GB of storage is half what you get inside a OnePlus 7 Pro, although if it's not enough for you you can expand it by as much as 512GB via microSD.
Sony Xperia 5 verdict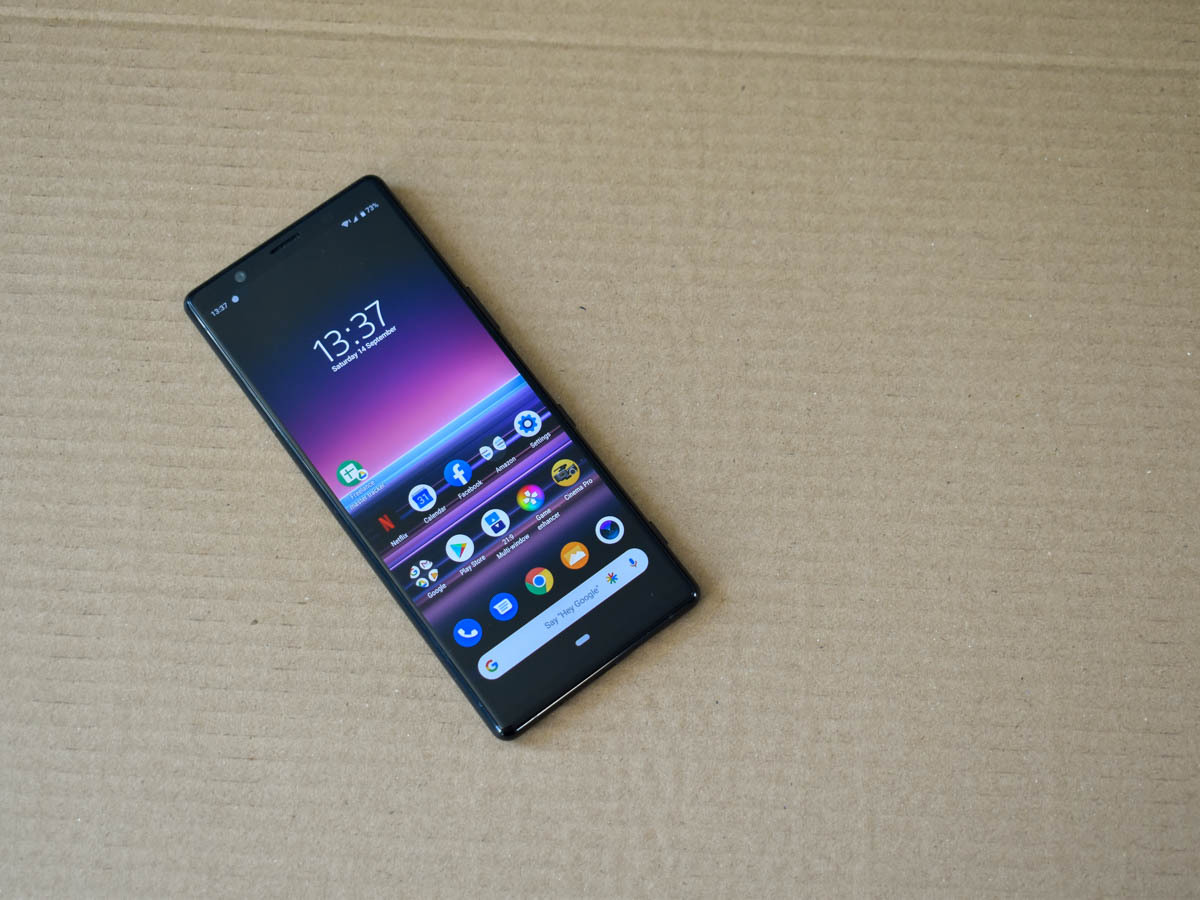 With an epic display, ample gaming power and a camera that should please amateur snappers and prospective filmmakers alike, there's a lot more to the sturdy Xperia 5 than slightly botched biometrics.
Stuff Says…
A pocketable flagship with a sensational screen and a great camera
Good Stuff
Excellent display
Versatile camera
Good battery life
Bad Stuff
Awkward fingerprint scanner
Side Sense is temperamental
No case included