Sony XR-55A80K review: another bright idea
Mainstream OLED promises much, but isn't short of rivals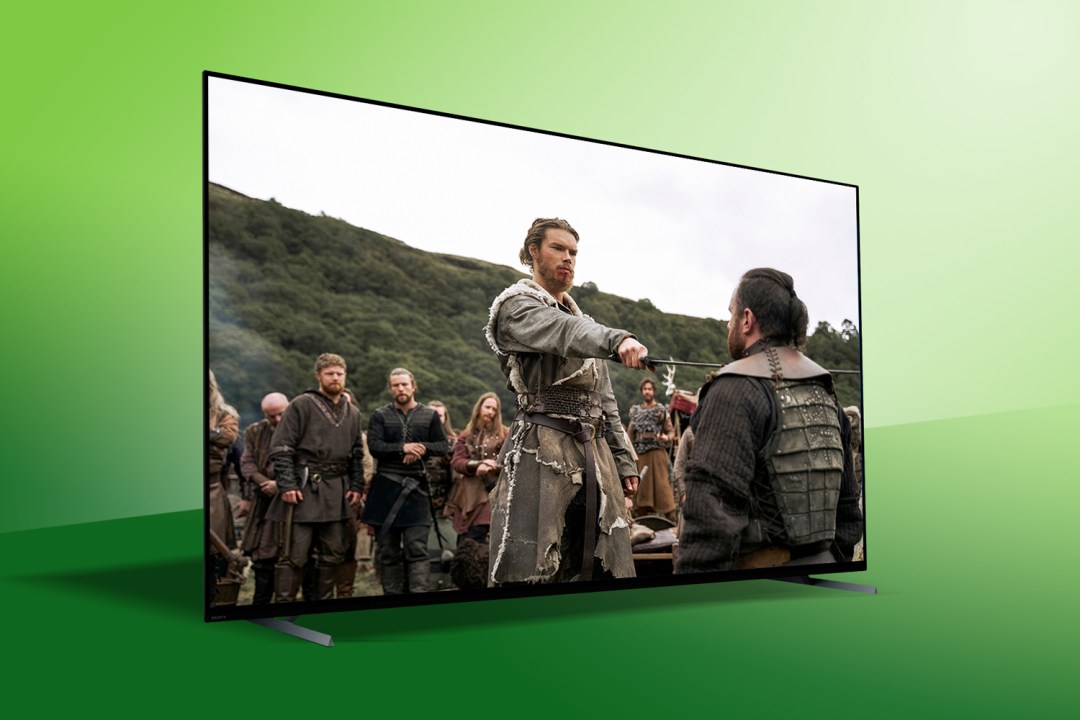 The Sony XR-55A80K may be in the toughest part of the entire TV market. Anyone can pile on cutting-edge features, call it a 'flagship' and charge a premium price, of course – and most brands do. But getting a premium performance out of a screen priced to sell in big numbers is a much more difficult trick. It doesn't stop most brands trying, though.
The A80K range is Sony's current attempt to hoover up significant OLED TV sales. It's the 55in version that's tested here, but it can be had in 65in or 77in versions too. It's specified and priced to compete against LG, Panasonic, Philips and Samsung (to name just the highest-profile alternatives), and compete hard.
So the question is a simple one: does it?
Design and build: (almost) hidden depths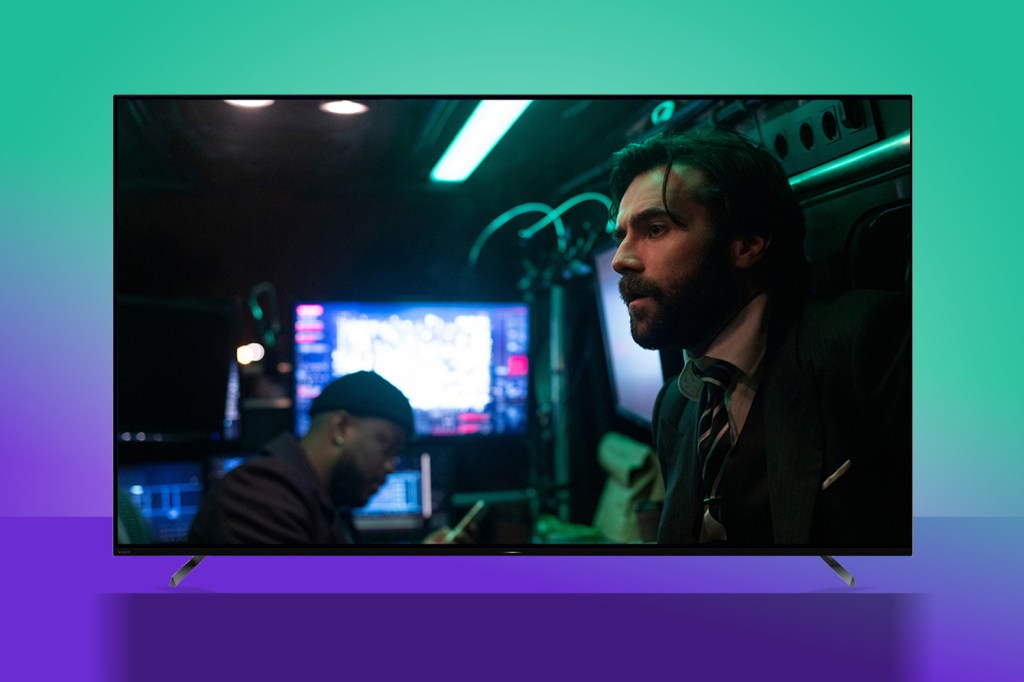 From dead-ahead (which is how we usually look at our TVs, isn't it?), the Sony XR-55A80K is all business. Three of its titanium grey bezels are slim to the point of disappearing, and even the wider bezel across the bottom of the screen is far from intrusive. It's basically all screen, which is just how we all like it.
The two slender wedge-shaped feet on which it stands can be put into a number of positions. 'Standard' puts them 118cm apart and keeps the bottom bezel nice and low to the surface the screen is standing on. 'Narrow' closes the gap between them to 85cm, which is useful if your surface isn't as wide as your TV. 'Soundbar' keeps that narrower width but raises the screen sufficient for the average soundbar to fit beneath without issues.
In profile, though, the Sony isn't quite so minimal. 'Slimness' used to be a big OLED selling point, but the skinny portion of the A80K screen is restricted to the very top. The rest of it is 53mm deep, which makes it a less desirable wall-hanging proposition than some alternatives. Its 18kg shouldn't be a problem if you decide to hang it, though.
There's a clip-on/-off section of the rear panel hiding all the screen's inputs except for mains power, and it works well as cable-management. It attaches and detaches with real positivity – and in every other respect, too, the A80K is built and finished to the sort of standard Sony established ages ago.
Features: two out of four ain't bad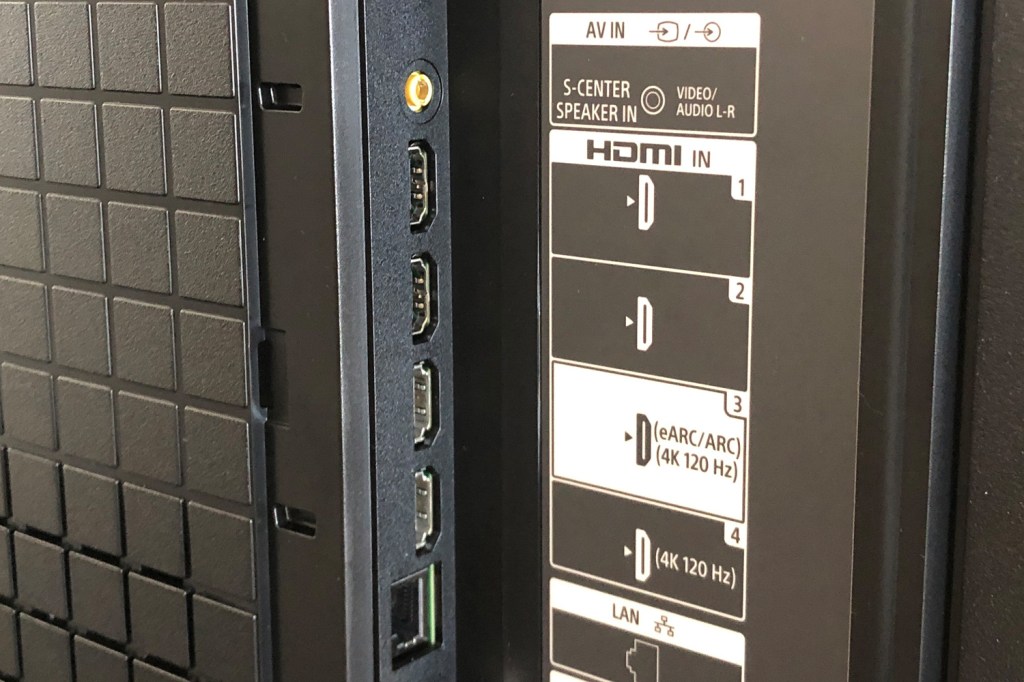 This is a 4K OLED TV, and is compatible with HLG, HDR10 and Dolby Vision HDR standards. Picture modes are numerous, of course, but the most significant are Dolby Vision (here in both 'Bright' and 'Dark' variations), IMAX Enhanced, and Netflix Calibrated (for those who like a dim and dull picture from their nice new telly).
The Cognitive Processor XR (plus all its little helpers) is in charge of picture quality here, just as it is on all Sony's other current OLED and QD-OLED screens. It can adapt both brightness and dark-tone levels in real time on a scene-by-scene basis, and it's able to deliver the full DCI-P3 colour coverage so beloved of the film industry.
As far as connectivity is concerned, Sony has overlooked nothing. Dual-band wi-fi, Chromecast built in, Bluetooth 4.2 and Apple AirPlay take care of the wireless stuff, while an Ethernet socket, a couple of USBs (one of which can record to an HDD), three tuner aerial posts (one RF, two satellite) and four HDMI sockets look after physical connectivity. Two of these sockets are at HDMI 2.1 standard, and so feature ALLM, VRR and 4K@120Hz – Playstation 5 owners can also enjoy Auto HDR tone-mapping too. Only one of these HDMI inputs takes care of eARC connectivity, though, which makes the Sony a bit less adaptable than rivals (and there are plenty) with four HDMI 2.1 inputs.
The Sony XR-55A80K uses the Acoustic Surface Audio+ technology Sony's been so keen on lately, and here there are three actuators that excite the screen to the point it becomes a loudspeaker. Two downward-firing subwoofers recessed into the chassis take care of low-frequency sound, and Sony's included a hybrid mini-jack input in case you want your TV to be the centre channel in a surround-sound set-up.
Interface: choose your weapon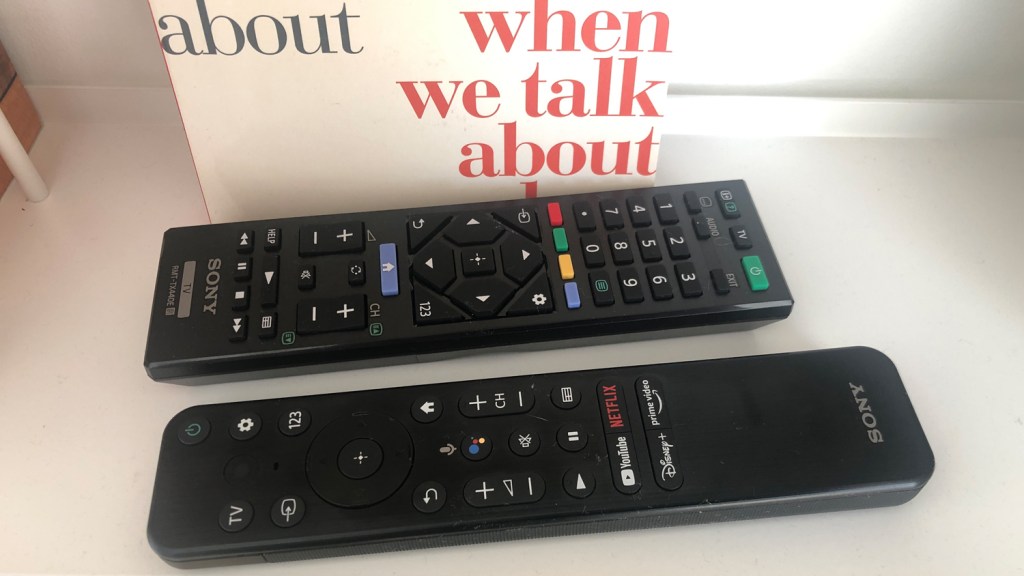 As far as controlling the A80K goes, Sony provides the (suddenly usual) couple of remote controls. One is nice to hold, doesn't have too many buttons, features direct keys to four of the more high-profile streaming services, and has a mic for interacting with the screen's built-in Google Assistant. The other isn't all that nice to hold, and has too many buttons (many of which are too small).
Either handset puts you in charge of some usefully extensive, but not too intimidating, set-up menus. The Sony doesn't look too bad straight out of the box, and it doesn't take long to make worthwhile changes to picture performance – but those for whom there can be no rest until the minutiae of colour gamma adjustment has been investigated are catered for too.
The Google TV smart interface is full-screen and quite assertive. It's easy enough to navigate and has a good selection of catch-up and streaming apps, though, including Apple TV, Disney+ and Sony's own (very worthwhile) Bravia Core.
Performance: seeing the light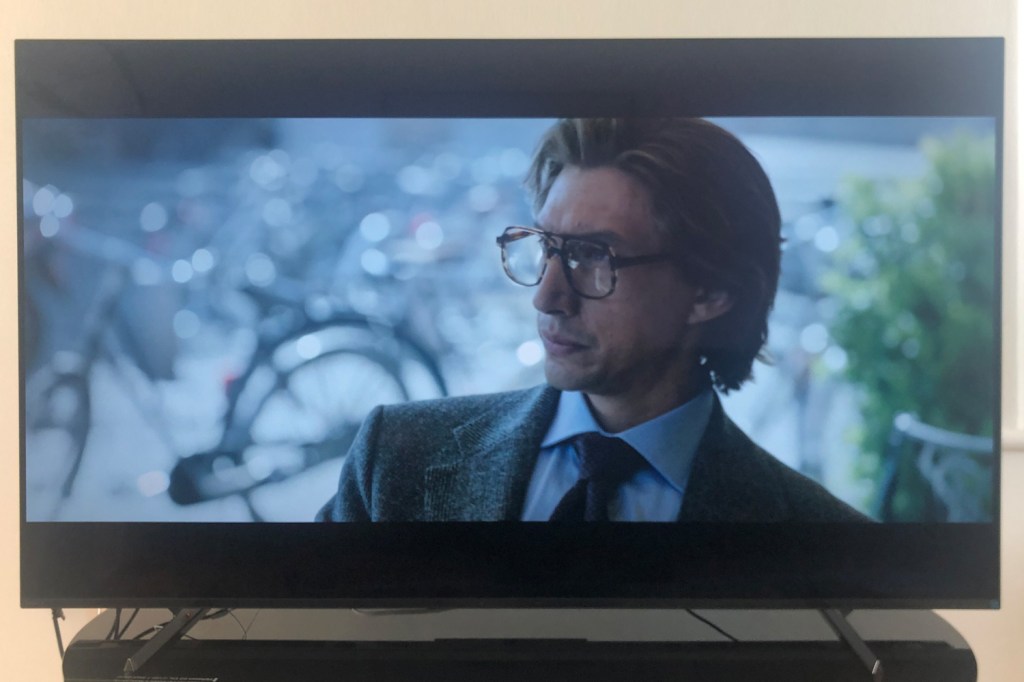 Allow the Sony XR-55A80K to get on the good foot with a 4K, Dolby Vision stream of Netflix show Inventing Anna, and the news is almost entirely good. So we may as well start with where it isn't – because this won't take long.
The A80K just isn't all that bright a TV. That's broadly true of almost every OLED, relatively speaking, but nevertheless this Sony isn't going to be all that easy a watch in brightly lit rooms. The white tones it generates are clean, detailed and have great variation – but they are low on punch and intensity.
With that out of the way, here's a far longer list of more positive attributes. Dark tones are deep, varied and absolutely packed with fine detail. The colour palette is wide-ranging, naturalistic and punchy. Depth of field is prodigious, picture noise is to all intents and purposes non-existent, and skin-tones and -textures are confident and convincing. The A80K can handle tight, complex patterns without going to pieces, and you need only spend a moment in the 'Motionflow' section of the set-up menus to get smooth, assured on-screen motion too.
Ask the Sony to upscale some 1080p or 720p content and it's a similar story. Get beyond that lack of brightness and detail levels remain high, edges remain smooth and skin-tones remain lifelike. This is a very capable upscaler indeed.
Fire up a games console and the good news just keeps on coming. The A80K automatically switches to Game mode, and while there's slight-but-definite granularity to images and an accompanying lack of rigour (relatively speaking) where edge-definition is concerned, motion stays smooth and detail levels stay high. Best of all, the Sony has input lag of less than 15m/s, which should satisfy all but the most uptight console gamer.
As far as sound is concerned, in this instance the Acoustic Surface Audio+ system is a bit better in theory than in practice. There's no arguing with the relative scale of the sound it delivers, and the sensation of point-source that comes from the entire screen serving up sound is not to be underestimated either. But the Sony's tonality is tilted strongly towards the thin and slightly coarse, with very little presence below the midrange despite the brace of little subwoofers. Be sure to budget for one of our favourite affordable soundbars if you want sound to do some justice to the pictures available here.
Sony XR-55A80K verdict
Take it on its own terms and the Sony XR-55A80K is a very agreeable television indeed. Its picture quality is very enjoyable, its upscaling is decent too, its smart TV interface is better than a lot of rivals and it's a good-looking object in its own right.
But its lack of outright brightness and rather cold, toppy audio characteristics mean it's got its work cut out against the best of its rivals.
Stuff Says…
Loads more pluses than minuses, but the Sony A80K isn't quite the perfect package
Good Stuff
Endlessly watchable 4K HDR images
Good spec and great user interface
Build and finished like a premium product
Bad Stuff
Just not bright enough
Sound is thin and edgy
Several great alternatives at the money
Sony XR-55A80K technical specifications
| | |
| --- | --- |
| Screen size | 55/65/77in |
| Resolution | 3840×2160 |
| HDR | HDR10, HLG, Dolby Vision |
| Inputs | 4x HDMI, Ethernet, Bluetooth, Wi-Fi, composite, digital audio |
| Smart TV OS | Google TV |
| Weight | 19.5kg (with stand) |
| Dimensions | 1227x738x3300mm (with stand) |