Sony XR42A90K review: not quite a no-brainer
Finally there are some decent small OLED TVs available - but does smaller (but still rather expensive) mean compromise in other areas?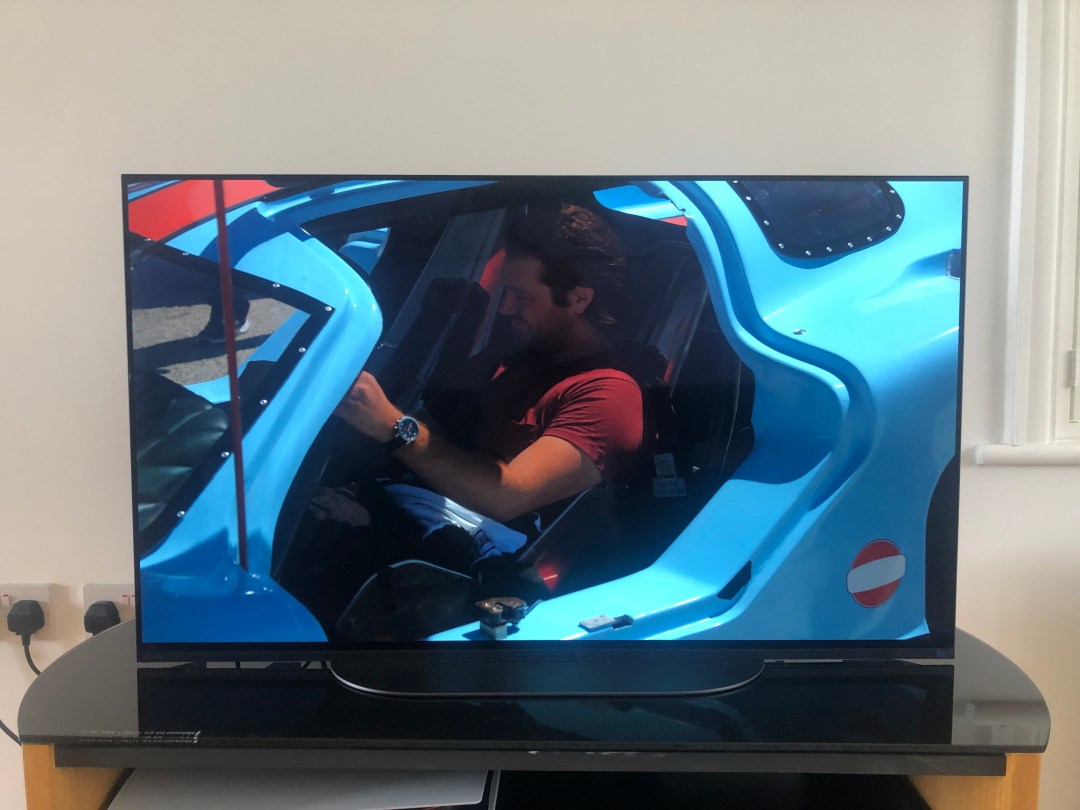 As long as we're not talking about portion sizes or something, then we all know that small is beautiful. And finally, there are some small OLED TVs available. This makes the technology available to people with smaller spaces (or people who just don't want that big a television). Here's our full Sony XR42A90K review.
It seems Sony doesn't think the whole 'small is beautiful' thing extends to asking prices, though. We've reviewed plenty of very acceptable 42in televisions that cost half of what Sony's asking for its XR42A90K OLED TV. None of them were OLED TVs, admittedly, and none of them had the unusual audio system of this television either. But – and it's hard to overemphasise this – none of them were anything like this expensive.
So how can a screen this small justify a price this big?
Design and build: (partially) hidden depths
A small TV only remains small if the bezels surrounding its screen are compact too – and so from the dead-ahead, the XR42A90K looks neat and tidy. Three-quarters of its bezels are very narrow indeed, and even the bigger stripe across the bottom of the screen isn't that much bigger.
In profile, though, the Sony's a little disappointing. One of the major pulls of OLED technology is (or at least should be) how very slim they can be. But apart from a brief little area at the top, the Sony's an unsexy 5.7mm deep. That's a measurement that harks back a decade or more. 'Flush' is not the word to describe the way this TV will look if you decide to hang it on the wall.
Happily, it looks much better on its little stand. It's small, for a start, so the A90K doesn't need a big surface to stand on. And the screen sits very low indeed, which helps the whole arrangement look unified. But if you need to find space for a soundbar, the Sony is supplied with little 'stilts' for its stand. These raise the bottom of the screen far enough to position a soundbar underneath.
At the rear of the chassis, the Sony features a lot of high-quality plastic arranged in a gridded design. There's a small woofer visible behind a section, while the majority of the physical inputs are hidden behind a 'pop on/pop off' panel that's a match for the rest of the surface.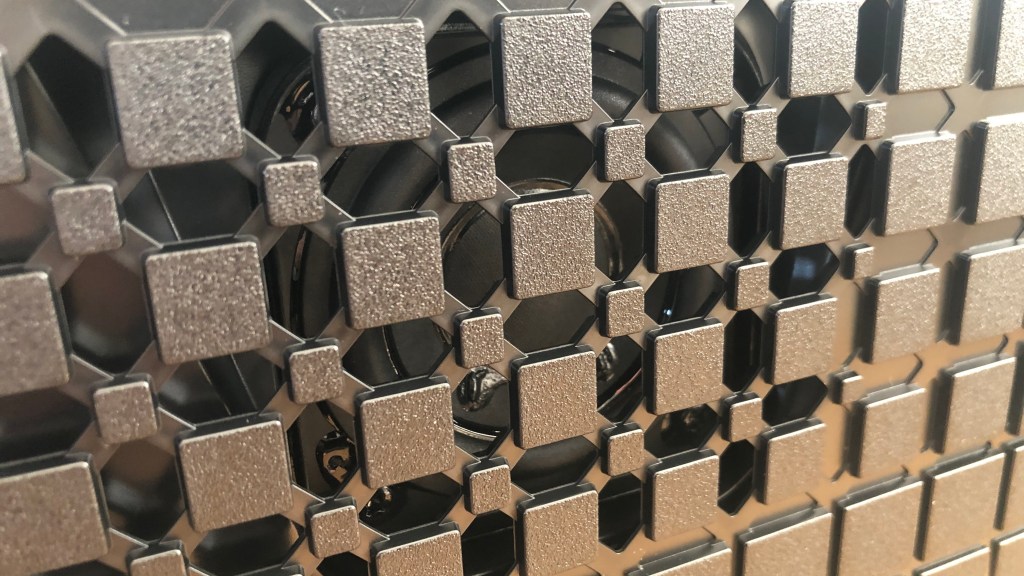 It's all very neat and, as has long been the case with Sony TVs, it's all put together really well. It's not like we all go around touching our TVs all the time, but the quality of materials and construction here should make even the biggest worriers rest easy about the longevity of their television.
Features: two-point-one for the win
As far as the headlines go here, well, they're obvious. This is a 4K OLED TV, compatible with HLG, HDR10 and Dolby Vision HDR standards. It has a stack of physical connectivity and quite a few wireless alternatives. And it's fitted with the fancy 'invisible' audio system Sony has been perfecting on its OLED TV ranges for well over half a decade now.
Half of the XR42A90K's HDMI inputs are at a 2.1 standard, which means 48Gbps bandwidth and compatibility with 4K@120Hz, VRR and ALLM – so it's ready to make (almost) the best of your next-gen games console. There's no HGiG, admittedly although PS5 owners can deploy their Auto HDR Tone Mapping feature. There's also no Dolby Vision game mode (which Xbox Series X will dislike but will be unable to do anything to mitigate). One of these HDMI sockets is also eARC-enabled, so any worthwhile soundbar can be utilised.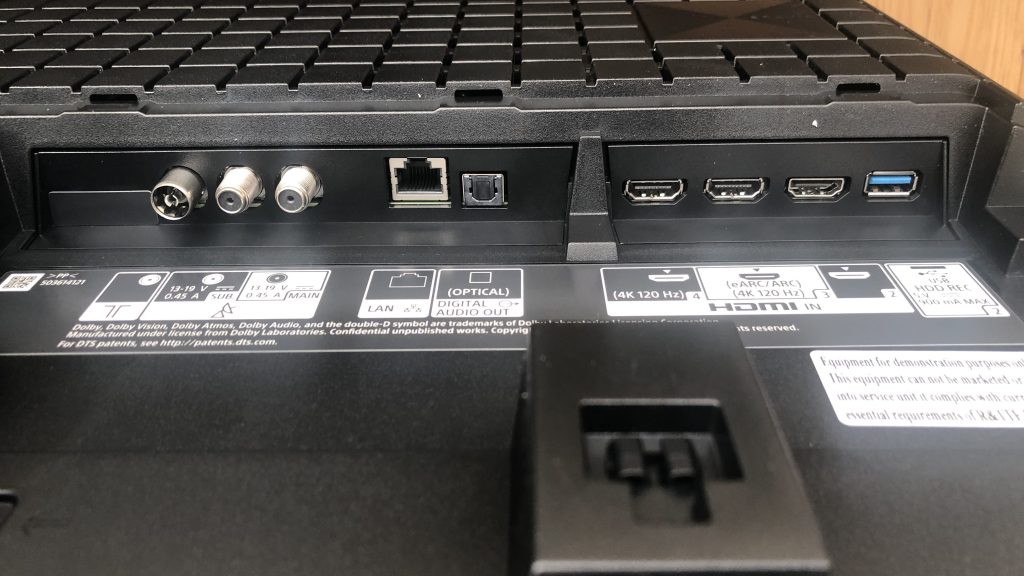 There are also a couple of USB inputs, a digital optical output, aerial posts for a pair of integrated TV tuners, and an Ethernet socket. Wireless alternatives run to Bluetooth 4.2, wi-fi and Chromecast Built-In, with Apple's AirPlay and HomeKit also available.
Sony's put its 'Cognitive Processor XR' in charge of operations here. It's the same engine as the one that runs the show in the XR55A95K we reviewed recently. Its job is the same here: to make native 4K content look its best, to use its AI capability to offer class-leading upscaling, and to make the gaming experience as unruffled and enveloping as possible. It's a big ask, but if our experience is anything to go by it's got every chance.
Also like the A95K (and like a lot of Sony OLED TVs that have gone before), the A90K is fitted with a variation on the actuator-based audio system Sony is so keen on. The actuator 'excites' the screen to the point it behaves like a speaker. Here it gets a bit of low-end support from the woofer that's peeking out from behind the covering of the rear of the cabinet.
Interface: choose your weapon
As is becoming completely common these days, the XR42A90K ships with a couple of remote control handsets. And as is usual in these instances, one is a nice-feeling, minimal affair with just the essential controls, while the other covers every function on a handset filled with vague-feeling buttons that are mostly too small.
Either of these remotes will put you in charge of some nicely judged set-up menus. There are enough options and sufficient adjustability to keep those who think setting up a new TV is supposed to take hours satisfied. The rest of us can get perfectly acceptable image quality in next-to-no time. Unusually, the Sony looks quite dull straight out of the box, while most TVs tend to look madly overdriven and aggressive. There's a reason for that, as we'll soon find out…
This is also the easiest way to navigate the Sony's Google TV smart interface. It's a full-screen job, sadly, but it is at least quite logical to pilot and doesn't push too many inexplicable recommendations your way. The XR42A90K is also compatible with Google Assistant voice control – there's a little switch on the side of the cabinet to switch the mic on or off – and it's easy to integrate into your wider Google Home set-up.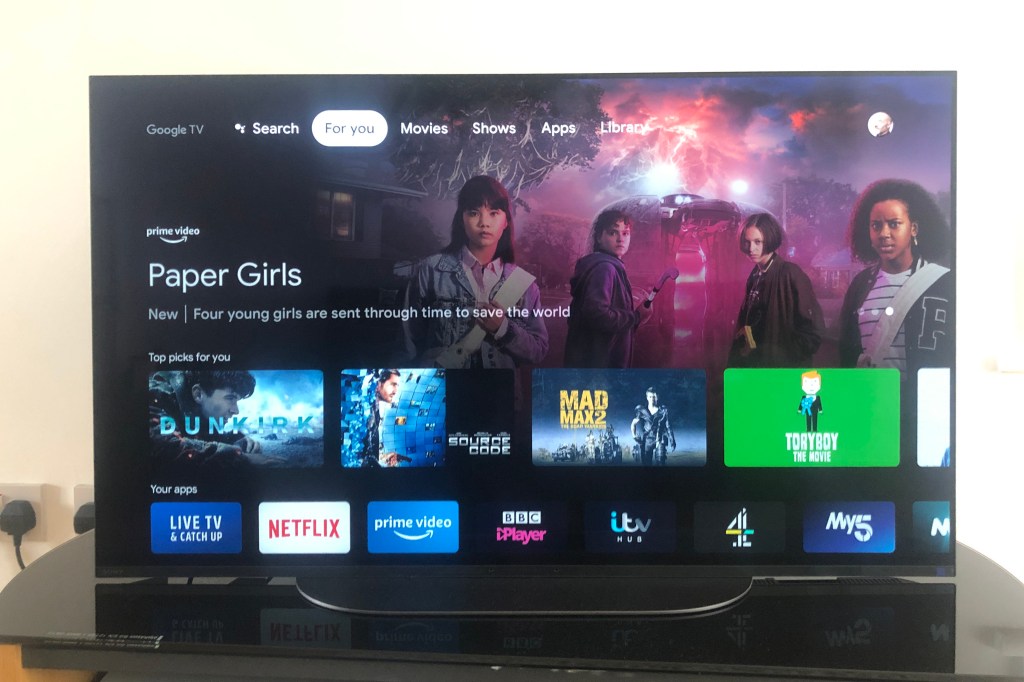 Performance: turn your lights down low
If you've got a 4K TV that's compatible with Dolby Vision HDR, it's hardly cheating to give it some 4K Dolby Vision content to handle, is it? And with one (admittedly quite significant) caveat, the Sony XR42A90K looks – how best to put this? – bloody lovely when given this sort of stuff to deal with.
A Netflix stream of The Gray Man illustrates the point. The Sony's overall presentation is so natural and life-like, correct on an almost instinctive level, that for a short while it doesn't even seem necessary to try and work out why it should be so – it's just enough to sit down and enjoy it. But eventually, the nuts and bolts of the A90K's picture-making prowess seem worth discussing.
The colour palette it draws from, for example, is extraordinarily wide-ranging and convincing. There's apparently no limit to the degrees of shade and tone it can describe, and while it's a vibrant and assertive watch there's nothing garish or shouty about the way the Sony delivers colours. 'Life-like' is a word we'll be returning to here, but it's the best way to describe the way the A90K colours in its images.
It's similarly accomplished where motion-control is concerned – from rapid and unpredictable multi-directional movement to those aching slow pans that can catch out so many televisions, the Sony's in absolute control. It grips on-screen motion with complete confidence and seems unshakeable in any and every circumstance.
Edge-definition is equally persuasive, and the suppression of picture noise is getting on for ruthless. Skin-tones and skin-textures, which even quite competent TVs can render as uniform and characterless, are alive with fine detail – and consequently as characterful as they come.
Problems, such as they are, concern the outright brightness of the panel. A relative lack of brightness has long been OLED technology's Achilles heel, and given the pixel density of a 42in screen, there's even less chance of wringing LED levels of brightness from the XR42A90K's panel. The white tones it can generate are clean and just as detailed as everything else on the screen, but they just don't have impact. When they're alongside the Sony's black tones (and if OLED has whatever the opposite of an Achilles heel is, black tones are it), the detail they carry allows them to create quite convincing contrasts – and the A90K's black tones are deep, lustrous and packed with detail. As far as watching this TV in a brightly lit room goes, though, there's every chance you'll feel the need to lower the lights or draw the curtains.
(This is exacerbated by the A90K's light sensor, which wants to adjust brightness levels on the fly relative to the content you're watching and the environment in which you're watching it. In practice, though, the Sony tends to hunt between different levels of brightness to nobody's satisfaction.)
Where sound is concerned, there are definite pros and cons. The specifics of the audio system allow the A90K to sound very direct and detailed, and the sensation of sound emanating from exactly the same place as the pictures has a big bearing on the overall unity of the Sony's performance. Dialogue is particularly well controlled, with a stack of tonal and textural detail revealed. But there's next-to-nothing by way of low-frequency presence, and at volumes only slightly higher than 'modest' the A90K can get slightly edgy in the treble area too.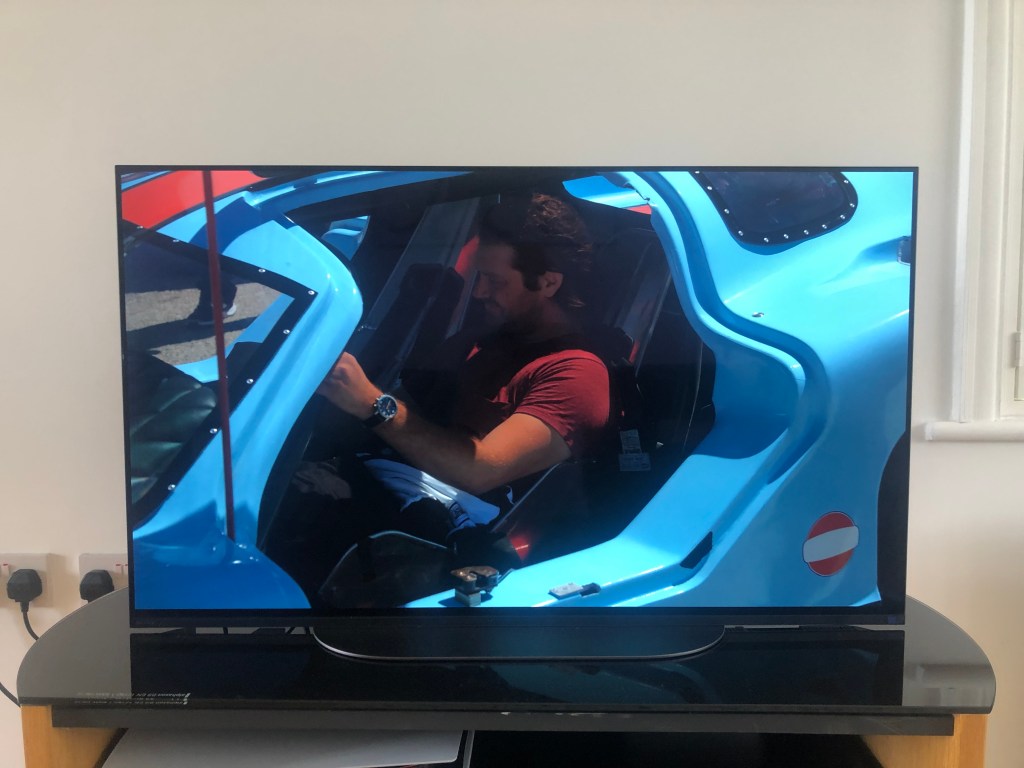 Verdict
There's more to consider here than is usual when discussing a new TV. There's definitely novelty value to seeing all the stuff OLED does so well crammed into such a small frame – and if you take the relative lack of brightness out of the equation then the Sony XR42A90K is a very strong performer. But there is that lack of brightness to be considered, and – even more importantly – there's the deeply optimistic price. So bagging a compact OLED TV isn't quite the no-brainer we'd hoped it would be.
Stuff Says…
Are your pockets deep and is your living room dimly lit? Let's hope so…
Good Stuff
Detailed, naturalistic and thoroughly enjoyable picture quality
Proper next-gen games console support
Nice smart TV interface
Bad Stuff
Very expensive
Far from the brightest TV you ever saw
Sound is quite midrange-centric