Sony ZV-1F review: vlog on
A pocketable vlog machine for aspiring content creators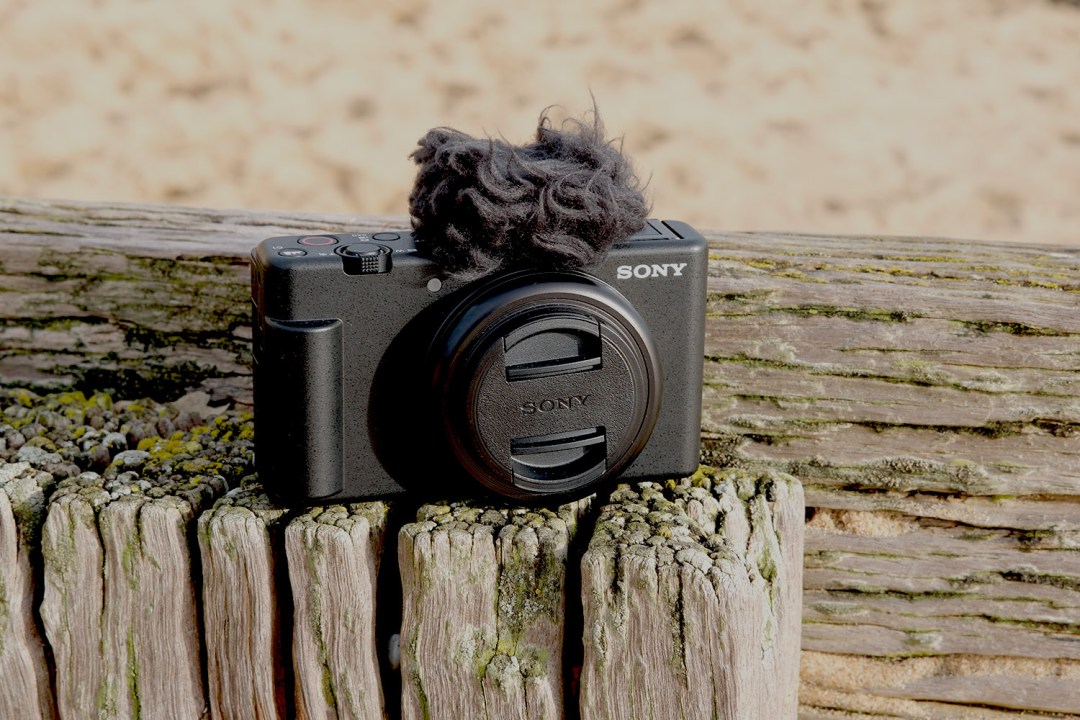 At first glance the Sony ZV-1F looks suspiciously like the ZV-1 we reviewed (and adored) last year. Like its forerunner, this is a pocket-sized point-and-shoot camera designed with simple 4K vlogging and video in mind, all the way up to coming with its own fluffy "dead cat" microphone attachment for killing wind noise.
But these two cameras aren't the same. The ZV-1, which remains a staple of Sony's current line-up, is slightly better equipped and more highly specified, with this new model intended as a cheaper, leaner entry-level option. That's not such an unusual approach, but what is strange is that the two cameras are only £50 apart in pricing – relative peanuts in the scheme of things. We suspect the ZV-1F was intended to be much cheaper, but thanks to a host of economic factors plaguing both the world and in particular the UK (Liz Truss, take a bow), it's now being sold at almost the same price as the step-up model.
That puts this little camera in an odd position. It's new, yes, but should you just buy the slightly better, barely more expensive older model instead? Let's find out.
Design and build
Sony products are almost always well designed and constructed, so unsurprisingly that's also the case here. The ZV-1F is made of plastic but it's the sturdy, premium type with zero creakiness, and despite the slight protrusion for the lens it's also small enough to comfortably fit in a jacket pocket.
As with the ZV-1 there's no room for a viewfinder or pop-up flash (you will find these on the more photography-focussed Sony RX100 models, which use the same sensor), but the twisty, flip-out screen is a peach: it's sharp, reasonably bright, can be pointed almost any direction and supports touch inputs. You also get a good selection of physical buttons which, while sometimes tiny, are well-placed and tactile enough; having one shutter button for stills and one to stop/start video recording is a welcome touch, while another cycles through the ZV-1F's three shooting modes: photo, video and S&Q (slow and quick).
The battery and SD card slots are accessible without having to detach or loosen any tripod or grip you may have the camera attached to, while the physical connections (a 3.5mm mic input, a USB-C for charging and data transfer, and a Micro HDMI) each have their own little flap on the right side.
A headphone jack would have been a thoughtful inclusion given the focus on video and vlogging, so that's a black mark against this model (that being said, the ZV-1 doesn't have one either). It also lacks Sony's proprietary multi-interface shoe on top, instead sporting a "dumb" cold shoe that can accommodate the fluffy wind shield or non-powered accessories; the ZV-1 has the powered shoe, so that's one big advantage it has over this model for anyone planning on using Sony's powered accessories.
Features
Sony's cameras are rightly prized for their autofocus performance, with speed, accuracy and tracking capabilities the strongest points. While the ZV-1F is quite good in this regard, it's lagging noticeably behind its pricier stablemates due to using contrast-based detection rather than hybrid detection. While it usually gets there in the end, the AF hunts at times, not quite locking on the first try.
In its favour, it does have impressive eye and face tracking, which keeps even shifty subjects in constant focus during video recording, and the Product Showcase mode is handy if you're a vlogger who constantly holds things up in front of the camera.
There's not much else to note in the way of features, but the camera can charge via USB-C (pretty standard these days), features a single SD card slot and automatically recognises when a video has been shot in portrait mode – which is really useful for TikTok/Reels makers who don't want to have to manually rotate all their clips before uploading.
Performance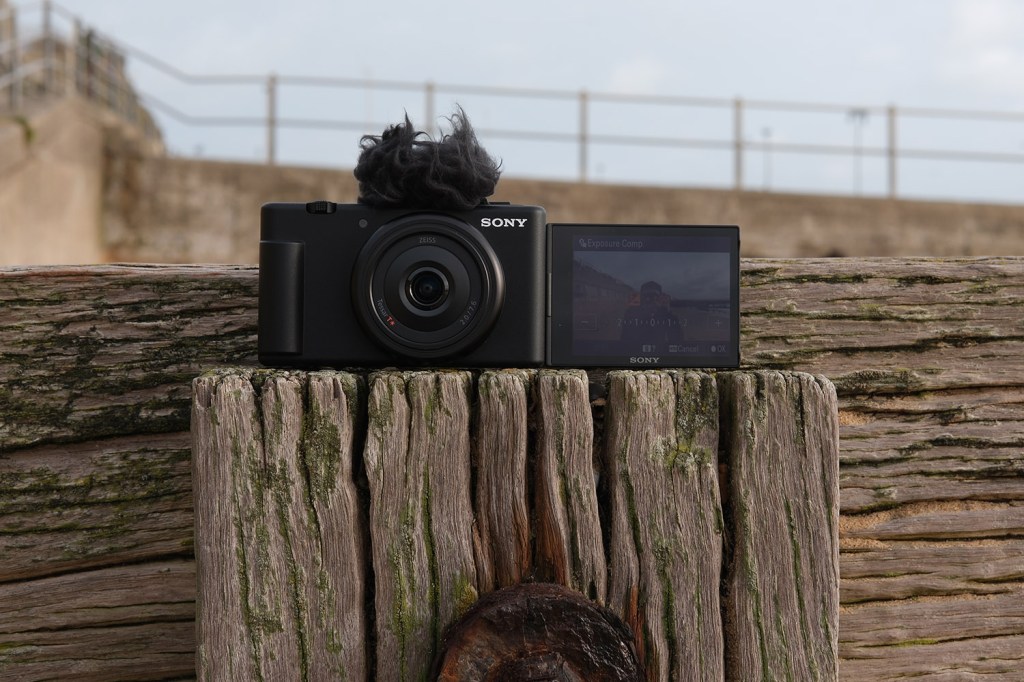 The Sony ZV-1F can shoot video in one of two video formats – XAVC S 4K (at 24 or 30fps) or XAVC S HD (1080p at 24/30/60/120fps) – and in a variety of picture profiles including S-Log2 and Hybrid Log Gamma. So despite its entry-level status, it's fairly well-equipped on the video front, and its image quality is impressive in good lighting: skin tones look accurate, detail is beautifully crisp and the 1in sensor and f/2.0 aperture make it possible to achieve some shallow depth-of-field effects (i.e. the subject in sharp focus, the background smoothly out of focus). The S&Q mode also serves up lovely smooth slow-motion footage – perfect for those dreamy b-roll inserts.
It's not the perfect small vlogging cam, though: things can get a bit grainy when lighting isn't ideal, there's a fairly severe rolling shutter issue when moving it from side to side, and using the image stabilisation function (which is digital only – no optical stabilisation is available) results in a rather severe crop to the frame. That means you may have to awkwardly hold the camera at arm's length when filming in order to fit yourself comfortably in the frame.
Audio via the three-capsule mic is impressive too: crisp and clear at picking up the user's voice, even when vlogging out and about in blustery conditions.

The 20.1MP still photos turned out by the ZV-1F are nice too, even though photography is definitely not this camera's main strength. With no viewfinder you're of course forced to use the screen for shot composition, but the lens and sensor deliver detailed and colour-rich shots in the right lighting. There's no RAW shooting option available, but that's perhaps unsurprising given the simplified, entry-level nature of the product.
Sony ZV-1F verdict
The Sony ZV-1F sits in a slightly uncomfortable spot in the firm's range. If it were a couple of hundred pounds cheaper, it'd be very easy to recommend this to aspiring vloggers taking their first steps into the content creation world. Its video and audio performance is solid and it's small and lightweight enough to go everywhere you'd take your phone.
And yet the older ZV-1 still feels like a better choice at the two cameras' current price points. For just a few quid more it gives you pretty much all the same features and level of performance plus superior hybrid autofocus, a 2.7x optical zoom lens, a Multi Interface Shoe and RAW still shooting, with its only real downside being the use of Micro USB instead of USB-C. For most people, we feel the older camera is a better choice that'll keep up with your rising creative demands for longer.
Stuff Says…
A fine pocketable vlogging camera for newbies, but you'll get more mileage from its pricier Sony sibling
Good Stuff
Good quality 3-capsule mic
Small and lightweight build
Impressive video quality for a compact
Bad Stuff
No dedicated headphone socket
Autofocus is contrast detect only
Sony ZV-1F technical specifications
| | |
| --- | --- |
| Sensor | 20.1MP 1.0-type Exmor RS CMOS |
| Lens type | Zeiss Tessar, f/2.0 |
| ISO range | 125-12800 |
| Continuous shooting speed | 16fps |
| Video recording | 4K/30, 1080p/60 |
| Screen | 3in, 921,600-dot touchscreen |
| Connectivity | USB-C, Micro HDMI, 3.5mm microphone, Wi-Fi, Bluetooth |
| Dimensions | 106x60x46mm, 256g |