Soundcore Liberty 4 review: move to the (heart)beat
Are the wellness-focused Soundcore Liberty 4 buds a personal best? Or worthy of disqualification?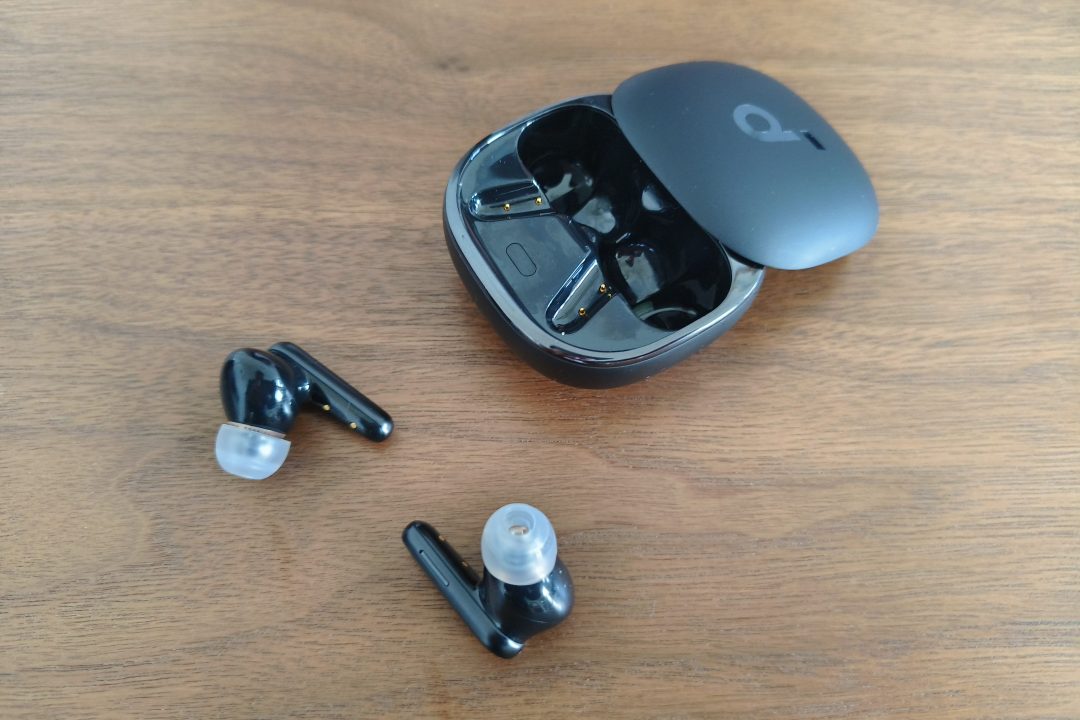 Anker's Soundcore sub-brand is something of a hidden gem for those chasing studio quality specs at a reasonable price. They're not going to be mentioned in the same breath as Sennheiser or Bose (even if we just did) and are more likely to appear at the affordable end of any best headphones lists, but are still a brand to consider if your budget is capped at around £150. Case in point: The Soundcore Liberty 4.
This set of buds promises a finely tuned experience for the average listener – and their wallet. They're not in true bargain territory, but well within the realm of the Apple AirPods 3rd gen and the recently launched Nothing Ear 2 . Can they match up to their rivals – or even eclipse them with a few health-centric features?
Design and comfort: let's get physical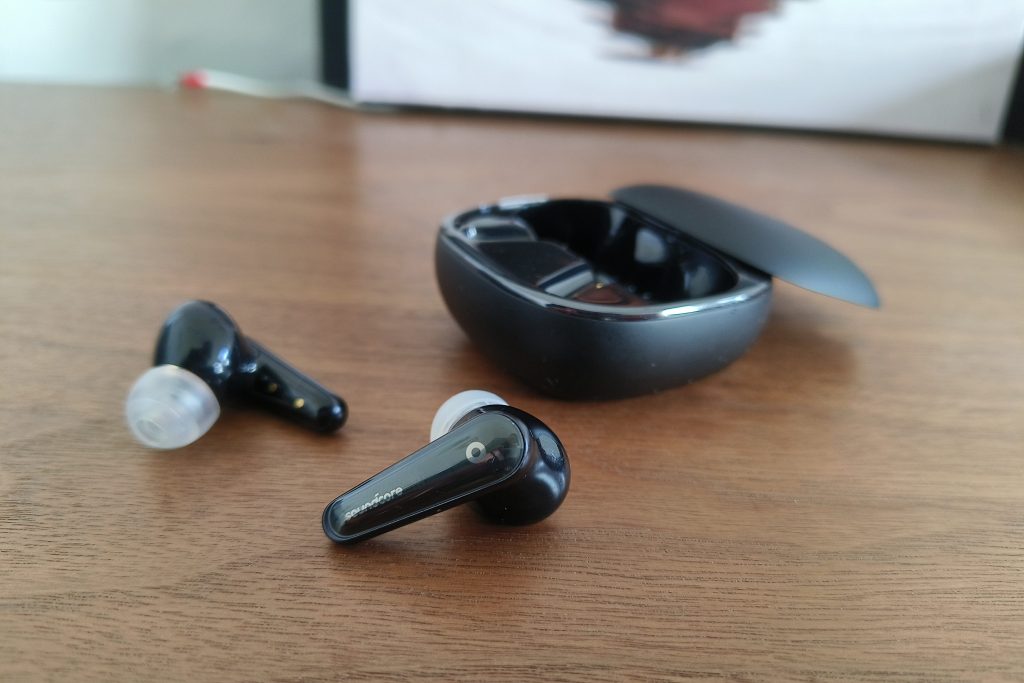 The Liberty 4 is a good example of not judging a book by its cover. You'd hardly call them inspired, and could easily be mistaken for a range of all-black buds. They give an air of function, not fashion, with simple stems and fairly prominent branding.
More thought has gone into the charging case. Instead of a simple flip top cover, here a panel slides upwards from the front to reveal the buds inside. Once paired, swiping the cover up will wake the buds and start the connection process before you can pop them both in your ears – and it doubles as a satisfying fidget slider for restless hands.
The buds burrow themselves deeply into your lugholes, which helps with noise cancellation and provides a greater sense of immersion when using Anker's spatial audio smarts. But there's a comfort tradeoff. We could happily wear them for an hour or two's commute, but any longer brought on a bit of fatigue.
They did stay firmly in place for a treadmill sprint, though, so we're confident they'll survive a HIIT class or light workout. IPX4 resistance means you haven't got to worry about sweat causing any damage, either.
Features: in a pinch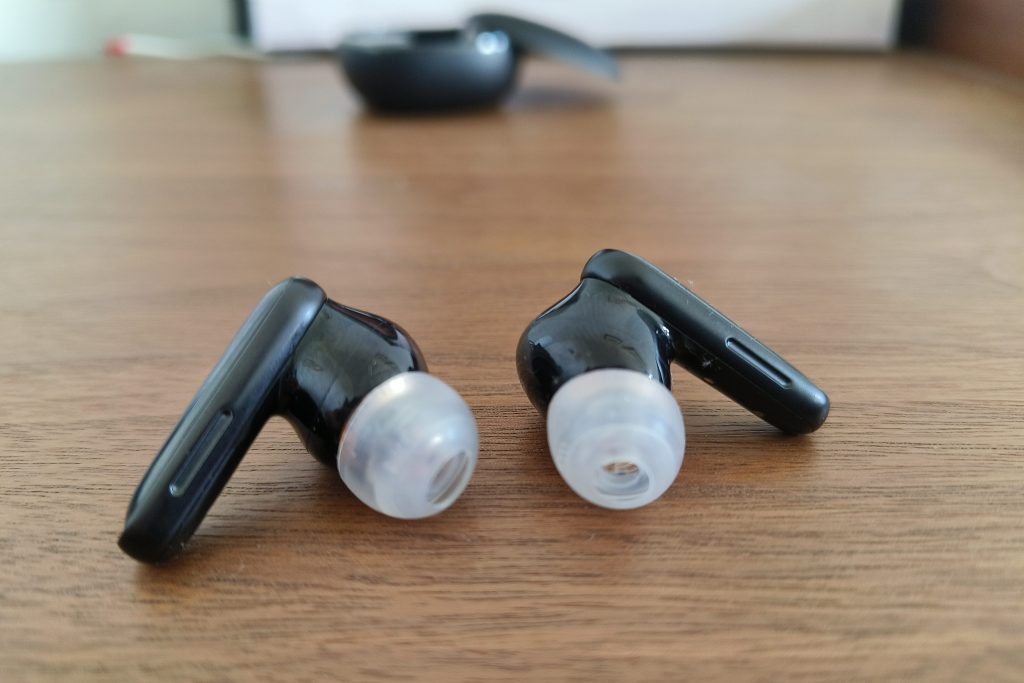 The Liberty 4 is billed as a pair of buds for the health conscious. A built-in heart rate sensor lets them act like a personal trainer of sorts, with the 'Soundcore Wellness' suite offering a range of guided workouts via the smartphone companion app. They can also monitor your posture. Pop 'em in and sit up straight; the app will then know when you're slouching at a weird angle. Sit for more than five minutes in an improper position, and it'll ping you a reminder to sit up.
Both work as intended, and might help out if you've yet to invest in a fitness tracker or smartwatch, but could be a little too basic for dedicated gym-goers. The overly monotone, robotic voice that pumps you up during workouts quickly begins to grate, too.
Controlling the buds takes a simple squeeze (or three). A pinch on either bud's stem plays and pauses a song. A double press switches on ambient sound, while three pinches plays the last track. There's no touch tapping as we've seen in other buds, such as the Bose QuietComfort II, which means accidentally skipping tracks when fixing your hair or attending to an itchy ear is completely avoided here.
Compared to the six hours of ANC off listening time managed by the Nothing Ear 2, the Liberty 4's claimed nine hours of battery life is rather impressive. That said, we found it delivered a little below that, and drains much faster when you turn on noise cancelling. We lost 20% after just an hour of use, but a total of around six hours is still a good showing. Spatial sound is even more draining, topping out at under five hours.
Case charging gives peace of mind on long journeys, with more than enough to get through an entire day of music before it also needs topping up. Wireless charging support is a welcome addition, which isn't always guaranteed below £150.
Sound: DIY remastering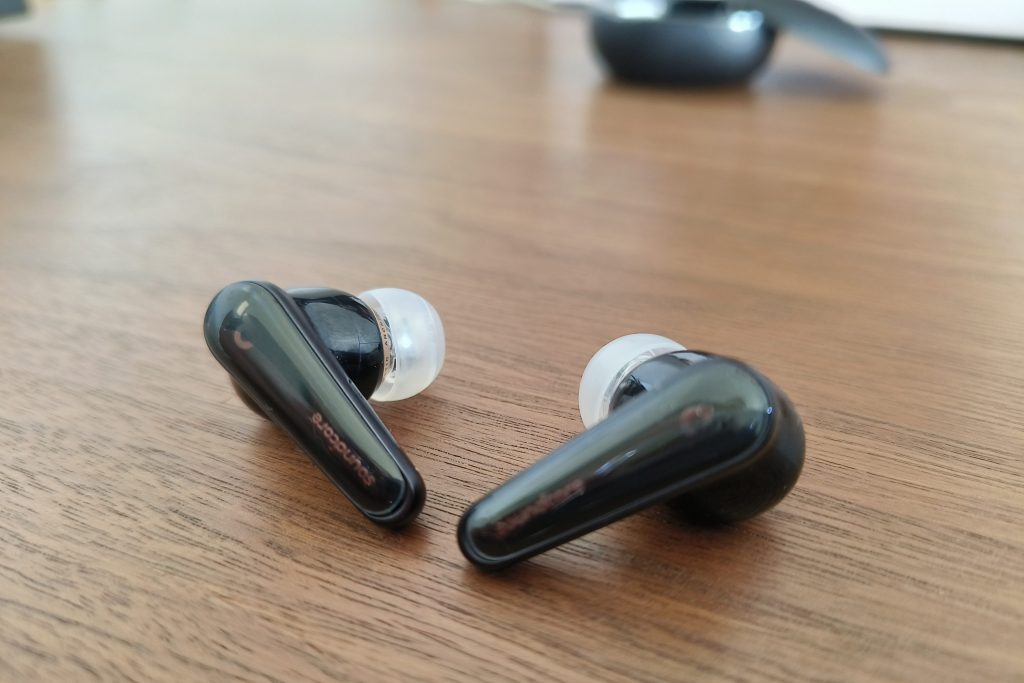 The Liberty 4's adaptive noise cancelling increases the intensity based on ambient sound, so you don't have to constantly fiddle with the companion app. It worked well at our local gym, with the buds pretty much cutting out all external sounds including the drone of the air conditioning and . They even mask the heartiest of gym bro grunts without turning the volume to its highest, and don't colour the sound to any major degree.
With dual drivers set out in a coaxial (one in front of the other) arrangement and support for LDAC high quality Bluetooth, Soundcore is certainly aiming high on the audio front. And on first listen they do indeed deliver, albeit relative to the asking price. There's a halcyon energy to Autechre's See on see, where fragmented synth lines float over Moog-like bass. At times we could pick out each note of this overly complex electronic arrangement. The soundscapes are bold, but never overwhelming. It's a reassuring quality, and avoids cranking the volume up to achieve more oomph.
Jazz records, such as Herbie Hancock's Head Hunters, are rich and balanced. We listen to records that were originally recorded on broken equipment in the 1970s, and find they've been DIY remastered by the buds. The buds do seem to accentuate high frequencies a little too much at times, though. But this can be changed.
HearID Sound, essentially an audio tailoring feature that tests your hearing sensitivity and genre preferences, is a simple yet well-tuned feature that tends to split listeners into two main preferences: balanced and subtle, or bass heavy.
Custom EQing can either be set manually through an eight-point curve, or designated to one of the 22 preset sound profiles. This caters to fans of classical, dance, hip-hop, Latin and pop, with further settings for podcasts and spoken word. The fit test and in-ear detection also work as intended.
The other major addition is spatial audio, which gives well mastered tracks much greater immersion, but can do others dirty. The Liberty 4 has both fixed and head tracking modes, which are easily toggled through the companion app and work as you'd expect, but also highlight our main gripe with the tech. Tracks like The Magic Number by De La Soul sound like they're being played in an empty building. There's too much space, which muddies the overall sound quality. You're reliant on tracks being properly mixed for it, as the upscaling just isn't there.
It's far from a gaming headset – you'd be better investing in Soundcore's VR P10 if that's what you're after – but the buds do give extra depth to expansive open worlds. As a recent PS5 owner, this is something of a revelation. I hear the crunch of leaves below my feet in Ghost of Tsushima and the piercing swing of Kratos' axe in crisp clarity when playing my PS5 through PS Remote Play. There was no noticeable latency in dialogue scenes, either.
Soundcore Liberty 4 verdict
There's very little to gripe at when it comes to the Soundcore Liberty 4's. But there's also not much to write home about. The buds sound terrific, and good battery life and spatial audio tech is a bonus. Aside from that, there's not much that will blow you away either, particularly when it comes to design and comfort. Some features are also a little unnecessary. They won't particularly cause an annoyance, but we'd have liked to have seen that attention placed elsewhere.
Stuff Says…
A very solid set of buds that won't break the bank, but lacks a wow factor
Good Stuff
Finely balanced audio quality for the money
Sturdy fit and exercise-friendly features
Respectable battery life
Bad Stuff
Lots of features, but not all of 'em are worthwhile
Comfort could be better
Soundcore Liberty 4 technical specifications
Drivers
9.2mm + 6mm dynamic
ANC
Yes
Codec support
LDAC, AAC, SBC
Bluetooth version
Bluetooth 5.3
Durability
IPX4
Battery life
9/28 hours (ANC off, buds / total with case)
7/24 hours (ANC on, buds / total with case)
5/15 hours (spatial sound on, buds / total with case)