Splatoon 2 review
The online shooter your Nintendo Switch has been waiting for
It seems obvious in hindsight: an online shooter where head-shotting your mates is totally irrelevant, why wouldn't it be a cult classic? On Wii U of all consoles. And yet here we are with a second Splatoon for Nintendo Switch just two years after the first game wrapped its inky tentacles around our heartstrings.
More of a Call of Duty-style sequel than a properly new game, Splatoon 2 polishes up the frenetic back and forth of its original incarnation while adding a few new extras into its brilliantly luminous mix. Already know the difference between an Inkling and Splat Roller? You'll feel right back at home after leaping into a Turf War again.
Not so hot on your squid-related trivia? You're in for quite the treat.
Once more with feeling
That 'one more go' feeling that Nintendo does so well? The original Splatoon had it in spades. Sploshing as much paint around an arena in three minutes is the very definition of a simple challenge that quickly riddles your body with adrenaline as you frantically spray luminous gloop at everything in sight.
It's a winning formula that's basically unchanged for the game's sequel. Once again, Splatoon 2 serves up a single-player campaign that teaches you its basic mechanics, a small but well-curated array of online multiplayer modes and… that's about it. While that might sound like a slight amount of stuff to do, you can happily lose hours to Splatoon 2 once it's got its suckers stuck to you. It's in that same calibre of thrillingly addictive games as Overwatch, Destiny and Rocket League.
Lost your Turf War by a percentage point? That just won't do. Even though it's well past midnight and your dinner has now been cold for the best part of three hours.
The old familiars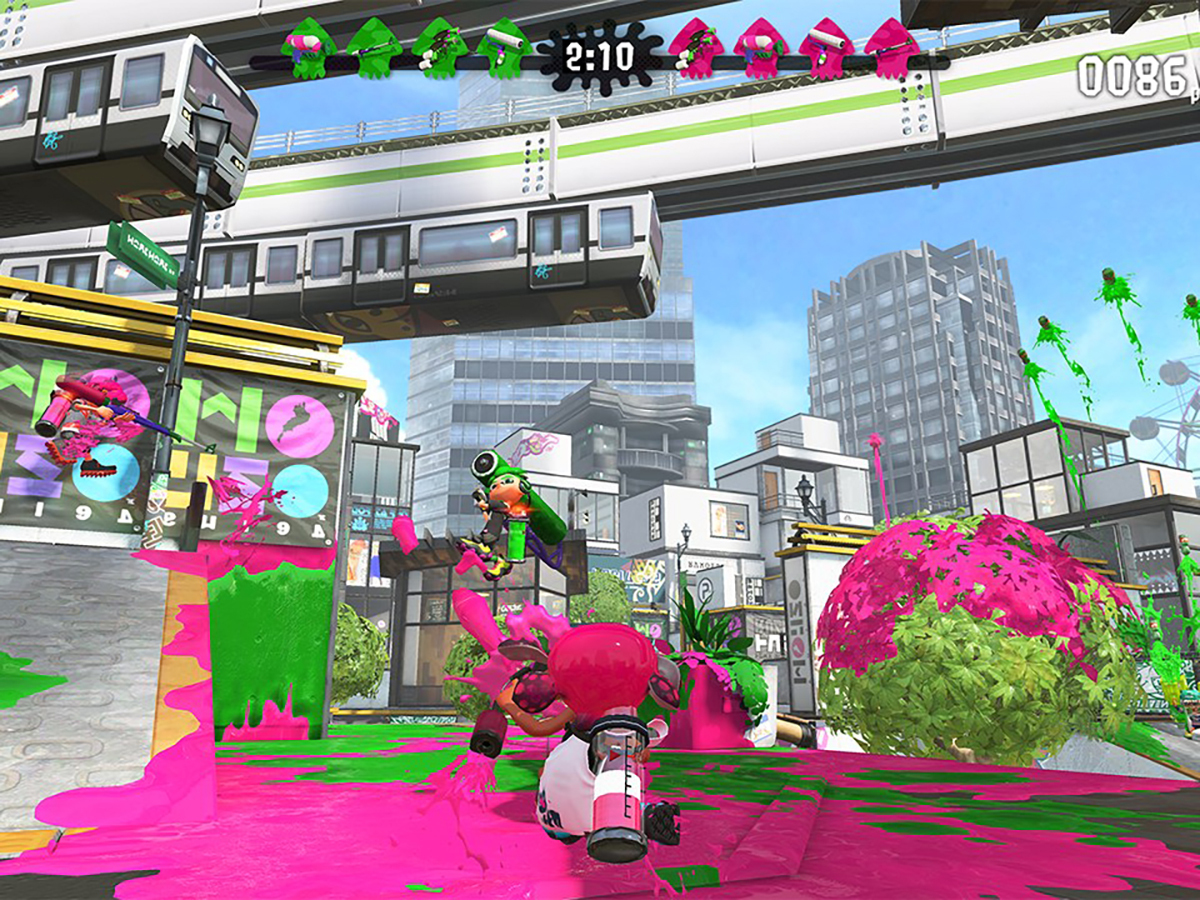 Like I said, Splatoon 2's basic rigmarole hasn't changed from the first game. You play as one of the squid-human race of Inklings whose ink-swimming and shooting powers make them uniquely suited to raising technicolored hell. As ever, you've got a choice in your controls between motion-enabled aiming or the standard button-related rigmarole for first-person shooters. While motion controls are just as much a faff as they were on the Wii U, your more traditional control setup runs as smoothly as you could wish for. It's all extremely easy to get a handle on and jump straight into the heat of battle in Turf War, a.k.a. the one where you squelch paint about for three minutes straight.
It's here where Splatoon 2 really shows its colours as a sort of sequel. As well as serving up broadly the same array of weaponry from before, hardcore ink nerds will instantly recognise the Port Mackerel and Moray Towers maps from the original game. Don't go pinning your hopes on new matchmaking functionality to freshen things up this time around either.
Frustratingly, Nintendo's official Switch Online app is such a faff to use that it's almost not worth bothering with. Private battles have to be organised through the app, voice chat is cancelled if you flit over to another app and it also requires your phone's screen to be on at all times, thereby proving a monumental drain on its battery. If you were after an online multiplayer experience that's comparable to what you get from PlayStation Plus or Xbox Live Gold, then you'll be sorely disappointed here.
In general, you're better off organising your team according to the game's sole two text commands: 'booyah' and 'this way'. On the plus side, your ferocious swearing will never darken the cheery atmosphere of Humpback Pump Track.
Still a blast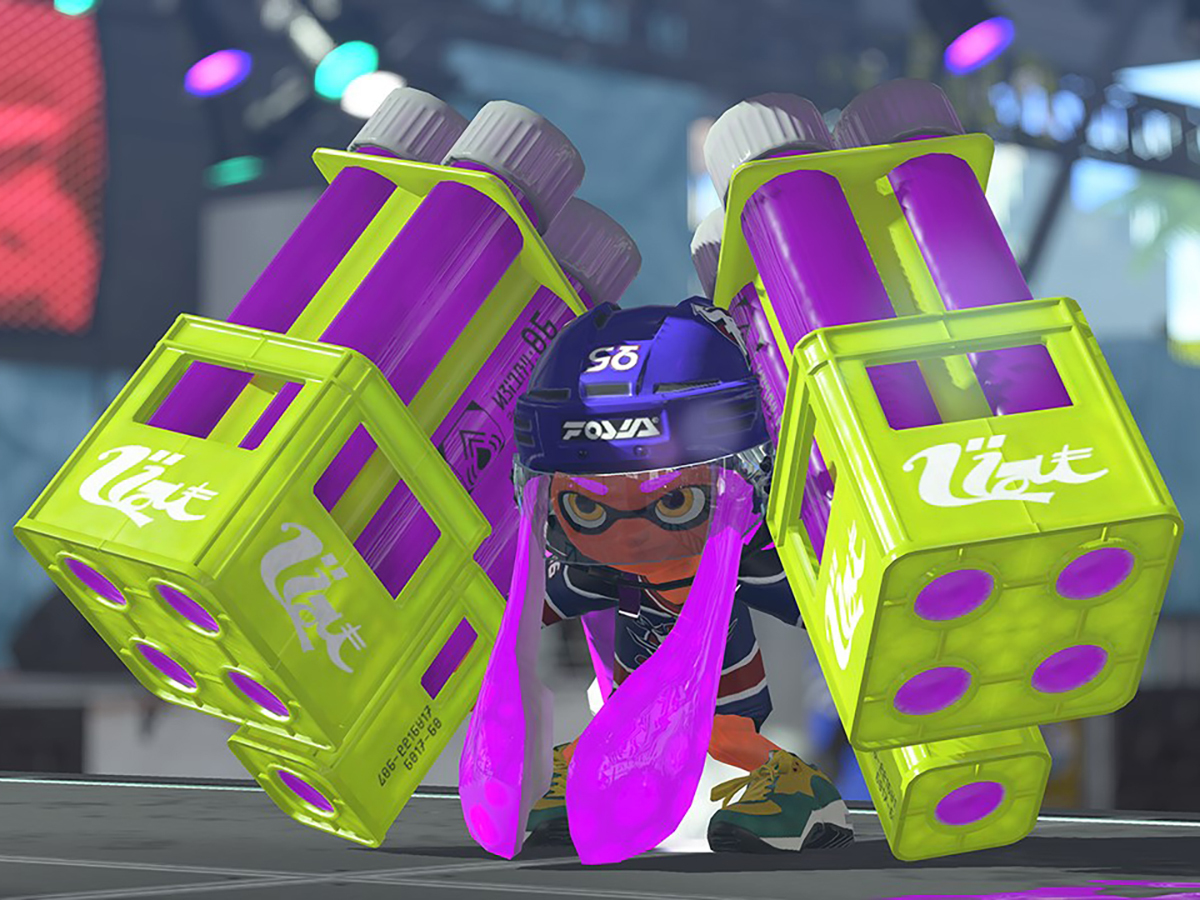 If all the bits that weren't so great about Splatoon the first time around are still present and correct, then the same goes for its many, many delights. From the two cats – Judd and Li'l Judd – that referee your matches to the bonkers outfits you can clothe your Inkling in and amazingly addictive Squid Beatz 2 rhythm minigame, there's just so much that'll put a smile on your face. Even if most of it is just a fresh spin on an old familiar.
For anyone who had a shred of common sense and skipped out on the Wii U, these gripes are totally irrelevant; Splatoon 2 will be totally new. It's certainly just as compelling as ever before, especially once you make your way into Ranked Matches, which rotate between Splat Zones (King of the Hill), Rainmaker (Capture the Flag) and Tower Control (Tug-of-War) game modes as you try and raise your grade from C- to S+.
Weren't hooked before dipping into Ranked Matches? Just wait until you get bumped down a grade and spend your whole Sunday afternoon trying to claw it back again. With a greater variety of competition, there's loads to sustain your obsession as well, especially since Nintendo has promised a slew of free DLC for Splatoon 2 over the next 12 months.
And then there's Salmon Run: the game's all-new horde mode, where you and up to three teammates rush to purge a swell of AI-controlled ne'er do wells off a small island you're plonked on. As well as demanding the utmost cooperation to make it through wave after wave of foes, this is Splatoon 2's only multiplayer mode where you have to lay waste to the enemy in order to win. Otherwise, your ink-soaked demise will be swift and brutal.
Given how demanding Salmon Run is that'll likely prove the case anyway. Despite being sat in the same room as my fellow challengers for a spot of local multiplayer, we met with the great inky beyond in the space of five minutes. Our shared sin? Trying to be a hero on our lonesomes. Communication is key in Salmon Run, which is probably why Nintendo isn't pushing it particularly hard online. Because of, you know, that whole voice chat mess.
Refreshed single-player
As well as retaining all its predecessor's addictive multiplayer charm, Splatoon 2's single-player campaign is a significant step up from before. With more weapons to wreak havoc with, new enemies to slay and a raft of fresh ink-flavoured ideas, it's more than just a glorified tutorial this time around. Certainly, racing through its near-30 levels didn't feel like such a chore.
Whether you're charged with the new Splat Dualies and laying down the law Matrix-style, or just chucking around the Slosher with reckless abandon, there's greater encouragement to experiment with your chosen arsenal. Having stuck religiously to the roller for almost our entire time playing the original Splatoon, we ended its sequel's single-player with a stack of new favourites to carry into online battle.
That said, this isn't a Titanfall 2 or Modern Warfare-style scenario where you can happily shell out to enjoy on your lonesome. The meat of Splatoon 2 is very much in its multiplayer.
Splatoon 2 verdict
Splatoon wasn't broken, so Nintendo hasn't done a lot to fix up its sequel. Even when it really could have done with better matchmaking features and voice chat.
For new converts and anyone who wants to scratch that effervescent itch again, Splatoon 2's tweaks do just about enough to make the whole experience fresh. It's a bold, colourful game with big ideas and a relentlessly fun concept at its core. Even if you might be plenty familiar with it already.
From cult classic to smash hit? Anything is possible with Nintendo's Switch.
Stuff Says…
A sort of sequel that's still great fun
Good Stuff
Doesn't mess with a good thing
Improved single-player campaign
Multiplayer is as fun as ever
Bad Stuff
More of an update than a sequel
Voice chat is rubbish