Suunto 7 review
Is this rugged wrist-hugger really worth more than an Apple Watch?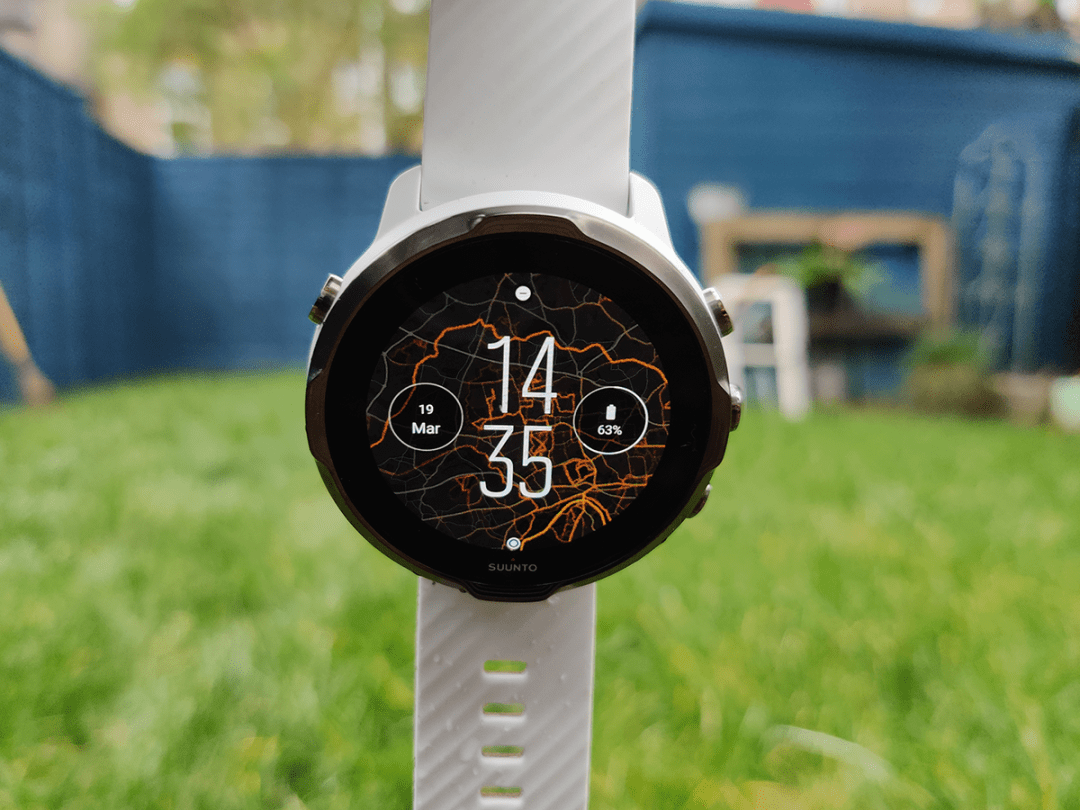 "You met me at a very strange time in my life", I told the smartwatch strapped to my wrist. "Do you mind if I call you Suu by the way? It's easier than Suunto 7. Cheers".
Self isolation-induced mania aside, let's dive straight in. At £430, the Suunto 7 is one of the pricier smartwatches looking to earn a place on your wrist. Promising style, Android Wear smarts (a first for the Finnish company), and a cavalcade of fitness-tracking options, it seems to tick all the boxes on paper.
But does it deliver?
Design and comfort: chonky couture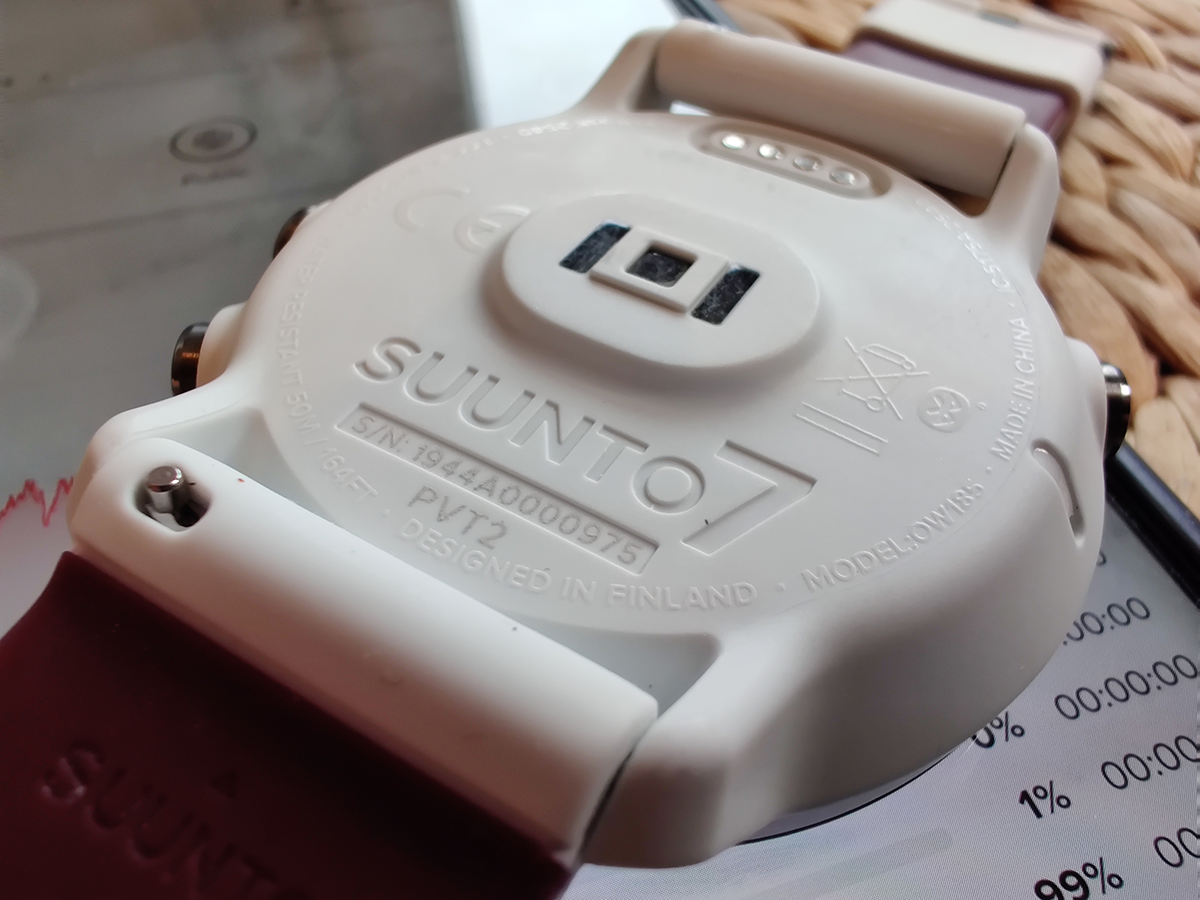 The Suunto 7 is an attractive watch that somehow manages to look rugged, stylish, and sleek, all at the same time.
The four hardware buttons give it an air of a traditional sports watch, while the four raised edges around the metal dial add some pleasant character, while subtly hinting at the directions you're able to swipe – a clever touch.
From the side, the Suunto 7 is noticeably chunky which, combined with its 55mm face, results in a watch that may be too large for some. We have no complaints on our side though – it's light, fits us well, and the silicon strap is incredibly comfortable, to the point where you'll forget you're even wearing it. Having said that, we haven't been sleeping with it on, as it's definitely more noticeable tucked under a pillow.
Screen: bright, sharp, vibrant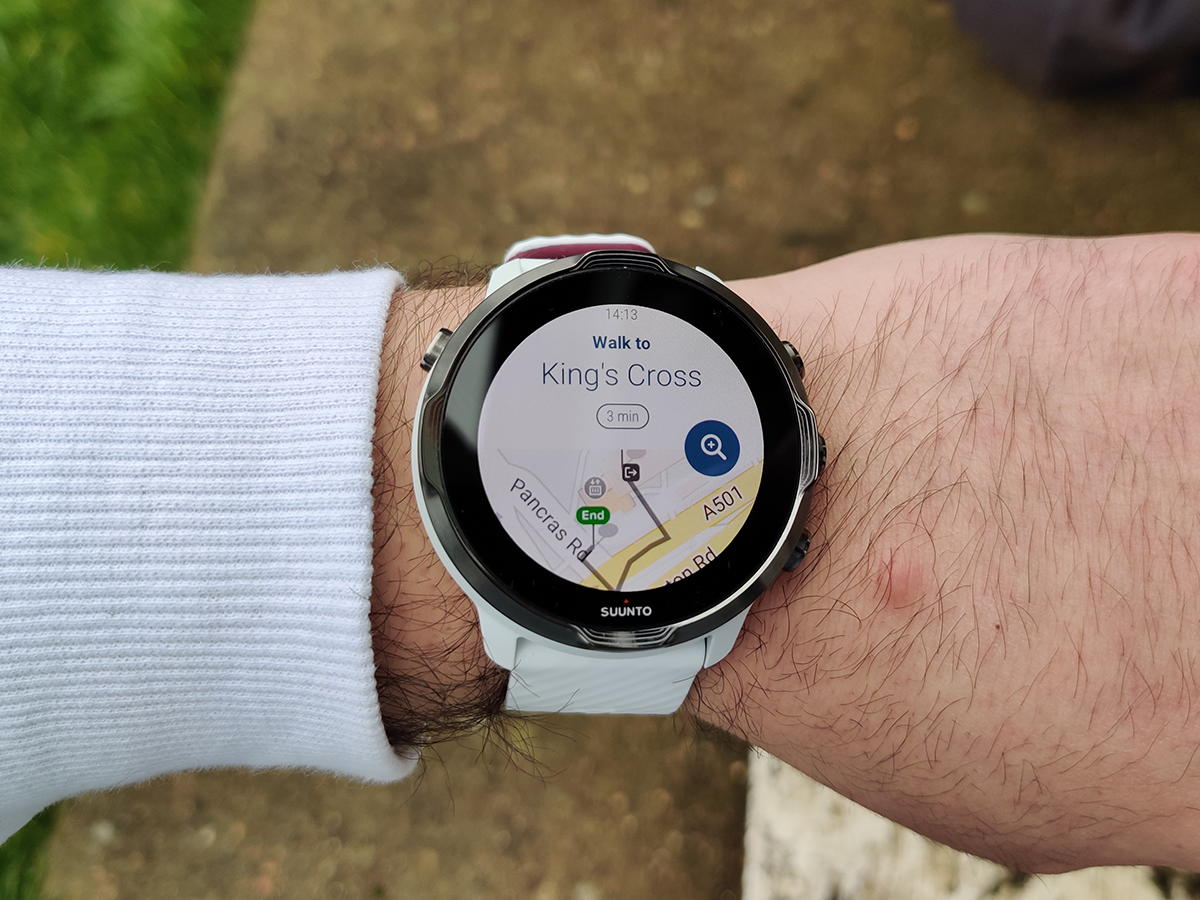 The Suunto 7's screen is up there with the best smartwatch screens we've laid eyes on. Its 454 x 454 pixel-packed display serves up razor-sharp text, and the fact that it's an AMOLED screen means you're treated to true blacks and punchy colours too.
Visibility is also taken care of, thanks to its ability to reach up to 1,000 nits, which is just a little under the max brightness of the iPhone 11 Pro's screen. In other words, it's super bright when it needs to be, and you'll have no problem reading the display even on the sunniest of days.
As with most smartwatches there's a noticeable black bezel surrounding the screen, which we'd rather do without, but it's not a dealbreaker by any means, and is less noticeable if you use a watch face with a black background.
Performance and usability: Breezy but noisy
The four buttons mentioned earlier take a little getting used to before muscle memory kicks in, but that doesn't take long. The one on the left fires up Google Assistant with a long press, or summons a list of all installed apps with a regular push. On the right, the top-most button opens Suunto's own fitness app (more on that in a bit), while the middle button provides a handy shortcut to media controls, so you can skip/replay songs while you're on a run. Finally, the bottom button brings up a stopwatch, which is handy if you're timing laps, or rests in between gym sets.
The only real niggle we've found is the inability to go back at a simple button press. Instead, you've got to manually swipe to go to previous screens, which can get annoying if you're diving deep into menus.
Apart from that, it's business as usual if you've used Wear OS before. It's zippy, for the most part, with very rare stutters. Built-in NFC lets you pay for toilet roll and other essentials with your wrist, and apps like Spotify, Google Play Music, Citymapper and more are easy to install, and work as expected.
The only thing we actually hate – and we don't use that word lightly – is the Suunto 7's vibration. It sounds, and feels, like a cricket with a sore throat that's blasting away on a vuvuzela while trapped in a tin can, and it's just awful. So much so, that we've stuck ours on Do Not Disturb mode to avoid notifications disturbing us altogether.
You can still swipe up at any time to see your notifications, and we rather like this manual option as it's less distracting. But if you prefer to have messages pop up on your screen, you'll just have to live with the buzz.
Fitness and health smarts: Wishful thinker
As a sports tracker, the Suunto 7 comes well equipped. Its built-in app covers all the main sports – running, cycling, swimming – each with its own sub-category. You've got plenty more to choose from too, from walking, weight training, circuit training, yoga/pilates, dancing and more. The latter group feature more basic stats, but it's nice to know that so much is covered.
As usual though, we'd recommend taking some of the numbers with a pinch of salt. We'd love to think we actually burn 500 calories during a 45-minute lifting session, but the reality is more conservative.
When you're out running, the GPS works well, locking on quickly while accurately capturing your route. The Suunto app is pleasant to use too, displaying your route, speed, steps, distance, calories burned and more. Local maps up to around 50km can also be downloaded over Wi-Fi when charging, so that's one less thing to think about.
You can also view a heatmap of running routes in your local area, if you need some inspiration. This map is also available as a swanky watch face too, which is a fun little quirk to help the Suunto stand out from the crowd.
Unfortunately, things get a little more confusing if you want to track more general stats, like your daily steps, average heart rate and quality of sleep. For that, you'll need a separate app like Google Fit. It's not a massive hassle, but it's an extra app you'll need to dip in and out of if you want to track everything.
Battery life: Daily juice
The Suunto 7's battery life is both good and bad, depending on how you look at it.
For an Android Wear smartwatch, it's rather impressive, lasting two full days on a single charge – albeit, days with minimal to no sports tracking use.
Day one saw us going to bed with 65% left in the tank, and with day two leaving us with 26% before hitting the hay. Used almost exclusively as a smartwatch then, you won't have to worry about charging the Suunto 7 every day. Sports tracking is, however, probably why you're reading this review in the first place, and that's when the battery life understandably takes a hit. Losing about 10-12% per 30 minutes of running, you'll definitely need to charge every night if you're a particularly keen exercise fiend.
Suunto 7 verdict
At £430, the Suunto 7 ain't cheap, and it even manages to out-price the latest Apple Watch by around thirty quid.
It's attractive and comfortable though, and comes packed with all the sports tracking tech you're likely to need, with a solid battery life, depending on how hard you push it.
Still, you can pick up something like a Garmin Venu for around half the price, and that can last up to five days on a single charge. The Samsung Galaxy Watch Active 2 has a similar battery life to the Suunto 7, but is again, cheaper, with a slimmer, less chunky build, which you may prefer.
If you're a fan of the Suunto 7's sporty, rugged looks, and want comprehensive sports tracking without being fussed about regular charging, then this could very well be the niche-filling wristwear you're after. For everyone else though, you're better off saving some cash and springing for something a little more wallet friendly.
Stuff Says…
An attractive, comprehensive fitness tracker with Android Wear smarts, but a little too pricey for most
Good Stuff
Attractive, solid build
Bright, sharp, punchy screen
Comprehensive sports tracking
Hardware buttons with handy shortcuts
Bad Stuff
Expensive
Daily charging with heavier use