Taito Egret II Mini review: faithfully bite-sized
A tiny but comfy retro arcade cabinet
Just when you think the run of retro mini consoles has come to an end, the next wave of bite-sized nostalgia comes in the form of arcade cabinets. Although these days it's owned by Final Fantasy publisher Square Enix, Taito was one of the great arcade giants in Japan, with just as many arcade centres operating in the country as Sega.
Much like Sega's Astro City Mini, the Taito Egret II Mini is a shrunken replica of the classic arcade cabinet. While these cabinets may be more iconic in their native Japan, you'll still be able to appreciate its form factor, which feels a more comfortable size than past mini arcade consoles, with a healthy selection of genres from the 40 preinstalled arcade classics that come with it.
But is this rare Egret II Mini (limited to 5,000 units worldwide) going to find a space in your retro collecting niche or should you save your credits for something else? Let's take a look.
Our review sample comes from Strictly Limited Games and is the Limited Blue Edition of the Egret II Mini, which you can pre-order from Games Rocket ahead of its release on 27th May.
Life is a cabinet
Screen wise: Even though it's a mini cabinet, the Egret II Mini is a touch bigger than the Astro City Mini, and so it's also got a larger 5-inch 4:3 LCD display that's very clear if you're choosing to play it as a mini cabinet at your desk. The best part is that the display can pop out and be rotated so that you can experience vertical shooters in the way they were intended!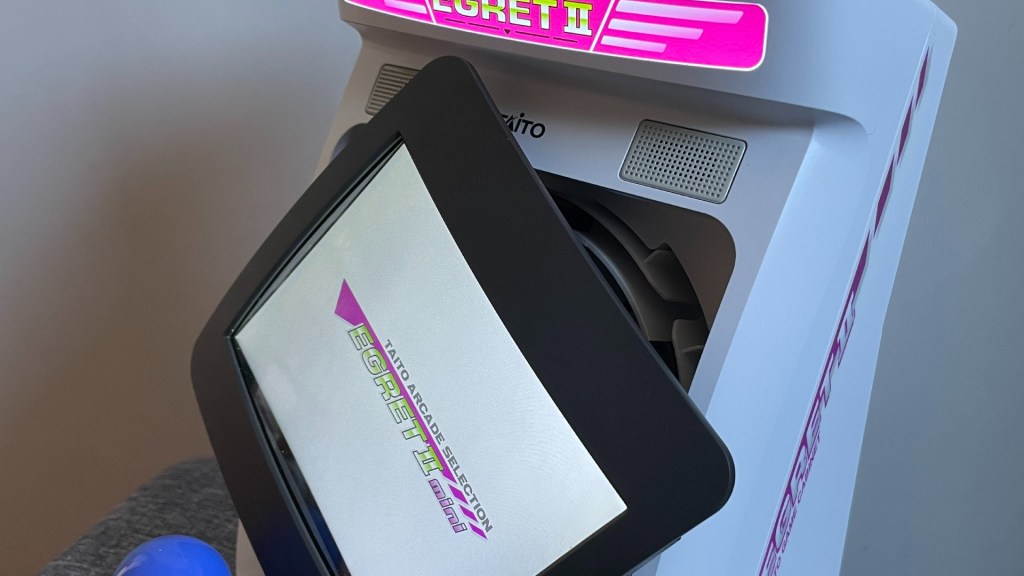 The joy of sticks: The Egret II Mini's larger size also means its joysticks and buttons are a more comfortable fit for the hands. The buttons themselves aren't labelled, although when you start a game, you'll see a display indicating the control inputs for each of the six buttons used. The smaller buttons in a triangular form could have done with some labelling too but you'll soon get used to using the blue one for adding credits while purple is for using a credit.
A switch on the cabinet's bottom just under the stick can also let you change the joystick's movement between 4-way or 8-way controls, although it's fine leaving it as the 8-way default.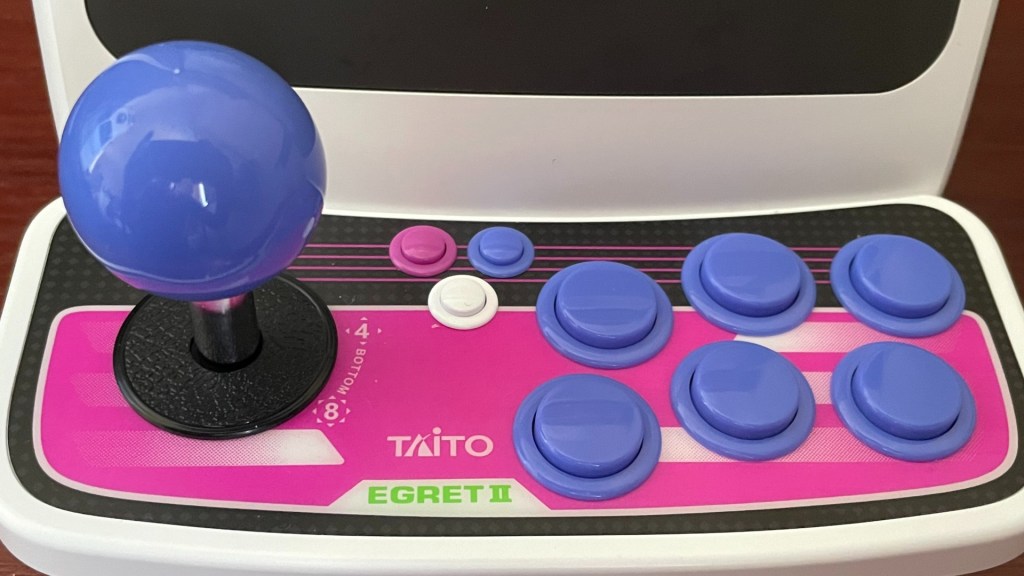 Bleeping good: Just like the original Egret II design, sound comes from the stereo speakers just above the display. The default volume is fine though you can also go into settings to crank it up to make it feel like you're in a noisy arcade as it captures the faithful sounds of 80s bleeps and voice samples or later games.
Telly-port: You can also connect to your telly for big screen gaming using the included HDMI cable. Since this will be a 16:9 display, you'll also be treated to some lovely wallpaper art specific to each game. The Egret II MIni's size also means the stick and buttons still feel good to use in this mode, although it'll feel a bit awkward having the whole unit on your lap, as well as the HDMI cable and USB-C cable powering it dragging at the back.
Alternatively, you can order separate controllers that connect to USB ports behind it. There are two options: a mini control pad or a mini control panel, although the latter is much more expensive.
Save state of it: We've certainly seen better UI for menus in other retro console units. The Egret II Mini's menu isn't all that flashy although each game runs a small demo on the side and also indicates whether or not it's suited for vertical screens. It does the job though, and more importantly, pressing the white button allows you to save and load game states for each game so you can continue where you left off.
Game on: While there are 40 pre-installed games, not many are what we'd consider household names compared to what you'd find on the Nintendo Classic Minis, Mega Drive Mini, or PlayStation Classic – indeed, a few of these such as Dan-Ku-Ga, Taito's answer to Street Fighter II, never even made it outside of Japan.
Nonetheless, you don't get more classic than Space Invaders, with its simple-to-play and difficult-to-master gameplay, and the oldest game in the library that still feels good to play. Others of the era haven't aged as well (Elevator Action is a prime example, you'd be better off with its 16-bit sequel Elevator Action Returns) but still make for an interesting history lesson.
Whether or not these are immediately familiar, there's a decent variety for everyone, from hardcore shoot-em-ups in both horizontal and vertical scrolling formats, cute platformers like Bubble Bobble, its sequel Rainbow Island, as well as addictive spin-off puzzler Puzzle Bobble 2X. There's even beat-em-up Runark where you save animals from evil poachers by using all kinds of weapons, including rocket launchers!
The downside is that while almost half of these include the option for a second player to join, you're going to have to fork out for an additional controller for that.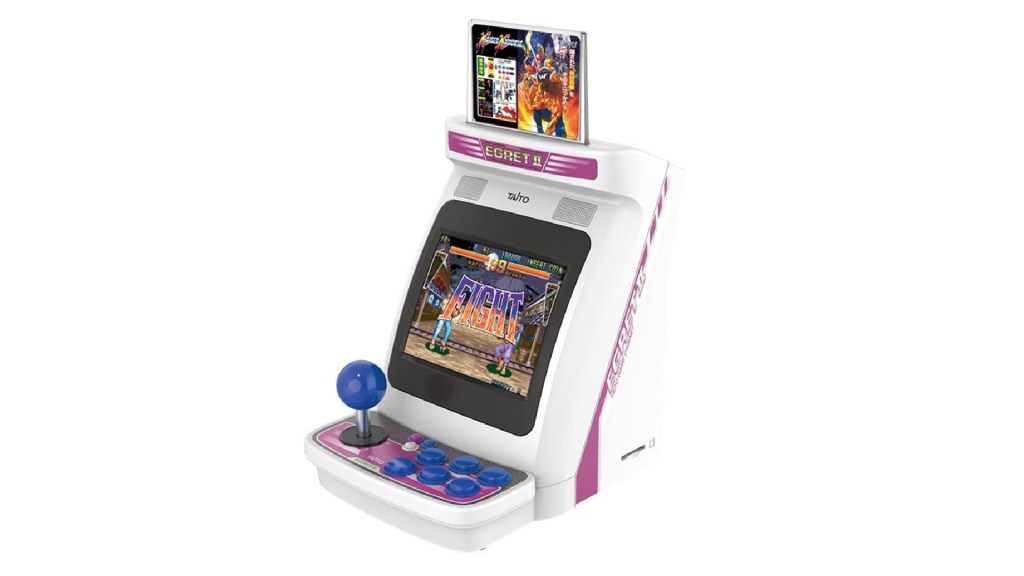 Verdict
Overall, the Taito Egret II Mini is a faithfully bite-sized reproduction of a classic arcade cabinet that feels good to use and a great way to revisit some beloved classics from the late 70s to the early 90s.
Ultimately, however, while there are a few notable standouts and a varied selection, most of its library will likely be unfamiliar to most audiences who don't have an encyclopaedic knowledge of Japanese arcade games outside of big players like Sega, Capcom and Namco, which makes its £167 price a big ask compared to other mini consoles on the market (well, at least if you go by their original RRP – those Nintendo and Mega Drive Minis are fetching some ridiculous prices right now).
Of course, understanding that it's a niche is also probably why the Egret II Mini is limited to just 5,000 units worldwide. So if you're a retro gaming collector who wants a very well-made time capsule of arcade history, this is a well-recommended purchase. Who knows, some of these obscure titles of gaming's past might just become your new favourite.
Stuff Says…
Verdict…
Good Stuff
Great classic design with rotatable display
Buttons and joystick a comfortable size
Save states are great
Bad Stuff
Expensive for what it is
Older games (Space Invaders excepted) haven't aged well
Need to buy additional controllers for multiplayer
Tech specs
| | |
| --- | --- |
| Dimensions | 150mm x 200mm x 209mm, 1130g |
| Connectivity | USB-C power, HDMI optional |
| Screen | 5in 1024 x 768 |