TCL Roku TV RC630K review: more bang, less buck
We give our verdict on the first TCL x Roku set to hit UK shelves.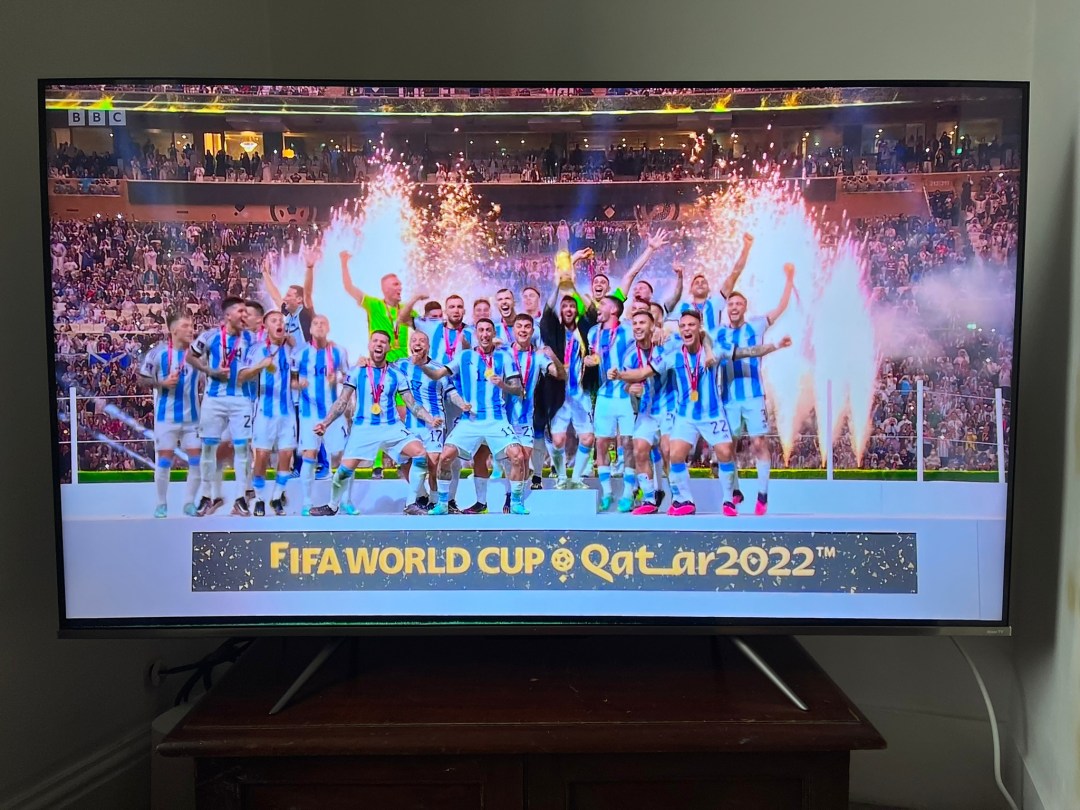 TCL has made a name for itself with high quality electronics at scandalously low prices. The Chinese company has brought us Dolby Atmos systems at affordable amounts and smart TVs packed with features. Its longstanding partnership with Roku has only made a TCL TV all the more enticing for those on a budget.
Previous Roku-integrated sets, namely the RS520K and RP620K, delivered high-fidelity viewing at a bargain price. That's a market Samsung has long occupied. The newest addition is the TCL Roku TV RC630K – the first time one of the firm's QLED panels has appeared on British shelves. Which, coincidentally, is another market where Samsung has been ruling the roost.
TCL, it seems, is attempting to muscle in Samsung's QLED dominance. But is the RC630K worth getting excited about? We've been putting one through its paces to find out.
Design and build: light on its feet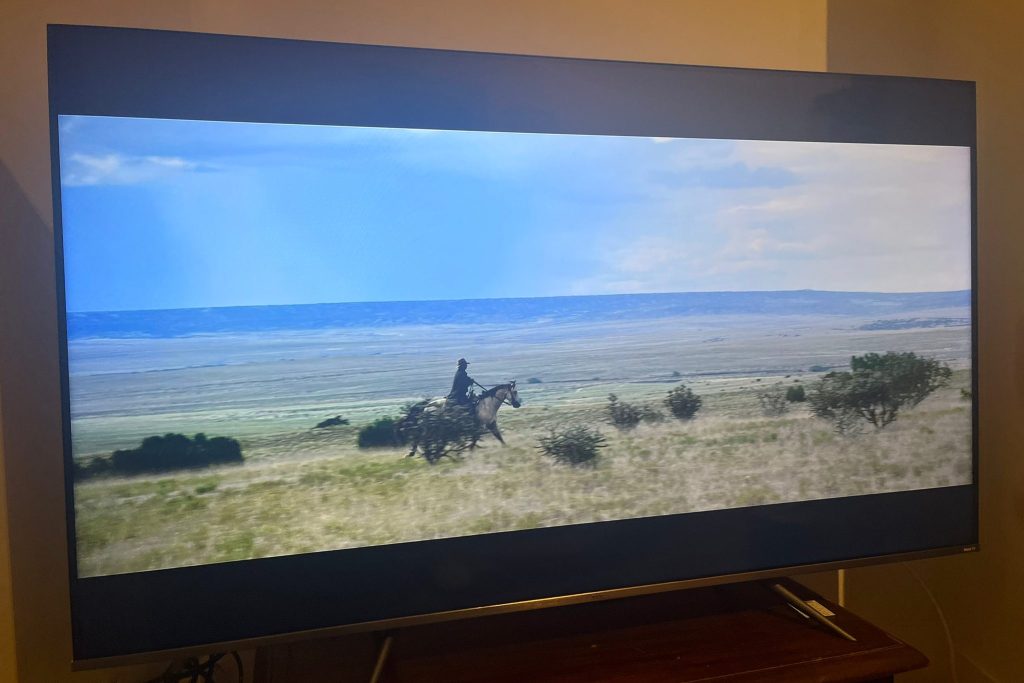 The RC630K comes in four different screen sizes: the range starts at 43in for £320, while 50in sets you back £370. £420 will get you a 55in model, while the 65in range-topper comes in at £700. We're testing out the 55in version.
The first thing we notice as the delivery driver helps carry the set inside is how remarkably light the unit is. 12kg without the stand, to be exact. It comes in a smooth brushed metal finish, and the only sign the RC630K is a Roku set is when you switch the thing on. A super slim design makes the 55in set a little easier to manoeuvre around the room, and won't look shabby mounted on your wall either.
The four-pronged stand is sturdy. Two legs, each with two pronged feet, can be screwed in either close together (22in) or far apart (40in) to make space for a soundbar, or to squeeze onto a tiny TV cabinet. It's a refreshing change from the chunky central stands found on many rivals, however the legs don't allow the set to swivel. That's not a big flaw but it is an annoyance, especially for those with a slightly pokey living room.
Features: We Will Roku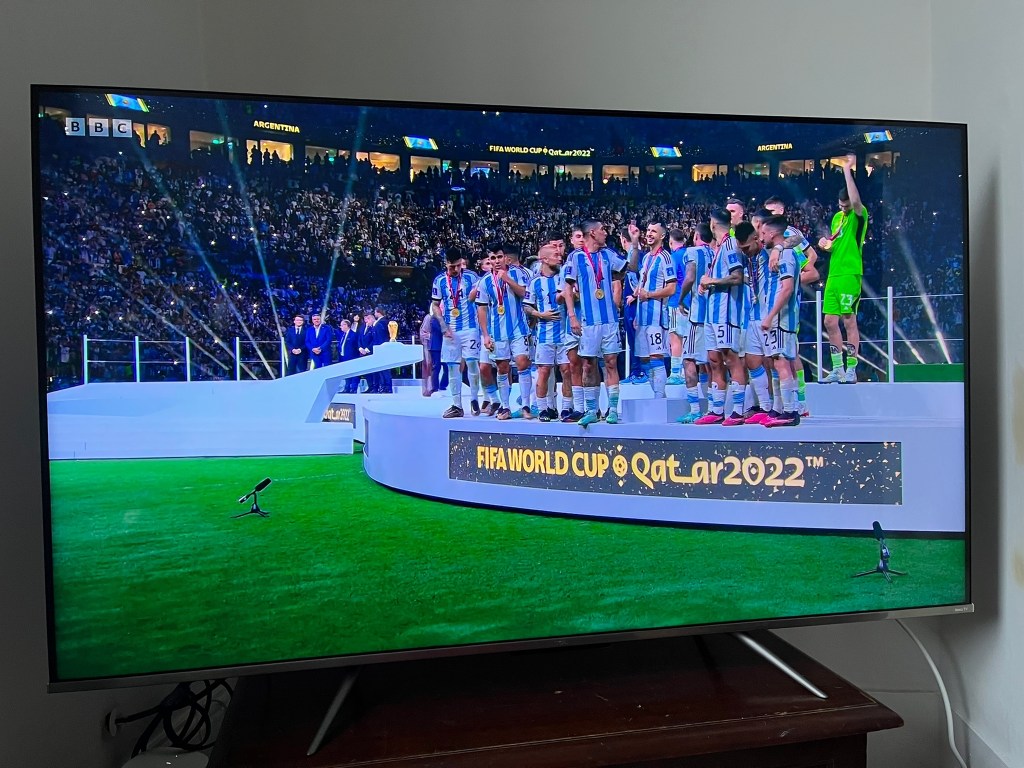 A major USP for the RC630K, and pretty much all of TCL's UK-bound TVs, is built-in Roku streaming. It's home to The Roku Channel, a hub of free content such as Roku Originals, home to the fantastically absurd WEIRD: The Al Yankovic Story!
In what we wished was a feature for every TV released in 2022 and beyond, the RC630K can handle all four of the key HDR formats: HDR10, HLG, Dolby Vision and HDR10+. No longer should you forfeit quality depending on the HDR source, says Roku. There's also a single USB port for plug-in media.
The TV is hooked up to all the most common voice assistants. It's compatible with Apple AirPlay, HomeKit, Alexa, and Hey Google, and all work without a hitch.
Interface and setup: if it ain't broke…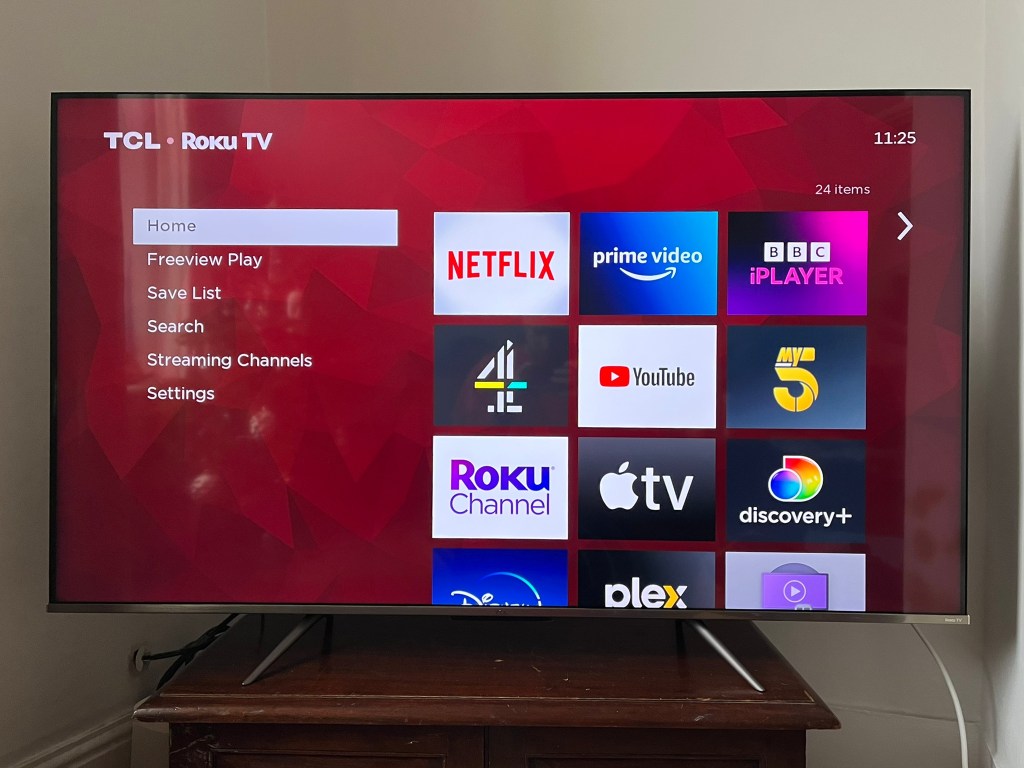 The remote comes with four shortcut buttons for Netflix, Disney+, Apple TV+ and Spotify. There's also a Freeview Play button on the top right. We're fans of the simple remote, which is akin to the standard Roku flicker – only a little bigger. If you regularly lose yours down the back of the sofa, a stretched-out version is a minor revelation.
Roku has gone with the 'if it isn't broke' approach to navigation. There's barely any difference between the RC630K's interface and that of a standard Roku dongle. Which is far from a bad thing. Skipping between the myriad of channels and apps is a doddle, and can be done either using the remote control or Roku's smartphone companion app.
Registering a Roku account is quick and easy. BBC iPlayer, Netflix and Disney+ are all set up within minutes of logging in and work fluidly. We had some troubles with ITVX, but that seemed to be an issue with the service itself, not the TV. Paramount+, Discovery+, Sky News, BBC Sounds and more can be found in the Channel Store.
Picture and sound: Onkyo boost
All RC630K models come with a 4K resolution, 60Hz panel, which we tested with (among other things) multiple World Cup matches. The BBC streams its World Cup games on iPlayer in UHD, and the very nature of football broadcasting – large blocks of colour, lots of motion – can show up all the RC630K's pitfalls. Mbappe's sprints are blurred at the best of times, after all, so you need a decent TV to keep up. The RC630K struggles to do that slightly. Close ups are detailed and clear, yet wide-angled or panning shots are sometimes a little blurred. It's not a major problem, nor is it overly noticeable, but sticklers may find it an issue.
The RC630K delivers in most other aspects, though. Full HD films pop in a new, crisper light. Nintendo Switch games like MarioKart and Super Smash Bros Ultimate performed without a hitch. That's largely down to TCL's built-in Game Master technology, which processes bright colours more accurately, reduces lag between controller and TV, and smooths out blur.
All RC630K sets feature Dolby Audio as standard, courtesy of the built-in Onkyo speakers. It comes with Dolby Atmos, and easily fills a modest sized room with crisp dialogue and gives a decent depth of sound when watching epics like All Quiet on the Western Front. Sound bars and external speakers will be a noticeable step up, but as a straight-out-the-box set the sound is impressive. The RC630K offers Spotify at the touch of a button, and while it won't cut the mustard for avid listeners, it'll more than suffice for an at-home karaoke session. 
TCL Roku TV RC630K verdict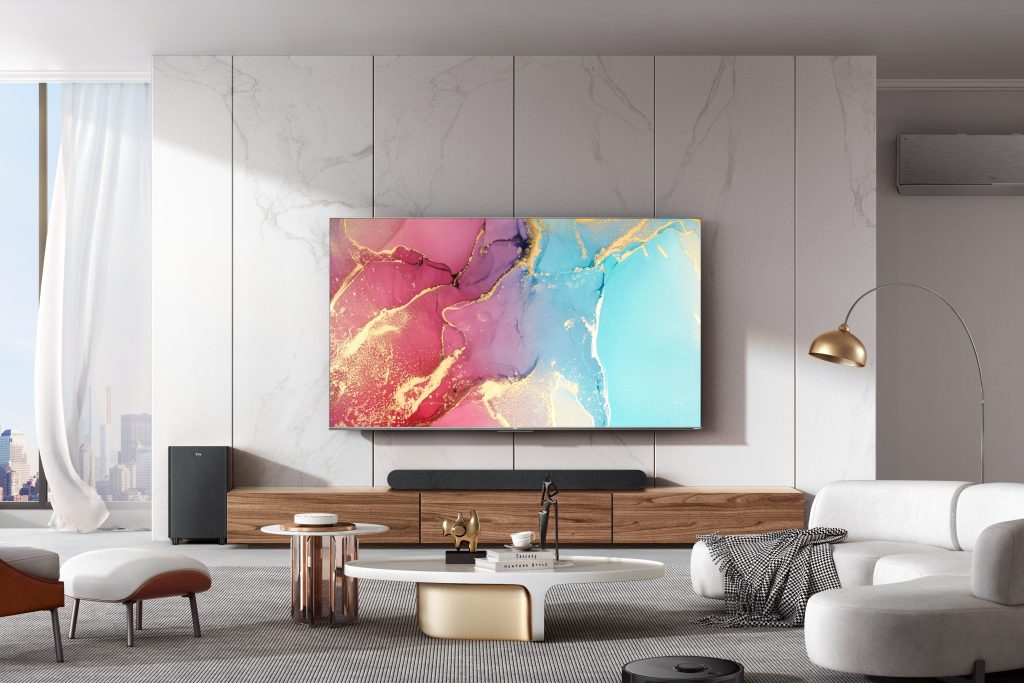 It's really hard to poke holes in the TCL Roku TV RC630K, given the price. Sure, there are a few things we'd like from the set, but, quite simply, you can't argue with the cost.
A 55in QLED TV for £420 is, frankly, an absurd deal, and such aggressive pricing should easily place it on the shortlist of those looking to step up on image quality without spending a small fortune in the process.
Stuff Says…
Consistent picture quality and a streamlined smart TV interface. For the price, the TCL Roku TV RC630K is hard to beat.
Good Stuff
Cracking content
Stellar out-the-box sound
Sleek design
Awesome interface that's quick to set up
Bad Stuff
Motion blur sometimes struggles
Dormant stand
TCL Roku TV RC630K technical specifications
| | |
| --- | --- |
| Screen size | 55in |
| Resolution | 3840×2160 |
| HDR | Dolby Vision, HDR10+, HDR10, HLG |
| Inputs | 3 x HDMI, 1 x HDMI eARC, 1 x USB 2.0 |
| Smart TV OS | Roku |
| Weight | 12kg (without stand) |
| Dimensions | 1227x711x10,1-51,81mm / 1227x765x292mm (without/with stand) |