TicPods Free review
Can these Bluetooth buds take on Apple's AirPods?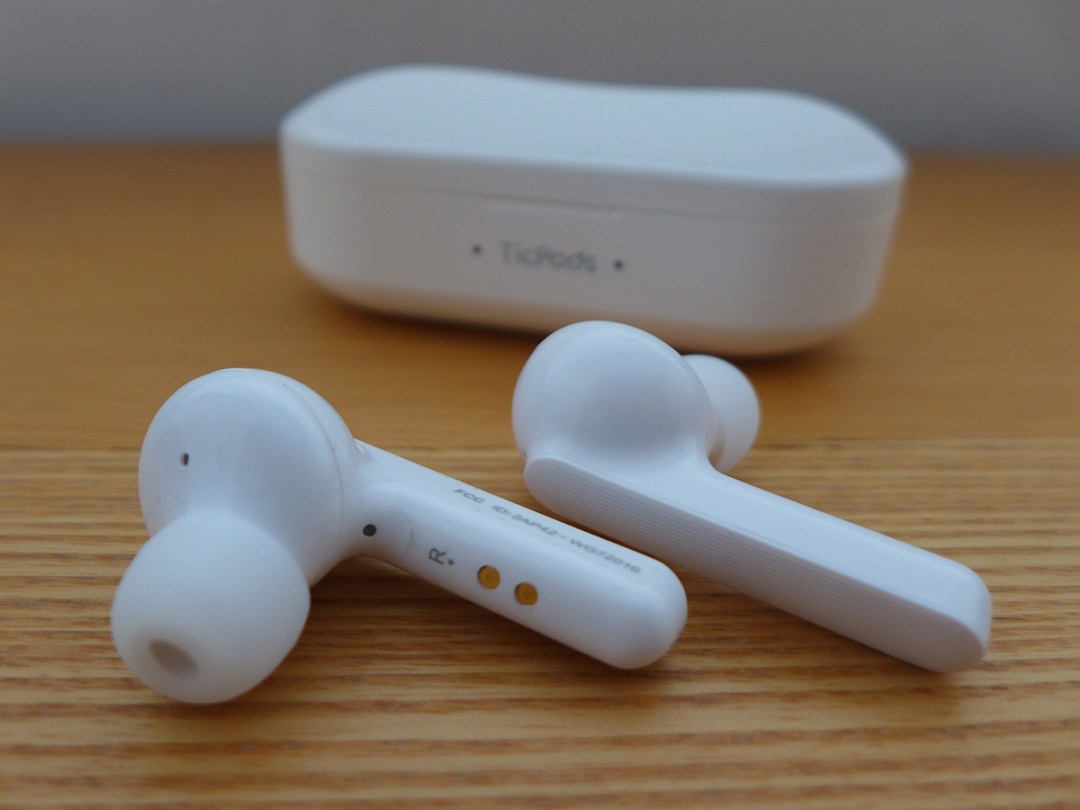 The first real alternatives to Apple's AirPods have started to emerge, but are they any match for the OG wireless earbuds?
It's been nearly two years since Apple unveiled its game-changing AirPods and we're finally starting to see some solid alternatives arrive on the scene. The TicPods Free come from Chinese AI firm Mobvoi, known for its TicWatch wearable.
Despite being an established brand, Mobvoi took to crowdfunding site Indiegogo to gather the cash for these Bluetooth earbuds, smashing its funding target with a total of nearly $2.9 (around £2.2m).
Naturally, the earlybird price for backers was a little lower, but full price for these potential Airpods killers is $129 (or around £98), which is a fair bit less eye-watering than the AirPods' £160 price tag.
DESIGN: COMFORT COMES FIRST
Once you crack open the neat, Apple-Esque packaging, you'll be greeted with a charging case that's slightly bigger and heavier than the AirPods case. It's still pretty compact, so it will easily slip into a bag. However, the elongated pill shape means you might not want it bulging out of your trouser pocket.
Available in red, blue and of course, white, the TicPods boast IPX5 water resistance. That means they'll survive a little sweat or rain – in fact, they've had to survive a lot of British rain during testing – but don't go dunking them in a puddle.
The design means that they sit comfortably in your ears, feeling slightly more secure than Apple's effort. They also come with a second, smaller pair of rubber tips so you can swap them for the best fit.
The stems stick out at more of an angle, rather than pointing straight down, so they don't look quite as bizarre as the AirPods. They look more like a tiny Bluetooth headset, rather than a pair of old-school wired Apple EarPods that someone has set about with a pair of scissors. And because of the subtle design difference, they're slightly more comfortable to wear with earrings than the AirPods.
CONNECTIVITY: COULD BE BETTER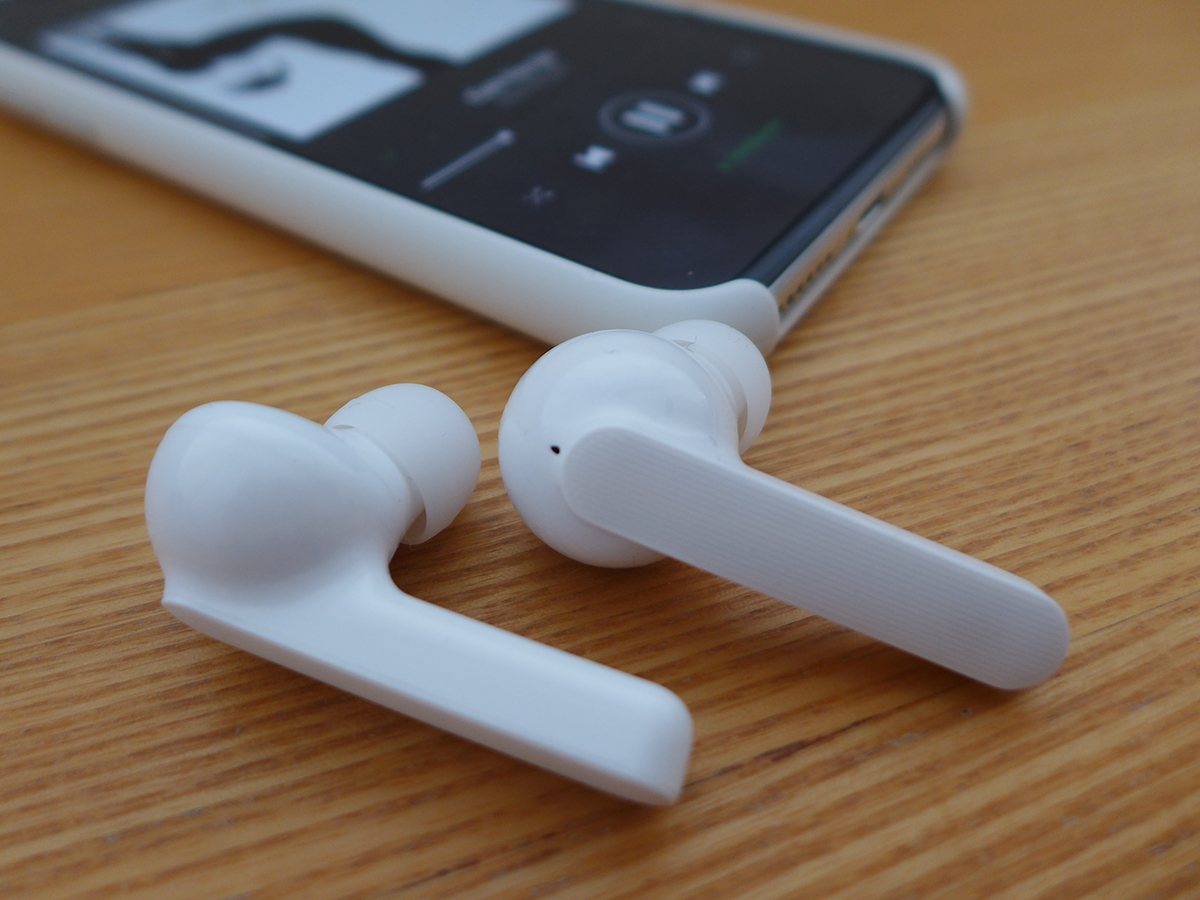 Sadly, the connectivity experience is nowhere near as slick as the AirPods. But just remember that price tag. Initial Bluetooth setup is pretty straightforward, though there always seems to be a slight lag in connection when you open up the case.
We also found that if the buds were removed from the case before the connection had been made, the TicPods seemed to struggle to connect at all.
So, our advice is to just be patient and wait for a second. We only experienced one unexplained dropout in the connection while listening to Spotify, but it was annoying, nonetheless. When it comes to connectivity, the TicPods aren't perfect but they get the job done. Eventually.
FEATURES: TOUCH CONTROL TRICKS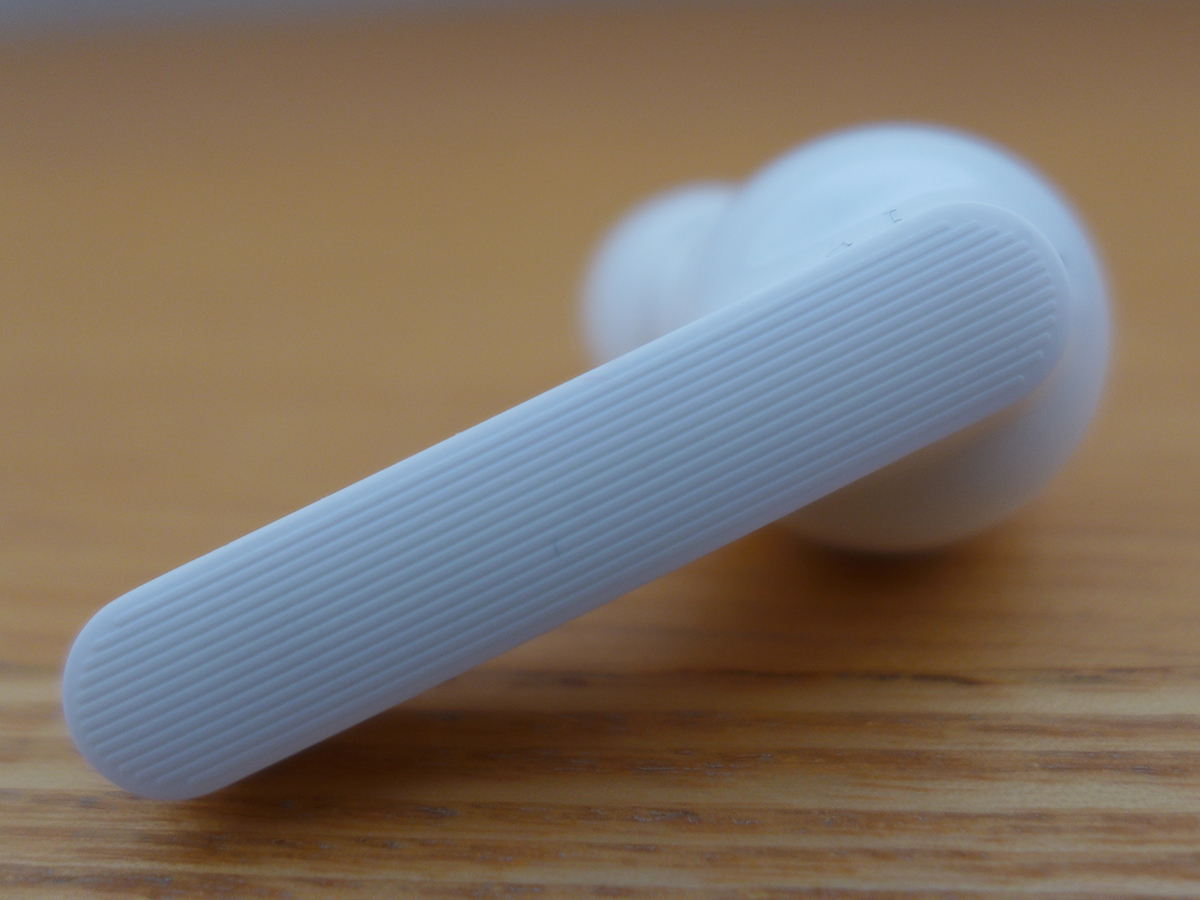 The most notable feature on these wire-free earbuds is the touch control. On both buds, you can control the volume by swiping your finger up and down the stem, or double tap to skip a track.
Annoyingly, there's no way to skip back a track. You can also play or pause music with a long press at the top of the stem, though this only appears to work on the left earbud and it feels like an eternity before the music is actually affected. In reality, the long press is only about two seconds. Overall, the touch control is a neat trick to have and it works ok, but can be slightly temperamental.
The TicPods can sense when they're in your ears and will start playing music automatically when you put them in. Taking out one of the two earbuds will automatically pause your track and replacing it will fire up the music again, but the process isn't exactly instant.
You can also take calls by double tapping to answer or hang up and you'll be able to hear the call audio in both ears. And for those who never answer their phones, a long press will reject the poor blighter that's wasting their time calling you.
One of the TicPods's big advantages over Apple is the fact that they work with both iOS and Android, hooking you up to either Siri or Google Assistant if chatting to software is your thing.
SOUND: PUNCHY AND CLEAR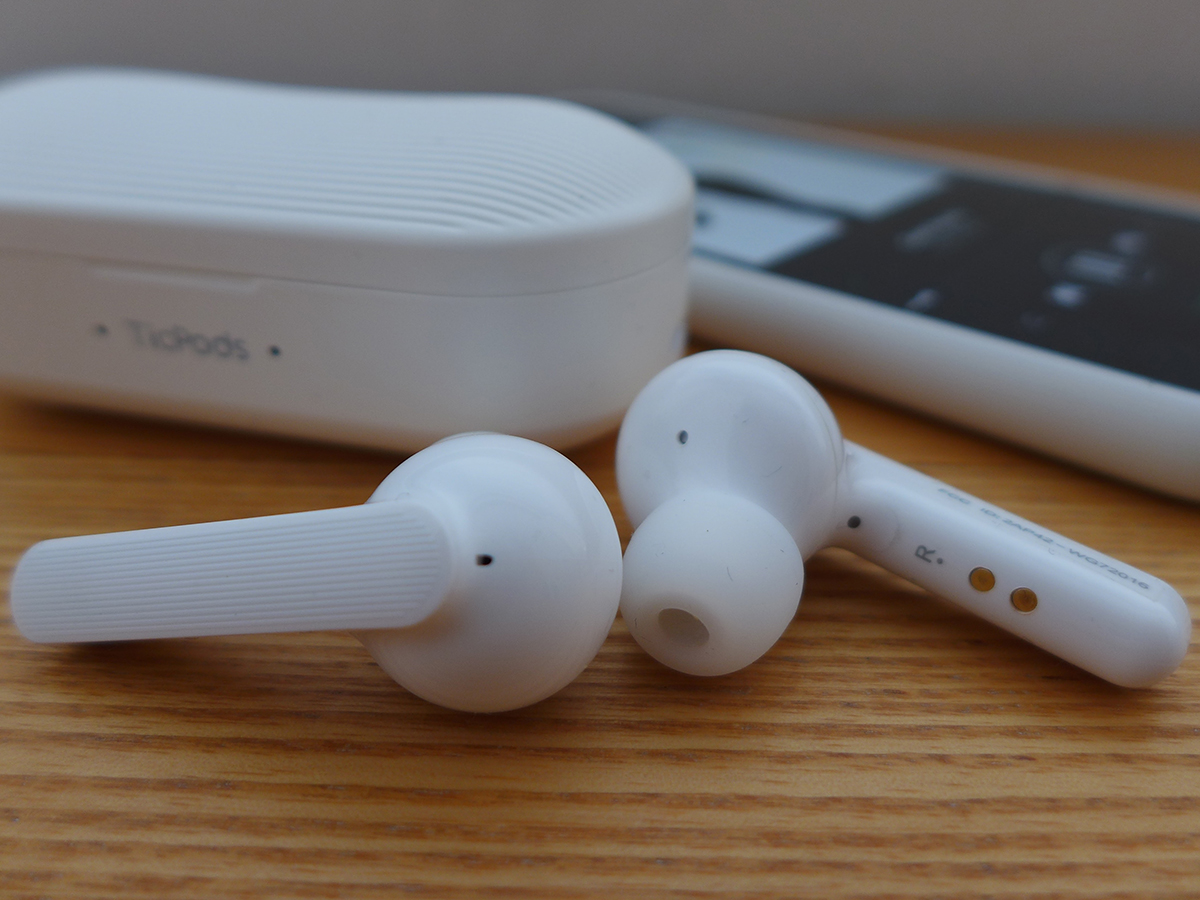 The design of the TicPods creates a sort-of seal within your ear that combines with noise reduction tech to improve the audio experience. This means that you can actually still hear your tunes when you're in a noisy place, like a loud tube train. It also means you don't have to turn up the volume so high that the person sitting next to you can hear what you're listening to.
The audio isn't high-end, but for the price of the TicPods it's actually pretty good, with no tinniness and a decent amount of bass.
BATTERY: NO SURPRISES HERE
The TicPods themselves feature 2 x 85mAh batteries while the charging/carrying case packs in a 7000mAh cell. In the real world, that means you'll get four hours of listening time on a full charge – only an hour less than the Airpods which is pretty decent at this price.
Popping the pods back in the case will give you extra juice as the box carries 14 hours of extra charge. A 15-minute boost in the power case will get you an extra 85 minutes of listening time.
The case is charged using the supplied Micro USB cable. There are instructions in the box, but they're pretty basic so there's nothing to tell you what the lights on the charging case actually mean. Having said that, it's not rocket science. Flashing green means charging, solid green charged.
Mobvoi TicPods Free: VERDICT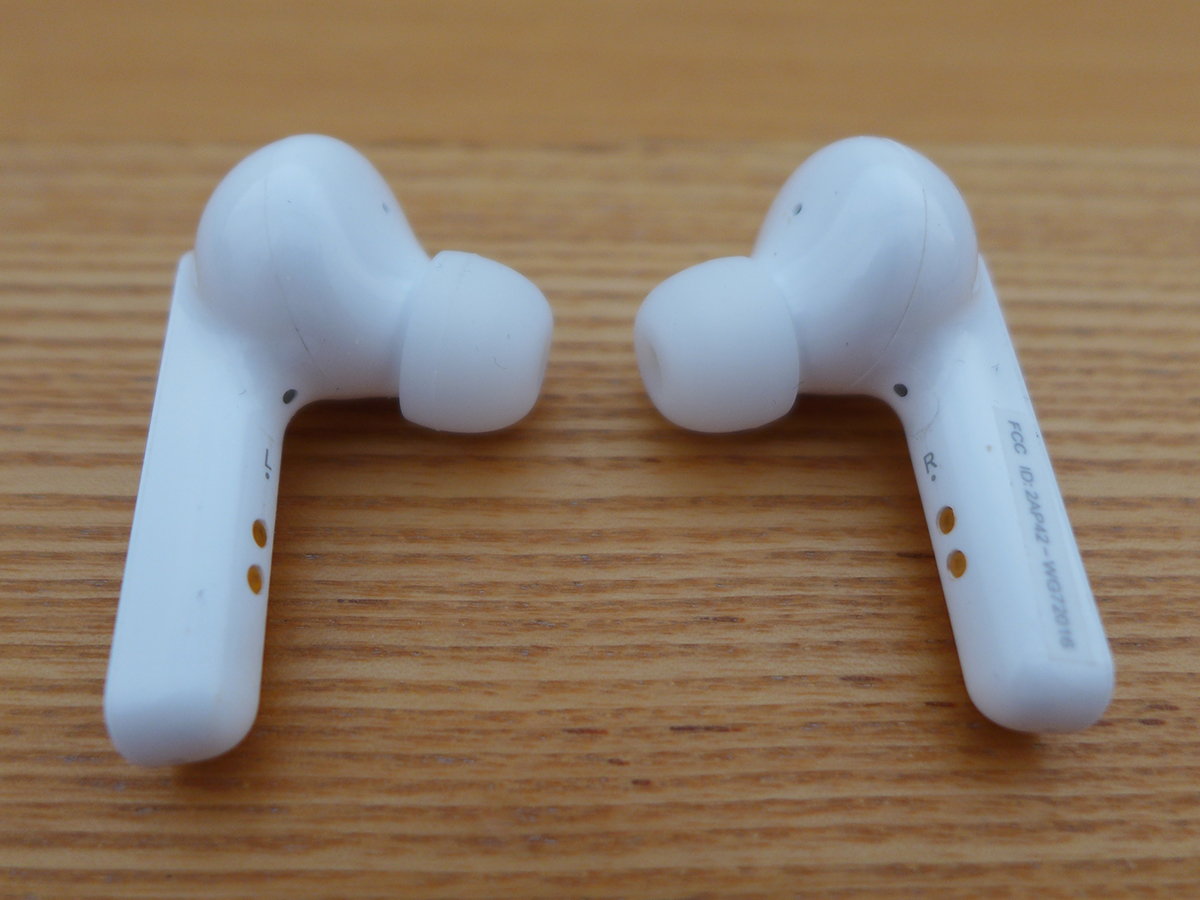 Going head-to-head with Apple is never going to be an easy task but the TicPods have come out fighting. The design is perfectly wearable with the earbuds feeling comfy and secure while the touch control, although a little patchy, is a nice er, touch as well.
Overall, we found the TicPods gave us a better audio experience than Apple's buds, particularly in places with lots of ambient noise. And the fact that you can use them with Android as well is another big selling point for Apple avoiders.
With rumours of an imminent AirPods refresh in the air, Apple's offering is likely to get slightly better very soon, though we can't imagine the price changing much. In contrast, while the TicPods have got a few kinks that need ironing out, they're worth a look if you want an affordable alternative.
Stuff Says…
A few niggles, but they're comfy, the audio is good and the price tag won't leave you weeping
Good Stuff
Works with iOS and Android
Cheaper than AirPods
Comfy and secure design
Decent noise isolation
Bad Stuff
Temperamental touch control
Operation feels a big laggy
Pause/play only works on left earbud
Some unexplained connection dropout