Under Armour Speedform Gemini 2 Record Equipped review
Lace up your boots, but leave your phone at home - Under Armour's got you covered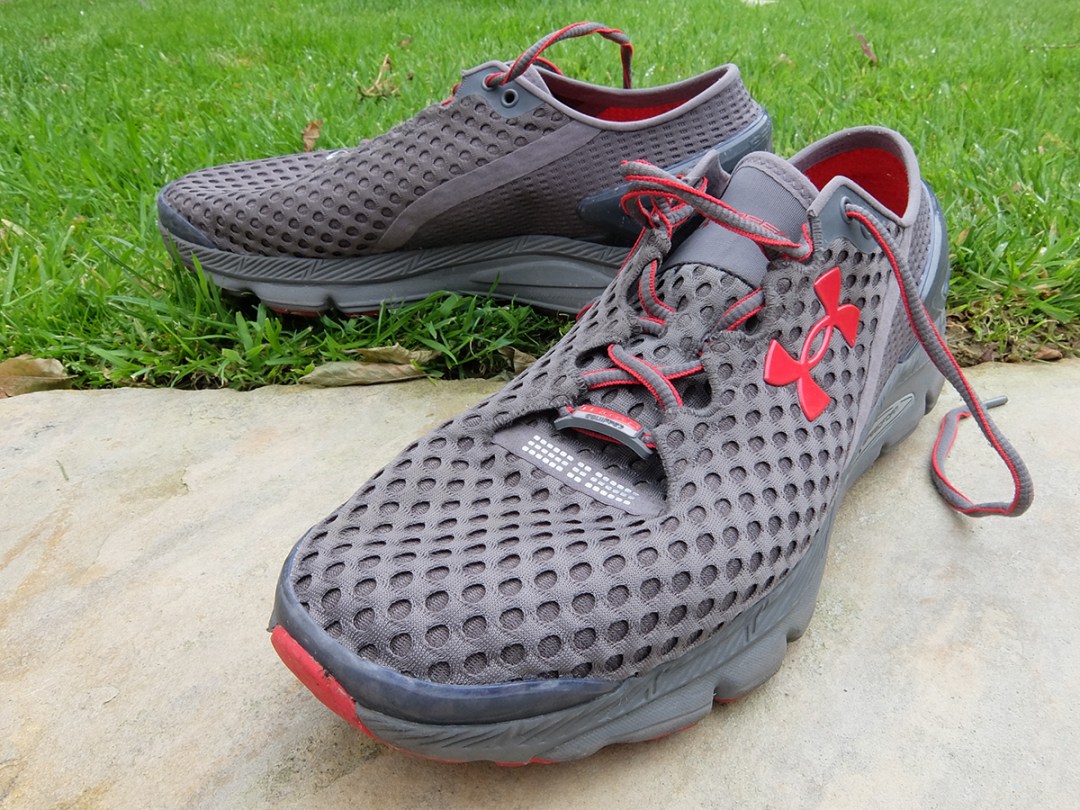 OK, Speedform Gemini 2 Record Equipped is a bit of a mouthful for a pair of running shoes.
Ignore all that though: it's the "Record Equipped" that's the important bit.
It means there's a Bluetooth foot pod built inside, for recording all kinds of data every time you set out for a run. The pod is sealed inside the sole, so the only signs of the shoes' smarts are the tags tied onto the laces.
Not that you want your feet to light up or flash every time you take a step, like some kind of nu-rave fitness freak. The Gemini 2s are actually pretty subtle in grey and red, making a nice change from the hot pink and radioactive orange kicks lining the racks at Foot Locker.
You could even wear them to work without raising too many eyebrows.
ON THE RUN
Out on the road, there's enough sole padding to stop your tootsies getting tender, and the breathable fabric means your socks won't end up a sweaty mess either.
The tracking tech is only in the right foot, but you can't feel any weight difference between each shoe once you've laced them up. Just don't expect them to keep score once you're on your bike – they only record runs, not cycle rides.
The built-in battery doesn't need recharging, and should last for the lifetime of the shoes. That'll work out at around 500 miles of running.
A wearable you stick on your wrist will last longer, but will need juicing daily. You'll never forget to stick your shoes on before you go for a run either, whereas a fitness tracker is easily left on the kitchen counter.
ROUTE MASTER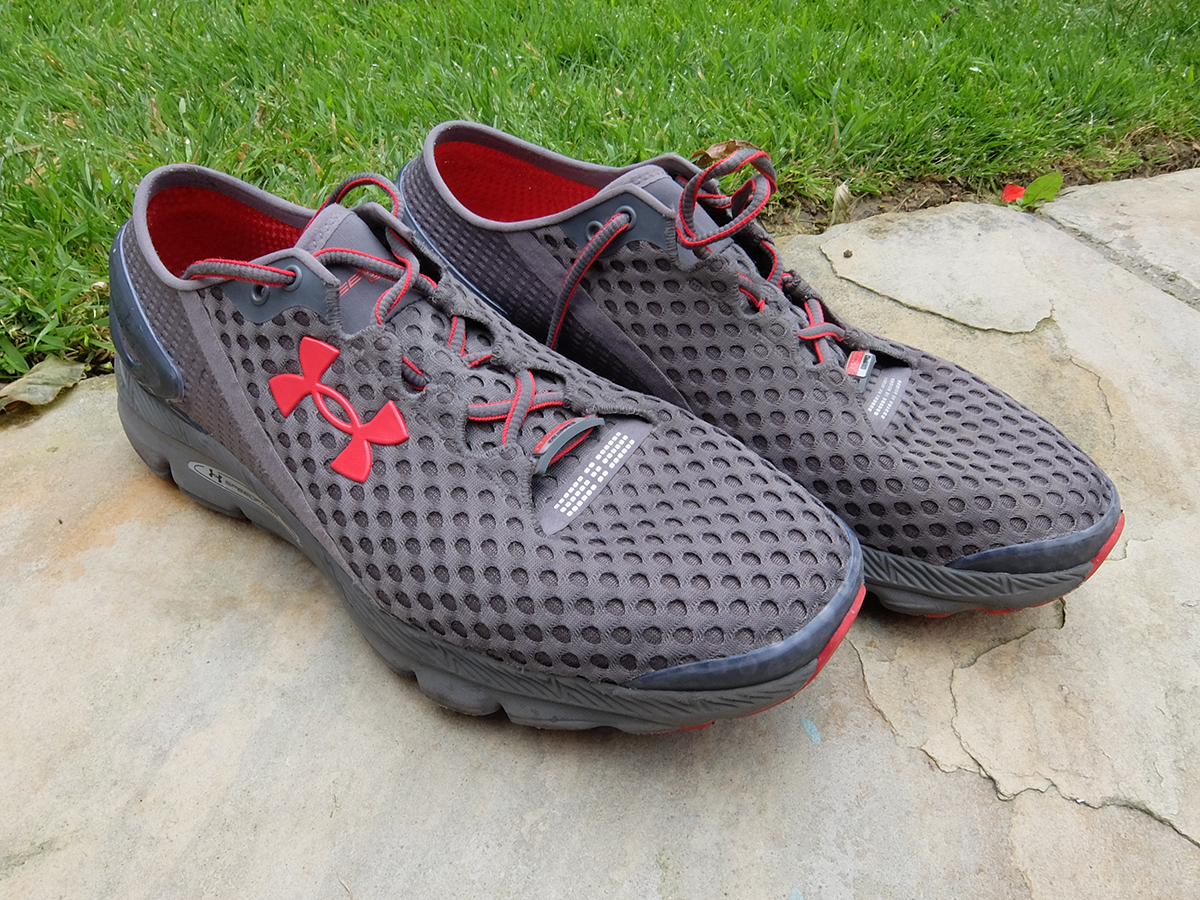 You can leave your phone at home and the Gemini 2s will record your run, but you'll only get GPS mapping data if you bring your handset along for the workout. It automatically saves your route as you run, so you don't need to open the app before you set off.
Finish your workout and the foot pod will automatically beam a record back to your phone. It was usually so quick it would be waiting on the lock screen before I'd even unlocked it. You can manually sync too, but they always beat me to it.
You can set up a manual workout too – it'll save the data as you run but you'll have to tell it you're finished when you get to the end of your route.
Inside the app, my distance, speed and pace were all spot on – it's as accurate as any top-spec tracker.
Under Armour has a range of exercise diaries, calorie trackers and workout recording apps, but these kicks only work with Map My Run. It'll sync with apps like MyFitnessPal, so you know whether you've done enough exercise to burn off that donut you snuck in before lunch.
UA Speedform Gemini 2 Record Equipped verdict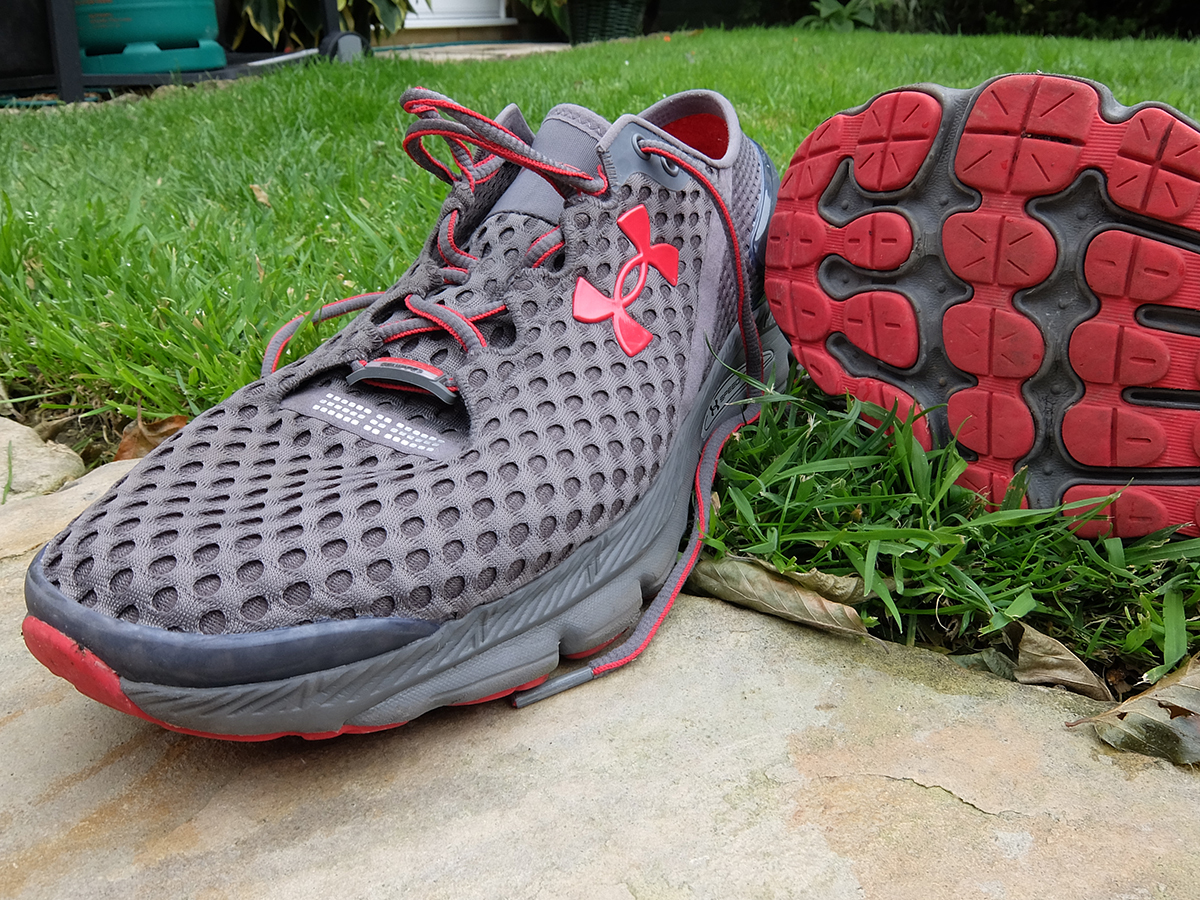 Any bit of running tech you don't have to charge, turn on even remember to wear is a good thing in my book.
The Gemini 2s track your workouts with precision, are as comfy as a regular running shoe, and don't cost much more either.
It still feels a bit odd to buy a piece of expendable tech, though. You'll only get so many miles out of a pair before it's time to swap them out, which seems like a bit of a waste. You'll still need a phone in your pocket for GPS, and they only record runs. Sorry, cyclists.
Still, for sheer convenience, these deserve a spot in your kit bag.
Buy the UA Speedform Gemini 2 Record Equipped here from Amazon
Tech specs
| | |
| --- | --- |
| SENSORS: | Pedometer |
| TRACKING: | Time, cadence, duration, distance, splits |
| CONNECTIVITY: | Bluetooth |
| SIZES: | UK 6-15 |
| WEIGHT: | 295g |
Stuff Says…
They'll get you race-ready, but only if you're a running convert – other wearables are still better for multiple sports
Good Stuff
Comfy, no heavier than a regular running shoe
Accurate step tracking
No need to worry about charging
Bad Stuff
Runners only – no other sports allowed
You'll wear them out faster than a wrist wearable
Still need a phone for GPS