Victrola Music Edition 2 review: charming and charging
Go-anywhere Bluetooth speaker has retro appeal and modern wireless charging tech
If you took one look at the Victrola Music Edition 2 and thought "That's a funny looking record player", you're stuck further in the past than a 7-inch single: the firm has quickly caught up with the times and branched out into Bluetooth speakers. This is the result: one part of a two-model range that'll be heading to the UK in 2023.
There's certainly some throwback styling on display, but the Music Edition 2 promises modern features like a built-in wireless charging pad for keeping your other gadgets fuelled while they're streaming music. It's also built to withstand the elements, which could make it ideal for bringing the party outside.
We've been rocking out ahead of launch to see if it can impress.
Design & build: built to last
As you would expect from a rufty-tufty Bluetooth speaker, the Music Edition 2 is topped and tailed by rubberised plastic. It's soft to the touch, shrugs off water and won't stain. Unusually it's metal everywhere else, with a silver speaker grille surrounded by black anodised aluminium. There's also a silver/grey version, which we reckon might be even easier on the eye.
The geometric grille patterns are a play on the firm's logo, and is suitably retro – in case you didn't know about its history as a gramophone pioneer.
It's not so large you can't grab it one-handed for carting around the house (or outside it), but at 1.35kg it's not the lightest of speakers. We'd sooner through a UE Wonderboom 3 in a bag for listening away from home, but the Music Edition 2 works just fine for moving between the living room and garden.
The cuboid shape is otherwise pretty plain, with buttons on the top panel flanking the wireless charging pad. The top quickly gathers dust when left on a shelf, but seeing how the whole thing is IP67 water- and dust-resistant, it'll just need a quick wipe-down with a damp cloth every now and then.
There's a single power LED on the top, which changes colour when in Bluetooth pairing mode, and there's a small selection of ports on the rear: USB-C for charging, and 3.5mm for hooking up any analogue audio gear.
Features & battery life: Qi to the city
The Music Edition 2 supports multi-speaker pairing, although we only had one to hand for this review, so couldn't test what it sounds like in stereo. You can't pair an Edition 2 with the smaller, cheaper Edition 1, either.
There's no cumbersome companion app to worry about here, so it's just a case of power on, pair, and play. Bluetooth codec support is limited to SBC and AAC, with a fairly typical reception range for a Bluetooth 5.0 device.
The built-in battery promises up to 20 hours of listening, depending on volume, and that largely bore out in our testing. Naturally using the wireless charging pad ate into that figure. It's enabled automatically when the speaker is plugged into the mains, but you can force it on when on battery power. That's handy for when keeping your phone charged is more important than a prolonged listening session. Expect to wait up to five hours for a full recharge once plugged into the mains.
It's a shame the speaker can't also act as a wired battery bank, though. Connected over USB-C, our phone insisted on feeding its power into the speaker, rather than drawing power in the other direction. If your blower doesn't have wireless charging support, you're out of luck.
The USB-C port isn't just for power, though. You can plug in a USB-C flash drive and play MP3 files directly, if you're so inclined.
Sound quality: size matters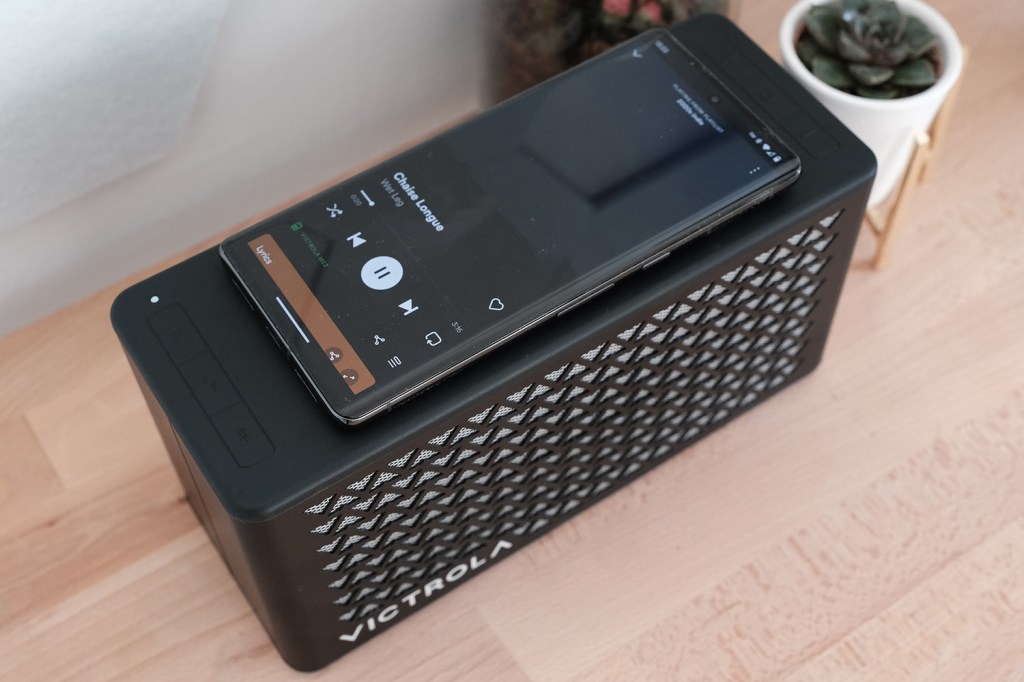 The Music Edition 2 relies on a 3.5in full-range driver, 1in tweeter and passive bass radiator to pump out audio. It didn't take a lot of listening to discover they do a stand-up job. Volume is impressive given the fairly compact size, to the point that we rarely cranked it beyond 50% while working at a desk. That meant there was plenty in reserve when stepping outside.
Bass doesn't have the greatest presence at lower volumes, but there's a decent amount of low-end once you go beyond the half-way mark. It doesn't overwhelm the rest of the frequency range, either. The top-end is precise, verging on sharp in certain tracks, but never at the expense of the mid-range. Vocals in particular are always clear and detailed. It won't rival the output of a larger or more expensive speaker, but holds its own compared to closer-matched rivals.
No companion app means no EQ adjustment, so any tweaks have to be done on your paired device. The soundstage is also fairly narrow, with the drivers firing forwards exclusively. The rear grilles might look identical to the front ones, but sound only exits in one direction.
Victrola Music Edition 2 verdict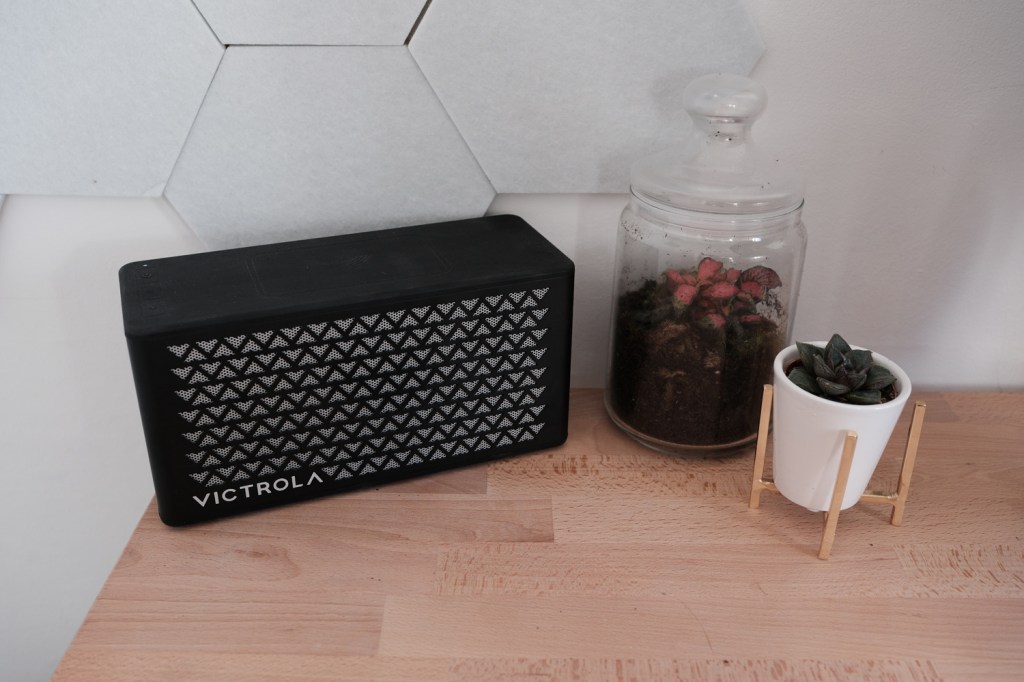 If you're sold on the sophisticated looks, or like the idea of a speaker with wireless charging to cut down on cable clutter, the Victrola Music Edition 2 is an easy sell. It's sensibly priced, delivers the kind of sonic performance you'd expect for the cash, and has a decent battery. The fact it'll cope with a bit of outdoor living is a bonus.
This is no lightweight speaker, though, and sound quality is merely fine for the money. And until it officially lands in the UK, it isn't exactly easy to get hold of.
Right now, we'd have to recommend Brits head towards something like the Sonos Roam or Bang & Olufsen Beosound Explore, which both cost less and have pleasantly impactful audio, as well as IP67 water resistance. That said, neither have a built-in Qi charger.
Stuff Says…
A compact yet tough speaker with solid battery life and punchy sound, plus handy wireless charging. It's not exactly pocket-size, but the Music Edition 2 has great presence wherever you put it.
Good Stuff
Impactful audio for the size
Built-in Wireless charging that works on battery power
Great battery life
Bad Stuff
Not quite as transportable as other rugged speakers
No EQ customisation
Victrola Music Edition 2 technical specifications
| | |
| --- | --- |
| Speakers | 3.5in full-range driver, 1in tweeter, passive bass radiator |
| Durability | IP67 water-resistant |
| Connectivity | Bluetooth, 3.5mm auxiliary |
| Battery | 20 hours, USB-C charging |
| Dimensions | 225x110x88mm, 1.35kg |