Vodafone Smart Platinum 7 review
When going for gold just isn't enough - only Platinum will do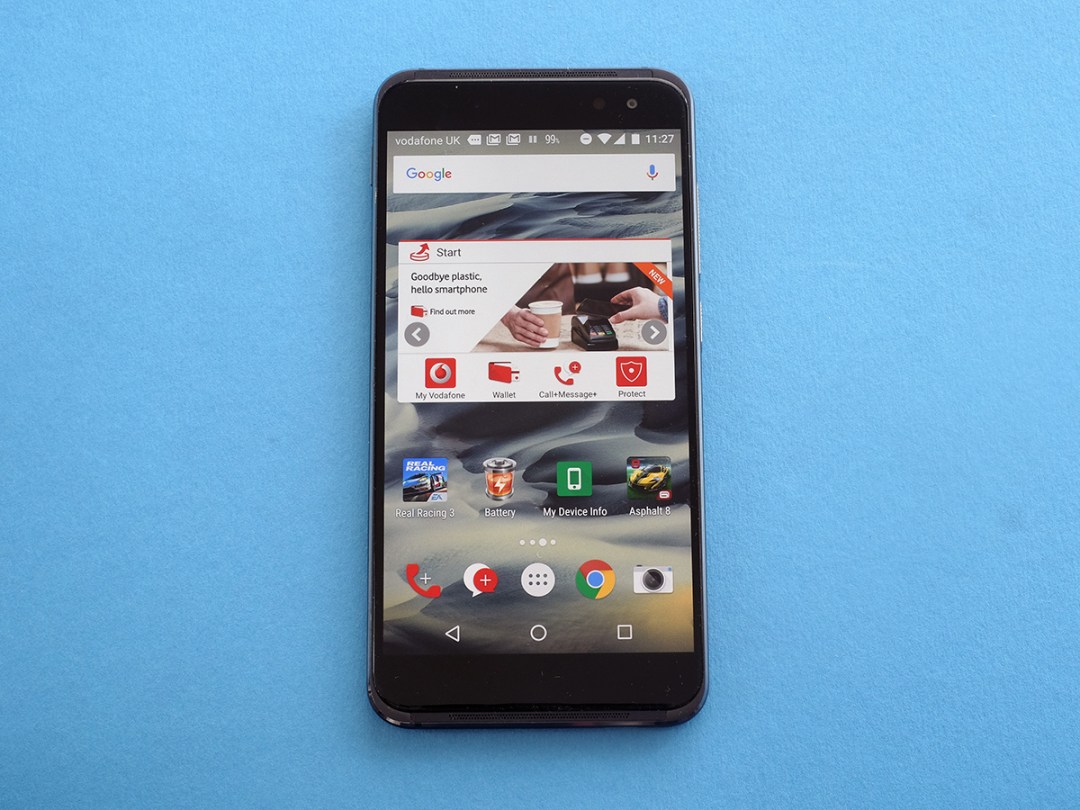 We love an all-singing, all-dancing flagship phone here at Stuff, but we're suckers for a great bargain, too.
After all, why splash out crazy money on the latest thing, when a much cheaper model can do a similar job for much less moolah? That's exactly why it's been hard not to recommend Vodafone's budget phones over the past year.
Both the Prime 7 and Prime 7 Ultra are stunning bargains that show Samsung how it's done on a tight budget. Now, though, Vodafone is really stretching itself. 
The Smart Platinum 7 is not a £100 phone, it's a £300 one. One with serious hardware, and a serious price to match – a combination that might be enough to lure you away from dropping top dollar on a Samsung's Galaxy S7.
FIX UP, LOOK SHARP
Vodafone's cheaper mobiles used to be happy to trade a fancy design for a bargain price, but that's all changed now. The £75 Smart Prime 7 even had a hint of style to it, and the Smart 7 Platinum goes all-out.
There's glass on the front, glass on the back and bevelled aluminium around the sides. No doubt about it, this is top-notch construction.
As for looks, though? The Smart Platinum 7 isn't going to blow its rivals off the catwalk. I think it looks better from the front than the back, mostly because of the pseudo-3D carbon fibre-effect finish that's desperate to catch the light, and the ugly text covering the sticky-out camera.
I might not edit any fashion magazines, but I reckon it would look a shade better with something like the Sony Xperia Z5's frosted glass rear.
It's only a few millimetres wider than the Galaxy S7 Edge, but feels even bigger in your hand because the shape is a wee bit boxy. It doesn't feel at all cheap, though, and isn't as much of a palm destroyer as the iPhone 6s Plus.
FINGER ACTION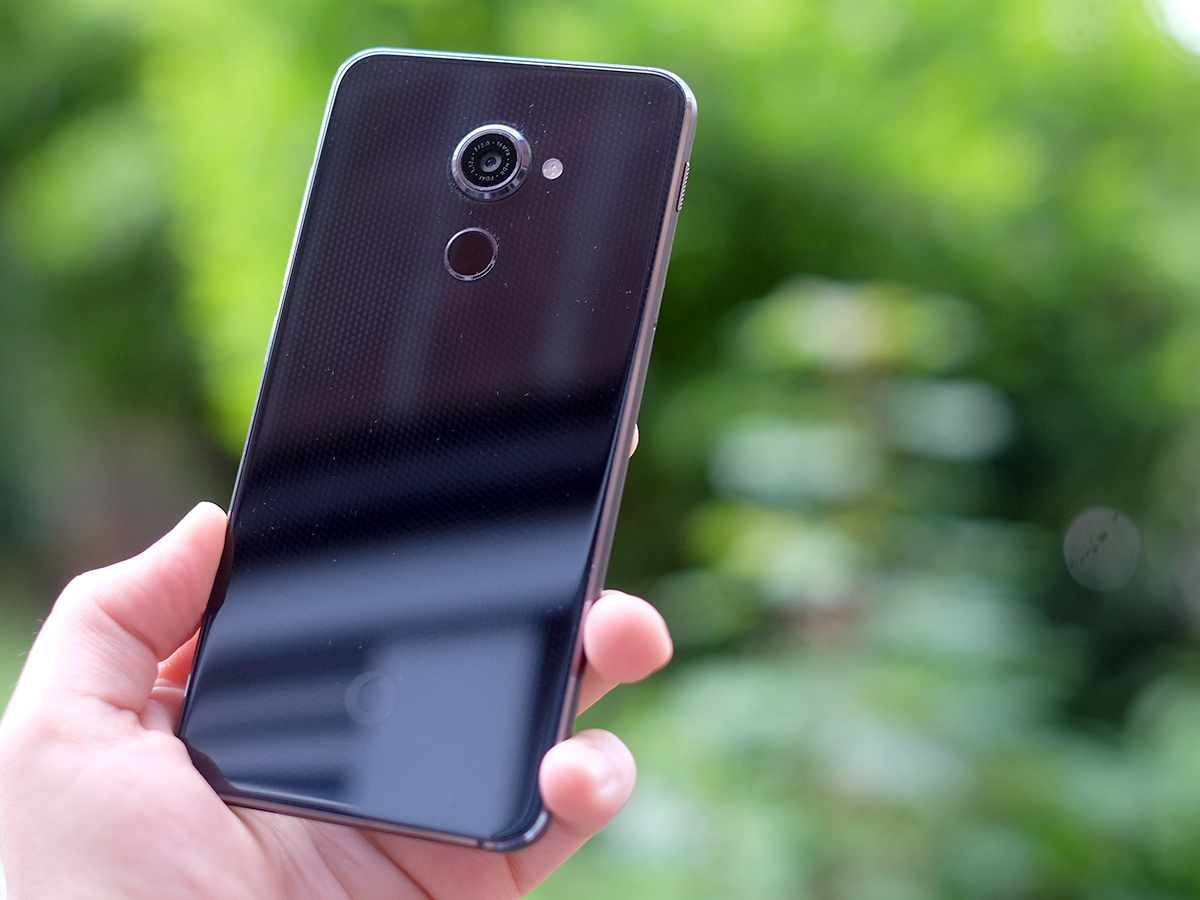 As the first truly expensive Vodafone phone, the Platinum has a lot to prove, so plenty of top-spec features make the cut. You get a fingerprint scanner on the back, for example – right where Huawei and LG tend to plonk their pads.
It's a mystery which company actually makes the phone (Vodafone uses manufacturing partners), but I get the feeling it may have masses of experience with these things.
The fingerprint sensor works just fine, but it's clearly a bit slower than the scanners on other top-end phones. Those try their best to convince you they're scanning before your finger even touches the pad, but this one is in much less of a hurry.
In standby mode, I regularly had to wait a few seconds before the Platinum would notice, like pressing the buzzer at a B&B reception in the deepest, darkest recesses of the English countryside. Fingers crossed this'll quicken up with a software update, as it's normally nippy enough, and its ability to deal with wet fingers suggests the hardware's up-to-date.
The other design highlight is the pair of front-loaded speakers. They're deliciously subtle, with little grilles above and below the screen being the only sign they're there at all. They also sound terrific – for a phone setup, anyway.
They do a great job of making the sound wide and involving when you're stuck down a YouTube rabbit hole of cartoon theme tunes from your youth. Or whatever else you waste your life away online with.
Sound quality is remarkably good too, with unusually good bass power and even a pretty good sense of separation between the parts of a mix when you play music. They don't make the Smart Platinum 7 turn into an angry vibrating plate as soon as you turn the volume up, either.
I wish they were an extra notch louder, as they are overpowered by the OnePlus 3, even though this phone's sound quality is significantly better.
SHAM-SUNG?
The Smart Platinum 7 waves two fingers up at Sony, HTC and LG with its 2560×1440 OLED screen. That's rubbing shoulders with Samsung's Galaxy S7 and S7 Edge.
It's big, it's pin-sharp, and there's a good chance it uses a Samsung-made panel, so has more in common with top-end Galaxys than mere resolution.
If you're a screen snob like me, you'll find the colours a bit oversaturated when you first switch it on. Vodafone's borrowed a few more ideas from Samsung, though, with 'natural', 'adaptive' and 'vivid' screen modes. There's a temperature slider too.
I liked the Smart Platinum 7 with a natural, warm-leaning setting: it'll look like the phone equivalent of a knackered old library book to some of you, but you can go your own way.
The Smart Platinum 7's screen is no match for the best Samsung phones in some other, though. Take it outside on a bright day and visibility is only OK.
A Galaxy S7 Edge goes all DEFCON 3 when it's bright out, overdriving the display and radically ramping-up the colour saturation to make things as clear as possible. The Smart Platinum 7 has no similar tricks. It copes outdoors, but not with the same style.
Red light district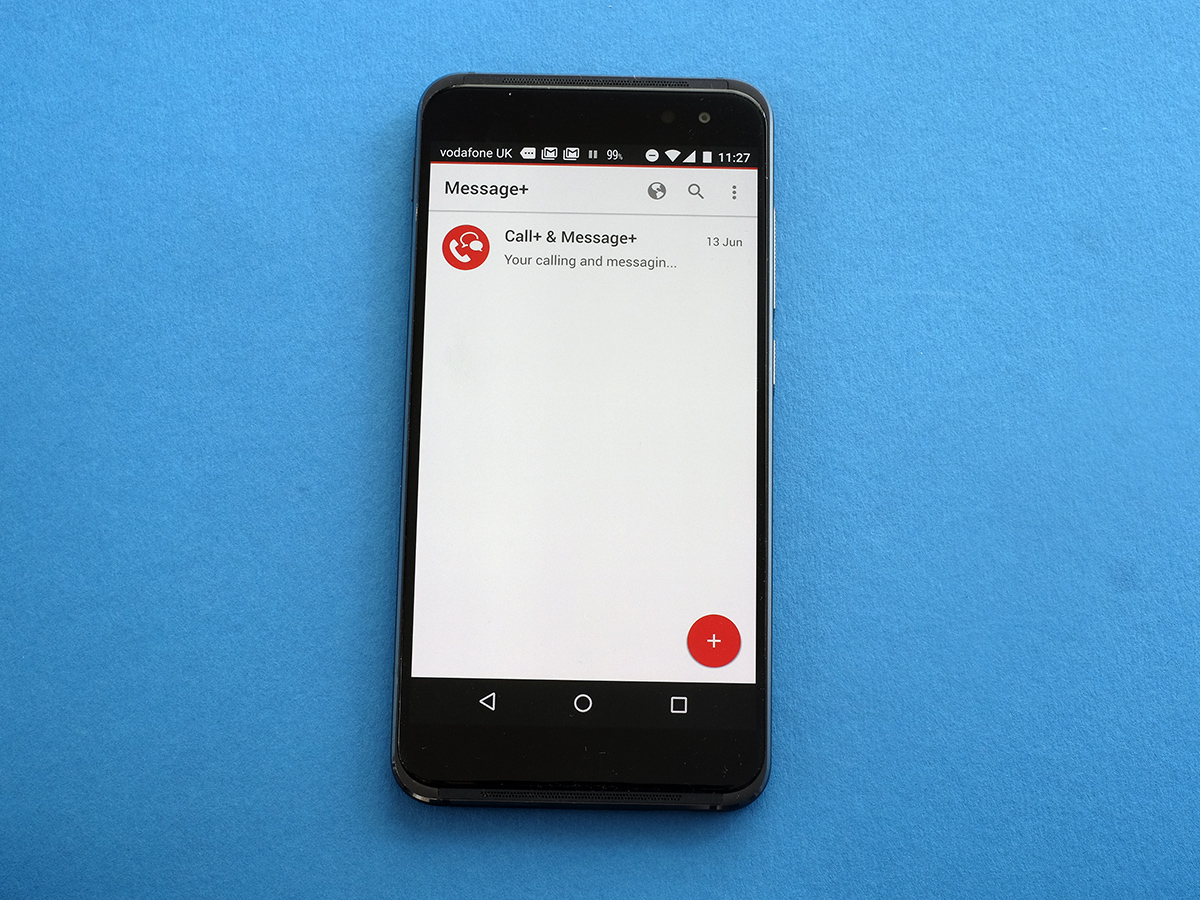 Then there's the tricky bit: the software. Do you really want the phone you spent £300 on to be plastered with network-branded apps, and be locked to Vodafone? The Smart Platinum 7 feels like you're getting a good deal in pure hardware terms, but the OnePlus 3 and Oppo F1 Plus also land around the same price.
Don't sit scratching your head, though. The Smart Platinum 7 only has five Vodafone apps, which mostly just sink into the app drawer like the calculator you spend three minutes looking for once every six months.
The more invasive ones are the calls and texts apps. They're actually pretty similar to the ones you get with any other Android phone, but push Vodafone's internet calling and texting services. As someone who exclusively uses WhatsApp to text and considers phone calls an unfortunate part of life admin these days, I haven't really used either.
The only annoyance is how the deep red shade of icon Vodafone uses for, well, everything is so much less chilled-looking than the one Google uses for its Chrome and Gmail apps.
They're little red boiled sweets stuck onto what is otherwise a totally standard take on Android. The apps menus and home screens could have been ripped right from a Nexus phone, and the Platinum launches with the up-to-date Android 6.0.1.
Middle-weight sparring
The built-in apps don't slow the Smart Platinum 7 down at all, even if it doesn't have the Snapdragon 820 CPU phones like LG's G5 are so very proud of.
The Snapdragon 625 it has instead is every bit the mid-range CPU. It's not as fast as the very best for raw speed or 3D graphics, but keeps up wit hthe Snapdragon 808 in last year's LG G4, and matches Samsung's Galaxy A9, which costs more but otherwise has lower-end specs.
Still, with eight cores, that translates to a score of 4943 in Geekbench 3 – miles faster than the Snapdragon 618 and company you might find in other phones costing £200-300.
Harcore techies might raise an eyebrow that this is a 28nm chip, not a newer, (potentially) more efficient 14nm one, but before we drown in numbers, let's look at whether that matters out in the real world.
Day to day? Nope. The Platinum 7 feels nippy all day long. It does have 3GB of RAM, after all. It was only with a few games that I saw a tiny hint of compromise.
In Asphalt 8 there's an occasional frame rate drop when the graphics are maxed-out. That's it. In Minecraft you can fiddle with the view distance and the POV until it's almost uncomfortable to play, and Dead Trigger 2 plays perfectly.
Apart from the more powerful OnePlus 3, this is one of the best gaming phones you can get at the price, especially with those great stereo speakers pumping out sound.
The 16MP camera on the back certainly sounds right for the price. It's got phase detect autofocus, LED flash and an f/2.0 aperture lens, so it'll open wide and stay locked on your subject before you hit the shutter button.
In the right light, the Platinum can really hold its own, capturing loads of detail and judging how much to expose a shot with good accuracy. Vodafone claims it has 'zero shutter lag', and while it's not quite that instant, normal snaps are dead easy to shoot.
Can you feel the "but" coming? There are a few issues that stop it from being anywhere near as good as the Galaxy S7, currently the bishop of bad-assery when it comes to phone cameras.
First, the processing sometimes ends up super-ugly. A few of my daylight shots look so grainy they could have been made by some particularly talented kids with a glue stick and some colourful sand. There's no obvious reason why, either: fast shutter speed, low ISO: sounds right. They look fine zoomed-out too, but a horror show up-close.
Switching to HDR seemed to fix this, showing that whatever software brains are running the show just aren't that well-optimised. You can't switch to HDR and snap away 24/7, either. HDR is much slower than normal shooting, making the Platinum's camera much less fun to use.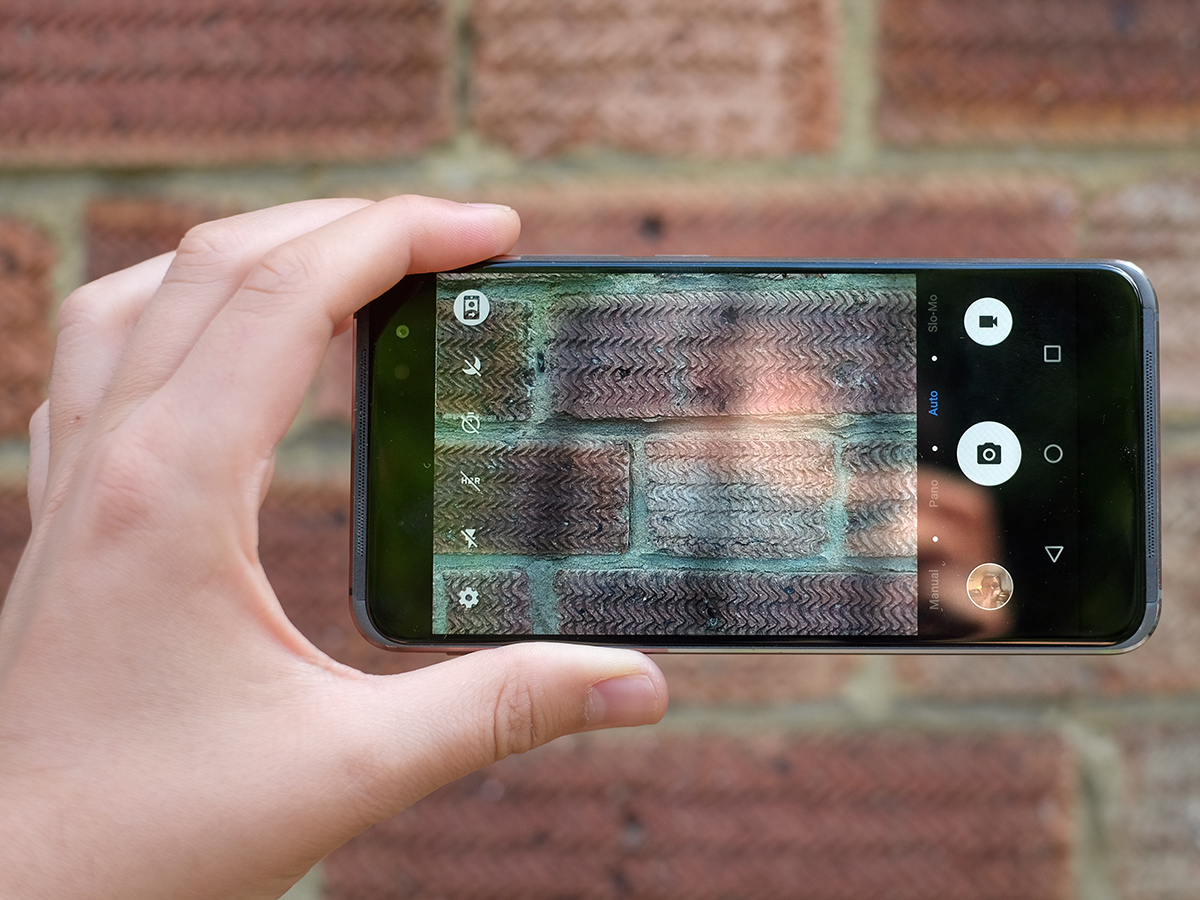 The Galaxy S7 also destroys the Smart Platinum 7 in lower light. Shots turn a bit soft at night, like a cheesecake base that's been left out in the sun. There's no real software failing here beyond the colours looking undersaturated – the phone just doesn't have image stabilisation so has to crank up the sensitivity to stay afloat.
You need to keep your hands steady, too, with the shutter speed slowing down to 1/12 of a second. It might let the Platinum take fairly good low-light shots for a phone without OIS, but you've got to be on the lookout for blurry results.
Video capture goes up to 4K, with software stabilisation meaning you don't miss out too much from the lack of OIS. The selfie camera is fairly good too, an 8-megapixel sensor able to capture a good amount of detail indoors. Like the main camera shots, though, colour saturation takes a slight hit when light conditions aren't perfect.
BATTERY STRIFE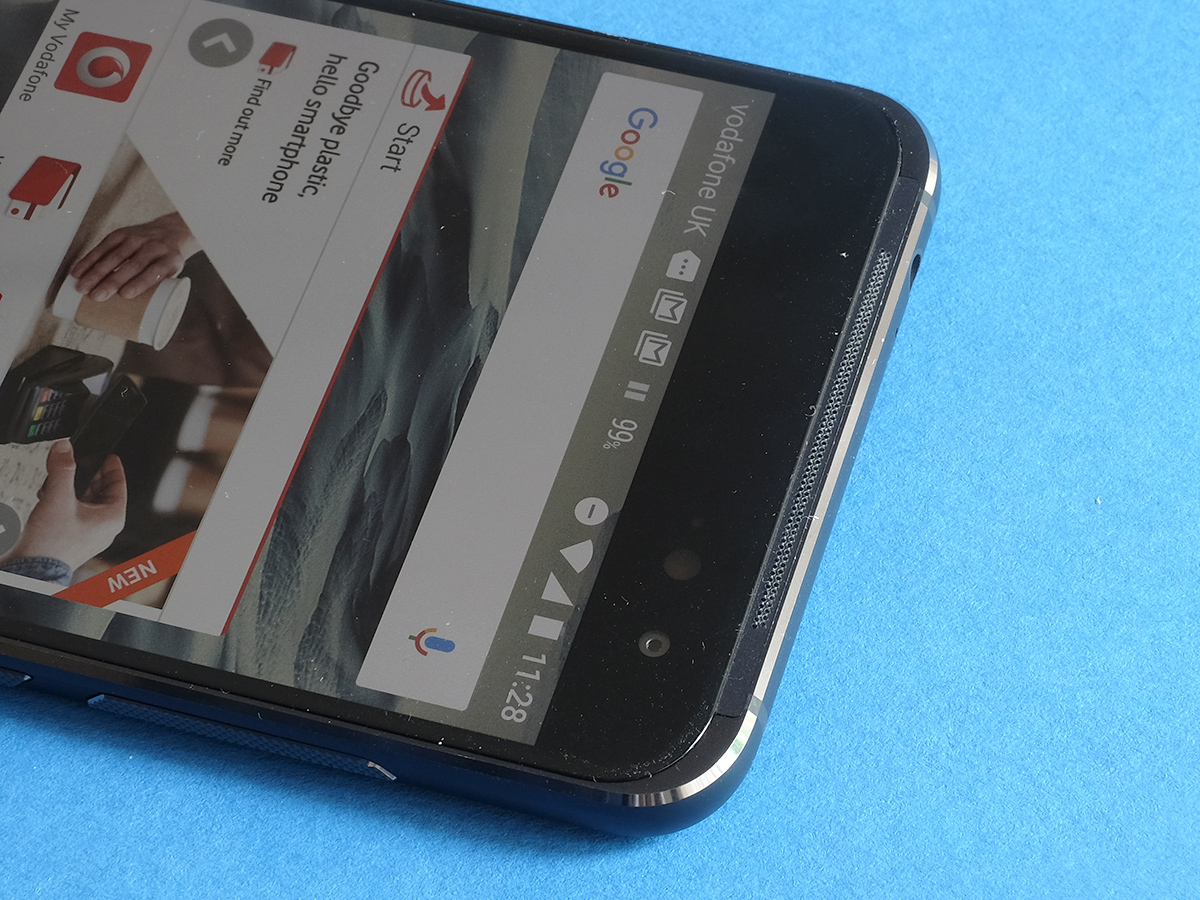 Camera and fingerprint scanner issues only become real problems here because, unlike the Smart Ultra, this phone costs serious money. Battery life is another so-so bit part.
This phone has the same 3000mAh battery capacity as the Ultra, even though the screen resolution is way higher.
It's not too tricky to get the phone to last a full day, but you probably won't get all that much more unless you start using the Android Power Saver mode, which puts great big orange bars at the top and bottom of the screen. Not a good look.
The Smart Platinum 7 lasts for 10 hours 30 minutes of video between charges. It's fine, it's acceptable, it's OK – but stamina is one of the least notable parts of this phone.
It comes with a fast charger that'll get you from 0 per cent to around 90 in an hour and a half, though, which is pretty nice as apologies go.
Vodafone Smart Platinum 7 verdict
OK, so the Platinum doesn't quite destroy everything in its price bracket like the classic Smart Ultra: the OnePlus 3 is flat-out nicer, even if it doesn't have quite as many screen pixels.
It feels like Vodafone hasn't made quite enough of the hardware in a few areas, too. The fingerprint sensor feels a little slow, and the camera processing doesn't quite make enough of what seems to be a good sensor.
Not quite a world-beater, then, but if you're only after a kick-ass screen and you're on a budget, this is still a fantastic buy.
Buy the Smart platinum 7 with Smart VR headset here from Vodafone
Tech specs
| | |
| --- | --- |
| Screen | 5.5in, 2560×1440 OLED |
| CPU | octa-core Snapdragon 625 |
| RAM | 3GB |
| Storage | 32GB on-board, microSD |
| Camera | 16MP rear, 8MP front |
| Operating system | Android 6.0.1 |
| Battery | 3000mAh |
Stuff Says…
High-end design at a mid-range price, but there's stiff competition for a bargain hunter's pounds
Good Stuff
Big screen that's super-sharp
Fab speakers
High-end build
Cracking value
Bad Stuff
Camera results are mid-range fodder
Finger scanner could be faster
Locked to Vodafone