Withings Steel HR Sport review
Not just a pretty face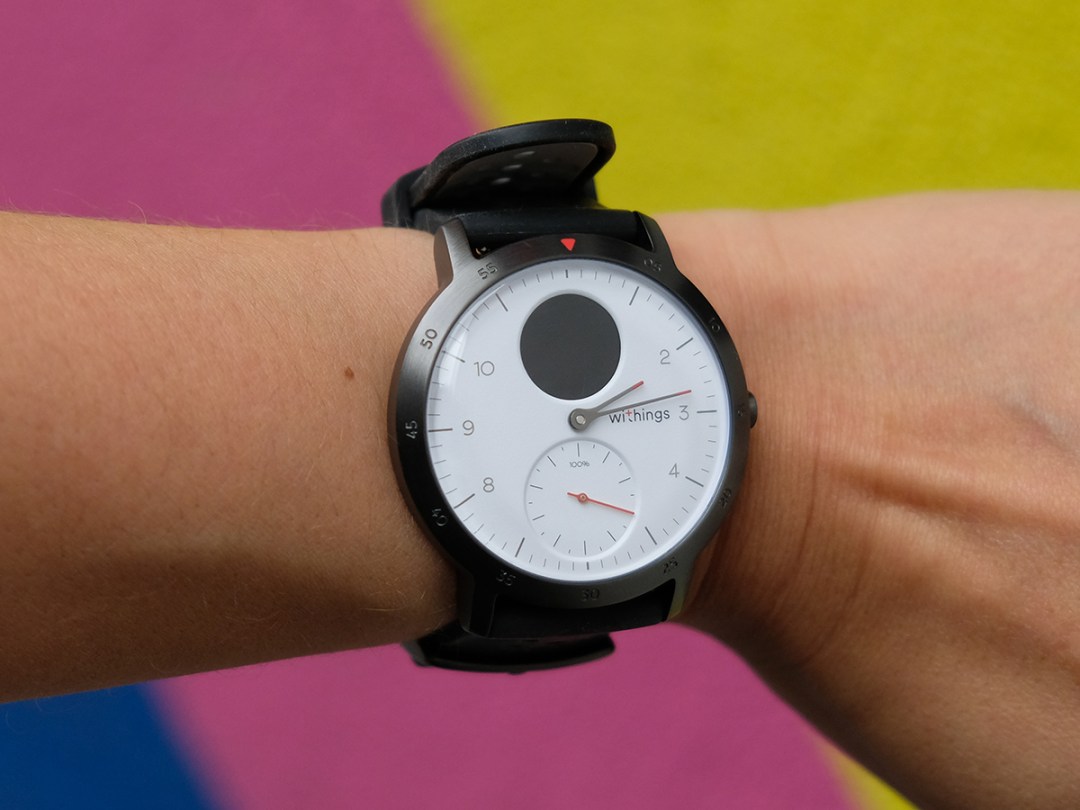 The Withings Steel HR Sport might look familiar, and that's because it's the successor of the equally good-looking Nokia Steel HR.
The only difference is a new silicon strap, a logo swap, and a couple of new features which we'll come to later.
Garmin has taken the spotlight when it comes do-everything smartwatches, and that's because of the unrivalled sports tracking and the bazillion features on offer.
But let's be honest, elegant time-pieces they are not.
Withings Steel HR fits into the hybrid category of smartwatches, whilst it does some smarts and some fitness, it doesn't fully commit enthusiastically to either. But that's not necessarily a bad thing. And it might just be why this is the watch of choice for most people.
It sure looks like a pretty ordinary ticker, but with 25-day battery life, excellent heart rate monitoring, smart notifications, GPS (paired with smartphone), a plethora of activity tracking and an excellent health data app, it's certainly worth your time and money.
DESIGN & BUILD: Athleisure treasure
It's a case of déjà vu here as it looks incredible similar to the Nokia Steel HR.
Only this time there are numbers etched around the circumference, but they're so subtle and barely noticeable.
Straight out the box it looks fresh and minimal. We're testing the version with the white face but there is also the option for a black one too.
The silicon strap here makes the Steel HR look a touch sportier than its predecessors and the fact that there are notches along the entire band is much appreciated, especially for smaller-wristed humans like me.
You can change the strap for something smarter if you prefer too. The stainless-steel bezel is slim with the curved glass over the face, a staple of the series. This adds a certain glisten, elevating this watch to a sleek accessory, at home with suave office attire.
It's no small feat that it manages to still remain minimal whistle having analogue numbers around the edges of the face, as well as a little OLED screen for notifications, selecting activities and checking up on daily steps and heart rate.
Plus, there's a small analogue sub-dial which shows you a percentage of how close you are achieving you daily goals.
We've been swimming too! And the 5ATM rating means it'll cope up to to 50 metres deep, I probably wouldn't though. I was worried it would steam up in the sauna but to my surprise, it didn't.
SOFTWARE & FEATURES: Quiet but capable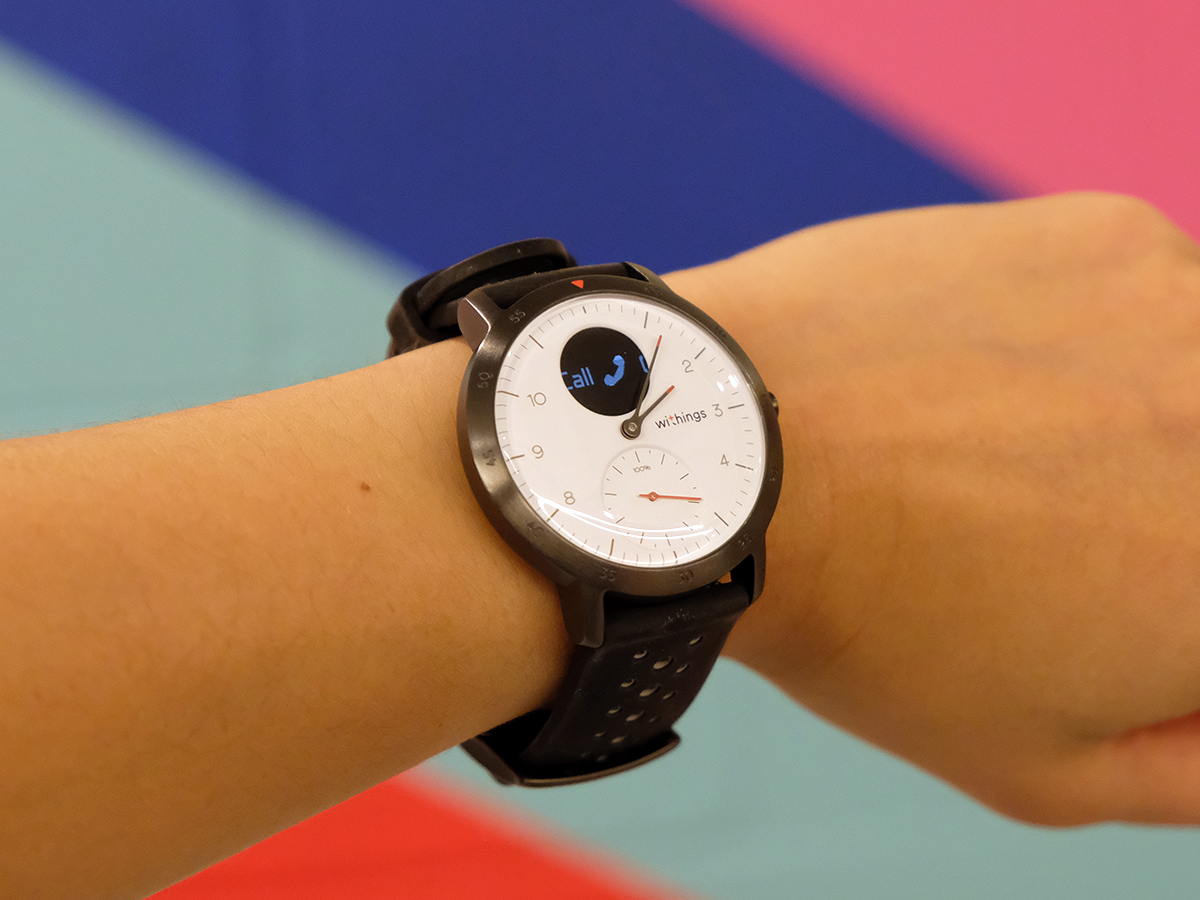 Unassuming in looks, sure, but what kind of smarts are on offer?
Hit the crown and the small OLED display comes to live with white pixels. Hold it down for longer and the cycle through the home screens where you can see your steps, heart rate setting the alarm and checking battery level.
Through the app, you can switch on notifications for: messages, calls, WhatsApp and even Slack. But with that teeny tiny screen don't expect to be able to read anything lengthy. Sentences slowly scroll horizontally across the screen like the display boards at a train station.
I usually don't like to receive too many notifications from a watch, but I do like to know when someone is calling me, especially when I'm walking and my phones in my bag on silent. I've had this on in the 10 days testing it and have become quite reliant on it.
You'll get a small vibration when you get a notification which is all you'd really want, nothing too obtuse like some other smartwatches which can make you feel like a lab rat undergoing psychosocial conditioning experiments… Move more!
What would be really nice though, is another phone-freeing feature like NFC payments, but that would come with some considerable bulk and we wouldn't change anything about the design.
FITNESS TRACKING and App: Top of the class
Although the Steel HR now has GPS, which is excellent, it still requires you to have your phone in close proximity. I don't like to take anything with me when I run and the best thing about dedicated fitness trackers like the Garmin VIvoactiv is that you can totally leave your phone at home.
The Steel HR Sport will, however, automatically detect activity. There's something amusing or embarrassing (undecided just yet) about seeing a notification saying 'new activity detected' the morning after a night on the tiles partaking in some aggressive shape shifting.
I've burnt more calories 'dancing' in the past 10 days than yoga and running combined.
The variety of fitness tracking is impressive. Running, swimming, cycling are a given – but there's even yoga, pilates, weights, ice hockey, football and my favourite – dancing.
You can select your 5 most frequent activities to appear on the screen for quick access.
The digital display is usually off by default, but when in activity mode it will switch to always-on so you can see where you're at. However, in direct sun light it is very difficult to read.
Another cool new feature is the ability to offer VO2 Max estimates, but this is impeded but the GPS occasionally dropping our mid-run.
Sleep tracking: No snoozing on the job
The sleep tracking on the Steel HR sport is brilliant.
Every morning I check the app as it synchs effortlessly and then gives me an overall sleep score based on recommended sleep data. It'll throw out a graph displaying the hours I've spent sleeping, marking light sleep with a cyan blue and deep sleep with a darker shade. It'll also mark out any interruptions.
The more sleep data the app collects, the more useful it will become to showing you an average weekday sleep score.
It kindly pointed out that there's a little bit of discrepancy between sleep at the weekend and sleep during the week and warns of what Dr. Till Roenneberg calls 'social jetlag'. Which describes how skimping on weekday sleep and then catching up on the weekends isn't really very good for your health.
It offers useful advice that's key to getting into a good sleeping routine. It's really simple. Wake up and go to bed at the same time every night.
In conclusion, I've actually started thinking about my sleep and learnt that sleeping in 'til 11am on a Sunday morning isn't really going to feel so good in the long run.
Battery Life: Donkey's years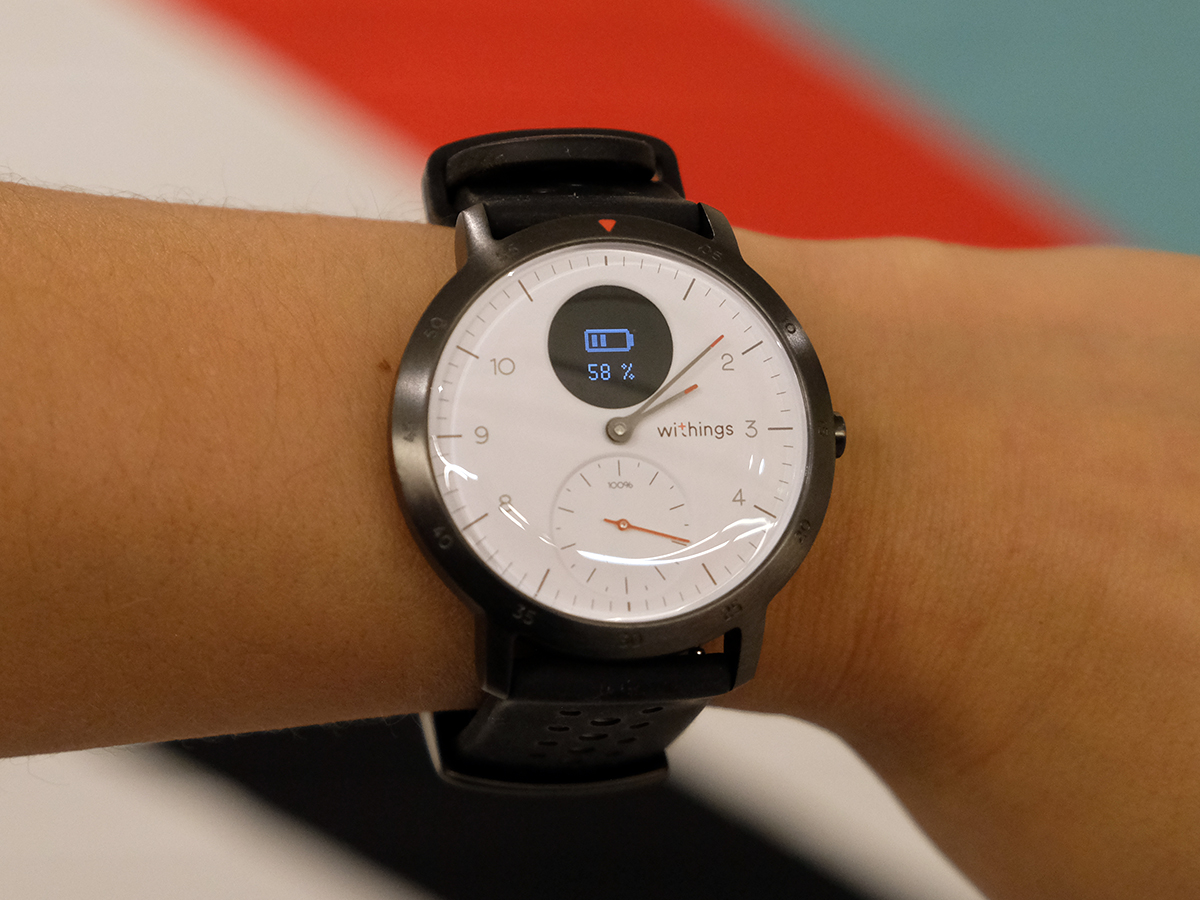 Like Paul McCartney's career, the Withings Steel HR Sport can keep on going and going…and going.
Withings promise 25 days on a single charge, this might be true if not using GPS or if you're not working out every couple of days as I was. I've only charged it once over a 10 day period.
There's a little neat charging dock where you place the back of the watch face on a circular block and plug the USB into a power source.
After about 30 minutes, I was already up to about 90% from 10% which makes a mockery of all the other gadgets in my life that require charging.
Nokia Steel HR Sport verdict
The Withings Steel HR Sport is the only watch that might persuade me switch from my analogue ticker – so I can finally have a few tricks up my sleeve.
It looks like a regular watch, subtle and stylish, yet there's so much going on inside and stuff that's useful for everyday use and people like me, who like to keep fairly fit but aren't beating themselves up about their Strava rankings.
The sleep tracking and daily goals are everything a hybrid watch should be; there to give you a bit of guidance on how to live a healthier lifestyle.
And for me that's more dancing and more sleeping, yet I'm worried the two are mutually exclusive…
Stuff Says…
One of the most well-rounded stylish hybrids that won't burn out even when you do
Good Stuff
Stylish design
Great battery life
Loads of activities
Intuitive and useful app
Bad Stuff
No NFC payments
No standalone GPS