Xgimi Elfin review: pixie-like projector
A pixie-like projector for goblin up all your media - is it the ideal alternative to a smart TV for space-starved flat-dwellers?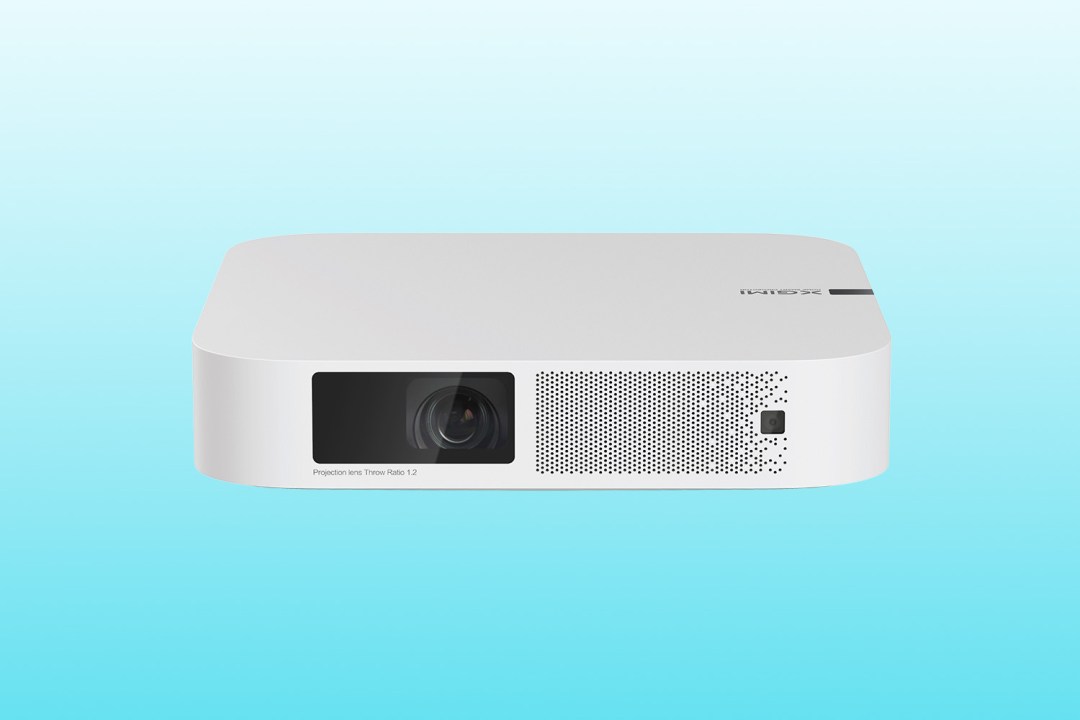 Much like the Samsung Freestyle we recently reviewed, the Xgimi Elfin is a tiny, tech-packed projector that does its best to reduce the hassle surrounding big-screen. Here's our Xgimi Elfin review.
It can project a bright 200in 1080p image, and includes features like automatic keystone correction and autofocus that make getting a sharp, level and undistorted picture as simple as possible. It even has built-in speakers and voice commands via Google Assistant.
Priced at under £600, it could be the ideal alternative to a smart TV for space-starved flat-dwellers – one that you can just stick in a drawer once you're done. So is it a box of de-light or a smart projector that's dumb and dull? We put it to the test to find out.
Design: minimalist magic
The Elfin is beautifully small and, well, just beautiful full stop. A black and white minimalist square slab with no protrusions and tastefully curved corners, it weighs in at under a kilo and measures less than 20cm on its longest edge. It's compact enough to stick in a drawer, as we said earlier, but you can also bung it in your backpack and take it to a friend's house with zero fuss.
Unlike the Samsung Freestyle, it can't run off an optional battery pack, so you will have to plug it into a power socket, but the cable supplied is generously long. Other than that, its wireless connectivity, integrated speakers and smart TV features mean it doesn't necessarily need any further wires shoved into it; there are HDMI and USB inputs though, plus a 3.5mm headphone output if you'd rather your sound came from cans or bigger, beefier speakers.
One welcome design touch is the standard tripod mount on the bottom. We made good use of this, bolting it to our full-size photography tripod to swiftly whip up the perfect adjustable projector stand.
The Elfin's throw isn't as super short as some, but with a 1.2:1 ratio it's still quite accommodating for those with smaller rooms. Setting the projector up 1.6m from the surface you're projector onto will result in a 60in image, while pushing it back to 3.2m will result in a 120in picture, which Xgimi recommends as the optimum size if you're going large. (You can achieve a 200in image if you want, but at that size the quality starts to drop off noticeably.)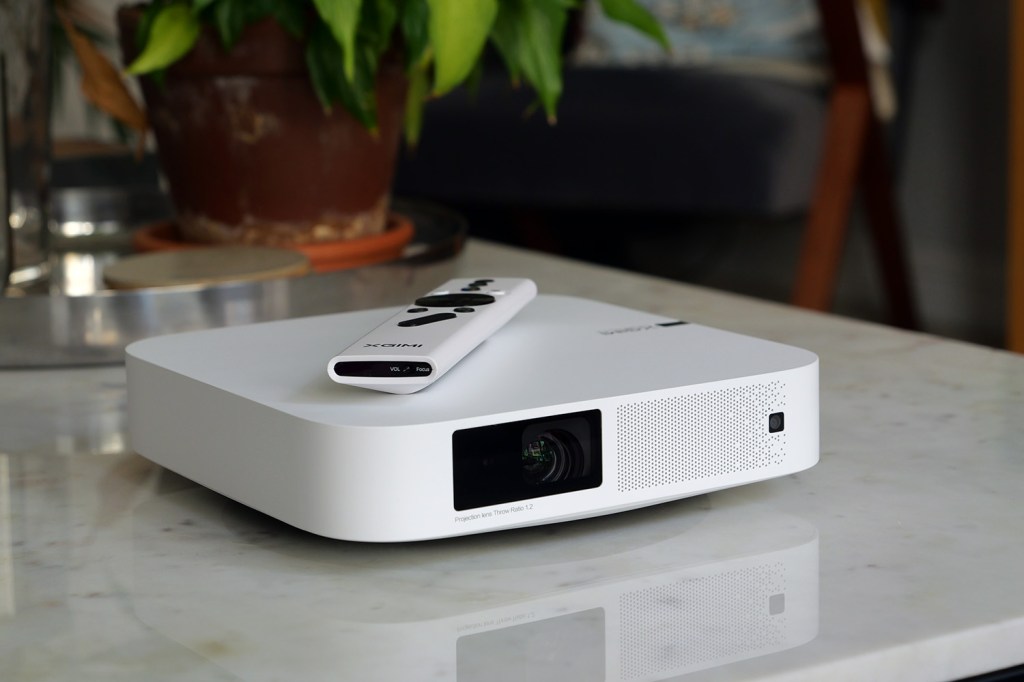 Features: automatic for the people
Back in the day setting up a home projector was a fraught and fussy business. You'd have to place it at the optimum height, distance and angle, then manually focus and (if given the option) correct the keystone compensation to get a flat, undistorted picture; adjusting tiny screw legs to painstakingly level the project will be a particularly raw memory for some.
Thankfully, none of that applies here. You plonk the Elfin in vaguely the right place, turn it on and autofocus, automatic keystone correction and intelligent screen alignment kick in to do the rest. It'll even detect objects in the image path and shift the picture slightly to avoid them. It's very clever stuff and works well in our experience, but you can also manually tweak settings if you're not happy with the autotuned results.
The other headline feature is Android TV. Using the built-in Wi-Fi you can connect to your home network, log in with your Google account, then install smart TV apps and games. We grabbed a selection of video streaming services – Prime Video, Netflix, YouTube, Twitch and Apple TV+ – and with the exception of Netflix (which allowed us to log in and browse content, but threw up an error message every time we actually tried to watch something) they all worked like a charm.
It also supports Chromecast (which means you can 'cast' videos and photos easily from other devices running on the same network) and voice controls via Google Assistant. Voice control is surprisingly useful on a projector, given that you're ideally using it in a very dark room.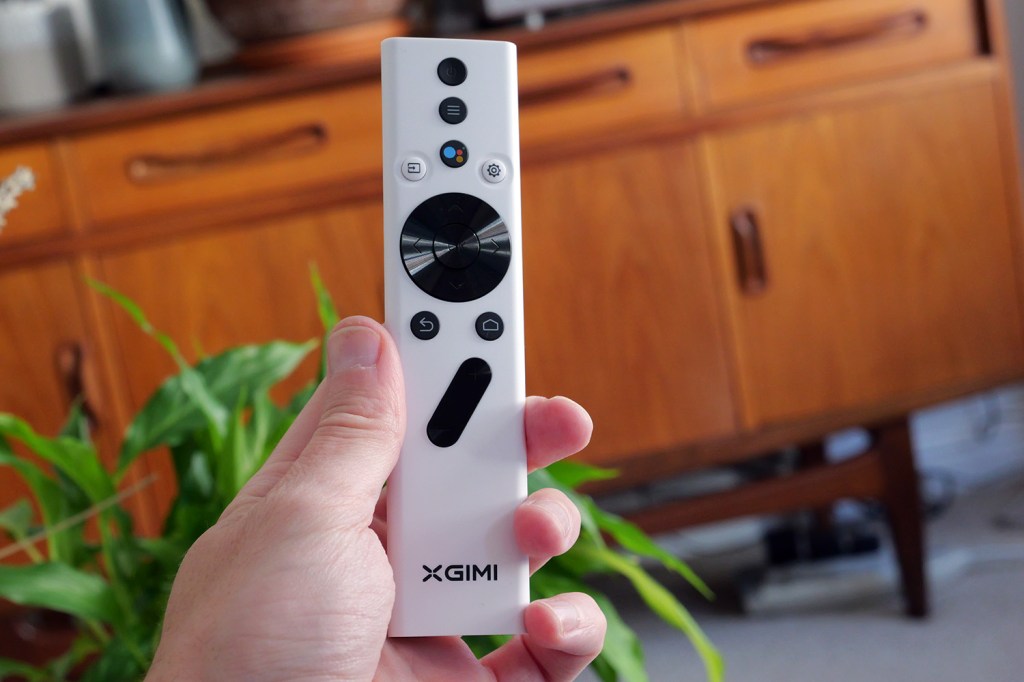 Picture and performance: the light fantastic
Given the relatively price and small size of the Elfin, we weren't expecting too much in the way of image quality – but it's actually great for its price. The picture won't win any awards for its black levels or super-punchy contrast, but it's bright enough to use in a room with some ambient light and doesn't suffer from any noticeable image artefacts or smearing during motion. You can project right onto a white or similarly pale wall too – no need for a dedicated projector screen (although your picture will appear brighter and more contrast-rich if you do use one).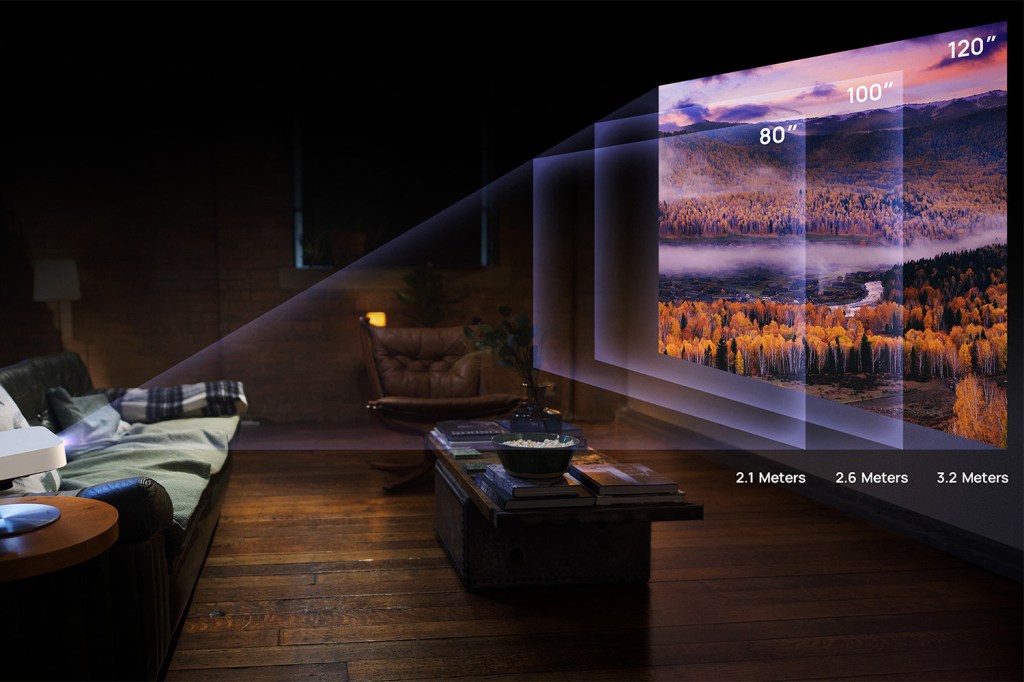 We did spot some rainbow haloing around brighter objects when they move, which often occurs with projector that use DLP technology, but it's nothing too distracting. You can adjust image settings to a reasonable degree (turning off the annoying motion smoothing is a good start, particularly if you're watching films) and HDR is supported in its HLG and HDR10 forms. You can even project a 3D image, although we're fairly sure the demand for this died out around a decade ago.
The built-in stereo speaker is made by Harman/Kardon and has a power output of 2 x 3W. That might sound feeble but, while it's certainly lacking in the bass department, it's loud and clear enough to be heard in a small room. We'd always recommend using another method for your sound if possible, particularly if you're gaming or having a movie night, but as a backup speaker this is absolutely fine.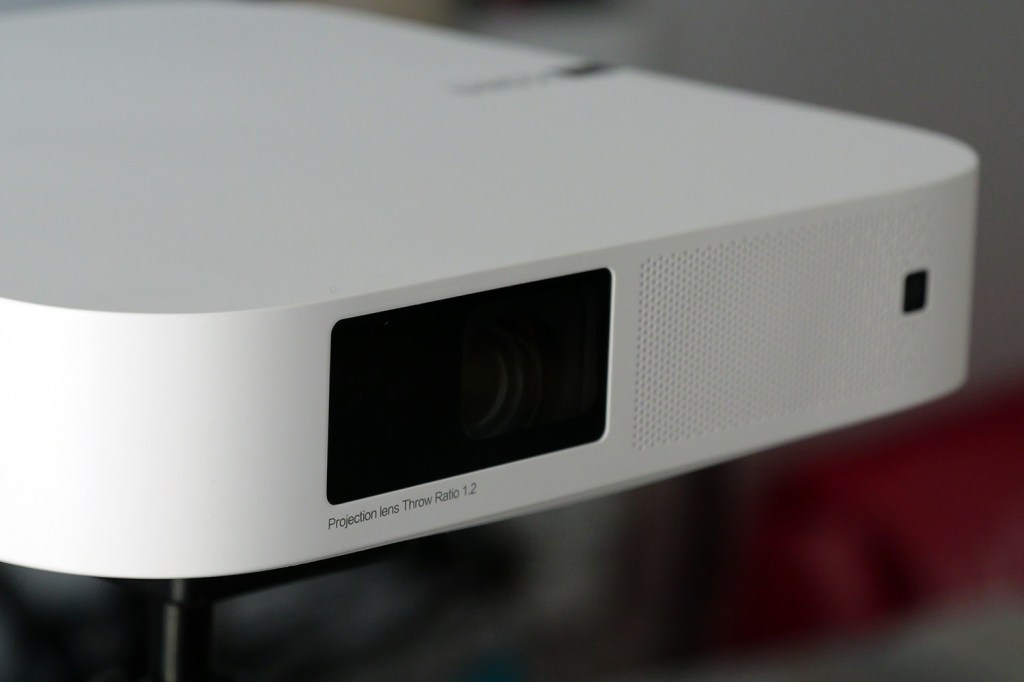 Verdict
The Elfin is a really charming projector, mostly thanks to how easy and simple it makes everything. Does it offer incredible image quality? Perhaps not, but its picture performance is absolutely brilliant for the price, and we think the fact that you can get it up, working and providing a huge image in a matter of seconds gives it a mass appeal that many 'better' projectors lack.
It's a shame the Netflix app didn't work – it's still the streaming service that most people use – but we'd assume this is a fixable issue, and it certainly doesn't take the shine off the Elfin enough for us not to recommend it.
Stuff Says…
Small, simple and easy to live with – a charming smart projector.
Good Stuff
Quick and easy to set up
Compact and lightweight
Supports lots of useful Android apps
Bad Stuff
Netflix app doesn't work
Tech specs
| | |
| --- | --- |
| Resolution | 1080p |
| Max display size | 200in |
| Brightness | 800 ANSI Lumens |
| HDR | HDR10, HLG |
| Operating system | Android TV |
| Connectivity | Bluetooth 5.0, Dual-Band Wi-Fi, HDMI, USB, 3.5mm stereo out |
| Dimensions | 194 x 192 x 48mm |
| Weight | 900g |