Xiaomi Mi 9 review
No gimmicks, just great hardware - the Mi 9 is Xiaomi all grown up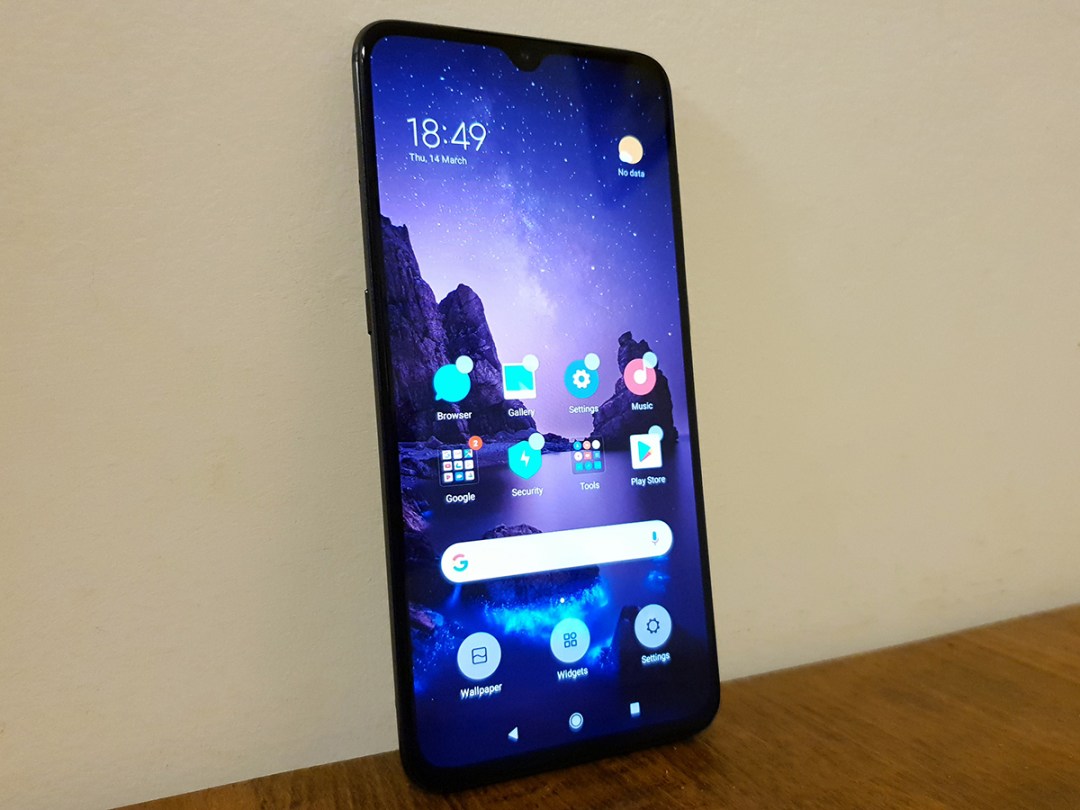 Xiaomi burst onto the UK scene with experimental phones like the Mi Mix. Sure, it had been around for years before that, off-the-record, but suddenly Brits were desperate to import handsets with funky features from the company's native China.
Now the brand has arrived officially, and is looking to start 2019 off the right way. A way that doesn't include sliders, mould-breaking designs or trend-setting screens.
Here's a true flagship phone (don't listen to anyone that says £500 is the new mid-range) that focuses on the basics: great design, plenty of power, and a competent camera.
The aim of the Mi 9 isn't to be first, but deliver an all-rounder handset that's just as good as anything you can buy with a Samsung logo on the back – only at half the price. And based on our experience with one, Xiaomi has come tantalisingly close to that goal.
DESIGN & BUILD: STREAMLINED STYLE
A classy combination of metal and glass gives the Mi 9 real presence when you get it on your hands, even in our review sample's relatively subtle black colours. Prefer to stand out? You can also get one in flamboyant Ocean Blue or Lavender Violet hues.
The design is simple yet sophisticated, with just a little iPhone mimicry in how the rear camera sits vertically to one side, just like on Apple's flagships. There is a display notch, but it's an unobtrusive teardrop shape.
There's an in-display fingerprint sensor, which helps complete the minimalist look. It's a little quicker than the similar setup seen in last year's Mi 8 Pro, but still not quite as quick as a regular scanner – the tech is getting there quickly though, and you barely have to wait half a second to get beyond the lock screen.
It feels like Xiaomi's design gurus have really hit their stride, with premium materials and a mirror-like finish hammering home that this is a top-end handset.
The phone feels pleasantly weighty, with sensibly-placed buttons that sit right where your hands naturally rest. That includes the dedicated Google Assistant button, something Google says we'll be seeing a lot more of in the future.
Where does it fall short? Well, there's no water resistance. No microSD card slot, either – although you do get a roomy 128GB of on-board storage. Perhaps most annoyingly, there's no headphone jack. Just a USB-C port, with a dongle in the box.
PERFORMANCE & BATTERY LIFE: CAN'T STOP ME NOW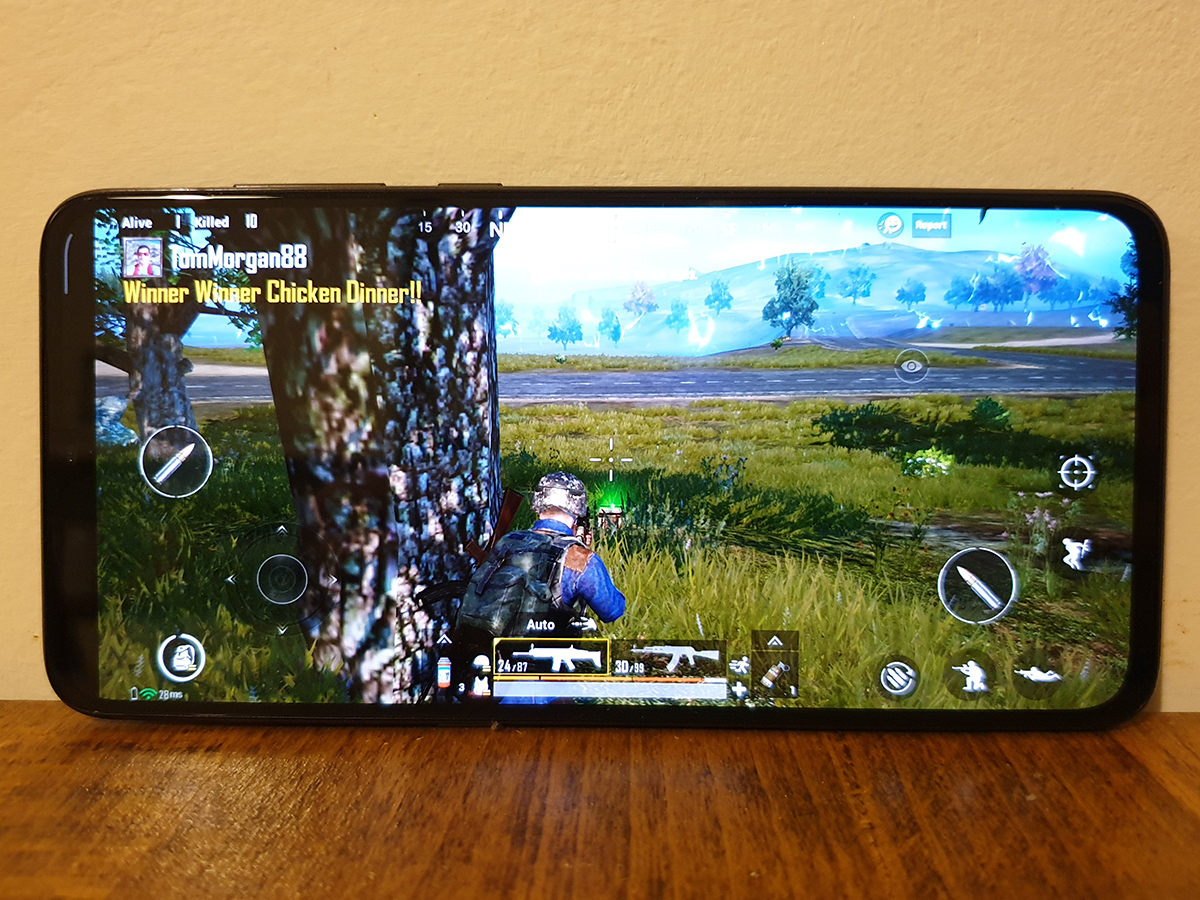 In the smartphone speed wars, there's currently only one bit of silicon you want: a Snapdragon 855.
Qualcomm's latest CPU plays nicely with 5G modems, although the Mi 9 keeps its G count to four, and feels purpose-built to smash benchmark records, run Android apps flawlessly and fly through 3D games with the best frame rates.
The octa-core chip has four efficiency cores that tick along at 1.8GHz, three high-performance cores running at a faster 2.42GHz, and a final core that blazes at an even faster 2.84GHz. The Mi 9 is one of the first phones to arrive with one, and it's every bit as powerful as we were expecting.
Paired with a respectable 6GB of RAM, the Mi 9 never felt slow or sluggish, no matter what it was being used for. Video playback, scrolling through social feeds, web browsing or snapping photos – it responded almost instantly every time.
Gaming is where this chip really puts in work, letting you play just about anything in the Google Play Store at the highest detail settings. PlayerUnknown's Battlegrounds Mobile ran smoothly with every option turned up to full, with the extended draw distance helping us bag an elusive winner winner chicken dinner.
Will it be the fastest phone going for long? Not likely, but in a year's time it should hardly feel like a slowcoach.
The weak link, if you can call it that, is the 3300mAh battery. A Snapdragon 855 might be fast, but it can also drain power at a mighty lick when pushed. If you spend a lot of time gaming, be prepared to need to recharge by early evening.
You do get the convenience of wireless charging, at least, and in daily use you'll comfortably make it to bedtime without needing to top up. That's about what we expect from a flagship phone, so while the Mi 9's longevity isn't exceptional, it doesn't let the side down either.
OS & SOFTWARE: MIUI IS ALMOST THERE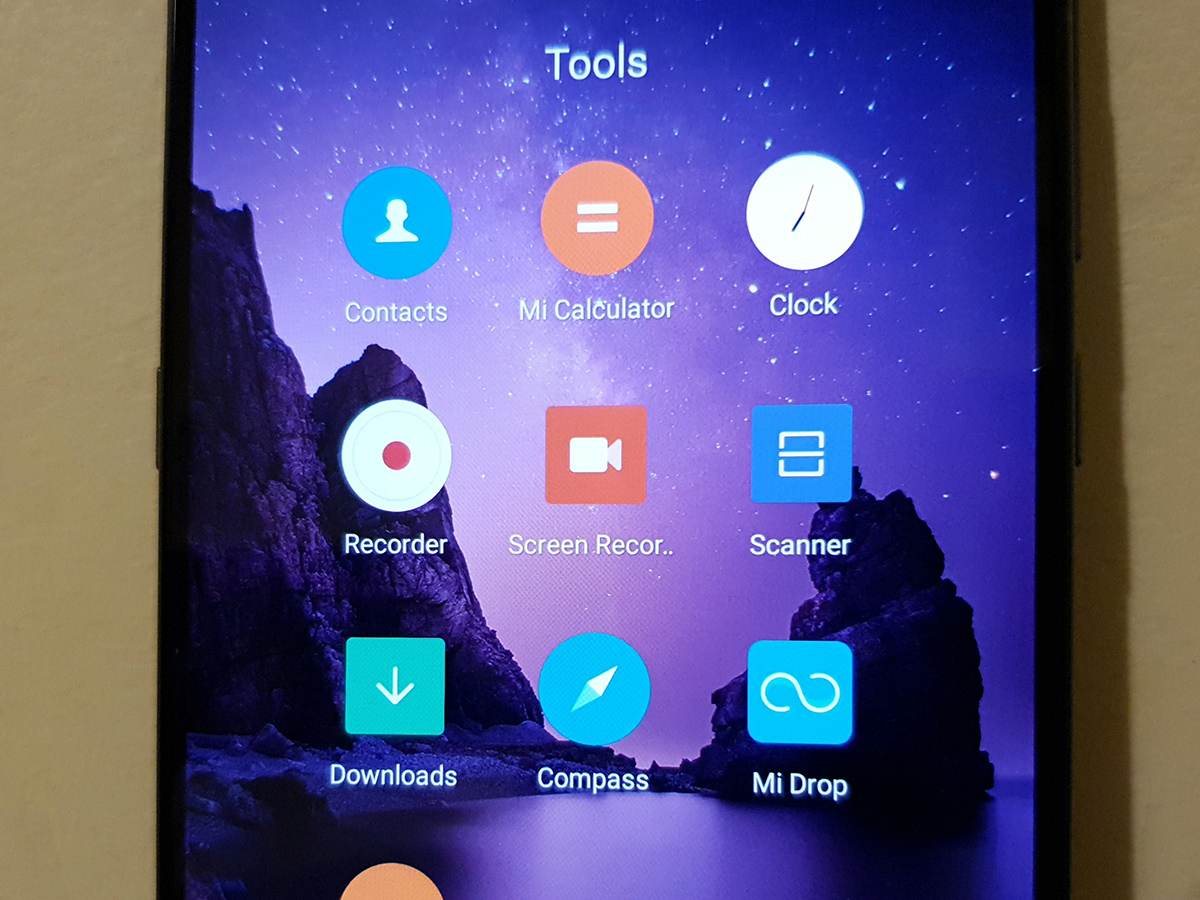 It would have been pretty dumb to deliver cutting-edge hardware and then make do with an outdated version of Android, so Xiaomi has sensibly delivered the Mi 9 with Android 9.0 Pie right out of the box.
There's the usual custom skin running on top, but again this is the latest edition: MIUI 10, which is a lot more refined and simplified from previous versions. There's still a big iOS influence, from the missing app drawer to the animated homescreen wallpapers that look suspiciously familiar, but it's far from the worst take on Android we've used.
There are plenty of extras hidden in the settings menus, like gesture navigation instead of onscreen buttons, a picture-in-picture mode and a handy shortcut if you keep your digit locked on the under-screen finger scanner when you unlock the phone.
The Mi 9 has an abundance of pre-loaded software, which is pretty much the norm for a Chinese phone. Google's apps aren't allowed beyond the Great Firewall, so manufacturers have to come up with their own alternatives.
That's not a problem we have in the West, of course, so it would have been nice to see this 'Global Edition' handset stripped back to Google's default web browser, email, notes and picture gallery apps. On the plus side, most of Xiaomi's duplicates can be easily hidden or uninstalled without too much fuss.
DISPLAY & SOUND: NOT JUST A NOTCH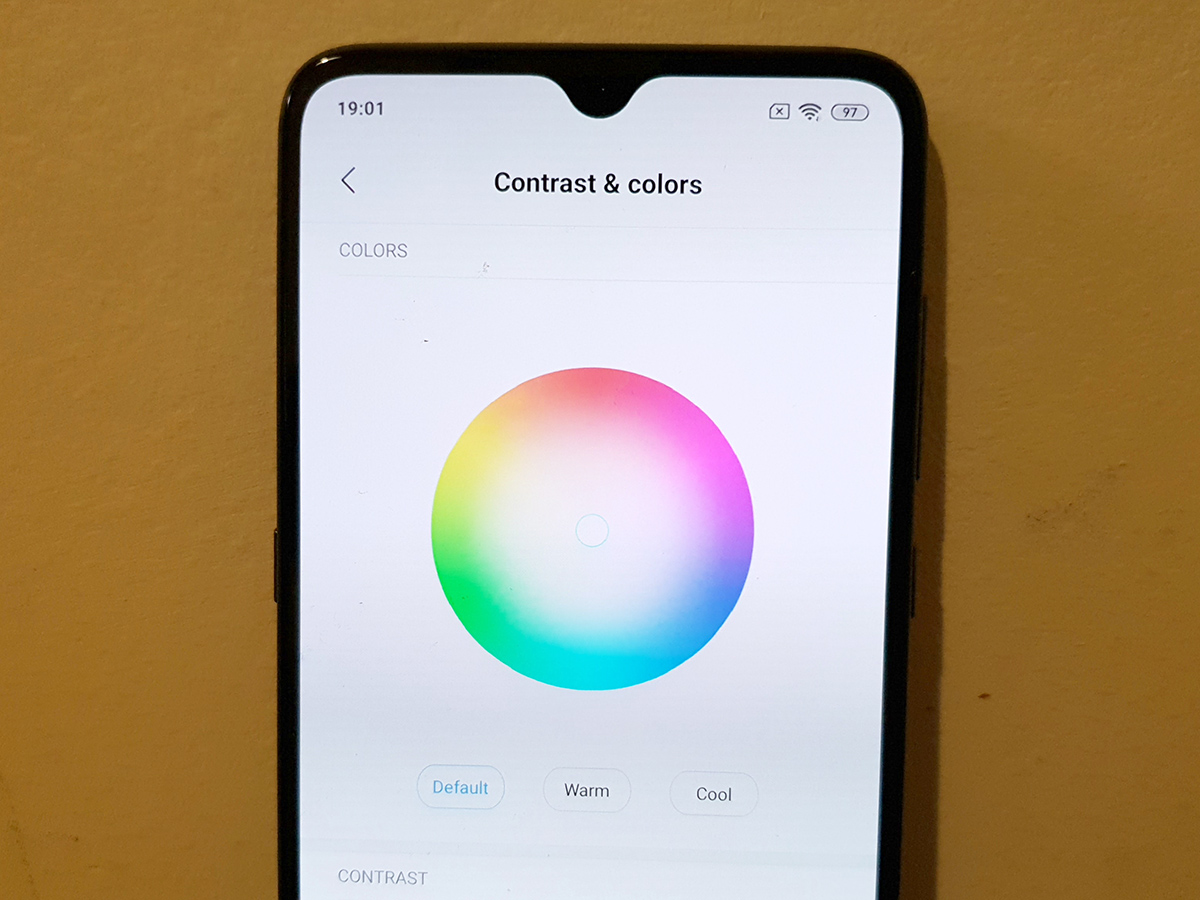 Normally the screen is the star on a flagship phone, but the Mi 9 is content not to push the pixel count through the stratosphere.
That's not to say it's a duff display, mind. You get a 6.39in AMOLED with a healthy 2340×1080 resolution, which is more than enough to give pictures and videos the detail they deserve, even if it's not as high as a Galaxy S10. They appear to sit right below the glass, too, which only adds to the clarity.
It's also happy to play HDR10 video, although Netflix isn't currently supported so you'll have to make do with YouTube clips, but the ones that do work look rather marvellous.
Viewing angles are top notch, and you can take your pick of regular, warm or cold colour modes in the Settings screen. We think things look best at the default mode, but it's great to have a full colour wheel to tweak things to your own preference.
Photos look gloriously vibrant and contrast is superb, as we've come to expect from OLED phones, if not quite as true-to-life as some rival handsets. Xiaomi reckons the Mi 9 can crank its brightness up as high as 600nits, and you definitely won't have any issues seeing things clearly when you step outside.
It's not the very best smartphone screen going, but given the price, there are only a few minor stumbles. Sound isn't quite in the same ballpark. There's only one speaker at the bottom of the phone (the second speaker grille is a fake), but as long as you don't block it with your mitts it gets plenty loud enough for listening to YouTube clips without plugging in a pair of headphones.
Expect a small amount of distortion at the high end if you crank it right up, though, and if you want bass a Bluetooth speaker is the way to go.
CAMERA: A TANTALISING TRIPLE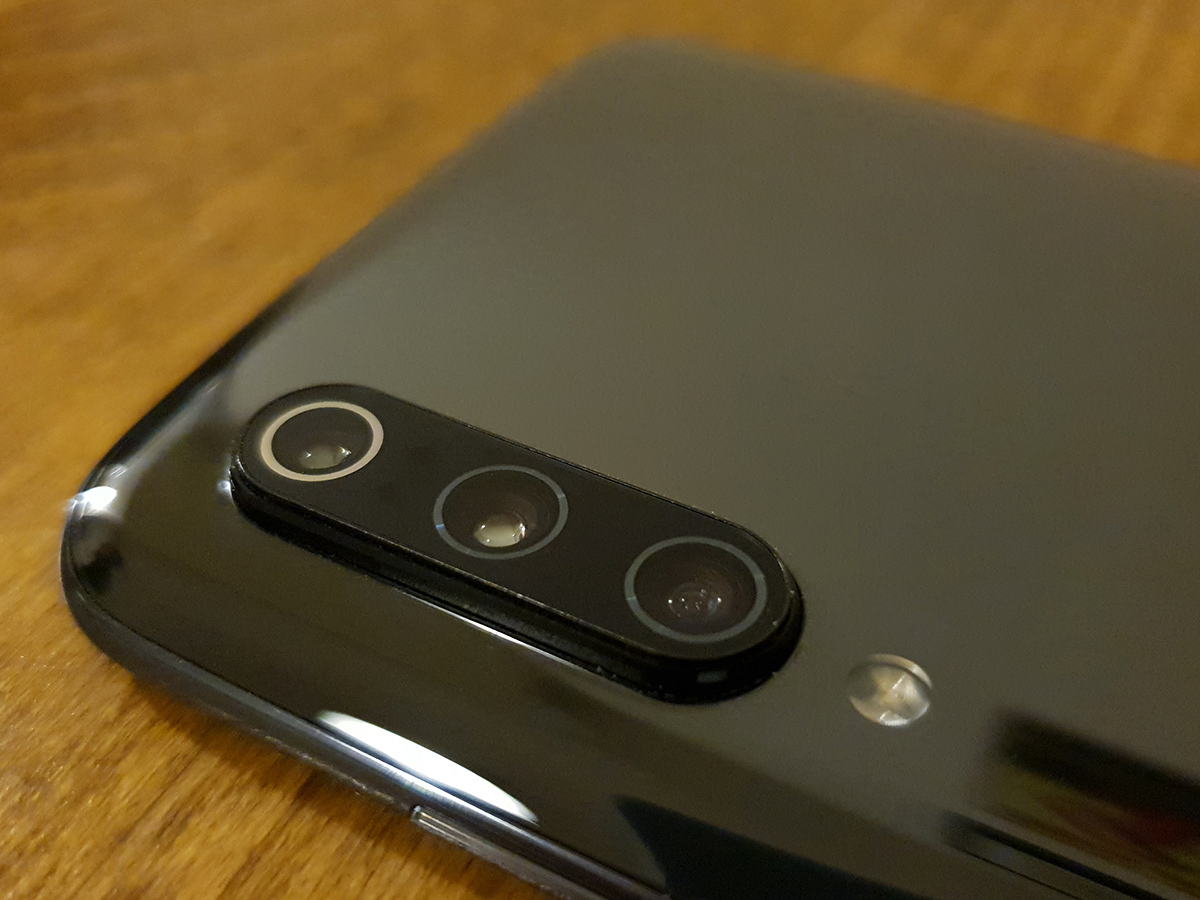 With a colossal 76 megapixels spread across three separate sensors, the Mi 9's absurdly flexible rear camera is its true party trick.
First up, the main snapper, which uses a 48MP Sony sensor and f/1.75 aperture lens. It uses four-into-one pixel binning and clever processing that should help it go toe-to-toe with Huawei's Mate 20 Pro for detail.
Then there's a 16MP, f/2.2 wide angle for fitting more of your subject into each shot, and finally a 12MP f/2.2 telephoto – essentially a 2x optical zoom lens for getting closer to the action.
In daylight, the main sensor is impressively detailed, with rich colours that lean a little too far towards over-saturation. You can dial this back through the camera app's settings screen, if you prefer.
Zoom in to a pixel level and you'll spot where that detail runs out, but you've really got to be hunting for it. Xiaomi's image processing largely avoids oversharpening, so while shots look crisp, they don't take things too far like LG, Sony and others have done recently.
Close-ups and macro shots have good depth bokeh too. Quality drops when switching to the zoom or wide-angle lenses, but not dramatically, and they allow for much more versatile shooting.
Auto HDR does a great job of balancing highlights and shadows, although bright skies can still give it some trouble at times. Google's Pixel 3 still has the edge here, as it does in the dark with Night Sight.
The Mi 9 has a night mode, which can take decent pictures when you only have street lights illuminating your scene, but any motion still results in a blurred final image. Poorly-lit interior shots rely on a slow shutter speed, and with no optical image stabilisation, you can expect some blur in faces along with a general reduction in detail.
It's not the very best phone camera out there, but the fact we're talking about the Mi 9 in the same breath as Samsung, Huawei and the like show just how capable it is.
XIAOMI MI 9 VERDICT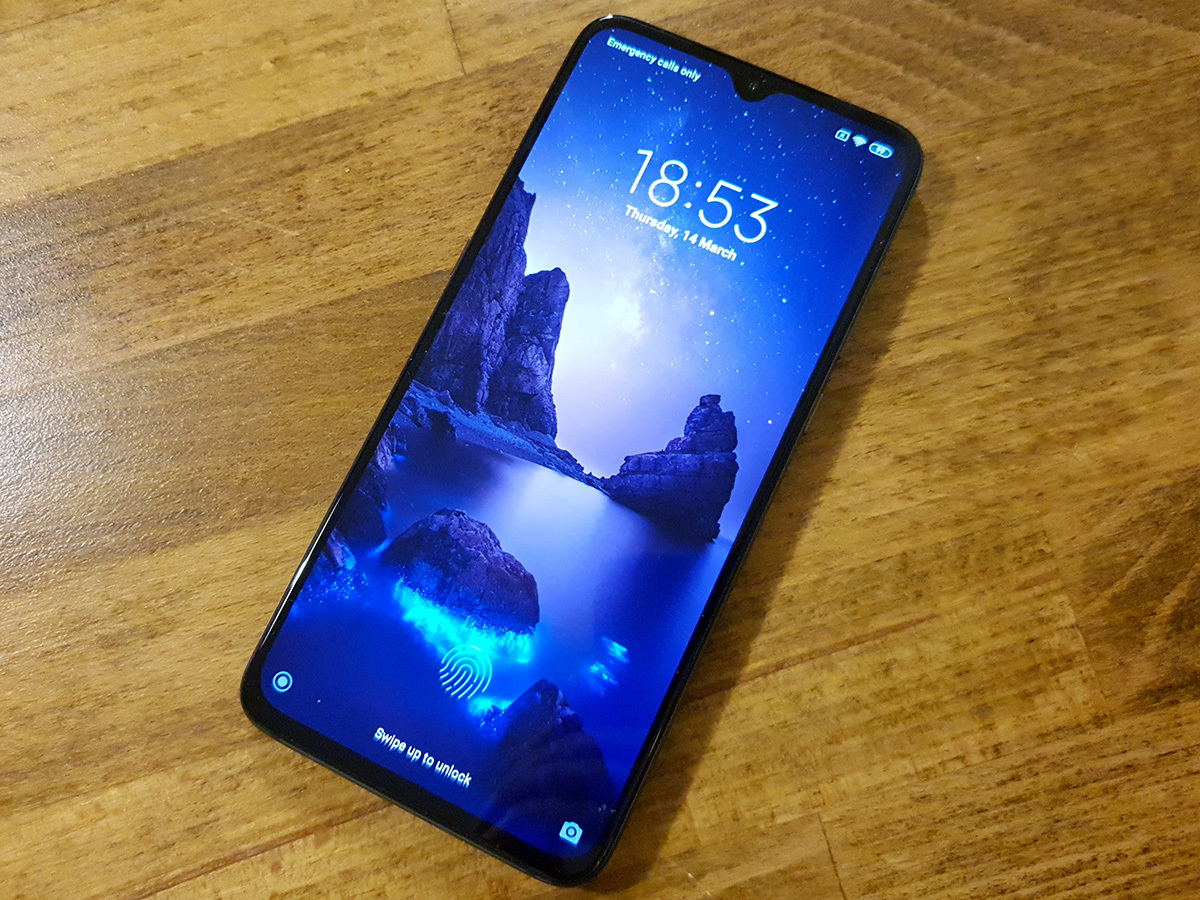 With Samsung and Apple giving phone fans a taste of hyperinflation with the price of recent handsets, the Mi 9 makes a refreshing change of pace: it's every bit the flagship phone, with a truly versatile camera and a seriously powerful CPU.
Xiaomi has done a great job on the design front, and is getting better at delivering a version of Android that hasn't been tweaked into something unrecognisable (or too iOS-like).
It doesn't push gimmicks like sliding cameras, and while it's missing a few features that would make it truly excellent, it's one of the most powerful phones around right now – and doesn't cost a fortune, either.
If you have a need for speed right now, and can't wait for the next crop of Snapdragon 855 phones to arrive and (maybe) address the Mi 9's shortcomings, it's a corker of a handset.
Tech specs
| | |
| --- | --- |
| SCREEN | 6.39in, 2340×1080 AMOLED w/ 19.5:9 aspect ratio, HDR10, waterdrop notch |
| CPU | Qualcomm Snapdragon 855 octa-core |
| MEMORY | 8GB RAM |
| CAMERA | 48MP, f/1.8 main, 16MP, f/2.2 ultrawide, 12MP, f/2.2 telephoto rear with laser/phase-detect autofocus, dual-LED flash. 20MP, f/2.0 front |
| STORAGE | 128GB on-board |
| OPERATING SYSTEM | Android 9.0 Pie w/ MIUI |
| BATTERY | 3300mAh non-removable |
| DIMENSIONS | 158x75x7.6mm, 173g |
Stuff Says…
Xiaomi keeps things simple, and the Mi 9 is all the better for it, if not quite perfect. This might not be a UK household name – but phones like this could turn that around
Good Stuff
Versatile triple-lens camera takes great photos
Snapdragon 855 delivers all the oomph you need
Flagship features at a sensible price
Bad Stuff
A few missing features that would have taken it from good to great
Software still a bit cumbersome