Google Chromecast vs Roku Streaming Stick
These dirt-cheap dongles will give your TV new streaming smarts. But which would we buy?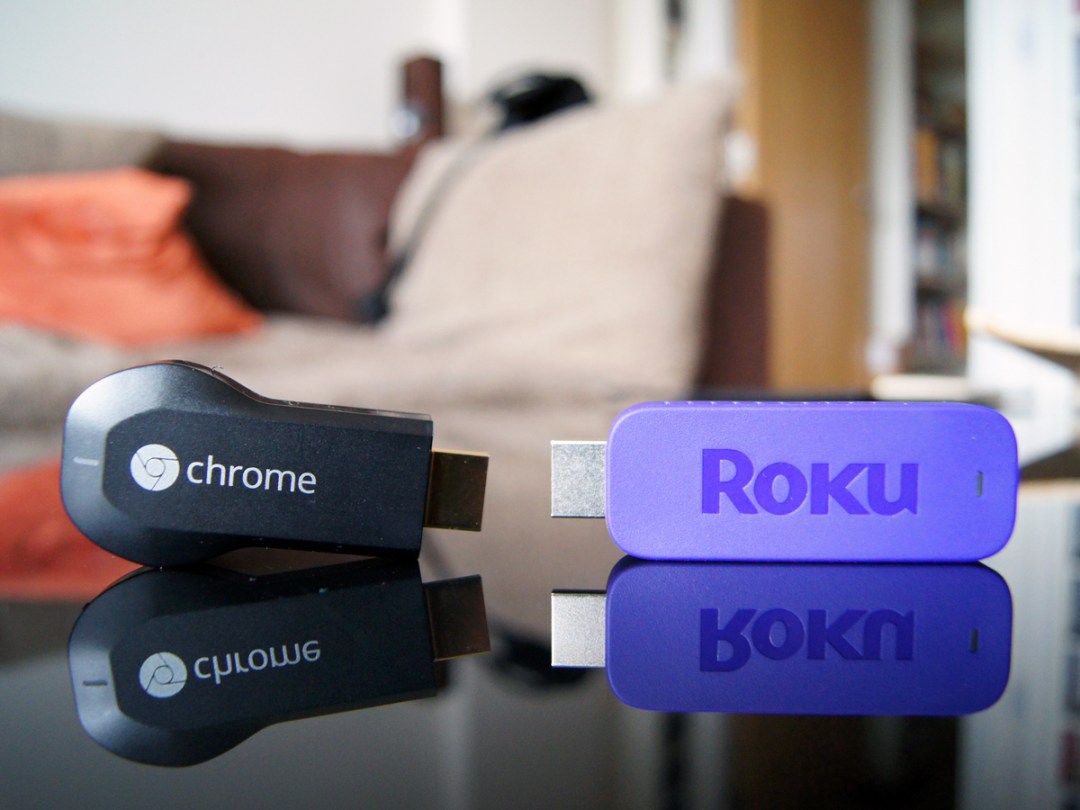 Ah, life – it giveth and it taketh away. While it's never been easier to add online services such as Netflix and BBC iPlayer to your TV, it's never been harder to decide how to do it.
Smart TV? Network-connected Blu-ray player or home cinema system? Games console? Apple TV, Now TV, Roku 1, 2 or 3…
All will work, and all will do a great job in most situations. But for our money the new Google Chromecast and Roku Streaming Stick strike the best balance between cost, content and ease of use.
Both are little USB stick-style dongles which plug into a HDMI port on your TV. Both work with Netflix and BBC iPlayer. Both are available for less than £50. Great – but there's no point in buying both. So which of the two would we recommend?
READ MORE: Google Chromecast review
READ MORE: Roku Streaming Stick review
Design
There's not much to choose between the two sticks here, and given that they'll be stuck round the back of your TV it doesn't really matter much what they look like anyway.
But for what it's worth, the Chromecast is short with a bulbous back end, the Roku a little longer and slimmer. The Roku is proudly purple, the Chromecast casual in black.
Both plug into your telly via HDMI, and both also have a microUSB socket at the other end from which they draw their power. For this task you can either use the bundled wall plug or hook them straight up to a USB socket on your TV.
But crucially, the Roku comes with a dedicated remote, whereas the Chromecast can only be operated via smartphone app. And as the remote doesn't need line of sight, it's no less flexible to operate than an app either. It's well built, the buttons work with a satisfying click and using it is often more simple than switching on your phone, navigating to an app etc etc. And if you really must have an app, Roku has one of those too.
Winner: Roku Streaming Stick
READ MORE: Netflix: "There really isn't a case for different versions of a film"
CONTENT
A media streamer is only ever as good as the media it has to stream. Obviously. And here the Roku Streaming Stick has an advantage.
You'll find more than 500 apps on the Roku store, including the aforementioned BBC iPlayer and Netflix, Sky Store and Now TV, 4oD, Demand 5, Spotify, TuneIn, and YouTube. There are hundreds more specialist channels, catering for every interest. Personally we're quite partial to Visitation, a live stream of services from the Our Lady of the Visitation chuch in Cincinnatti, Ohio. We kid you not. Well OK, we've never really watched it. But it does exist.
We have watched the excellent Sky Now TV though: splash out £6.99 on a month's Entertainment Pass, immerse yourself in Game Of Thrones and The Walking Dead and you'll be glad you had it.
Adding apps is a piece of cake and new services join the line-up regularly. Hopefully we'll see ITV Player soon, so we can get our fix of Loose Women.
Rather than have its own apps, Chromecast relies on iOS or Android apps with a 'Cast' button. Netflix has one, as has iPlayer, but not much else; hopefully more will arrive soon. You do of course also get YouTube, and there's an excellent selection of films to buy on Google Play Movies.
Streaming your own content is also easier on Roku than on Chromecast. On Google's device you'll need to use the Plex service – which is fine, but a little fiddly – whereas on the Streaming Stick you have access to the Roku Media Player app, among others. It's slick to use and will play just about anything.
Ultimately, there's only one winner in this category. While both devices have the big two of Netflix and iPlayer, the fact that the Roku has so many more channels overall gives it a clear lead over its rival.
Winner: Roku Streaming Stick
READ MORE: Roku 1 review
PERFORMANCE
Casting from a compatible app to Google Chromecast works quickly enough, and given the right content it looks great too.
Netflix's Super HD streams will delight you with their 1080p, high-bitrate, Dolby Digital+ surround loveliness, and if you purchase a HD flick from Google Play Movies they'll look great too. BBC iPlayer maxes out at 720p and a YouTube clip will only ever be as good as the quality it's transmitted in, but that's the same for the Roku too.
To our eyes, the Roku's picture is a tad softer than that of the Chromecast, but not enough to make a huge difference. Navigation is snappy, particularly if using the remote, and you can also Cast to the Streaming Stick from some apps, including Netflix, if it takes your fancy. Like the Chromecast it's compatible with Super HD and Dolby Digital+ and ultimately there's nothing much between them in this round.
Winner: Draw
READ MORE: Sky's supercharged Project Ethan box will support 4K, cloud recording and more
Verdict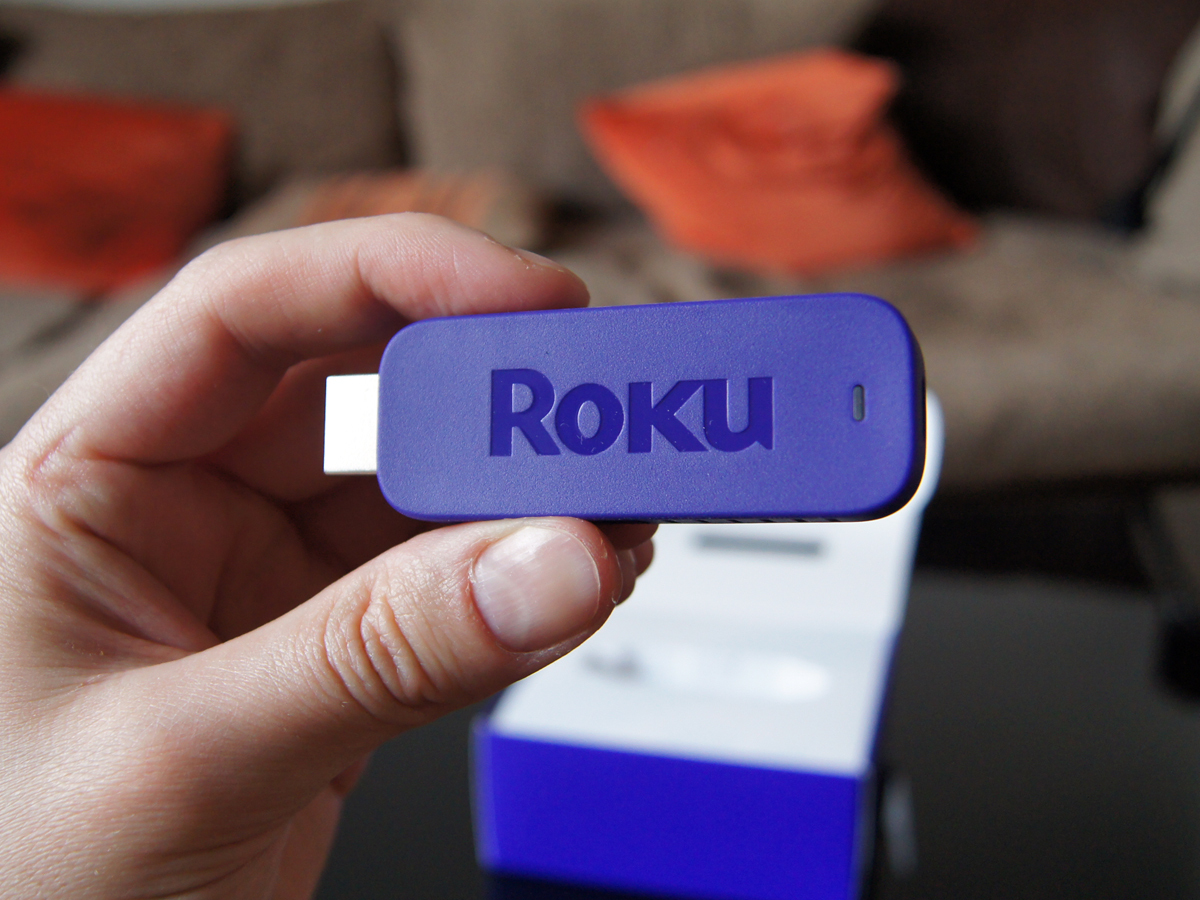 At £30 for the Chromecast and £50 for the Streaming Stick, these devices are both absolute bargains. If you've yet to bring your viewing setup kicking and screaming into the 2010s, either will do a great job.
But this test is all about picking a winner, and for our money it's got to be the Roku Streaming Stick. It's slick, simple and stuffed with content; team it with Netflix and you'll never leave the house again.
Winner: Roku Streaming Stick