Lenovo Yoga 11s hands-on review
Possibly the best full-fat Windows 8 touchscreen machine we've ever seen, the Lenovo Yoga 11s combines the poise and flexibility of an Olympic gymnast with the power of a Core i7 brain.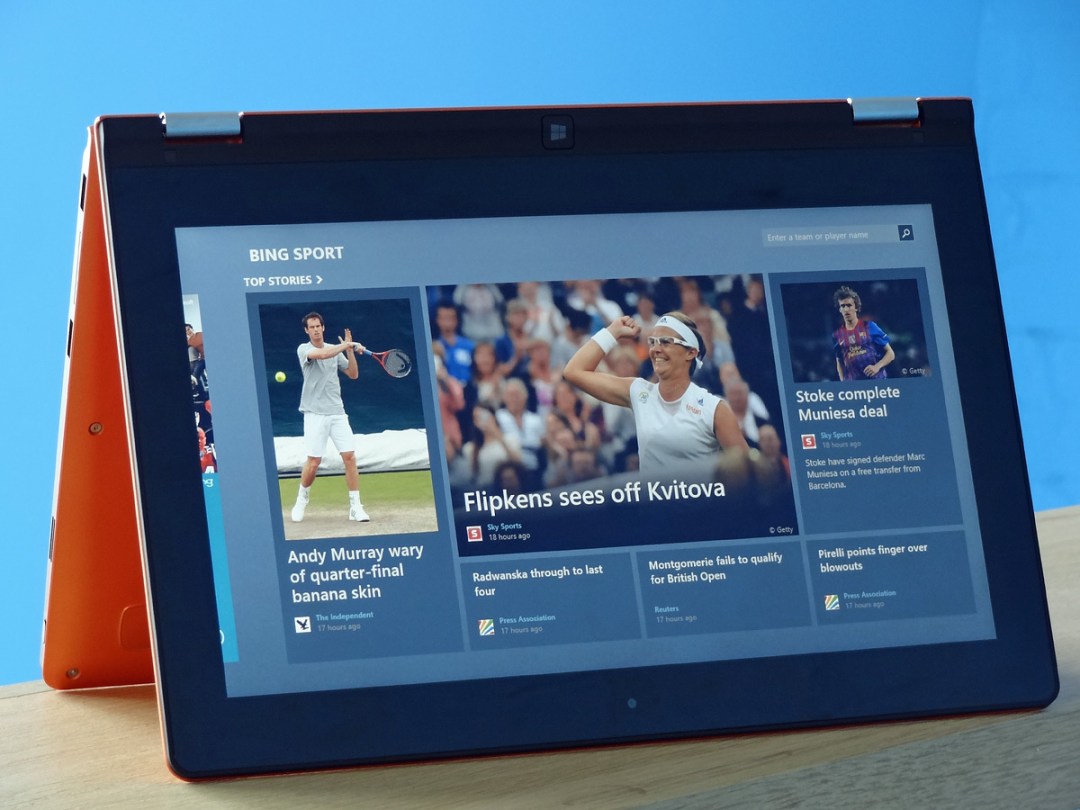 The Yoga 11s' party trick is to transform itself from a laptop to a tablet via an impression of a tent. It's a trick we've seen before but the original Yoga 11 was limited to Windows RT. This time it's the full-on Windows 8 experience with grown-up specs to match.
Now that we'veve been messing around around with the 11s for a few days we thought we'd share our first impressions. In short, they're rather good.
Build and feel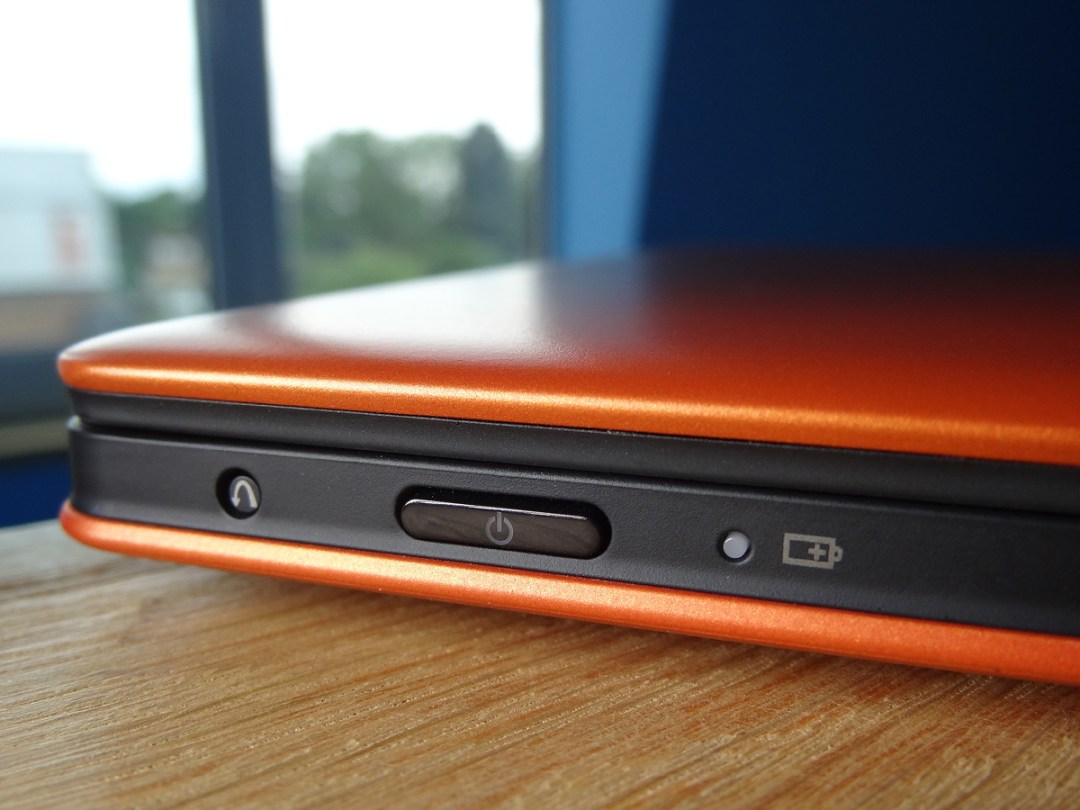 The first thing you notice about this 11in laptop hybrid is the quality of materials it's made from. It's a very tactile thing, with soft, rubbery textures that are lovely to hold. The material used for the top and bottom panels sticks out everso slightly around the edges, just a smidge proud of the keyboard and the screen surround. When it's closed up, they form a sort of sandwich rim around the laptop; a cushioned crust that would absorb some of the destructive power of any impromptu impacts.
The bits where your palms sit beneath the keyboard when typing have a very fine ribbed texture that's pleasantly warm to the touch. It makes a nice change from the chilly metal or plastic of most laptops.
That subtle squashiness also makes it a very quiet computer to use. It doesn't clatter around on surfaces, so you can sneak in a bit of work early in the morning while everyone else in the house is still asleep. Listen: it's just you, the birds and the pitter-patter of tiny keys. And the Heathrow flightpath in my case, but hey-ho.
How is it as a tablet?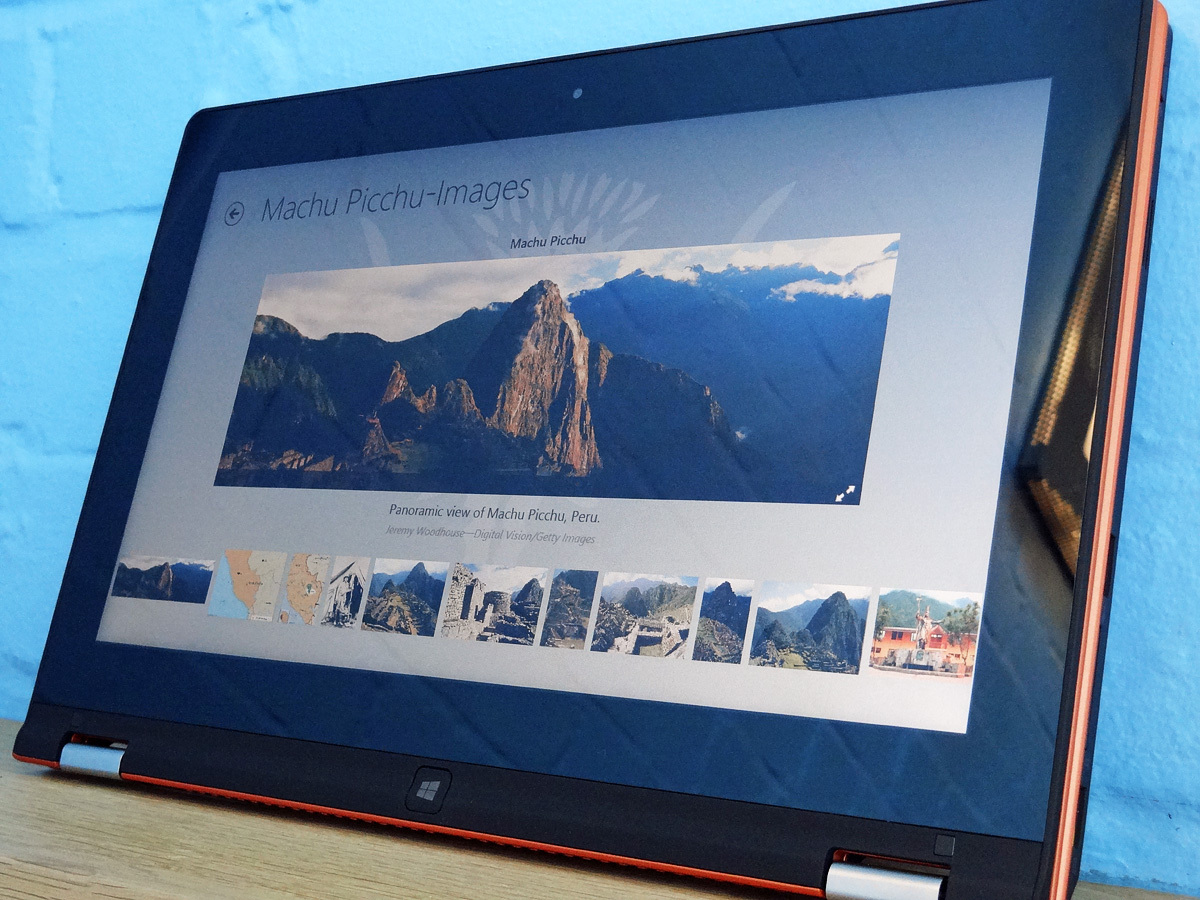 It's much bulkier than an iPad or a standalone Android tablet. The size and weight make it uncomfortable to hold for more than a few minutes in this form, so it should be seen more as a convertible laptop than a tablet with a keyboard. When it's folded back on itself and you're just using the touchscreen you're reminded of the advantages a detatchable keyboard would bring. Still, if you're on a train, plane or just on the sofa that's not so much of a problem. So long as you've managed to get a seat on the train, of course.
As a tent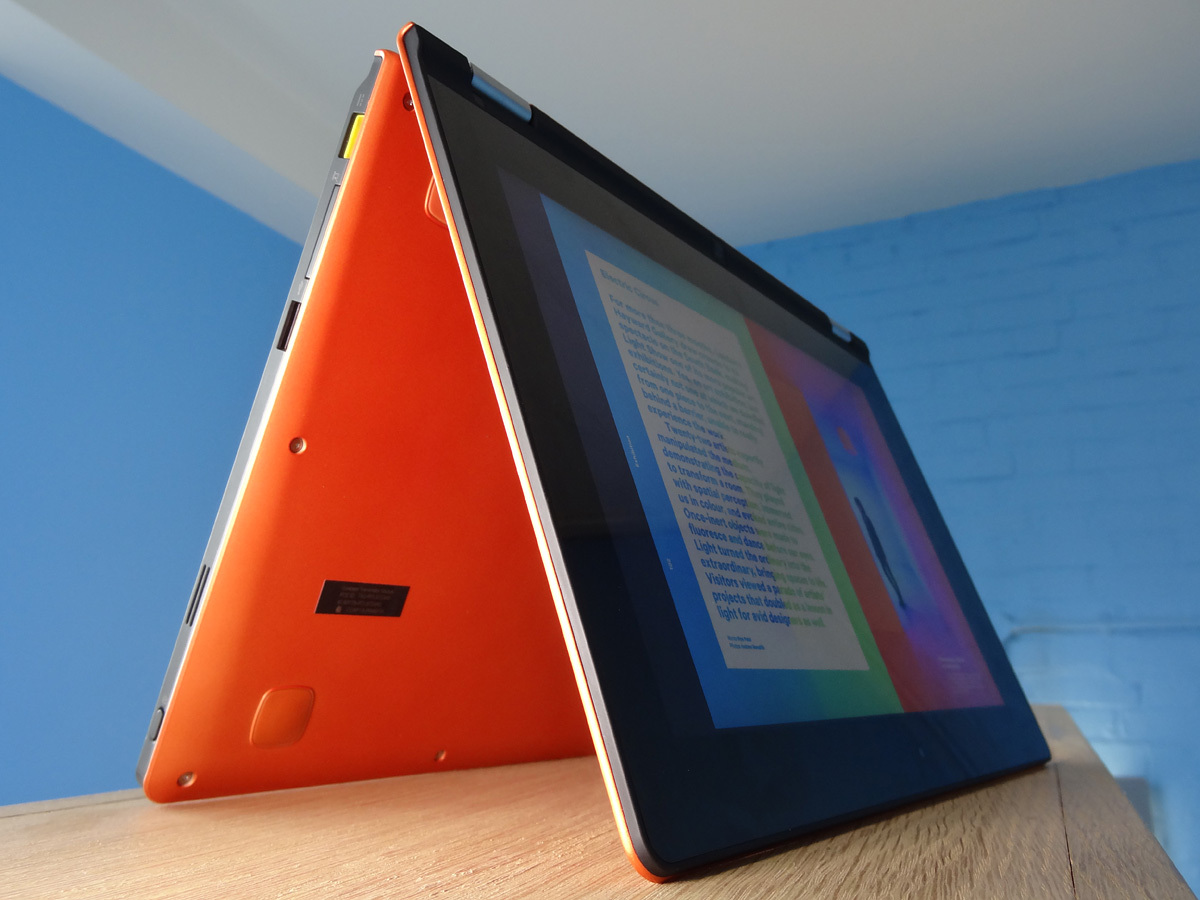 The Yoga 11s' most striking feature, its extreme foldability, might not come into play that often but it does give you the option of using it in different ways to a conventional laptop or tablet. In "tent" mode the keyboard and trackpad are disabled, so everything is controlled via the touchscreen (and a mouse if you have one hooked up). This format makes sense if you're watching movies, streaming TV or using apps that only have minimal input, mostly because you're likely to be a bit more than a comfortable poking distance from the screen when it's set up like that.
Those sandwich-crust edges we mentioned earlier help to anchor it to a flat surface, so if you do need to interact with it like this you'll be pleased with its sturdiness and rigidity.
As a deck chair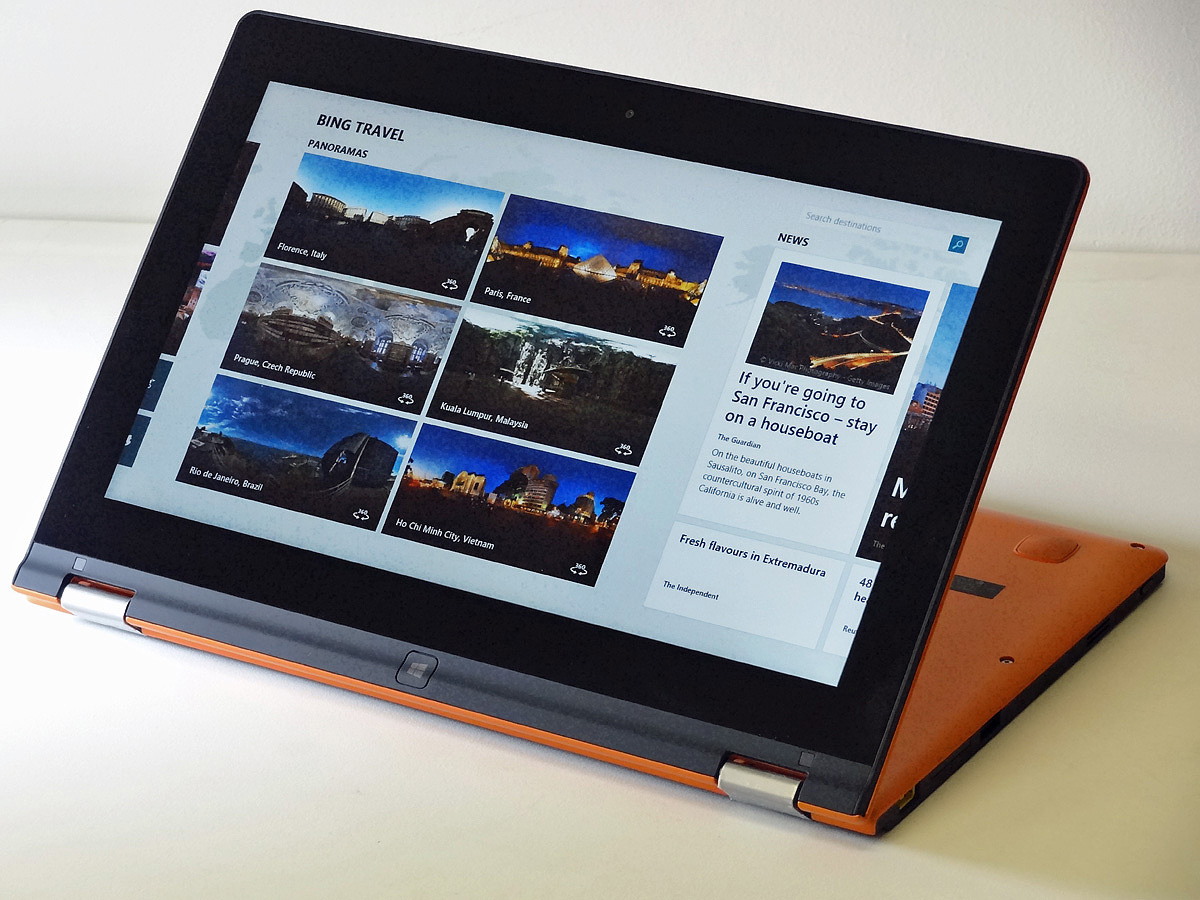 We're calling this position "The deckchair". That's with the screen folded back about 300 degrees and the keyboard facing down, acting as a base. You're likely to use this in the same sort of scenarios as the tent, maybe in the kitchen with a recipe app, or for small presentations around a boardroom table. There's more screen wobble in this mode, so the tent won for us more often but it's a useful option to have.
As a laptop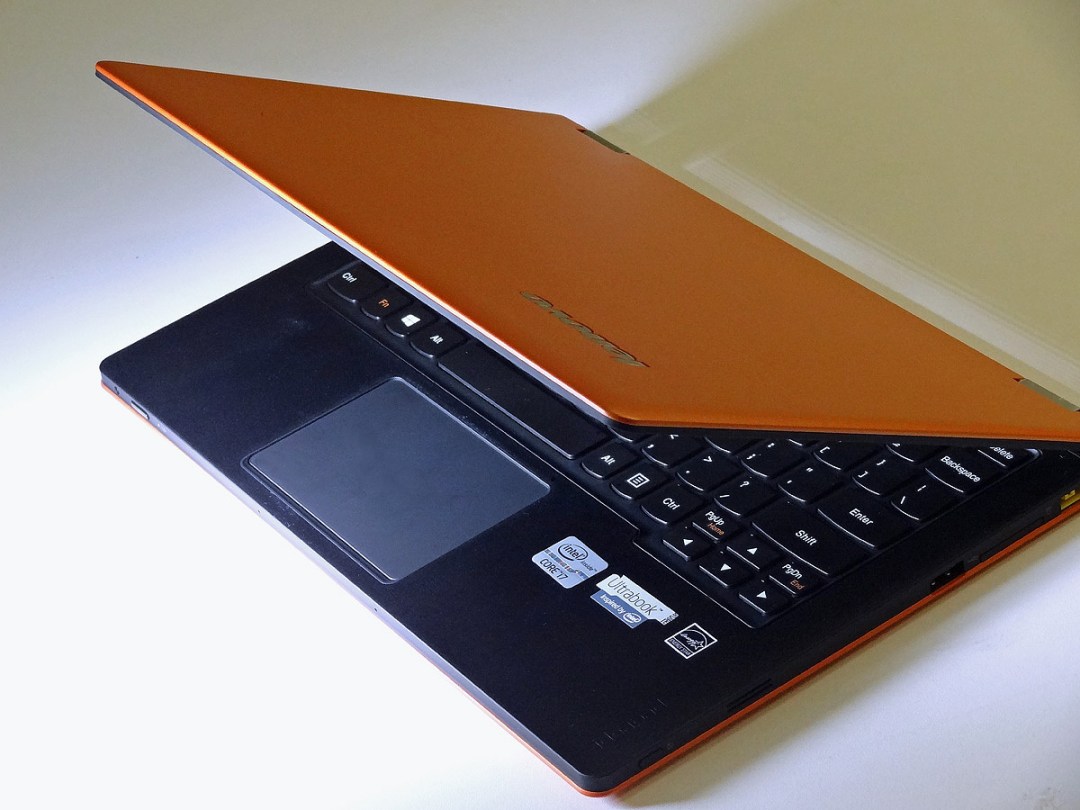 Because the screen and keyboard are permanently and firmly fixed together it functions just fine as a laptop. There are two chunky metal hinges that keep the screen pretty steady at your preferred angle, and screen wobble during typing is fairly minimal. Once you get used to squeezing your wrists in to fit the keyboard it can be quite comfortable to use, and definitely has a more upmarket feel than most of its rivals.
The ability to bend over backwards doesn't seem to have lead to any major compromises on the laptop side, and the presence of a proper keyboard makes it a totally viable option for typing on a lap, unlike the Surface Pro with its flexi keyboard.
Keyboard and trackpad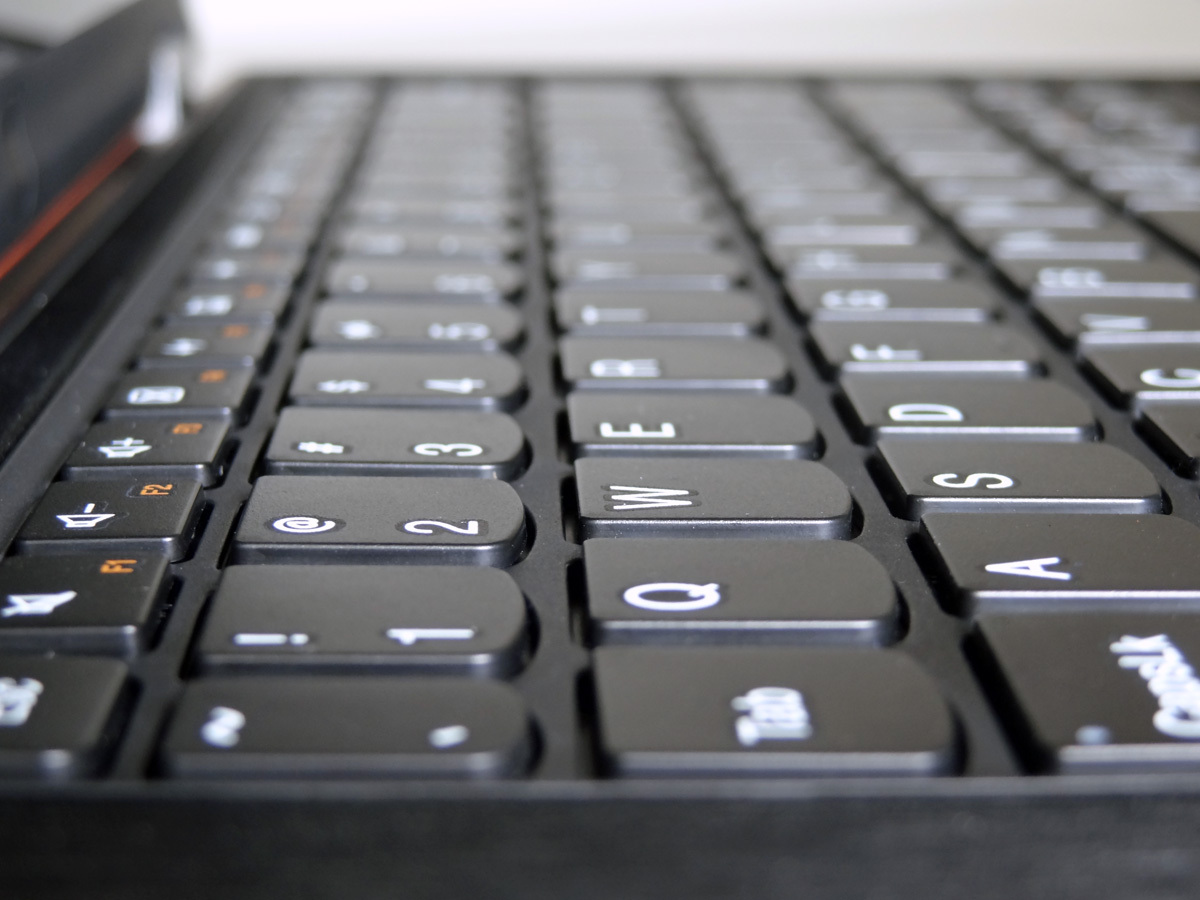 The keyboard feels quite cramped, especially if you're typing properly, using the shift keys. We're assuming you're one of those old-fashioned people like us that still uses capital letters and punctuation, in which case you'll care about this. Lenovo seems to be quite proud of the keyboard but serial typists will yearn for something more substantial.
Below that there's a trackpad which does the basics just fine, but scrolling is harder work than it should be, jittery and intermittent to the point that we gave up and used scrollbars and mouse wheels instead.
Screen and sound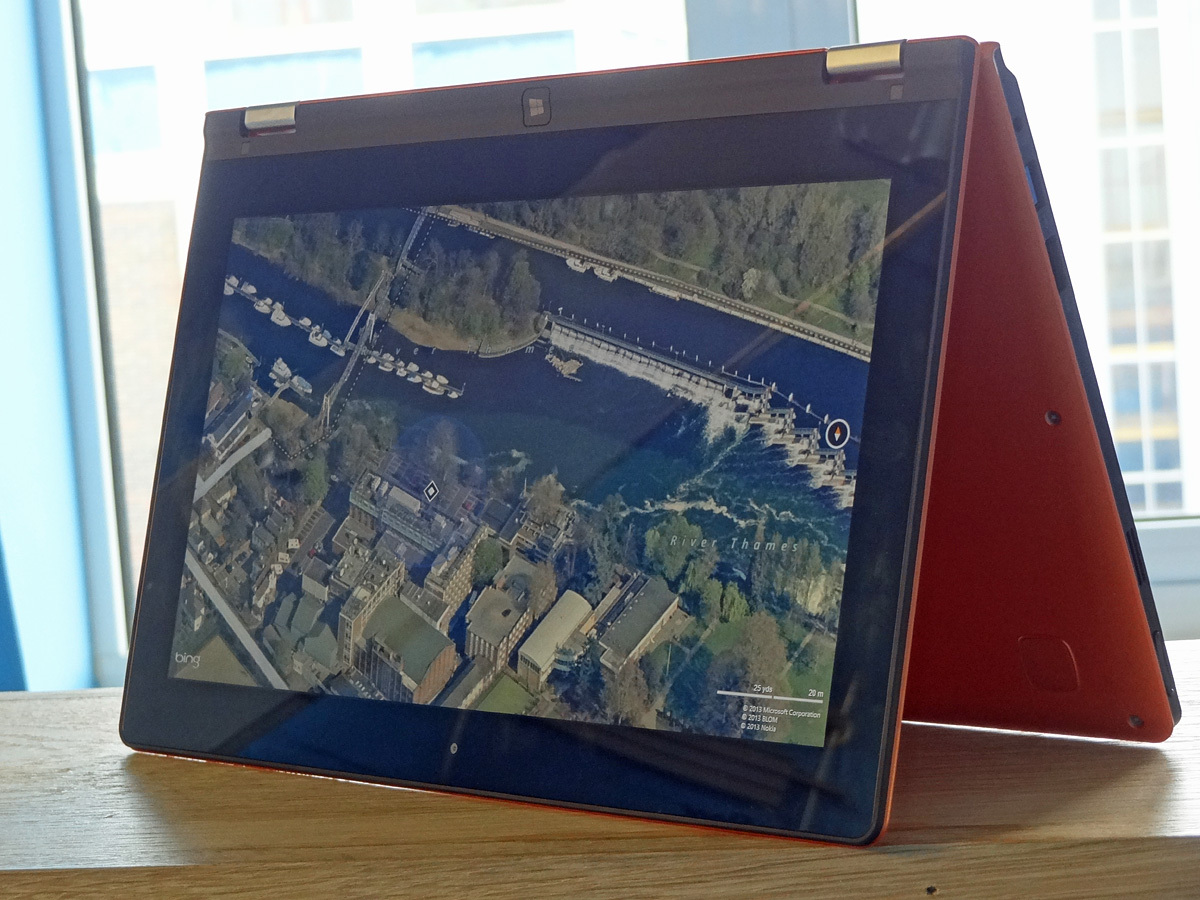 The screen is lower resolution than you might expect from a luxury laptop – at 1366×768 pixels it's much less than Full HD and does look a little jaggy at times. Viewing angles are fine up to about 30 degrees, beyond which the apparent brightness is reduced but the screen is always still viewable from any angle, regardless of its orientation. Response to swipes on the Metro interface is unerringly fast and fluid.
The stereo speakers are too weedy to pump out music with any power but the built-in Dolby 5.1 does a surprisingly good job of spreading audio out around the room.
Price and power
Our range-topping Yoga came with an Ivy Bridge Core i7 @ 1.5GHz, integrated Intel HD Graphics 4000, 8GB of RAM and a 256GB solid-state drive. Nice specs, and it felt powerful and slick in our initial tests, although the 6-hour battery life is a little disappointing. That spec will set you back £1,100 but you can opt for an othewise identical Core i5 edition for £950.
On the outside there are two USB ports, (one 2.0 and one 3.0), a card reader, full-sized HDMI and combined audio in/out. That's not a bad array or ports but the lack of Ethernet will be a problem for some users.
Summary
We've yet to run the 11s through our full review mangle but all signs suggest that it'll fare well in more in-depth testing. If you're after something that's 70% laptop and 30% tablet rather than vice-versa, a well-specced Yoga 11s is going to be hard to resist. Even so, it's up against some strong competition from even more forward-thinking hybrids, such as the Asus Transformer Book Trio and Samsung ATIV Q, both of which feature a dual OS with a full Windows laptop experience alongside an arguably superior tablet solution via Android. Be sure to check back at Stuff.tv for the full review very soon.