Samsung Galaxy Tab S3 vs Apple iPad Pro 9.7: which is best?
Can the new king of the Android slabs topple Apple's top tablet?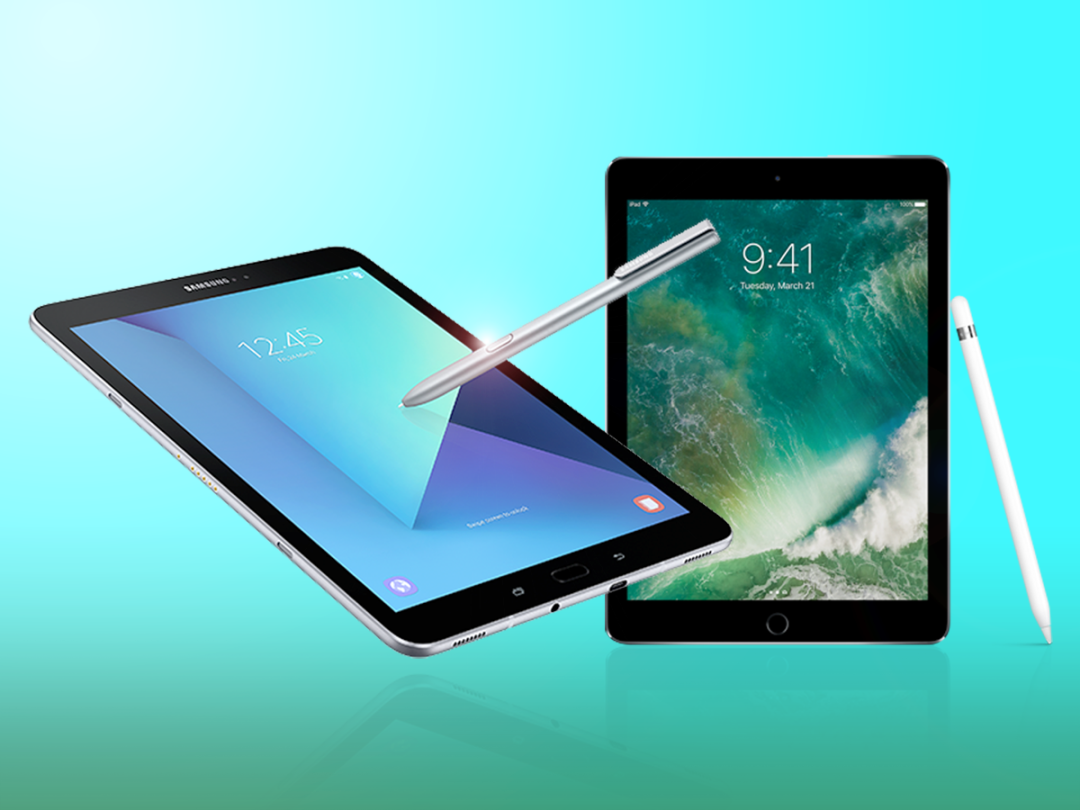 Time was, picking a tablet meant rifling through a range of mid-range Android slabs – or buying an iPad.
Things haven't changed all that much, save for the fact that far fewer Android tablets can hold a candle to Apple's iPad range – particularly the stellar iPad Pro.
Finally, though, there's some competition – in the shape of Samsung's Galaxy Tab S3. A 9.7in slate wrapped in metal and glass, it's very much a premium piece of kit, and one that just might topple the identically-sized iPad Pro.
Which one is better, then? And which one should you buy? Read on for a blow-by-blow battle between the Apple iPad Pro 9.7 and the Samsung Galaxy Tab S3.
Design: Glass to go around
Sure, there have been a few tweaks and adjustments over the last few years, but Apple has essentially stuck to the same recipe when making the iPad. It's all slim aluminium and sleek lines, in a build that's both gorgeous and lightweight.
No, it's not reinventing the wheel – in fact, the iPad Pro 9.7 looks very similar to the iPad Air 2 – but, when that wheel is really, really pretty that's no bad thing. And, look carefully: those speakers on the top and bottom and the Smart Connector give away that it's a Pro.
Can the Tab S3 compete? Well, Samsung has finally put away the plastic and served up a slate that's wrapped in the metal and glass befitting a machine that costs £600. A black finish makes the glass rear a fingerprint magnet, but it's all distinctively Galaxy – from the slim bezels to the home button to the rounded corners.
Holding the S3 in one hand doesn't feel quite as natural as with the iPad Pro, due to the latter's more agreeable curves, though at 6mm thin and 429g light it won't weigh you down any more than the 437g Pro.
When it comes down to it, preference will be the ultimate decider here and, impartially, there's very little between these two slabs on looks and build alone.
Winner: draw
Screen: Resolution repetition
Most of your time using either of these devices will be spent ogling at the screen and, given that both have 9.7 diagonals, the quality of the panel could be a key decider.
Apple's iPad Pro 9.7 serves up a 2048×1536 display resolution (that's 264ppi). Without getting deep into comparative resolutions and the 4K fight, suffice it to say that the iPad Pro's display won't disappoint on sharpness or detail.
True Tone tech helps, too, which sees the Pro utilising invisible sensors to monitor ambient light and adjust the white balance to suit; you can disable it if you find it annoying, but it's a subtle way in which Apple delivers a more comfortable viewing experience, whatever lighting situation you're in.
As for the Tab S3, its screen resolution is identical to that of the Pro – but it packs an OLED panel, rather than the iPad's LCD. That means deep blacks, excellent contrast and a general boost in clarity. Viewing angles are superb on the Tab S3 and brightness is astounding, too.
Oh, and it also supports HDR, so you can stream Netflix and Amazon with even more realism. Bundle in AKG-tuned speakers and the S3 begins to seem like the complete entertainment package. You won't notice it on paper, but put the two tablets in front of you and, while the Pro's panel is stellar, the S3's OLED delivers a display that's just that much punchier.
Winner: Samsung Galaxy Tab S3
Camera: One-sided competition
If you're buying a tablet for its camera quality, you should probably go and have a hard think about your life. That said, if you're out and about and it's a tablet in your hand when that viral moment rears its head, you want to know you can rely on the camera.
Oddly, despite being able to deliver excellent lenses on its smartphones (just look at the Galaxy S8), Samsung struggles to find its form on tablets – and that's very much the case with the Tab S3.
Yes, the 13MP, f/1.9 rear snapper will shoot quickly enough, but the results are simply mediocre. Images lack detail, with a general softness that disappoints, given the S3's price tag.
The iPad Pro 9.7, meanwhile, offers the same camera that you'll find on the iPhone 6s – which means it's excellent. A 12MP rear lens pairs with True Tone flash to serve up sharp, detailed and natural shots, with Live Photos functionality available, too.
While no self-respecting human should use a tablet as their go-to camera, if the need arises there's no question which is the winner here.
Winner: Apple iPad Pro 9.7
Performance: Power on all fronts
So far, so close – but how do the pair fare when it comes to power? Well, as the name suggests, Apple's iPad Pro 9.7 is a properly powerful slice of tablet tech.
Yes, the specs might sound middling (A9X chip, 2GB RAM), but the real-world performance is astounding. The iPad Pro storms through practically every task, delivering a slick, snappy experience that you'll probably never find the limit of.
Multi-tasking poses no problem, even if that multi-tasking means editing several 4K movies at once or mixing the day away in GarageBand. It's speedy in a truly seamless way.
As for the Galaxy Tab S3, it carries a quad-core Snapdragon 820 CPU inside, partnered with 4GB RAM, which is more than enough to tackle any app on the Play Store.
Snappy and responsive, the Tab S3 ran both GPU-heavy games and intensive apps without a problem, whizzing through everything we threw at it.
In short, both are truly powerful – to the point of rivalling some laptops.
Winner: draw
Keyboards and styli: Mixed clickers
Speaking of laptops, both of these pro-end tablets also promise to do double duty as both tablets and keyboard-equipped mini-PCs.
Stick the iPad Pro 9.7 to its Smart Keyboard and, while it's smaller than full-size and it lacks a trackpad, you'll get a lovely typing experience – albeit one that takes some adjustment. For some, the Smart Keyboard will never replace the clackiness of a traditional set of keys, particularly with the limited real estate, but for on-the-go writers it's an excellent experience.
The Tab S3, meanwhile, gets an optional keyboard cover which does offer the audible click that many will want – but it's also much too small for the average human. Typing for a while could well give you cramp, unless you've tiny hands.
As for the much vaunted stylus options, Apple's Pencil is a perfectly weighted prodder, interacting with the Pro's screen in a way that feels almost magic. Palm rejection tech means you'll soon forget that you're not doodling on paper, too.
Samsung's Tab S3 gets the S Pen, which is more pen-like than before and sits more naturally in the hand as a result. Thanks to amazing pressure sensitivity, it's perfect for sketching, with the rubber nib delivering a similar like-paper feel. It's bundled in the box rather than an optional add-on, too.
Each to their own, but Apple slightly creeps ahead thanks to a keyboard cover that's easier to adjust to, and better support for drawing apps on iOS vs Android.
Winner: Apple iPad Pro 9.7
Battery, storage and connectivity: charging ahead
Finally, the left-overs. For long-haul users, the S3 just edges the iPad Pro on battery life: while the latter isn't shabby, serving up more than 10 hours from a single charge, we found the Tab S3's huge 6000mAh cell to be excellent – going for a solid 12 hours of video playback (on half brightness).
The Tab S3 supports fast-charging out of the box, too, which sees it refuelled rapidly once it's run down to empty. Apple's iPad Pro does support speedy refuelling, but only if you buy the sold-separately 29W adapter, which feels like a needless up-sell.
Like its iPhone brethren, the iPad Pro also uses Apple's Lightning adapter to do all the charging which, while perfectly capable, is increasingly frustrating as a platform-specific peripheral – especially compared to the universal nature of the S3's USB-C port.
As for capacity, the Tab S3 follows old-school Samsung form by carrying 32GB of on-board storage together with a microSD expansion port – which feels a little meagre at this price. That said, Apple's non-expandable iPad Pro starts at 32GB, with the 128GB and 256GB models setting you back a further £90 and £180 respectively.
Winner: Galaxy Tab S3
Verdict: the iPad edges it
At the end of this titanic tablet battle, then, it's clear that both of these behemoths are consummate pro performers.
Both have minor niggles but, equally, both can deliver power in spades, build quality to show off about and longevity to, well, keep you going.
With both the Galaxy Tab S3 and the iPad Pro 9.7 hitting shelves at around the £600 mark (£599 for the 32GB Tab S3, £549 for the 32GB iPad), there's even less in it than usual.
Much as we hate to say it, then, which tablet you deem to be the winner will depend on your preference for iOS or Android, in the arena of big-tablet multi-tasking and power app offerings.
For us, it's the iPad: Android, even skinned nicely on the Tab S3, just doesn't quite offer the same certainty when it comes to seamless multi-tasking and, while iOS still has a way to go, its suite of performance apps is just that much better than what you'll find in the Play Store. Sorry Samsung.